Every year, TIME magazine publishes a list of the year's best inventions. Never failing to impress, the 2016 edition includes a wide range of innovations to improve life for people all over the world, from creative soccer pitches in Thailand, to the most beautiful toothbrush we've ever seen, to a prosthetic arm that's compatible with Lego.
The designers behind TIME's biggest 25 inventions include the usual big names, like Amazon, Apple, and Nike, but there's also a host of young, emerging designers creating exciting new products. We investigate the creatives behind these 25 inventions, and how they arrived at their insights.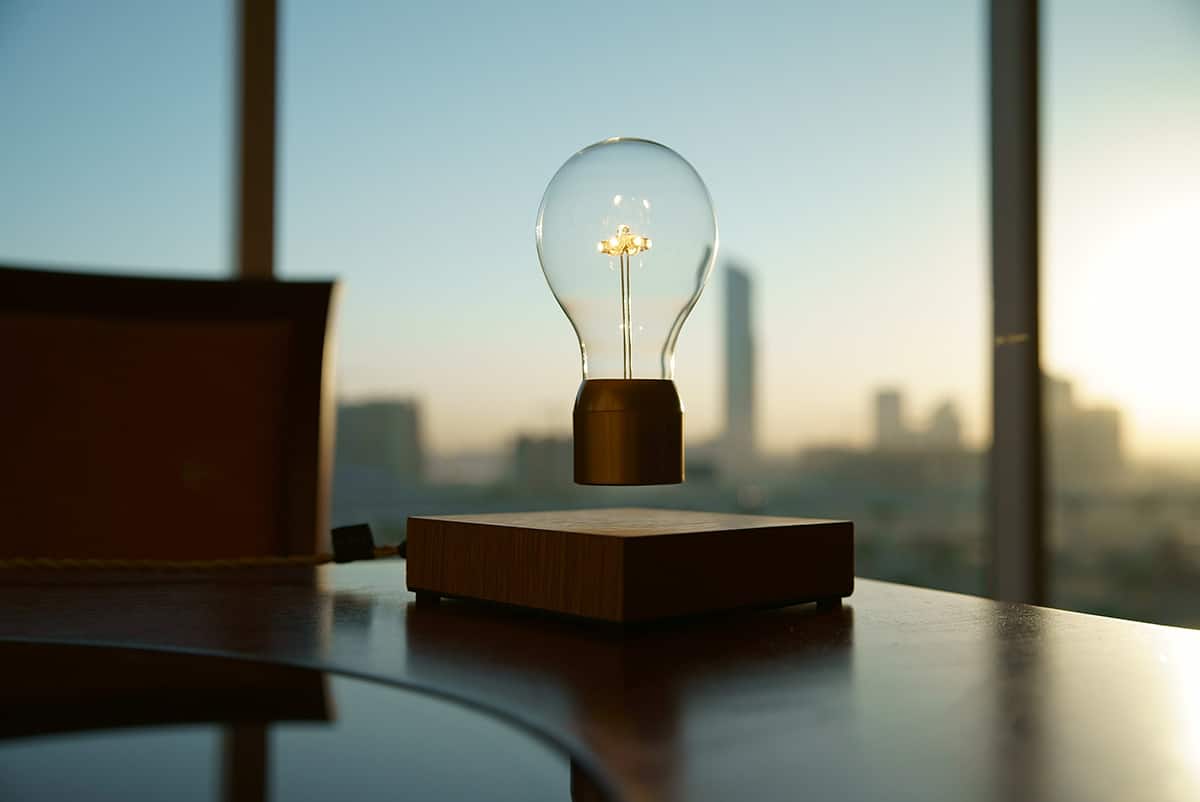 1. Flyte: the floating lightbulb
By Simon Morris
American designer Simon Morris dreamed of creating a hoverboard since he was a teenager. He eventually succeeded, although his model was unfortunately not rideable. Morris now works as an interactive designer in Stockholm, focusing on creating innovative levitating objects. His past projects include a floating sneaker for Nike, as well as a hovering skateboard.
Morris' floating lightbulb, named Flyte, uses electromagnetism to simultaneously levitate and transmit electrical energy to a light bulb. These concepts were not strictly invented by Morris—Nikola Tesla explored wireless power transmission in the 1890's, and wireless charging has since employed similar concepts. But in Flyte, Morris has combined beautiful aesthetics with an innovative new use of technology. His team has also worked on creating a levitating plant stand, called, appropriately, Lyfe.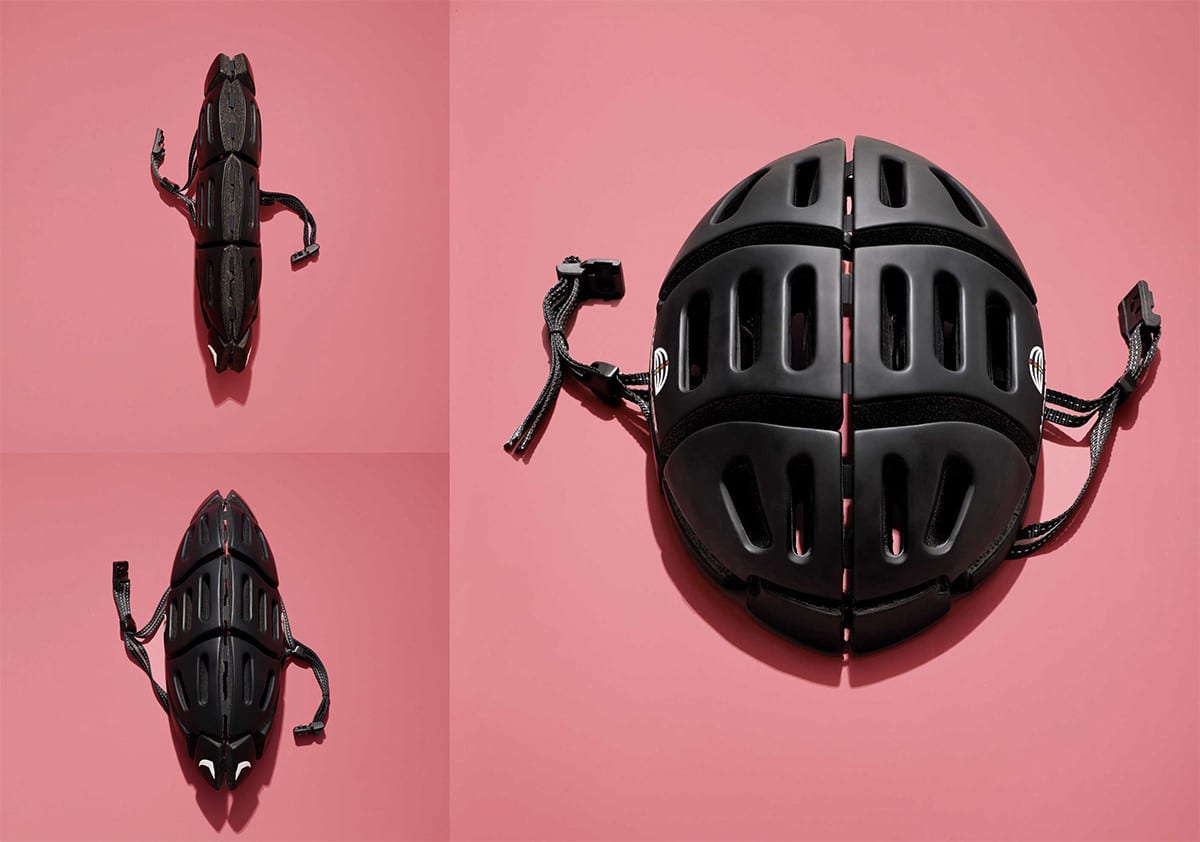 2. Morpher: the folding bike helmet
By Jeff Woolf
Jeff Woolf is a well-known English inventor and the designer of Morpher, a foldable cycling helmet which he first released in 2015. The son of two inventors (his father, Stanley Wagner, invented the Jif lemon), Woolf studied holography at the New York School of Holography during the 1980s before developing his first hit invention, the MicroMap System, in 1993. Intended as a system of cartography that overcame elemental wear and tear, the MicroMap is a series of miniature card-sized maps that can be inserted into a MicroMap viewer, which contains a moving lens that allows you to read selected information.
Nearly two decades later, Woolf had another moment of insight into overcoming obstacles faced by popular utilities. With the introduction of rentable Barclays bikes in the city of London under then-mayer Boris Johnson, Woolf noticed that the majority of city cyclists didn't wear helmets. After conducting a survey asking bikers why this was, he deduced that helmets are awkward and inconvenient to carry throughout the day when not cycling. To fix this problem, Woolf designed Morpher, a helmet made from multiple plastic plates that make the helmet's base collapsable, while still meeting American and European safety standards.
3. Solar Roof: solar panels that blend into the roof
By Tesla and Solar City
On October 28th, Tesla CEO Elon Musk revealed the Solar Roof. Resembling an unusually nice-looking tiled roof to the unknowing eye, the Solar Roof employs Tesla's new glass solar tile. It looks identical to conventional roofing from the street, but reveals its solar cells when viewed from directly above.
Telsa's groundbreaking new technology was designed in collaboration with the solar energy company SolarCity, the second largest provider of solar technology in the United States. SolarCity was initially conceived of and funded by Musk, who remains their primary shareholder. The company has previously designed power storage devices for Tesla's electric vehicles and solar technology leasing programs for American homeowners.
Available in Tuscan, smooth, textured, and slate varieties, the tiles have a "quasi-infinite" lifespan, according to Musk, and are made of extremely strong tempered glass. According to Bloomberg, Musk said in his unveiling speech that the Solar Roof "looks better than a normal roof, lasts twice as long, costs less and—by the way—generates electricity."
Bloomberg estimates that cost savings will stem from money saved on shipping the new lightweight, fortified tiles versus their heavy, fragile predecessors. Musk initially became famous with his X.com, an email-based financial transaction service that merged with PayPal, of which Musk subsequently became CEO. Since PayPal's sale in 2002, Musk founded and sits as CEO of the private sector space transport company and aerospace manufacturer SpaceX, and the electric vehicle and energy storage manufacturer Tesla.
4. Nike HyperAdapt: shoes that respond to the wearer
By Nike
Nike's Vice President for Design and Special Projects Tinker Hatfield and CEO Mark Parker have been trying to design a sneaker for the new millennium since back in 1988. At the time, they had been asked by film director Robert Zemeckis to come up with an idea for futuristic shoes for his new film Back to the Future II. Together they came up with the Nike Mag, a pair of sneakers that not only lit up, but also shaped to protagonist Marty McFly's feet. After Back to the Future II's major success, Nike decided to create a real version of the Nike Mag. This feat that has taken them until 2016, just one year after the film is set.
The final product, a shoe called HyperAdapt 1.0, closely resembles the movie prop. This sneaker senses your foot pressing down on its heel, lights up, and automatically tightens its laces, stopping once it detects a certain pressure of the shoe's interior molding against your foot. Instrumental in bringing this vision to life was Tiffany Beers, a senior Nike innovator who Hatfield and Parker brought on board to the project in the mid-2000s.
After over a decade of tackling every challenge from creating a powerful enough lightweight battery to embed in the shoe's base to finding lacing that was durable, light, and low friction, the Nike HyperAdapt went on sale in the United States on November 28, 2016. Not only is this adaptive shoe useful for highly competitive athletes, Hatfield told TIME that they're already seeing positive feedback from the disabled community.
5. The Unusual Football Pitch: soccer fields in tight spaces
By AP Thailand
This year, real estate development company AP Thailand and digital agency CJ Worx collaborated to design a way of turning Bangkok's limited, oddly-shaped unused real estate into functional public space for its high-density communities. Their solution is called The Unusual Football Pitch, a state-of-the-art hardcourt soccer field that fills any abnormally shaped space, while creating a field that offers an equal level of play between sides.
AP Thailand have opened two fields in Bangkok's Khlong Toei neighborhood, and have plans to open more in the coming months. "The paramount achievement of this project is that what we created can really meet the needs of the community because the heart of our design philosophy is the end-user who benefited from the space we created," AP Thailand's developer Pattaraphurit Rungjaturapat said in a press release.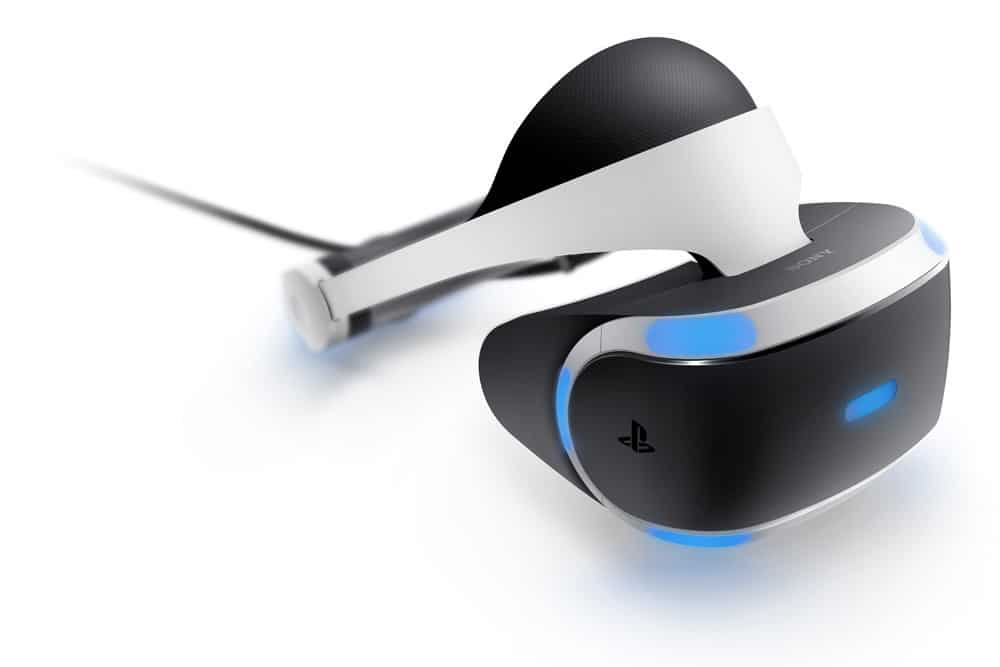 6. PlayStation VR: more affordable VR technology
By PlayStation
Richard Marks has been embedded in video game culture since the 1980s, when he worked in his father's video game exchange store. In 1999 Marks joined Sony, where he now heads the Magic Lab, a small group dedicated to sourcing and designing technology to innovate ways of interacting with the PlayStation game console.
Marks has become the public face of PlayStation VR. Another key figure in the PlayStation virtual reality design process is Jeff Stafford, a engineer in Research and Development at Sony America. Stafford began researching augmented reality technology in 2010, and soon got the go-ahead to shift his focus to exclusively developing VR technology for PlayStation. Stafford originally based the structure of the Sony VR headset on an electronic head massager. Running on the PS4, PlayStation VR is designed to integrate gameplay with other non-VR controller players, and was released in October 2016.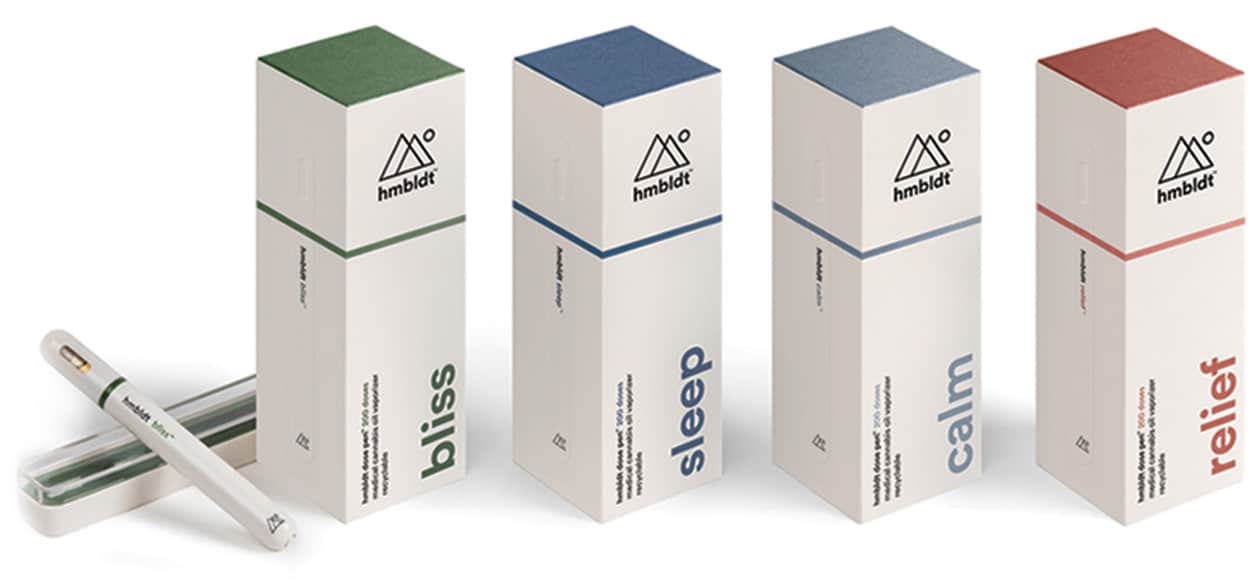 7. hmbldt Vape Pens: a regulated and standardized cannabis experience
By hmbldt
Meeting the needs of the ever-growing legal cannabis industry in America, the Californian company hmbldt has released specialized vape pens that contain precise doses of cannabis oil engineered to induce a particular feeling such as calm, sleep, bliss, and relief.
Hmbldt markets the pens as alternatives to common over-the-counter drugs, and present their cannabinoid engineering as rooted in scientific research. "Our products are designed to work naturally and consistently to target specific need states of sleep deprivation, anxiety, pain and inflammation and improve overall wellbeing," says hmbldt president Matt Seashols.
"Hmbldt delivers health and happiness to patients based on the science behind the plant." The main scientific claim hmbldt references is the that their vapor is designed to have a positive effect on the endocannabinoid system, a network of receptors throughout the body involved in mood, pain-sensation, and appetite.
8. Hello Sense: a smart sleep system
By Hello
English entrepreneur James Proud has been designing since age 12, when he started creating webpages for extra money. At 18 years old, he created the website GigLocator.com, which tracks your favourite bands' nearby tour dates, and ended up winning him the San Francisco-based Thiel Fellowship for promising young entrepreneurs.
In 2012, Proud sold GigLocator and started Hello, a company aimed at addressing the problems of sleep. After ditching the initial idea of a bracelet-style sleep tracking device, Hello refocused on a new bedside product, called Sense. Inspired by the design of the Beijing National Stadium, Sense is a smart alarm clock that constantly collects data about your sleeping patterns via a small sleep sensor attached to your pillow. It also monitors the brightness, noise levels, and humidity of your bedroom.
Sense will notify you when any of these levels are less than optimal for healthy sleep, and provides an alarm when you are naturally ready to wake based on your sleep data. Proud's aim has been to make this multitasking alarm clock an unobtrusive piece of technology that's available when you need it but simply adds to the ambience of your bedroom environment when you don't, all the while collecting beneficial data.
9. Eagle-360: omnidirectional spherical tires
By Goodyear
Designed by Sébastien Fontaine, Armand Leconte, Frederic Ngo, and Claude Boes, Goodyear's Eagle-360 spherical tires are the epitome of a once-dreamed-of future being realized. Pretty much identical to those of Will Smith's spherical-tired Audi in I, Robot, the Eagle-360's full functionality is showcased in a concept video released earlier this year.
These innovative, omnidirectional tires require a much more sophisticated method of steering than a steering wheel can provide, and are instead intended to couple with the looming popularization of the self-driving car.
Some of the Eagle-360's special features include the ability to dispel water via the centrifugal force inherent in spinning, the ability to move the car at a right angle to its orientation (allowing for a much easier parallel park), and increased control due to a greater area of contact with the road. While these futuristic tires likely won't be on the market for several years, they already provide an exciting comprehensive rethinking of the driving experience as we know it.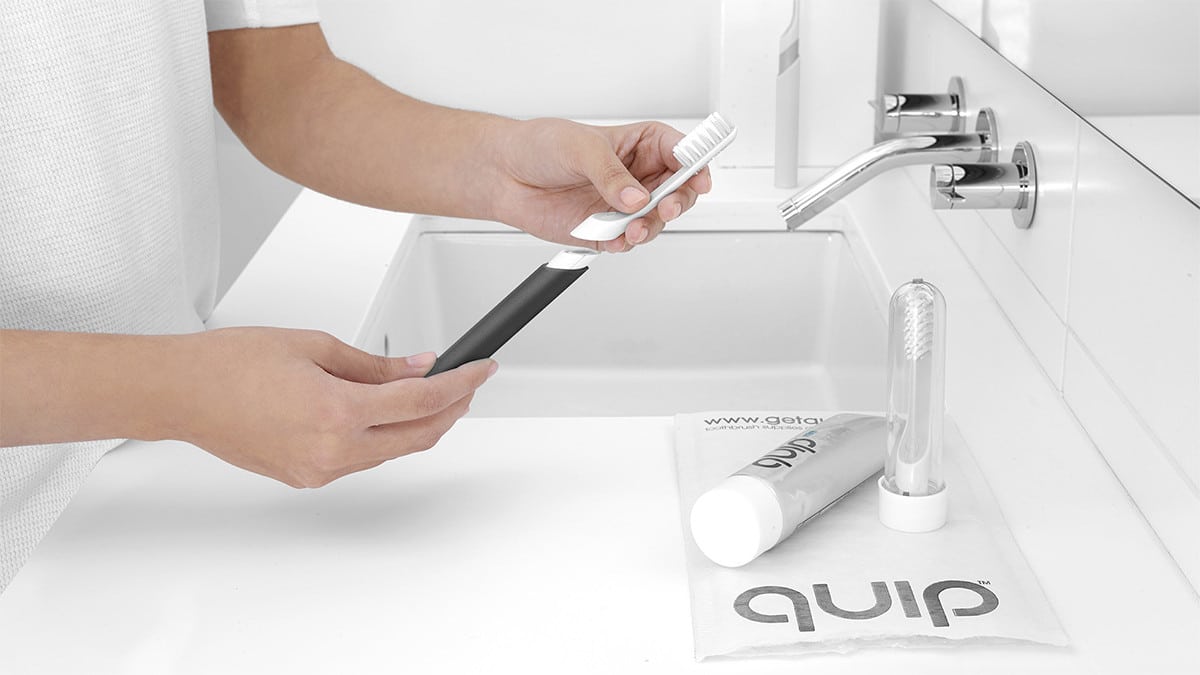 10. Quip: an aesthetically pleasing toothbrush
By Simon Enever and Bill May
Industrial product designers Simon Enever and Bill May first came up with the idea for Quip—the sleek, simplistic toothbrush aimed at making oral care sexy—after a particularly long dental check-up in 2012.
Enever's dentist insisted that toothbrush gimmicks really just distract from the most important staples of maintaining healthy teeth: brushing evenly throughout the mouth twice daily over two-minute sessions. Their solution was a simple, regular sized toothbrush that looks more like a makeup accessory than an instrument of oral hygiene.
"We thought a great way to help people pay more attention to their mouths was to distance the ritual (and name) from 'oral care' and make it feel like a step in your grooming routine—part of how you equip yourself for the day and a piece of the daily equipment that keeps you fresh and healthy everywhere you go," Enever says on Quip's website.
11. Eatwell Assistive Tableware: dishes that make eating easy again
By Sha Yao
Before leaving her native Taiwan to attend graduate school in America, industrial designer Sha Yao spent a year caring for her grandmother, who had recently been diagnosed with Alzheimer's disease. Yao felt helpless as she watched her grandmother increasingly lose the ability to care for herself, or to even eat without assistance.
While studying in the United States, Yao decided to work on designing a product that would alleviate some of the difficulties of living with diseases that impair the brain and body. After volunteering at senior care centres, talking to professional caregivers, and researching Alzheimer's, Yao designed Eatwell, a nine-piece tableware set for the cognitively impaired.
Yao used bright colours to help distinguish food from utensils and the inside of the tableware from the outside, rubber basing to prevent spillage, and a sloping basin to make food easier to collect from the bottom of the dishes. The set won first place in the 2014 Stanford Design Challenge, and became commercially available in late 2015. Sadly, Yao's grandmother passed away while Yao was still in grad school. "I often think back to the last time I saw my grandmother. Boarding the plane to come to America was one of the hardest things I've ever had to do," Yao has said. "I'm determined now to help everyone facing the same challenges as my grandmother did, as a dedication to her memory."
12. Better Shelter: easily assembled portable shelters
By the Ikea Foundation
Originally intended as short-term shelters for refugees, as a more sustainable and secure alternative to tents, the Ikea Foundation's Better Shelter mobile housing units are 17.5-square-metre modules that can be assembled in four hours without using tools. This philanthropic venture by the Swedish company aimed to design a housing technology that better serves humanitarian organizations and provides a product they're willing to invest in.
The structures accommodate up to five people and last for up to three years. What Better Shelters didn't initially realize is that their simple yet robust modules were ideal for being repurposed and combined to meet needs other than shelters, such as tea salons, medical centres, and schools. "It is a huge advantage that it is modularized, because you can put it together however you like," Ikea Foundation CEO Per Heggenes told Dezeen. "And there are some features that are extremely important to these people, like safety—these people went through hell to get to where they are, and being able to go inside, lock a door and feel safe is of paramount important to them."
13. Dyson Supersonic: a quiet hairdryer
By James Dyson
This past fall designer and engineer Sir James Dyson unveiled his latest project: the Dyson Supersonic, a quieter, more efficient, sleeker hairdryer. Called "the Steve Jobs of domestic appliances" by The New York Times, Dyson has previously invented the bagless vacuum cleaner, the blade-less fan, and the super fast Airblade hand dryer.
He studied architecture and furniture design at London's Royal Collage of Art during the late 1960s, after which he completed his first invention, the Ballbarrow, a wheelbarrow that uses a ball in place of a wheel. Much of the efficiency, power, and compactness of the Dyson Supersonic comes from its quarter-sized 13-blade motor that fits into the base of the hairdryer's handle. The high velocity and small size of the motor create a high-powered drying experience while avoiding overheating.
14. The orange-fleshed sweet potato: lifesaving sweet potatoes
By International Potato Center and Harvestplus
This year the World Food Prize was awarded to Dr. Jan Low of the International Potato Center, Ugandan horticulturist Dr. Robert Mwanga, Mozambique horticulturist Dr. Maria Andrade, and HarvestPlus founding director Howarth Bouis, for their work on the biofortification of sweet potatoes in sub-Saharan Africa.
Their accomplishment is designing the cross-breeding of local sweet potatoes with the vitamin A-rich, high yielding, drought tolerant, and virus resistant North American sweet potato. Vitamin A deficiency (VAD) is extremely pervasive in sub-Saharan African, causing depleted immunity, blindness, and diarrheal disease (the second leading cause of death among children under the age of five, according to the World Health Organization). Creating a new version of one of the region's staple household foods that actively protects against VAD is a major leap in improving public health in bioregions that lack vitamin A-rich crops.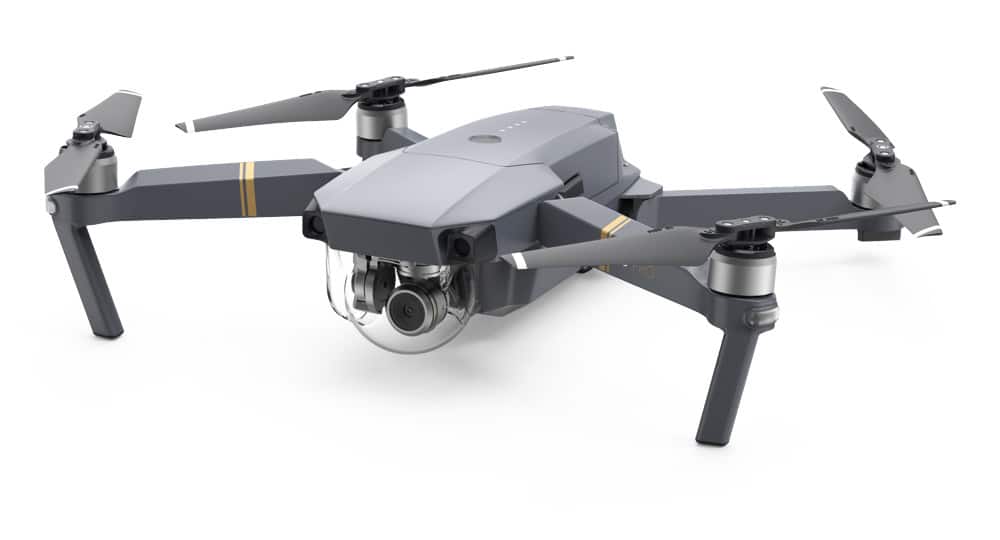 15. DJI Mavic Pro: a high performance foldable drone
By Darren Liccardo
Since leading the autonomous driving projects at both BMW and Tesla, Darren Liccardo has spearheaded designing the DJI Mavic Pro drone as Vice President of Engineering at the China-based manufacturer. The Mavic Pro's main leg up on competitors such as the GoPro Karma is its ability to fold up into an eight-inch-long bundle. It can fly for just under half an hour straight, and explore a seven kilometre range at up to 65 km/h while shooting in 4K resolution.
"Consumers want something that's accessible and easy to use. Something you can take with you on a day hike and still have room for everything else you would normally take with you, and not fill up an entire backpack," said Liccardo on Bloomberg News in October. "We think the Mavic Pro will be what's in people's stockings this holiday season."
16. Arc InstaTemp: a touchless thermometer
By ARC
The Ireland-based medical technology company ARC has designed a thermometer that takes temperature without touching the body, using infrared light to measure heat remotely. The instrument comes in two models: the InstaTemp, for consumers, and the InstaTemp MD for medical professionals. Accurate within +/- 0.2 degrees Celsius and with a battery life of 1,300 measurements, the InstaTemp eliminates the need to use and dispose of consumables and probe covers while minimizing the risk of cross-contamination.
According to ARC Chairman and CEO Irwin Gross, the InstaTemp is just the beginning of the company's no-touch instrument line. "We're developing devices that measure more than just temperature so that people at home can measure and monitor their own vital signs, then send that information directly to their medical professional," Gross said in a press release.
17. Minimed 670g: the artificial pancreas
By Medtronic
In September 2016, the FDA approved the first-ever Hybrid Closed Loop insulin delivery system, an "artificial pancreas" called the Minimed 670g. The device automatically measures the body's blood sugar levels every five minutes and delivers insulin when needed, both tasks that until now required human facilitation. Although diabetics using the Minimed still need to deliver insulin manually at certain key times throughout the day, such as mealtimes, Medtronic aims to make their technology fully automated.
According to a September press release, the Minimed platform seeks to "offer therapy customization so patients and providers can choose from increasing levels of automation that best fit their diabetes management needs." Minimed's FDA approval resulted from a pivotal at-home trial monitoring of 124 type one diabetic participants over 13 years old who used the device for over 12,000 days combined.
"The data is compelling and shows that the system's ability to automate insulin dosing 24 hours a day has the potential to impact patients' lives in a very meaningful way—particularly at night when it's most challenging to maintain target blood glucose levels," said principal investigator Dr. Richard M. Bergenstal.
18. Tiangong-2: China's new space lab
By China's National Space Agency
Tiangong-2 (aka Heavenly Palace 2) is the newest orbital space laboratory designed by China's National Space Agency. It launched in September 2016 as a docking station, orbital research lab, and testbed for technological aspects of China's forthcoming larger permanent space station set to launch in 2023. Zhu Zongpeng, the Tiangong-2's chief designer, sees the new station as a stepping stone between the past and future of China's space presence.
"Previously, Tiangong-1 made a breakthrough in docking technology. This time Tiangong-2 will make a breakthrough in providing fuel and supplies and medium-term residence for personnel," Zhu told China's CCTV in October. Testing a liveable space for longer-term residency on future stations is also central to Zhu's design. "We've tried to make a good environment inside the module for living and working in order to make the astronauts' lives comfortable there. We carefully designed the lighting system and decorations to make them feel less anxious."
19. IKO: A prosthetic arm designed for Lego
By Carlos Arturo Torres
While working for Lego's Denmark-based Future Lab in 2013, Colombian industrial designer Carlos Arturo Torres developed IKO, an innovative children's interchangeable prosthetic arm that revolves around play and is compatible with Lego.
Aiming to help kids with disabilities better overcome barriers to social integration and allow them access to a wider range of play activities, Torres designed IKO with a turn-and-lock connecting terminal so that the child can interchange a number of attachments. These include articulated hands and moving Lego contraptions that can be powered using the prothesis' internal motor. Torres sees Lego as just the beginning for IKO's compatible design.
"The nature of the system would allow it to be compatible with more products than Lego, imagine having Marvel developing superhero modules, Mattel making doll houses or car launchers, GE producing microscopes, Nintendo having compatible accessories," he wrote on the Core77 Design Awards website, after winning an Open Design Student Award in 2015. Torres plans to make IKO commercially available by mid-2017.
20. Chevrolet Bolt: an affordable electric car
By General Motors
General Motors made huge strides in 2016 by releasing their newest electric car, the Chevrolet Bolt. With a range of 320 kilometres per change, the Bolt is comparable to Tesla's Model S but available at half the price (around $30,000 USD), making it the first of its kind.
Designing the Bolt was a collaborative effort between over a thousand engineers and designers, split between Detroit and Seoul, that began in 2013. Led by GM's Executive Chief Engineer of Electrified Vehicles, Pamela Fletcher, the team optimized their design to be compatible with the rise of car-sharing and mobile technology. "The team even went as far as designing the interior to be extremely functional, yet easy to get in and out of, all in the name of car-sharing," Fletcher told Inhabitat last January.
21. UNICEF Kid Power Band: a bracelet makes helping people fun
By Rajesh Anandan
As a sort of UNICEF box for children of the digital age, UNICEF recently released their Kid Power Band, a digital bracelet that allows them to play fitness games which directly translate into food donations for malnourished children around the world. For Rajesh Anandan, Senior Vice President of UNICEF Ventures and co-creator of the Kid Power Band, the project is about addressing two problems at once while engaging kids with a solutions-based mindset and motivating them to help save lives.
"UNICEF Kid Power is the only technology platform to date that permanently connects getting active to saving lives," Anandan told Wearable Technologies in June. "The platform is defining a new way for kids to interact with technology while promoting activity and minimizing screen-time." To attract children to participate, the U.S. Fund for UNICEF has partnered with celebrities as well as with Target, Disney, and Lucas Films to design some specialty brand versions of the Kid Power Band.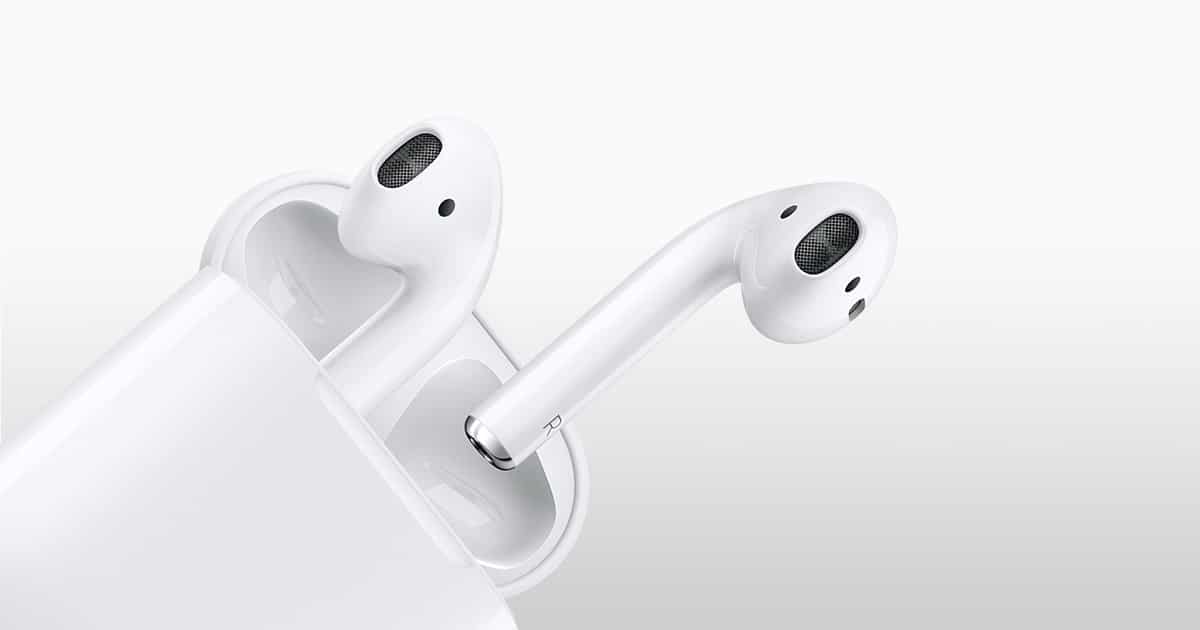 22. Apple AirPods: wireless technology comes to the iPhone
By Apple
"Wireless is the future. When you decide on what the future is, you want to get there as soon as you can," Apple CEO Tim Cook said on ABC's Good Morning America in September.
Finally available to purchase online in December, Apple's Bluetooth-operated wireless earbuds, the AirPods, represent the company's foray into wireless headphone technology compatible with its nearly monopolistic iPhone. Designed for the new iPhone 7, which lacks a traditional 3.5mm headphone jack, the AirPods include a wireless microphone that can access Siri and sensors that automatically pause music when you remove the pods from your ears.
23. Amazon Echo: the interactive speaker
By Amazon
Originally based on the Star Trek vessel Enterprise's onboard interactive computer, Amazon's pseudo-A.I. voice command technology, Alexa, is impressively displayed in the company's newest product: Echo, the bluetooth speaker. Newly granted the ability to liaise with Domino's Pizza delivery service, Uber, and your home's light fixtures, Alexa has come a long way since its debut in 2014.
Looking ahead, Amazon plans to further develop Alexa's capabilities to incorporate learned data into its overall services. "We were using machine-learning algorithms internally in Amazon for a long period of time. Mostly in the early days for our recommendations engines," David Limp, the Amazon Senior Vice President behind Alexa, told Fortune magazine. "We challenged the teams, once we saw the success of our recommendations engines and the machine learning, to go ahead: how could you use those similar techniques in other areas throughout Amazon?"
24. Wynd: the hand-sized air purifier
By Ray Wu
Having grown up in a blue-skied 1980s China, Wynd Technologies, Inc. founder and CEO Raymond Wu was quite taken aback in 2003 when he stepped off his flight home to Beijing from the United States where he was attending college. In place of clear skies there were thick layers of grey dust that smelled "faintly of car exhaust and scorched metal."
Driven to action by the severe levels of pollution spurred by China's enormous economic growth, Wu turned to addressing air quality problems around the world by designing something people can take with them wherever they go. He hopes to commercially release his personal air filter that's no bigger than a coffee cup, called Wynd, next year.
Co-designed by IDEO founder Mike Nuttal, Wynd tracks the quality of surrounding air and purifies it, filtering out allergens, mold spores, bacteria, industrial pollution, and vehicle fumes. "Our long-term goal is that Wynd can free people from worrying about their environment, so that they can live a life less inhibited," Wu wrote in a Medium article.
25. Mattel Barbie dolls: Barbies that actually represent girls
By Mattel
After 57 years of manufacturing stick-thin Barbies, Mattel has finally come out with a few more body type options for its popular dolls. In addition to the original design, Barbies now come in curvy, tall, and petite body styles, as well as in a greater variety of hairdos and skin colours. This transition comes after many years of accusations that Barbie's extremely thin physique is damaging to the psyche of young girls that play with her.
For the last two years, Mattel's designers have been reimagining Barbie as a toy through which young girls can better channel their imagination and inspiration via more diverse representations of what a woman looks like. They've even created a Game Developer Barbie.
"The world our girls live in is diverse and one that celebrates our differences. Girls want to express their individuality through everything from their interests to their toys," Kim Culmone, Vice President of Barbie Design at Mattel, told Toy News last April. "Also, the world we are living in is progressing at a much more rapid pace. Consumers now have a more powerful voice than ever because of social media. Millennials, specifically parents, are more loyal to and aligned with brands that lead with their purpose."