Do you ever dream of spending your days surrounded by stems of garden roses and lilacs? Gathering and composing arrangements of colorful, fragrant blossoms day after day, instead of sitting behind a desk? Owning a flower shop is one of those romantic jobs many people dream of. But what is it really like? And how do you get started with a career in floral design?
My flower obsession began early, as a kid, more specifically as a teen. I think I knew flowers were my future when I spent most Friday nights as a teenager in my flower garden, making bouquets. I read every book I could get my hands on about floral design, dabbled in making wedding flowers, and in university, filled my art history course notes with flower shop business plans. After working for other florists, I opened my own shop at the age of 23. Since then, my career has evolved, but it still very much revolves around flowers.
Read on to understand how to learn the basics of floral design and what it takes to have a career in flowers.
Learn the Basics
Start with the basics by signing up for a flower class. Some classes are more traditional, others more academic and accredited through local universities, and other course offerings are taught by florists who open up their shops for hands-on workshops. There are even online courses (I teach one!). Before you delve into seeking work or starting a business, you'll need to learn the basics of flower ID, composition, conditioning, and the industry's best practices. Look for a class that teaches in a style you like, but that also provides the basics of technique and composition. If your goal is to have a flower shop and run your own business, investing in a business course will also be beneficial.
Read Up!
Check your local library and bookshops for flower arranging books. Find florists you admire, study their work, and read their books. Here are a few recommendations to get you started:
Practice
Create on your own terms, just for fun, before delving into collaborative efforts. Make a goal of creating one flower arrangement per week to get into the practice of working with flowers. Don't stress too much about how good the result is, just create for the joy of it and make floral design a natural part of your life. Capture on camera the work you like the best. Find flowers through foraging, farmer's markets, your own garden (or a friend's!) or your local florist shops. Buy or pick the ingredients that inspire you and begin creating!
Gain Work Experience
Nothing introduces you to the real work of floral design more than an apprenticeship or on-the-job-experience. Find a florist locally whose work you admire who you can apprentice with. It might be possible to temp with them during a holiday like Christmas, during wedding season, Mother's Day, or Valentine's Day.
As with many creative jobs, you won't start out doing super creative work, you'll start out assisting. Common tasks for starting out in a flower shop will include sweeping the floor, loading a cargo van for an event, packing up flowers, setting up a wedding, taking down floral installations, washing buckets, and conditioning flowers. Don't be afraid to dig into the tough labor, observe, work hard, and soon enough you'll be involved with more creative tasks.
While it's usually helpful to have basic floral training and the ability to identify basic floral ingredients before applying for a job, there are also many florists who prefer to hire designers who have little to no floral design training in order to train them in their own method of floral design. My early experience with floral design was mostly individual. I taught myself through books, and even volunteered to floral design weddings for friends throughout high school and university.
During my studies at university, I freelanced with florists during Valentine's Day and holidays. And in my sophomore year, despite being an art history major, I interned with a hotel garden and flower shop. There I learned more about horticulture and what it was like to work in a hotel flower shop. I assisted with hotel arrangements, learned how a flower shop runs, and gained professional experience with weddings and events.
I started a small side business doing flower arrangements for offices during my university years. All of that led to a job out of university as a floral buyer and designer for an exciting retail start up. After a couple of years gaining this professional experience, and a studying vacation to London where I trained at flower schools like Jane Packer, I started up my own shop at 23 years old.
Each florist has a different method, and normally they like a fresh student to teach that method to. This is especially true for florists who design a bit outside the box and don't subscribe to a super traditional or old-fashioned method. I was lucky to work for some trendy florists who taught me their own methods and appreciated the style I was already arranging in. For more traditional shops, a certificate would be beneficial. Some states will even require a certificate from an accredited floral design course. Study your local requirements.
Understand the Realities
Playing with flowers all day sounds like a dream! But like any job, it has upsides and downsides. It's really important to gain experience with the realities of floral design to be able to decide if this is the right career for you. Floristry involves very early mornings (think: 4 or 5 am), intense physical labor (hauling heavy buckets of water, cleaning stems).
Clarify Your Goals
After taking some courses and getting work experience, you'll understand a bit more of what it's like to work in a flower shop, design for weddings, and make bouquets. At this point, you can begin to clarify what your goals are when it comes to your floral design career. Here are some of the jobs you could consider.
Freelance florist (working on call for other florists)
Flower shop owner
Floral designer specializing in weddings and events, working from a by-appointment or home studio
Flower farmer
Floral design instructor
Prop styling with a floral focus
Wedding and event designer/stylist
Event production
Floral artist working with art installations or commercial art with flowers as a subject (Ashley Woodson Bailey is a great example)
At this point, you can begin to pursue a speciality or work toward your specific goals! Keep reading, studying, and taking new courses. It's a great idea to apprentice with a few different florists in order to really see how different designers approach the work and business aspects of floral design before striking out on your own.
Visit Your Local Wholesale Flower Market
Find out the requirements to visit or shop from your local wholesale flower market. Some markets have certain hours for the trade, with other hours for the public. Other markets are closed to the public and are only available to the trade for those who have met certain requirements and turned in specific paperwork.
For instance, the market that I used for many years in Portland, Oregon, is closed to the public. You need a whole pile of paperwork and a shopping minimum until you are approved to shop there. It has an incredible local growers section as well as several wholesalers who import. In San Francisco, the flower market has public and trade hours. Here in Lisbon, where I work now, we have one particular grower who sells both to the public and to the trade during the same hours and generally for the same prices.
Find out where your local flower market is located and how you can begin shopping there! Most flowers will be sold in bulk. Some markets have locally grown flowers available, while other markets will sell shipments from around the world.
Build a Flower Portfolio
Begin building your portfolio right away. Just the act of photographing your work will help you understand your style and how you want to improve. As you begin making arrangements on your own, with other florists, and for clients, capture your work (or collaborate with a photographer to capture it), and gather the images on a website, Instagram, and a printed portfolio album. Don't ever show work you aren't proud of! If you don't like work you created, don't share it.
Creating a strong portfolio is all about editing. Show the work that reflects the clients you want to get hired by. If you don't want to learn photography, find a local photographer to collaborate with. Sometimes it can be difficult to capture events you design on camera due to the tight schedules. Collaborating with a photographer who can come and just capture the flowers is a good way to make sure your hard work is documented and can be included in your portfolio.
Find Your Own Style
If you're interested in starting your own business, it will be important to develop your own floral style. In the beginning it's great to have florists to learn from, but eventually you'll want to create your own style. Look at what art and design you are drawn to in other mediums, and find out how you can translate that through flowers. Perhaps your style will stand apart due to the vases that you use, or the flowers you choose to highlight in your arrangements. Whatever it is, consistency will be key in growing your brand and style.
When I was starting out (this was before Pinterest!), I collected tear sheets from magazines, collected books, and developed a favorite list of designers like Martha Stewart, Jane Packer, and Christian Tortu. All of these designers inspired me tremendously, but it was my own garden where the inspiration to play really came from. It's fantastic to have designers you look up to, but also look around you. How can you interpret your own life into your designs so that your work is a true reflection of you, and not a copy of another designer? I think a sense of place can serve as a launching point in developing your own style.
In the last year or so, my style has evolved as I moved to the country, and part of my commute is through a country livestock trail. So I began foraging quite a bit, and now that is a trademark of my more recent work. I design very instinctively. I veer towards unstructured, playful designs that don't take themselves too seriously. This is the sort of design I am drawn to in other mediums as well. Take a look at what type of art, interiors, or graphics you are drawn to in addition to floral designs. All of these can be inspirations for your own work with flowers and will help you create a unique brand.
Create a Website
It's never been easier to create your own website. Gather the photos that show the work you are most proud of and create an online portfolio website that reflects the work you want to be doing. Do you want to design for weddings? Create a page on your website with the weddings you've designed! Make it easy for clients to contact you and create options that reflect the work you want to be doing. Update it every year with your new work. If you work in weddings and events, be sure to share real events you've designed, not just photo shoots. I've used Format for my portfolio for a few years now, and I love how I can make the updates myself to keep the website fresh and show my latest work each season.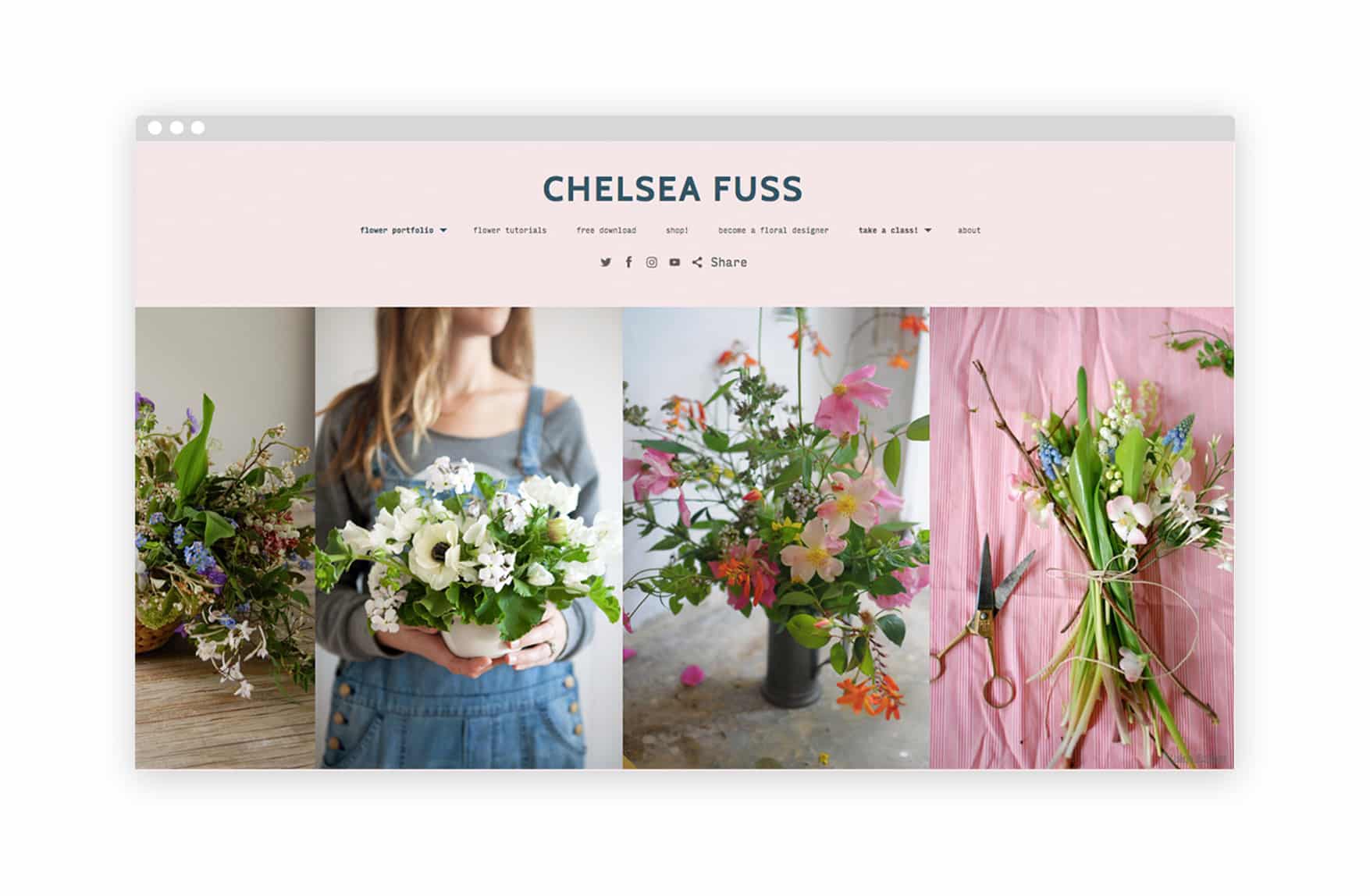 Understand Your Local Market
With everyone so focused on the internet these days, it can be easy to overlook your local market. This is a mistake. You may be able to carve out a niche for yourself locally. What is your city or town missing in terms of floral design? What new floristry service can you offer? Perhaps locally grown flowers are not readily available and flower farming is an interest, or perhaps the wedding market where you live leans toward the traditional style and you can offer something more modern! Study what's happening with florists locally and see where you fit in.
Share Your Work
Whether you are slowly building a portfolio, or working for a florist locally to understand the industry, start sharing your work and passion for flowers right away. It's easy to capture and share with Instagram these days, and it is a great place to start your portfolio, eventually working your way up to a website. As you carve out a niche and define your goals, begin sharing your work with audiences who might be interested. It's important to have a place people can go to see your work and to not be afraid to share, whether that is posting on social media, or bringing your printed portfolio to local event venues.
All images courtesy the author. Cover image and sixth image from top photographed by Sanda Paigamo. Chelsea Fuss is a floral designer based in Lisbon, Portugal by way of Portland, Oregon. Her work has been featured in Apartment Therapy, Design Sponge, and Home and Garden UK, among other publications. Find her at her website.