Graphic designer, art director, and illustrator Timothy Goodman is known for his multimedia campaigns, tongue-in-cheek politically positioned design, and signature murals, all of which showcase his graphic, doodle-inspired aesthetic and brightly hued typography.
Based in New York, he's worked with clients like Airbnb, Google, Ford, and The New York Times, and previously worked in-house at Apple. Goodman's work deftly blurs boundaries between packaging, branding, and text art, and he's been known to create conceptually interesting digital and IRL undertakings. His Quotes on Shit project is but one example of the way in which he's rethought not only the role of the graphic designer, and also the role of design as a way to reimagine overlooked objects and spaces.
Goodman's latest collaboration is with digital print and design company MOO. It's a limited edition notebook featuring Goodman's illustrations and signature mural style, centered around the quote "Meetings Kill Creativity." The project is shot with a nice dose of corporate-creative irony, given that the collab is a matte black and silver foil-covered notebook that's meant to serve as an office statement accessory.
The central question that's toyed with in Meetings Kill Creativity is straightforward: how in the world does one prevent boredom from creeping into meetings, and more difficult still, how can creativity be maintained during meetings? These are perhaps unanswerable questions, ones that have plagued the corporate designer since the beginning of time.
"As a creative person, I loathe meetings," says Goodman. "Yet, as a business owner, I need to be in them a lot. I've been using MOO for a long time, and I love the irony that people will be using my limited edition notebook while sitting in another boring meeting. I wanted to remind them to keep the meeting short."
We got in touch with Goodman to talk about meetings, creativity, productivity, and the intersections—or lack thereof—between the three. That how-to-keep-meetings-interesting question remains unanswered (maybe meetings are just ontologically boring), but we've gotten a glimpse inside Goodman's design process.
You started your career as a book jacket designer. How did this beginning influence your creative process?
I went to work as a book jacket designer at Simon & Schuster a couple weeks after I graduated SVA in 2007. Upon graduating, I was getting offers for much more money at branding agencies, but I really felt I needed to work somewhere where I could find my own voice as a designer and illustrator. In school, I looked up to book jacket designers like Paul Sahre and Rodrigo Corral because of their gorgeous book covers and editorial work, and I really got swept up in the novelty of it all. So when I got the offer at S&S, I jumped at the opportunity.
Your process includes drawing on a tablet or phone, drawing on paper, and drawing on walls. What strength do you think lies in each format?
When it comes to a tablet versus paper, it's really all about ease and comfortability for the artist. I find both have strengths, and I do both, albeit much more on paper. When it comes to wall murals, that is an entirely different conversation. I really enjoy the physicality of creating murals and transforming the way a space feels via my work. I probably enjoy creating murals more than anything that I do. Social media will continue to define itself, but walls will never go away. I've been fortunate to do over 40 murals in the past three to four years.
Your new collaboration with MOO addresses a tension that exists between creativity and productivity. What are your best strategies for creative productivity, or rather, productive creativity? Any apps or methods you're into?
No, no apps that help my creative productivity! I have apps that help my life and business get in order. As for strategies, I'm not sure. I've always been pretty motivated with this stuff, but as I get older, I really find that getting decent sleep and eating well helps my productivity tremendously. I know it's not a very attractive answer, but I see now just how important it is to take care of myself.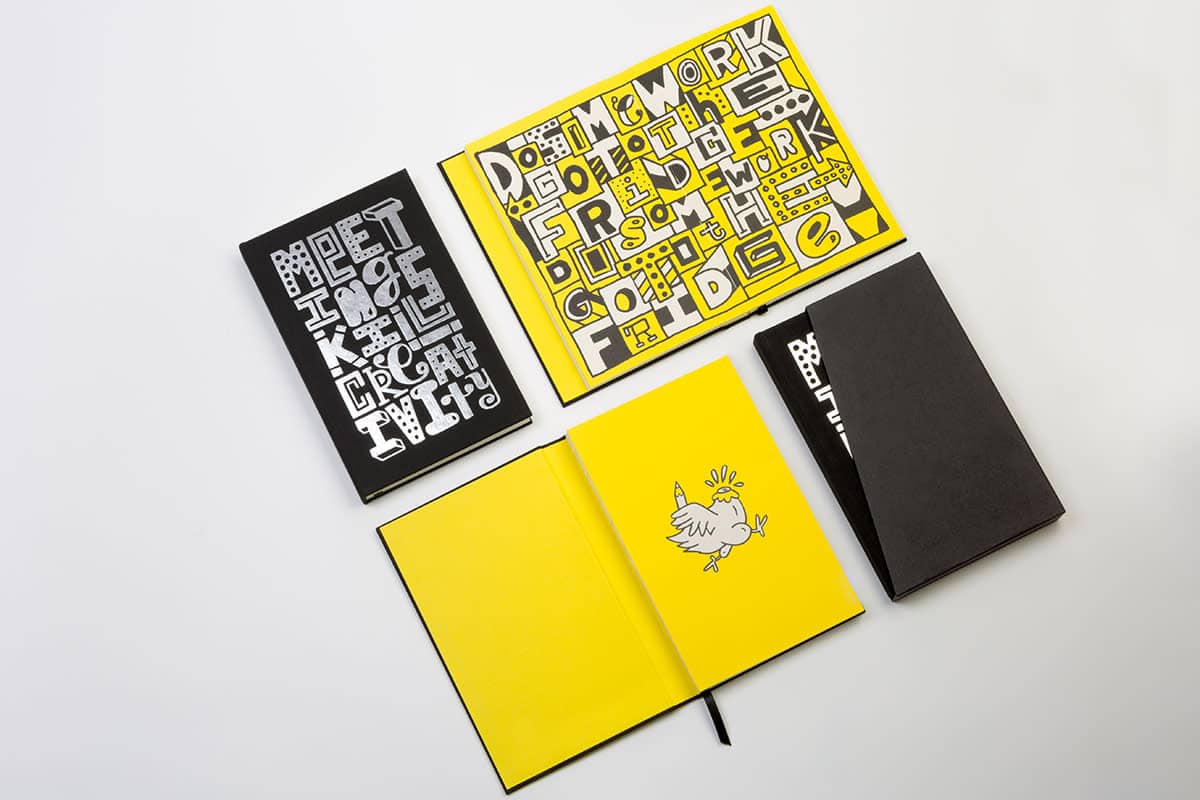 What kinds of images and motifs did you include in your MOO collaboration? Any hidden references?
The cover of the MOO notebook says "Meetings Kill Creativity," so everything was basically centered around the dichotomy and struggles of being a productive creative. Inside there is a full spread that says, "Do some work, go to the fridge" over and over. And of course, there is a headless chicken running while holding a pencil on the first page of the notebook!
As a business owner, how do you keep your meetings dynamic?
Ugh, that is the evergreen question. I'm not sure it's possible? I don't think meetings can be "dynamic," unless it ends in less than five minutes and it's all 100% positive news.
What trends in graphic design and/or typography are you digging right now?
The more I author my own projects, I've lost track of the trends. I'm very inspired by people who are trying to be vulnerable and share stories via their work.
Are you a notebook guy?
I do a lot of sketching and am always drawing in something, which is why I was super excited to create a custom MOO notebook.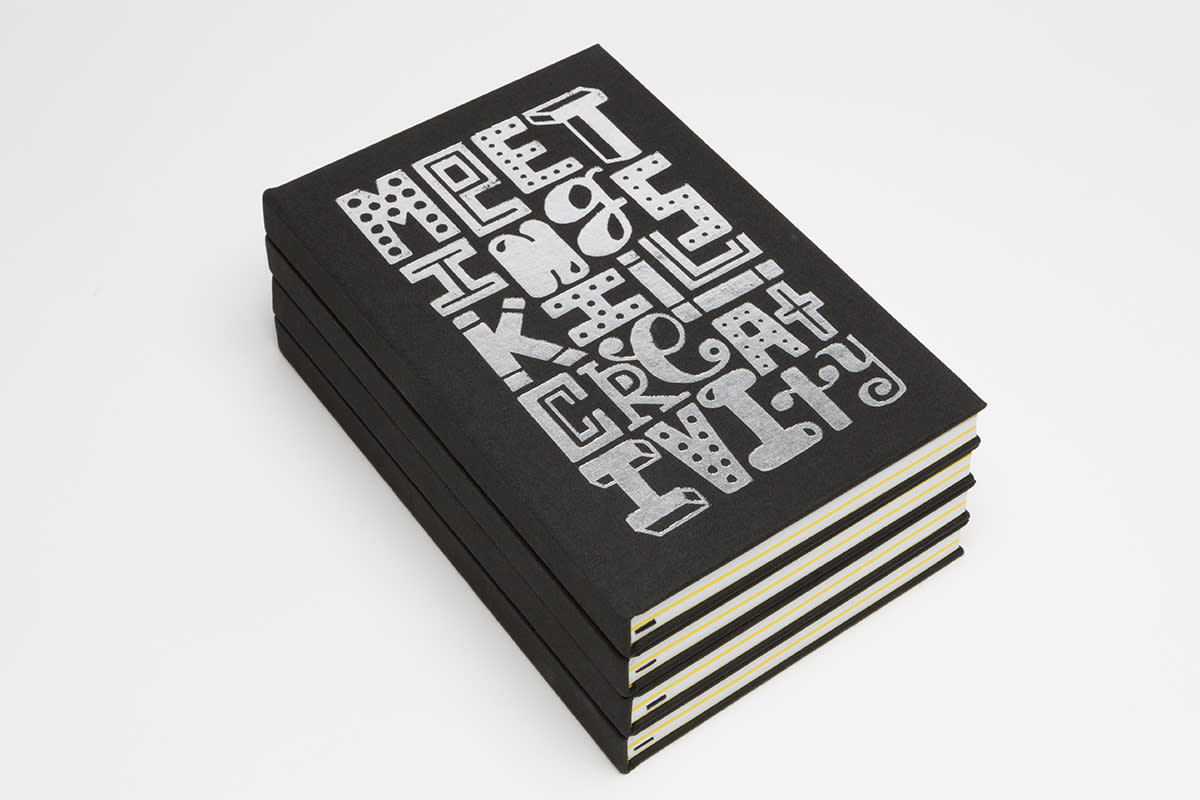 Photos by Georgie Lord for MOO. Find more of their work at georgielord.com, built using Format.