This weekend, the NY Art Book Fair took over MoMA PS1. It featured over 370 booksellers, antiquarians, artists, institutions and independent publishers from twenty-eight countries, and was attended by over 39,000 visitors. The museum and its courtyard were full of zines, pins, tote bags, t-shirts, prints and a tattoo booth.
These are artists still obsessed with printed matter (in fact, it's hosted by Printed Matter, the world's leading non-profit dedicated to artist books). The result is a two-day exhibition of affordable and innovative publications. We found poetry collaborations, archival collections and self-published graduate thesis work. It was difficult to narrow down the wares to ten photo books, but there were definitely outstanding works that deserve to be highlighted.
From the sweet darkness of Swedish photographer Lina Scheynius's Book 08 to a photo collective's exploration of Eastern Europe history in Post War Stories, our list of the ten best photo books from the NY Art Book Fair cover a wide range of topics and styles. They're a true reflection of excellence and experimentation in a printed medium. If you're looking to build your library or need a gift for a photography-loving pal, these are the books that you should order—no trip to New York required.
1. Queen by Hannah Whitaker, Sarah Palmer, Molly Matalon, Patricia Voulgaris, Kat Shannon, Grace Ann Leadbeater and Nikki Kreckiki
Queen is a collaboration between seven female photographers and one writer. The seven photographers (Hannah Whitaker, Sarah Palmer, Molly Matalon, Patricia Voulgaris, Kat Shannon, Grace Ann Leadbeater and Nikki Kreckiki) all contribute works to illustrate a short story by Amina Cain.
We loved the concept of female artists collaborating on one story, but most of all, the photographers work shone through individually. Amina Cain is also a celebrated writer and curator. She is also a contributing editor of the art magazine Bomb. We adore how this project combines the photo world and the literary world.
2. Book 08 by Lina Scheynius
Swedish photographer Lina Scheynius's Book 08 is, shocker, the eighth edition in a series of ten photo books that she's creating. This book came out in February 2016 and is only printed as an edition of 1000. She also creates 100 copies with a limited edition print included.
The beloved London bookshop Claire de Rouen showed the book at the fair but the books are in fact self-published by Scheynius. We love the quiet intimacy that she captures of everyday moments. There's a sweetness but also a darkness, and a sneaky sexuality to these quotidian images. The book is down to its last 100 copies but watch out of her future books in the series.
L'Artiere specializes in printing photobooks and each book is garnished by similar looking hard covers. The publishers believe in craftsmanship and pay special attention to archival materials. Instead of a quick and ready approach favored by many zine, this focused small-scale publisher gives book collectors quality and longevity.
Quality aside, we most liked this book for the content. Nico Krijno makes studio-based photographs that manipulate objects into spectacular situations. The work celebrates a recent trend in studio-based photography that includes photographers Thomas Demand, Annette Kelm and Thorston Brinkman.
4. 2041 by an anonymous British photographer
Not even the publisher of this photo book, Here Press, knows the identity of the artist. The title 2041 refers to the artist's pseudonym and within the book he photographs himself in costumes, mostly resembling burqas in interior common settings. These images explore self-concealment, but also issues of gender and identity. They are questionable in their ethics since the position of the artist is unrevealed and bring up issues of positionality and the politics of identity. The book evokes curiosity and leaves a haunting feeling.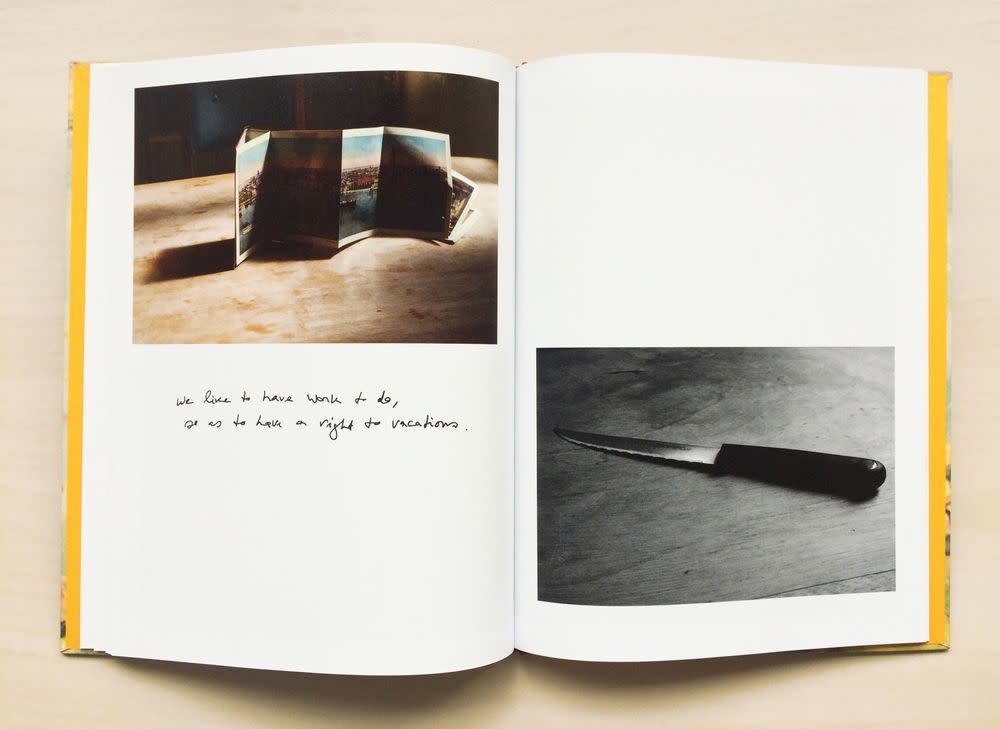 This book by Portuguese artist Daniel Blaufuks was created by Blaufuks after being inspired by the diaries of Cesare Pavese, an antifascist 20th century Italian poet and novelist. It explores the idea of a diary trying to hold on to passing moments. The images capture concise and tense narratives that have fleeting meanings. The title, also the title of Pavese's diaries, is apt to describe how easily life can feel monotonous and straining.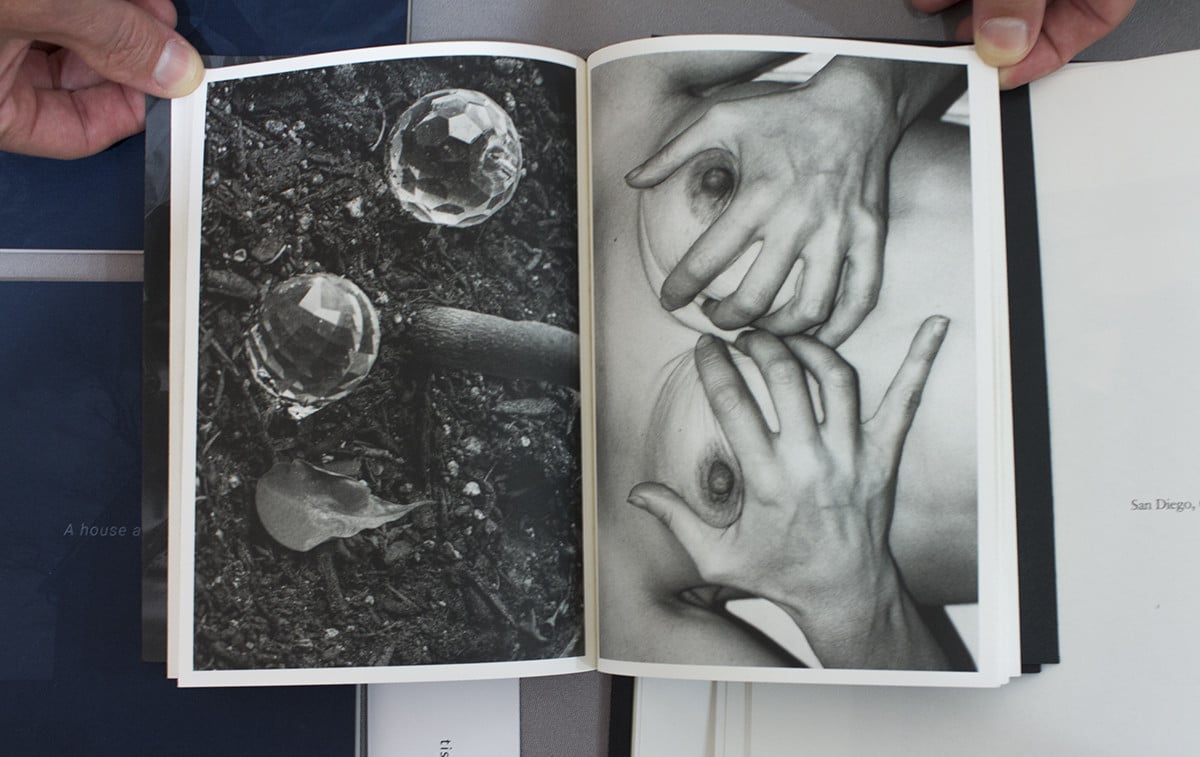 This book documents a collaborative project by photographer Kurland and art critic Yau. Kurland made photos in response to Yau's writing, and vice versa. The explorations overlap and enveloped one another, becoming a shared experience that manufactured a bookwork.
Black Threads from Meng Chiao began out of a shared frustration when each artist found themselves housebound. Kurland was taking care of her child and Yau's legs were injured. The project grew from sharing images and writing via email. They made the work to deal with immobility and feelings of being caged by circumstances. They admirably turned to creative making as a way of relief.
This book was published in conjunction with an exhibition in Lithuania that was also titled Post War Stories. The three photographers, each from different countries (Germany, Poland and Lithuania), tackle the idea of what happens after war in distinct but equally moving ways.
Heinermann visits German people who were displaced in 1944 when they were rescued by Lithuanian farmers. The project connects their past horrors with consequences of diaspora. Šerpytytė makes images that look at how the cold war affected her native country of Lithuania. She commissions a wood carver to recreate miniature models of Lithuanian family cottages that became sites of torture and interrogation during the war. Iwanowski recreates the escape from Russia his grandfather and great uncle took in 1945. The two walked over 2000km to flee to Poland in search of their family. Each artist included in the book looks at how emotion, family and terror attaches itself to place.
Moved Objects showcases the work of Australian photography duo Hutchinson and Byng. Their playful images take cue from stock photography, architectural models and still life. The duo plays with colour and the ability for forms to take on character. The images feel indicative of a growing spirit in contemporary art to look at how objects have significance outside of human concerns.
This self-published book was a product of Amanda James's MFA thesis at the University of Hartford's photography program. It juxtaposes images of life in Utah with words from the bible regarding roles of women. The book conflates love, the expectations of women, and loss of freedom in a collection of images and text. Sweet Little Lies is told from the perspective of an individual navigates the difficult tasks of being a mother, artist and woman.
Flood is a small edition artist's book and catalogue from an exhibition at Pioneer Works. Like the exhibition, the book depicts materials commonly found at building sites and lumber yards. The artist highlights the aesthetic value of common materials, showing their austere beauty but also their cultural significance in the repurposing of their utility. The book is accompanied by an essay called "Strange Utility" on Harlan's work by curator David Everitt Howe.