It's a beautiful world we live in—and nobody knows this better than landscape photographers. Even if you already know how to shoot landscapes, there are always ways to improve so that your mountains appear more majestic and your fields more endless.
Whether you're a seasoned professional or a hobbyist just starting out, here are some tried-and-true landscape photography tips to give your photos that extra wow factor. A truly amazing landscape shot is, after all, the perfect show-stopping addition to your online landscape photography portfolio, and can even win you more Instagram followers.
All ready to learn how to take landscape photos? Let's begin!
Landscape Photography Tip #1: Shop Around For the Perfect Site
Finding the perfect landscape photography setting is half the battle when it comes to taking landscape photos. You need to put in the legwork to discover the unique, cool spots that haven't been photographed to death already.
So what makes a good landscape photography setting? Some of the things to look for while site shopping includes bodies of water (for a mirror effect), movement (such as a waterfall or river), or texture (like grass or snow). These dynamic elements can help you avoid flat, boring photographs.
Landscape Photography Tip #2: Be Adventurous With Your Lens Choice
Using the best landscape cameras and the best landscape lenses is key when it comes to taking great landscape photos. Wide lenses (16mm or larger) are most photographers' go-to.
However, there is nothing wrong with trying other, less conventional lenses in your landscape photography. For example, a telephoto lens can help you capture the vast scale of your landscape in a way that a wide lens arguably cannot. The scale of a photo taken with a telephoto lens will appear wider and flatter.
Landscape Photography Tip #3: Rock Those Filters
Long before there were Instagram filters, there were IRL filters. If you're not already using filters when you're taking landscape photos, they can be a lot of fun. A neutral-density (ND) filter is a great, and often underrated tool, in landscape photography. Unlike selfie filters, a ND filter does not have an effect on the color of your photo. It works by preventing light from reaching the camera sensor, which allows you to shoot at a very slow shutter speed.
Low shutter speeds, i.e., anything 1/60 or below, give a slight blur to your landscape photography. If done correctly, this adds a velvety effect that is really quite beautiful.
Also handy is a polarizing filter, which can help you to reduce unwanted glares and reflections with amazing results.
Landscape Photography Tip #4: Keep Composition in Mind
As humans, we all have a certain eye level that we are accustomed to. Adding some variety to the perspectives that you experience on a daily basis could help you discover new subjects and landscape possibilities. Sans innovative composition, landscape photography can quickly become stale.
Play with composition by looking for natural frames: in the form of tree lines, for example, or even human-made objects like a door frame. Using leading lines will help add interest to your shot, but also lead the viewer's eye to the subject in the frame. And remember not to forget to have a subject in your image!
Another perspective to try? Lay your camera right on the ground, for a sort of ant-eye's view that will offer a rarely-seen perspective.
Landscape Photography Tip #5: Don't Rely Too Much on Post
Following some post-processing best practices can seriously help take your photos to the next level and improve your landscape photography technique. While it is certainly true that adjusting the horizon on your photo or changing up your exposure or saturation can make a big difference, it's important to not rely too much on post when taking landscape photos. Instead, set yourself up for success while you are shooting by using the right landscape photography settings and techniques.
One thing to be mindful of is the time of the day. You ideally want to shoot away from the sun to avoid shadows. To get a truly amazing shot, play around with your camera's white balance setting. White balance removes unrealistic coloring from your photos, which will save you time in post.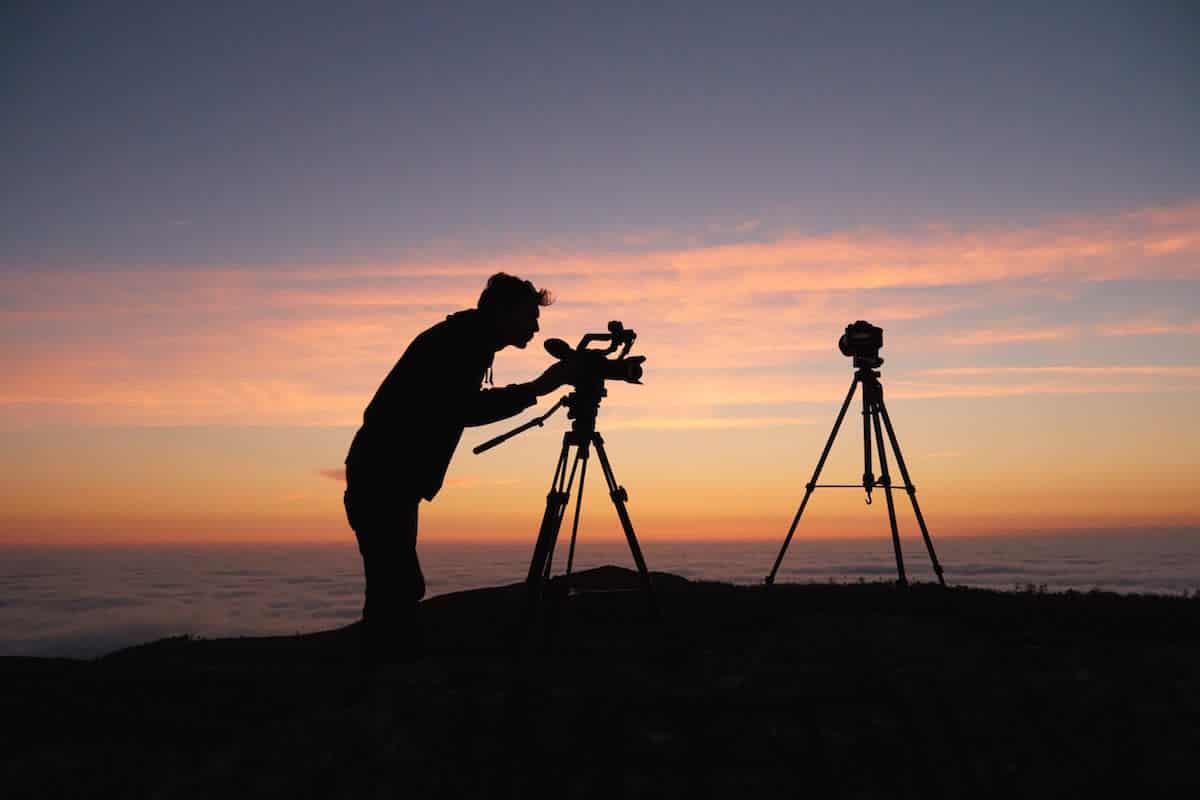 Landscape Photography Tip #6: Pay Attention To Your Tripods
When you are shooting landscape shots with a quick shutter, having a sturdy and reliable tripod is indispensable. Of all the landscape photography gear you could invest in, a good tripod is most important. It should be stable enough to withstand weather of all kinds, but should also be light enough for travel.
If it's within your budget, it might be worthwhile to invest in two different tripods. It's handy to have a larger, more conventional tripod (great for those "pull over to the side of the road" shots) as well as a miniature tripod that can easily grip onto interesting angles, such as the popular and affordable JOBY GorillaPods.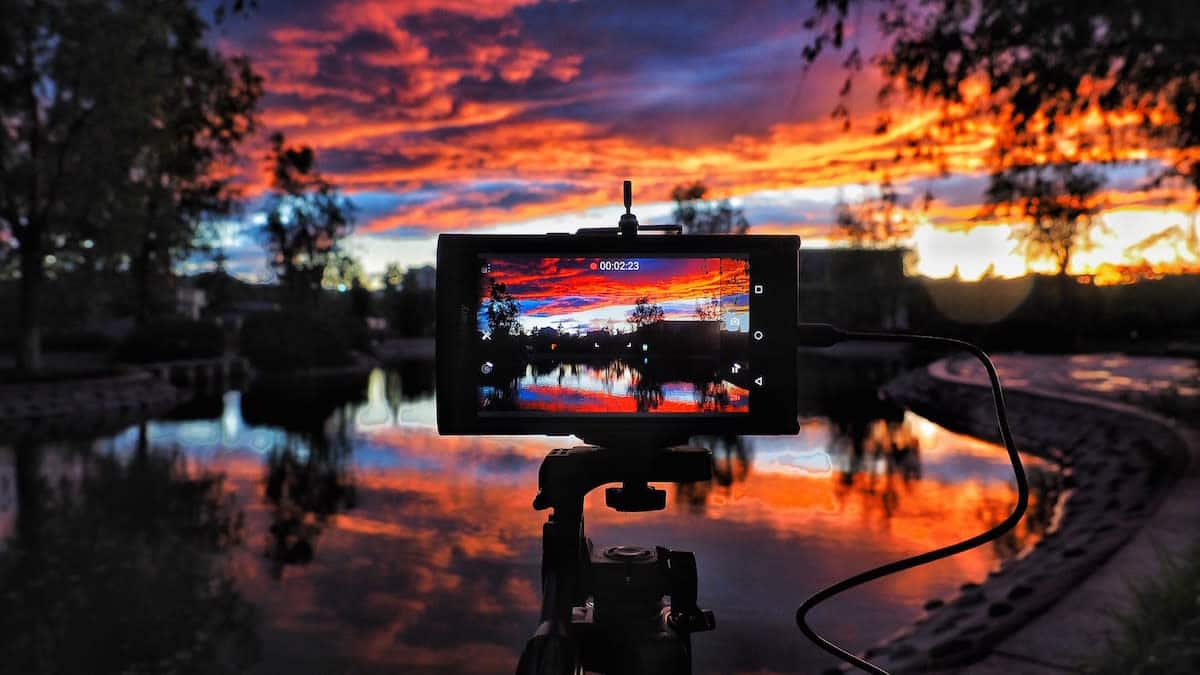 Landscape Photography Tip #7: Chase the Light
Set your alarm: many landscape photographers swear that the best time to shoot landscape photography is an hour after sunrise and an hour before sunset. There's a reason why this is called the golden hour!
Another landscape photography tip? Avoid the time right around noon, as the sun's position leads to a lot of shadows. Also: try to avoid shooting when it's too sunny. Cloudy weather is best, as clouds act as a softbox, giving your photography a muted effect that results in a warmer color.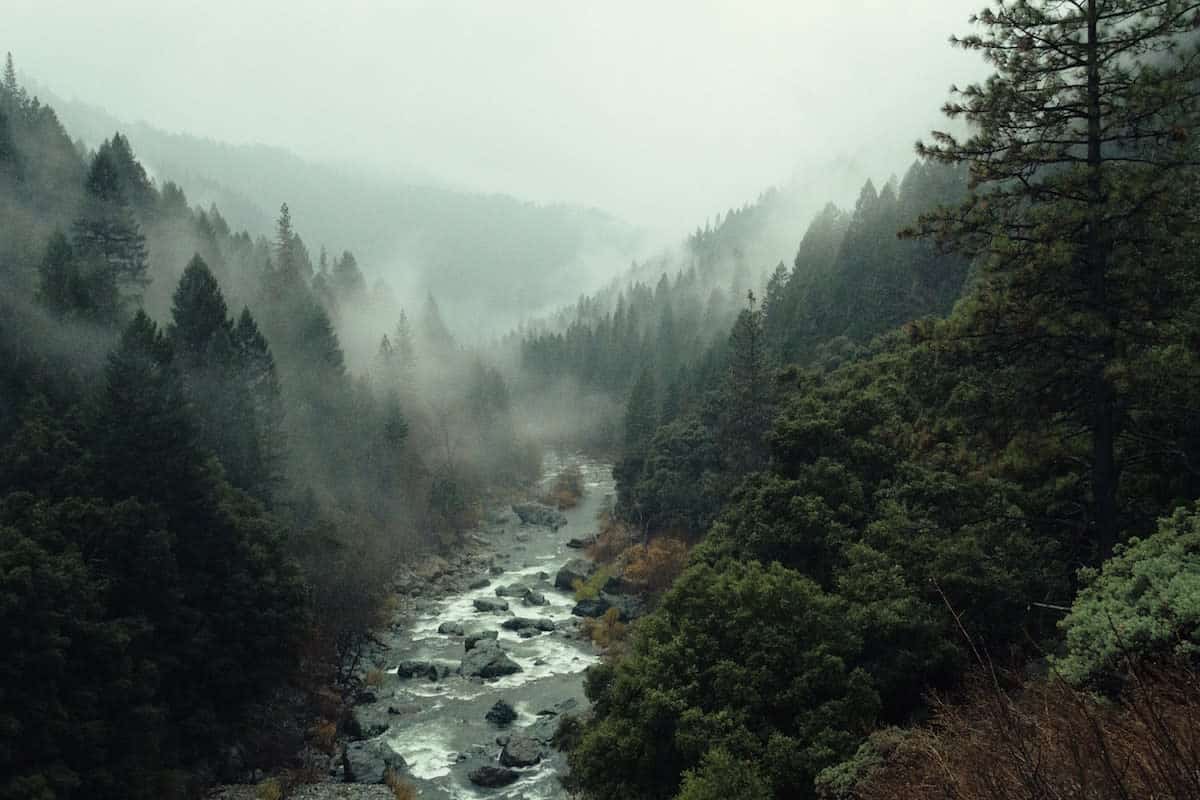 Landscape Photography Tip #8: Let Weather Do Some of the Work
Fog, dew, and rain can add really beautiful dimensions to your shots. Photographing these natural phenomena is simple, and can easily be done with some careful planning. You can lighten your camera's exposure, for example, to capture fog perfectly. Shooting into the light using a slow shutter speed can also highlight raindrops beautifully.
Just remember to take good care of your camera when you're in any moist environments!
Landscape Photography Tip #9: Add Something Unsuspecting to Your Shot
A landscape photograph…with people? Believe it or not, adding a human subject to your landscape photograph can actually make your scene appear more impressive. With the addition of a person, viewers can really get the scale and the vastness of your landscape. Bring along a friend on your photography adventures, or set up your tripod and timer and do a cool self-portrait!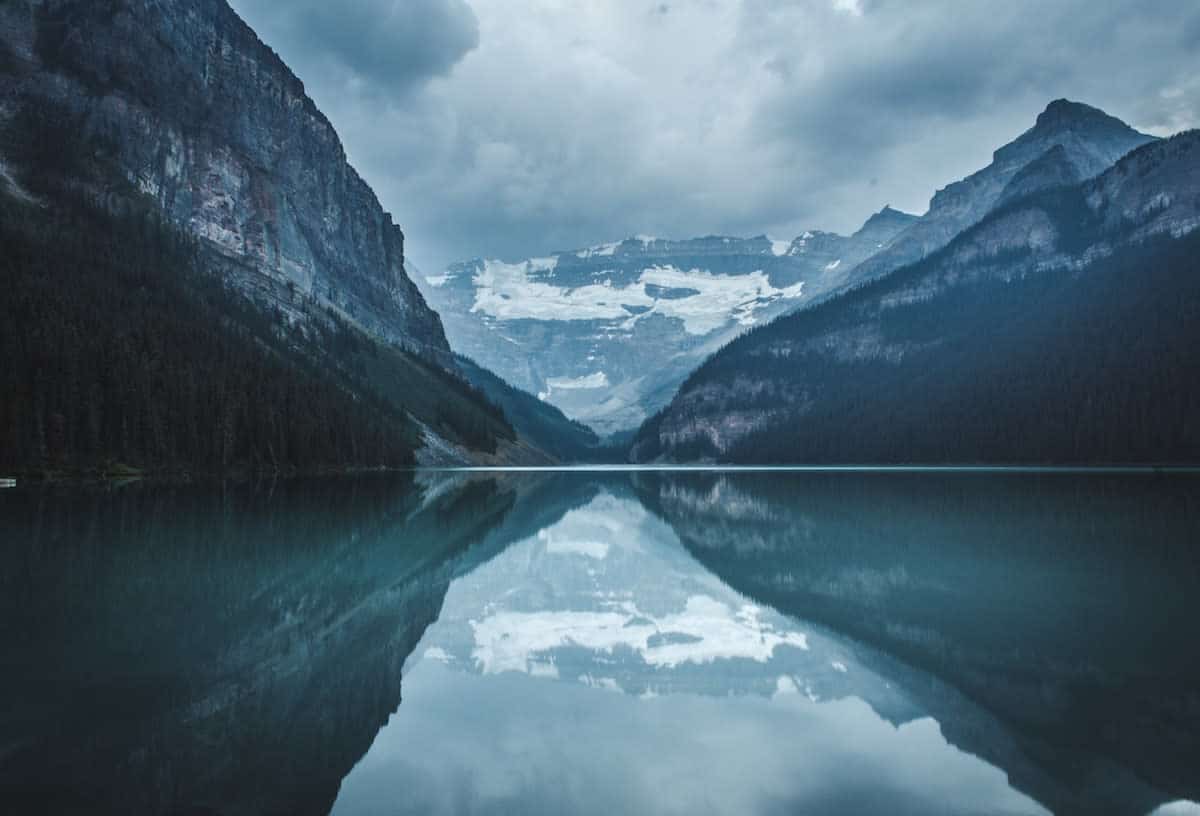 Landscape Photography Tip #10: Work That Water
Seascapes, lakes, and rivers are amazing for taking landscape photos. When shooting by or on the ocean, remember to take into account the fact that the tides may be changing throughout the day. There's lots of landscape photography appsthat can help you figure out the best—and safest—time to shoot.
On a calm day, it's possible to play with reflections, which can add an entire new dimension to your landscape photography technique. In order to get effective mirror shots with water, look for still water. Then, get low to the ground in order to get an ideal angle (this may even involve getting onto your knees or laying on your stomach). Then, use a polarizing filter to capture all of the reflection's nuances. You will have to play around with your exposure before you find one that's right for you.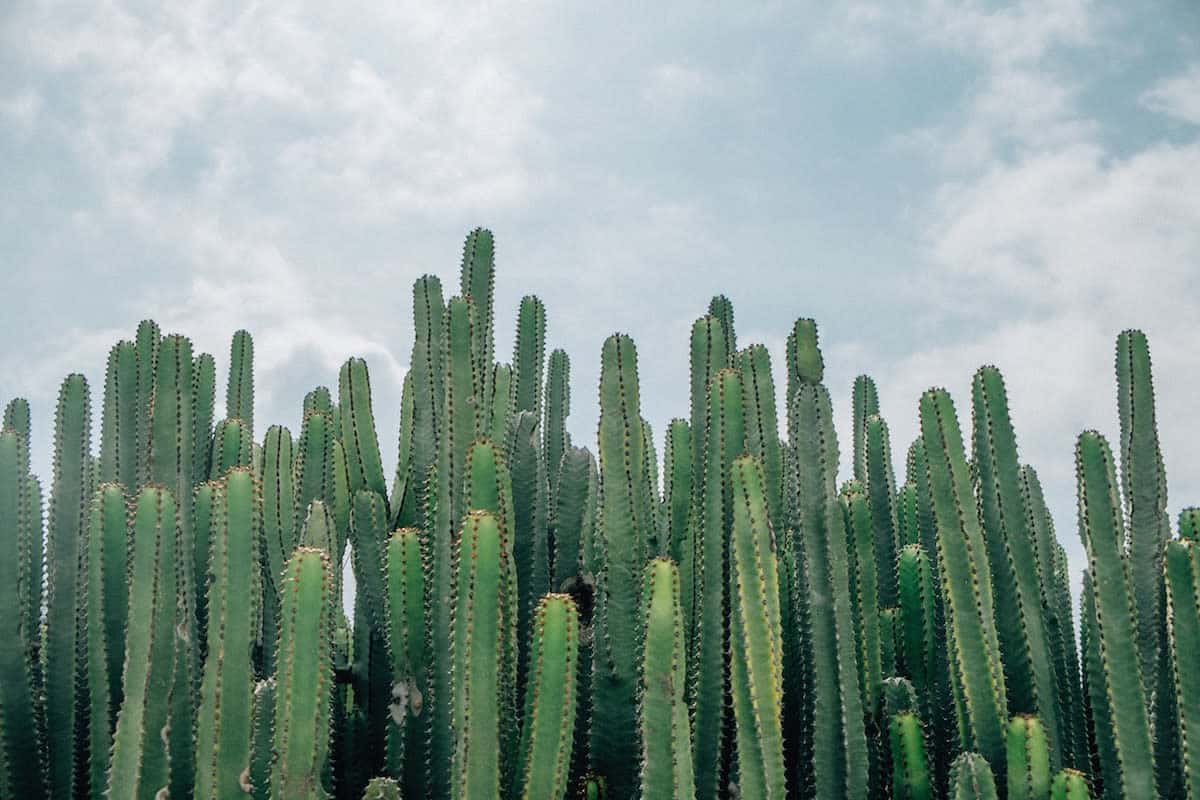 Once you have mastered these landscape photography tips, your work is going to be stunning! Make sure to add your best shots into your online landscape photography portfolio.
Don't have one yet? Use a website builder to create a gorgeous one in minutes. Make sure to pick one with a built-in store so you can sell your landscape photos, right from your own website. You can also put your shots up for sale on other sites, too; check out our guide to selling your landscape photography online to learn how. With these landscape photography techniques taking your shots to another level, the sales will be rolling in!
Hooked on landscape photography?
Michael Wolf's 5 Tips for Shooting Urban Landscapes
How to Start a Successful Photography Business
How to Market Your Photography Business For Free