Instant cameras are back. With Fujifilm's Instax camera maintaining a steady popularity, and the Impossible Project releasing a camera to go along with their retro film, there's no shortage of analog options on the market for photographers who don't like waiting to get their photos back from the lab. Lomography has also joined in on the trend with their Lomo'Instant camera.
I took the larger format Lomo'Instant for a test drive to see how it compares to the old-school Polaroids I grew up with.
Dubbed the Lomo'Instant Wide, this camera has an overwhelming number of unique features that would set it apart from other film cameras even if it didn't print instant photos. The Lomo'Instant is available on its own for $199, or you can pay more (starting at $239) for a selection of lens attachments.
Image via Lomography.
The Lomo'Instant Wide is Lomo's first camera that shoots using Fujifilm's Instax Wide film, which means that it takes pretty big photos. At least, as compared to Fujifilm's popular Instax Mini camera or the original Lomo'Instant, which both use Instax Mini film.
Not including the white border, Instax Mini photos are about 1.8 by 2.4 inches (the size of a credit card), whereas the Wide photos are 2.4 by 3.9 inches. This means that the Lomo'Instant Wide takes photos that are closer in size to those you'd get with a typical Polaroid camera (usually 3.1 by 3.1 inches).
Of course, this means that the Lomo'Instant Wide itself is pretty oversized (5.75 by 7.5 by 3.75 inches, to be exact). It's comparable in heft to the Polaroid OneStep 600, the classic early 2000s-era camera I used to take photos of my pets as a kid.
Actually, the Lomo'Instant Wide feels lighter than a Polaroid, but it's so huge and, well, wide, that it's not exactly a camera you can just toss into your bag on any occasion. That's the kind of photography I like doing, though, so I tried it anyway. I stuck the Lomo'Instant Wide in a big tote bag and headed out for a walk.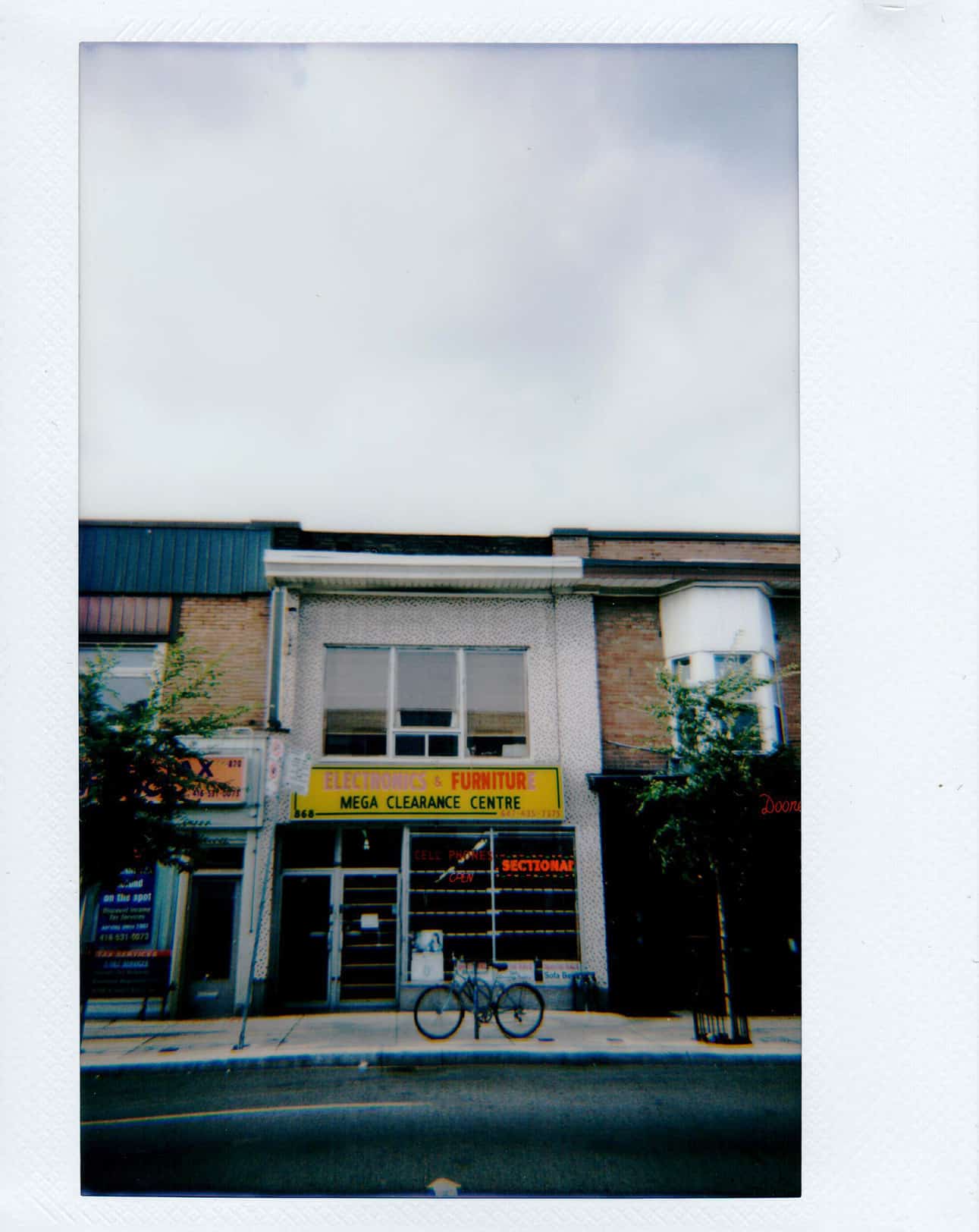 Getting used to the Lomo'Instant Wide took a while. I like shooting buildings and street scenes, and I usually use a tiny point-and-shoot Olympus which doesn't even have a manual focus option. I'm used to taking photos that are fully automated, and very realistic in the sense that they're not manipulated in any way. The Lomo'Instant Wide is intended for a more creative type of photography, excelling at surreal, slightly distorted, multi-layered images rather than realistic captures.
I felt awkward shooting with the Lomo'Instant at first mostly because of its huge size. Normally I wouldn't hesitate to use my 35mm camera to photograph an interesting storefront on a busy street, but I felt silly furtively pulling this massive analog camera out of my bag to compose a photo.
As with many instant cameras, the viewfinder is a little hard to get used to as well, so I shot a bunch of terrible images at first. After running through one film cartridge (10 photos), I started feeling more comfortable. It was so much fun to watch the photos develop in my hands that I forgot about feeling goofy carrying around such an oversized camera and was just excited to see the results.
The regular photos this camera takes are nice, as long as you remember to turn the manual focus to the correct setting. The Lomo'Instant Wide has three settings for focal point: 0.6m, 1-2m, and an infinity setting. In this sense, it's not that different from the Polaroid OneStep, which basically only offered options for focusing close up or far away.
With both cameras, as with many of Lomography's cameras and Polaroids too, you can't tell by looking through the viewfinder if the image is out of focus or not, and there's no autofocus. So the Lomo'Instant Wide demands that you pay close attention to what you're photographing. While annoying at first, this turned out to be a positive influence on my photos. Double-checking the camera settings before I pressed the shutter forced me to consider composition more carefully than I normally would.
The fact that the Lomo'Instant Wide takes larger than usual instant photos is a big plus when shooting street scenes. And a useful addition to this camera is the Ultra Wide-Angle Lens it comes with, which makes your shots even wider at 21mm. (The lens on the Lomo'Instant Wide is a 35mm equivalent.)
The fully kitted-out version of the Lomo'Instant Wide that I got to try comes with a close-up lens too, intended for shooting subjects around 10cm away from you. I tried this out a bunch of times and got mostly very blurry results. At least they're blurry in an impressionistic, Monet sort of way.
After deciding to give the close-up lens one last go, I managed to get one really great shot. Images like this show how well suited the Lomo'Instant Wide is to shooting outside in late summer. I've never been that into photographing flowers before, but with the Lomo'Instant, I found myself searching side streets for colorful plants to photograph, excited about finding sunflowers in somebody's front yard.
The double exposure feature was my favorite aspect of the camera. Although I'm happy with the unaltered photos it produces, they don't feel super different from shots I would get on my Olympus mju I, or any standard 35mm camera. But the double exposures I made with the Lomo'Instant Wide were so vividly colorful and strange.
A big bonus of this double exposure feature is that it's very, very easy to do on the Lomo'Instant Wide. Again like a classic Polaroid, this camera has just a few settings, and one of them is the multiple exposure (MX) button. To expose a photo multiple times, you press this button, shoot as many exposures as you like, and then press MX again to print. I was impressed that this feature produced good results at night with flash as well as in daylight.
The Lomo'Instant Wide comes with four colored gels which you can stick over the built-in flash to create color-saturated photos in blue, red, yellow, or purple. I initially tried this out in the daytime, and got nothing but a subtle blue tint.
This may have been because it was too bright outside, or because, concerned about blowing out the image by using flash in daylight, I pushed the exposure down. You can compensate exposure on the Lomo'Instant Wide by toggling a little switch that lets you choose between +1 exposure, -1 exposure, or 0. Set to 0, the camera will automatically expose your photos correctly, which worked for me most of the time. But if you want to get more fancy with your lighting, the Lomo'Instant Wide does include a PC sync socket for connecting an external flash.
When it came to using the gels, I had to shoot in very low light with the flash on in order to get a noticeable result. But when it worked, it worked super well, blowing out the whole image with a rich red tone.
This is already a dizzying amount of features for any camera to have, but there's even one more lens attachment: the Splitzer, which allows you to cover part of the lens while shooting to create collage-like, multiply-exposed images. You just screw the Splitzer onto the lens, and choose how much of the lens you want to cover. In this image, I covered half the lens, shot one exposure, then covered the other side of the lens and shot again.
Although I found it a bit tricky to compose shots using the Splitzer, it was a lot of fun to play with. Removing and attaching all these lens and lens adaptors while on the go was kind of difficult, though, and I wish they'd come in some sort of practical carrying case. I have to say the same for the camera, too. Although it feels sturdy, it'd still be nice to have a dedicated case or bag to hold it in.
Finally, the last feature: the lens cap of the Lomo'Instant Wide doubles as a wireless shutter release which you can use to take self-portraits, or to include yourself in group shots. This is a smart move from Lomography, who obviously recognize the social appeal of the Lomo'Instant. The Lomo'Instant Wide definitely seems like a camera intended for parties, events, shows, family gatherings.
That being said, once I got used to wielding a camera the size of my head, I had a great time walking around and shooting with it. Being able to see results right away was addictive.
This camera has something of a steep learning curve, but still, some of my accidental shots ended up being my favorites. The Lomo'Instant Wide may take a while to master, but at least the mistakes you'll inevitably make will be forgiving.
Probably the biggest drawback of any instant camera, once you get used to the size, is the price of film. At $16.98 for 20 photos on Amazon, Instax Wide film is not cheap. Still, shooting 35mm film is always expensive. This way you at least get to avoid having to drop off and pick up your film again, and the price isn't all that different when you consider that you don't have to pay to get these photos developed.
Ultimately, this camera is a good investment for anyone who likes playing around with analog film. If, like me, you've always been curious about manipulating your photos to produce more creative images, but lack the technical camera knowledge required, the Lomo'Instant Wide is a great place to start.
Photographers who see the appeal of instant film but want more technical control should look into the new Lomo'Instant Automat. Lomography has just launched a Kickstarter to support this camera, which is essentially a more advanced version of the Lomo'Instant.
Read our review of Lensbaby's Velvet 56 Manual Focus Portrait lens.
Jill Blackmore Evans is a writer and photographer based in Toronto, Ontario. You can find more of her work at her portfolio or on Instagram at @jillblackmore.