If you're new to professional website design, it's good to start with a foundation that's tried and true. Slideshow websites, true to their name, feature tile design where users "slide" from one tile to the other to navigate content. This design can be a portion or even the basis for the website.
A slideshow website design can provide functionalities website visitors don't have to spend time getting familiar with while still giving you flexibility with the overall look and feel. Slideshow websites are favored by photographers because they put visual content front and center.
What is a Website Design Template?
First of all, a website design template is a blueprint for the design and functionality of a website. Using a website template gives you a complete layout that helps your work stand out among the competition, no coding required.
Format's website templates come in a variety of layouts and offer the plug-and-play ability for creative professionals looking for a hands-off design experience, and customization options like sticky or fixed navigation on certain templates for those looking for a more bespoke design.
Website templates make it easy for anyone, whether with or without coding knowledge, to build a stunning website. Not only are they super easy to use, but they are also highly customizable to suit your personal or business needs.
How to Choose a Website Design Template
Choosing the perfect website design template for you can seem intimidating. However, answering some key questions about your professional needs can help you narrow down your choices in terms of what functionalities are best suited to the type of content you want to display on your photography portfolio. Here are three starter questions to ask yourself before selecting a template:
What type of purpose is your header going to serve and how much of a central role do you want it to play in content navigation?

Do you want to have complete control over the order in which the visitor views your work, or do you want them to have freedom in navigating the side?

Have you completed a quick audit of other photography website designs for ideas of functionalities and features?

Does the website template support e-commerce capabilities?
Once you've answered these questions, you will be in a better place to decide what type of template is best suited for your needs. Alternatively, if you don't know where to begin, a slideshow template is a go-to choice for many creative professionals like photographers. You can learn about this type of website design below.
Why is Having an Online Photography Portfolio Important?
Arguably, there is no other industry where having a portfolio matters more than in photography. Your professional website is one of the first places potential clients visit to get an understanding of your creative style and your range of work. As a result, it's essential that what they find is representative of you as a photographer and makes it easy to find the information visitors are looking for. In addition, a personal portfolio website:
Increases your discoverability online

Builds credibility on your behalf

Lets you control your brand image

Grooms qualified leads
In sum, having an online presence in the form of a personal portfolio website is an absolute must for photographers wishing to catch the attention of new clients.
What is Slideshow Website Design?
Format templates are geared at visual-forward audiences, so they offer a wide variety of gallery designs, including Horizontal Scroll, Tiled, Vertical Scroll, Fullscreen and Slideshow. While each offers its own advantages, this article will focus on the Slideshow templates in particular.
A slider website is one where the primary way the visitor navigates content is reminiscent of the user experience of a PowerPoint presentation. In this website layout, the user travels the website by means of slides that gate or group content. For some slider designs, the landing page is the only photo slideshow element. For others, each visual piece of content is part of its own scrollable slideshow gallery.
Slider websites put the focus on your work one large image at a time, with a row or column of smaller thumbnails and suit any image orientation that is easy to navigate. This is why slider websites are perfect for creative professionals because they take the visitor – or potential client – on a journey of their work.
What Slideshow Website Templates Do Best
Gallery template navigation – of which slider is just one option — all have their own benefits. When it comes to web slideshow website designs, they deliver the following advantages:
They are a compact way of showcasing high volumes of images

They allow for visual sequencing of content (new content can be easily prioritized over old)

Slider images that move encourage engagement with content and increase total time spent on your site

Longer amounts of time spent on your site also help its SEO rankings
As you can see, slideshow templates are a compelling way to display portfolio work for anyone working in a visual or creative industry. But rest assured, this tried and true website layout doesn't mean it has to be boring or predictable.
Best Slideshow Templates
As a creative professional portfolio site, Format knows that having an impactful professional website is essential for anyone working in the creative industry. That's why its range of slideshow website designs offers a wide range of functionalities and aesthetics to choose from. Below are just some of the slideshow template options available:
Perfect for fashion photographers, this unique slideshow stacks photo elements on top of one another with each click. By stacking the elements, the layout stays clean and airy and holds onto its ample white space across bodies of work. The potential to add color leaves room for a personal touch, and the responsive background samples color from the currently viewed image for an immersive viewing experience.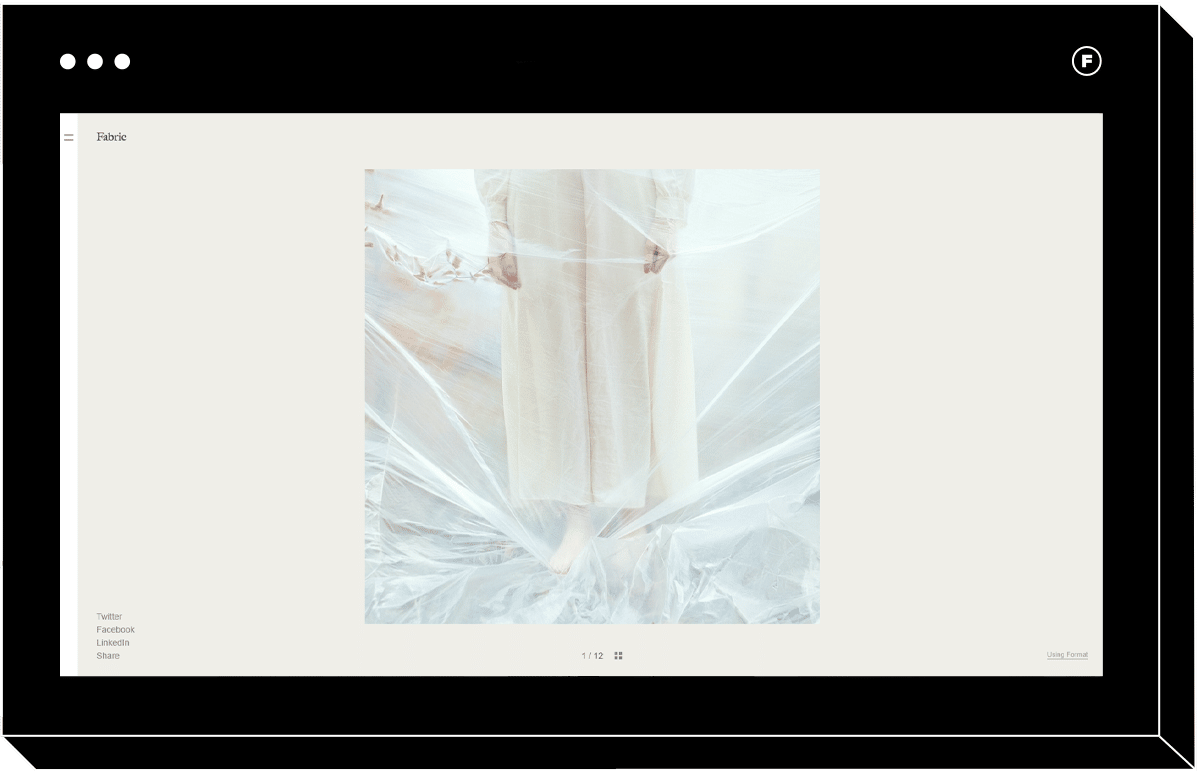 This minimalist website design uses a single image as the focal point and is best suited for showcasing a few key pieces. A unique slideshow stacks elements on top of one another. In addition, the adaptive background samples the colors from the currently viewed image.
With its classic design, this layout offers a traditional slideshow for easy navigation. It offers a clean and simple design with an artist logo at the top followed by a header bar with a Contact form feature. A single image takes the spotlight while visitors can preview related work in a bar below the slide.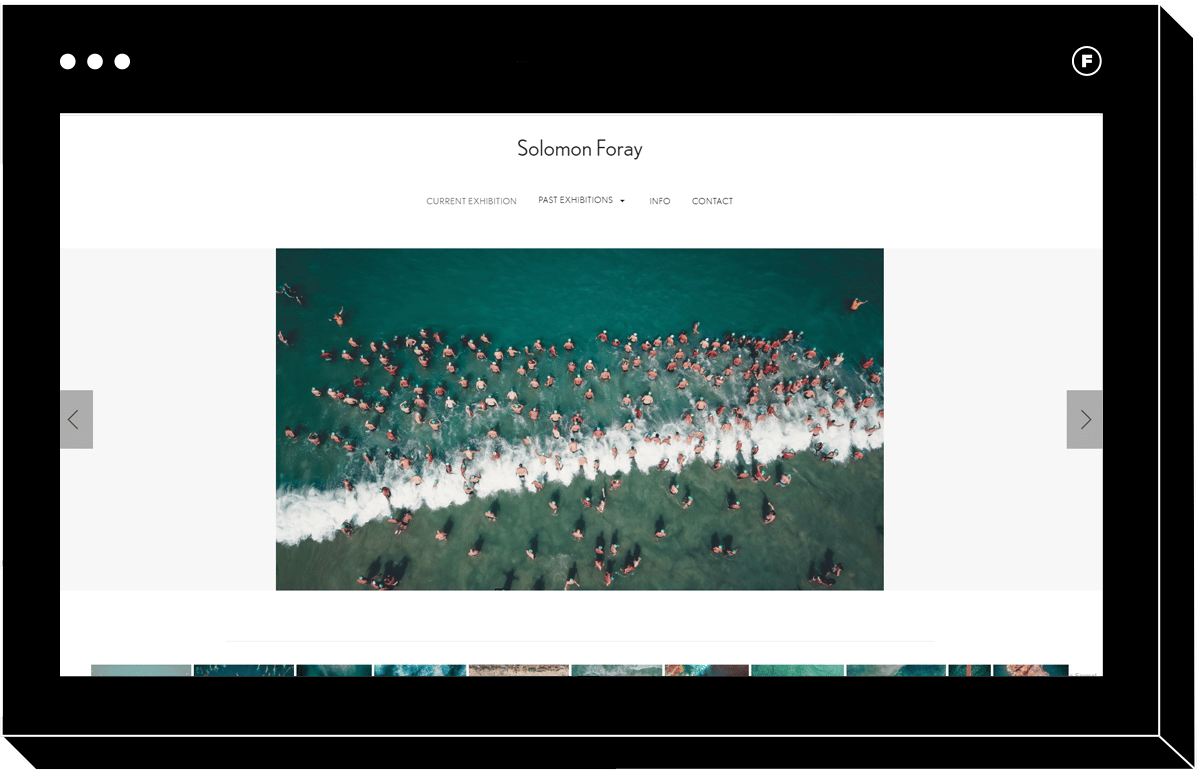 Foray lets your work speak for itself. This clean layout features a brand name, a header and a preview bar of the image gallery. In addition, Foray offers multiple menu layout options to make site navigation your own. This minimalistic layout acts as a teaser for content and encourages visitors to find out more about associated online channels.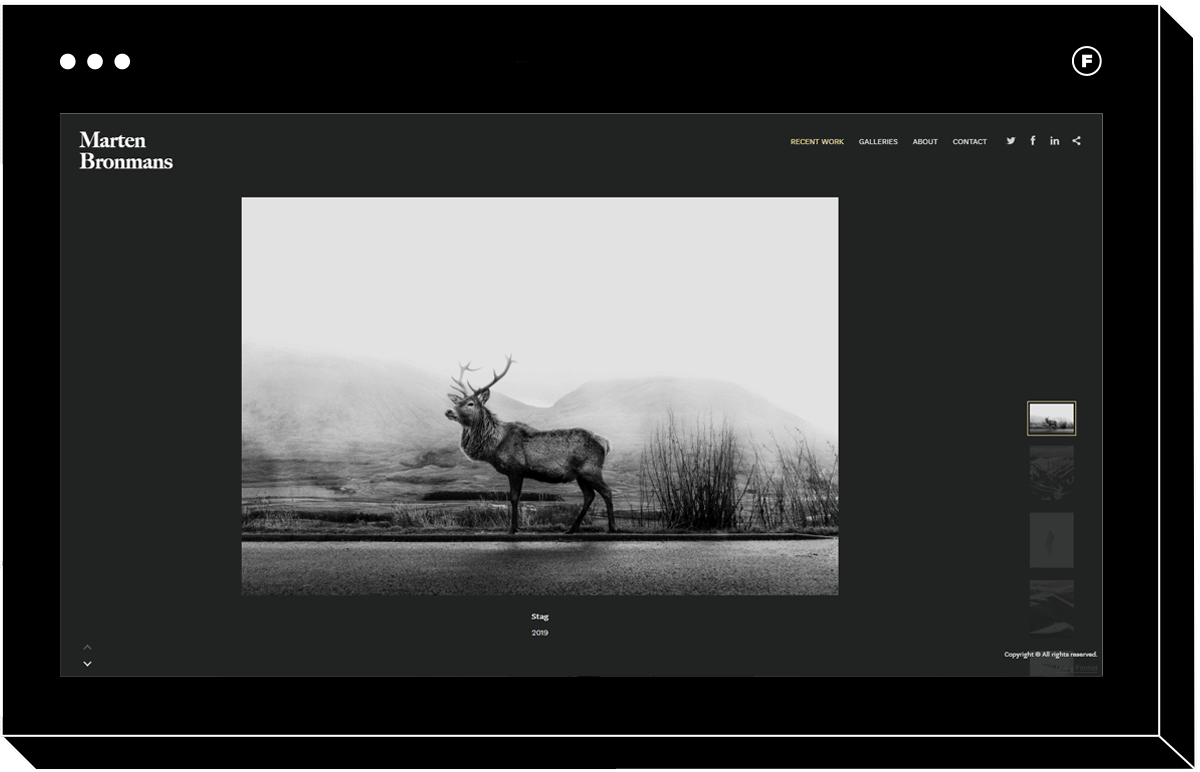 Lightbox combines a classic, elegant slideshow design with an uncompromising image layout. This template is designed to showcase your images one at a time without cropping them so that your visitors get the full impact. In addition, it features a clickable artist name that can be linked to an About Me page and an optional social media connectivity featured in the Header bar.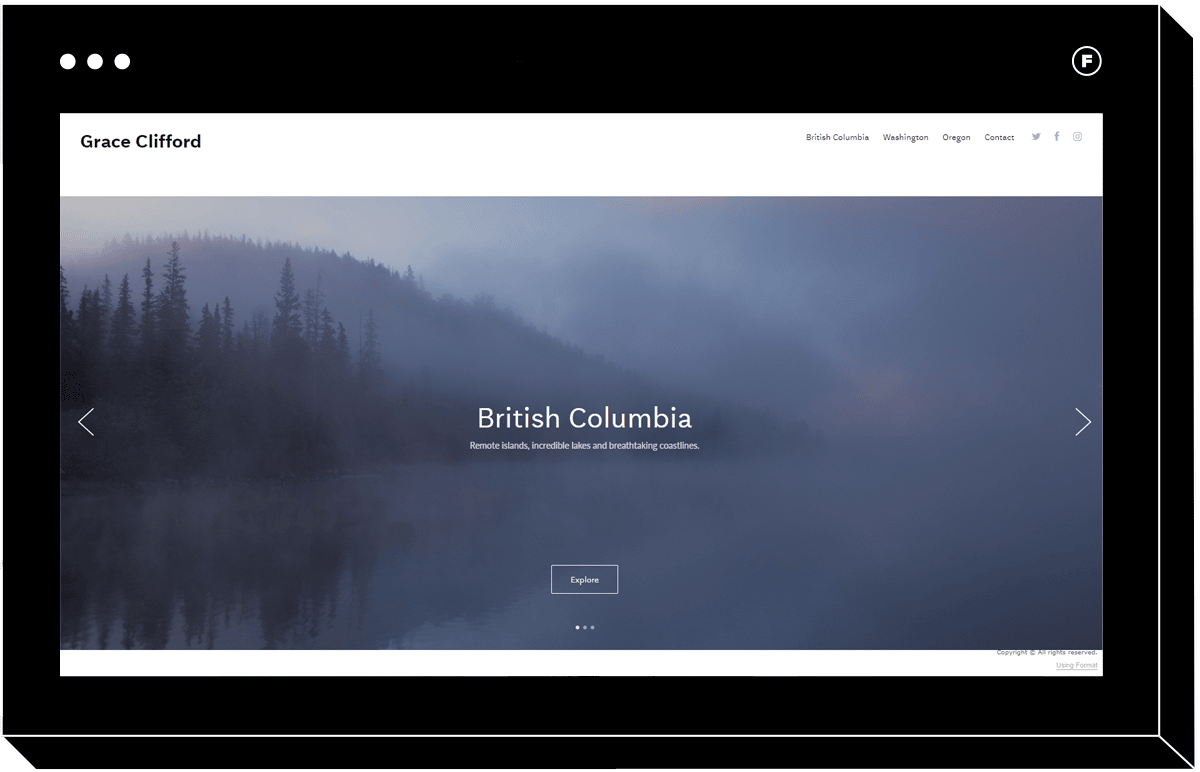 Perfect for minimalists, Grace features a unique vertical slideshow that gives it a clean and airy aesthetic. This template puts emphasis on images without cropping them. Landscape photography is particularly well suited for the fullscreen slideshow feature of this template.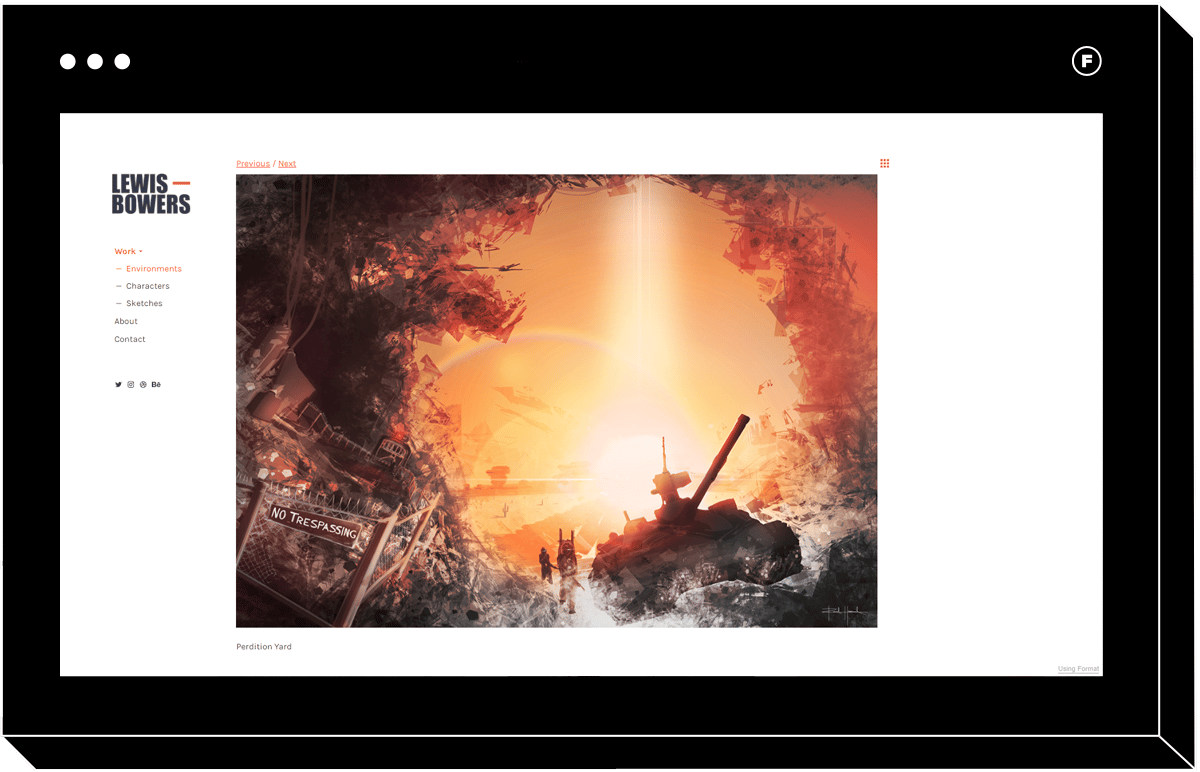 This classic design is reminiscent of Tumblr and is well suited for illustrative iterative processes, like digital photography or art. Viewers can toggle between masonry thumbnails for an overview of all the work at a glance, or zero-in on specific pieces one image at a time to see them in detail. An About Me page helps add a personal touch to the portfolio.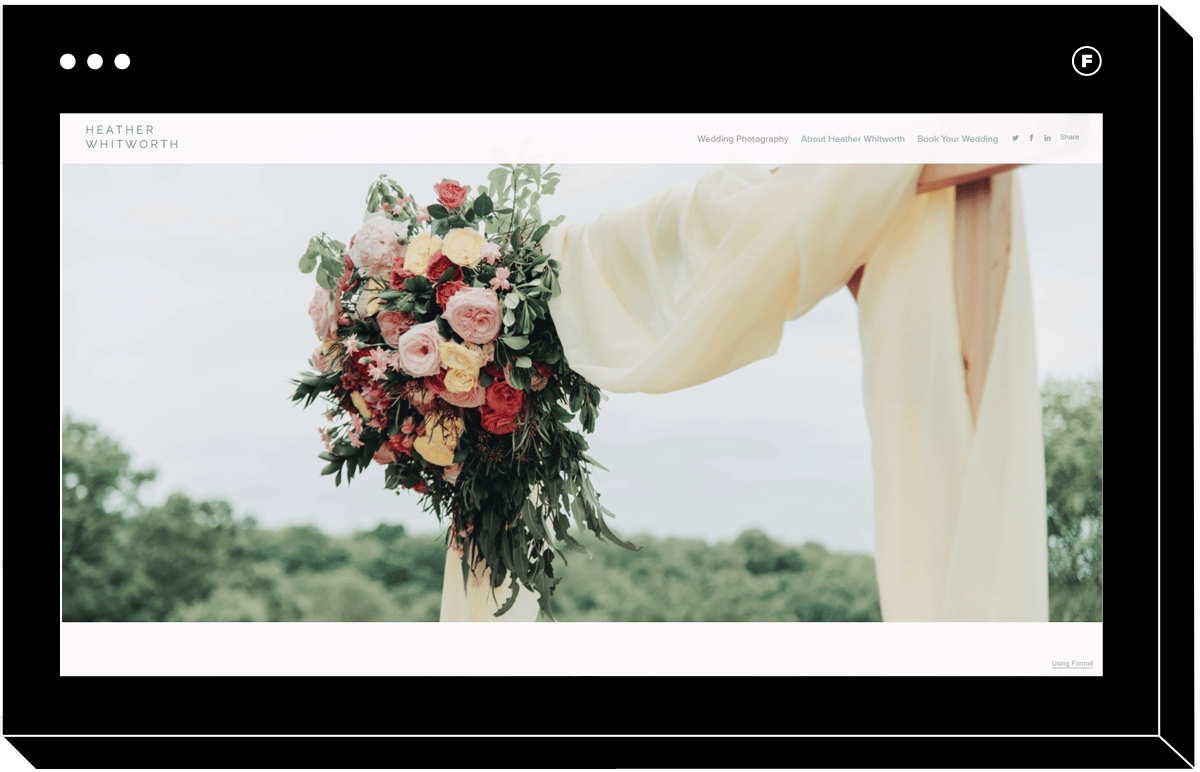 No matter your photography genre, this template has you covered. Bring bigger-than-life images to the screen with a fullscreen image gallery and listing page with Cover. In addition, parallax scroll feature brings a sense of motion to the site with smooth page transitions and a sticky or fixed navigation. Other available customizations include masonry or grid layouts, captions and a removable header.
This modern template is the perfect way to ensure all eyes are on your bold and modern brand. Eye-catching header images help classify your work by sub-genre and dynamic galleries with animated page transitions that help bring the experience to life. With countless customizations this template has to offer, you can showcase the full spectrum of your portfolio with Daylight.
It's full steam ahead with Vignette. Perfect for a blend of video and photography, this template offers a customizable video title page, parallax scroll and animated page transitions. In addition, videos are sure to stand out with elegant header images and slideshow galleries. Custom navigation options help make the navigation experience your own.
By now, you know what to expect from a slideshow website design, and should be in a good place to decide whether this layout is the right choice for your photography portfolio. If you're still unsure, check out other Format website templates, including Horizontal Scroll, Tiled, Vertical Scroll and Fullscreen layouts.
Looking for other website designs and templates to wow your visitors?
How To Create A Horizontal Scrolling Website with Format Templates
19 Website Navigation Design Examples For Your Online Portfolio