Have you ever sat down to write a post for your website and felt writer's block? Or what about the thought of increasing your client list? Have you ever wondered how as a wedding photographer your website can skyrocket to the top of all search engines? One great way to boost your photography business is to update your website with a healthy stream of blog posts. To help you get started, we've put together a number of different ideas for you to post about.
Why Blogging?
As a photographer, both building your online portfolio and ensuring that people can find it online is essential to growing your client base and in turn, your business. Posting blog articles is a perfect way to showcase your portfolio and photography knowledge. It gives you a chance to share a thing or two about your love for photography and will drive traffic to your website. The hardest part may be coming up with ideas for your blog posts, which is why we are here!
Creating a Blog
The first step is actually creating a blog space on your photography website. Make sure you have a section on your search menu for people to find your blog. The goal is to develop a space where you can showcase both your photography work and portfolio. As a photographer, it's important to remember that clients will want to see both your photography skills and creativity. Blogging is something that can help you do just that.
How Do I Make My Blog Interesting?
One of the big things photographers ask is how to ensure their blog is something that people will actually want to read. First off, it is important to remember the reason why you are writing your blog, which should be focused on boosting your brand as a photographer and ultimately your sales. Next, remember who your audience is. Your blog should be aimed to capture the views of couples planning a wedding. This covers engaged couples but can include soon-to-be engaged couples. To ensure your blog is interesting, it is important to keep in mind who your audience is and to focus on catering your content to this demographic.
Most importantly, always remember that most of the couples who are searching for their wedding photographer or reading a post you've written, don't have the photography knowledge you have. Give yourself enough credit to know that people want to hear the knowledge you are willing to share. So don't be afraid to share it! The secret to an interesting blog is telling stories or sharing information that the people reading it may not know. As a photographer, you've already got that part covered.
Blog Topics for Wedding Photographers
Off we go. Now that you have space on your website for your photography blog, it's time to generate some ideas of what to write about. The focus should be on creating content that can be posted on your blog on a consistent basis, so try to give yourself a schedule of how often you want to post. Maintaining consistency and fresh content for your website is one of the best ways to drive people to visit your site. As a photographer, it's important to be able to share with potential clients your photography portfolio, and with the addition of the blog, you can also give people an insight into your creative process. Your blog can also be something that people can connect to, which can be a difference-maker when a couple is choosing between two photographers. Ultimately, the goal is that the people who stop by your website to read your posts will become potential clients.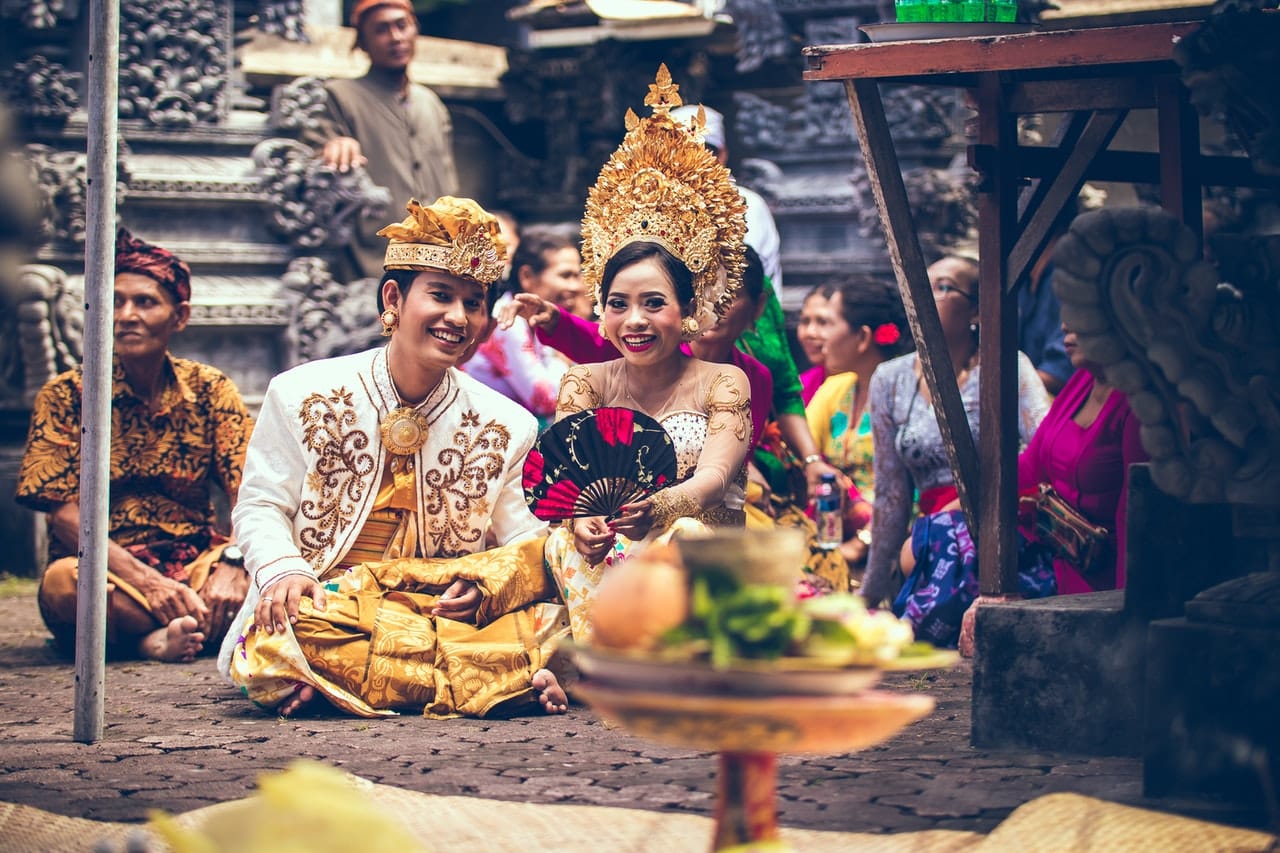 "I Do" Wedding Post Ideas for Blog
The blog post ideas you come up with for your website can focus on anything related to the wedding process. Let's start at the beginning and begin our photography blog post ideas with posts related to the wedding planning stage. Make the posts all things related to securing a venue and different vendors, engagement photoshoots, and any tips or tricks on planning the perfect wedding. A great way to do this is to have these posts focused on promoting another small business or some of the local shops you love within your city. Say "I do" to one (or all) of the blog ideas below.
The Best Wedding Venues
Great place to start. An incredibly important part of any wedding is the venue the wedding is held in. Will the couple be hosting a big family and tons of friends or interested in creating an intimate affair? Use one of your blog posts to highlight the best wedding venues you've been a part of as a photographer. Within this blog post, describe the beauty of the different venues and highlight the types of venues that have been best for the different sizes or scales of the weddings you've shot. Don't forget to share the things you loved about working with the venue staff. Readers will appreciate your candid inside knowledge! Of course, it's also an opportunity to share beautiful venue photos from your portfolio.
Promote Local Business Owners
Create a blog post highlighting some of your favorite wedding vendors in the city. Help promote local business owners by sharing with readers your go-to caterers, wedding dress boutiques, best bakers, hair and make-up artists, decorators, wedding planners, etc. Make sure to add photos of some of their work inside your blog post. Link readers to their social media pages or websites to drive people to their business too. What goes around, comes around!
Feature Former Clients
Write a blog featuring some of your former clients and the advice they have for future brides and grooms. Wedding planning can be an incredibly stressful time, so give the couple a chance to highlight anything they would have done differently or what they wish they knew during the planning of their wedding. Make sure your client is quoted in the post and give them a list of topics you want them to share some thoughts on. Ask them to share their favorite pictures from their wedding and maybe even add a comment on why that photo is so special to them. This is a great chance to link back to your online portfolio. Connecting with your former clients can also increase your chances of being re-hired for other work down the road. For example, you never know when they may need a portrait photographer for their children in a few years or a family portrait session down the road!
Beautiful Engagement Photos
Since your blog doesn't have to be limited to the big day and only wedding photos, be sure to include all things wedding related including the engagement shoots. Write a blog post about an engagement session with some fun ideas for couples. Engagement photos are an important part of the lead up to the wedding and also, many couples will use the same photographer for their engagement and wedding. This is a good opportunity to lock in clients early! Use this post to take readers through some of your favorite engagement shoots or some ideas you have for the perfect engagement pictures.
All About The Wedding
Share different blog posts about the wedding itself. Use your blog as an opportunity to share your point of view as a photographer of all the different weddings you have shot. Share with couples the must-have photos that are needed at every wedding to tell that magical story and give some insight on the different ways to get their family or loved ones involved in their special day.
List of Must-Haves
This particular article can be some sort of like your menu of pictures you need to leave every wedding with. Create a list of the must-have pictures that you feel need to be captured at every wedding and share it on your blog. You know, the ones that help you tell the couple's story? The ones that you can't leave a wedding without taking? Writing a post about your list of must-haves can help give potential clients ideas of the kinds of pictures they should be putting on their list of needs. It can also give the couple an idea of what to expect if you are their photographer and some talking points for when they are discussing their own wedding with you.
All-Things Family
Family is such an integral part of every wedding and therefore, something important for all wedding photographers to think about. The family session is always a classic, but can sometimes pose challenges depending on dynamics or geography. Your specialty may not be as a family photographer, but it will be important to ensure that all family members that the bride and groom want to be involved are. There also can be instances where not everyone can make it to the wedding, so it can be really special for photographers to be able to still think of creative ways to incorporate loved ones. Especially during COVID-19, coming up with ideas to involve family from afar can make for a very special wedding, and of course, great blog content.
The Photographer's Wedding Process
As a photographer, we can sometimes forget that not everyone knows the intricacies of what goes into giving couples the final product on the pictures. Do some blogging that will give readers a backstage pass to what it means to capture the perfect wedding pictures and the editing that follows the big day.
Photo Editing 101
To help readers understand just how much work and time goes into your job, create a blog post detailing your photo editing process. Use this blog as an opportunity to show clients what goes into editing photos including filtering through all the pictures from the wedding day, the different editing programs you use, and any tips you want to share. Consider highlighting 5 things people need to know about the editing process or make a list of some of your favorite tools to use while editing. Not all clients know how long or how important editing is to photographers. Creating a blog post about editing is a great way to enlighten people on different elements of your job as a professional photographer. Don't forget to add some before and after content in your article.
Go Behind the Scenes
Take your blog behind the scenes of a full wedding day. One way to set up this post is to share things that even the people from that wedding didn't necessarily see. The goal will be to allow the blog readers to see the inner workings of a wedding from the photographer's point of view. Whichever wedding you are highlighting, add some photos of different outtakes. Maybe even the client from that particular wedding will see even more of their own wedding! Try showcasing some of the funny angles or things you had to do to snap the perfect photo. Like the time you were lying on the floor or hanging off a ladder to get your perfect picture. This article can be fun and allow for some humor.
All About the Photographers
Our next blog ideas are focused on the photographers themselves. These ones are about their dream shoots and inspirations. They are all about showcasing parts of the photographer's personality by giving a deep dive into their creative process. Your blog is a great place to share things you love or aspire to capture one day in your ideal photoshoot.
Bucket List Photoshoot
Just because you haven't taken the photo yet doesn't mean you can't blog about it. One great thing about your blog is it can be a place where you can share your aspirations with people, like maybe what your dream summer bucket list for a photo session would be. Photographers often have many creative ideas they haven't had the chance to shoot yet, so put them out into the universe. Don't be afraid to let people in on them. You never know, you might be able to find clients interested in bringing your dream photo session to life.
Favorite Photographers
Something to remember is that your blog post ideas don't have to be limited to your own work. Write an article that highlights a professional photographer that inspires you or create a whole list of ones that do. While the industry is competitive, you can still share different photographers who have shaped your career. If promoting other photographers from your area makes you uncomfortable, highlight some from a different city or country. Don't forget to add some photos of their work and link to their social media or websites.
Dreamy Honeymoon Photos
Have your blog posts go beyond the wedding and share some content about honeymoon pictures. If you have done honeymoon photoshoots before then this is a great article for you to highlight some of that work. If not, use this blog post as a space to share any travel photos you have taken. Ultimately, the goal is to use your photography blog to showcase your portfolio, so get creative and add in those beautiful travel photos. Your vacation photos may give your clients some ideas of where their honeymoon should be! It might just come full circle.
Get Blogging!
Now that you're full of photography blog ideas, it's time to get blogging! Once you get into the groove of writing, the sky will be the limit of the content you can create for your website. Remember to always link to your online portfolio and social media sites. Get out there and showcase your best work and ideas. Happy wedding photography blogging!
More amazing articles to make your photography website come to life:
How To Start A Photography Blog That Grows Your Business
What Should Creative Professionals Blog About?