You might not realize that cruise ships are a destination for art collectors and curators because endless buffets and theatre-style magic shows don't exactly scream "culture." Fair enough. And while it's hard to imagine someone in Hawaii shorts dropping stacks on a landscape painting, these floating vacation vessels have become known for their art auctions—but not known in a good way. The reputation of cruise ship art auctions are scandalous at best, often involving forged artworks, inflated list prices and lawsuits that accuse the ship's gallery of preying on drunk passengers. An American teacher was even kicked off a holiday cruise for handing out pamphlets that warned other passengers about the onboard auction.
While cruise ship art auctions are far from being the next Christie's or Sotheby's, they definitely sell a ton of work, and often at impressive prices. Surprisingly, they don't sell the latest contemporary paintings, or even original paintings. Sculptures and antiques are also rarely on the docket. So what exactly can you buy on a cruise ship? The short answer is that it depends on the ship.
Each cruise ship gallery is carefully curated to target its passenger demographics, and the collections differ slightly in content. Most of the items up for grabs are limited edition prints of well known artists—familiar images by the likes of Escher, Chagall, Renoir, Rembrandt, Picasso, and Dali. High quality giclée prints (essentially high-end inkjet prints), serigraphs (first made popular by Andy Warhol), lithographs, etchings, woodcuts, and printed copies of metal engravings are the majority of the artworks available. Occasionally cruise ship auctions also sell sports memorabilia and jewelry, but it's the prints that are the most successful. It's also these print sales that tend to cause the most controversy—more on that later.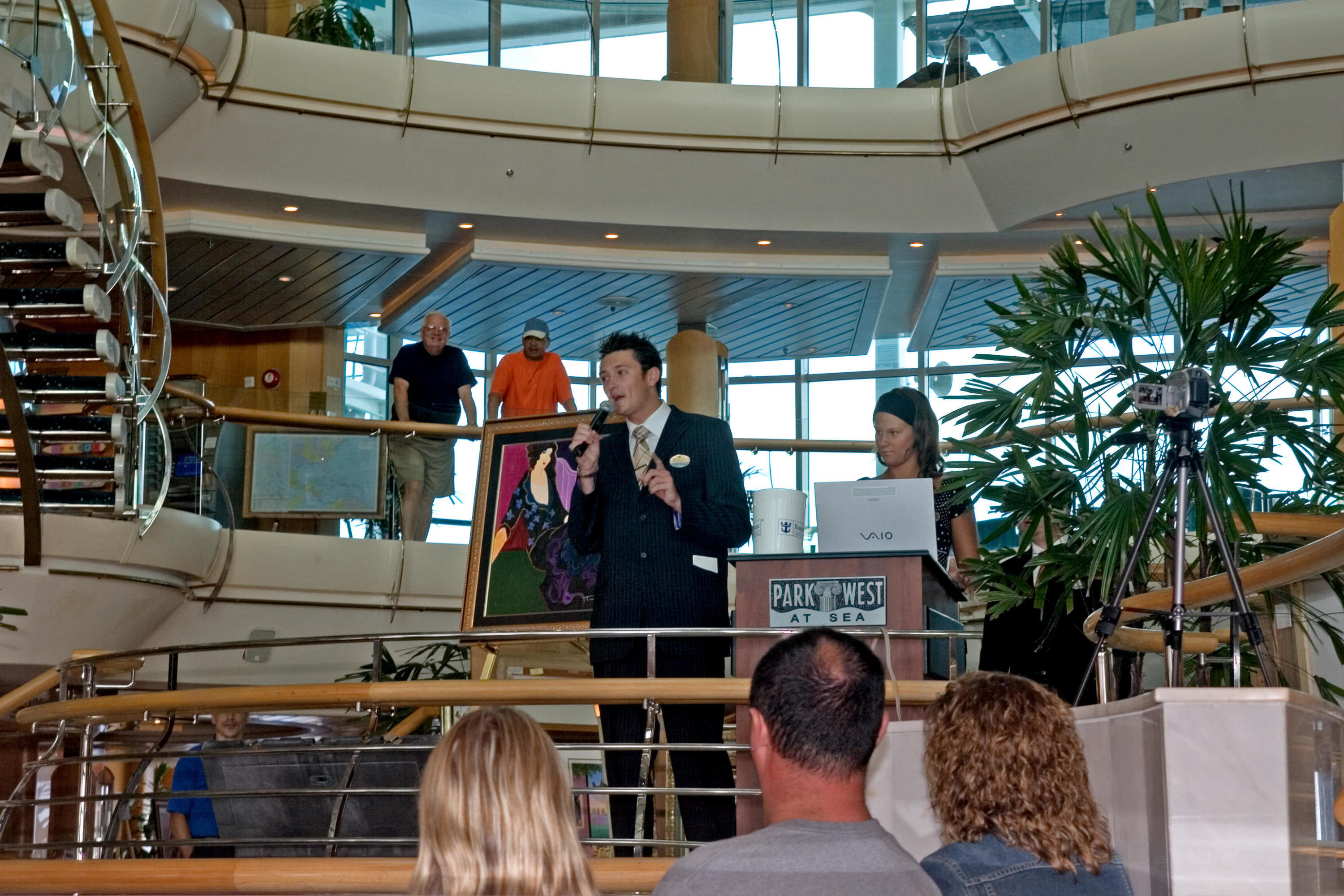 Park West auction on a Royal Caribbean cruise.
Cruise ships contract commercial galleries to provide the artwork. P&O Cruises are serviced by British Australian Art, and International Corporate Art is the largest art consultancy group to the international cruise industry. Generally speaking, though, the main purveyor of cruise ship artwork is Park West Gallery. Founded in 1969, and based just outside of Detroit, Michigan, Park West Gallery has a major foothold on the industry. They supply over 100 different ships worldwide, selling thousands of pieces at live auctions each year. Carnival, Holland America, Norwegian, Regent, Royal Caribbean, and Celebrity all use Park West, and all receive a cut of the revenue from the auctions—which seems to be a lot. Billing themselves as the world's largest art gallery, either at sea or on land, Park West is a mainstay in the world of cruise ship auctions. They even offer an exclusive "collector's card," which acts as a kind of credit card art lovers can use to make purchases.
It's undeniable that Park West Gallery has a large reach, with annual sales topping $300 million. But some of these many customers appear to be less than satisfied. Bloomberg Businessweek reports that, since 2008, at least 21 lawsuits have been filed against Park West. In one case, passenger Luis Maldonado ended up paying close to $73,000 for three Dali prints that he was told were valued at more than $100,000. Back home in California, Maldonado researched the value of the prints himself, and learned that they were actually worth less than $10,000. To add insult to injury, there was a chance that they were not even authentic.
Maldonado had purchased prints from Dali's series Divine Comedy, a work which seems to be a repeat offender when it comes to passenger complaints. Cruise passengers Debra and Timothy Vruble fell victim to a similar deception. While aboard a Royal Caribbean cruise in 2006, the couple purchased a set of three Divine Comedy prints for $19,468, only to discover later that one of the prints was valued between just $850 to $1000.
With this type of controversy, why are so many people still being duped by these auctions? Part of the reason is bad wifi on the ships, if there is wifi available at all. Without it, passengers unfamiliar with the works on display are unable to learn their real market value online. Another reason might be the champagne that the galleries tend to provide—and keep flowing throughout the entire journey. It is, of course, free, to help loosen passengers' wallets. These are only a couple of the sale tactics cruise ship galleries have tucked up their sleeves, with questionable ethics.
Prints from Dali'sDivine Comedy via eBay, where they are on sale for $1,500 each.
A standard practice with art sales is for an independent appraiser to give a work of art its provenance, which confirms the value of the piece. This is where cruise ship art auctions start to look a bit shady, especially for our repeat offender Park West Gallery. Most of their appraisals are signed by Albert Scaglione, who is the owner of the gallery. This is obviously a conflict of interest, and certainly isn't standard practice. Most industry specialists advise against trusting any auctioneer, art dealer, or anyone directly associated with the sale of the work where provenance is concerned. Appraisals should always be carried out only by recognized independent appraisers.
There are also people known as "shill bidders" participating in art auctions onboard. This is the term for what happens when the gallery or cruise ship enlists other passengers to bid on items, with the goal of artificially increasing the print's price or desirability. In return for their participation, shill bidders usually receive a free print from the gallery. While this practice isn't entirely illegal—the cruise ship retains the right to set the price however they wish—it is highly deceptive, to say the least.
It is also common that customers in cruise ship auctions are surprised with additional fees added on top of what they originally bid. There are two prices: the "hammer price" and the "buyer's premium." The first is self-explanatory: it's the amount to be paid once the hammer is struck, and the second price has another 15 percent or so added onto the hammer price. The associated contract will usually state which additional fees (like the buyer's premium) will be included in the final price, but as we all know, contracts are lengthy, and often obscure the terms and conditions with legal jargon. Surprise costs like additional sales tax, shipping, handling and insurance charges, appraisal fees, and the price of framing can really add up, pushing that original price bid at auction a lot higher than anticipated.
After all of the bad press, multiple lawsuits, and aggrieved customers, what is the future of selling art on board cruise ships? Thankfully, a few cruise lines are changing things up, with some even dropping the concept of auction sales altogether. Lately, you are more likely to encounter carefully curated collections onboard that are more inline with the art historical-focused tours you take in museums. Celebrity cruises even offer self-guided tours around their 14,000-piece private art collection, complete with iPads loaded full of educational information.
Many artists have long-lasting, amicable business relationships with the executives of cruise ships, resulting in lucrative careers. Brazilian-born, Miami-based Romero Britto has decorated both levels of the swimming pool area on Royal Caribbean's Mariner of the Seas, and even has entire galleries dedicated to his brightly colored, whimsical work on three other separate ships.
Meet and greets are becoming commonplace onboard as well, with some artists offering painted portraits of passengers. Fully-funded residencies are available for artists on several ships, and large scale murals are often commissioned by cruise lines. Peter Max just painted the 44,000 square foot hull of the latest Norwegian ship. This is all part of the new age of the at-sea art economy. Dishonest auctions are disappearing, and art education and genuine appreciation are taking their place.
Executives at Crystal Cruises and Seabourn have long realized the importance of providing their creative guests with something they can't find elsewhere: art enrichment lectures and art-related excursions. This seems to be a new trend on cruise ships. Oceania Cruises offers a residency called the Artist Loft, which enabled photographer Curtis Hustace to spend 90 days snapping photos while sailing around the Caribbean and Panama Canal. And even Park West Gallery seems to be changing things up. Signing new, contemporary artists like Gregory Arth, the gallery is now offering original artworks that are a refreshing change from their usual sunset oil paintings.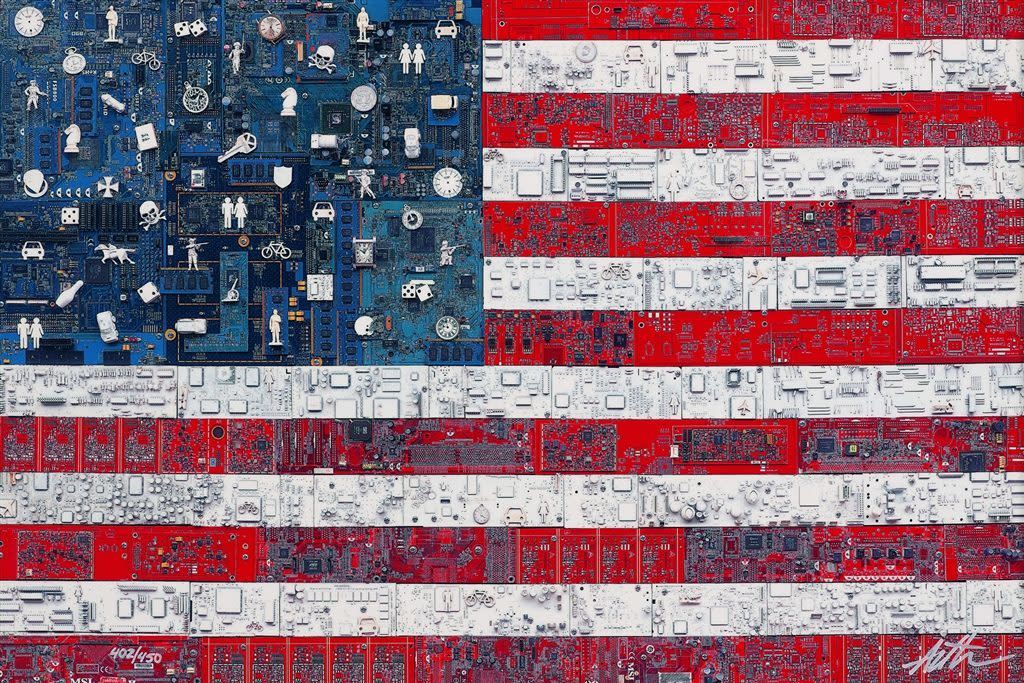 American Flag (2017) by Gregory Arth.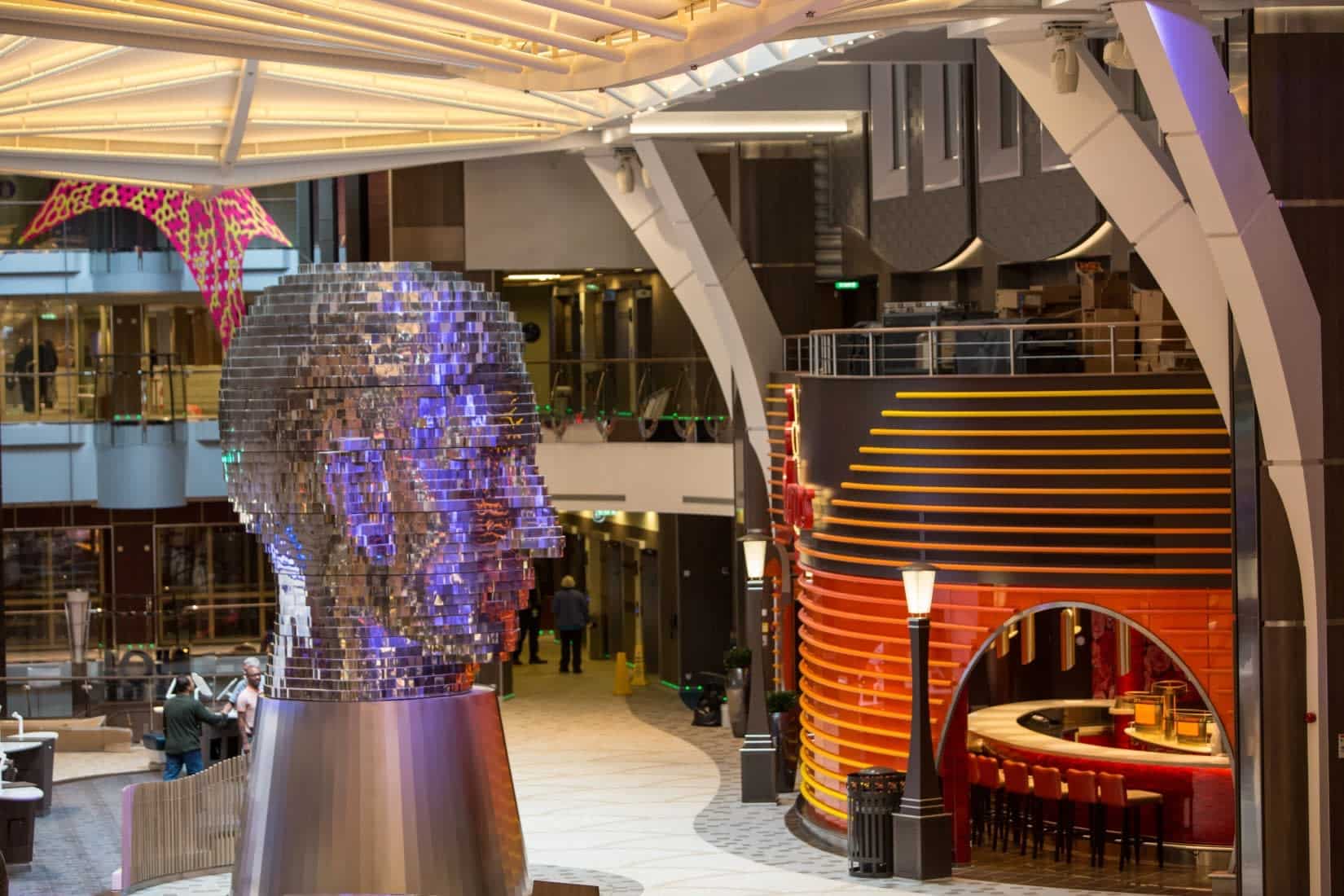 Head by David Cerny installed in the Royal Promenade on Harmony of the Seas, RCCL.
Specialized curators and art consultants are also lending their sense of style and keen eye to raise the taste level on cruise ships. Mariangela Capuzzo, lead artistic director and curator for ICA Miami, is no stranger to organizing intelligent, entertaining, and contemporary art collections for monster-sized floating hotels. Having recently curated the collection for the world's largest cruise ship, Harmony of the Seas, Capuzzo orchestrated a show of over 3,000 individual works by artists from more than 60 nationalities, all with a neat price tag of around $6.3 million.
And for the first time ever on a major cruise ship, the art isn't displayed purely for the entertainment of the guests. Five specifically commissioned murals have been installed along the walls of the corridors on the decks below, intended for the viewing pleasure of the crew while working. It's a simple move, but may be a real sign of change. It seems the tides of the cruise ship art world are turning. Art is no longer treated as just another way to make a quick buck on board, but more as something that can inform and entertain everyone on the ship.
Cover photo by Alastair Miller.