By diving deeper into abstraction, Julie Beugin has had to ask herself difficult questions—or at least give herself difficult directions. Over the last decade, the Calgary-raised, Canadian painter has gradually shed her representational approach. In the process, her relationship with paint and the present has changed entirely.
"I used to have a really kind of washy acrylic under-painting underneath things and then I would cover it up with these more representational forms," Beugin tells Format Magazine from her Berlin studio. "Now, it's really the washy under-painting that has become my painting." She uses more acrylic paint than oil because it dries quickly. By watering the acrylic down, creating a less viscous liquid, Beugin is able to work with the large brush strokes that form her signature washed-out look.
Her current approach to painting is inherently physical; focusing on her body's movement, she feels more connected to the experience. "Some people are just brain painters," says Beugin. "But I'm finding that the most interesting stuff comes out when I stop thinking." The ambiguity of her new paintings builds on her relinquishment of conventional form, and even composition.
Having studied in North America, Beugin feels that her sense of the rules of composition is different from her European counterparts. In her opinion, America's 1950s fascination with abstract expressionism, and the formalist trends that followed, didn't carry over to Europe. "Those are restrictions that weren't seen as relevant anymore," she says. "It's been interesting for me, to see the different histories and try to puzzle it all out and see what's happening." Part of that interpretive process involves being open to experimentation.
Beugin is not afraid of mistakes. Lately, she's thriving by being open to accidents and spontaneity. Recently, she thought she had ruined a canvas after pouring red paint with a heavy hand. "It looked like I had murdered somebody," she says. "It was like a pool of blood." When she wiped the paint off, what remained was a vague, ghostly outline. After another look, this canvas became her latest large-scale work. "I never could have planned that," says Beugin, "but it was exciting and bizarre." By stoking the fires of her improvisational nature, she's discovering paintings in places she never thought to look. As she blurs the lines of color and depth, her paintings continue to explore the canvas in unexpected ways.
Corners, middle grounds, and backgrounds gain unique precedence with Beugin's use of colour. The photo sources she uses include chopped-up collages of urban construction and 1970s Berlin apartment blocks; the colors of which, Beugin says, are intuitive. That's why she wants to preserve them.
Stack, 70 x 80 cm, acrylic and pencil on canvas, 2017.
For her upcoming Toronto exhibition at Paul Petro Contemporary Art in Toronto, opening on March 30, Beugin has compiled a photo book of her collage work. It's part of what informs her solo show One Arm in Each Sleeve. The title is a nod to the Rae Armantrout poem Control, which deals with finding steady footing amongst chaos and change.
At Paul Petro, Beugin's work will be displayed in parallel to Michael Morris, also a Canadian abstract painter and a former Berlin resident. Morris will be showing in the gallery's larger space. "We'll look forward to seeing what kind of dialogue is created by the pairing of these exhibitions," says director Paul Petro. Not unlike Morris, who typically works across multiple media ranging from painting to experimental film, Beugin has been fuelled by the destruction of artistic boundaries. Lately, she's experimenting with collage as a tool to challenge painting's conventions.
Beugin has been using chopped-up parts of her discarded paintings to disrupt horizon lines in her newest work. "I kept the good pieces, and that became a tool to change a landscape space into something more abstract by putting a big plane over it." While all these changes have happened gradually, eventually solutions and direction come down to a momentary decision. "Every once in a while you step back and think, 'this is working, this isn't, and then you edit.'" It's not only a process of artistic development, but mental clarity.
Since moving to Berlin, Beugin has changed in parallel to her paintings. Initially, she only planned on staying in the city for one year. She ended up staying for eight. "I think the awareness of my physical body has changed," she says. "I think these [new paintings] are much more engaged with the gesture and the physical self rather than something totally in my head." One effect that physicality has had on her paintings is the size—they're growing. It's a change that Petro has seen evolve first-hand since he first exhibited Beugin's master's thesis in 2009. For Petro, the material and size is not a concern. The fact that Beugin attracts the gallery's interest is what matters, he says. "We broker ideas, not materials."
With an increasing canvas size, Beugin is developing a new appreciation for negative space. In February, as part of a packed group show at HilbertRaum gallery in Berlin-Neukölln, her work stood out for its comfort with space between the paint.
She says playing with concentration and space were catalysts in her move towards abstraction. "I wanted this experience of openness." In comparison to the limited possibilities of literal collage painting, Beugin prefers the disparity in certainties that comes with abstraction. "I like this gap, this kind of open, speculative space," she says. As she dives deeper into the world of abstraction, the space between the strokes becomes more important.
Although Beugin is discovering a unique satisfaction in larger canvases, her smaller paintings continue to offer tight explorations of texture. "It's a bit of a frustration," she says. "Right now, I just want to paint big." While Beugin experiments with new sizes in her Berlin studio, One Arm in Each Sleeve will focus on a selection of her smaller works. As Beugin works with the open space on the canvas, these negotiations also occur in the scale of her works themselves. Perhaps the feeling of openness she seeks can also be found in the space around her paintings.
One Arm in Each Sleeve will be on view at Paul Petro Contemporary Art from March 30 through April 28, 2018. In the meantime, see more of Julie Beugin's work at her website, built using Format.
All images are courtesy the artist. Cover image is a detail of Grip, 70 x 80 cm, oil, acrylic and collage on canvas, 2017.
Rally, 75 x 80 cm, acrylic on canvas, 2018.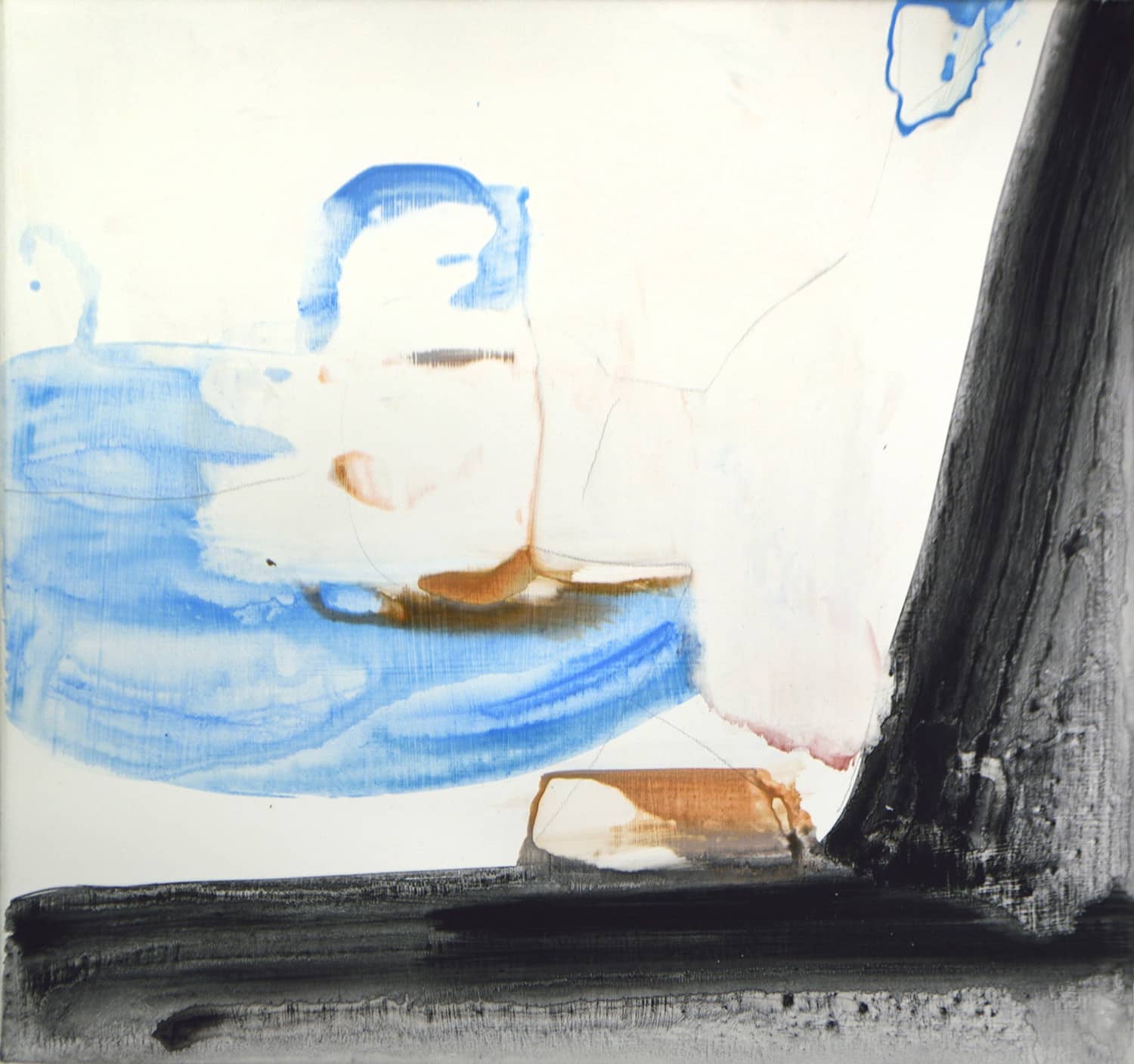 Encounter, 44 x 46 cm, acrylic on pencil on canvas, 2018.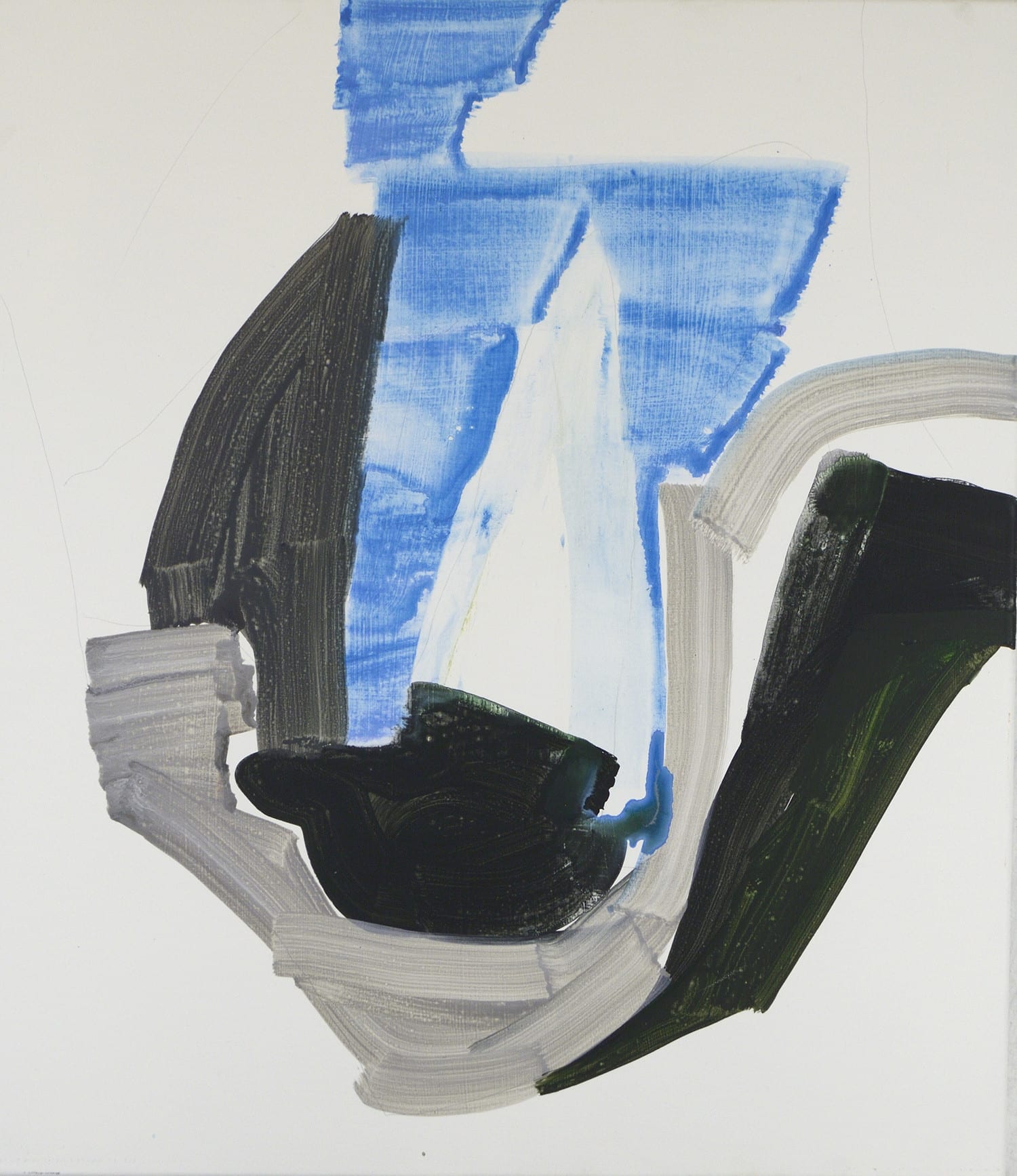 Slope, 70 x 80 cm, acrylic and pencil on canvas, 2017.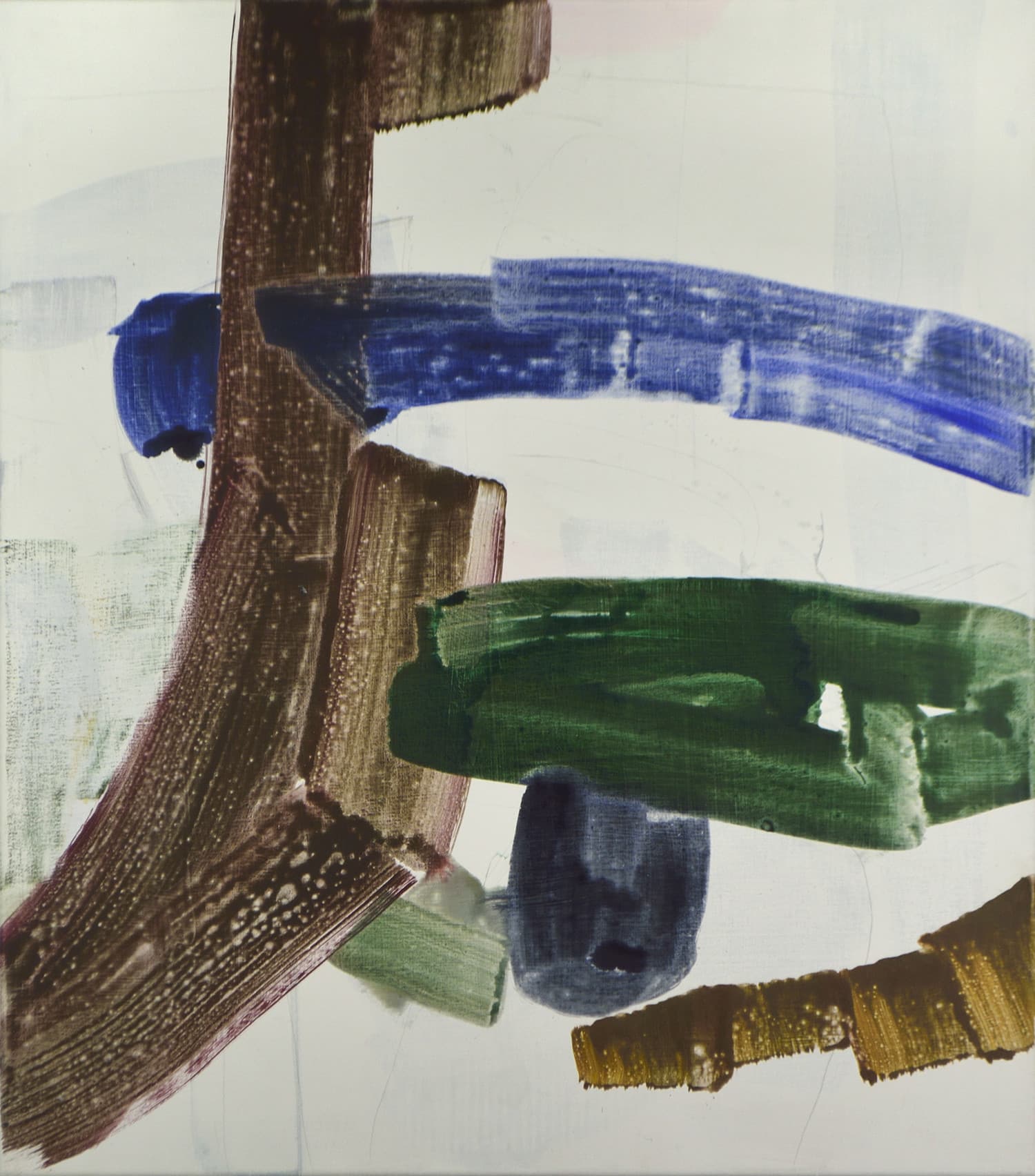 Swell, 70 x 80 cm, acrylic and pencil on canvas, 2017