Textile design is a fast-moving creative industry with a lot of opportunities. GUCCI's new homewares collection features bespoke velvet cushions; Australian apparel company Gorman just celebrated ten years of collaborating with textile designers for runway looks; printed, designer bedding was a big hit at this year's Milan Design Week with Milan-based print queen J.J. Martin launching her signature range, and Welsh artist Sean Edwards exhibited colorful quilts at this year's Venice Biennale in his show "Undo Things Done."
Even art book publishers Phaidon are celebrating textile designing and creating: they are launching their new book Vitamin T: Threads and Textiles in Contemporary Art this Spring, offering a global survey of over 100 visual artists working in the medium.
From colorful rugs, throws, towels, and curtains, artisanal furniture upholstery and bespoke wall hangings, patterned wallpaper, gift wrapping, and paper products, and custom textiles for clothing and apparel brands—the world of textile design is massive.
It can be hard to know where to start if you want to work in the industry. What qualifications might you need? Should you specialize in one area or spread your net wide and say yes to all types of projects? How do you approach clients (and land those important paying gigs)? What equipment is worth investing in?
We talked to four different creatives working in the industry to find out how they each got their big break, why it's important to make mistakes, and why you need to get out from behind the computer and get out of your comfort zone to make big moves.
Read on to learn how designers Ellen Barten, Ryan Parker, Ellie Barker, and Silvia Stella Osella found their place in the textile world and had their work featured by major labels such as Nordstrom, Betsey Johnson, Lobo Mau, Zara, Topshop, and Adidas.
Ellen Barten for f.oui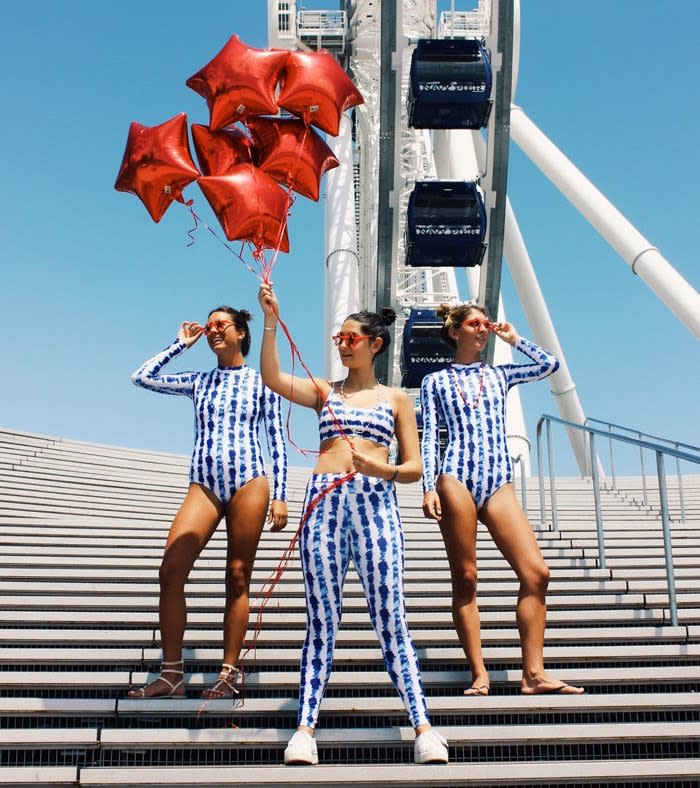 Textile design can take various forms, so I've done a whole range of things in my work. One is designing original prints from artwork that I've created by hand or with my photography and selling those prints through an agent. For clothing company clients, I've created prints using my original artwork and also created prints for them by scanning and modifying vintage textiles in a new scale and set of colors, and also using inspiration image(s) and a set of colors to create a print for a client's needs.
I have always loved art and have a bachelor's degree in interior design and a master's degree in architecture. I started doodling a lot in college classes, many pattern-based designs, and friends would say the doodles reminded them of textiles. I worked in architecture and design offices for years in Arizona and New York began freelancing as a pattern designer in 2011-2012 and remained simultaneously working in other jobs.
I would recommend for someone looking to have their own textile design career to have an interest in art and design and software skills—Photoshop, Illustrator, and InDesign, have been instrumental for me.
I was self-educated on textile design skills using books that I ordered on subjects from overall textile design, the technical printing process, and freelance business tips.
I also did some online courses, including Pattern Observer. You can learn textile design on your own through online courses and tutorials geared towards learning the software and navigating the field. Plus, there is a large online community of people in textile design from who you can learn the business and get inspiration and tips.
A computer with the capabilities to run the software and deal with large files is essential, as is having a large-scale scanner. I have one that has an 11×17 bed which I use for scanning my own artwork and also for adapting vintage textiles, some of which came in the form of a huge round tablecloth and had to be scanned in pieces and stitched together in Photoshop.
I love doing artwork with paper, pens, markers, pastels, colored pencils, watercolor, etc., so if you are into doing artwork by hand, get a good range of art supplies. It's also worth the investment to print some of your artwork on actual fabric using a printing service near you or an online printer such as Spoonflower. The scale, resolution, and colors when the artwork is printed on fabric are so different than looking at it on a computer screen, and to learn the craft, you must do this.
My career high so far would be working for Betsey Johnson which was so much fun, and I love the Betsey Johnson aesthetic. The highlight was seeing models walking down the runway at two different NYC Fashion Weeks wearing prints that I worked on.
My advice for landing clients is to be friendly and not afraid to talk and connect to people! Be responsive and clear in communication with clients. Also, I recommend going to the textile trade shows in your area, such as Printsource, and keeping up on the trends in the fields you are interested in working in, i.e., fashion or homeware.
I wish I had perhaps done a little more training on the manufacturing and printing specifics before diving into the field and projects, but I learned along the way. It definitely would have been easier and less stressful to have a bit more knowledge and experience on those subjects before working on some projects. Also, I definitely underbid my services on some projects initially and ended up spending so many hours on the project that it almost didn't end up being worth it with the amount I had agreed to be paid by the client. You can avoid this by setting clear expectations initially and letting clients know that additional work, such as creating more colorways of a print, is an additional charge. More advice is: have fun with it! And don't limit yourself to textiles—you can have your patterns printed on many other surfaces as well… all equally thrilling.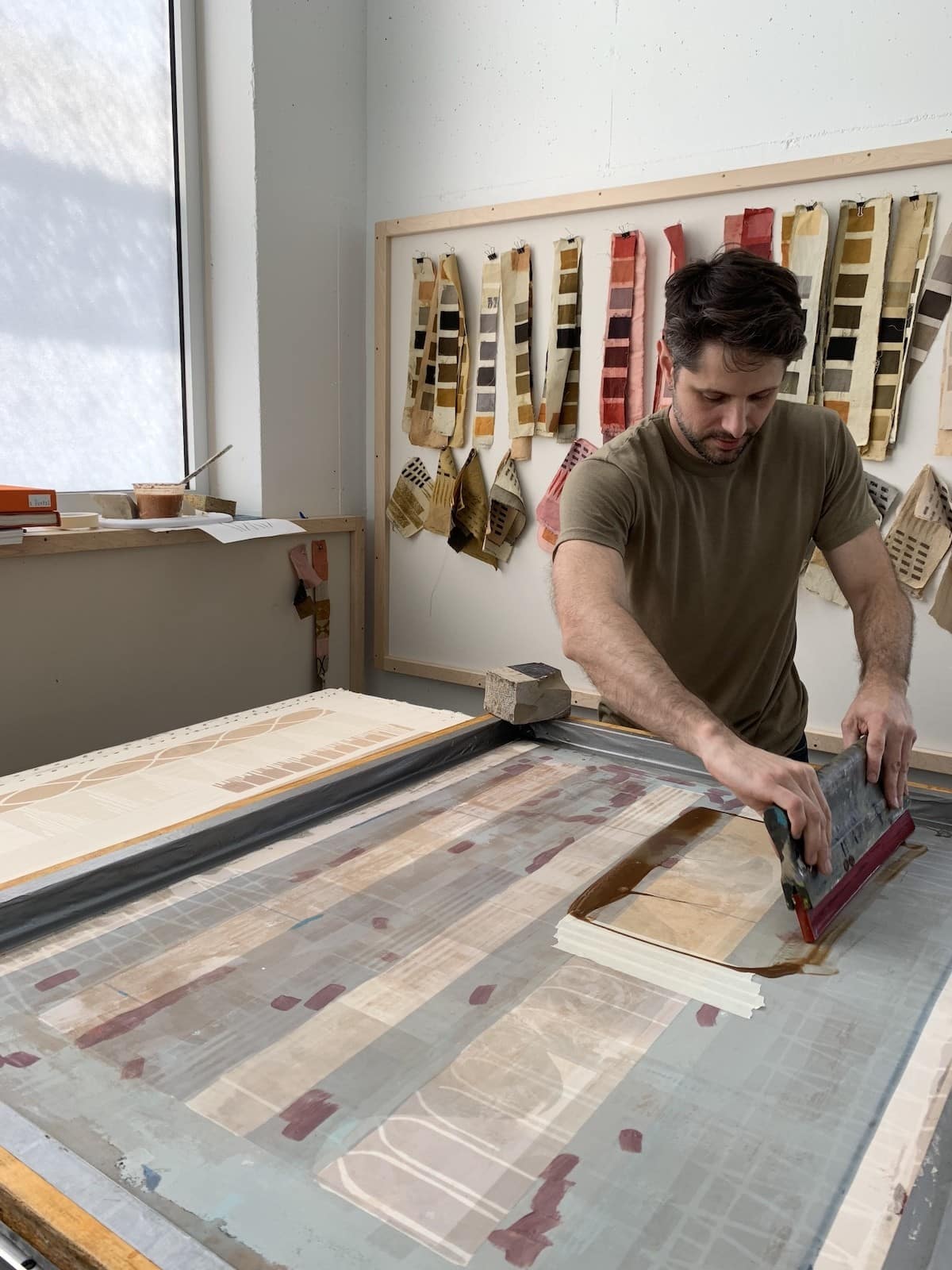 I am a printmaking artist, surface designer, and teacher, and I'm currently a Grant Wood Fellow in Printmaking at the University of Iowa. I make hand-drawn and screen-printed textiles. After a Fulbright Fellowship in India last year, I experimented with natural dyes and block printing.
I was studying printmaking at Tyler School of Art. My class visited The Fabric Workshop and Museum (FWM), a contemporary art museum and working print studio in Philadelphia. FWM staff collaborate with artists-in-residence to make new work, much of it screen-printed textiles. I'd never experimented with fabric printing before, but FWM has an apprenticeship training program where artists can learn the craft of large-scale screen printing onto fabric. I joined the apprenticeship and eventually stayed on and taught the program for several years.
During that time, I also met a fashion designer, Nicole Haddad of Lobo Mau, and we started a collaboration in which I'd design and print textiles for her collections. I also had the opportunity to design for other companies and work as a master printer for other artists.
I loved my collaboration with Lobo Mau. It was really exciting to see my drawings on paper translated into garments. It's like the artwork becomes a reflection of the wearer's identity because they chose this garment as a way to adorn their body and represent themselves. I also liked helping a fledgling brand build its aesthetic and really feel like I influenced the business.
Digital making skills are important to have as a designer, but I also think it's really valuable to get out of the computer, draw by hand, and get your hands dirty through hand printing. I love a rapidograph pen set because you can make really intricate linework. It's expensive, but it will last a long time if you care for it (sadly, I'm pretty careless with mine). For bolder marks, I'm into Molotow refillable markers along with Golden High Flow Acrylics. These are great drawing materials for working on mylars for screen printing.
There are many beautiful surface qualities that handprint processes have that you can't get through digital printing, and you'll learn a lot about mixing color and how colors can layer. It's challenging and hard work, but it's fun, and because we're not robots, imperfections can happen, and I think that adds a lot of character and value to a textile.
Also, having an online presence is important—a website and Instagram. Try reaching out to people you'd like to work with with your portfolio—just put it out there!
Find other people who are starting out with a skill set that you don't have and collaborate to build your portfolio. Designers in fashion, accessories, or furniture would love to have unique, custom textiles to use, and it will show how versatile and interesting your work can be applied to many applications.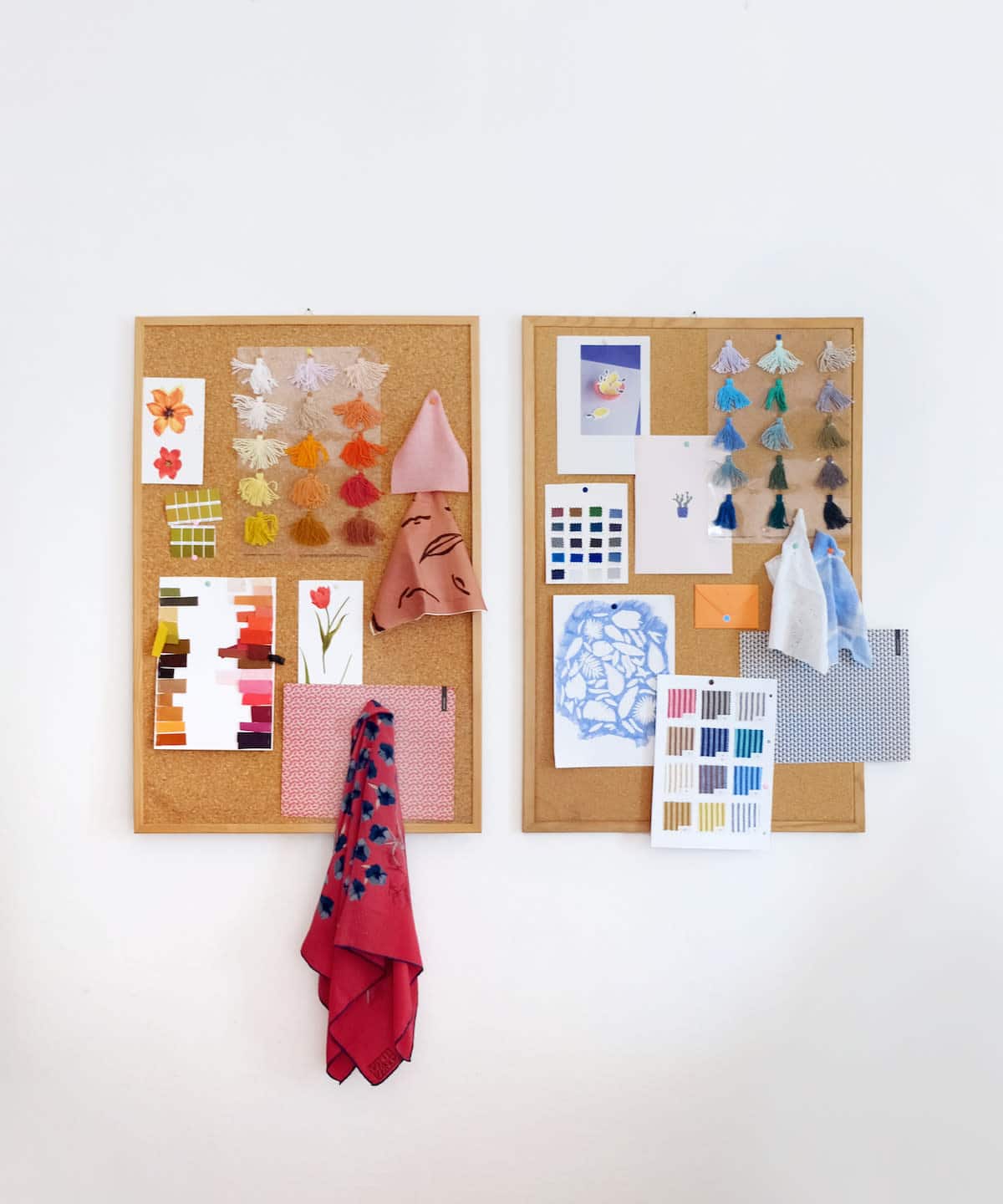 After working for some of Europe's leading textile companies, I opened my own studio in Milan in January 2015, where I design custom prints and patterns, art direct printed fabric collections, and help brands take shape through color and trend consultancies.
I have had the opportunity to design for international brands such as the Inditex group (Zara, Zara Kids, Zara Home, Massimo Dutti, Pull&Bear), Adidas, Armani, Wall&Deco, Mango, Topshop, and many more, from apparel and packaging to homeware—from carpets to wallpapers. Also, in the last few years, I have also been a visiting Professor in Surface and Pattern Design at Istituto Europeo di Design in Milan, and in 2016 I co-founded ILUUT, a sustainable fashion startup, together with other two young women from Europe.
I actually started studying illustration, but I soon realized that what I loved the most was actually seeing my work on different kinds of surfaces. I spent some time in London, at Central Saint Martins, to experiment with different kinds of printing techniques, and then came back to Italy to get an MA in Textiles. I also didn't start as a freelancer from scratch. Just after graduating, I interned and then started working as an in-house designer for big textiles companies.
This taught me a lot and allowed me to design for very important international apparel brands. I also learned what product design really is about: designing for all kinds of people, and that's a challenge that goes way beyond your own personal taste and style. I loved my job, but after seven years, something was missing. The freedom of having my own space to experiment and challenge myself in different fields. I really wanted to see how things would have gone opening something that was entirely mine, and now—since opening the studio in January 2015—I couldn't be happier with my choice.
My favorite part of what I do would probably be the research behind it and its variety—I research through fairs, field trips, trend books, vintage scouting. I have always been a very curious person, so it's not a big surprise that I worked in a field that requires so much research about trends, color evolution through different seasons, and always up to date in many different fields. I try to travel as much as I can, which really has a big impact on my work. I also collect vintage botanical and color theory books, and I try to fill my eyes with tons of little details from everyday life. When I started working as a textile designer,
I was so surprised and fascinated by all the work that there is behind a collection, all the incredible research to predict even a single shade of color. I think what I am most proud of is having found a professional shape that entirely reflects what I love, combines so many of my passions, and allows me always to learn something new, deal with new challenges, projects, and surfaces that never get boring.
My tips for someone wanting to start in the business would be to work hard, get a solid technical base learning from others. Learn to be a good listener and to be as curious and as open-minded as possible.
All this, together with time, will allow you to build a strong portfolio: be patient and always try to find out what you can improve in your work.
Ellie Barker
I use varied inspiration from my own visual research or the trends on the catwalk to design collections of prints to be used in the fashion and textile industry. I have always enjoyed creative subjects at school and knew that I wanted to do something in that field. After studying Fine Art and Art textiles at A-Level, I knew that I really wanted to focus on the drawing side. When I was at a university open day, I saw the description of a print design course at, and it sounded pretty perfect for what I wanted to continue my studies in.
My time at Falmouth University studying textiles was so great for me to understand and develop my handwriting as a designer. Being given the opportunity to work on my own briefs with the freedom to take them in the directions I wanted while having support from tutors and technicians who had industry experience was invaluable.
Having said this, university isn't for everyone and isn't the only wait to get into it. There are so many short courses and workshops out there that also offer similar opportunities to develop and refine your skills while having guidance. For anyone thinking to get into anything creative, I would definitely recommend giving one a go.
I recently worked on a brief for a client in Canada in which I was designing for a completely different market and style. This was great as it made me think about working in a really different way. I think this is the best part of my job as I have the opportunity to work with such a variety of people and come together to help translate their ideas on paper to a textile print they are really happy with.
My only regrets have been the occasions when I hadn't pushed to make my clients understand that their design ideas were unrealistic. As a designer, you are always eager to please, but this has backfired on a few occasions when the end design is not the quality it should be.
I would just say you never know who may be in need of a print designer down the line. When talking about your work to other people, be enthusiastic and positive. People like to feel inspired when you are talking about what you do, whether in an interview or a general chat with a friend. Many of my opportunities have come from conversations that, at the time, I thought were just talking about common interests, but a later down the line, they have remembered my enthusiasm and asked me to work with them on their own projects.
There is no wrong way to get into textiles. Don't worry so much about what specifically you want to do within the industry. Start working on and developing your own creative ideas and skills, and with that, you will start to realize what you are more drawn to and be confident in your ideas! There are so many different aspects to a career in design, and it may be that you don't even realize that hobby you do every now and again is a whole job in itself.
The Takeaway: How To Become A Textile Designer
If we were to quickly sum up the tips provided by these incredibly talented and successful designers on how to become a textile designer, it would be to learn as much as you can about art, design, and software, get inspired where ever you can, find opportunities to get out there and apply your craft, and to be confident in your own ideas as a creator.
Are you ready for some next steps?
Create A Textile Designer Portfolio
Even if you're dipping your toes into textile design, it's worth establishing a creative portfolio to showcase your artwork and progress in your craft. When you're looking for internships, collaborations, or paid work, you're going to need something to show for your talents, which is where a portfolio comes in handy.
When you don't have clients yet, you can self-commission projects and create mock-ups of your textile designs to feature in your portfolio. Online classes, tutorials, and workshops will even provide you with project work that you can publish to your textile design portfolio. The important thing is to create a body of work to demonstrate your skillset and art style.
Creating an online website portfolio has never been easier, thanks to innovative drag and drop website builders. You can have a fully functional website you're proud to share within a matter of hours when you use an intuitive website builder.
Format is a website builder made for creatives. You can select from over 70 customizable themes to show off your best work and attract new opportunities in your creative career. It also has built-in features to help you establish an e-commerce shop to sell your artwork, workflow tools, and marketing tools to help you get noticed.
You can try it free today by simply selecting a theme that best suits your style and how you'd like your gallery of work to be displayed. You don't have to settle on this design forever. You can switch to another theme whenever you'd like—don't forget that all themes are customizable too. Next, simply fill in the prompts to complete your online portfolio, show case your best work, and hit publish.
We can't wait to see what you create and how your career as a textile designer unfolds.
Read about more awesome textile designers:
5 Textile Artists That Make Weaving Cool Again
10 Textile Artists and Designers Making Unique Work
Clocked: The Textile Designer Jetting Between Milan and Rome