Ibiza, that idyllic island off of Spain's eastern coast, has long been known as an open-terraced after hours party destination. Photographer Jordi Cervera moved there from his home near Valencia, in Castellon de la Palma, fifteen years ago.
Today, social media tends to advertise a caricature of Ibiza, all bright lights, extravagant parties, and lavish yachts. But there is a different side to the Balearic island, and it lies in the shadow of the spotlights and the iPhone camera flashes. Cervera strives to show a different view of Ibiza's hard-partying image.
"There has been a big change in Ibiza," Cervera tells Format Magazine. "Four or five years ago, Ibiza was kind of bohemian, but now everything has become super commercial; all the businesses are focusing on some kind of VIP lifestyle." And with that lifestyle, Cervera feels, comes a manufactured, hyper-sexualized image.
As something of a permanent fixture in Ibiza's creative industries, Cervera is always challenging that ultra-hedonistic view of the island. He's currently putting his fine art background to use as the director of photography for Ibiza Style Magazine.
Cervera's grandfather, an established painter, first taught him the tools of artistic composition and balance. He also played guitar long before he picked up a camera. "It's funny, because I started photography when I got a job as an accountant at an audiovisual company," Cervera says. "I got crazy. I left work, and I said, I'm going to study photography."
Cervera first began gaining recognition as the in-house photographer at Pacha Ibiza, one of the oldest clubs on the island. Most of the time, he was waiting for the beat drop, shooting confetti cannons, and making sure he got the merchandise in the photo.
"Ibiza is a bit like Las Vegas," Cervera says. "The photographers have to work to present everything as perfect—all the girls are beautiful, the party is super healthy, and everybody is nice. As professionals, we create that image. And I was feeling a bit empty because of that."
Cathartically, Cervera began compiling a collection of personal photographs telling a much different story. Those photos, touching on themes of confusion, eroticism, loneliness, and love, eventually evolved into his acclaimed personal projects The Other Side and Welcome to Paradise. The final series in his personal trilogy, Guapo is decidedly nautical and natural. Double exposure and heavy shadows serve to abstract Cervera's view of the human form in nature.
"For me, the most interesting way to do photography is to try to ask questions and to make people feel uncomfortable," says Cervera. His style is governed by the laws of omission and a dedication to the school of chiaroscuro. But it's not just Caravaggio that inspires the natural light-leaning photographer. "I also have a lot of Japanese influences. I always follow Nobuyoshi Araki, and other interesting Japanese photographers who avoid the shiny things and try to work in the shadows."
Eventually Cervera's reductive style and unique perspective drew the attention of techno pioneer Richie Hawtin and his event production team at ENTER. Ibiza. Brought on to capture the essence of the former techno mega-party, Cervera's approach proved a perfect match for Hawtin's minimalist, Japanese-inspired branding and design.
"I can imagine they were a bit scared that they were going to bring in a photographer to make it all black and white," says Cervera. "Maybe they thought, 'People are going to look ugly.'" Those photos, along with others from 2013 to 2017, serve as the focus of his latest gallery exhibition, ONE night. They are glimpses into Ibiza's nightlife, from Hawtin's minimalist techno, to the imagined pink and purple sparkle of Paris Hilton, all shot through Cervera's monochrome lens.
"There are many photographers taking HDR pictures of a million people in front of the DJ booth," says Cervera. "But nobody is showing the feeling of entering the darkness in a club and what happens in between the people."
Cervera's drive to tell photographic narratives guides his artistic process from the beginning. He relies on his photos as they're taken. "I remember that amazing moment I discovered that I could block the exposure and just expose it over the frame again." Today, he can rely on his Nikon's ability to digitally double and triple expose frames in the moment, enabling him to capture frantic club environments with a sense of momentary calm. "I don't do it in post-production. I do it in life." Cervera's technique, like his preference for darker tones instead of bright colors, is rooted in his analog education in Valencia.
It was after discovering the raw grain of renowned films like Ilford's SFX 400 and Kodak's XXX that Cervera fell in love with black and white photography. "By definition, black and white is an abstract view. It's not like color photography, which is more descriptive. We don't see black and white. It's outside of our reality."
Cervera's artistic ethos applies to his subject matter as much as his technique. Even when shooting celebrities, he strives to capture an unexpected perspective. "I love those Paris Hilton photos," he says. "I sent two sets to the magazine: one was Paris Hilton the 'perfect woman,' and the others were of her alone, looking at her phone, just one minute later."
Now, most of Cervera's clients only want one set of images and they expect them to be in black and white. Working with Hawtin and other techno artists like Japan's Hito and Sudo, Cervera is establishing himself as one of the industry's top portrait photographers. Perhaps a shift is beginning in club photography. Cervera's images aren't always flattering, or even fun—but they always capture the energy of the night, in a way that makes you feel like you were there, right in the middle of the crowd.
See more of Jordi Cervera's photography at his website, built using Format.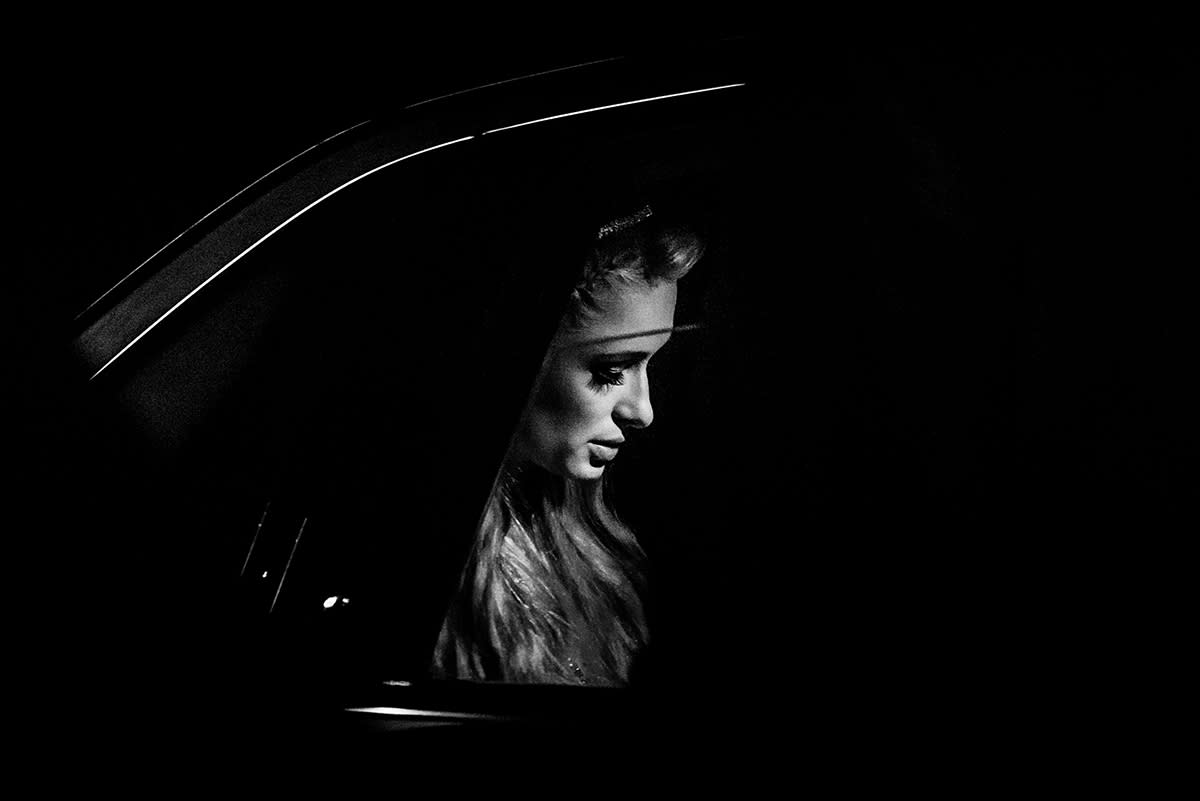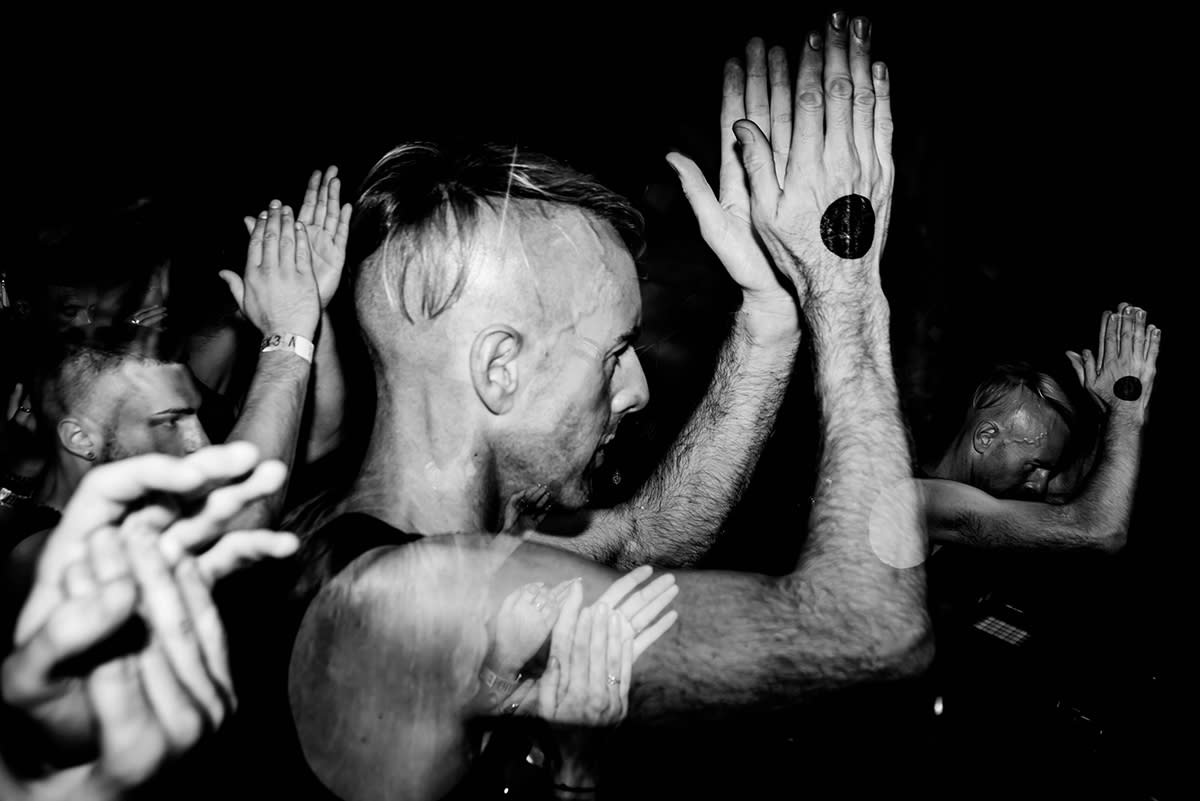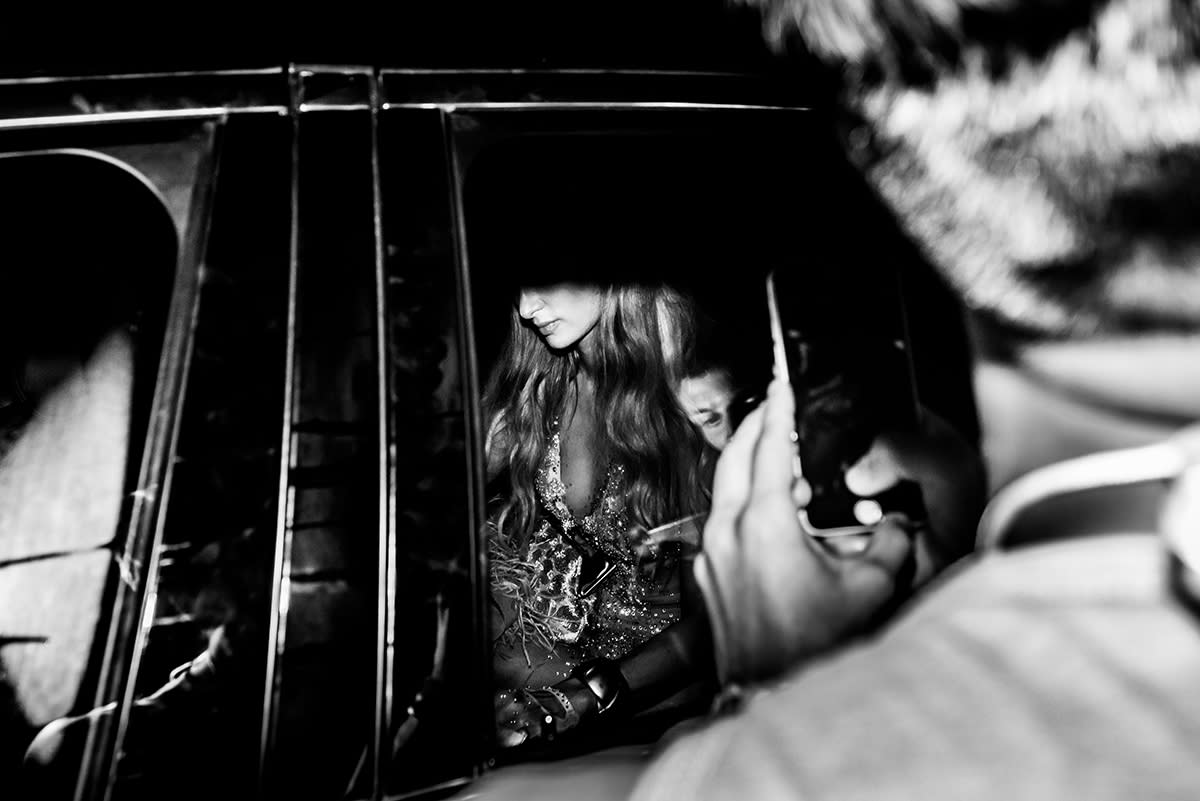 More photos of parties that aren't quite what they seem:
Never-Before-Seen Photos of Warhol and Basquiat in 1980s New York
Burnt Out Young Brits in 'Good Times for Free'
Why I Got Naked For My Photography