Ever since the advent of color film in 1958, black and white photography has become nostalgic. Present-day photographers can use it to create a retro look. But it's not an easy style to work with. After all, the final image won't look like what you see through the viewfinder.
To honor the creative talent that is opting out of color, we compiled this list of 18 black and white photography portfolios from different photographers. Color isn't required to be captivating.
Create your own black and white photography portfolio using Format. It's free for 14 days, no credit card required.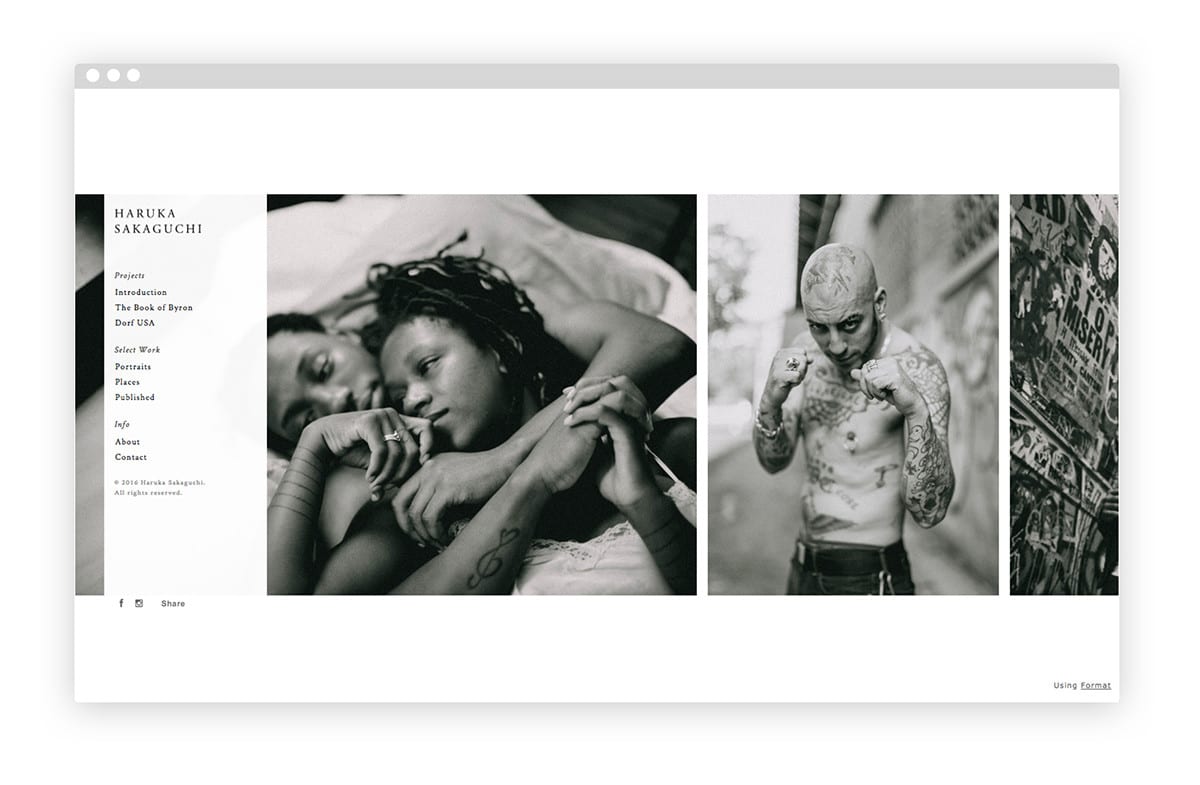 Photographers Who Show off Black and White Portraits In Their Portfolio
One of the more popular styles of photography to shoot in black and white, these photographers expertly show off the intimate, classic feel you can achieve when shooting black and white photography portraits.
Originally from Japan, and now based in Brooklyn, Haruka Sakaguchi's black and white portrait photography is full of life. Whether she's shooting portraits or documenting her surroundings on travels across the United States and elsewhere, Sakaguchi's images are powerful and carefully considered. She uses a classic serif font to give her portfolio a professional feel.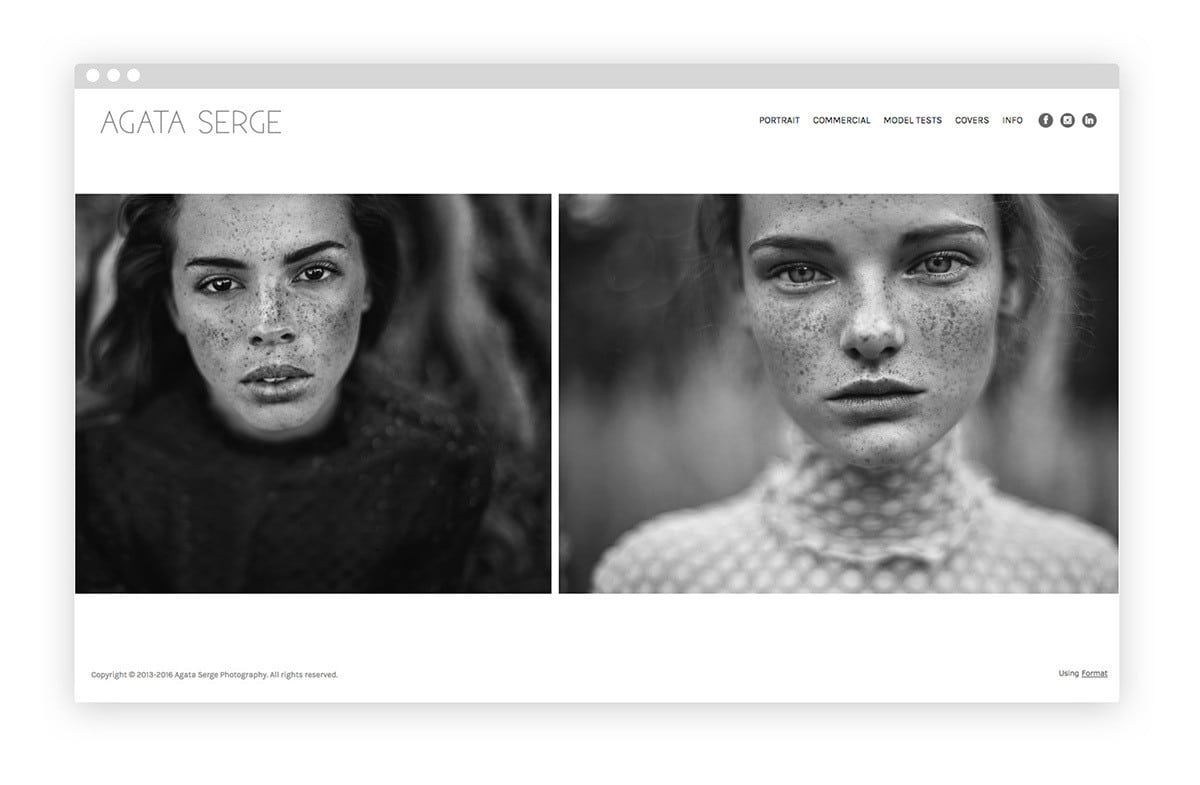 Agata Serge is the best at capturing freckles. The Polish photographer, who is currently based in Łódź, Poland, excels at sharply focused black and white portraits, as well as editorial shoots. She has won a number of awards for her photography, including International Photographer of the Year in 2016, and she was included in New Dutch Photography Talent in 2014. Serge keeps her portfolio simple with a classic logo.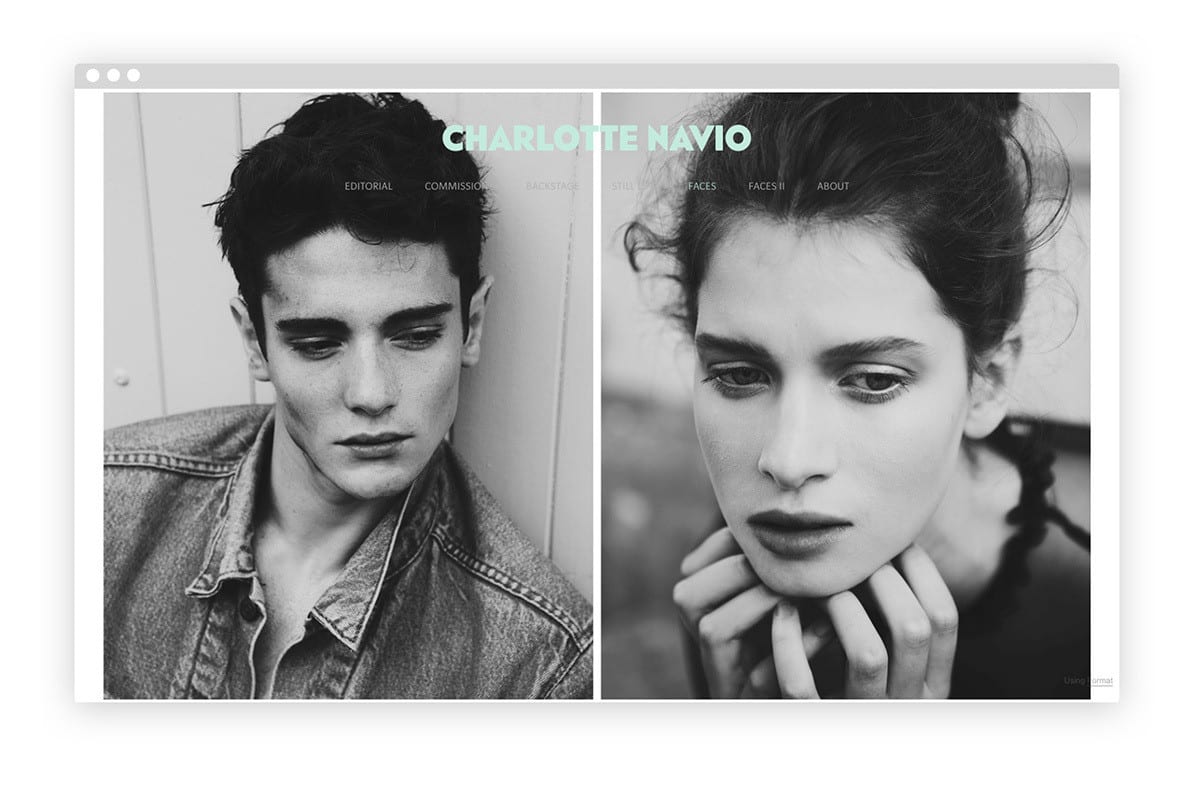 Charlotte Navio is a French photographer based in Paris. She's worked with brands like L'Oreal, Givenchy, and Lancome. Navio uses a vertically scrolling grid theme to display her portrait work, including lots of classic black and white shots. A floating, pastel-hued menu allows access to other portfolio pages without distracting from her work.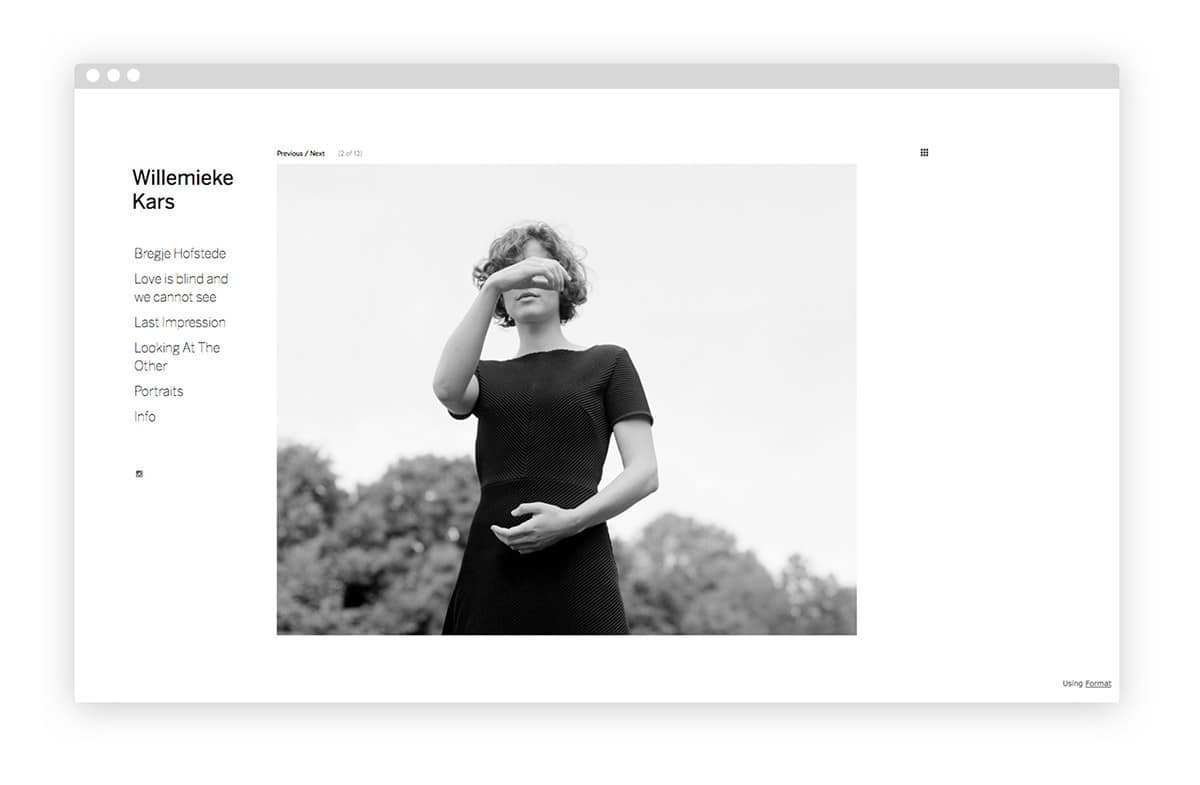 Highlights of this Dutch photographer's portfolio include a compelling portrait study of author Bredje Hofstede, pictured here, as well as a black and white photo project called Looking At The Other, in which Kars asked fellow train riders in the New York subway system to take her photo. Kars displays photos one by one for a minimal, distraction-free portfolio.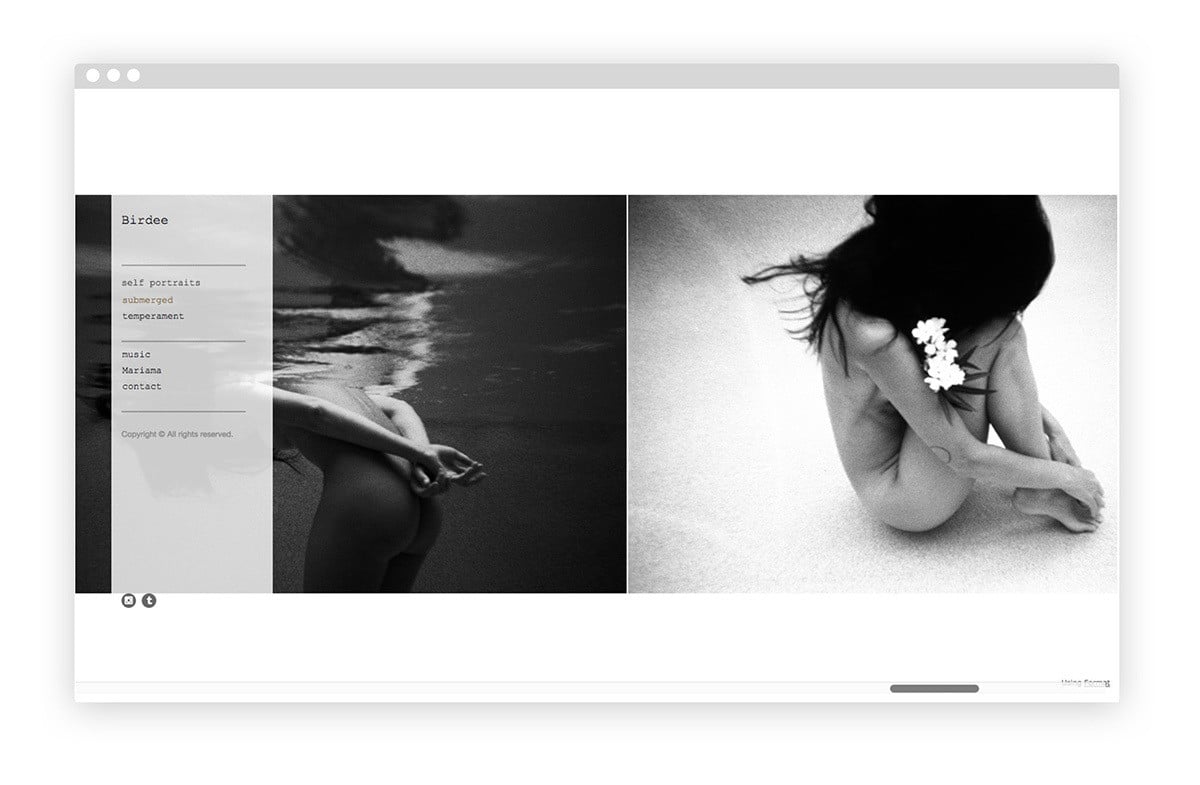 This enigmatic photographer doesn't share much information on her portfolio, but her photos are stunning. In addition to two series of self-portraits, she's also shot black and white photos of a range of musicians. Her self portraits, in which she's often floating underwater, are frequently superimposed over images of plants, giving the work an organic, abstract feel.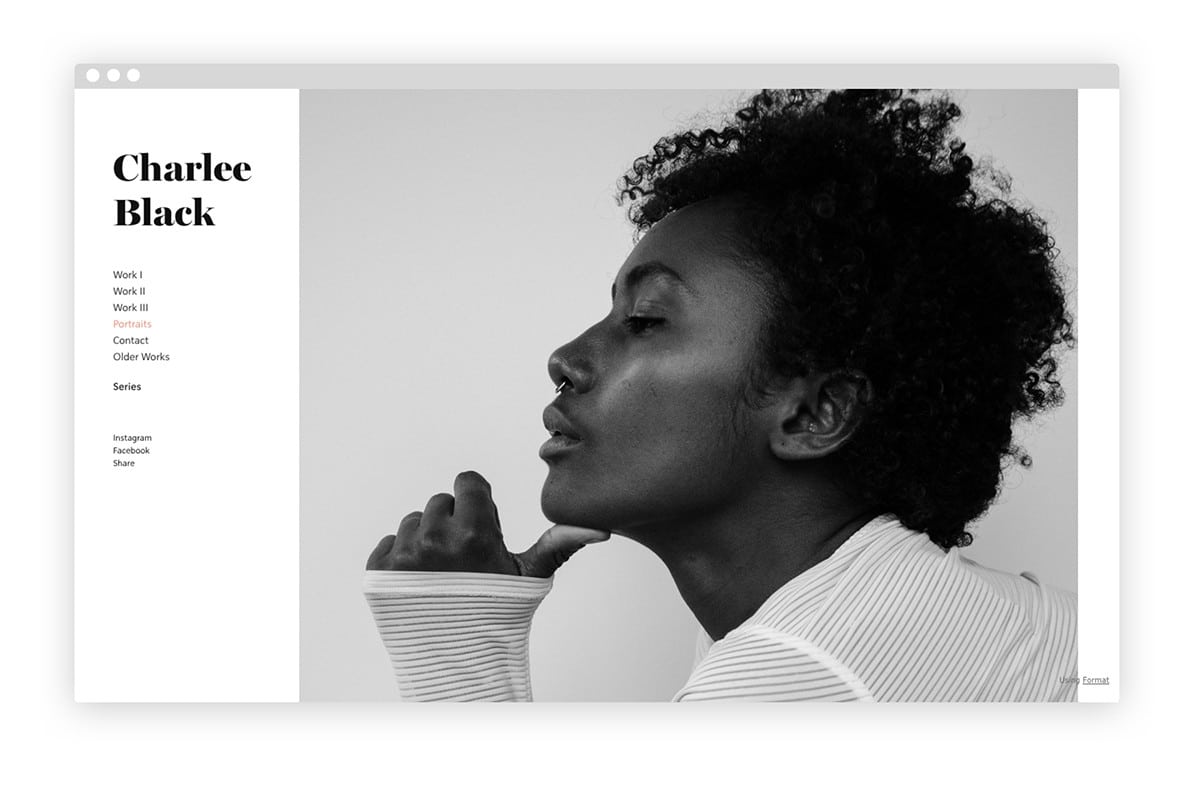 Portfolio Examples That Highlight Black and White Fashion Photography
If you have an interest in black and white fashion photography, look through these portfolio examples for some insight into what your own fashion photography portfolio could look like:
London fashion photographer Rebecca Naen often shoots on 35mm film, working with magazines like Coeval, Oyster, and Client. She offers a brief introduction to her portfolio with an overview gallery, and then organizes the rest of her work by dividing it between personal and editorial images.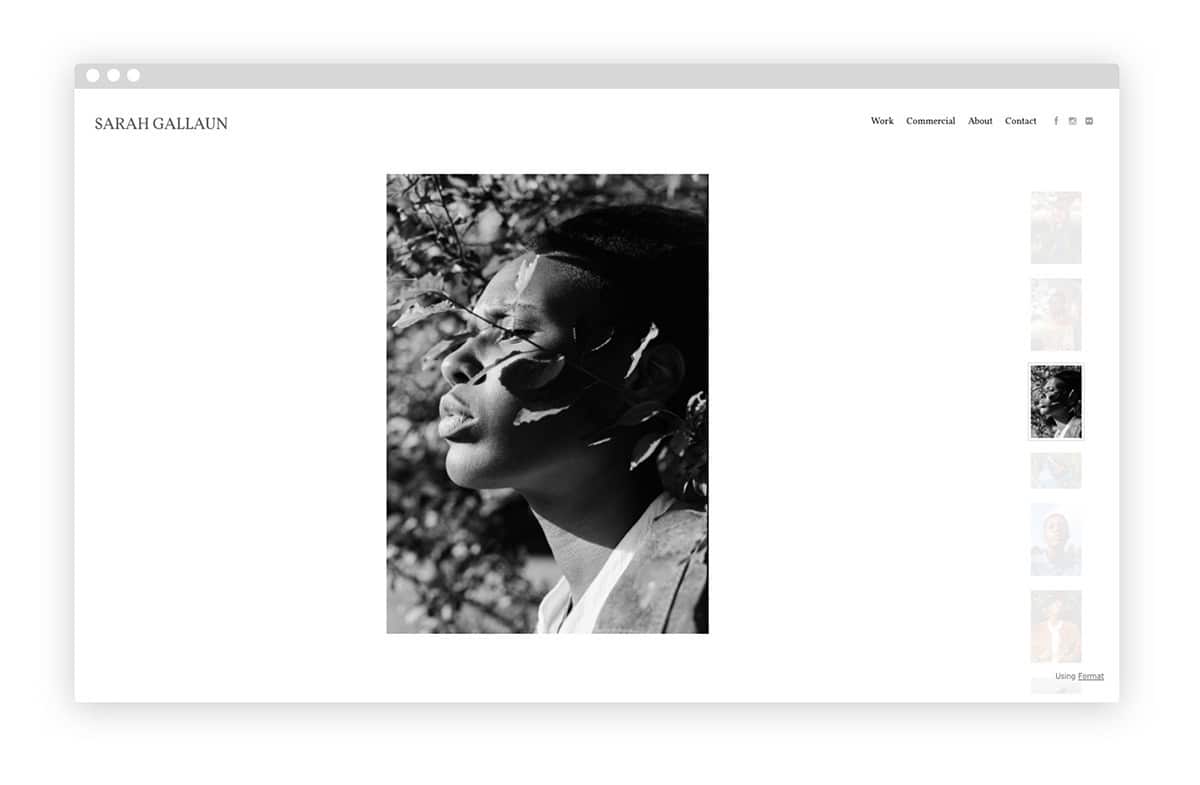 Based in Austria, Sarah Gallaun is a portrait and fashion photographer. She mixes black and white and color images for a varied and interesting online portfolio. Gallaun has worked with Monki, and been featured in outlets like Cake and Contributor magazine.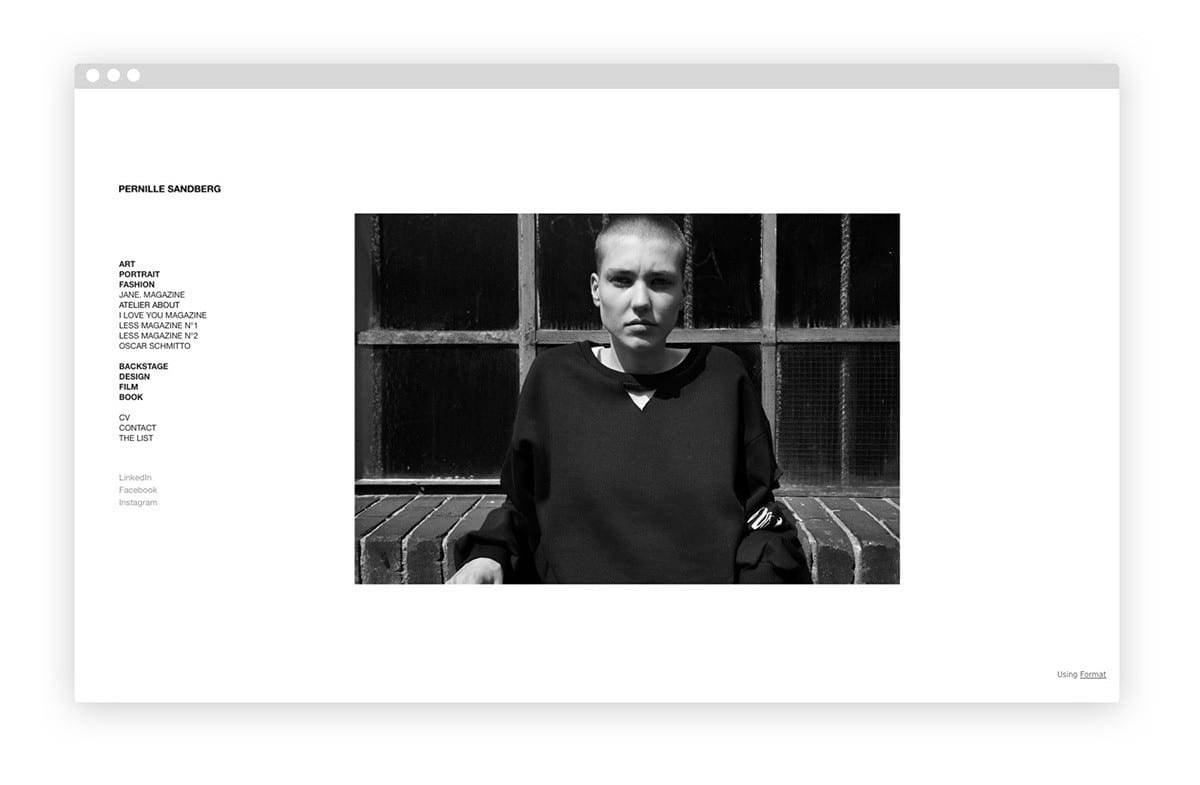 Based between Berlin and Scandinavia, photographer Pernille Sandberg shoots fashion and fine art photos, mostly in black and white. Whether she's creating abstract portraits or documenting backstage moments at runway shows, Pernille's images are powerful. She uses a minimal sidebar theme to sort her work into categories like art, portrait, and fashion series.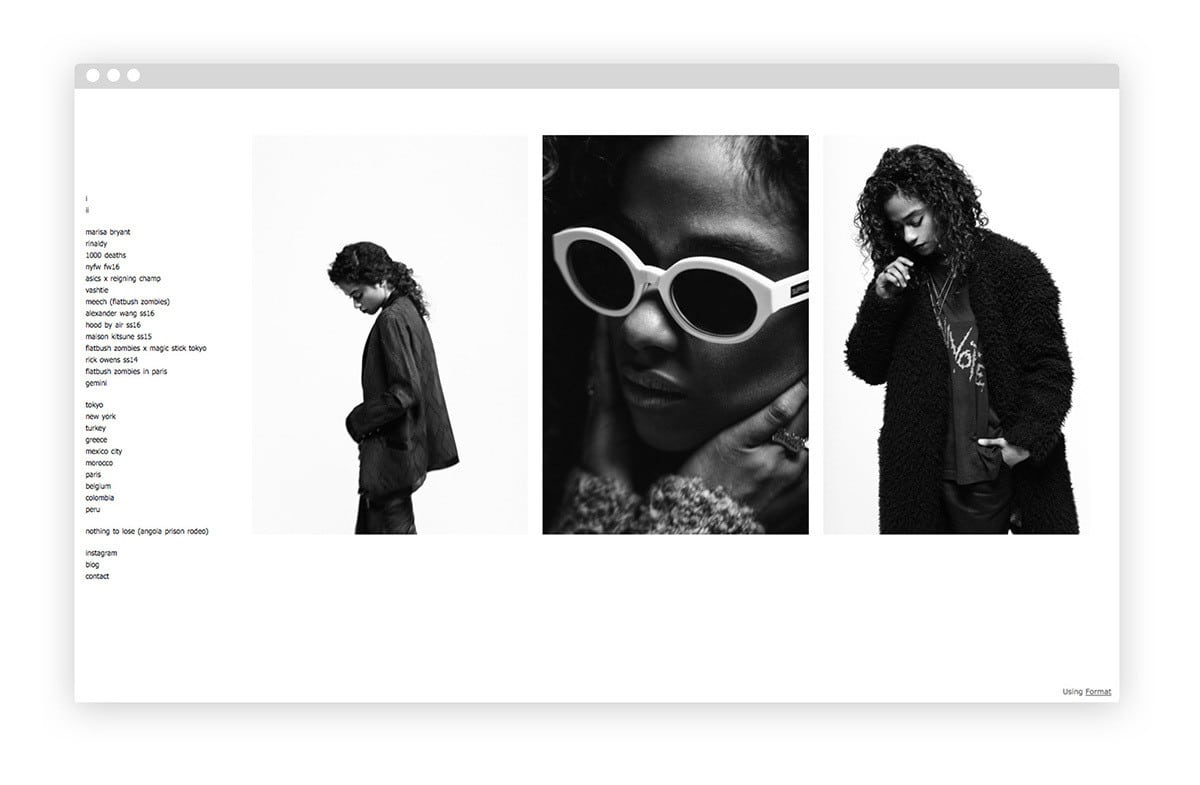 9. Darryl Richardson
Fashion photographer Darryl Richardson has shot for Brooklyn's Flatbush Zombies, and done backstage shoots for brands like Hood By Air, Maison Kitsune, and Alexander Wang. He's also shot street scenes in cities from Tokyo to Mexico City. Richardson separates his portfolio into fashion and travel photography, allowing for easy navigation of his diverse work. A super minimal menu gives his portfolio a modern vibe.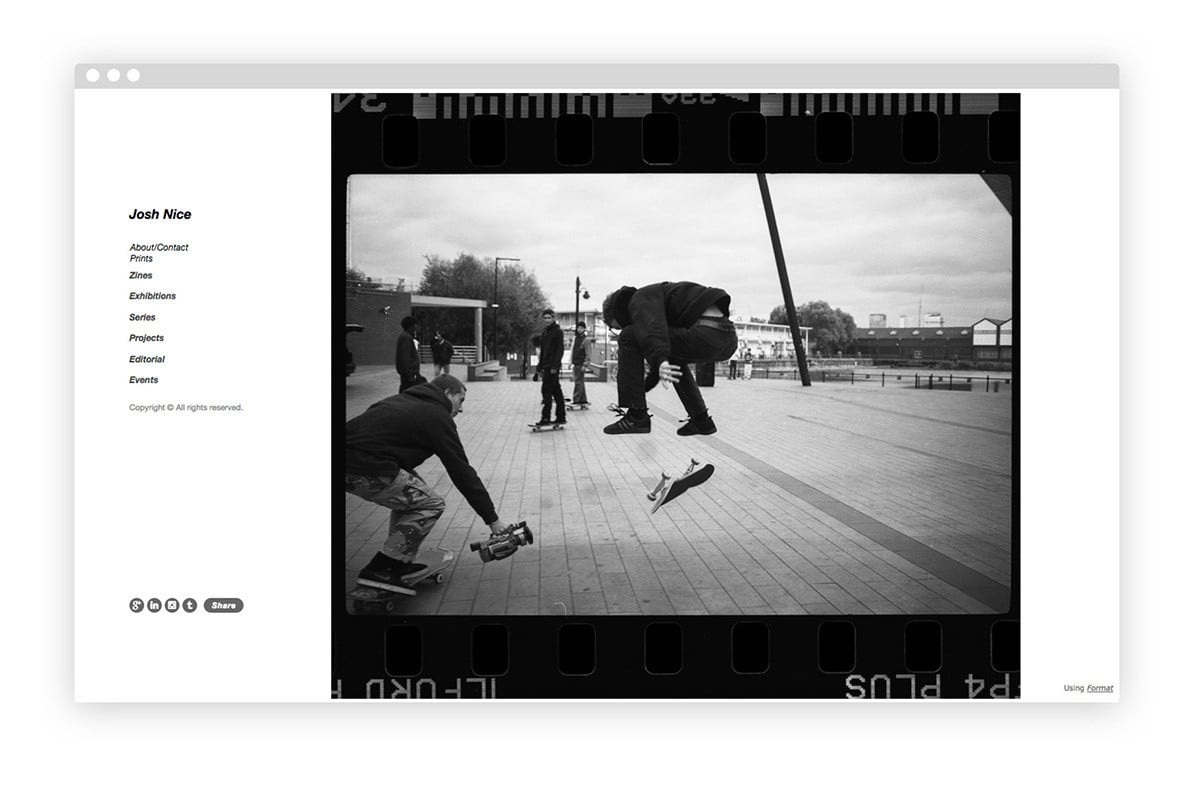 Photographers To Check Out For Classic Black and White Photos
While most black and white photography portfolios tend to have an inherent classic feel, if you consider your style distinctly classic, these photographers are worth checking out for classic black and white photos:
This London photographer and skateboarder captures the exploits of a French skate crew beautifully in candid analog photos. His black and white photography feels especially classic. Nice introduces his portfolio website via a vertical scroll of his best shots, with a sidebar menu linking to different series.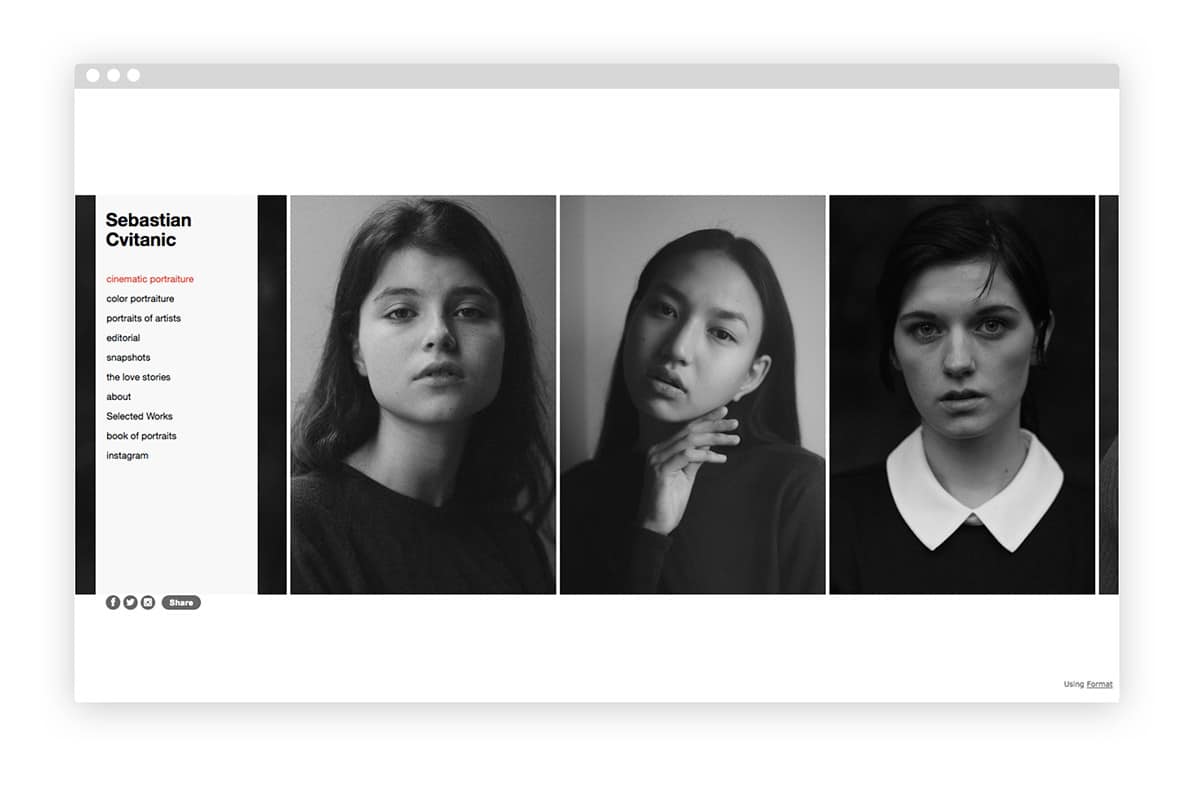 Based in Seattle, Sebastian Cvitanic specializes in analog photography, capturing striking black and white portraits as well as lively street snapshots. Cvitanic aims to take photos that are beautiful in their simplicity, working in a classic, straightforward style. Organizing images into separate galleries of black and white portraits, color portraits, couples, and other categories keeps his portfolio site easy to navigate.
New York photographer Richard Rothman has work in the permanent collections of institutions like the Museum of Modern Art, the Brooklyn Museum, and the Bibliothèque Nationale de France. Rothman's black and white photography is meditative and quiet, capturing unexpected moments of depth. He gives context to his work right away by using his About page as him home page on his online portfolio.
These Photographers Showcase Black and White Film Photography
You can't go wrong with these black and white photography portfolios if you're interested in film photography:
Based in Belgium, Jean-François Flamey takes enigmatic photos on film. His black and white images are eerie, artfully unfocused, capturing brief moments in time. Flamey arranges his photos in a collage-like format across a horizontal scroll, exhibiting a number of different, compelling series.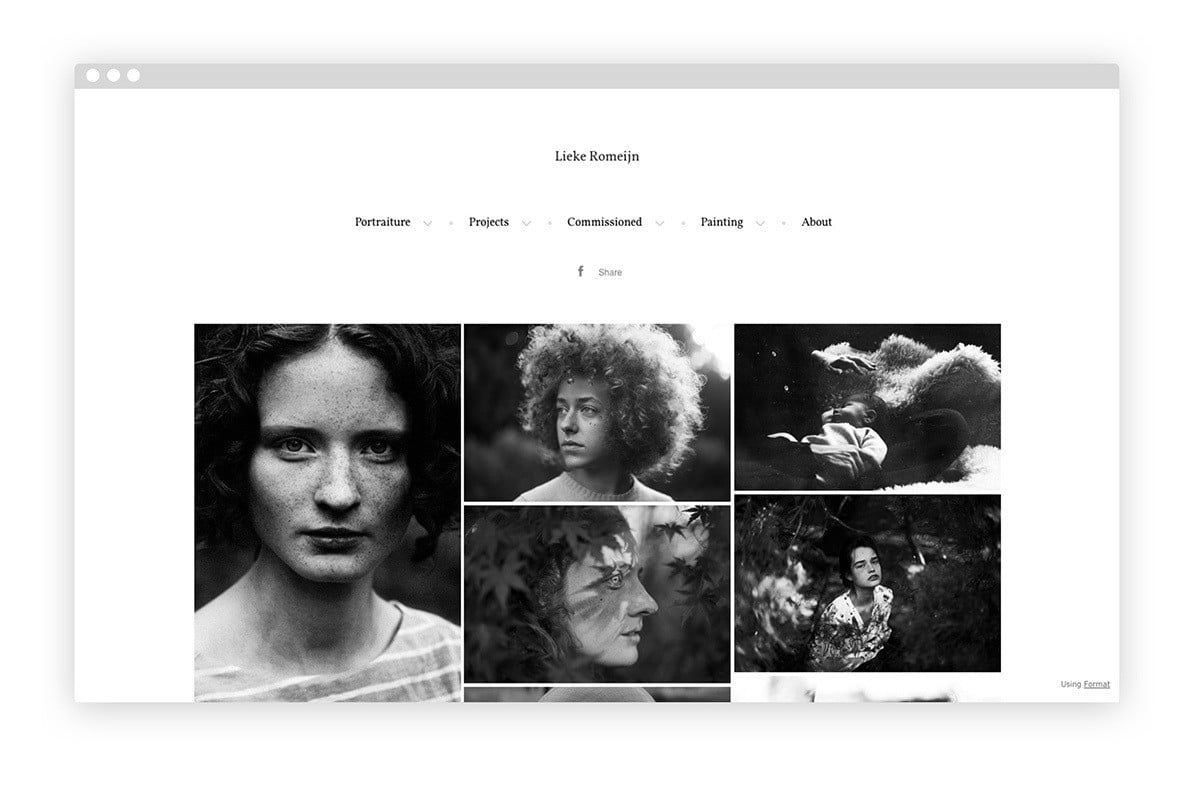 Based in Amsterdam, Lieke Romeijn takes beautiful, delicate analog portraits, as well as photos of the places she visits. Romeijn organizes her images with a grid theme, which allows separate series to stand alone as whole bodies of work.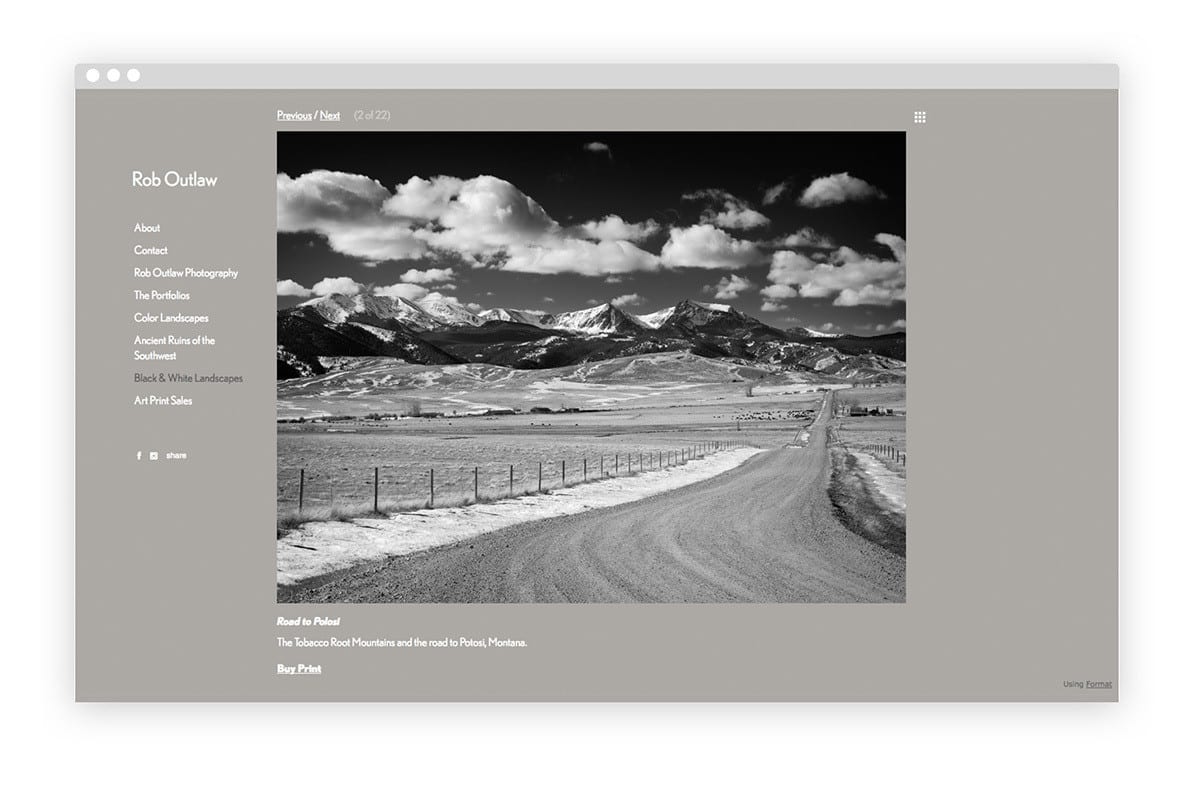 Top Portfolio Pick for Black and White Nature Photography
Whether it's photographing ancient ruins in Utah or mountains in Montana (as seen here), photographer Rob Outlaw knows what makes a landscape photo work. The established American photographer has been documenting scenery stateside for over thirty years. He creates an elegant online portfolio with a subdued grey background that makes his black and white images pop.
Get inspired with these black and white photography examples
You'll likely notice when you check out these black and white photographs that most of the photographers have distinct specialties. For instance, some photographers specialize exclusively in black and white portraits, while others are more inclined to shoot fashion photography.
On the other hand, some photographers will shoot in various subjects while keeping black and white at the heart of their aesthetic (you can learn more about the black and white photography aesthetic here).
Whether you want to specialize in a certain type of black & white photography or you're more drawn to flexibility, we've placed each of these photographers into the category that most reflects their primary style to help you identify the photographer who most closely matches your own style. This way, you can specifically check out the black and white photographer who might have a similar career path to your own.
Cover image by Haruka Sakaguchi.
Want to see more of our favorite portfolios? Check out the best online portfolios by Format's best…
Fashion photographers
Portrait photographers
Wedding photographers
Illustrators
Designers
Artists using animated GIFs