Collage has existed as an art medium for centuries, but it wasn't until the early 20th century that collage art really came into its own. The French term collage was coined by Georges Braque and Pablo Picasso, who both made use of collage techniques in their Cubist paintings; collage was also popular among the artists of the Dada movement. Over the years many artists have incorporated fashion editorials, advertisements, and other material from pop culture into collaged works as a means of critiquing this imagery. Today, digitally-made photomontages and collages offer a new way of exploring the medium.
Whether they work with digital media or focus on paper, all of these contemporary artists are working with collage in inventive ways. Many are photographers who utilize collage as a space for experimenting with the photos they've taken. Others are painters who make use of found materials to add texture and meaning to their works. They're all sure to offer inspiration, whether you're a collage artist yourself or simply looking for interesting imagery to spark new ideas.
For even more creative inspiration, take a look at our ultimate list of well-made websites from the Format community.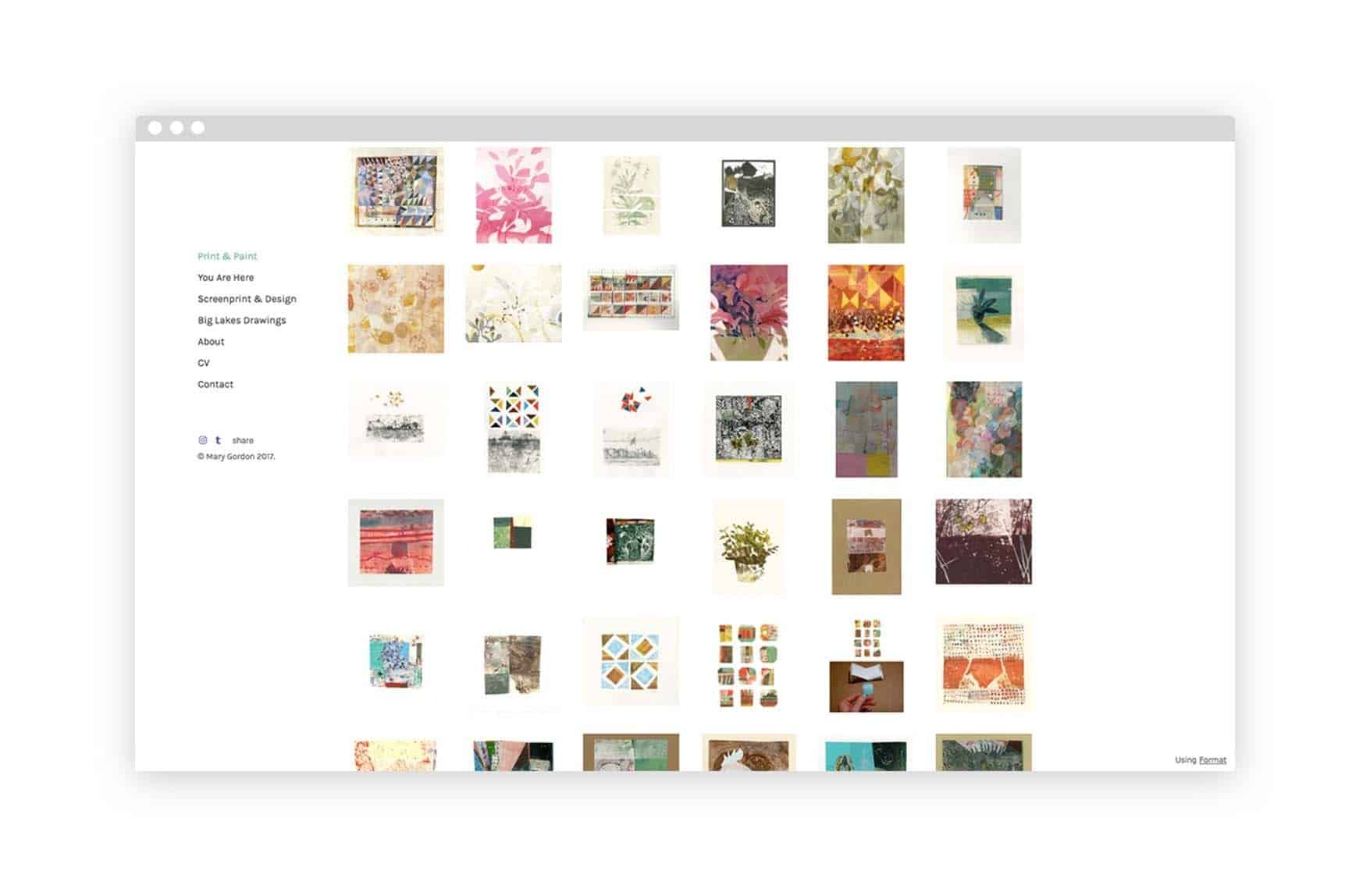 Mary Gordon
Artist Mary Gordon is currently studying Printmaking and Book Arts at the University of Georgia. On her online portfolio, she uses a grid-based layout that works well to showcase the mixed media nature of much of her creative work.
www.mary-gordon.com
Format Theme: Offset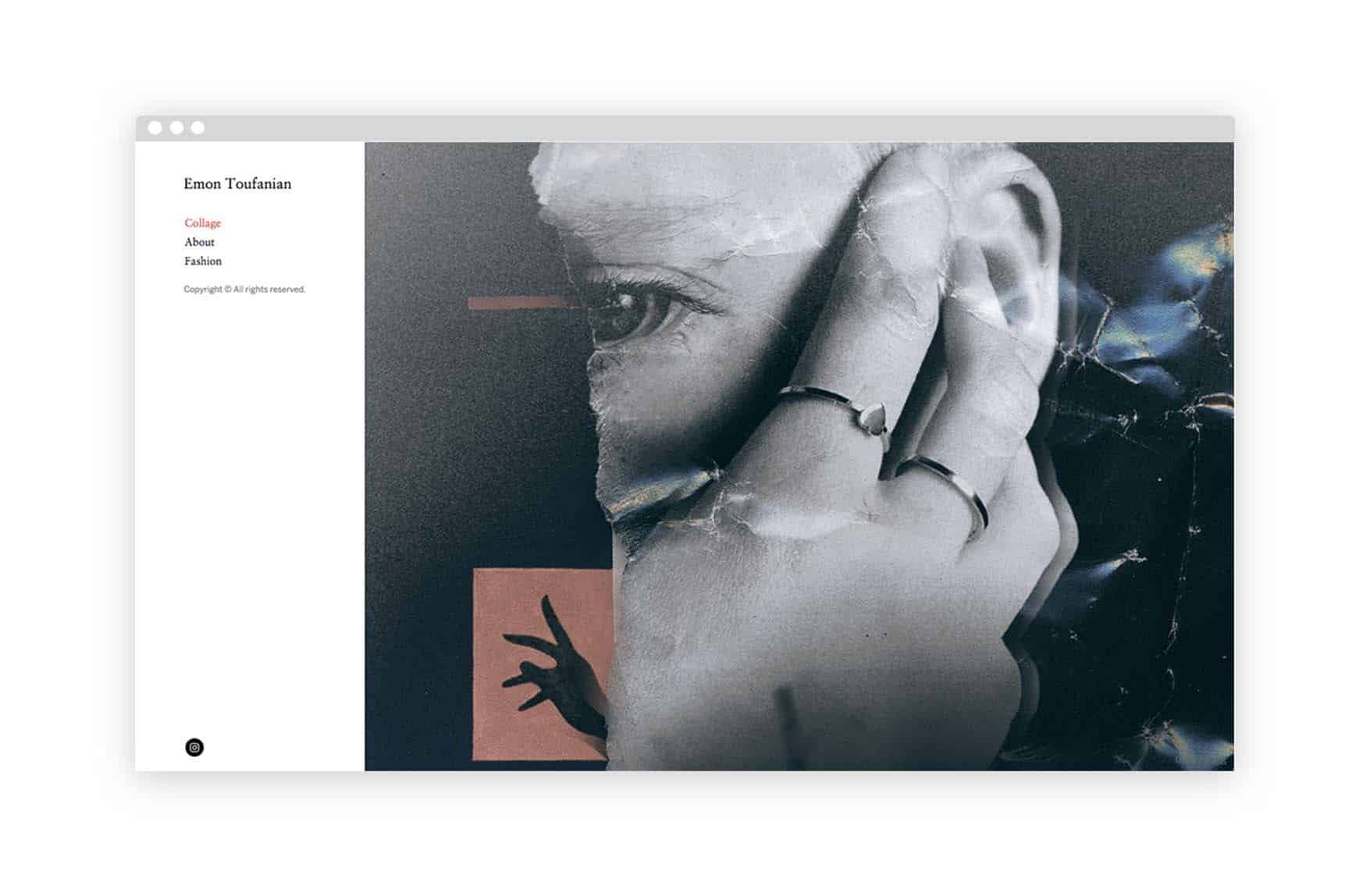 Emon Toufanian
Based between New York and Paris, artist Emon Toufanian has worked with fashion magazines including A Mag Curated By, Sleek Magazine, Oyster Magazine, Dazed, and Vogue Italia. Toufanian's online portfolio is separated into collage art and fashion galleries; his collage work fills the entire screen with vibrant color and glitched-out textures.
www.emontoufanian.com
Format Theme: Horizon Left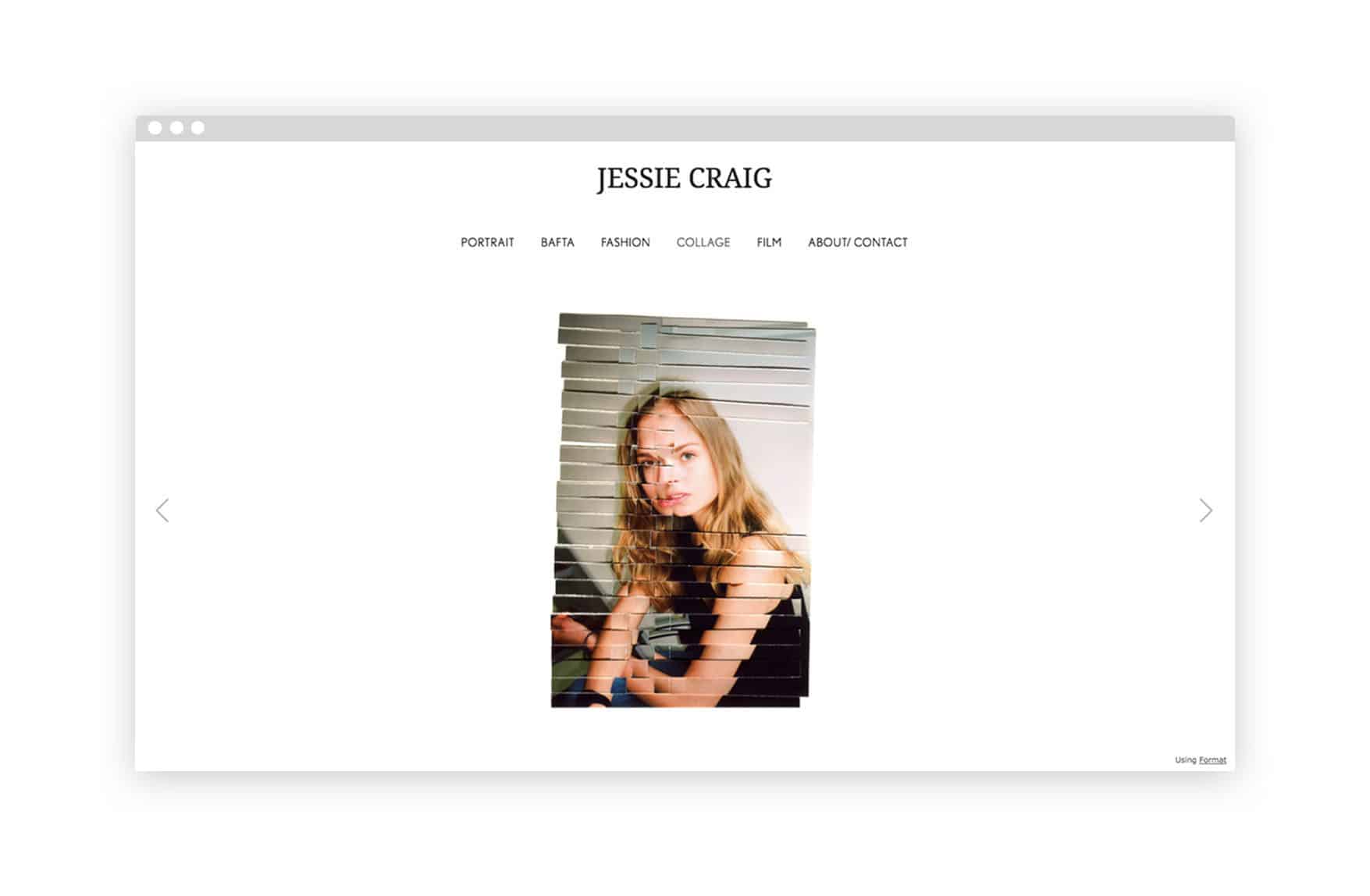 Jessie Craig
Jessie Craig's impressive portrait photography credentials include work in the permanent collection of the UK's National Portrait Gallery as well as shots of the likes of Oprah and Leonardo DiCaprio in her capacity as BAFTA photographer. Craig also creates inventive photo-based collages which offer an interesting contrast to her more formal photography.
www.jessiecraig.format.com
Format Theme: Foray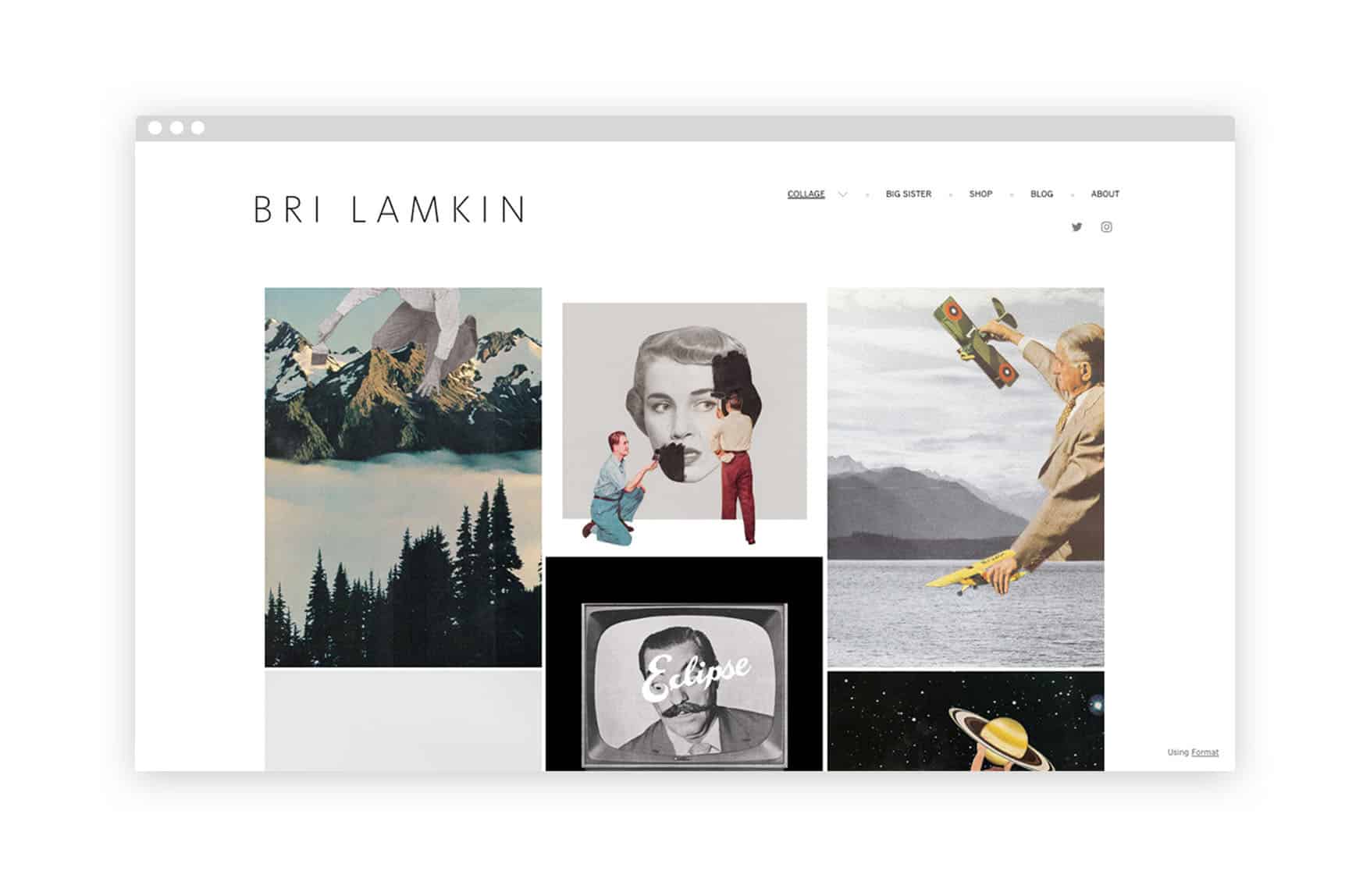 Bri Lamkin
Based in Colorado, artist Bri Lamkin has been working with photography for more than ten years, but has recently turned her focus more to collage art. Lamkin frequently repurposes vintage imagery in her collages for lighthearted imagery that aims to nevertheless aims to explore complex themes such as feminism and mental health. A grid-based website theme gives viewers a full overview of Lamkin's work.
www.brilamkin.format.com
Format Theme: Amazon
Matthew Grimes
Artist Matthew Grimes, currently based in Virginia, works in both ceramics and mixed media collage. Grimes divides his portfolio into separate projects, with lots of space for news about his upcoming exhibitions. Single image galleries let Grimes share information about each work and ensure that the viewer takes the time to consider each piece on its own.
www.matthew-grimes.format.com
Format Theme: Offset
Renée Mathews
Multidisciplinary artist Renée Mathews says that her work aims to "investigate vulnerability, sensuality, and identity in a Black Canadian context." Mathews' collages make use of cut-out nude figures and superimposed handwriting for works that feel personal. A side-scrolling website layout allows for an easy overview of Mathews' work.
www.reneemathews.format.com
Format Theme: Horizon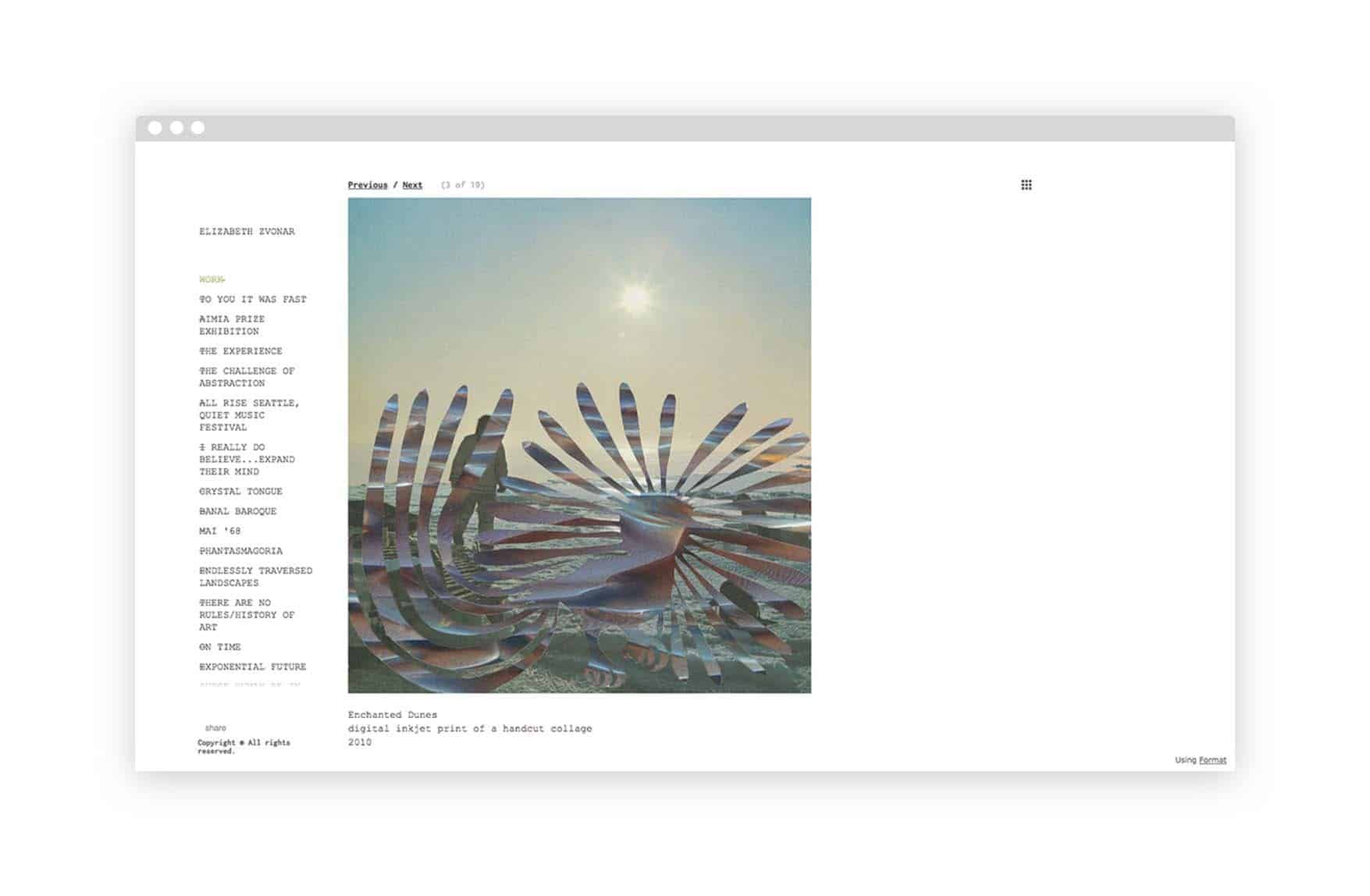 Elizabeth Zvonar
Elizabeth Zvonar is an artist based in Toronto who works with mediums including mixed media collage, photography, and sculpture. In 2016 she was shortlisted for the Aimia Photography Prize, one of Canada's most prestigious photography awards. Zvonar has exhibited widely across Canada and internationally. Her website keeps things simple with ample text adding context and explanations to her work.
www.elizabethzvonar.com
Format Theme: Offset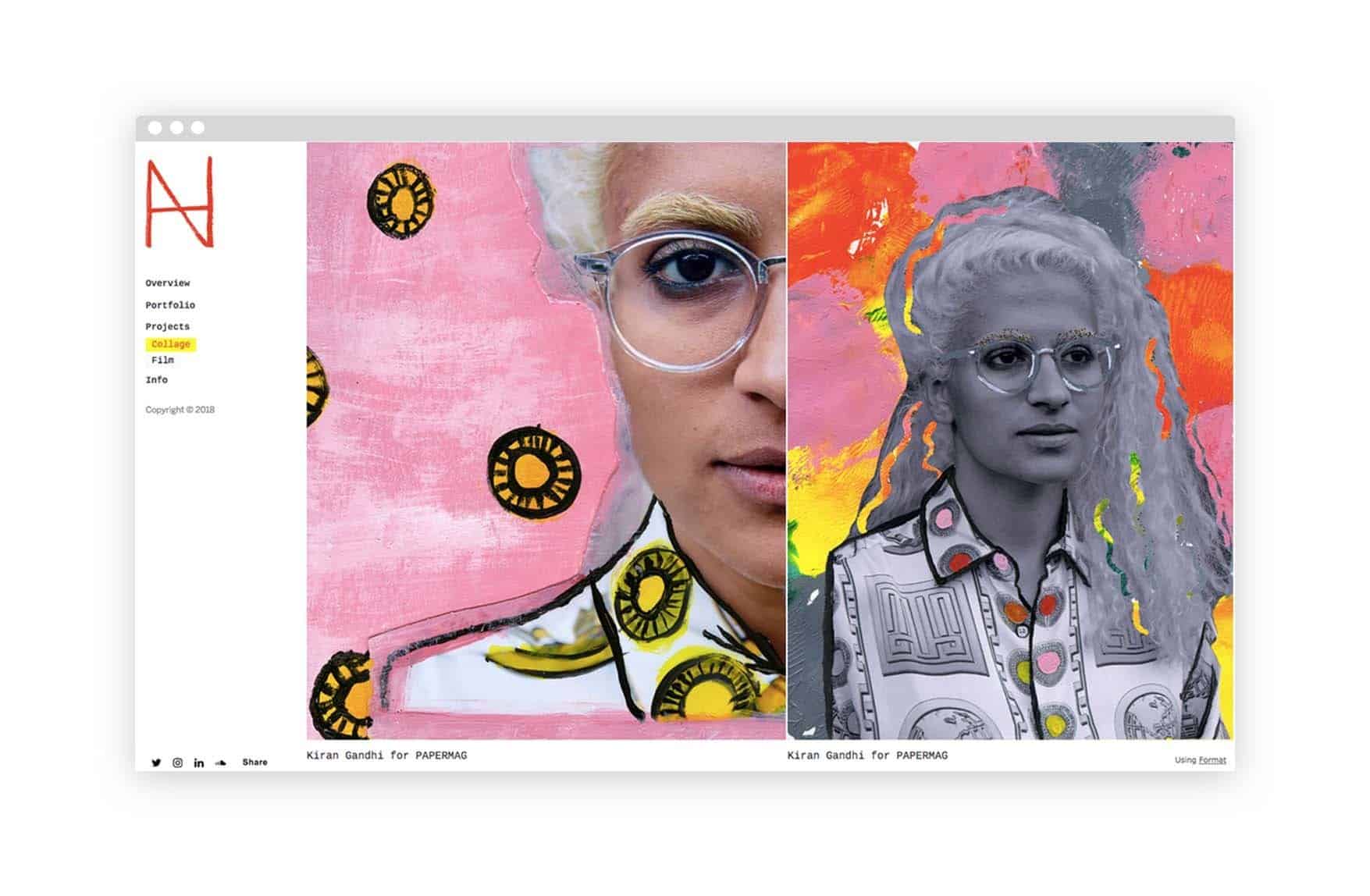 Nydia Hartono
Based between Boston and Singapore, Nydia Hartono is a photographer and filmmaker currently studying visual and media arts at Emerson College. Hartono's collage artwork includes pieces for Paper and Mood magazines. A horizontally-scrolling theme with full-size images allows all the detail of Hartono's work to shine.
www.nydia-hartono.com
Format Theme: Horizon Left
Ben Lewis Giles
Collage artist Ben Giles has recently worked with clients such as The Wall Street Journal and Vice; in 2017 he designed a Google Doodle to commemorate the birthday of horticulturist and garden designer Gertrude Jekyll. Giles' work has a distinctive multi-layered, super-colorful feel that tends to stand out on the page. On his website the British artist aims for simplicity, with a side-scrolling theme that keeps the focus on his works.
www.benlewisgiles.format.com
Format Theme: Horizon Left
Cover image by Emon Toufanian.
More on collage:
Exploring Ethiopian Diaspora Through Collaged Portraits
Hyungjo Moon Collages With Boring Stock Photography
Rosanna Jones Tears Up Her Photographs