For artists working with ceramics, it can be challenging to showcase the texture and detail of tactile works online. But an artist website brings the undeniable advantage of introducing your creations to a global audience that can reach far beyond your gallery or studio. Hosting your ceramics portfolio online also offers a way to view your work as a full collection, preserving a record of pieces that have been sold.
We've rounded up some of the most compelling websites created by ceramics artists. Whether they maintain a full-time studio practice in pottery, or use ceramics as an element of a multidisciplinary art career, all of these creators are making fascinating work. Their websites are an inspiration to artists working with any media, but especially those who are looking for ideas to showcase sculpture or other three-dimensional work.
Find even more online portfolio website inspiration with our ultimate round up of the best artist websites built using Format.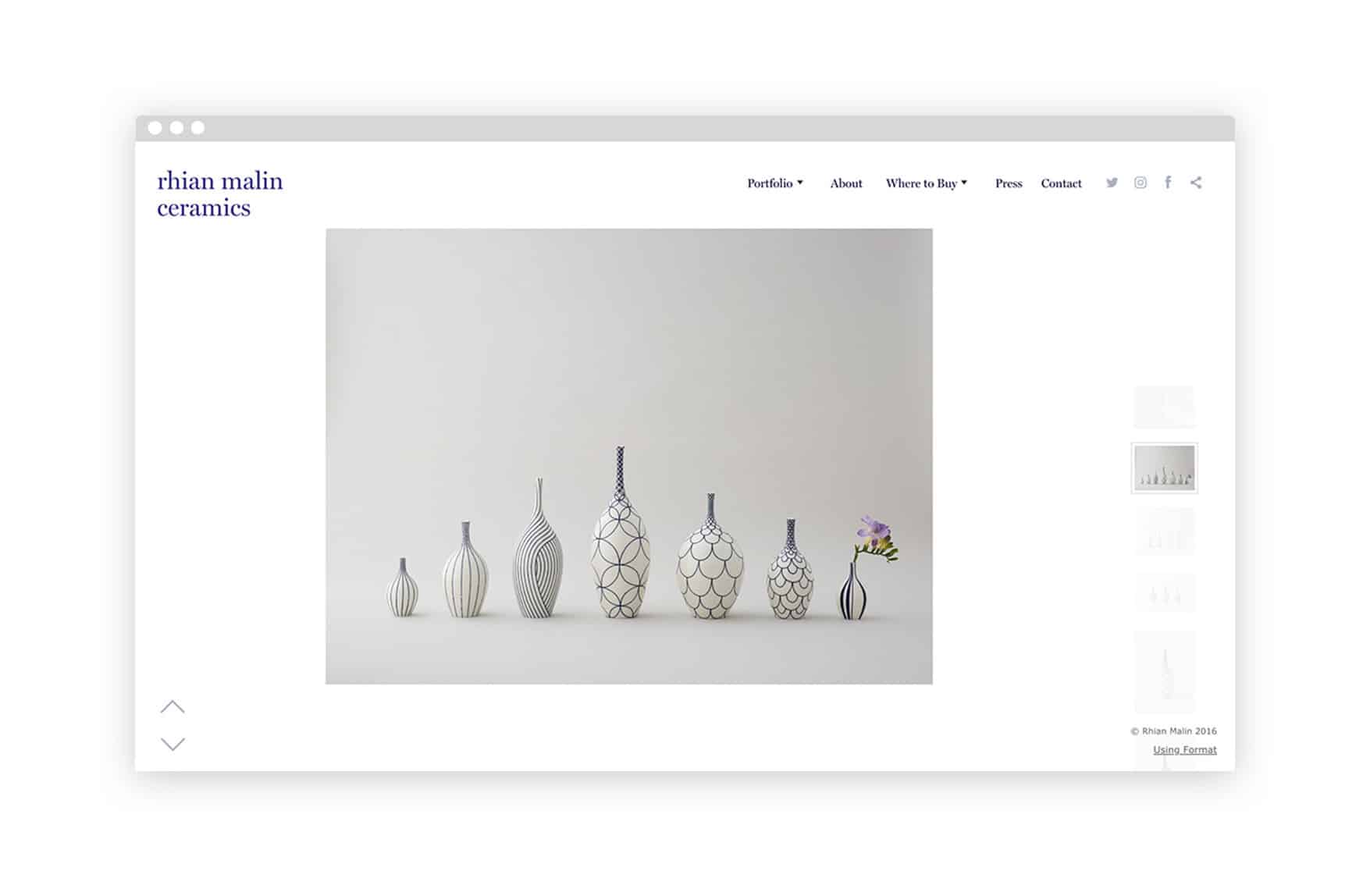 Rhian Malin
Currently the artist in residence at The Ceramic Studio in Warwickshire, England, potter Rhian Malin takes inspiration for her craft from her grandmother's collection of Willow Pattern china. Drawing from historic patterns and styles, Malin's vases, jars, and lamp bases bring a traditional feel to contemporary forms. Malin's homepage features a gallery of highlights, with additional portfolio pages showcasing different projects.
www.rhianmalin.co.uk
Format Theme: Grace
Joshua Schottenstein
A multidisciplinary artist based in Columbus, Ohio, Joshua Schottenstein works with photography and theatre as well as ceramics. Schottenstein's online pottery portfolio showcases cups, bowls, decorative vessels, and more, displayed in a grid layout. A custom logo adds a professional feel to the website and ensures viewers instantly know what to expect from Schottenstein's portfolio.
www.joshuaschottenstein.format.com
Format Theme: Peak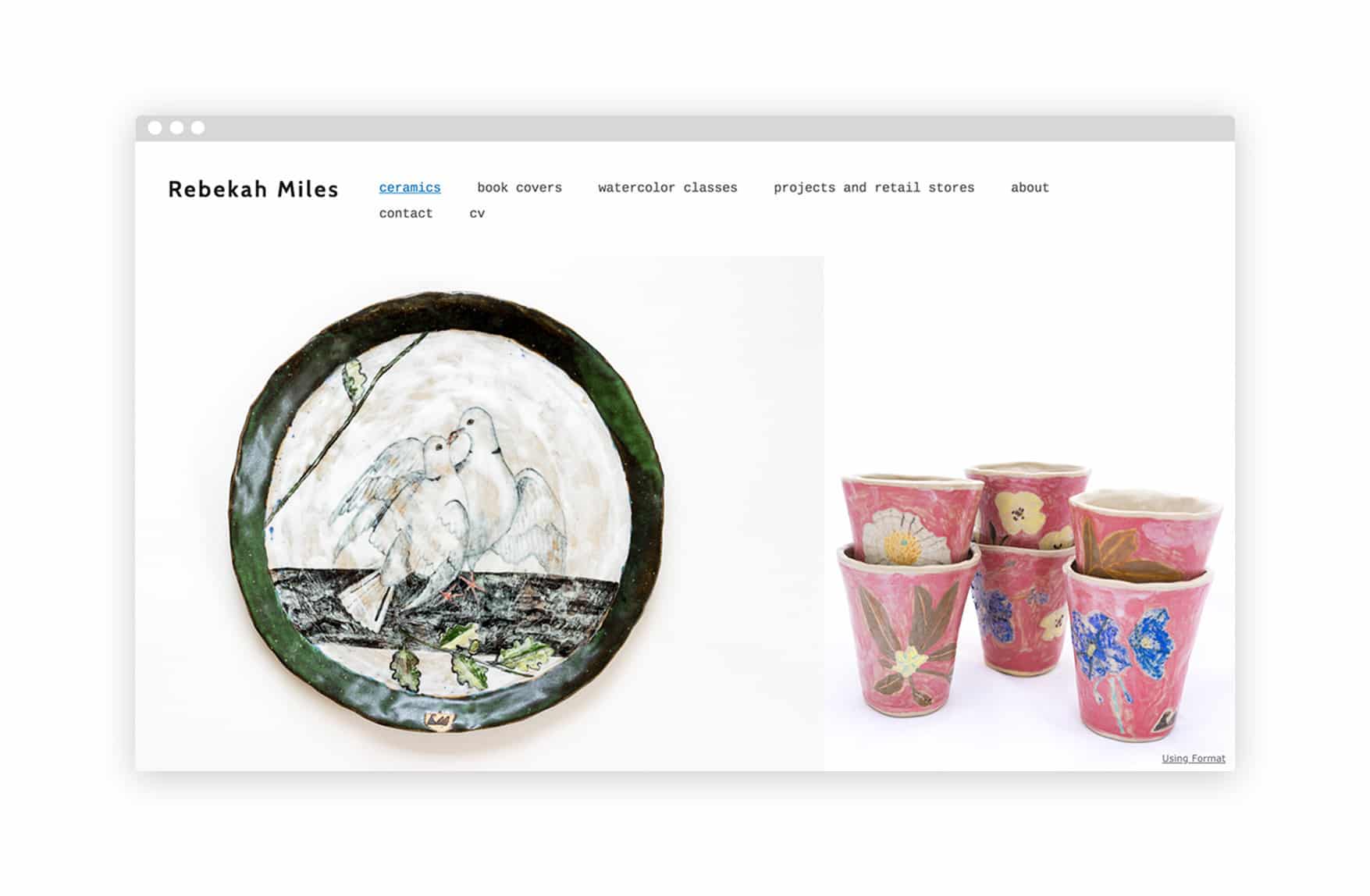 Rebekah Miles
Painting is artist Rebekah Miles' medium of choice; she uses handmade ceramic pieces as canvases for her work. "I want to make modern pieces that feel like heirlooms," says Miles on her online portfolio. She's also created a series of book jacket paintings inspired by art history, a project that caught the eye of Rodarte, who commissioned her to create a book jacket series. Showcasing her works in separate galleries organized by medium allows Miles to keep her artist website organized.
www.rebekahmiles.com
Format Theme: Panorama
Right On Pottery Co.
Created by artist, designer, and developer Laura DeGroot, Right On Pottery ceramics are colorful and fun, drawing inspiration from natural elements like crystals and plants. DeGroot showcases her ceramics using Format's Kiln theme, which she designed herself. Read the story behind it.
www.rightonpottery.co
Format Theme: Kiln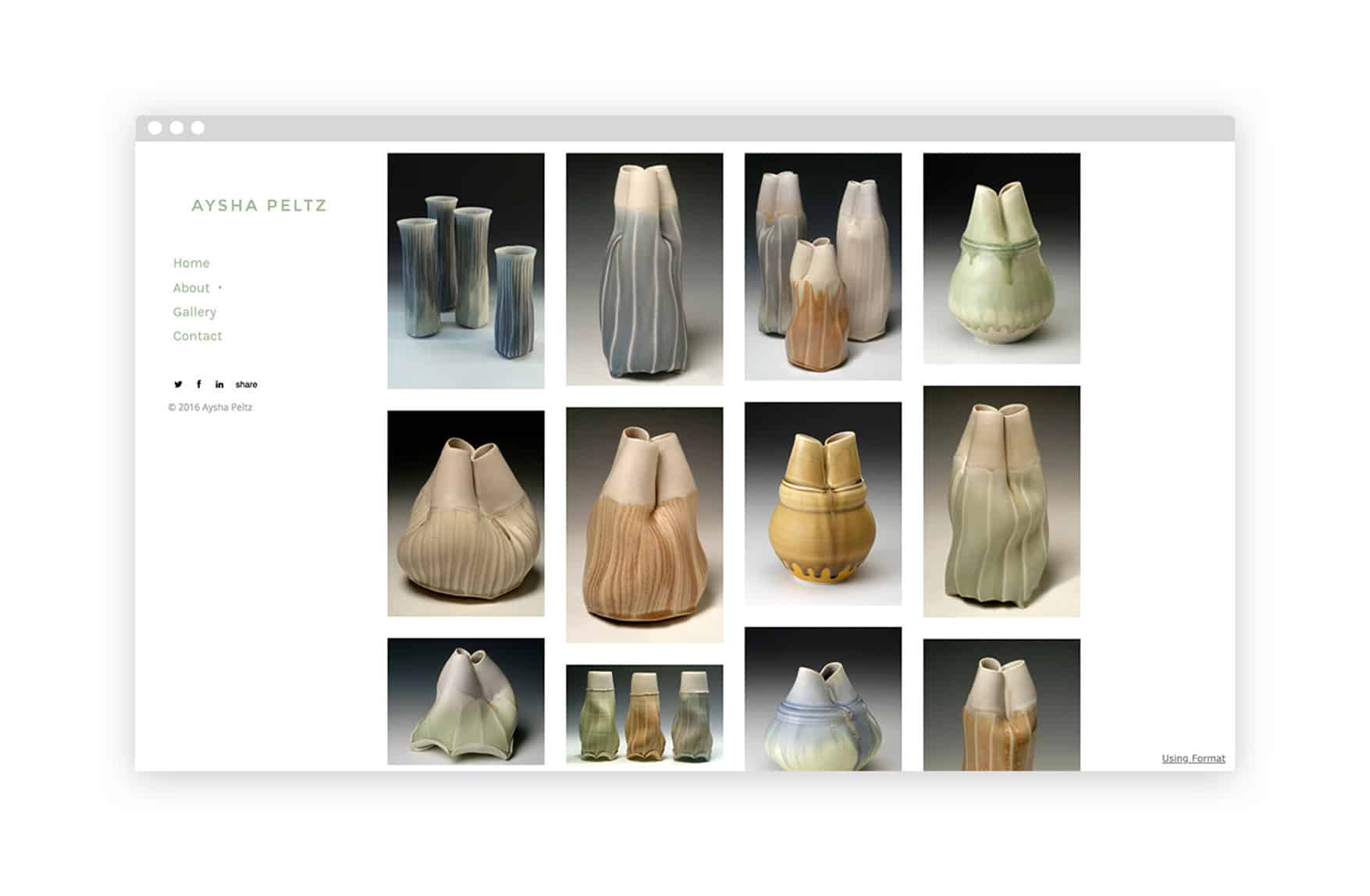 Aysha Peltz
Located in Vermont, Aysha Peltz is a potter and an educator. She's shown her work in institutions across the United States over the past twenty years, and her pieces are in the collections of museums such as the American Museum of Ceramic Art. A sage green font color adds a personal touch to Peltz's ceramics portfolio. She offers ample background on her professional work with separate pages detailing important info such as her CV and teaching philosophy.
www.ayshapeltz.com
Format Theme: Peak
Stephanie Basralian
Washington, DC-based artist Stephanie Basralian introduces her work with the descriptive phrase "Handbuilt Sculpture & Tableware" right in her header. Basralian came to ceramics after a successful career as a prop stylist, working for magazines such as InStyle and Real Simple. She now focuses on creating clay sculptures inspired by the natural world.
www.stephaniebasralian.com
Format Theme: Horizon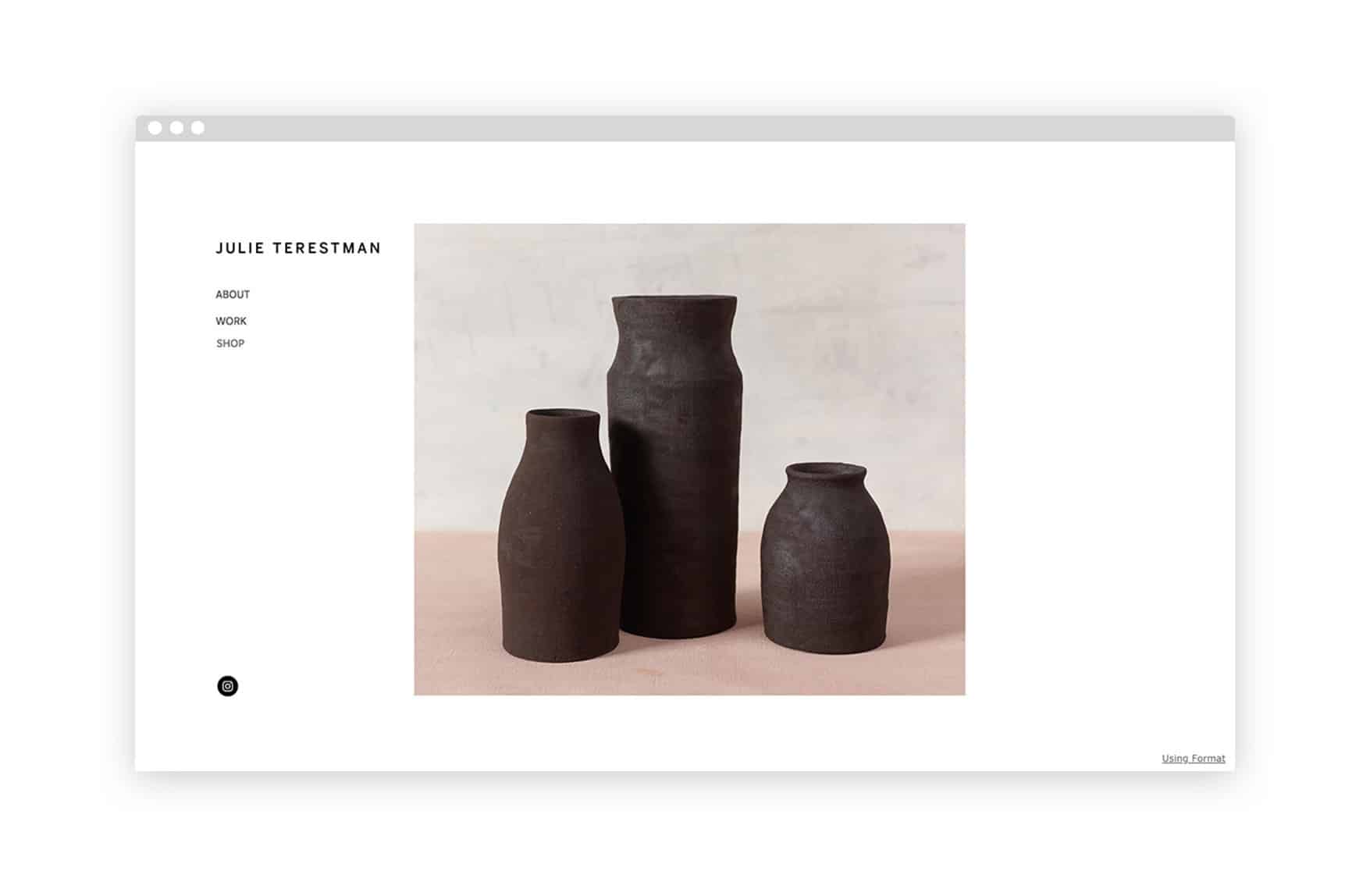 Julie Terestman
Artist Julie Terestman's ceramics are minimal, focusing more on thoughtful exploration than decoration or function. The New York artist teaches pottery at several schools around the city. Her ceramics website echoes the meditative quality of much of her work, keeping things simple with a horizontally-scrolling theme that showcases works divided into different series.
www.julieterestman.com
Format Theme: Horizon Left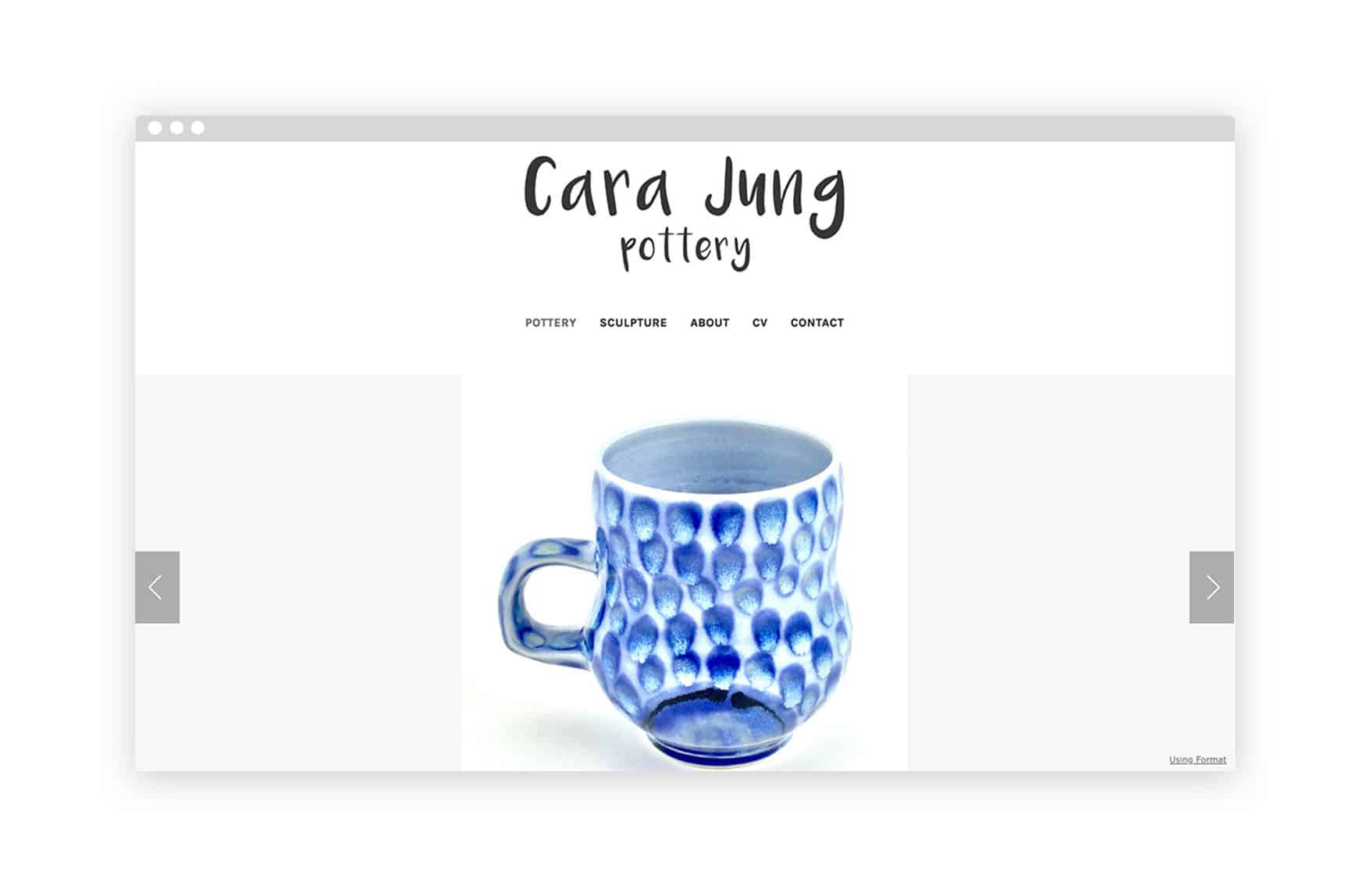 Cara Jung
A jaunty, handwriting-inspired logo instantly lends Washington State artist Cara Jung's ceramics website a creative feel. Jung's work is colorful and often inspired by nature. She divides her online portfolio into galleries of sculpture and pottery, notably different in that her pottery work is all designed for functional use in the kitchen.
www.cara-jung.format.com
Format Theme: Foray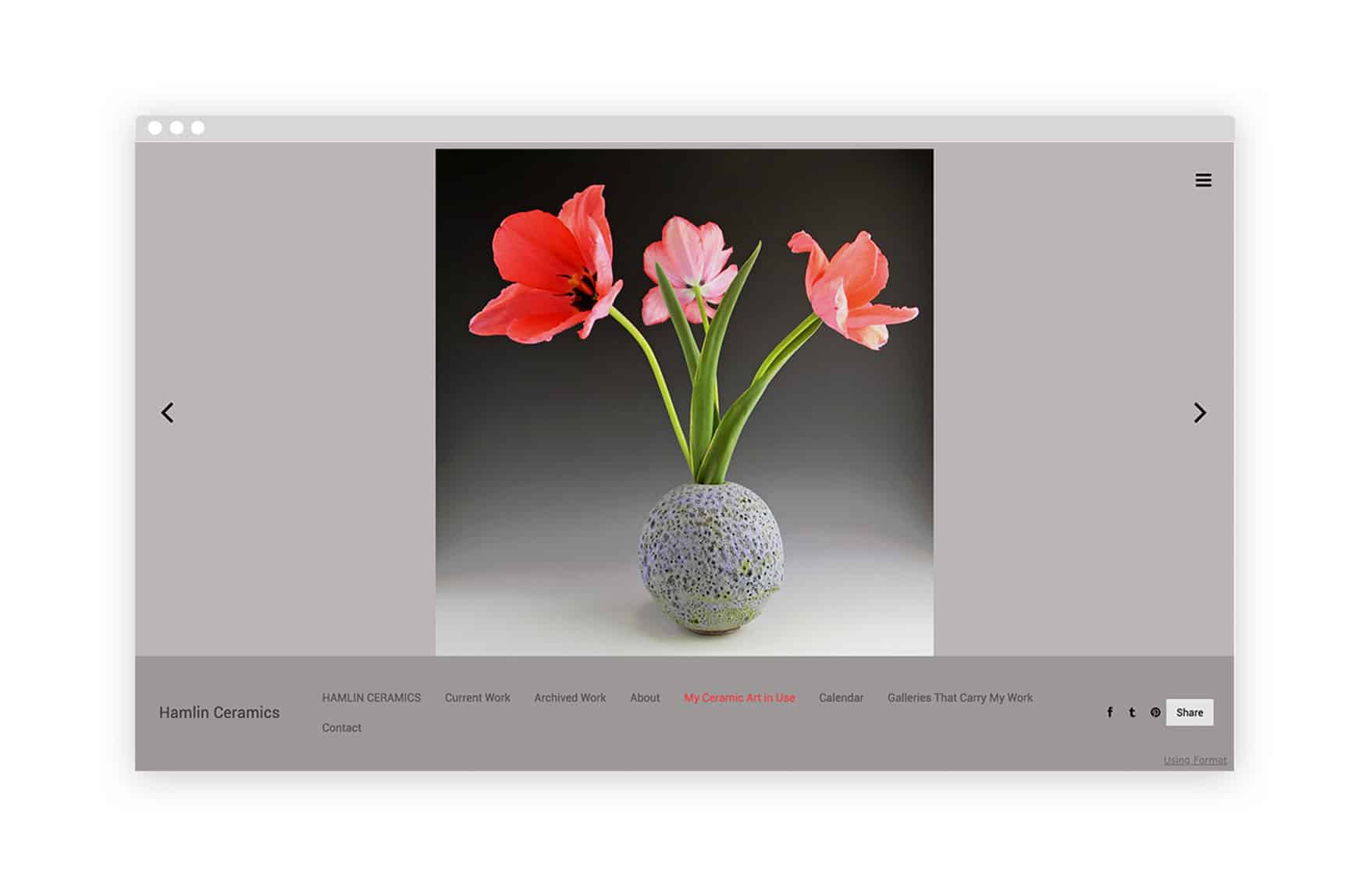 Hamlin Ceramics
Ceramics artist Michael Hamlin's passion for gardening informs his artwork; he often designs with flowers and plants in mind, and also draws inspiration from Ikebana, the Japanese art of flower arranging. The North Carolina-based artist showcases his ceramics portfolio using a theme with a muted grey background and full-sized images, allowing visitors to get a close up look at his work.
www.hamlinceramics.com
Format Theme: Sun
More portfolio eye candy:
5 Websites Created with Format's New Kiln Theme
10 Sculptors with Artist Websites that Stand Out
How Pottery Inspired Our Latest Website Theme Design