A well-known saying among chefs is "You eat with your eyes first."
This is explained through science—our visual stimuli can affect our sense of taste and smell, which is why the presentation of a dish is an important factor in the quality of a meal.
Photographing food is a unique subset of commercial photography, with food photographers often hailing from culinary backgrounds. Many food photographers also do double duty as food stylists and even recipe developers, working on cookbooks, collaborating with chefs, and generally getting immersed in the world of food.
Something else that sets food photography apart from many other photographic genres is that images of beautiful food are pretty much always appealing to look at. Even if you don't know the story behind the ingredients, the chef who made it, the restaurant that served it, there's a certain intrinsic delight to be found in images of gorgeous cakes, crumbly cookies, steaming-hot stews, and well-roasted chickens (well, maybe not if you're vegetarian).
We rounded up these 20 talented food photographers to prove this point. Just try to get through this list without your stomach grumbling. From perfectly styled tables to messy kitchens in full prep mode, there's something here for every kind of food lover. These photographers, from Portugal to Sydney, all have websites that add flavor to their food shots, emphasizing their style with playful fonts or contrasting bold photos with lots of white space.
If you're looking to get started or amp up your food photography portfolio, this list of creators is sure to get you inspired to create your own magic in the kitchen.
For even more portfolio inspiration, take a look at our huge roundup of our favorite websites created using Format.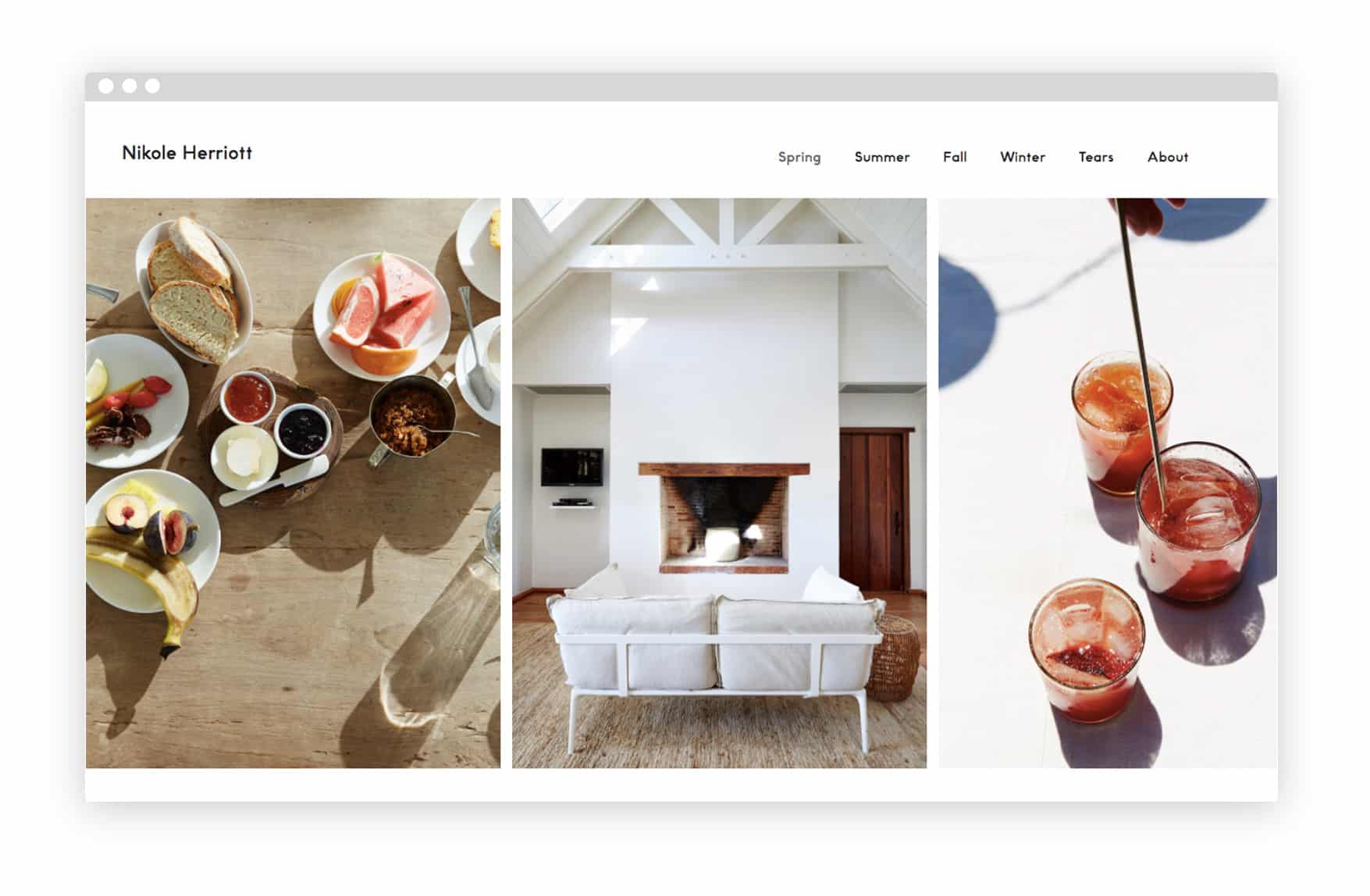 Nikole Herriott
Nikole Herriott became a photographer after working as a pastry chef, and her work demonstrates an obvious love and respect for food of all kinds. Working often with creative partner Michael Graydon, she shoots subjects focused on travel, lifestyle, and food for a variety of editorial and commercial clients. Herriott divides her website into season-inspired galleries that offer a creative look at her work.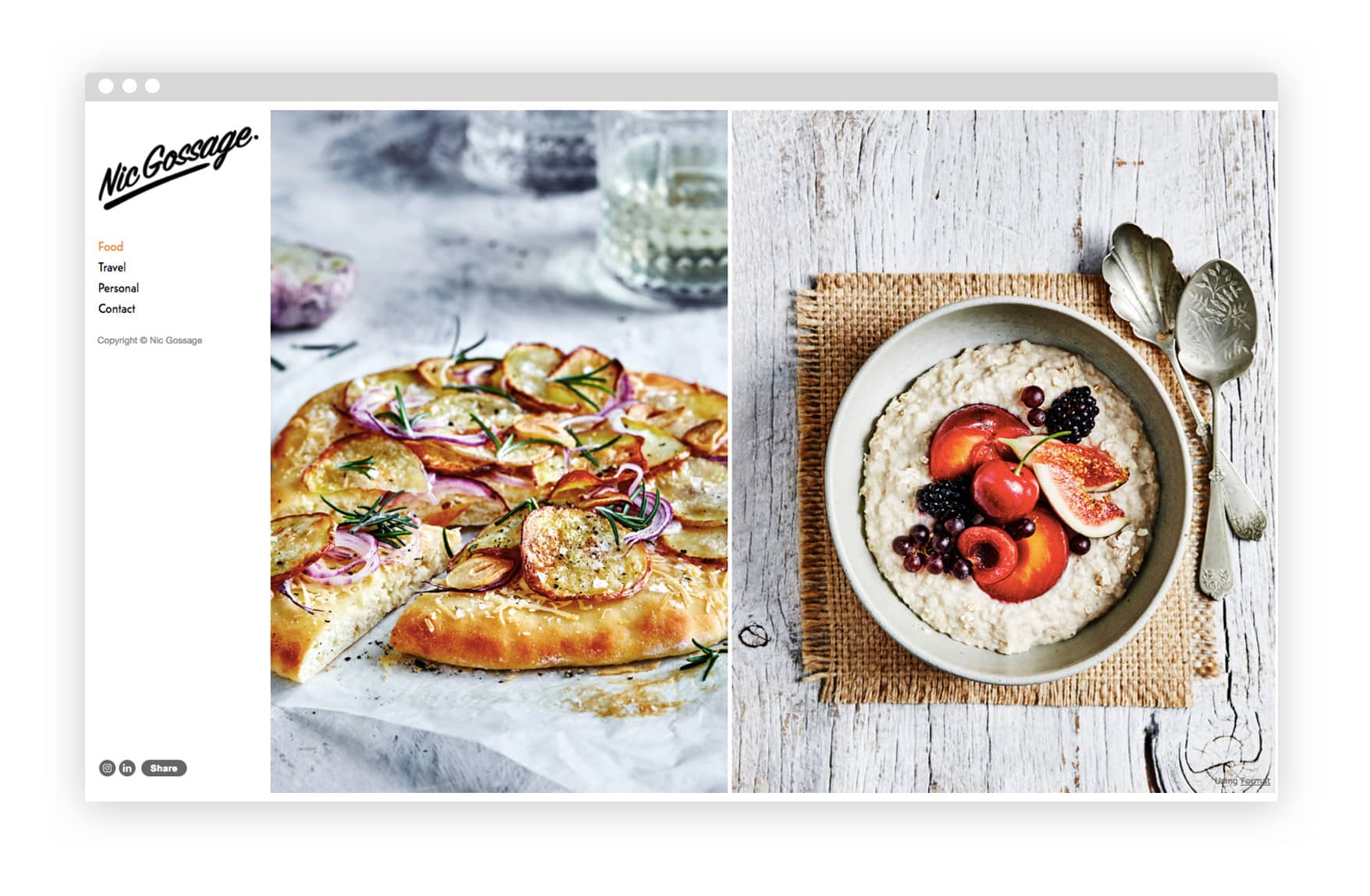 Nic Gossage
Specializing in food photography and travel work, Sydney-based photographer Nic Gossage gives personality to his online portfolio with a bold logo and sleek overall website theme. Gossage displays his photography in a full-screen format that offers a close look at the detail of each shot.
www.nicgossage.com
Format Theme: Horizon Left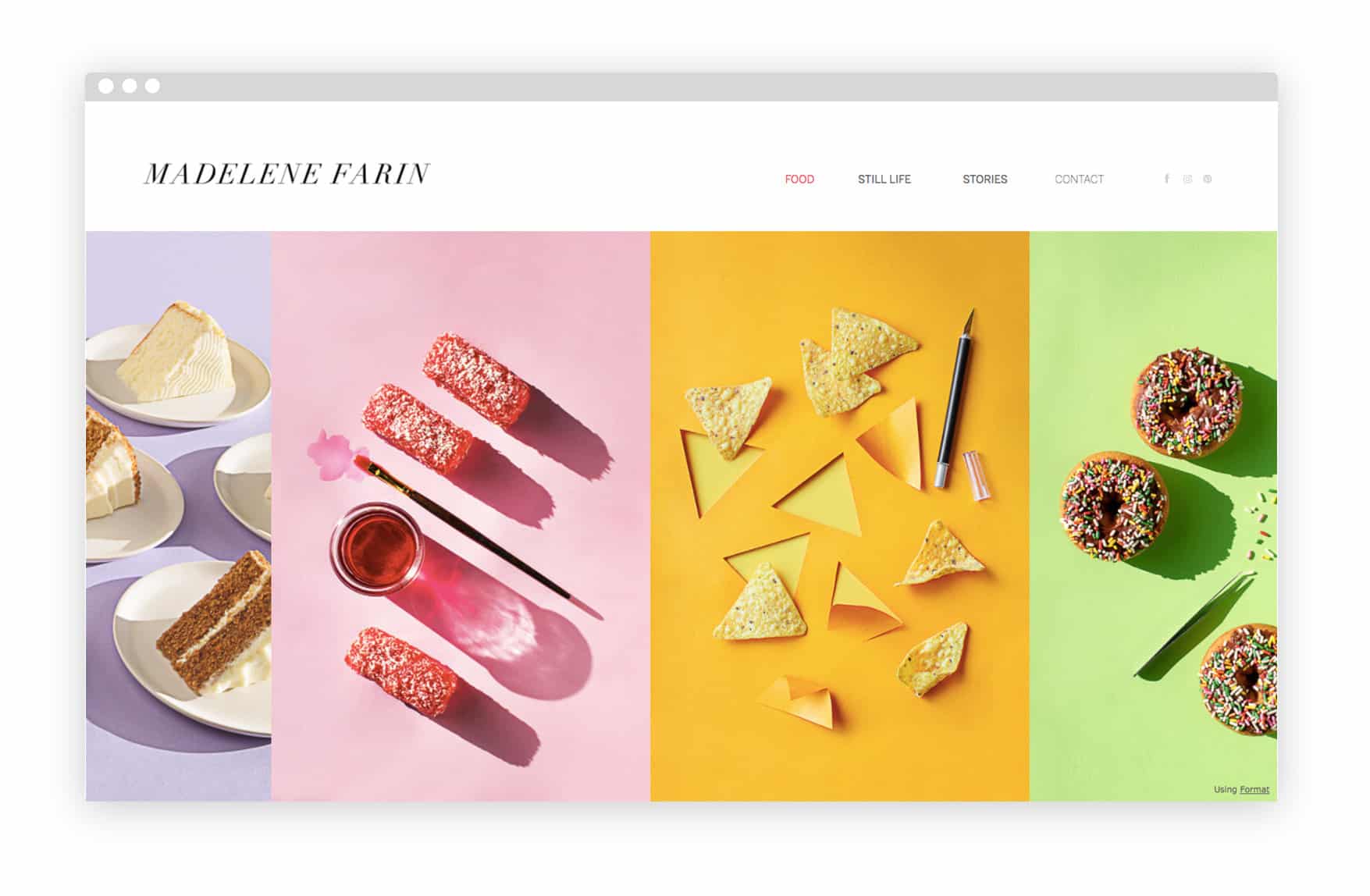 Madelene Farin
Hailing from Los Angeles, Madelene Farin has worked with a range of clients in California and beyond. The BBC and The Guardian have featured her work, and she's been recognized by APA and PDN, and it's not hard to see why.
Farin's food photography has a distinct creative slant, with thoughtful compositions with dramatic shadows that put it a cut above the usual.
www.madelenefarin.com
Format Theme: Panorama
Maryvine Street
Talia Manrique Dinwiddie is the creative behind Maryvine Street where she shares her food, product, lifestyle, and home interiors photography on Format's Amazon theme. Her food photography style is bright and neat and it's showcased in Amazon's grid-style gallery that allows for different sizing options while maintaining organization and flow.
www.maryvinestreet.com
Format Theme: Amazon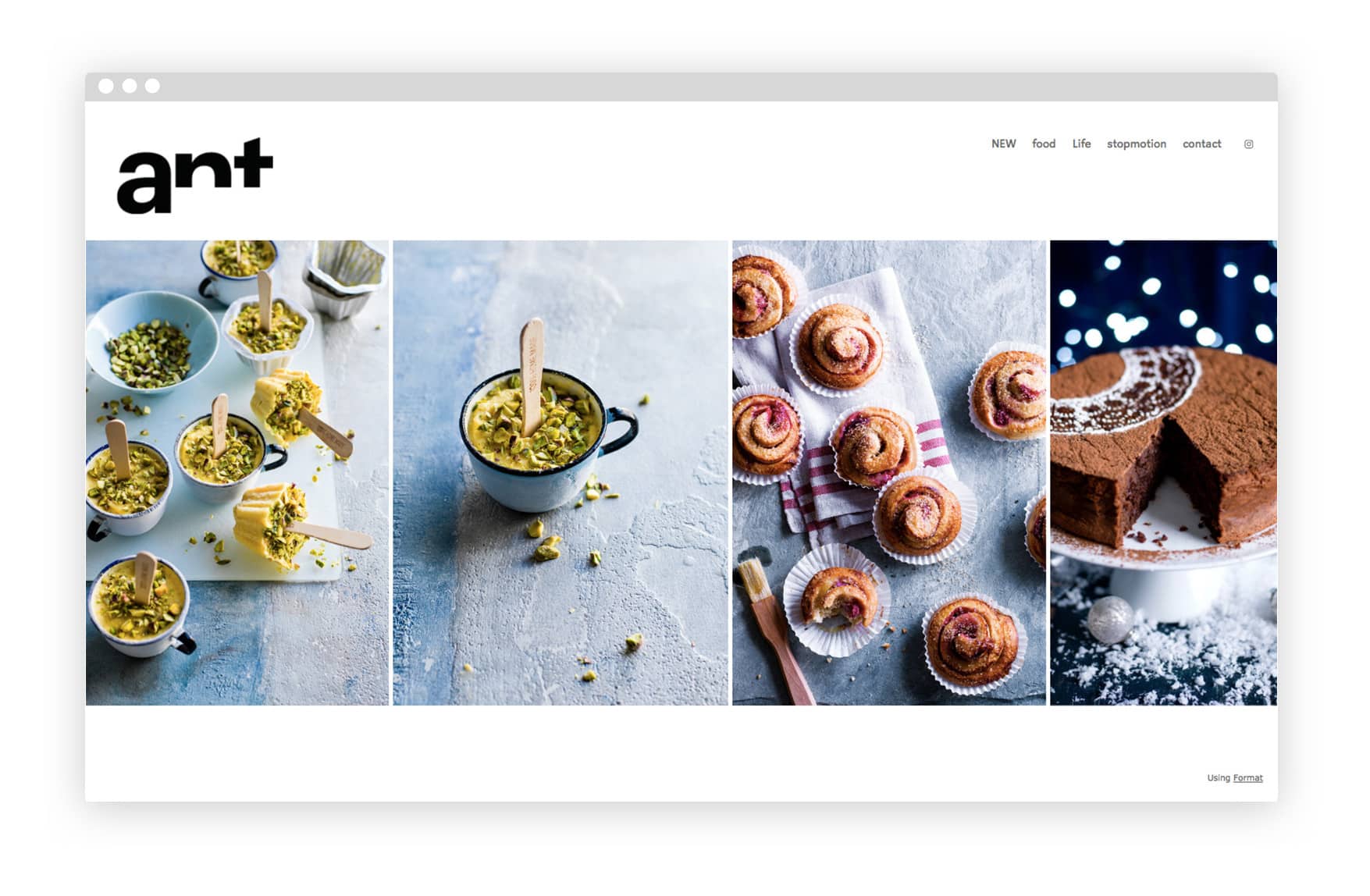 Ant Duncan
UK photographer Ant Duncan uses a unique logo to help his online portfolio stand out. Duncan also showcases his latest work by using a gallery of new shoots as his homepage. Duncan's food photography is full of rich texture, variety, and movement, whether capturing tacos or pies. While his food photography portfolio typically only displays meals and ingredients, the careful composition of elements seems lively, as if you're sitting at the dinner table about to enjoy the meal.
www.antduncan.co.uk
Format Theme: Horizon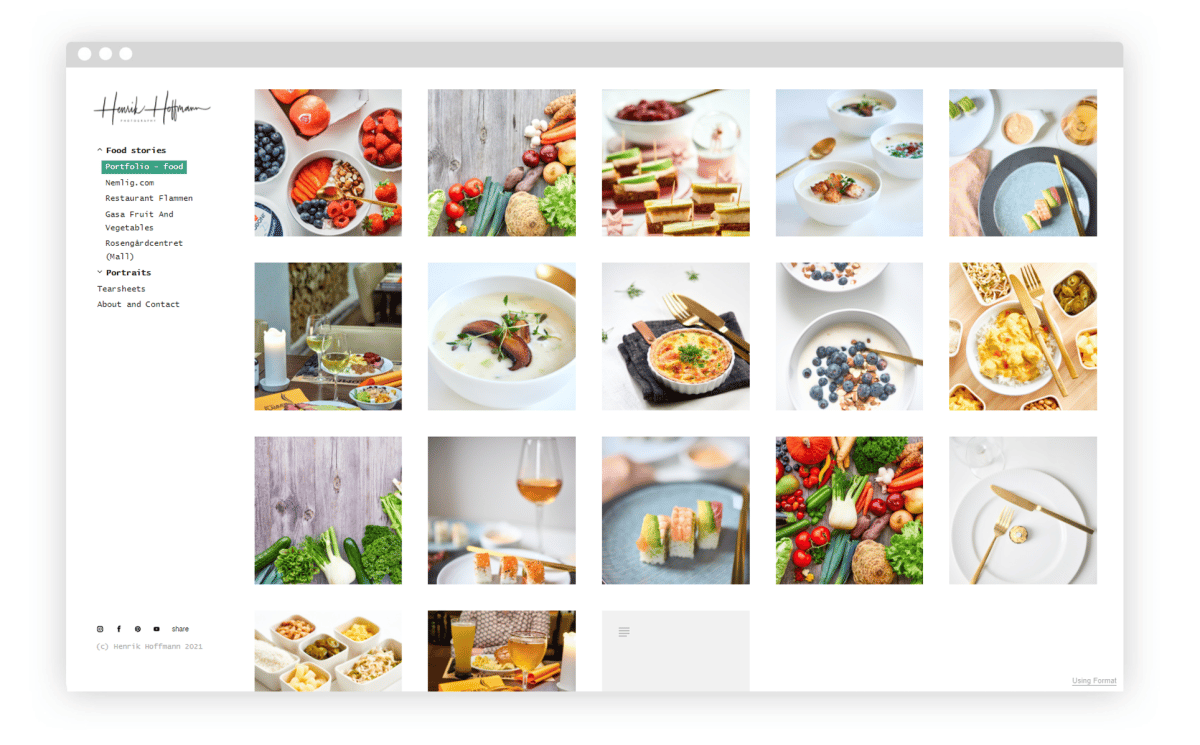 Henrik Hoffmann
Henrik Hoffman is a Danish-born photographer who has a minimalist approach to capturing food stories. Hoffman is widely known for his food photography, having been published in UK magazine, Olympus Passion—but he also enjoys shooting portraits, editorial, events, and commercial work.
Just like Hoffman's style is minimal and clean, he uses Format theme Order to keep his photos neatly arranged in a tiled-style gallery.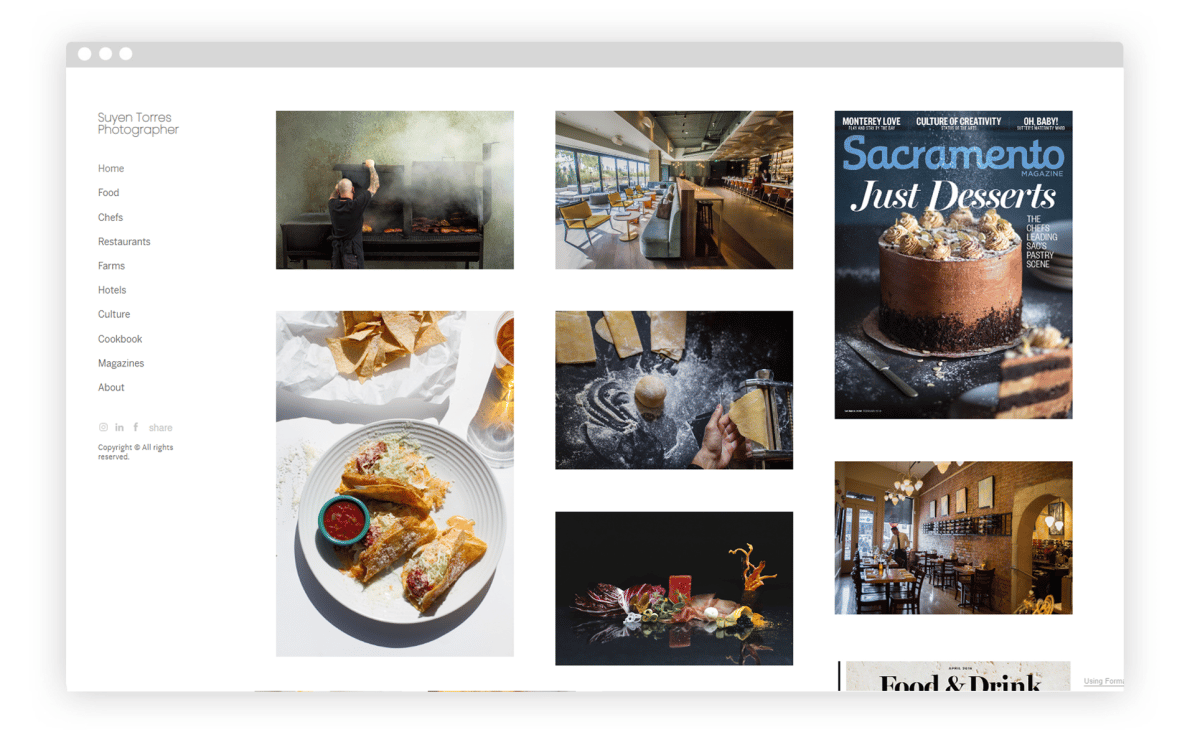 Suyen Torres
Suyen Torres is a California-based photographer who studied food photography in Argentia. Torres describes herself as a "visual and hands-on creator," which was why a career in photography came naturally to her. Torres displays her online portfolio with Peak to weave her food stories together. It's a neat and orderly grid with a left-hand navigation for a timeless gallery.
www.suyentorres.com Format Theme: Peak
Sarah Pflug
Canadian photographer Sarah Pflug specializes in food photography, dividing her portfolio into galleries focused on sweet, savory, and restaurant shots. Pflug adds personality to her website with a pastel-hued logo that matches much of her work tone.
We love using the horizontal scroll for Plug's food photography portfolio that feels as though you're looking through a film reel. It makes for a unique gallery experience.
www.sarahpflug.com
Format Theme: Horizon Left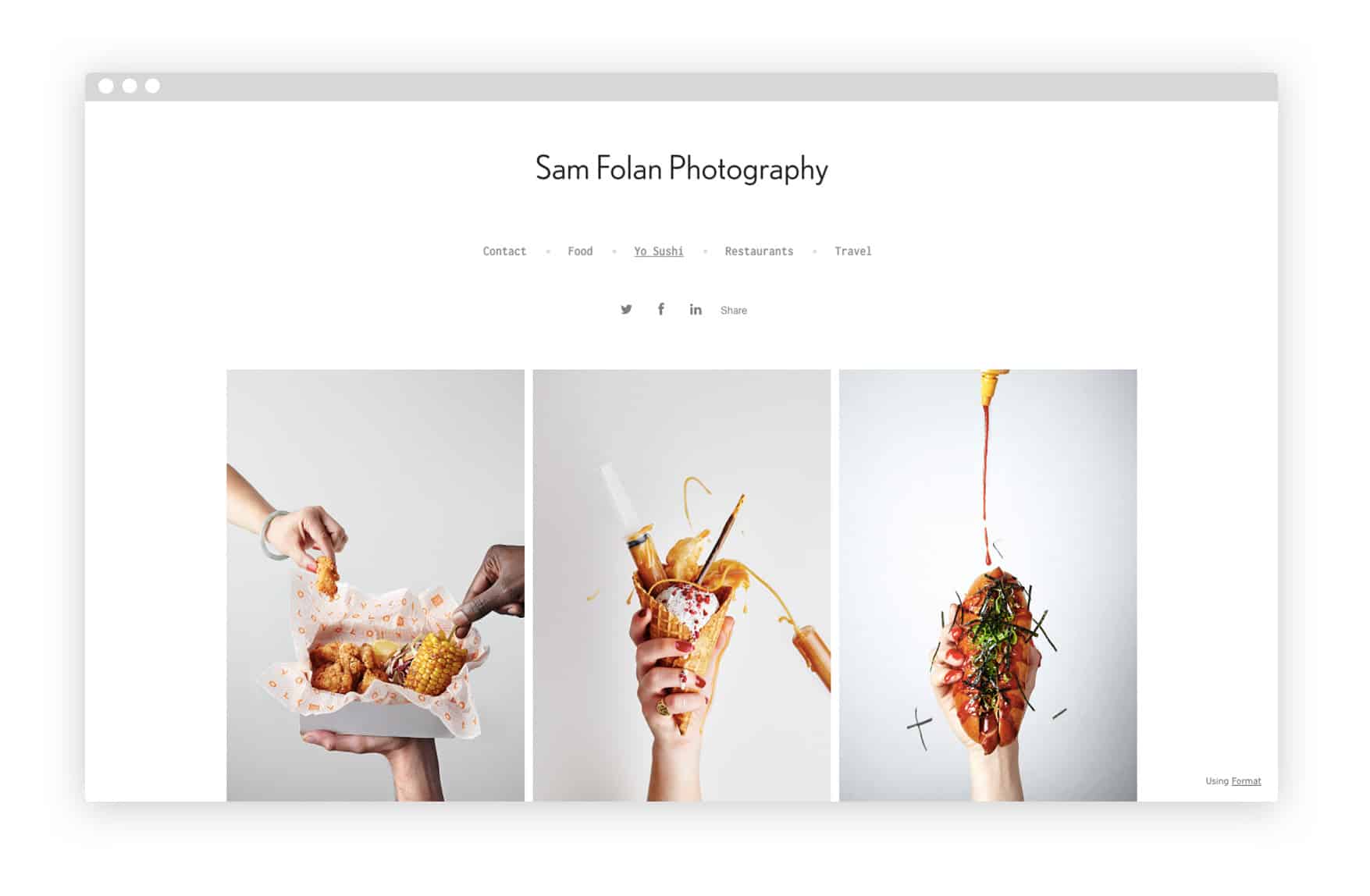 Sam Folan
Sam Folan's food photography is always carefully focused and sharply detailed, whether the photographer is capturing snow-white macarons or messy hotdogs. The London photographer displays his work in a clean, grid-based layout without any text, focusing on his food photography.
www.samfolan.com
Format Theme: Amazon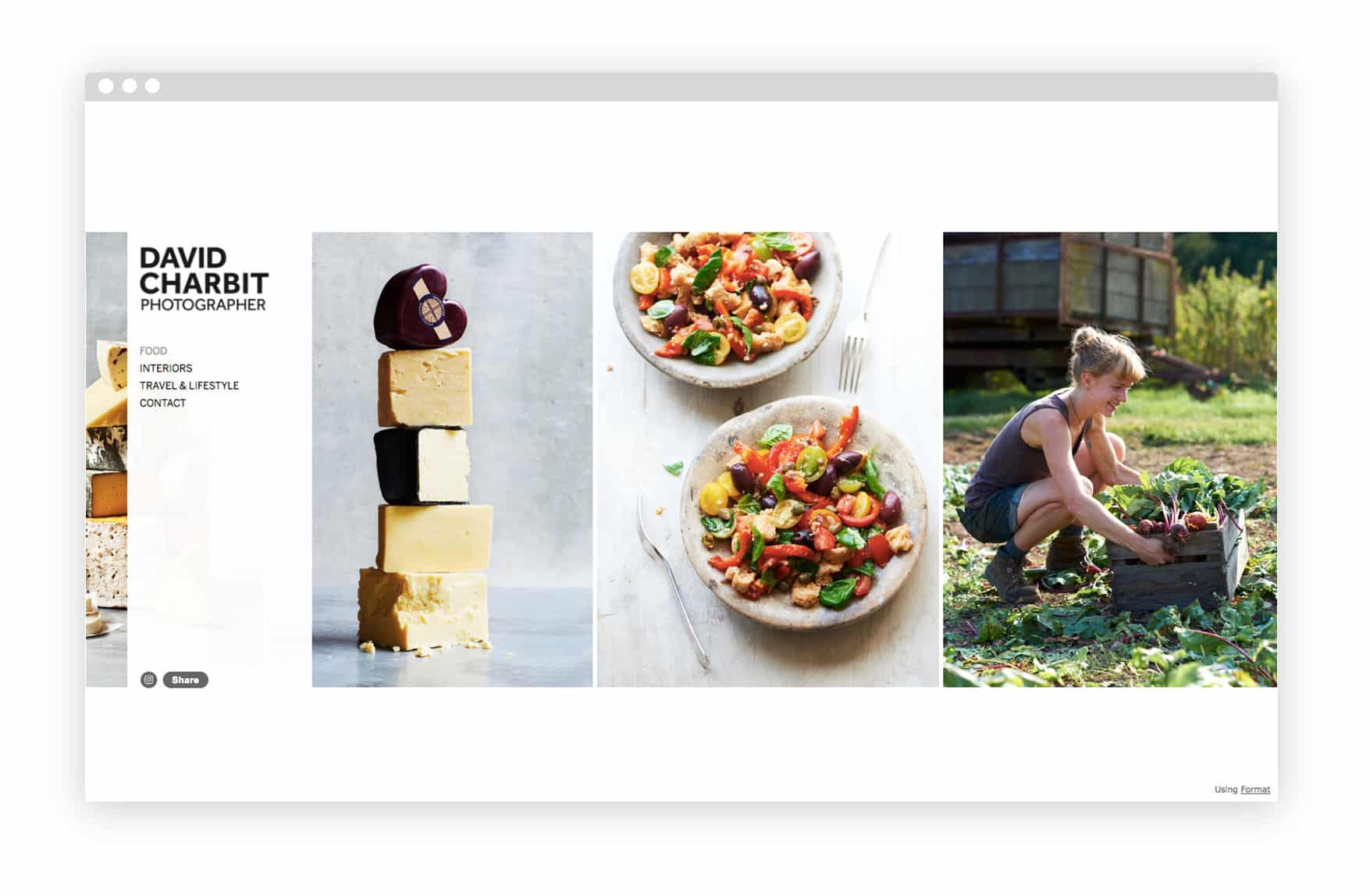 David Charbit
Specializing in shooting food and interiors, London photographer David Charbit has worked for such clients as Tesco and Waitrose.
Charbit's editorial photography has also appeared in publications like The Sunday Times Magazine and The Guardian. Charbit's food photography portfolio is simple, clean, and rustic, with separate galleries for food, interiors, and lifestyle work.
We especially love his "Food Stories" gallery collection, where Charbit displays his photo essays capturing the origin of the dishes from its environment and the people who farm and cultivate them.
www.davidcharbit.com
Format Theme: Horizon Left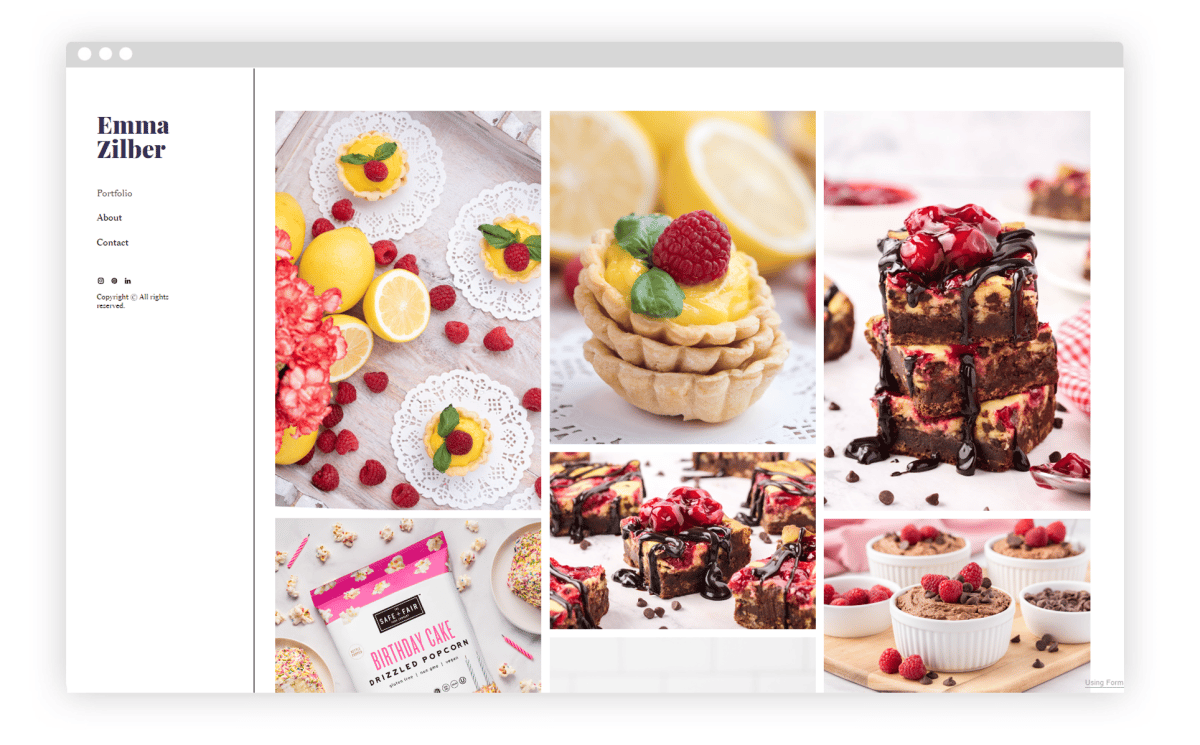 Emma Zilber Sanda Paigamo
Emma Zilber is a food and product photographer based in Missoula, Montana. She captures bright, airy, and clean images for brands across the United States from her studio.
Zilber uses the website theme Peak to showcase her talent for styling and photography in a masonry-style grid gallery, which is made cohesive in her intentional color palette choice. We love how minimalistic Peak's left-hand navigation is for Zilber's portfolio.
www.emmazphotography.com
Format Theme: Peak
Hélène Dujardin
Food photographer Hélène Dujardin has been shooting for almost two decades, working on dozens of cookbooks as well as with a plethora of major brands. Originally from Provence, Dujardin now resides in Charleston, South Carolina.
Her online portfolio showcases her food photography in a large-format size that fills the entire screen for an easy look at her work.
www.helenedujardinphoto.com
Format Theme: Mica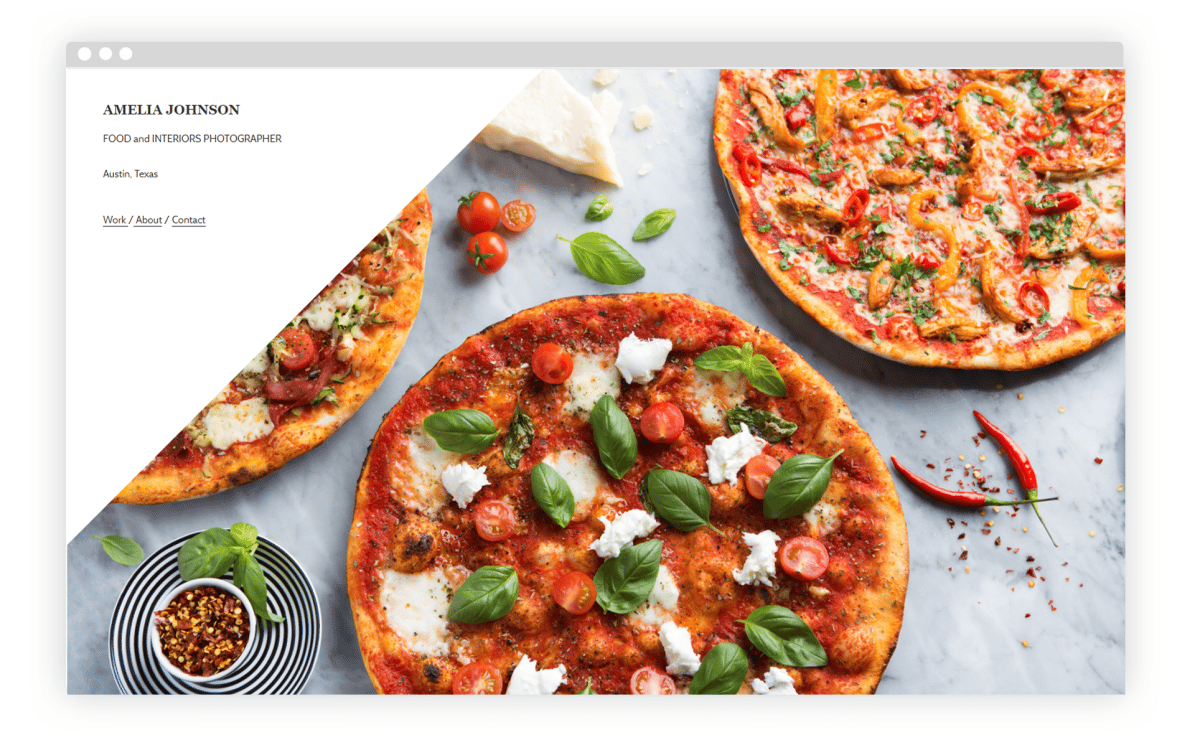 Amelia Johnson
Amelia Johnson uses a horizontal scrolling website template, Panorama to display her stunning food and cocktail photography as if you were scrolling through a roll of film. Based in Austin, Texas, Johnson has shot for brands including Nutella, Baskin Robbins, Armani Hotels, and Ritz Carlton.
www.ameliajohnson.com
Format Theme: Panorama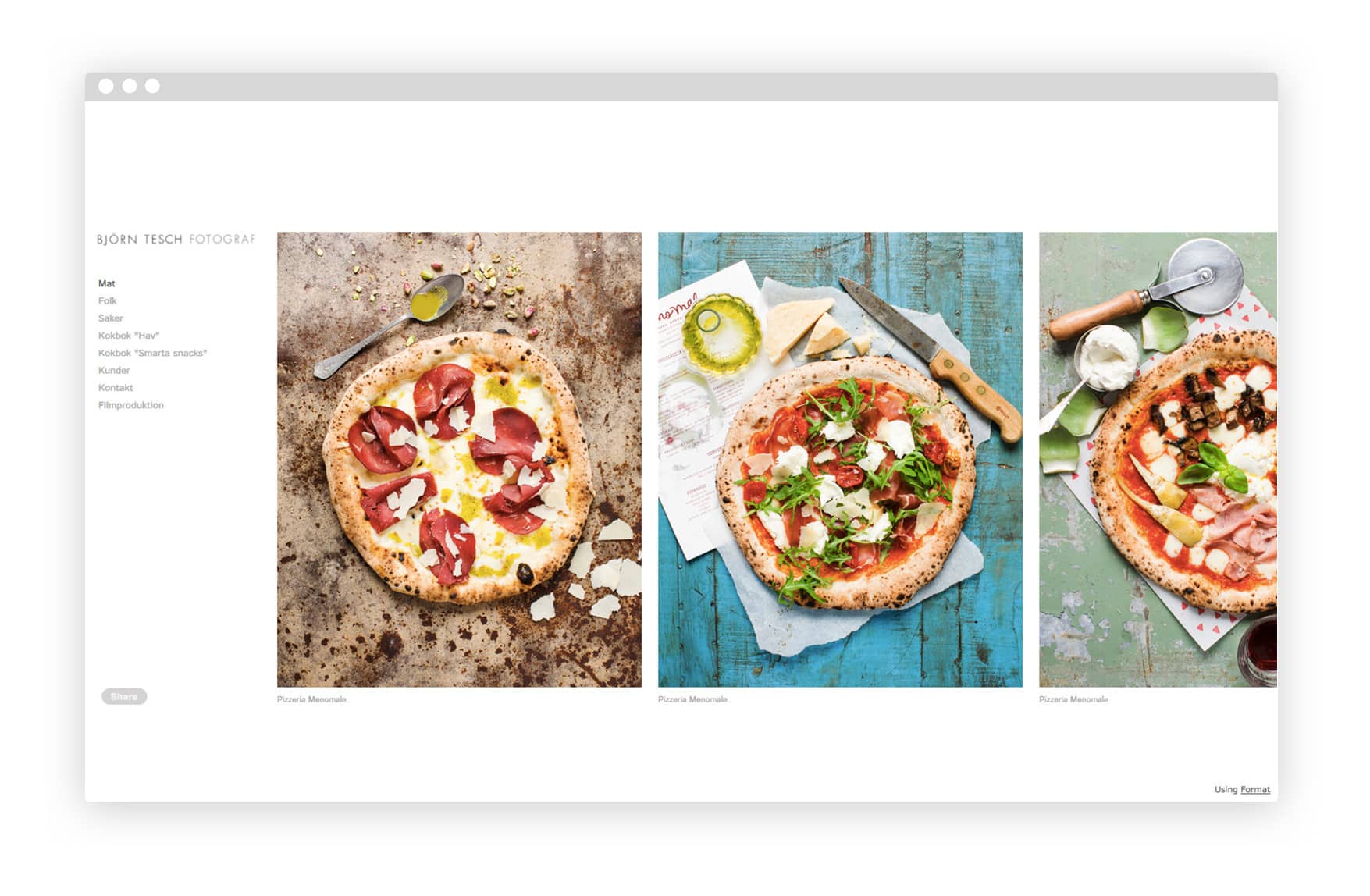 Björn Tesch
Swedish photographer Björn Tesch specializes in food photography, with cookbooks and pizza shots making up a major part of his online portfolio. Tesch keeps his food photography portfolio simple with a minimal logo and small font sizes that keep the focus on his images.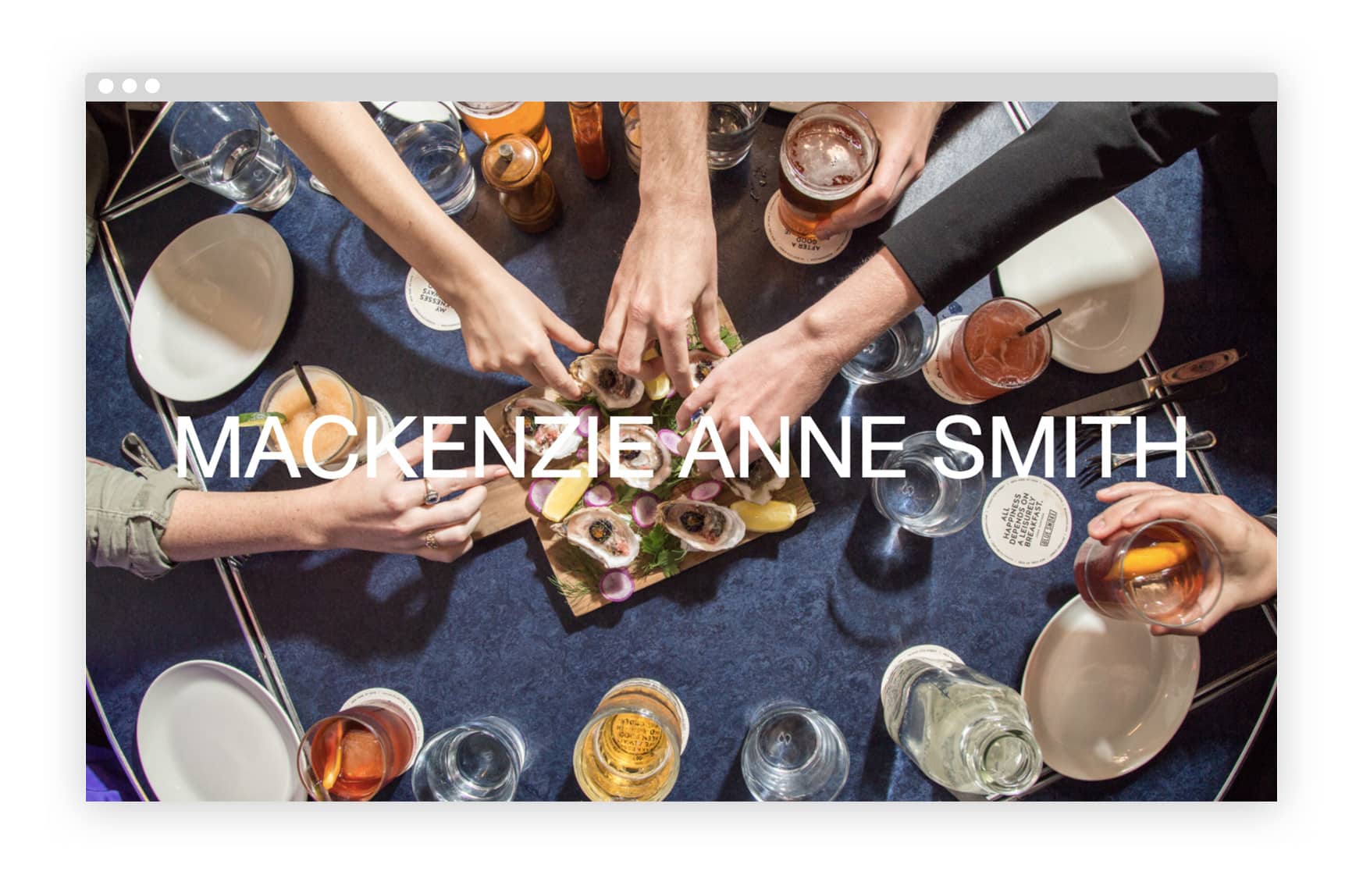 Mackenzie Anne Smith
On her food photography website, Mackenzie Anne Smith grabs the viewer with her punny URL and a bold splash page featuring her work.
The work featured in her food photographer portfolio is bright and vibrant. Smith adds captions to her images to make sure viewers know the backstory behind each shoot.
www.mackannecheese.com
Format Theme: Horizon Left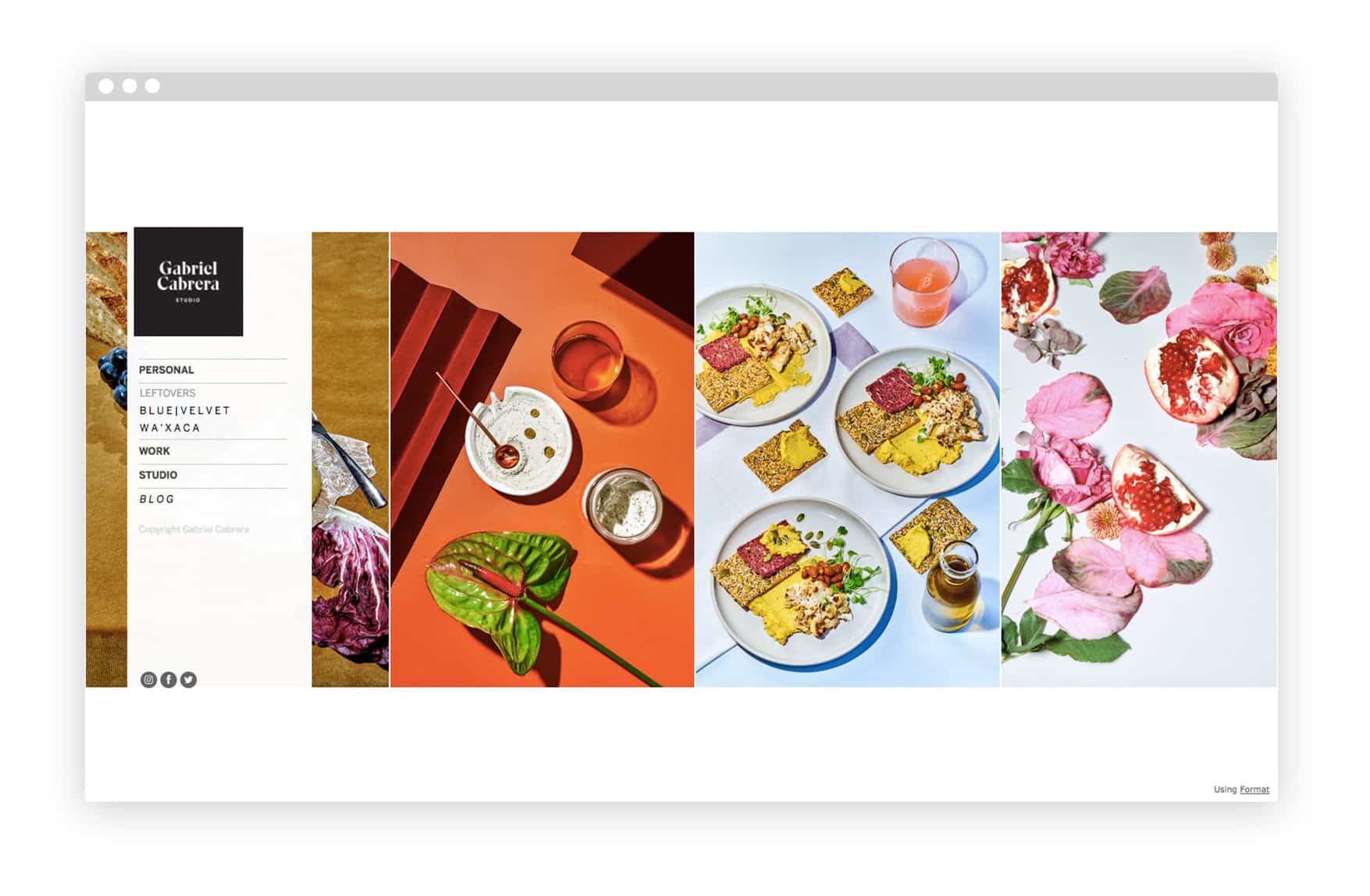 Gabriel Cabrera
Working on food styling and recipe development in addition to food photography, Gabriel Cabrera sees food in a unique way.
His portfolio includes personal food-inspired work that's full of vivid colors and textures. The Vancouver-based photographer counts brands like Air Canada, West Elm, and Urban Outfitters among his clients.
With every scroll, you get a new banner image with moving text that feels dynamic and fresh.
www.gabrielcabrera.com
Format Theme: Horizon Left
Dan Robb
Toronto photographer Dan Robb has worked for such clients as Food Network Canada and the Toronto International Film Festival. Robb uses a grid-based layout to display his colorful food photography in a way that instantly catches the eye.
The photos selected in Robb's food photography portfolio feel like summer. You'll notice vibrant colors and a sense of airy-ness to his styling that feels refreshing and lively.
www.danrobbphoto.com
Format Theme: Peak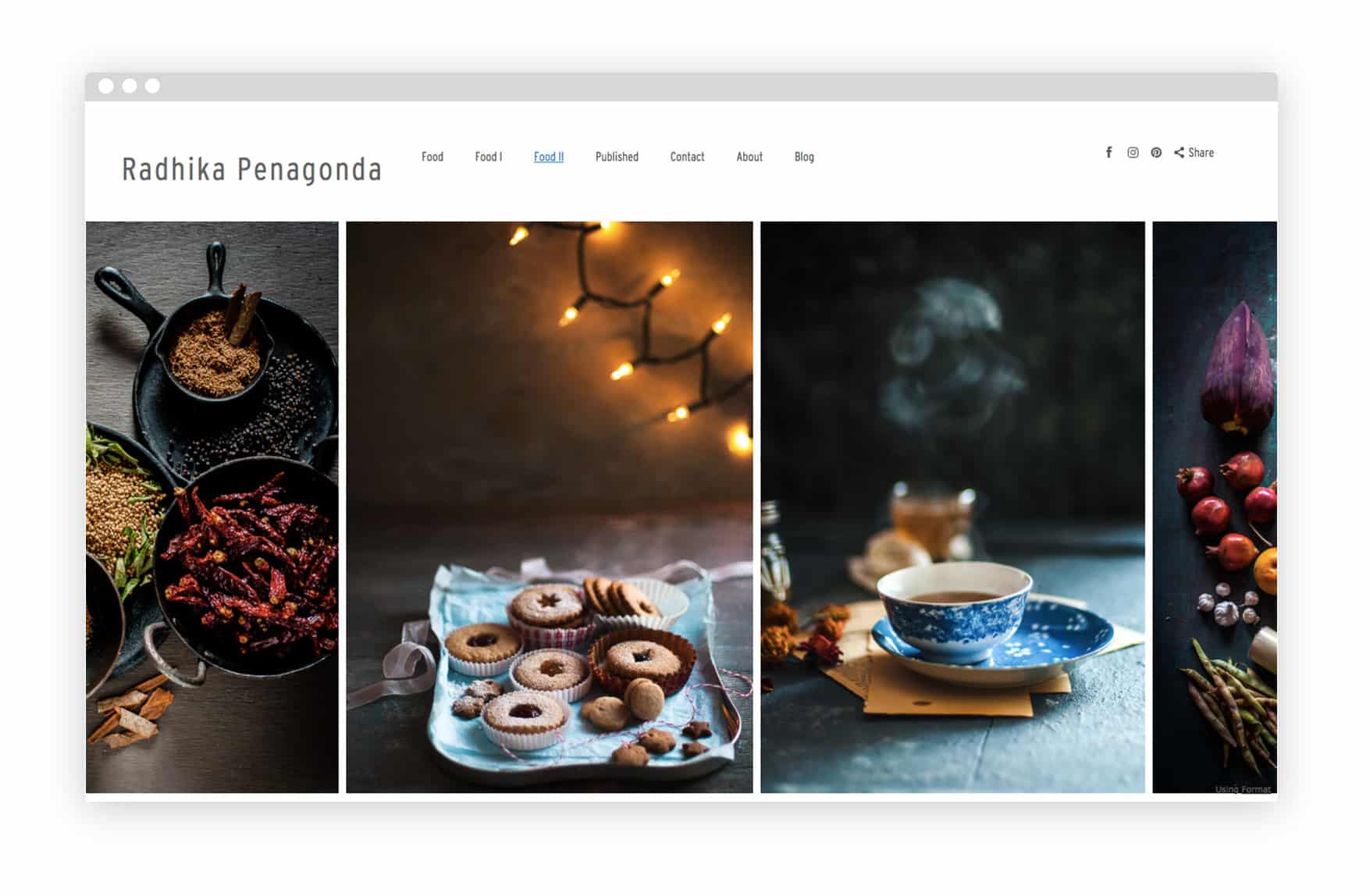 Radhika Penagonda
Bangalore-based food photographer and stylist Radhika Penagonda worked in financial software for years before discovering her love for food photography. Penagonda's food photography is dark, moody, and romantic. The horizontal scrolling makes for an out-of-the-ordinary visitor experience when flipping through the gallery.
Penagonda now runs a blog, Just Homemade, celebrating homemade recipes. Her food photography focuses on simple dishes and natural light.
www.radhikapenagonda.com
Format Theme: Panorama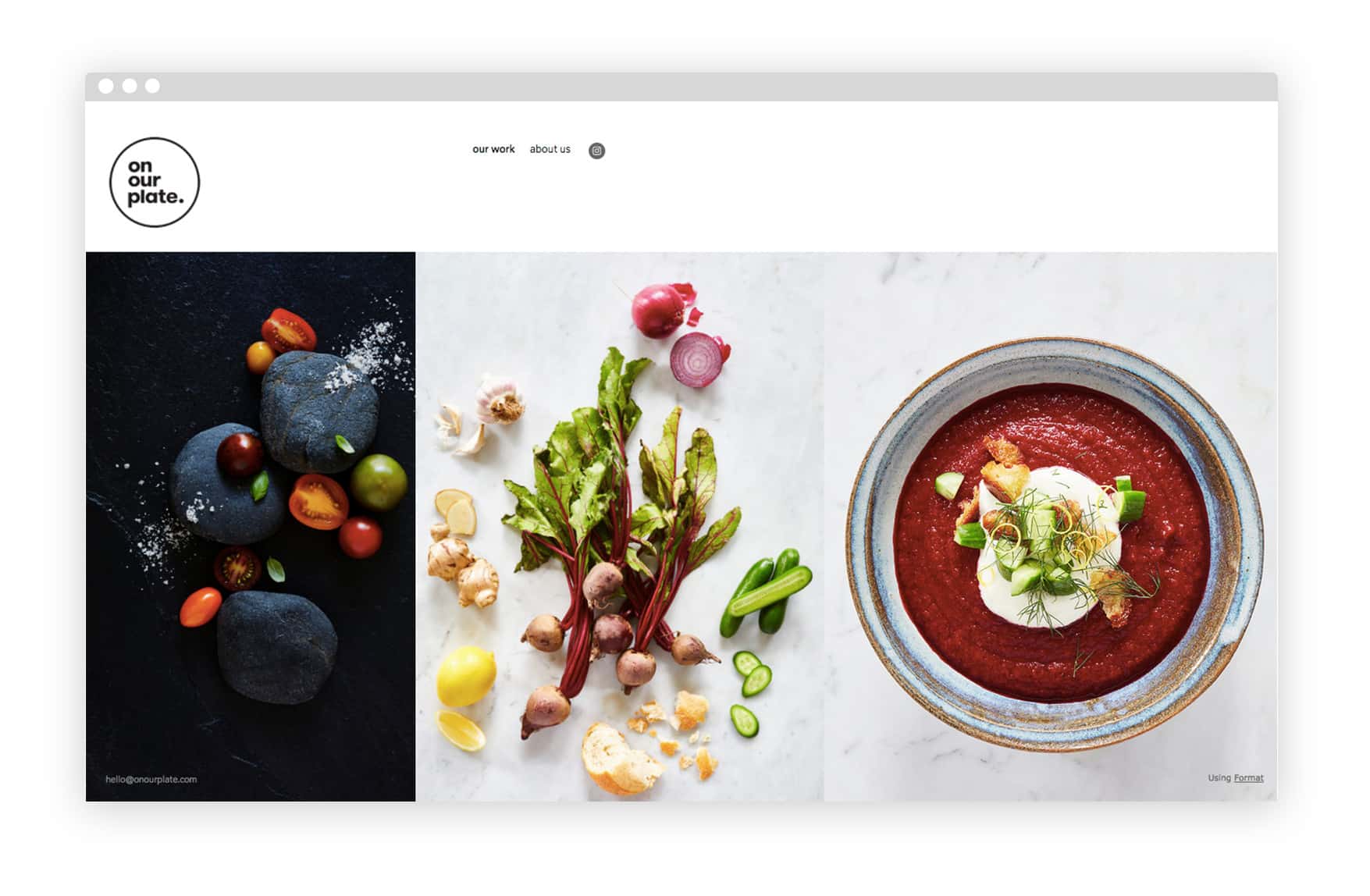 On Our Plate
This team of a creative director, stylist, and photographer works together to make food look its best.
Their simple yet eye-catching logo gives a branded touch to their portfolio, which is just brief enough to leave visitors wanting to see more.
www.onourplate.com
Format Theme: Horizon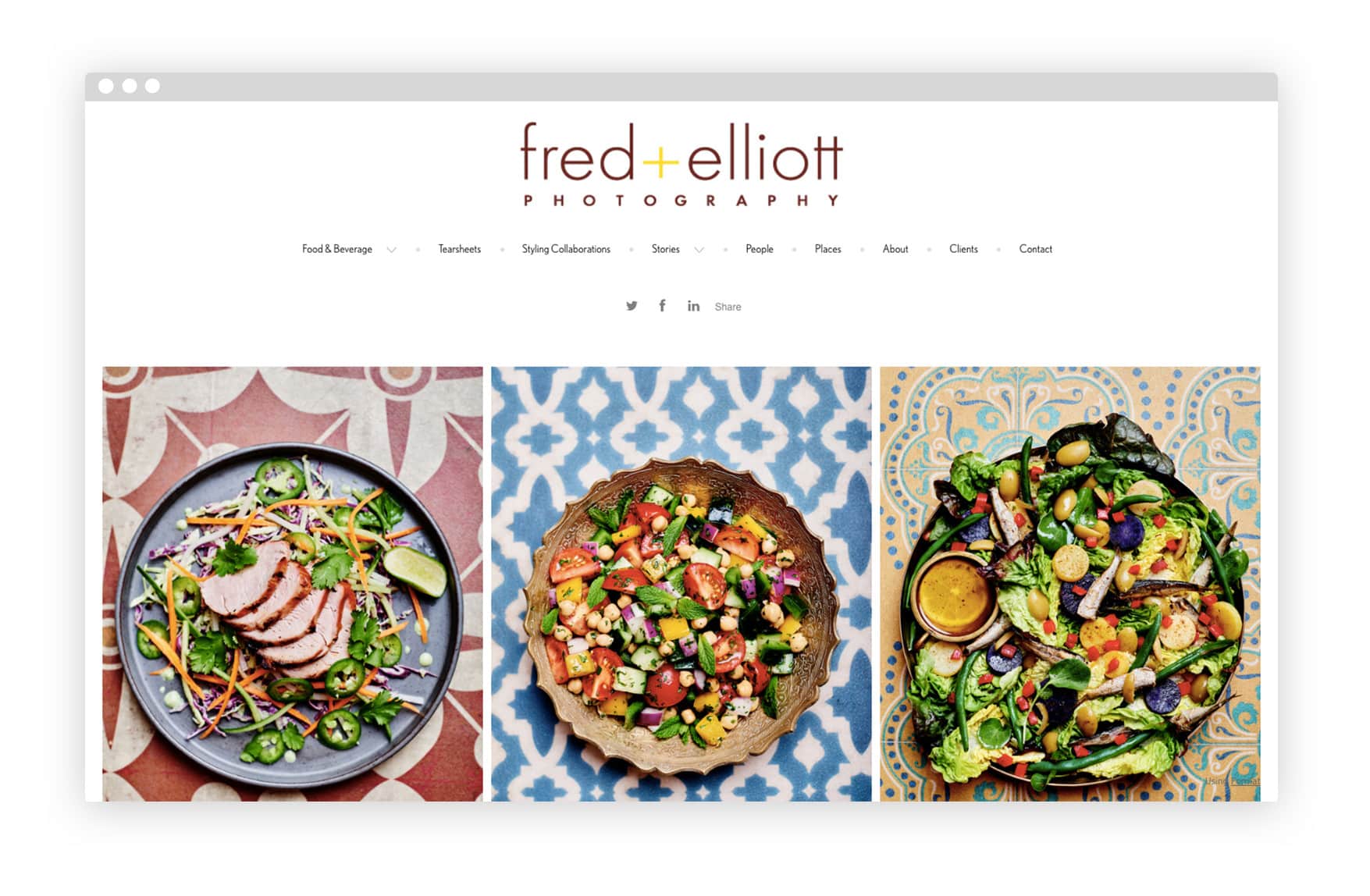 Fred + Elliott
Fred + Elliott was formed when the eponymous American couple combined their shared love of food and photography.
With Fred as the photographer and Elliott the stylist and chef, their work has attracted clients like Coca-Cola, Red Bull, Hamilton Beach, Walmart, and many others.
Their extensive food portfolio showcases a wide variety of past shoots and tearsheets in a grid layout.
www.fredandelliottphoto.com
Format Theme: Amazon
Build Your Food Photography Website
While we're sure these beautiful food photography portfolios have got you drooling, we hope they've also inspired you to build your website too. There are so many unique directions you can take your food photography and plenty of unique stories to tell.
Format is a website builder designed to help creatives show off their best work and attract new clients. There are over 70 easy-to-use and customizable drag and drop templates. It's so easy—you can grab a snack, build, and publish your website within an afternoon of work.
You can try Format today free for 14-days—no credit card entry required. We can't wait to see your beautiful food photography come to life on your very own website.
Cover photo via Barry & Kirn.