Fine art photography can be created by any photographer—and this type of photography can include everything from personal photo projects to documentary series to shoots staged with props in a studio.
We rounded up twenty incredible photographers who are making fine artwork that's unique and captivating. From emerging talents to established photographic artists, this list is full of fine art photographers whose work is sure to provide inspiration.
Inspired? Start your own fine art online portfolio website using Format.
20 Fine Art Photographers To Inspire You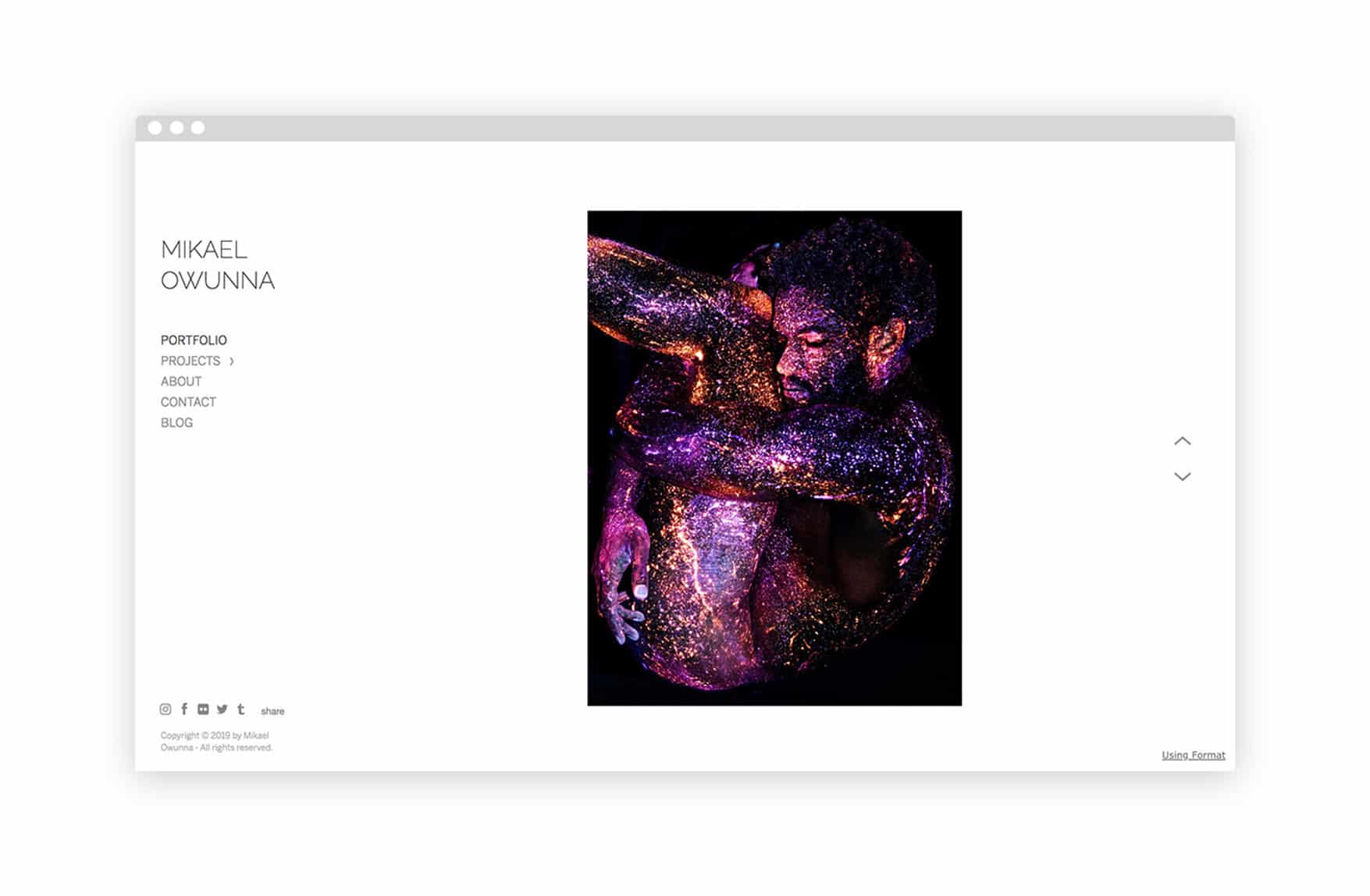 Mikael Owunna
Artist and fine art photographer Mikael Owunna creates work examining identity and, as he describes on his website, imagining "new universes and realities for marginalized communities." A former Fulbright scholar and recipient of various photo awards, Owunna is definitely a young artist to watch. His website is simple and minimal with all the focus on his photography.
www.mikaelowunna.com
Format Theme: Industry
Chris Round
The choice of a clever URL instantly makes Chris Round stand out in the realm of fine art photography websites. Based in Sydney, Australia, Round's creative focus is on documenting the world around him, often seeking out the surreal side of everyday environments. The homepage of Round's online portfolio features an overview of selected work, giving visitors a quick look at his aesthetic.
www.roundtheplace.com
Format Theme: Ora
Jenny Fine
Alabama-based artist and professor Jenny Fine creates uniquely personal, photography-based work. History and identity are important themes throughout her work, which have been exhibited throughout the United States and in Europe. Fine's website offers plenty of context for her projects through detailed captions and statements for each project.
www.jennyfine.com
Format Theme: Horizon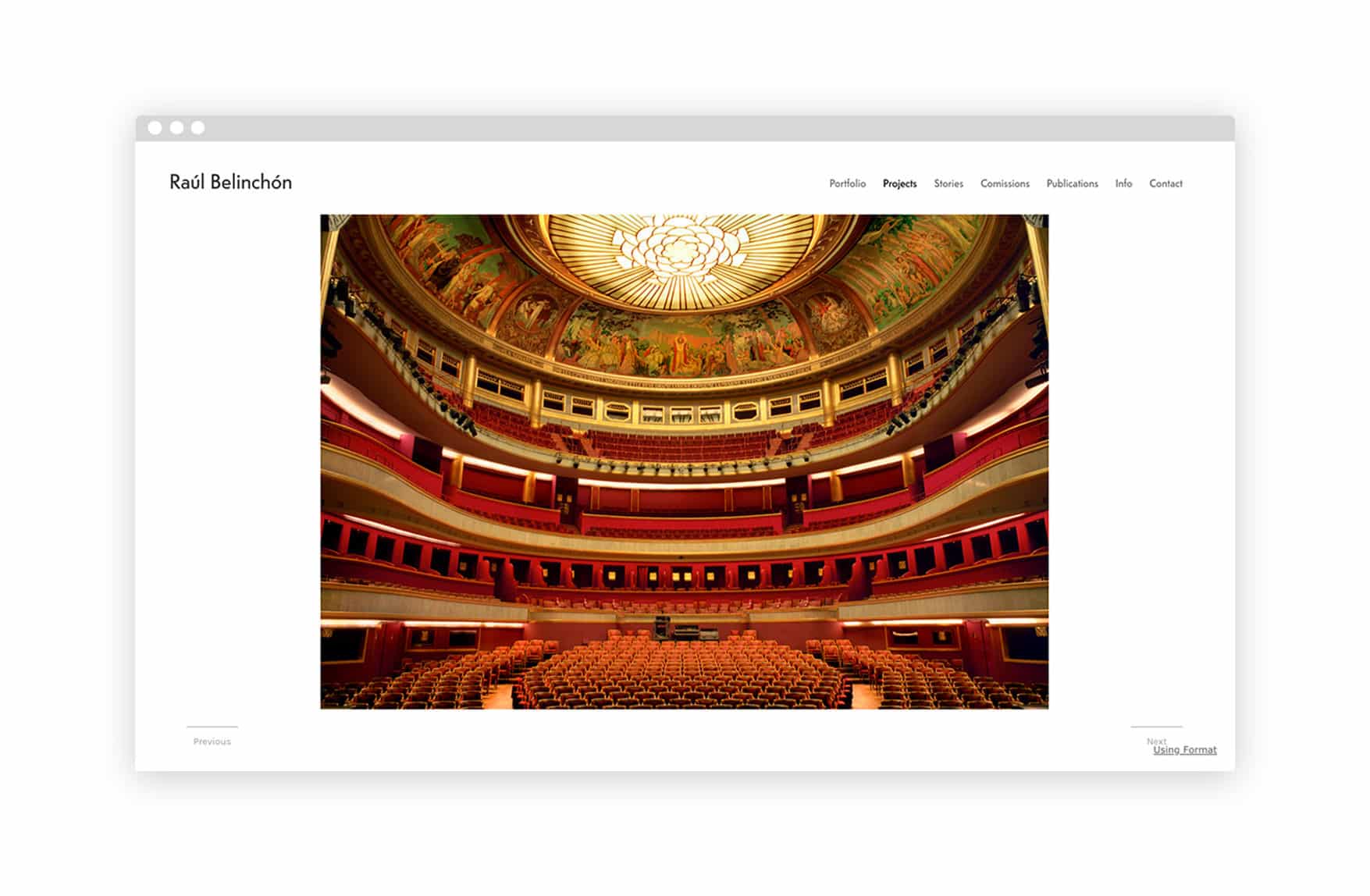 Raúl Belinchón
Spanish photographer Raúl Belinchón has photographed stories and spaces around the world. His fine art photography portfolio showcases a wide range of work, with separate galleries for commissions and press coverage. A grid-based image layout allows for an overview of each photo project.
www.raulbelinchon.com
Format Theme: Slate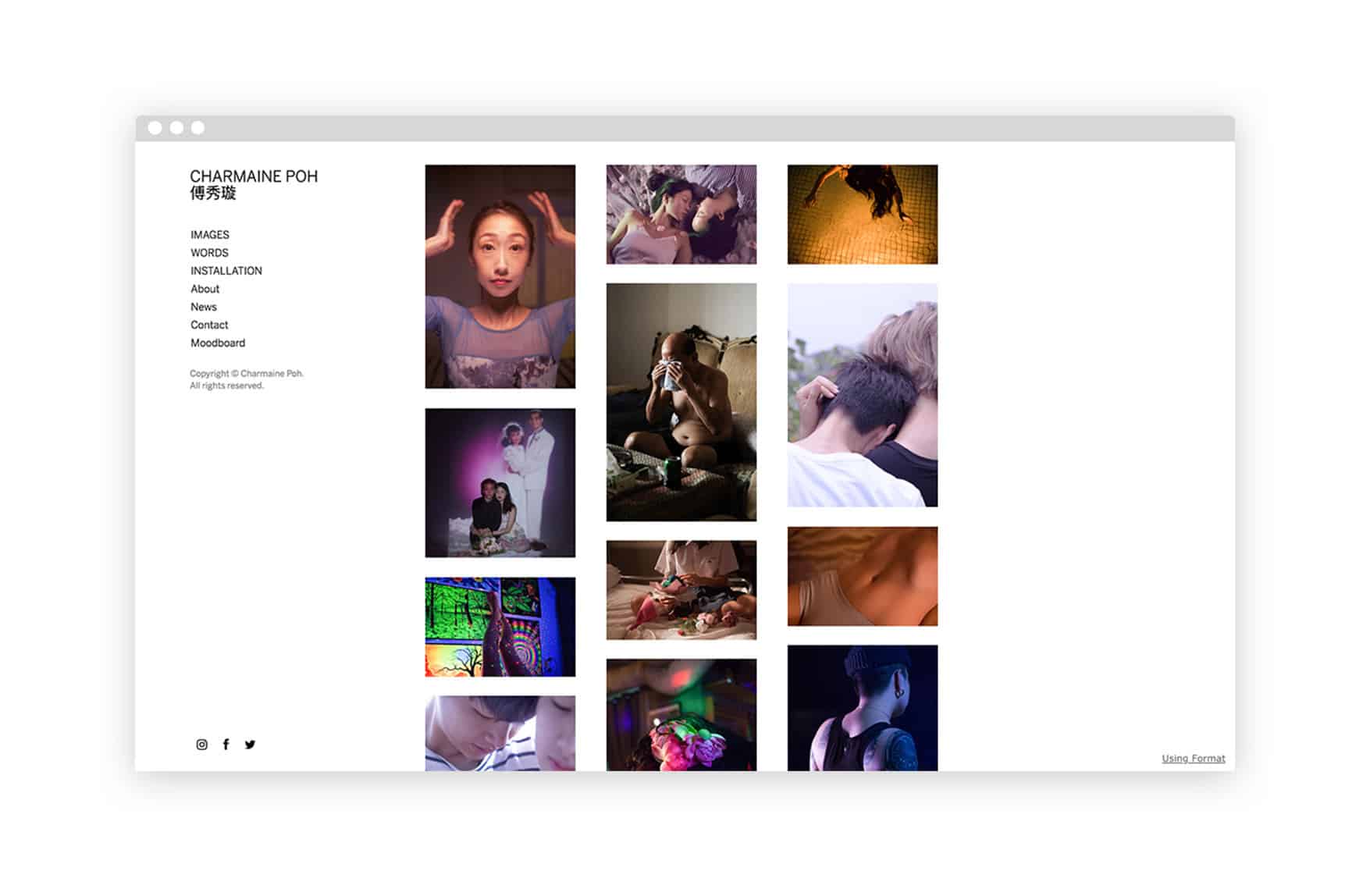 Charmaine Poh
A Chinese-Singaporean artist based between Berlin and Singapore, Charmaine Poh's focus is on "memory, gender, youth, and solitude in the Asian context," as she says on her website bio. Her fine art photography often takes the form of narrative portraiture. Poh's online portfolio showcases her work divided into different galleries, allowing visitors to explore each of her stories.
www.charmainepoh.com
Format Theme: Horizon Left
Diana Matar
Fine art photographer Diana Matar has won numerous photography awards and has shown work in major institutions worldwide, including the Tate Modern and Saatchi Gallery. Power, violence, history, and memory are key themes of her work. Matar's online portfolio features the latest news on her work right on her homepage, so visitors to her site can stay informed of what she's working on.
www.dianamatar.com
Format Theme: Horizon Left
Matthew Bender
Philadelphia artistic photographer Matthew Bender focuses on natural environments, with a recent project exploring the Hebrides in Scotland. His online fine art photography portfolio is simple, with each project divided into a separate gallery of images and a text background for further information.
www.matthewbenderphoto.com
Format Theme: Offset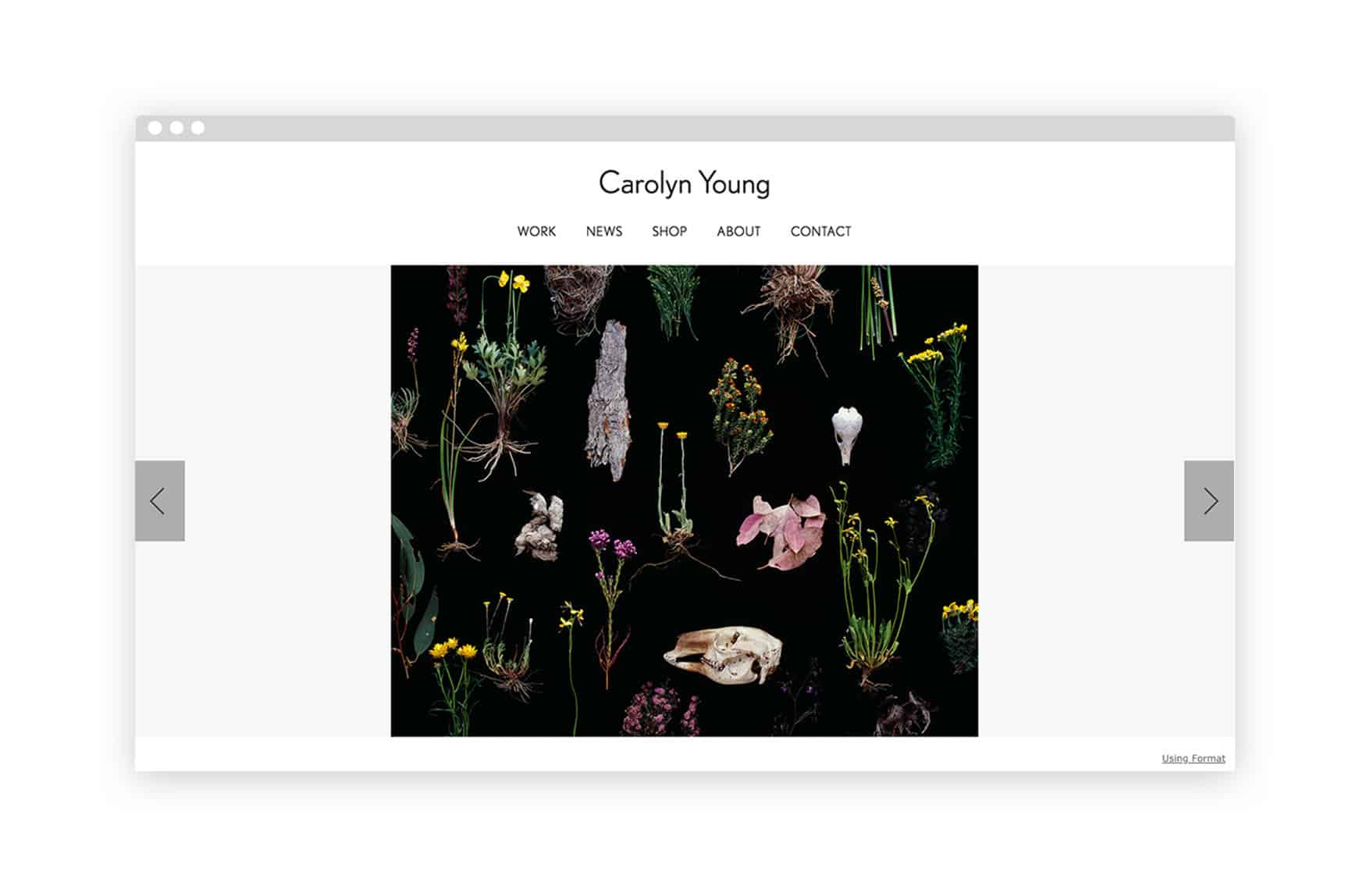 Carolyn Young
Australia-based photographer Carolyn Young focuses on the relationship between humans and nature in her art practice. In her project Grassy Woodlands, seen here, Young collaborated with an ecologist to explore nature through landscape and still life photos. Young uses an online portfolio design which allows visitors to click through galleries of images one at a time for careful, in-depth viewing.
Art Photography Blog
While not all fine art photographers will opt to include a blog on art photography websites, in some instances, omitting a blog can be a missed opportunity to share more details about your work, your passions, and your collaborations.
If you're looking for an example of how fine art photography blogs work on art photography websites, Carolyn Young's website is worth checking out. Largely used as a space for news and to share information about her exhibitions and collaborations, this the perfect resource to direct people to if they are interested in your work.
www.carolynyoung.com.au
Format Theme: Foray
Gabriella Sturchio
Gabriella Sturchio, aka Riel, is based in Maine and Austin. Her artistic practice includes sound, fine art photography, print work, and more. A sidebar menu on her online portfolio introduces the various aspects of her creative work for easy browsing.
www.rielsturchio.com
Format Theme: Horizon Left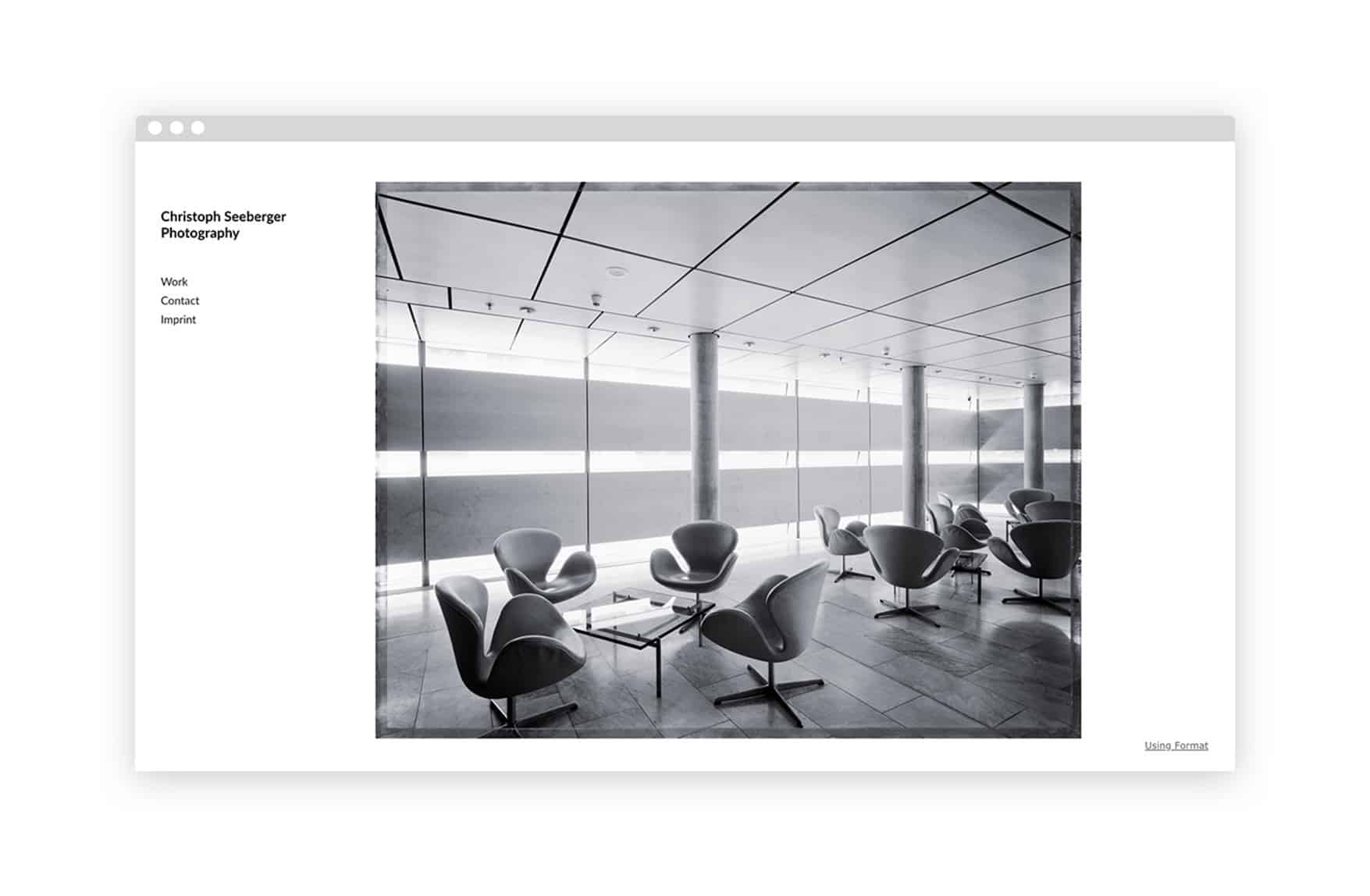 Christoph Seeberger
Fine art photographer Christoph Seeberger keeps his portfolio extremely simple, with minimal text and a focus on his imagery. Auto production and industrial spaces are key themes of his work. The series seen here is a study of embassy buildings.
www.christophseeberger.com
Format Theme: Ora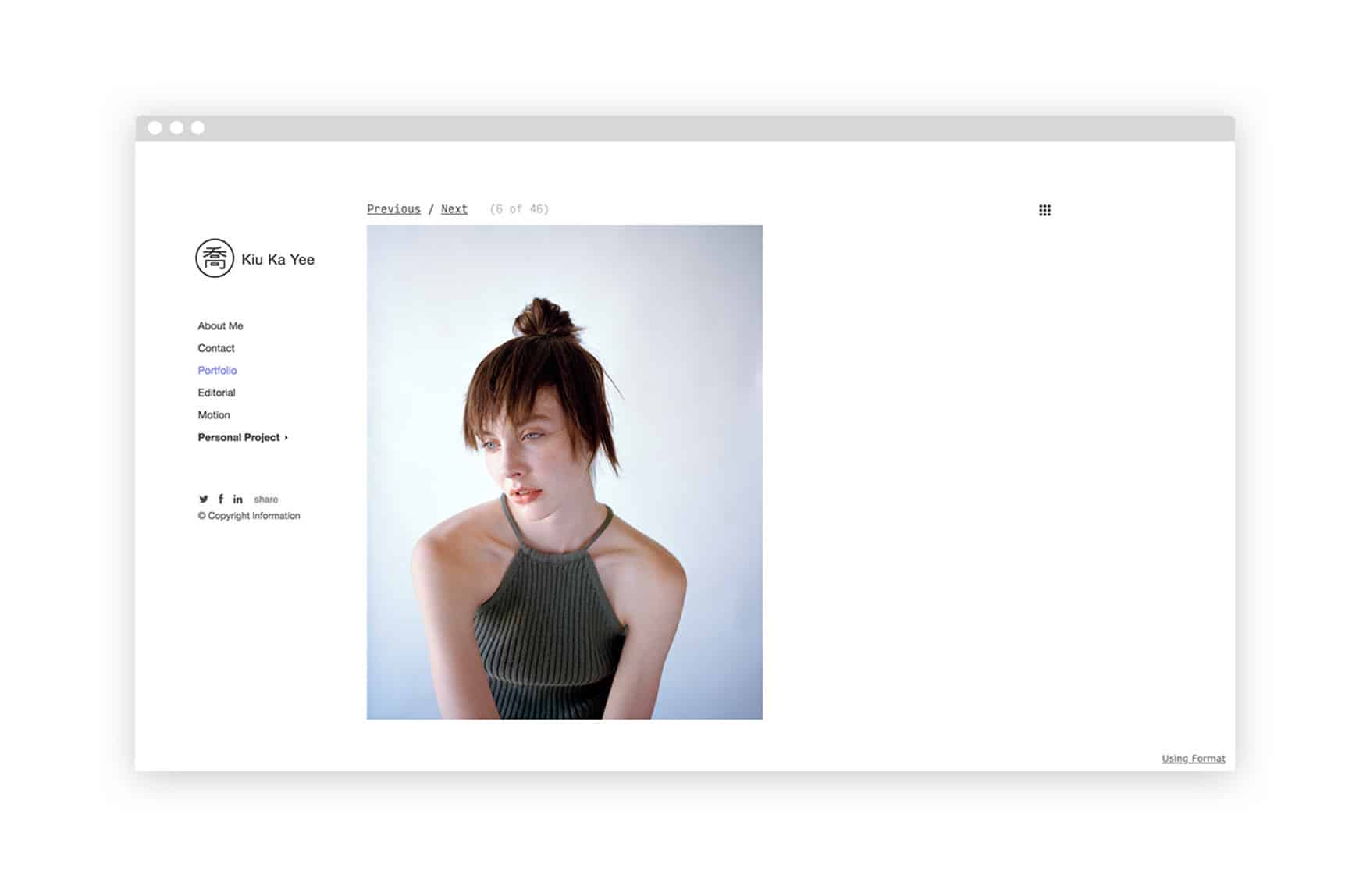 Kiu Ka Yee
A photographer and director from Hong Kong, Kiu Ka Yee is now based in New York. Loneliness and human relationships are a major focus of her work, which includes fine art as well as fashion photography. Dividing her photography into personal work and editorial projects helps keep her online portfolio organized.
www.kiukayee.com
Format Theme: Offset
Parker Day
California photographer Parker Day's portrait photography uses imagined characters to explore the feeling of being an outsider. Her website is the perfect setting to showcase her bold, colorful work. A simple blue background and classic typography nicely offset her vibrant portraits. Day has published two monographs of her photography, and her work has been exhibited across the United States and abroad.
www.parkerdayphotography.com
Format Theme: Horizon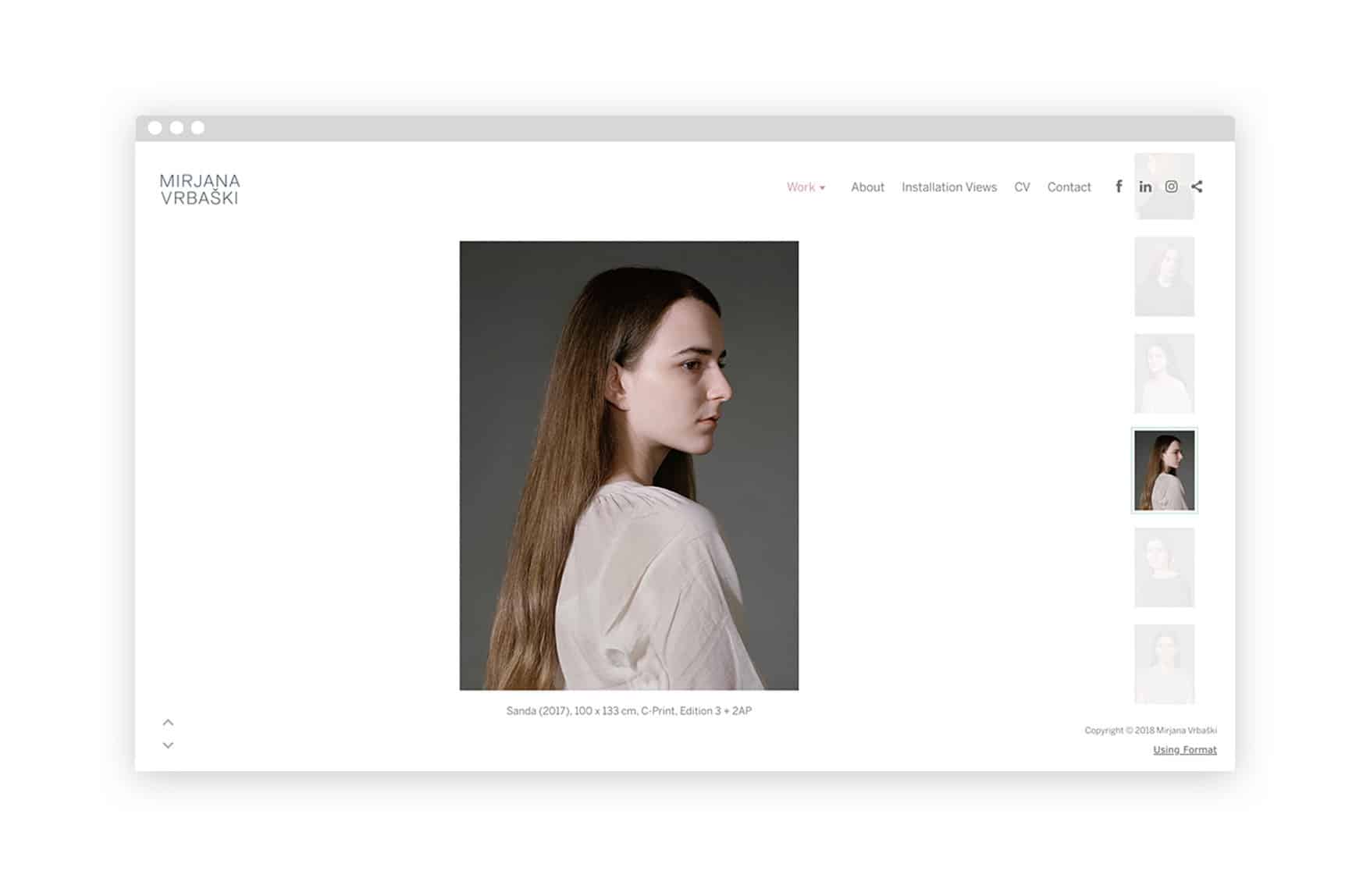 Mirjana Vrbaški
Mirjana Vrbaški's recent fine art photography includes landscape explorations and intimate portraits. The Serbian photographer has exhibited her work widely and is the recipient of various photography awards. Her online portfolio keeps things minimal with a vertically scrolling theme that displays each image and a short caption one at a time.
www.mirjanavrbaski.com
Format Theme: Grace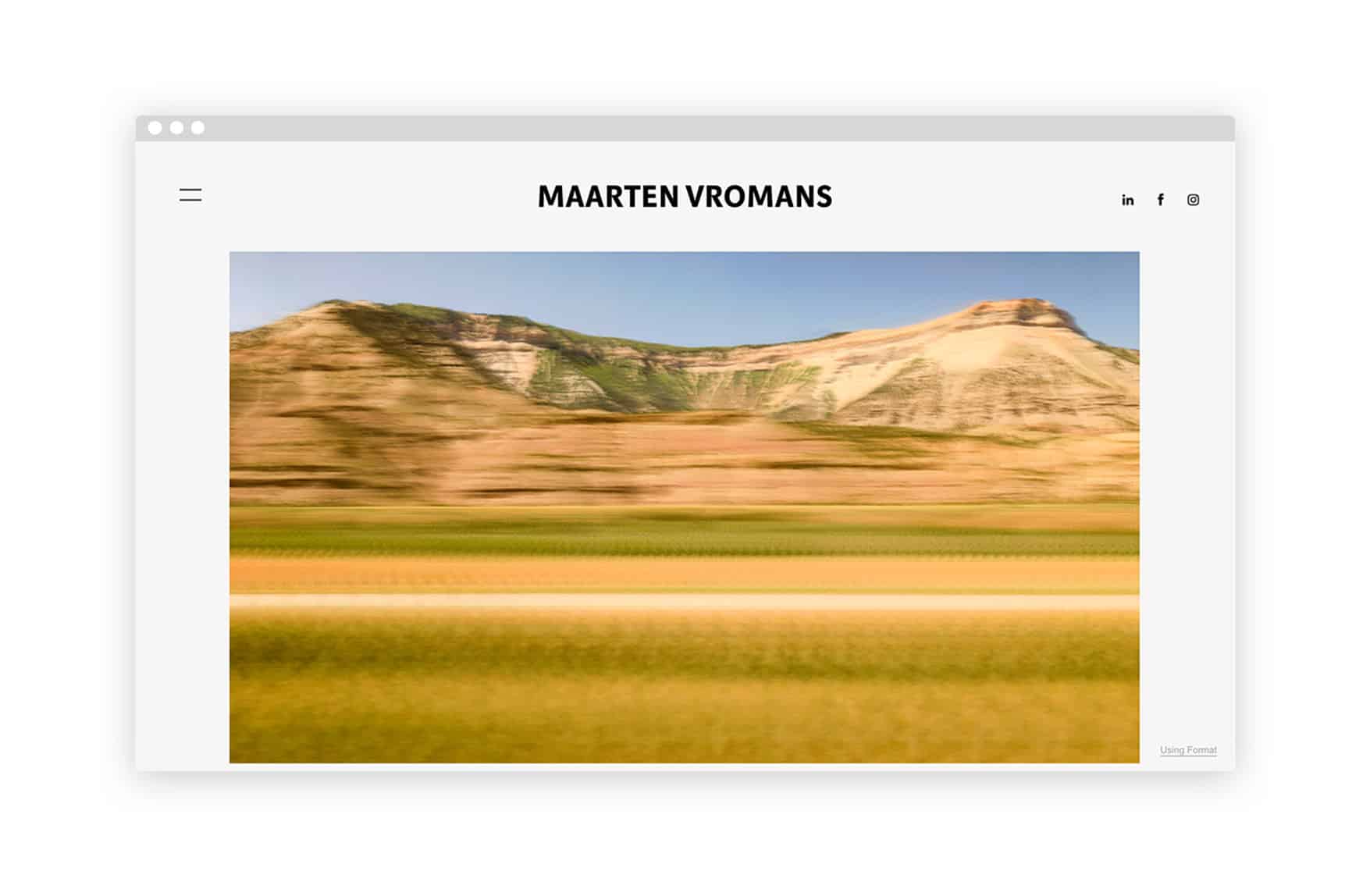 Maarten Vromans
Dutch photographer Maarten Vromans documents urban development in unexpected ways. In series like his Urban Erosion project, Vromans shoots the cracks and decay in otherwise well-kept urban spaces. His fine art photography portfolio includes a detailed about page with a list of his publications and exhibitions, so visitors can learn about his professional photo background.
www.maarten-vromans.format.com
Format Theme: Mica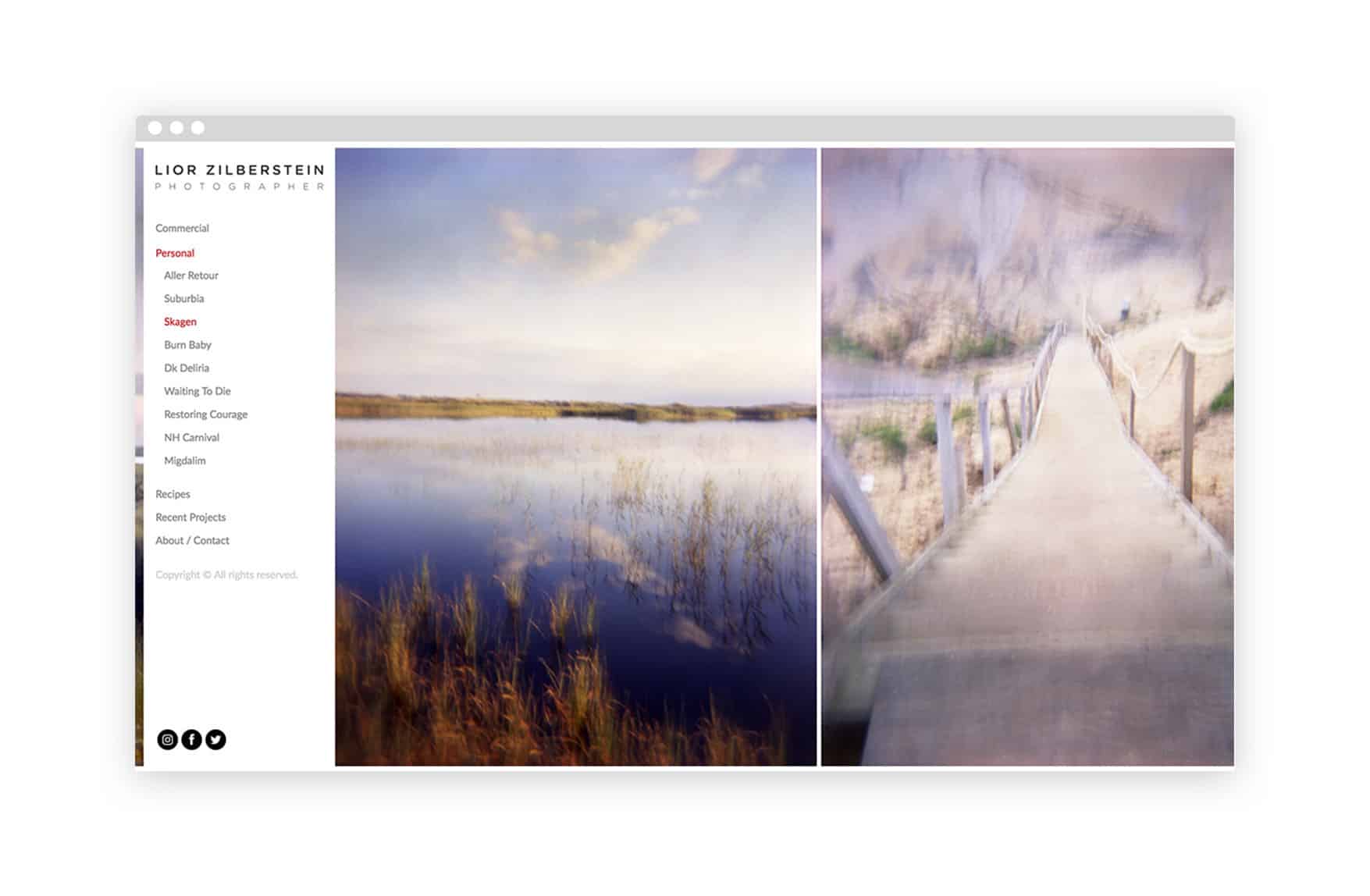 Lior Zilberstein
Lior Zilberstein's photography includes stock and commercial work as well as fine art imagery. His personal photography explores environments with a thoughtful lens and an eye for the unexpected moments of everyday spaces. Dividing his online photography portfolio into commercial and personal galleries keeps Zilberstein's work organized.
www.liorz.com
Format Theme: Horizon Left
Mariette Pathy Allen
Mariette Pathy Allen is a groundbreaking fine art and documentary photographer. For the past thirty years, her focus has been on photographing transgender communities. A detailed biography on Allen's website helps introduce her work to new viewers. She also features a brief gallery of selected work on her homepage to give an idea of her artistic practice.
www.mariettepathyallen.com
Format Theme: Offset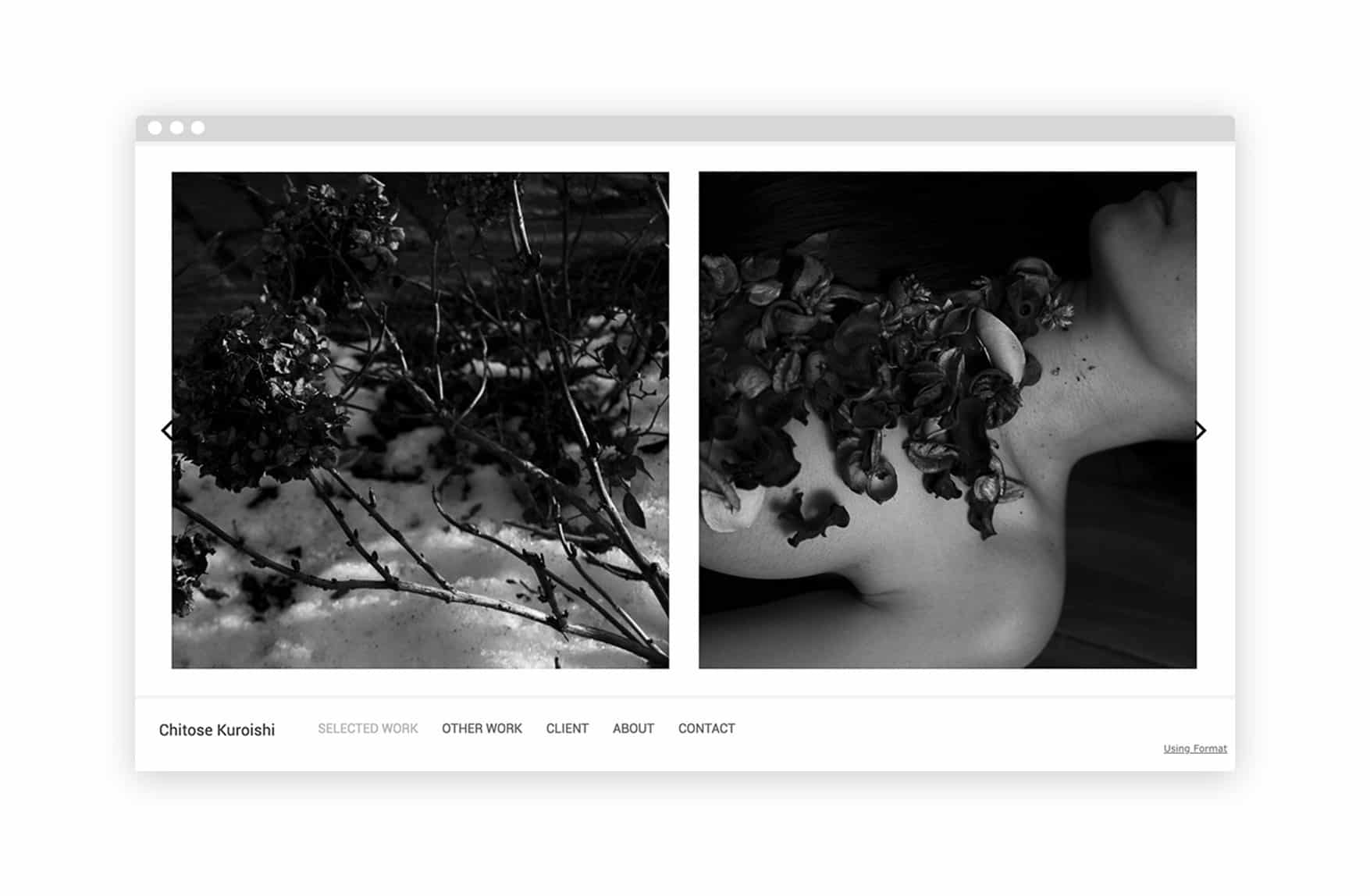 Chitoise Kuroishi
Originally from Japan, fine art photographer Chitoise Kuroishi is now based in New York. Her work has won numerous photography awards. Kuroishi's online portfolio features a selection of personal projects, showcasing her memorable and individual style of work.
www.chitosekuroishi.com
Format Theme: Sun
Rohan Hutchinson
A photographer based in Melbourne, Rohan Hutchinson specializes in large format photography. His fine art work explores human relationships to the environment, traveling to locations including the Arctic, Alaska, and and China for photo projects. Hutchinson's online photo portfolio organizes his projects by title for a neat navigation experience.
www.rohanhutchinson.com
Format Theme: Horizon Left
Fine Art Photography Websites For Film Photographers
A handful of fine art photographers use their skills to create both still photography and also film photography.
If you would like to see two great examples of fine art photographers' websites that show off how to highlight both mediums, the following photography websites are worth checking out.
Tara Wray
In addition to her photographic practice, Tara Wray is the photo editor at Hobart journal and has also directed two documentary films. Wray's photography has been widely published. Her online portfolio is divided into photography, curation, and documentary projects to give visitors a full overview of her creative work.
www.tarawray.net/
Format Theme: Order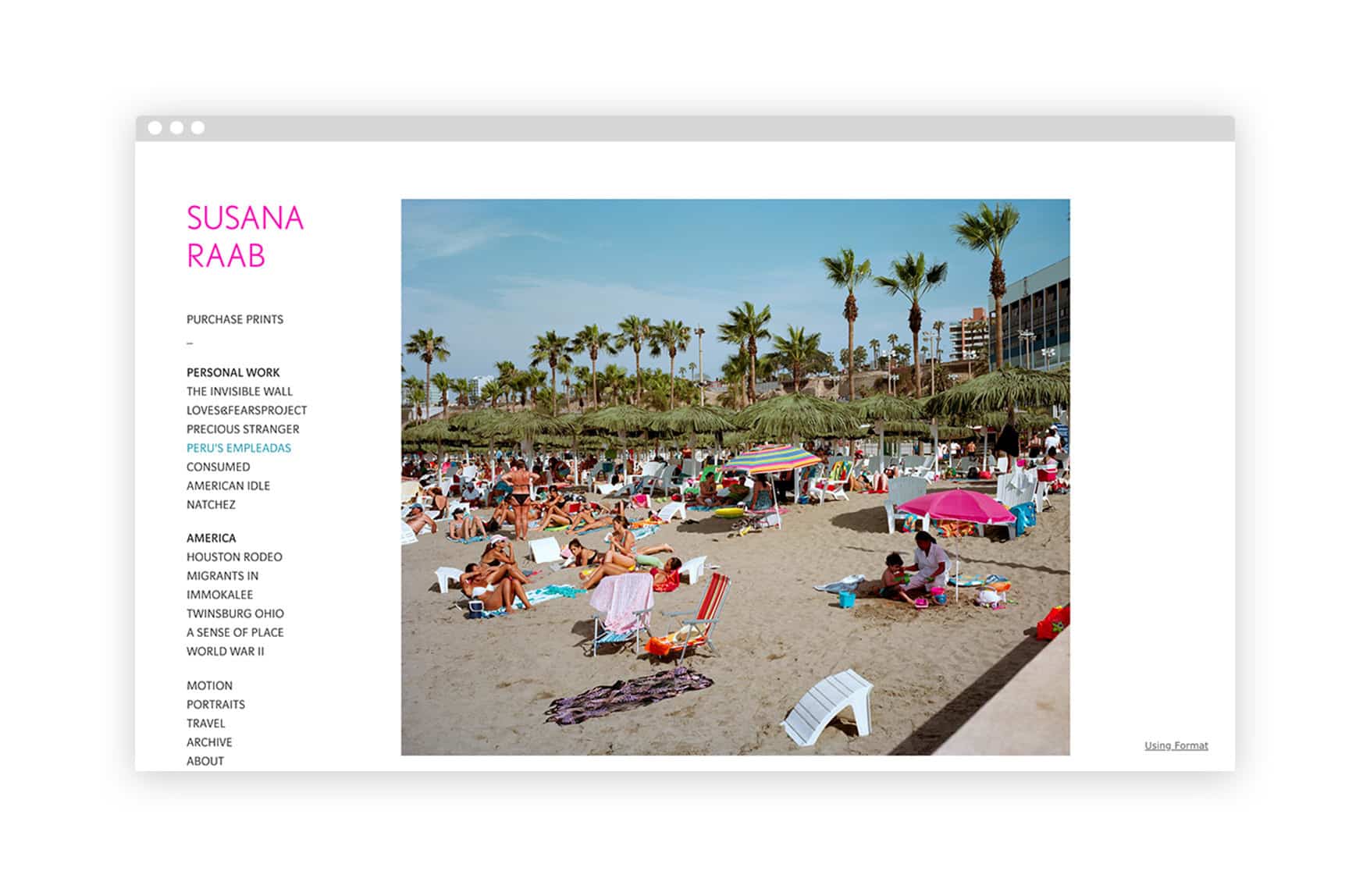 Susana Raab
Photographer Susana Raab combines documentary and fine art work for a stunning portfolio. Born in Peru and raised in the United States, Raab's photography often involves documenting people and landscapes in both countries. Her work is shown in a number of museums and institutions. Raab includes a link to purchase prints right at the top of her website menu, ensuring that visitors know selections of her work are for sale.
www.susanaraab.com
Format Theme: Ora
Contemporary Fine Art Photographers: Where to Start
As is probably clear from this list, there are a host of different styles, layouts, and methods to consider when designing fine art photography websites.
For some, art photography websites are all about keeping things minimal and highlighting your strongest work. For others, fine art photography sites are a hub for all work, including news, sign-up forms to newsletters, full portfolios, and even online storefronts to sell prints.
We brought together the best fine art photography websites examples, which we aim to inspire you to further hone your craft in fine art photography, and broaden your knowledge for designing your own fine art photography websites.
Created to help photographers showcase their work with easy-to-use software that is accessible to everyone, Format allows fine art photographers to get their websites up and running ASAP.
Try Format today.
Lead photo by Matthew Bender
See more creators with great portfolios:
Our Ultimate Portfolio Inspiration List
10 Textile Artists and Designers Making Unique Work
11 Artists Keeping Collage Contemporary