So you've created your Instagram account and are ready to upload some Insta-worthy photos and videos…but then you find yourself stuck on the little box under your profile picture: your Instagram bio. Coming up with Instagram bio ideas can be tricky, especially if you aren't sure where to start. Good Instagram bios make a strong first impression on visitors and promote your brand in a fun, creative way. Having a cool Instagram bio can even convert visitors scrolling through your profile into followers. Creating an Insta bio may seem daunting, especially since you have only 150 characters to work with. Fear not—in this handy guide, we'll show you how to craft the best bio for your Instagram in minutes.
First up: how you can use your Instagram bio to strengthen your brand.
Connecting Your Instagram Bio to Your Brand
A great Instagram bio tells visitors who you are and what they can expect from your services or wares. It sums up your brand or business to new visitors, and convinces them they just have to follow your account for more. Building a strong brand identity makes it that much easier for you to create a strong Instagram bio, as a strong brand identity helps you build on your brand's tone, personality, and purpose to craft the perfect bio.
Here are a few quick ways you can pull from your brand to create a cool Instagram bio.
Weave Keywords from Your Brand into Your Instagram Bio
Pick two to three words that best sum up your brand or business and use them in your Instagram bio. Make sure the words you select feel instantly relevant to what your brand does or what your business sells. Maybe you use words from the name of your business or a short phrase that encapsulates the overall vibe of your brand. Go for keywords that are easy for the casual visitor to understand. Avoid overly long words or words that are too obscure, as they can turn off visitors.
Food personality and author Padma Lakashmi has a good Instagram bio that uses a few keywords effectively. The first line highlights her key interests, which relate to her brand: "Feminist, Mother, Immigrant." The second line notes her main gig and social proof, "Host of @bravotopchef."
A phrase that contains keywords can also do the trick, like the one used in the Instagram bio of street photography site Humans of New York: "New York City, one story at a time." This Instagram bio sums up the purpose of the Instagram account and includes keywords from the title of the account. It also draws visitors in and tells them exactly what they can expect when they follow Humans of New York.
Include Hashtags that Connect to Your Brand
Adding one or two hashtags to your Instagram bio is a great way to reinforce your brand. With Instagram's recent upgrade, all hashtags in your bio can be turned into clickable links that take visitors to your online portfolio website. A simple and effective approach to hashtags is to include a call to action in the hashtag, where you encourage visitors to engage by using action words. You can also use keywords from your brand in the hashtag, such as the slogan or key message of your brand or business.
Choose a phrase you find inspiring or motivating and include a call to action to really make your hashtags effective. Creating effective hashtags in your Instagram bio should be a major part of your social media strategy for your brand.
For example, essential oil company Saje Wellness uses the hashtag "#spreadwellness" in their Instagram bio, using part of their brand name as a call to action to visitors.
Add an Emoji or Two
One of our favorite cool Instagram bio ideas? Use the visual language of emojis to your advantage by including some cute emojis that speak to your brand in your Instagram bio. Maybe your opt for the nailpolish and makeup emojis to tie into your beauty business, or pick an object emoji that reflects your brand's personality, like a tiger emoji that represents your fierce approach to business. Rather than overwhelm visitors with a ton of emojis that are random or unrelated to your brand, pick a few that fit the tone and content of your Instagram.
Lifestyle media company Refinery29, for example, leans into emojis incredibly well in their cute Instagram bio, using an emoji to represent each of the different content streams they offer through their brand.
You can also use emojis to visually highlight text in your bio, like in CEO and lifestyle personality Marie Forleo's Instagram bio, which uses two emojis to draw attention to the text.
Tap Into Instagram Stories Highlights
Another cool feature you can use to add a little oomph to your Instagram bio is Instagram Stories Highlights. This tool lets you pin stories from your Instagram just underneath the written content in your bio. Choose stories that feature your brand or show your business in action. Make sure you select highlights that tell visitors more about your personality and your brand as this will encourage them to follow you.
Group your highlights under topics, such as "Travel Photography," "Shop," "Work Outs," or "Behind the Scenes" so it's easier for visitors to click through your stories and engage with your profile.
Television creator, author, and producer Mindy Kaling uses Instagram Stories Highlights to show off her personality and her brand to her followers, grouping them under topics that are eye-catching and easy to access.
Stay Focused on Your Target Audience
Regardless of whether you include hashtags, emojis, or pin Stories, you should always keep your target audience top of mind when you are creating your Instagram bio. Think about how you want to help and inspire your ideal followers. Focus on the target audience for your brand or business and tailor your Instagram bio to what they are interested or engaged in. The more you consider the wants and needs of your ideal follower, the more you'll attract quality followers who could eventually become your customers.
Linking Your Instagram Bio to Your Online Portfolio
As we've mentioned a few times in this handy guide, a good Instagram bio will highlight your brand—and one of the most effective ways you can promote your brand is through your online portfolio. A killer online portfolio is your number-one marketing tool, showcasing your best work, giving visitors a sense of your brand, and keeping them updated on exciting projects you're working on. Here's how a good Insta bio can connect more people with your portfolio.
Include an Outbound Link to Your Portfolio
Don't be shy about promoting your portfolio website to visitors. Make sure you let them know just how awesome your online portfolio is by including an outbound link in your Instagram bio. This can be a simple link copied and pasted into the last line of your bio. You could also include a finger pointing emoji to really encourage visitors to click on the link and explore your online portfolio.
Because the link is going to be front and center in your Instagram bio, make sure your website URL is clean, simple, and easy to access. Avoid long URLs and if possible, purchase your domain name so the link appears with just your brand or business name. Another option is to go for an .art domain name, which is designed exclusively for artists and creative professionals.
Maintain an Amazing Online Portfolio
Keeping your online portfolio fresh and up-to-date is essential, especially if you are going to be linking to it in your Instagram bio. There's nothing worse than clicking on a link to an online portfolio and finding an out-of-date website with poor design!
Don't have an online portfolio yet? Use a website builder to build one in 10 easy steps and take your brand to the next level.
Pick one that has gorgeous templates to choose from, and offers features like a built-in blog and online store, plus client proofing.
This way, your new fans will always have something wonderful to browse through after perusing your Instagram bio—and could go from being Instagram followers to IRL clients.
Ready to build a website that wows your Instagram followers? We've got you covered. Start your free trial with Format today!
Integrating Your Social Media Channels with Your Online Portfolio
Once you've created the absolute best bio for Instagram, you want as many people to see it as possible! Maximize the content you are creating on Instagram every day by integrating it into your online portfolio. This will help you keep your online portfolio connected to your social media, and vice-versa.
Pick an Online Portfolio with Instagram Integration
Integration tools make it easy for you to connect your social media accounts to your online portfolio. Go with an online portfolio site that publishes your Instagram feed right on your website.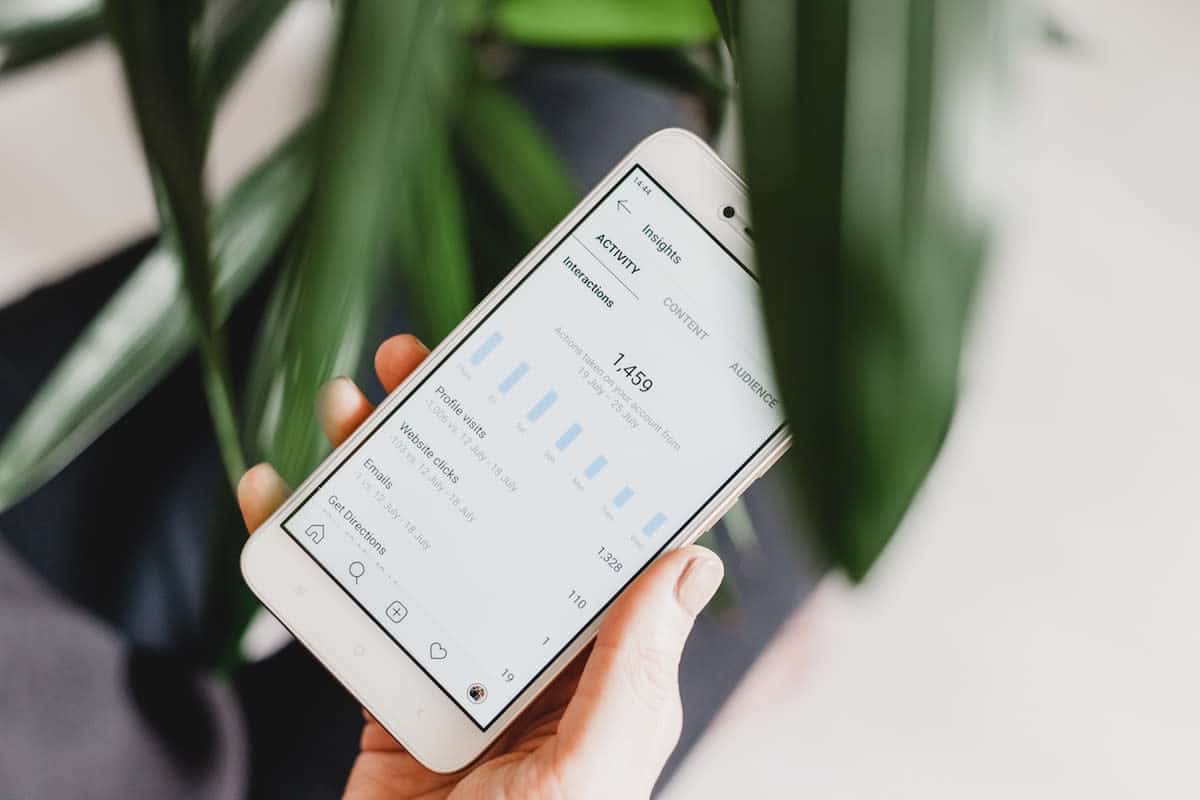 Keep Viewers Coming Back to Your Instagram Bio
Now that you've aced your Instagram bio and your online portfolio, here's a few tips on how to make sure fans keep returning to your content.
Update Your Social Media Accounts Regularly
Keep your social media presence fresh by updating your accounts regularly with new content that aligns with your brand or business. This is especially important if you are using integration tools and are linking to your social media in your Instagram bio. Updating your accounts on a regular basis will ensure your followers never scroll through stale content and stay connected to your brand.
Don't have the time or energy to post on Instagram every day? Use an Instagram scheduling tool to make posting on Instagram easier, and more effective. Schedule several posts ahead of time so your Instagram remains current and you can stay on top of your social media accounts.
Keep Track of Your Social Media Stats
Building an effective Instagram account with a cool Insta bio is an accomplishment in itself, but that shouldn't be where you stop. Track how well your Instagram bio is working with Instagram analytics tools that make it easy for you to keep tabs on your clicks, follows, and likes. Once you know how your Instagram is performing in real time, you can tweak your approach if necessary. With a good Instagram bio and a polished online portfolio, you should have no problem maintaining high stats.
You now have all the tools you need to create a cool Instagram bio. Good luck crafting your masterpiece!
Want more Instagram hacks?
How to Become an Instagram Influencer
How to Get 20,000 Instagram Followers
10 Social Media Marketing Secrets You Need to Get More Clients