Although launching a custom website portfolio helps establish your online presence, it doesn't guarantee clients or projects. You must also market your website strategically. Even the most stunning portfolios will yield subpar results unless they reach qualified prospects and interested employers.
That said, marketing comes with several challenges. Ill-prepared professionals often fail due to budget constraints, low returns on ad spend (ROAS), and poor visibility. Many also have trouble squeezing marketing duties into their already hectic schedules.
Building a personal website that boosts brand awareness and conversion rates is only achievable through a proper strategy. To jumpstart your ad campaigns, here's an in-depth guide explaining how you can maximize your portfolio based on your profession and career goals.
14 Ways to Market Your Portfolio Website
Beginners tend to overestimate their marketing strategies. They follow generic plans yet expect immediate results—unfortunately, copying other professionals and brands never yields results. What worked for them might not necessarily work for you.
Marketing is a complex process that requires careful execution. Your campaigns should address your target market's needs, showcase your unique value proposition (UVP), and emphasize your strengths. Otherwise, they won't hit your desired metrics.
The best approach is to craft a custom strategy for your personal brand. Start by going through these tips and testing which methods will help you land more projects.
1. Update Your Portfolio Design
Stay up to date with the latest design trends. Using modern color schemes, patterns, and templates implies that you're a committed, responsive professional who regularly checks their portfolio. Prospects will feel more comfortable reaching out to you.
Meanwhile, letting your website design stagnate implies neglect. Visitors might assume you have an outdated site and click away without checking your sample work. Recycled designs could inadvertently overshadow your expertise and deter opportunities.
But you don't need to rebuild your website from scratch. You can update your overall layout and aesthetic by trying new website templates—see which ones your target market might find appealing.
2. Run Targeted Email Marketing Campaigns
Sending thousands of sales emails to random business leads is an outdated strategy that yields negligible results. Drop the misconception that everyone is a potential customer. Instead of convincing strangers to visit your site, focus your marketing efforts on qualified prospects that match your ideal buyer persona.
Tom Golubovich, the Head of Marketing & Media Relations at Ninja Transfers, also reminds business owners that generic marketing campaigns are inefficient. He says, "While campaigns targeting a broad audience generate a lot of impressions, their high fees and low conversion rates will merely tank your ROAS. They're not worth launching anymore. Instead, craft small, inexpensive campaigns focusing on your target market's specific demographics."
3. Showcase Client Testimonials
Gain your prospects' trust by showcasing client testimonials on your website. Regardless of your products or services, your ideal buyer persona likely prefers brands recommended by unbiased third parties. Positive feedback helps move prospects down the sales funnel.
Create a dedicated page for your testimonials. Feature your top three user comments on your homepage, then add an internal link for prospects who want to see more. Just make sure you use legitimate comments. Site visitors can quickly tell between real and made-up reviews—so for transparency, we suggest linking to feedback from online review platforms.
4. Join Relevant Groups
Start joining online communities within your profession. You can establish your authority by engaging in relevant discussions, sharing insights with like-minded individuals, and providing advice on topics you understand. Every meaningful interaction demonstrates your expertise.
Jesse Hanson, the Content Manager at Online Solitaire & World of Card Games, warns professionals not to appear too aggressive in these communities. He says, "Stop indiscriminately plugging your website portfolio in industry-relevant groups—these posts rarely gain traction. Most of your competition is likely doing the same. Instead of spamming groups with cheezy sales pitches, focus on providing value through posts and comments. People often ignore sales-y posts."
5. Work With Other Industry Professionals
This can be an effective way for experienced creative professionals to interact with both their local community and the larger online community. Emerging creative professionals should consider collaborating with fellow industry professionals more often; Shared projects will diversify your portfolio, plus working with an established brand/individual boosts your authority. It's an effective way to jumpstart your career. Otherwise, you may have more trouble landing paying clients if your website has very few samples.
Look for partners that align with your branding and goals. While this is true for any business, it can be even more important in the creative industry—when networking with artists, try finding professionals who share your art style, or share goals and a similar target audience. That way, you're more likely to be in alignment about what direction to take your projects. You and your partner might end up arguing a lot if you have different artistic visions and goals for the project.
6. Share Your Story
Consumers appreciate authenticity. Regardless of your products or services, you'll have an easier time closing deals if you humanize your brand. Give people an idea of your challenges and successes in business. They'll feel more comfortable knowing they're working with a "real person" who respects and values them.
But this isn't to say you should narrate your entire life story. The best approach is to create an About Me/Us page on your site where you'll talk about some experiences throughout your career. You can also introduce your employees, if any, in this section.
7. Use SEO Techniques to Rank on SERPs
Search engine optimization (SEO) techniques will help your pages gain visibility on Google search engine results pages (SERPs). Ideally, your website should appear under industry-relevant keywords. Let's say you offer digital marketing services—potential clients within the area should see your brand while searching "social media ads" or "digital marketing."
That said, note that SEO goes beyond keyword integration. Strategically incorporating long- and short-tail terms into your copies differs from careless keyword stuffing. Ironically, Google will penalize your site if you spam it with keywords. You should also explore other SEO techniques, like utilizing backlinks, publishing original blogs, and writing quality content.
8. Guest Post on Other Websites
Learn how to write guest posts for recognized publications. You can leverage their broad readership and high ranking to boost your site's domain authority. Most will allow you to include backlinks in your guest posts. Just ensure you follow the site's guidelines—otherwise, your articles might get rejected for sounding too sales-y or promotional.
Morgan Taylor, the Co-Founder of Jolly SEO, also advises crafting custom pitches instead of copy-pasting templates. He says, "Stop reaching out to publications en masse. They receive dozens of guest posting offers daily—a generic approach rarely leads to favorable responses. Instead, write customized pitches. You must present unique article ideas that blog owners and editors would want to publish on their sites."
9. Collaborate With Podcasters and Vloggers
Collaborating with podcasters and vloggers boosts your reach on streaming sites like YouTube, Spotify, and Twitch. Many of them attract thousands of viewers daily. Look for a reputable, industry-relevant personality to promote your brand on these platforms.
Most brand deals involve the following arrangements:
Affiliate Links: Give your partners unique affiliate links—they should receive a 5 to 25 percent commission whenever anyone purchases through them.
Video Sponsorship: Content creators will mention your brand if you sponsor their videos or podcasts. A higher fee usually means they'll do a more aggressive style of promotion, e.g., demonstrations or reviews.
Content Collaboration: Partner with content creators if you want a more proactive approach. You could publish your own videos, become a podcast guest, or participate in viral music and videos.
10. Create Tutorials and Guides Online
Share your knowledge by creating online guides. Research the most commonly asked questions and topics within your industry, then answer them extensively through tutorials, demonstrations, or reviews. These types of content cement your position as a reliable, trusted industry authority.
While visual demonstrations convey messages better, you don't necessarily have to make video guides right from the get-go. Building a YouTube channel from scratch requires massive resources—explore other platforms first. You can create short TikTok videos, answer questions on Reddit and Quora, or start discussions on Facebook.
Alex Milligan, the Co-Founder & CMO of NuggMD, advises marketers to focus on topic research before creating video content. He says, "Doing long-form articles and video guides on random subjects is too risky and expensive. Your ROAS might tank if they flop. While you can't guarantee potential content performance, extensive keyword research helps you find relevant, interesting topics to cover."
11. Attend Industry-Relevant Events
Broaden your network by attending networking events. Introduce yourself to like-minded professionals, potential clients, collaborators, and industry leaders who operate in the same industry. You'll already boost your industry reputation by participating in social gatherings.
Just be careful of how you present yourself. Carlos Barraza, the Founder of Carlos Barraza, warns business owners about sounding too sales-y at networking events. He says, "Too many gung-ho entrepreneurs go into networking events with an overly aggressive sales pitch. Sadly, offering your services/products to everyone you meet is counterproductive. Most professionals will ignore you if you merely parade your website portfolio—work toward building mutually beneficial relationships first.
12. Optimize Your LinkedIn Profile
LinkedIn is the most widely used social media platform for professional networking. Whether you're employed or self-employed, you'll find various professionals qualified to help you meet your career goals. You'd do well to connect with them.
That said, just adding your website's link to your profile will barely boost site traffic—most professionals already have their portfolios on LinkedIn. You must optimize your profile to improve visibility and beat the competition. Start with basic tactics, like cross-posting your blogs, engaging with the community, updating your employment details, and sprinkling SEO keywords into your profile.
13. Develop a Cross-Platform Marketing Strategy
Many marketers repost content across platforms. They could repost blogs into LinkedIn articles, Instagram posts, Snapchat stories, or Facebook updates. Although convenient and cost-efficient, recycled content often leads to ad fatigue. Consumers will quickly get annoyed if you keep pushing the same content on all your online profiles—they might even ignore your future posts altogether.
Instead, craft custom cross-platform social media marketing strategies. Tailor your content to suit the format, audience, and user interface of the platforms you use—avoid recycling posts carelessly. Let's say you have a new article. Instead of reposting it on different sites, you could summarize it in a LinkedIn post, link to it in an Instagram story, or leave comments about it on X. Always add value before repurposing content on another platform.
14. Objectively Analyze the Data You Collect
Data-driven strategies can improve the overall efficiency of your ad campaigns. Instead of relying on intuition and gut feelings, you should base decisions on tangible data. You'll get better results if you quantify subjective factors like customer sentiment, emotional triggers, and brand reputation before integrating them into your ads.
If you have minimal experience with data analysis, start your research slowly. Bombarding yourself with metrics you don't understand will only lead to inefficient campaigns and inaccurate figures. You'll merely waste your resources without improving your ROAS.
How 6 Creative Professions Can Maximize Their Portfolio Website
Ensure that your website portfolio conveys the right message based on your profession. It should reflect your professional journey. Prospects are more likely to contact you if your website shows your career story, skill sets, specialty areas, and professionalism. Uninspiring, generic designs will only turn them away from your site.
Remember: designs go beyond mere aesthetics. Your layouts and visuals must stir emotions that directly influence buying decisions and resonate with potential clients. Never use website templates as is.
Here's how 6 professionals can maximize their portfolio websites, stand out from the competition, and leave a lasting impression.
1. Graphic Designers and Illustrators
Graphic designers can make more compelling portfolios by categorizing your samples into different sections. Uploading numerous artwork shows experience and versatility, but prospects might get lost if you lump them all on one page. You must guide them throughout your site.
Let's say you're a graphic designer. You could create separate categories for your illustrations, sketches, ad assets, publication material, and business website assets. The idea is to highlight your versatility without overwhelming prospects.
Just note not to upload materials you no longer have rights to, i.e., copyright-protected assets you've already sold to third parties. Consider reaching out to their respective owners before uploading them online.
2. Photographers
When marketing your photography business, you should display a diverse portfolio that shows you can take on differing styles while maintaining your artistic voice. Particularly when working with commercial brands, rejecting specific photography styles might impede career growth.
Showcasing your best work and various specializations should be highly organized and curated for the best client experience–this may mean portfolios by genre, by client shoot, or by style, depending on your body of work. We recommend photographers upload roughly 20 per category–having too many images can cause your prospects to get overwhelmed and lose interest before booking you.
Consider using a collection page or adding a blog, allowing you to highlight specific images by adding short captions or blurbs beneath them. You can create an attention-grabbing title, provide some context about the shot, or write a brief yet engaging story about the shoot, the inspiration, or the subject matter.
3. Web Designers
With the proliferation of site builders, more people choose to build their own websites instead of hiring web designers nowadays. It's a far cheaper approach, after all. But as a web designer, you can stay relevant if your portfolio shows how professional UX/UI services outperform automated solutions.
Upload samples of the websites you've built over the years, break down their page elements, and then explain their relevance and function. Focus on user-focused UI/UX features that require intricate, hands-on coding or thoughtful design to implement with clarity. Show prospects that you can achieve a level of detail and customization that pre-made templates don't offer.
4. Filmmakers
As a filmmaker, you should feature a diverse range of sample clips in your portfolio. Give prospects first-hand insights into your videography skills, editing techniques, and preferred themes, all of which show the unique characteristics of your craft. Clients want filmmakers who can tell stories in an engaging, captivating way.
We suggest dividing your portfolio into different genres. You could make separate sections for all of your specializations, such as animations, documentaries, drama, humor, commercial, or other categories. If you have one main genre in which you specialize, indicate this on your homepage and feature the work in this style most prominently.
5. Architects
Bringing a client's architectural vision to life involves efficient communication. Use actual samples on your portfolios to set clear expectations and ensure everyone's on the same page. Misunderstandings will be harder to clear up as projects progress–you'll end up wasting time and money on fruitless efforts.
We also suggest explaining the architectural models in your portfolio. Many clients lack the expertise and experience to decode what mockups mean, and it's your job as a professional architect to bridge this gap. Help them understand the rationale behind your designs.
6. Fashion Designers
Highlight various designs featured in major events and worn by well-known personalities. Show that you're capable of creating a range of styles that still represent your artistic voice–be true to your brand, but not a one-note fashion designer. Versatility can help you attract a more diverse clientele.
Fernando Lopez, the Marketing Director at Circuit, also encourages fashion designers to explain the pieces they upload online. He says, "Don't just bombard your prospects with random designs. Take time to share the inspiration, message, and theme behind them–emphasize that your outputs go beyond superficial aesthetics."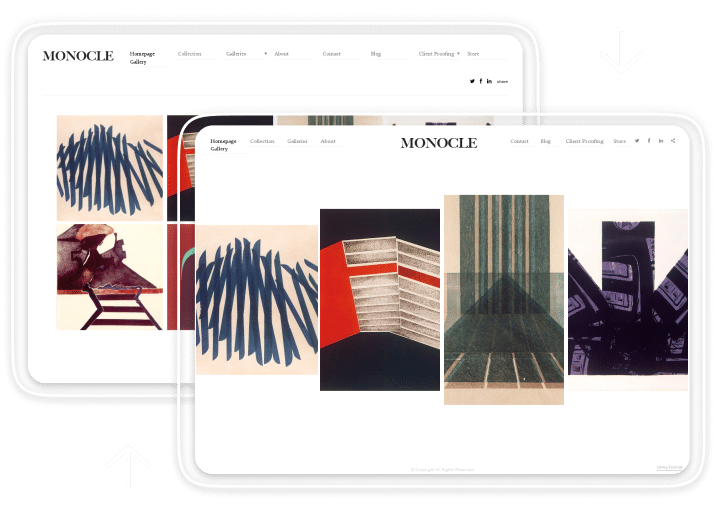 Boost Visibility on Your Portfolio Website Through Effective Marketing
There's no one-size-fits-all approach to marketing. Instead of carelessly running sponsored posts and ads on social media, craft a custom strategy that helps you reach qualified, interested prospects. Focus on establishing yourself as an industry authority and engaging with your target market.
Also, take time to update your website. An effective marketing strategy helps you gain visibility, but attention-grabbing visuals, navigable page elements, and convincing content turn prospects into clients. Trust us—recycling outdated designs looks unprofessional.
Instead, invest in an easy-to-use portfolio website platform like Format–even if you have no experience in graphic design, you can customize stunning, attention-grabbing layouts. Start your free trial and check out the array of templates available.