What's more intriguing than NSFW ("Not Safe For Work") art? Over at Creators, Vice's arts and culture online platform, they know you want to see some hot stuff. That's why they've launched an IRL exhibit titled NSFW: Female Gaze at New York's Museum of Sex.
On view until September 24th, NSFW: Female Gaze includes twenty emerging female artists whose never-before-seen work addresses desire, bodies, and office-inappropriate imagery through a diverse array of mediums. Works curated from Instagram give terrestrial exposure to the ever-growing feminist net art movement, while textile art, painting, photography, and film offer diverse, tactile depictions of personal meditations on sexuality.
It's not NSFW for the sake of scandal. The focus on female artists challenges the historical concept of the "male gaze." Coined by feminist film critic Laura Mulvey in 1975, the "male gaze" refers to the way in which female sexuality is depicted by male artists, from a masculine point of view and for masculine viewing pleasure. The art world has always celebrated male artists who produce the naked female form in ways that reflect male perspectives on female desire, and objectify the women depicted.
It's never been more important to give voices like these a megaphone. Their work is beautiful and speaks to the universal experience of having sexual agency and being alive.
The NSFW: Female Gaze exhibit flips this paradigm, reclaiming the naked female body and the depiction of female sensuality for female creators. In other words, it's an exhibit that rejects the template of man-as-artist, woman-as-muse. Rather, the show explores female sexual identity in ways intimately tied to the artist's own identity, and to current bio-politics around the female form.
"Empowering female artists who are challenging, smart, and—frankly—impolite has never been more timely or important," says Creators editor Kara Weisenstein of the impetus behind the show. "From childhood, women are taught that sex is something dangerous. Society regulates the female gaze the same way it obsessively regulates women's bodies. In our current political climate, when the civil liberties of nonconforming humans of many races, orientations, faiths, and nationalities are threatened, it's never been more important to give voices like these a megaphone. Their work is beautiful and speaks to the universal experience of having sexual agency and being alive."
Fuelled by this urgency, NSFW: Female Gaze explores sex and bodies on the terms of the participating artists. The works are tied together by a strong current of resistance to notions of female sexuality as something that can be narrowly defined or policed. What emerges instead is a picture of sexuality both as a private and public entity, with as many versions as there are women.
Below we've rounded up five artists who serve serious looks in the show (or gazes, as it were).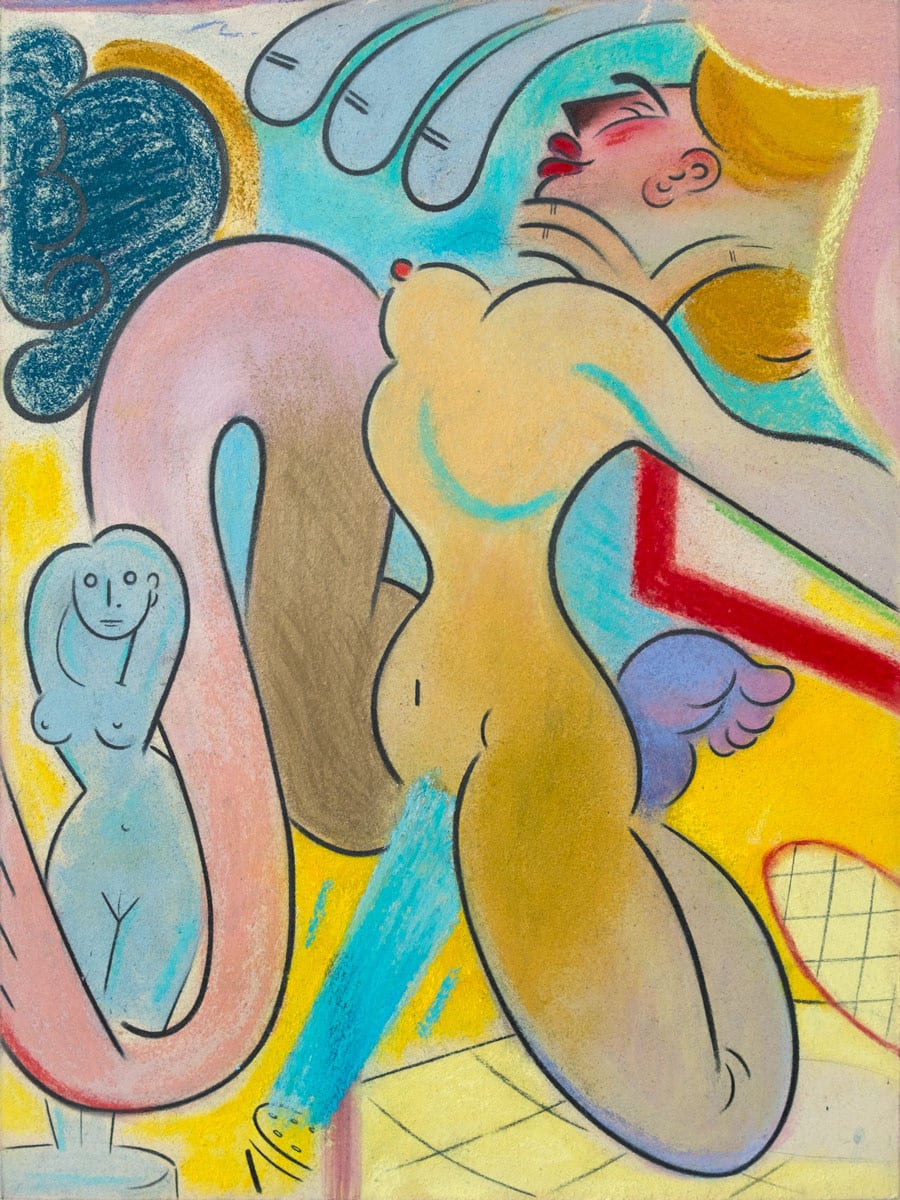 Koak works in a unique style that unites neo-expressionism with a cartoon-inspired character design tradition. She holds an MFA in Comics, and it shows through in her work in an interesting way. Koak's paintings, which include an ongoing series titled Noodies, depict female pleasure, desire, and distress in a vibrant palette and with a near-pornographic painterly affect. Her characters take shape in exaggeratedly curvy brushstrokes and bulbous bodies. The "virtues" and "faults" of the female form are played up in her gestures—their emotional status come through in their limbs.
In Joanna Grochowska's photographs, models are transformed into uncanny, grotesque, mannequin-like figures, often bound and with covered faces. Their poses are somewhere between passive and pained; they appear as erotic, faceless dolls. The Polish photographer calls her process "sophisticated mannequinization," referring to the submission enacted by a body that exists for voyeurism. Grochowska's work critically interrogates fashion photography and its inherent interplay between pain and beauty. Critical theory and the dolls of Hans Bellmer lurk beneath the surface of her images.
Pixy Liao is a New York-based artist who engages critically with her Chinese identity and her personal relationships. She explores female-dominant partnerships, intimacy, softness and "naughtiness" through photography, sculpture, and conceptual work. Her boyfriend—the person and the concept—informs a number of her pieces. In A Collection of Penises, Liao provides him with stretchy pink fabric and thread and asks him to construct 100 variations of a soft penis. In Experimental Relationship (pictured), she creates a photographic series in which she and he experiment with alternative possibilities of heterosexual relationships. Liao's practice is autobiographical and intimate, a self-authored series of open-ended musings about her own sexuality and identity, through which she constructs her visibility and her body on her own terms.
Erin M. Riley works in wool and cotton, creating hand-dyed tapestries that often reproduce images she's culled from social media. She re-creates nude webcam pics as tapestries, maintaining the digital pixel effect in a way that blurs the genres of net art and textile. The work also highlights the irrelevance of critics who deride net art because it "takes no skill." In a similar vein, several other of Riley's pieces recreate desktop windows displaying pornographic images. Can pornography be art? Her answer is yes. Working with these themes—plus a healthy smattering of images of drug paraphernalia, tampons, and various hair removal instruments—Riley re-appropriates the notion of textile work as a traditionally "feminine" practice. For Riley, textile art is indeed feminine, but in the sense that it authentically displays non-apologetic and non-mythicized femininity through a female lens.
LA-born Amanda Charchian creates editorial and commercial photography that has a feminine sensuality. Her work feels folkloric, full of Biblical and sometimes almost Satanic imagery. Charchian's women are mythicized in a knowing, self-aware way; while the bodies of her subjects are certainly "NSFW," they nonetheless present as non-sexual for the viewer. Charchian's work takes inspiration from the concept of pheromones—she's interested in nude bodies as devices of communication. For Charchian, nude photography is an exchange between subject and photographer; neither is more passive or active than the other, and both photographer and subject have artistic license when creating an image. Think Terry Richardson, but exactly the opposite.
The NSFW: Female Gaze exhibit includes Aneta Bartos, Anna Biller, Amanda Charchian, Nona Faustine, Monica Kim Garza, Rebecca Goyette, Joanna Grochowska, Koak, Natalie Krick, Natalie Krim, Joanne Leah, Kristen Liu-Wong, Pixy Liao, Maidenfed, Shona McAndrew, Sophia Narrett, Polly Nor, New Level of Pornography, Taira Rice, Erin M. Riley, Amy Ritter, Lissa Rivera, Scientwehst, Tschabalala Self, Marie Tomanova, Brandi Twilley, Paula Winkler, Jessica Yatrofsky. It is showing at the Museum of Sex, 233 Fifth Avenue New York City through to September 24.
More on the female gaze:
55 Women Making Work We're Obsessed With
The Advantages of Being a Female Photojournalist
20 Female Designers You Should Be Following on Twitter