Are you looking to improve your photographs but unsure which online photo editor to use? We've created a handy guide to help you decide which one is right for you.
Regardless of your photography skills or how good a photo is before editing, there are almost always ways to improve or retouch them. That's why photo editing apps exist—they allow you to get quality results without breaking the bank.
When it comes to image editors, Lightroom is unquestionably the best option available due to its unmatched power and ease of use. Your success as a photographer hinges on great quality photographs, an eye-catching portfolio to showcase your work, and the right equipment to shoot with—and this can add up. When all is said and done, a tight budget might make it tough to spend more on paid photo editors, especially when there are great free programs out there.
Rather than focus on well-known, higher-priced editors such as Photoshop or Lightroom, we're going to point you toward the best lesser-known options for free online photo editors. With the vast array of photo editing apps available on the market, making a choice can be difficult if you don't know the benefits and features of each app.
Multi-Platform Photo Editors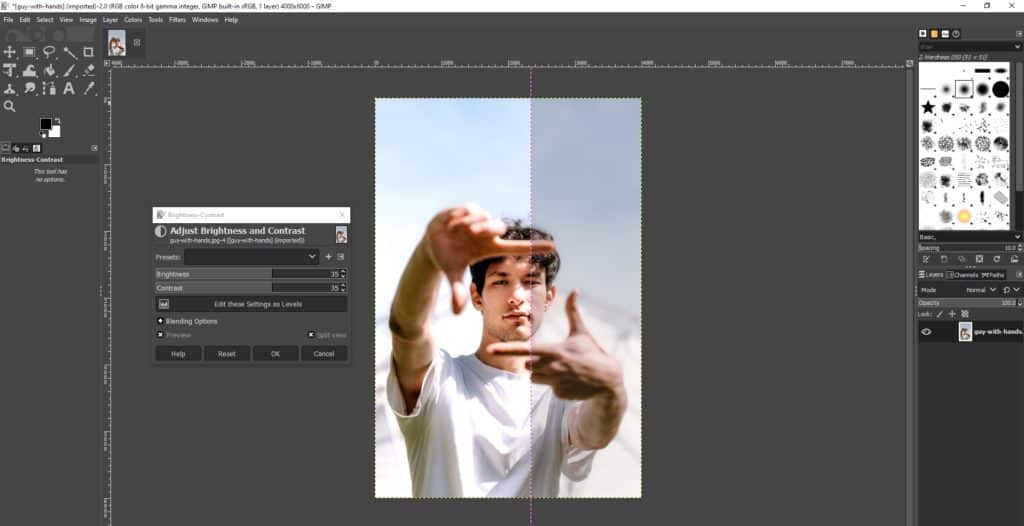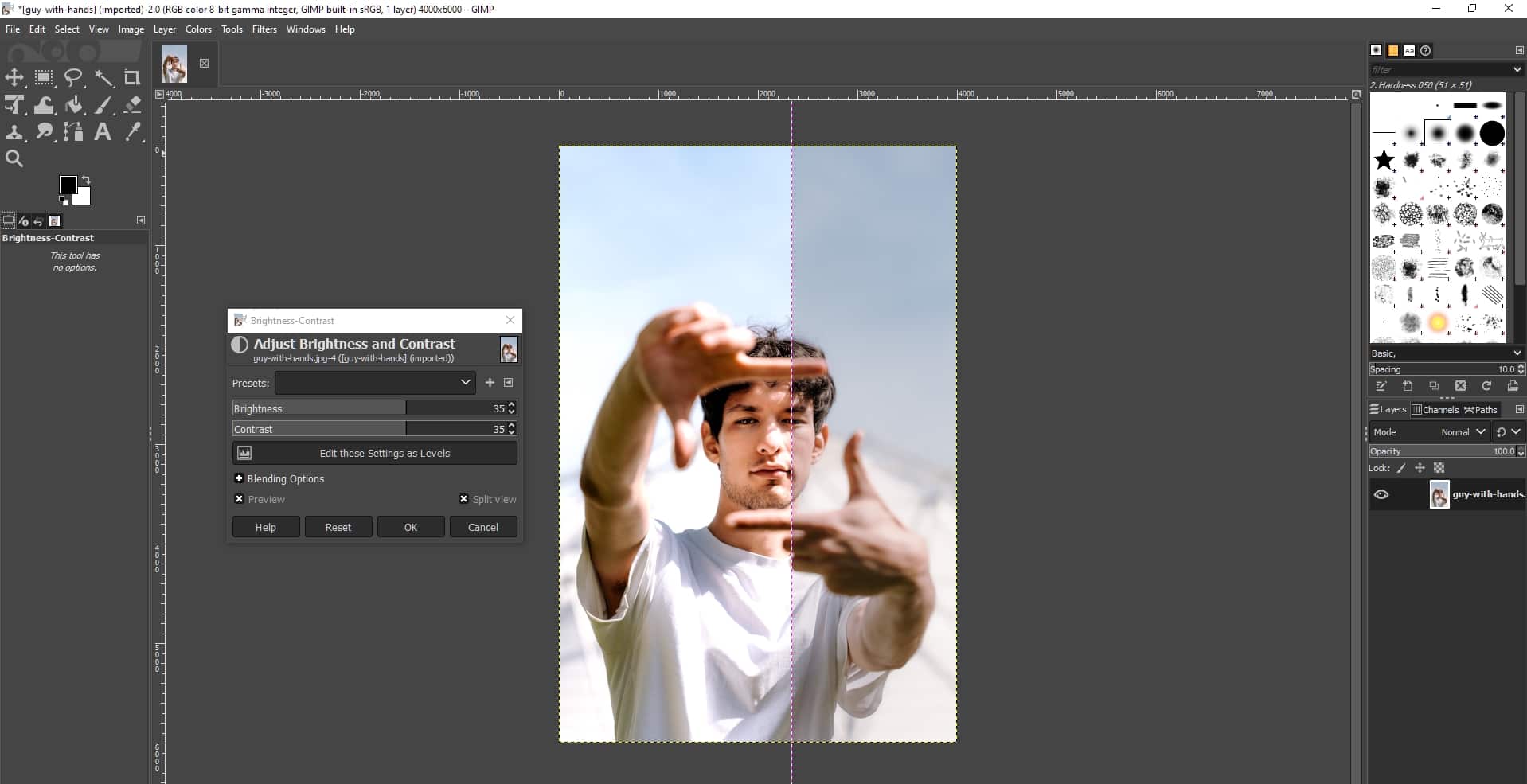 When it comes to free photo editors, GIMP is king. Short for GNU Image Manipulation Program, GIMP is the closest you can get to Photoshop without paying a dime. It comes equipped with an impressive number of professional-quality functions, a completely configurable interface, allows fine-tuning of images, and contains a fully-integrated toolset that allows the creation of professional-quality original artwork.
If you can do it in Photoshop, you can almost certainly do it in GIMP. If you want even more options, you can also use Photoshop plugins, which provide you with unmatched flexibility compared to any other free photo editor. GIMP is also open-source, which means that if you have the know-how, you'll be able to add your own filters and features should you desire.
If you are experienced in image editing software you should get the hang of GIMP relatively quickly, but those not well-versed in image editing software may find the interface cluttered or non-intuitive. A fair compromise for the sheer editing power you get at no cost!
Best for: Experienced users and those wanting powerful processing and art tools for a zero-dollar price tag.
For a free program, Photoscape is actually quite impressive—it's fantastic for editing and managing your personal photo archive. While Photoscape is a bit lacking in the interface department (it can be somewhat confusing), it contains an image viewer, batch processing, a screen-capture tool, and a great selection of filters and effects to take your photographs to the next level.
The photo editing portion of this app is where it truly shines, and even new users will be able to produce exceptional, professional-looking shots in moments. Photoscape even has some handy little functions to make your photographs look like analog shots, a decent cut-out feature, and image transformation capability; it also gives access to over 240 figures, frames, borders, and more than 1000 patterns to use in your creatives.
Best for Batch processing and experimentation projects.
Canva is one of the most popular graphic design tools on the market. The tool is very easy to use, convenient, and intuitive. This photo editing software acts as an all-in-one platform for everything graphic design. As a graphic design software, it lets you create brochures, posters, social media graphics, calendars, videos, presentations, logos, watermarks, labels, menus, resumes, letterheads, wallpaper, t-shirt designs, and more. This free online image editor can be used by anyone, with or without any experience in graphic design, which makes it an absolute no-experience photo editor. The vast amount of templates means you can create something in a matter of seconds. While the free subscription already contains a lot of great features, you will need to get the Premium subscription to unlock specific features, templates, and tools. With the paid subscription, you will also be able to access millions of stock photos, videos, and design elements in their library.
Another great thing about Canva is being able to use its design tool on the go. You can download their app on your Apple, Mac, Android, iOS, or desktop. You can easily use it on a browser as well. However, the only downside is that you will need to be connected to the Internet.
Best for: Anyone with or without graphic design experience.
An open-source photography application, darktable brands itself as a virtual light table and darkroom for photographers. As a post-processing program, it's a free alternative to popular tools like Lightroom. The interface is quite similar to Lightroom and it allows you to manage RAW files and conduct general post-processing.
This tool is considered by some photographers as the best online photo editor. Patience is key with Darktable because it's not a simple filter editing tool. You'll need to be familiar with raw development in a non-destructive manner.
Darktable allows you to export your images, which covers formats like JPG, PNG, PDF, and more. It also offers over 61 image operation modules that support powerful blending operators. If you don't want to buy into paid subscriptions, then darktable is a great alternative.
Best for: Photographers working with raw files.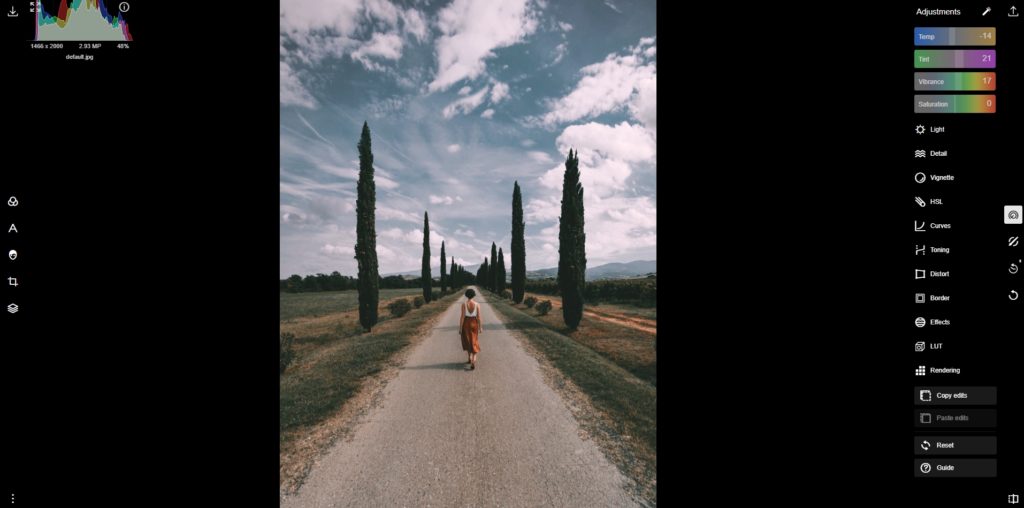 Polarr is a multi-platform photo editing software available for iOS, Android, Mac, and Windows. Whether you're looking to access it on the web via your Chromebook or your Apple device, Polarr is an advanced photo editor at the tip of your fingers. The tool offers more than just filters and effects, it allows you to create professional retouches and edits. Polarr is great for both novices and professionals to make minor retouches, as well as fine adjustments and lens distortion on your images.
One of the best things about Polarr is the ability to customize your interface with all the tools you need. You can also customize your own style with colors and overlays to your own liking. With their mobile apps, you can even generate QR and shortcodes to share your images and styles with others, making it a more collaborative platform.
Best for: Quick, easy way to make customized edits.
Online Photo Editors
Are you looking to apply quick changes to your photos with very few headaches? While you're required to sign up before you can utilize Pixlr's myriad features, the extra few minutes of setup are well worth the effort. You can easily import your pictures into Pixlr and just start editing.
This online photo editor is available via your browser, the iPhone and Android platforms, and provides a number of simple one-click functions and a relatively robust toolset. Perhaps the best feature of this app is just how easy it is to use: it contains tutorials to guide you through the more complicated features and can be mastered very quickly once you get the hang of things. If you are familiar with photo editing apps, then this is a fantastic choice for you.
In addition to this great little program, the company also provides Vectr (a free vector graphics editor), some free graphics that you can use in your creatives, and a nice selection of free stock images should the need arise.
A tiny little caveat: While this app is free to use, the best features are locked behind a paywall. You'll need to go Pro if you intend to take advantage of the more advanced functionality. Even so, it remains one of the most popular iPhone photo editors in the world.
Best for: Beginners; quick and simple image processing projects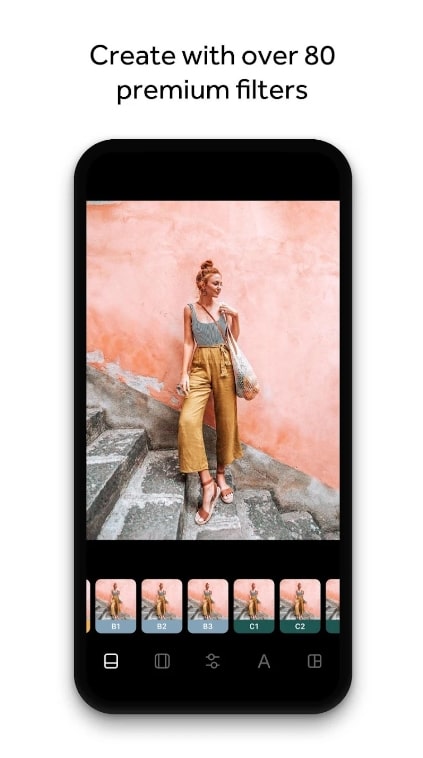 Available on both iOS and Android, Instasize is built for mobile editing. Its sleek design is user-friendly and doesn't cut corners on features and tools. Cropping and resizing is the app's bread and butter, but when it comes to image editing, the app lets you get into the nitty-gritty: manipulating exposure and brightness, tint and warmth, shadows and highlights, contrast, sharpness, and saturation. Not everyone has the time for that, so Instasize also has over 130 professional-grade, photographer-inspired filters for you to choose from. You're bound to find a filter that fits the aesthetic you're looking for.
Other useful features include robust beauty tools, unique borders, a collage creator, and a text editor. You can make simple edits, create collages, or go wild with your imagination. With Instasize, anyone at any skill level can add a personal and professional touch to the photos they post online. The only limit is your creativity!
Best for: Mobile editing and influencers.
Design just got easy! You can create impressive videos and image designs in minutes with Design Wizard's easy-to-use software.
The free features allow you to magically resize your designs. You can also upload your fonts, photos, and logos and create custom color palettes! The library holds over 1 million premium images, thousands of high-quality videos, illustrations and graphics, and more. Every video and image has also been licensed for commercial use.
While there is plenty of value in the Free plan, you can also go Pro or Business. The Pro plan gives you 60 image design downloads per month, image uploads, font uploads, free previews, and 1GB of storage. On the Business plan, you get unlimited standard video downloads, 1 premium video per month, and unlimited image design downloads. video uploads, add text and images to videos, and 10GB storage.
Best for: Social media marketers and business owners.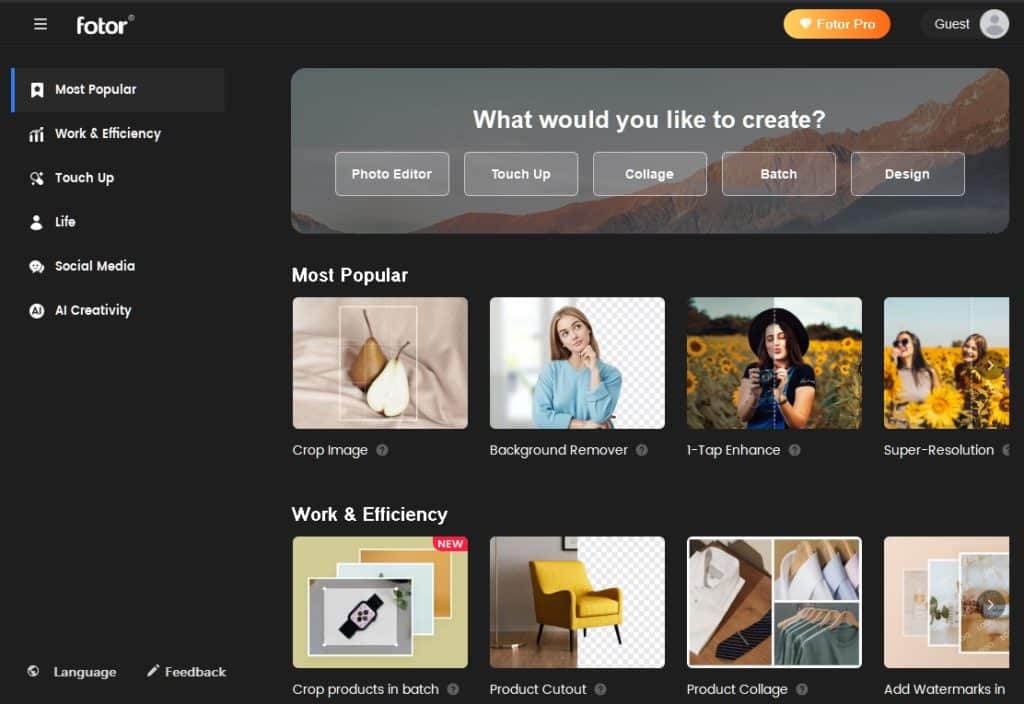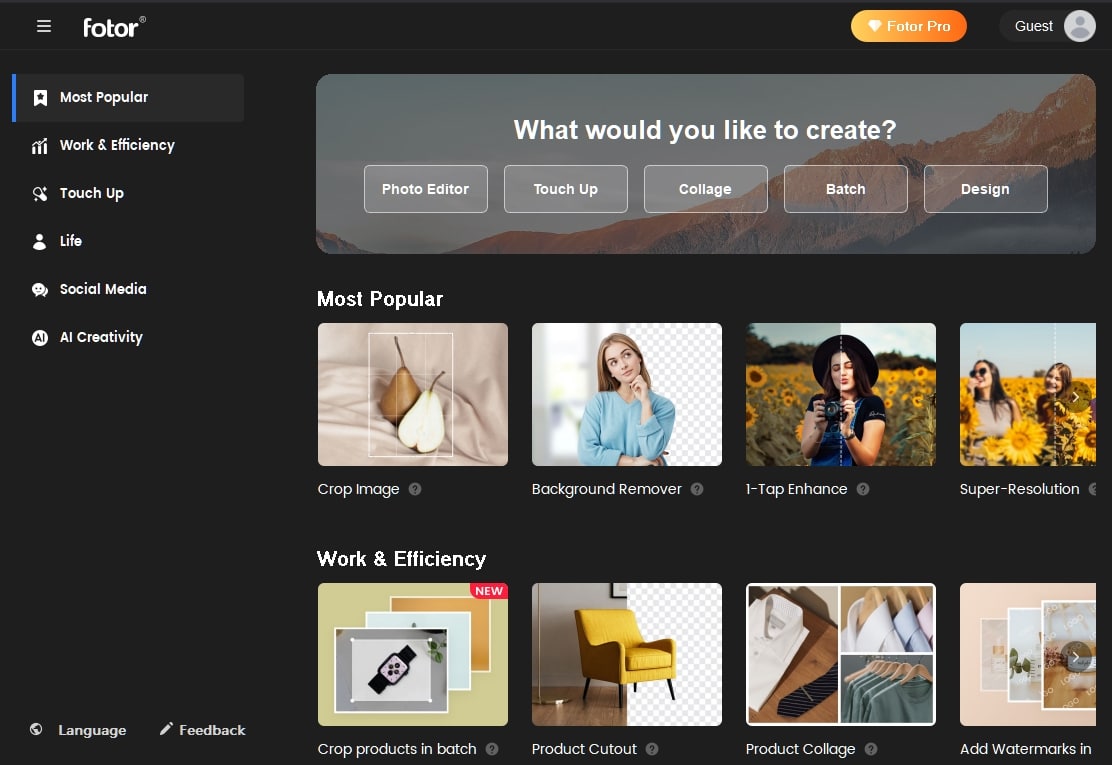 Try the free photo editor Fotor (for Windows or web browsers) – an excellent tool with an extremely easy-to-understand UI that makes it simple to use. Considering how choppy some browser-based programs can be, Fotor's performance is fantastic and won't hog system resources—which can cause your computer to start chugging along like a broken locomotive and waste precious time.
Fotor provides a wonderful set of Smart Filters and effects, as well as an engaging photo collage tool, and can handle RAW files without much issue. Fotor also allows some limited design functionality in the form of business cards, social media images, posters, banners, documents, collages, and invitations, which should be useful to bloggers and digital marketers.
While Fotor lacks any actual art features such as a paintbrush, and is not suitable for really high-end effects like other apps in this list, it does what it does very well and is good for general photo editing for those who don't need advanced functions.
Best for: Hobbyists and beginners, social media influencers, and digital marketers.
Befunky is simple, intuitive, and one of the best options for performance on this list. It features a variety of awesome elements to boost your image quality as well as a nice and simple collage feature. Like Fotor above, Befunky also contains many design elements that allow you to create lovely postcards, brochures, posters, slides for Powerpoint presentations, and invitations with only a few simple steps.
If your goal is social networking posts, printable assets, or a presentation for a client, then Befunky is a good option for you. While it may lack features as wide-ranging as other options on this list you would be hard-pressed to find a faster and more efficient option for cranking out simple creatives in a reasonable time frame.
Best for: Bloggers and people looking to create social media assets.
PicMonkey's best feature is its ease of use compared to more advanced options on our list. It's straightforward and the UI is friendly and intuitive (so much so that my eight-year-old can handle it in a few short moments), laid out logically and without clutter. Featuring a great collage maker that outshines most other simple photo editors, PicMonkey is accessible to everyone.
It also has all sorts of really useful templates that help speed up your workflow as well as facilitate the creation of headers and banners for blogs, websites, and marketing materials. While PicMonkey can only process one file at a time, it is still a great option for an online photo editor app.
As with several other entries on this list, PicMonkey has additional features hidden behind a paywall. You can still ride out a 7-day free trial to access the added functionality but are required to select a billing option to do so.
Best for: Web designers and bloggers.
A recent replacement for Picasa, Google Photos is extremely simple and intuitive and allows you to edit your photographs with very little fuss. You can easily browse your photo library and organize your work without headaches. It has a limited feature set for actual photo editing but does provide the key functions you would expect (crop, redeye, auto contrast, color correction, etc.).
That isn't to say it can't do anything fancy—with Google Photos you're able to make animations, photo booth-style photo arrangements, holiday-themed effects, interactive stories, and apply frames and filters to your photos.
Google Photos can be accessed via your Google account literally anywhere on the internet. With one-click sharing options for Google+, Blogger, and YouTube, and integrated sharing with Facebook, Flickr, and other social networks, you've got a lot of flexibility at your fingertips.
Best for: Hobbyists.
An excellent browser-based online photo editor, Photoshop Express is extremely well-designed (which one should hope, coming from Adobe) and comes with all the features you would expect from image editing software.
Everything is immediately accessible regardless of your previous experience. Another bonus: no plugins are required so long as you have Flash installed, and you can simply drag and drop your images to start working.
The downside: Photoshop Express currently only supports JPG files and contains no social media sharing features. This might be a crippling limitation to some now that PNG is a much more commonly used extension.
Best for: On-the-fly editing via any browser; JPG fans.
Boasting one of the easiest-to-use interfaces of any editor on this list, iPiccy is a good choice for anyone looking for a free photo editor without learning a complicated interface. With many one-click tools and a fantastic zoom feature, you'll certainly be able to create compelling final photographs with minimal time invested.
You'll also have access to more advanced features; with curve adjustments, clone tools, background erasers, and other options, there is more than enough here to satisfy pros and novices alike. Note: you will require Flash to use iPiccy in-browser.
While iPiccy has limited options for saving your files (JPG and PNG only) and limits sharing only to Facebook (sorry Twitter and Tumblr users), the ability to upload multiple files simultaneously and the WYSIWYG interface will keep your productivity high.
Best for: Novices and intermediates looking for robust features.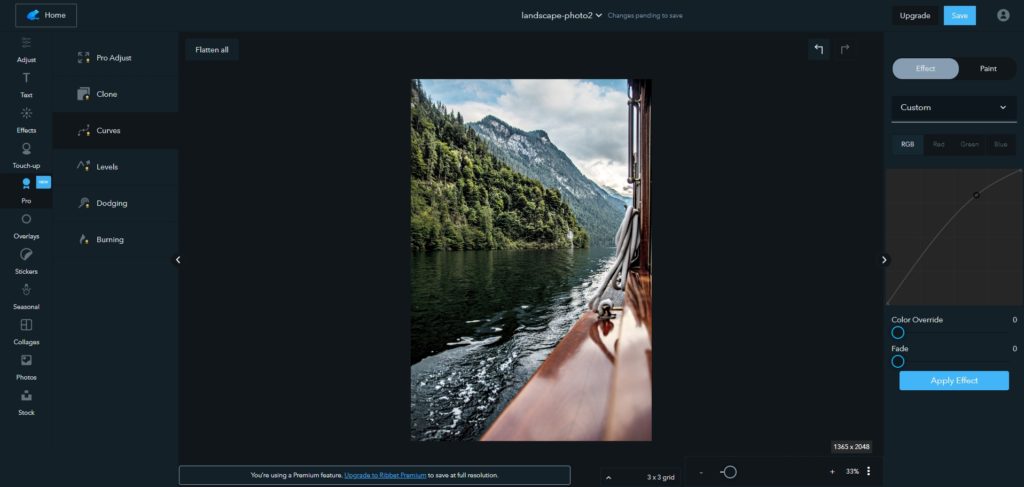 Ribbet's main strength is in how easy it is to use. Even the most unskilled novice can master Ribbet quickly thanks to the fantastic UI and attention to great user experience. Like other options on this list, it contains a collage feature as well as a variety of different tools allowing you to add over 70 different fonts, create stickers, and so much more.
Featuring great sharing options as well as free cloud storage to help save and sort your photographs so they are available at all times, you really can't go wrong with Ribbet. It's a solid package that is pleasant to look at and can only get better as time passes.
One thing that is important to note: using Ribbet's more advanced features is going to require an upgrade to the Premium version. Despite this, you have access to the bulk of the program features with the free option and it's a great platform for making the most out of your images. Available for iPhone and iPad and with an Android build launching soon, you can take it anywhere you go.
Best for: Casual and professional users.
Photopea is a free online photo editor that can run without any plugins. A great thing about this free online picture editor is its ability to edit PSD files, which makes it easy for users to do photoshop editing. Whether you're looking to make simple illustrations, create a sketch, or resize images, this online photo editing tool allows you to edit images, add filters, apply different effects, crop, and process photographs easily.
Available on any web browser, you can run Photopea on any device. Whether it's a desktop, tablet, phone, or laptop, you can choose to use it anywhere and even on the go. In fact, everything runs on your device, which means files are saved on your device as well.
If you're looking for a tool to do basic graphics and images for vector and raster graphics or to design social media banners, this tool would be a great choice. It is quite comparable to Adobe Photoshop Express, however, for enthusiasts that are seeking something more advanced for complex projects, you may need more professional image software.
Best for: Casual users for small editing and design projects.
FotoFlexer is a web-based picture editor that is free and easy to use. The tool features lots of visual photo effects and a layering feature that makes it easy for you to edit images. With FotoFlexer, there is no registration needed and you won't need to sign up for an account. It's a complete open-source image editor. There is no installation or download required to get this photo tool working.
While the editor is simple and does the job, the application might be a bit hard for beginners without any experience working with an image editor. Unlike other photo editing tools, FotoFlexer doesn't have a lot of guidance and hand-holding tutorials for assistance. In addition, the tool lacks the ability to print your projects directly.
Best for: Quick image edits using visual effects and overlays.
LunaPic is a free, secure open-source program that allows users to upload, edit, and share their images. The photo editor is made to let you edit, crop, apply effects and filters, and other artistic effects to edit your images, create slideshows and collages, convert videos to GIFs, and make simple animations.
As a free photo editing tool, LunaPic doesn't require any sign-ups or installation. The website also provides an extensive help section with over 200 FAQs to help solve any technical issues or design problems you might encounter with their tool.
While LunaPic is packed with animations and effects, the app is quite limited in terms of canvas size. The image size can only be a maximum of 1,000 x 1,000 pixels, which can be extremely limiting for those with larger images to resize.
Best for: Creating animation and adding effects.
Phixr [UPDATE: Phixr does not appear to work anymore]
Phixr is a simple photo editor that allows you to edit images in a browser window. Regardless of the image format, you can easily open one of your pictures and edit directly on your desired browser. While the tool is simple, it is still super functional and effective.
Editing photos is made easy with over 200+ photo filters and effects. Phixr allows you to effectively make edits, crop avatars, tune colors, make edits to images like teeth whitening and remove stray hair for portraits. You can make use of their paint effects to stylize your images as well. In addition, the tool also supports social media websites and other photo sites, allowing you to easily upload and send images. The tool also works with other third-party websites like Dropbox, Flickr, Twitter, Photobucket, and more.
Best for: Image editing with extensive filters.
iPhone Photo Editor
This free iPhone photo editor is widely lauded for its variety of photo editing tools and effects, clean interface, and wealth of sharing options that make posting your shots online a breeze. Photo Editor by Aviary contains more correction and enhancement tools than nearly any other mobile/desktop-based competitor on the market. Similar to Instagram, creative filters are available to improve more lackluster images.
It is important to note that it's only available on iOS, so you'll have to look elsewhere if you want something on your PC/desktop, Linux box, or Android phone.
Best for: Mobile photographers using iPhones.
Ready to build a photography portfolio website that captures clients' attention? From image-focused themes to a built-in proofing tool, we've got photographers covered. Start your free trial and improve your knowledge with Format today!
Which Photo Editor is Right For You?
There is a multitude of options available to anyone with a camera, and you're going to want to play with a few of them before you settle on the best photo editing app for your purposes. Remember to look at a tool that can easily import pictures from your cameras. Whether you are a power user aiming to batch-process a thousand photos you have had on the backlog for a year, or a total neophyte looking to cut their teeth in the blogosphere, there's a tool on this list that will do exactly what you need.
More resources for photographers:
How to Make and Sell Your Own Lightroom Presets
How To Make More Money With Your Editorial Photography
How to Price Stock Photography