So you've just finished your very first photoshoot as a professional photographer, and you're feeling great. All of your photos are edited, they're looking beautiful, and they're ready for you to send them over to your client for proofing before you can add them to your online portfolio website. But what is the best way to share photos with clients, especially when you're dealing with multiple high resolution images with a large file size?
If you try to send your photos as email attachments, the quality of your images will suffer, and your files will probably be way too big to send in a single email. Plus, it just doesn't look professional, and could make clients see you as a less viable option when they need to hire a photographer in the future. In this guide, we'll go over everything you need to know about delivering photos to clients in a professional manner, including some of the different softwares and tools that professional photographers can use to create a high quality client gallery.
What Features Do You Need To Send Photos To Clients?
The best way to deliver photos to your clients is going to depend on the features that you need from an online gallery. It is important to ask yourself, how do you give your clients their photos?' Here are some of the common features that many photographers look for when it comes to choosing a software to use for delivering high-resolution images to clients.
Ability To Handle Large File Size and Quantity
Print-ready files will be higher resolution and take up more space on whatever file-sharing method you choose. This will necessitate a client gallery tool that will be able to handle the amount and size of files that you need to share. Some clients may require multiple sizes and resolutions of each image, so you will need multiple variations of any particular image, which can quickly take up a lot of space.
Client Proofing Capabilities
If you're going to be receiving client feedback, it's way less of a hassle to allow comments directly on the photos in your client gallery, rather than having to keep track of emails and double-check exactly which photo they are referring to.
Security Measures When Delivering Photos to Clients
If you are delivering photos to clients online, your photo galleries tool must securely transfer photos with private password protection so that all parties' data is safe and will be safeguarded from security breaches. Password protection encourages customers to believe their data is secure.
Watermarking and disabling right-click save can also prevent your intellectual property from being stolen and are provided by most websites for photographers to share photos with clients.
Whichever online services you are looking at, choosing one with adequate security protocols is, without doubt, the best way to share photos with clients safely and securely. Make sure you use services with adequate security protocols when selecting an online service, no matter which one you're using.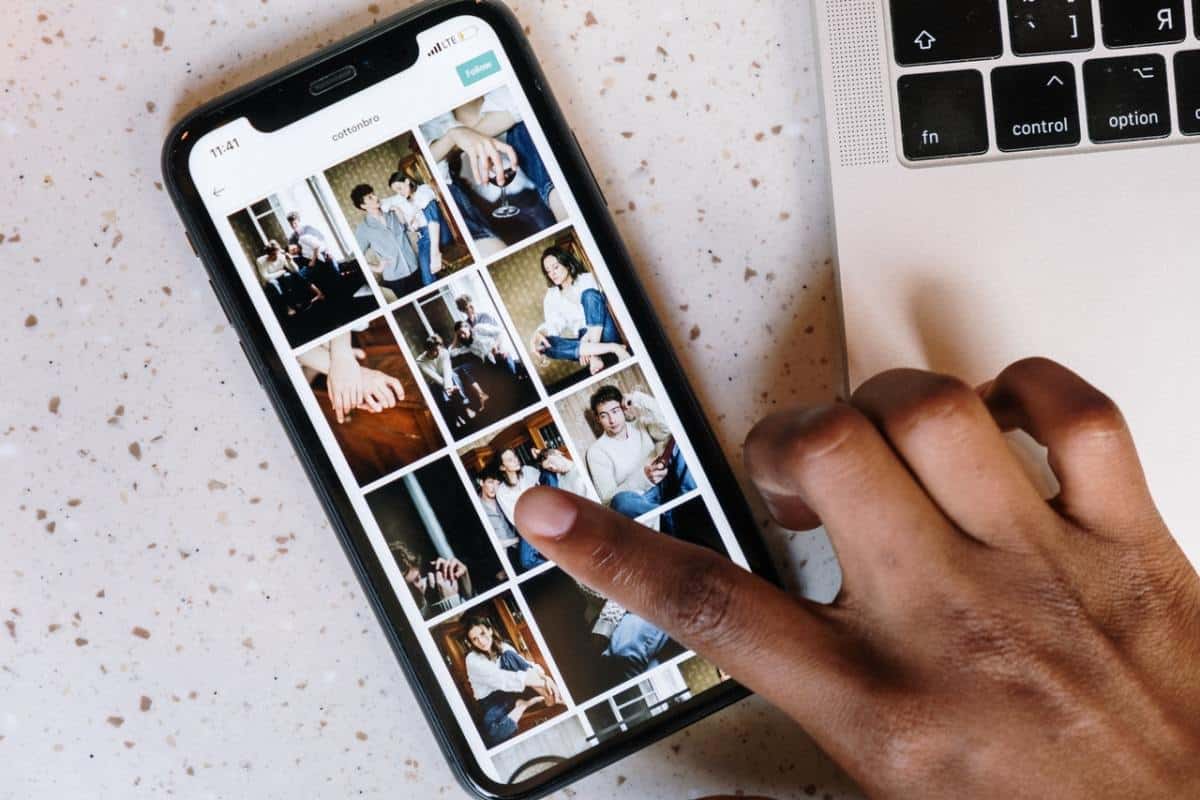 Different Methods for Sharing Photos With Clients Online
There are a few different ways that you can share photos with clients online, and they all have their pros and cons. Let's take a closer look at the methods (and programs) that photographers use to share photos with their clients.
Email Photographs
If you try to email photographs, your images will lose quality and most of them will be too large to email. More importantly, it makes you appear less of a recurring option when clients are looking for a photographer in the future.
USB Stick
While this method of sharing photos with clients has been around for some time, that is no longer the case. The primary disadvantage of using a USB stick to deliver photos to clients is that it has to be physically delivered to them. This is a less popular method of sharing photos.
File Sharing Service
Using a file-sharing service is a straightforward way to give your clients access to your gallery of photos. File-sharing services let you create a link you send to your clients that will get them to their photos even if they are not the most technologically sophisticated.
Many file-sharing services offer free or free trial plans, making them good for photographers who have limited capital.
You might be wondering 'how professional photographers give photos to clients'? Here are some file-sharing services commonly used by professional photographers along with their pros and cons.
Workflow's aim is to help photographers streamline their operations, so they can spend more time doing what they love.
Workflow boasts features such as password-protected client galleries and company branded file transfer services up to 10GB at a time. Impressively, Workflow also makes it easier for your clients to view your work, provide feedback, and even purchase.
What's more, inbuilt features such as Client Overview allow you to clearly organize your project information, so you can easily keep track of files sent to clients. You and your clients can always find what you need quickly, allowing you to save time and be more productive.
Workflow has a free starter plan, providing you with up to 10 client galleries and a 2GB transfer limit. With Pro subscription, for just 20.99 per month or 180 for a year ($15/month) you can create up to 50 client galleries and reach up to 10GB per transfer. Workflow also features a range of add-ons, such as a custom domain and professional email server through Google workspace.
WeTransfer is a file-sharing service that allows you to upload a ZIP folder of photos and receive a shareable download link, which you can then forward to your client's email address. It's important to note that the transfer link will only be available for 7 days after the initial file upload, so your client will need to make sure they download the files before then, or you might end up being forced to upload your images all over again.
Their free plan allows you to store up to 2 GB of images with no registration required. If you need more space and settings, the paid version starts at $12 USD per month and includes features like password protection as well as giving you up to 20 GB of space in a single email link.
Like WeTransfer, Dropbox's free plan allows you to use up to 2 GB of storage, but since the link won't expire after a certain number of days, this means that you have to keep using that storage for as long as you want your images to be available to your clients. Plus, Dropbox is cloud based, so you also need to keep your files on your hard drive or your clients will lose access when you move them to a new location.
Here's how photographers share photos with clients on Dropbox: download and install Dropbox on your computer, then drag and drop your images into the Dropbox folder. Your files are then automatically uploaded to the cloud, and you'll receive a link that you can send over to your clients. The link will never expire and will continue to provide access to your photos as long as you don't move or delete the files.
If you need more storage that 2GB, Dropbox's basic plan for individuals is $19.99 USD per month and provides you with 3 TB (or 3,072 GB) of storage space.
Google Drive is an excellent option for a photographer who doesn't have a large budget because they offer up to 15 GB of storage space with their free plan. You can share individual files or entire folders, and you'll be able to edit your settings to control which (if any) images can be edited and downloaded and which are strictly read-only.
A huge benefit to Google Drive is that so many non-photographers already use it as their main online storage, so it won't take an adjustment for your clients to get used to using it.
If 15 GB isn't enough, you can upgrade to a paid Google One account, where the most basic plan starts at $1.99 USD per month and provides up to 100 GB of storage space.
You may already be using Lightroom to edit your photos in post-production, but did you know that you can also use it to send your images directly to your clients? This means you can finish editing your photos and immediately send them off for client proofing without even having to open a new browser tab.
The downside to using Lightroom as your file sharing technique is that the images are sent by emails, which has its limitations specifically when it comes to accommodating large image size and the number of images you can share in a single email.
Adobe Lightroom is available for $9.99 USD per month, and that includes access to 1 TB of storage space as well.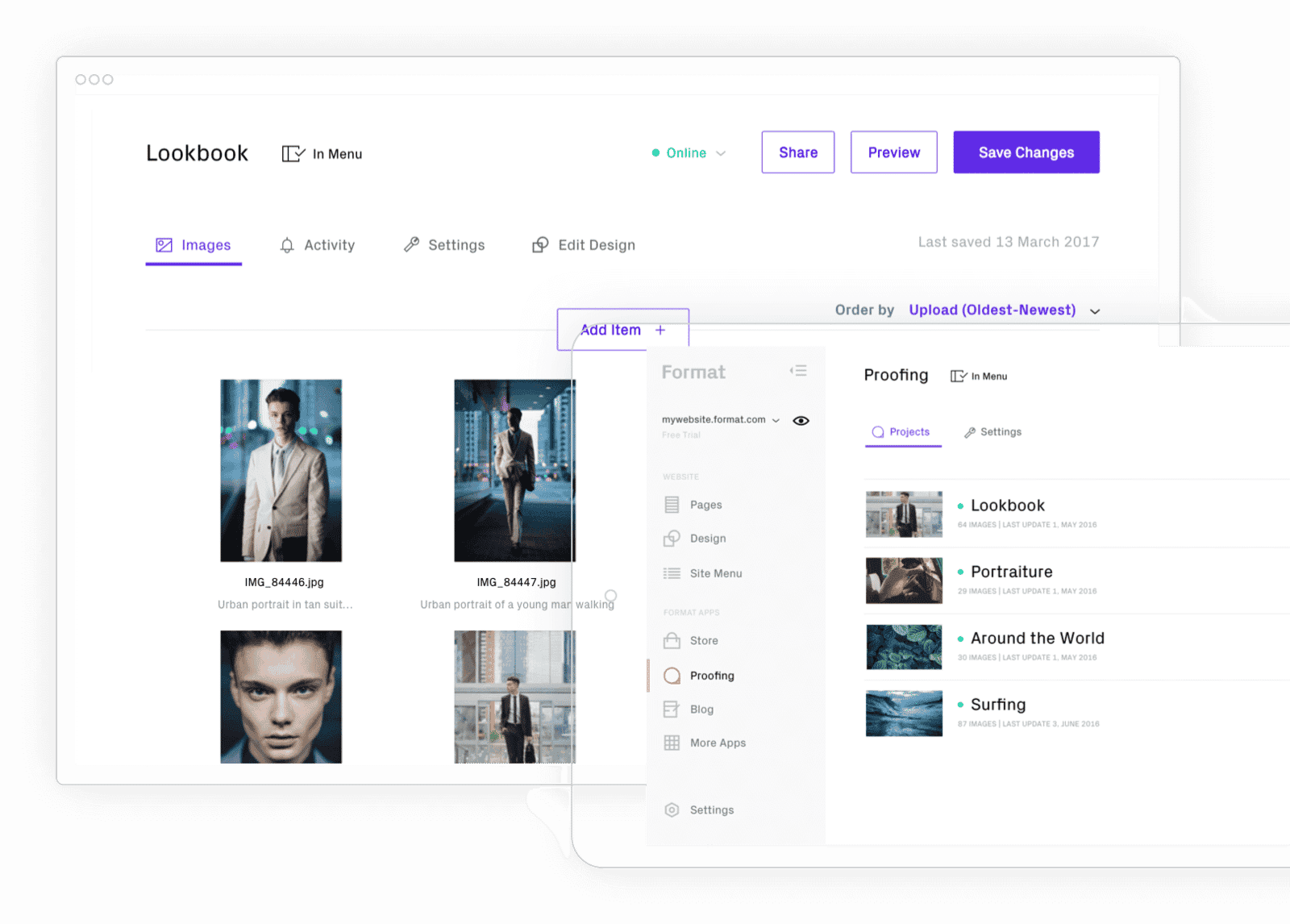 Online Client Gallery for Photo Sharing
The Best Way to Share Photos While Maintaining Your Personal Brand
For sharing photos with clients online, file-sharing services are a totally reasonable choice, especially if you're new to professional photography, there's little doubt that an online client gallery is a better option if you really want to impress potential clients with your skills and professionalism.
For a clean, professional gallery of photos, online portfolio services are preferable. If you're wondering how to present photos to clients.
If you are wondering how to present photos to clients in a clean, professional manner, online galleries are a great alternative. Rather than having your clients download a basic ZIP folder using a link, online client galleries can be customized to reflect your brand and photography aesthetic. You can then share the photo gallery with your clients, allowing them to browse all of their photos at once in an aesthetically pleasing way.
Most online client galleries operate in pretty much the same way. First, you'll upload your high-resolution photos. The system will resize them according to your client's specifications, which is especially helpful for busy photographers if your clients need multiple file sizes for each image, as you won't be wasting your valuable time creating different sized photos for each of your client's needs.
You can also set a password, and you control how long the gallery is available to your clients before it expires (if at all). Clearing out older photos and creating new photoshoots means you can make the most of your storage space. Cloud-based photo sharing doesn't require clients to store their files on your drive..
The protection of your creative work is critical as well. For website builders, like Format, the client gallery allows you to not only share password-protected photos with your client but also watermark your work. This adds an extra layer of security for your images.
You can integrate an online shop right into the program you're using, so clients can order prints while browsing images from their photoshoot. Most client galleries provide free plans and upgrades for photographers who require more storage space. Some great options for hosting a free online gallery for photographers are listed above.
Try a Free Online Gallery for Photographers
Some of the best online photo galleries are completely free to sign up. It's possible to preview features, image quality, and ease of use without spending a penny.
However, if you need to start sending photos to clients above a certain data limit each month, you may need to upgrade. By that point, however, you should have a much better idea of whether an online photo gallery for clients works for your business.
WorkFlow boasts a free starter plan, providing you with up to 10 client galleries and a 2GB transfer limit. It comes fully equipped with the basic functionalities you'd expect from a full-service online client gallery. In addition, you can add unlimited contacts with full Lightroom and Capture One integrations. Best of all, you can send contracts to clients on the free plan.
Best Way to Send Photos Without Losing Quality
The best way to maintain picture quality is by using a quality file transfer service or an image gallery, as these applications will not compress the image. However, it is important to consider that keeping the file size will take longer to download.
Share photos with your clients by creating an online photo gallery. With ease, you can view and select photos, then buy and download your favorites. Format's online photo sharing services allow you to do just this, with an advanced password-protected page builder, photo sharing for photographers option, and store integration.
What's Next
Now that you understand the difference between the various ways that you can share photographs with your clients and have some examples of programs to use and how they compare, it's time to decide which photography file sharing method you're going to use for your photography business.
Which one is best way to send pictures online?
We've outlined some of the best ways for photographers to share photos with clients. However, It's a good idea to write up a budget and determine how much money you are willing to pay for a client image gallery, no matter what point you're at in your photography career.
The best method for you will depend on a variety of factors, such as what features you value most and what you can skip for the time being.
Sharing Photos With Clients Online: Considerations
Photosharing technologies have come a long way over the years, and photographers can now benefit from comprehensive services that allow them to master every stage in the supply chain. However, with this plethora of options comes a high complexity of payment options. Here are some pitfalls to look out for when comparing photo-sharing services.
High Subscription Costs
Not all photography businesses are alike. Therefore, when researching how to share photos with clients, it is important to relate this to your business' needs and budget.
Professional photo-sharing services have many features and price levels and, if you are not careful, you can end up paying for much more than you need. Write down key questions to determine the most suitable service for you, such as how many images you typically share a month and how do you give your clients their photos? This will help you make an informed decision when comparing the options.
Hidden Transaction Fees
If you are integrating a store with your online image gallery, there will also be costs associated with processing those payments. When searching for the best website for photographers to share photos and take payments, be sure to check out transaction fees for selling your images. Format's Workflow allows you to easily integrate an online store into your image gallery and take payments at a low cost.
Ready to Share for Success
Once you've got your new online photography sharing gallery all set up, you can start tailoring your customer experience and delivering images like a real professional photographer. Don't forget to carefully select your very best work to showcase on your online portfolio website so that you can keep documenting the work you're doing and attracting even more of your dream clients for future professional photography gigs.
Want more tips on working with photography clients?
5 Ways To Get Freelance Photography Clients
Ace Your Client Relations With These 17 Easy Tricks