Killer client management is crucial when it comes to running a successful business. We artists may not have training in these skills—or give much thought to them at all! But brushing up on your client relations skills means you can hold onto all your clients for years to come, and build your reputation in the business as a great creator to work with. Let's get started!
What is Client Relationship Management?
Client relationship management is a fancy term for the way you interact with clients. You should always be striving to improve your service and build relationships with clients. Skillfully managing your client relations will help you earn customers' trust, get repeat business, and encourage them to recommend you to others.
If you're wondering how to get started, there are many relationship management strategies you can try. (Need a few more clients to manage first? Check out our guide to social media marketing secrets that will help you get more clients!) Here are a few of our go-tos:
Building Relationships With Clients 101
Earn Their Trust With a User-Friendly Portfolio
One important step in building relationships with clients is having a wicked online portfolio that is easy and enjoyable to navigate, and shows off your skills. Potential clients want to be able to see your best work, showcased in a logical and aesthetically pleasing way—they're hiring a creative, after all! This will help start building trust between you and the client right away, assuring them that you have user experience top of mind—and the great aesthetic they want. Consider adding a blog as well; sharing your industry expertise can also help win over clients.
Save yourself some time by using a website builder, which will put together a professional-looking online portfolio website site in minutes. Choose one with customizable templates, as this will help you showcase your work in an attractive way that fits your style. Establishing a high taste level will start you off right when building relationships with creative clients.
Make sure to include a pricing list on your portfolio. Smooth onboarding is an important aspect of good client management. And this makes onboarding easier for potential clients: they can see what you can do and know how much everything costs, up-front!
Need some inspiration on how to put together your site? Take a look at some portfolio examples from other creative professionals. Then, pick a site with a free trial so you can test out if it will appeal to the clients you want to work with.
Want a head-turning portfolio website? Curate your work and design your website exactly the way you want it. Start your free trial with Format today!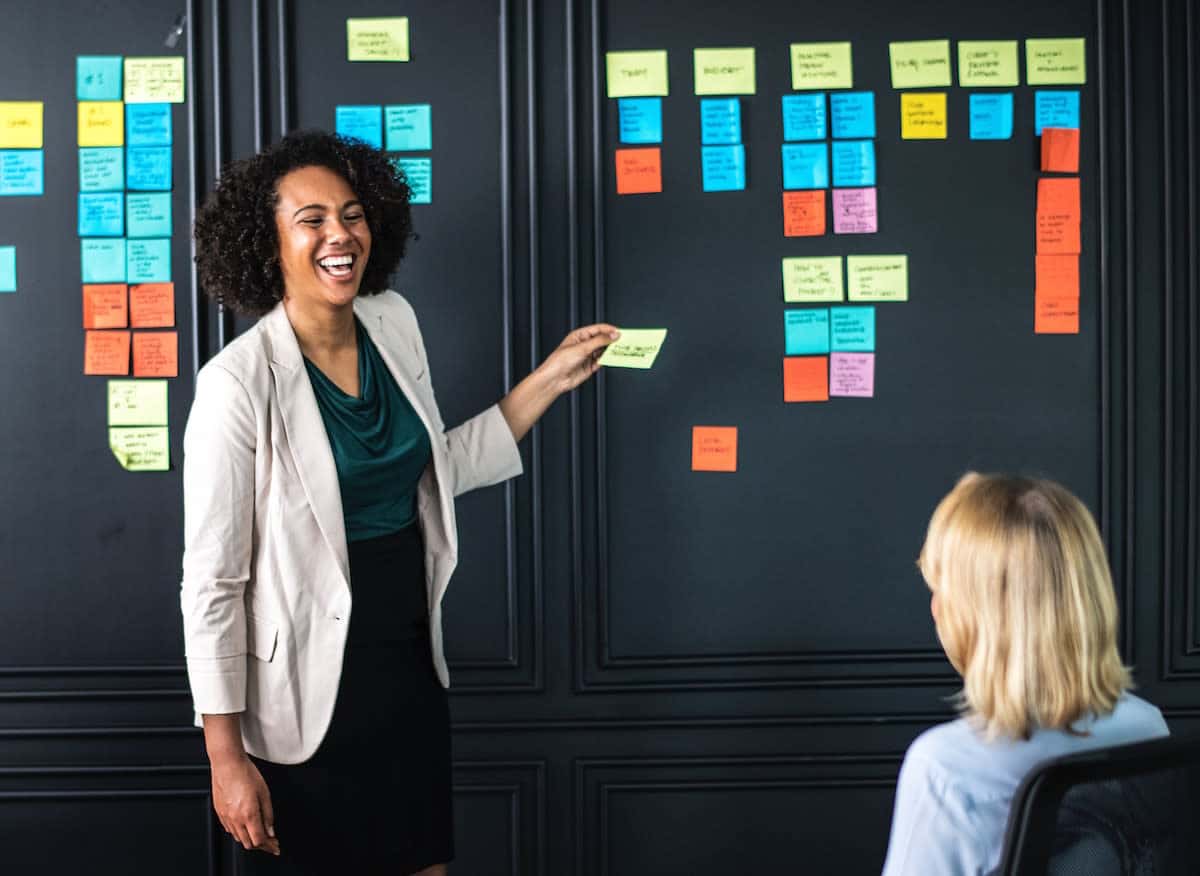 Meet Them in Person
One good relationship management strategy is to meet face to face with clients, whenever possible—or at least for the first meeting. This can help you form a connection. Meeting with them just once goes a long way to helping them relate to you as a person as opposed to seeing you as just an email address.
When you're out meeting clients and potential clients, bring some business cards so they have your information at hand. Your card is another opportunity to show off your artistic skill, setting their mind at ease that they're making the right choice. Having a physical reminder of your contact information also subconsciously conveys that you are always reachable, ready, and willing to help with any creative project they may need—great for client relations!
Learn About Their Industry
Another tip for building relationships with clients is to stay up-to-date on what's happening with their business and industry. This will help you understand their needs, and you'll be better able to make useful suggestions when discussing their next project. Whether it's staying up-to-date on all the latest design contest winners or reading the back issues of competitor publications to see what they are up to, this client relations strategy shows you always go the extra mile for your clients.
Treat Every Client Like Your Most Important Client
Avoid ranking your clients. It can be hard not to put more importance on the clients you make the most money with. But you should strive to treat every client like they're your most important one, and devote just as much time to streamlining your client relations with them as you would with your bigger accounts. It may lead your smaller clients to become major ones.
Give it Time
But don't rush it! Building relationships takes time. If you try to speed up the process by acting overly friendly, making too much small talk, or contacting clients when it's not necessary, it can really turn people off and hurt your client relations. Instead, focus that effort on delivering what the client wants and providing the best service you can. If you do that, the relationship will form naturally.
Improve Your Communications
Effective communication is an essential part of managing client relations. Here are a few client management strategies to ensure you and your client are always on the same page:
Be Quick on the Draw
First of all, make sure you respond promptly to any communications from clients. If you need some time to get an answer to their question, at least respond to let them know you've received their message and are working on it. Sounds simple, but this is one of the best client management strategies out there! It's especially important when you're working in a creative field, as many of the people who are hiring you—from editors and ad execs to publishers and small businesses—are often quite strapped for time and need to know things are being handled, ASAP.
Get to the Point
Avoid wasting clients' time with ineffective communications such as unnecessarily long or complicated emails. Ensuring all your communications are concise and get straight to the point is great for client relations, as it shows them that you know they are busy and that you respect their time.
Give Them a Call
Call instead of emailing when it's appropriate, such as when there's a problem. This is important for building relationships with clients because so much is lost when you communicate through email, such as your tone of voice. It's one reason that emails can often be misunderstood, especially if you don't know the client that well yet. Sending an e-mail that the recipient could misinterpret as snarky, impolite, or unprofessional is one sure way to derail your client relations.
Keep Clients in the Loop
A big part of client management is keeping your clients up-to-date. For one thing, you should let clients know about any issues as soon as they crop up. For example, let's say you're a web designer and you've just realized the design you pitched for the client's website isn't going to work due to a technical issue. By promptly notifying them, it shows you're not hiding anything—and this builds trust.
Maybe the client is open to the idea of a different design. So, instead of struggling solo to find a way to make the original plan work, you can work together to find a better solution.
Share Your Knowledge
Another way to improve your client relations is to share your expertise with them. Explain why you're taking the approach you are on that feature illustration or brochure design. Try to give them a little technical knowledge so they know what you're talking about. By including the client in your process this way, it shows them what goes into your work, and will make it easier when you're working together on project plans.
Speak Up and Be Honest
If you don't agree with some of your client's ideas, don't be afraid to voice your opinion. Nobody likes a yes-person! If you're always agreeing with everything the client says, then they're missing out on the benefits of your expertise (and you might even be perceived as a pushover!).
Remember that they are coming to you because you're an expert in your field, and that means your opinion is valuable to them. So if you anticipate issues with their plans for a project, don't try to hide it and don't hesitate to suggest a different approach. This will actually help build your relationship with clients, not the opposite.
Establish Realistic Expectations
During the planning stages of a project, it's important to establish realistic expectations. If you're trying too hard to impress the client and end up promising them the moon, you're only going to let them down in the long run.
Instead, try to under-promise and over-deliver—it's one of the easiest ways to excel at client relations. That can apply to things like setting deadlines, your quoted price, or mentioning any potential issues with the project.
For instance, let's say you're a photographer working on a photo spread for a magazine. Carefully consider how much work is going to go into every aspect of the project, how long it will take you, and if there's a chance of delays. Do you have to scout locations? Will you need to hire an assistant? What if your shoot gets spoiled by bad weather?
By leaving yourself some wiggle room when setting the expectations, you'll be able to handle any problems while still looking like a star to the client.
Handle Unhappy Clients With Care
No matter what relationship management strategies you use, there may come a time when you have to deal with an unhappy client. For example, what if a client misunderstood your pricing and is unhappy with the cost of a project? What if they're not satisfied with the final product? What if delays mean the project isn't finished on time?
Whatever the reason, here are a few client relations strategies you can use to make it easier to deal with an unhappy client:
Don't Argue (Just Listen)
When a client complains about your work, it can be tempting to try to justify yourself. That, however, isn't good client relations. Instead of immediately going on the defensive, you should show the client you care about their concerns. Try to see the problem from their point of view. Listen to their complaint, and ask questions to ensure you fully understand the problem.
Suggest a Compromise
Next, try to work toward a solution. Even if you didn't do anything wrong, be open to making changes or coming up with a compromise that will make the client happy. For example, if you're an illustrator and the client is unhappy with your final illustration, offer to make some changes free of charge.
While it may cost you a little time or money to keep the client satisfied, it is worth it in the end if it leads to their repeat business or referrals. That's why client management is always important, even when the client may be upset and not very friendly.
For more tips on how to handle cranky customers, take a peek at our guide to dealing with unhappy clients.
Streamline Your Client Approval Process
Do you have a design client that always insists on dozens of feedback rounds? Well, ensuring the process goes smoothly is a key part of client management.
Thankfully, there are online tools that will let you share files with clients and help to simplify the approval process. They will let you easily create a private proofing gallery where you can share multiple images or documents with clients, and allow them to download them or provide feedback.
Pick an online portfolio site that has these client approval tools built right in. That way, clients can see the latest drafts of the project, provide feedback, and approve your work—all right from your site.
Get at it!
Now that you know some client relationship management strategies, it's time to go put them into practice. If you follow these steps, you'll find your existing clients will start coming to you more—and will be more likely to recommend you to their colleagues. After all, more client relations means more clients!
Want more handy business strategies?
Ways to Follow Up on An Invoice Without Sounding Like a Nag
How to Get Your Dream Clients with Social Media
12 Creative Entrepreneurs Share Their Best Business Advice