Want a way to make your videos look more professional? A camera gimbal may be just what you need. A gimbal can let you break free from the tripod and enjoy the freedom of handheld shooting, but eliminate the camera-shake that's typical of handheld shoots.
You've undoubtedly seen many videos shot with gimbals, even if you didn't realize it. As the technology behind camera gimbals has become more affordable and more options have come on the market, their popularity has exploded.
Gimbals can create the almost dream-like effect of the camera smoothly floating through the air. The eye-catching videos you can create with the right gimbal will make a great addition to your video portfolio or Youtube channel. Some gorgeous video can also add some extra zing to your online photography portfolio.
Companies and corporations are all hungry for more video these days, so adding this professional-looking gimbal work to your portfolio is a great way to attract potential clients. Let's see which camera stabilizer is best for you!
But first of all, let's review how they work…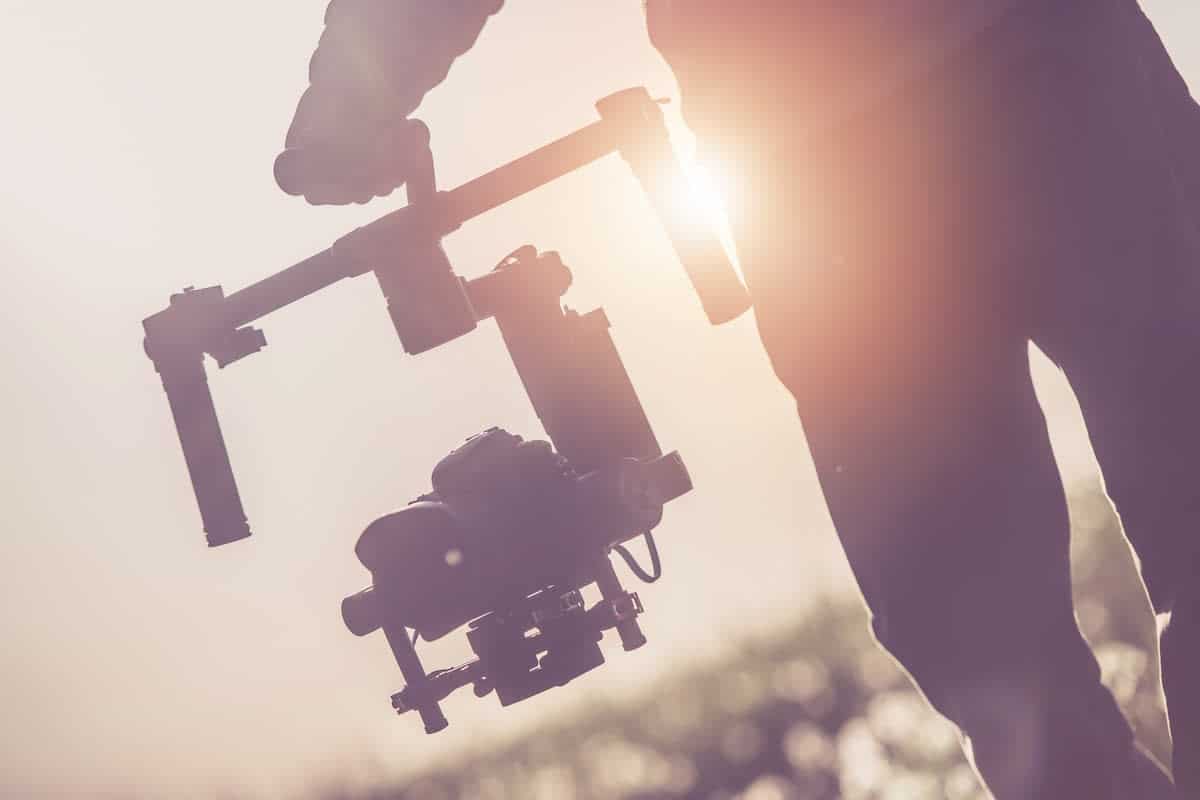 What is a Gimbal?
Technically, a gimbal is any pivoted support that allows an object to rotate on a single axis. But when videographers talk about gimbals, they are typically talking about 3-axis camera gimbals.
These are camera mounts that use three motorized gimbals to compensate for unwanted movements and keep your camera steady. They use gyroscopes and algorithms to tell the difference between unwanted jolts and deliberate movements. Then they rotate the camera to cancel out any unwanted motion.
The result is buttery-smooth video, no matter how jerky the camera operator's movements may be. In the past, this was only done with mechanical camera stabilizers like Steadicams. Mechanical camera stabilizers still have their place as a more affordable option—plus there's no batteries required. But in comparison, powered camera stabilizers can offer a compact size, more maneuverability, and a range of other features.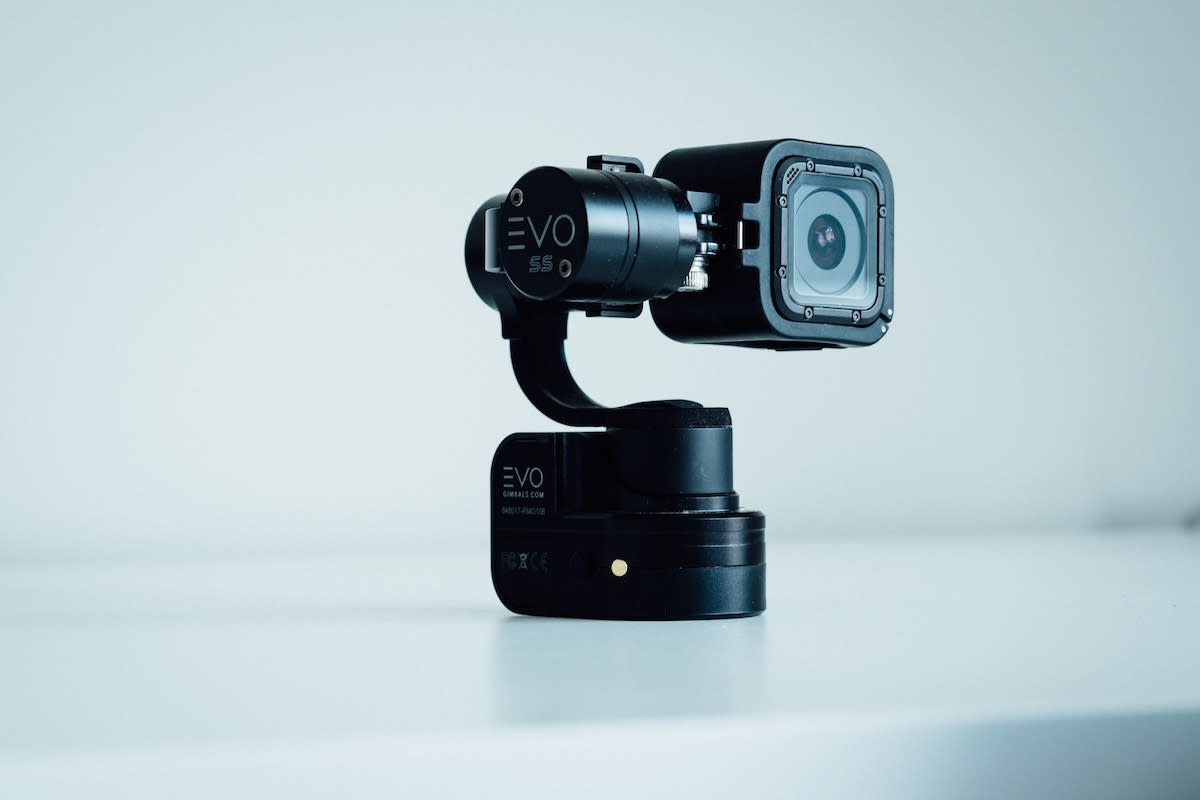 What to Look For in a Gimbal
When choosing a camera gimbal, there are a few things to keep an eye out for. First, some gimbals are designed solely for stabilizing your camera, while others offer many more capabilities.
For instance, many of them have remote controls that allow you to control the camera's movement from a distance. Others have time-lapse video modes where you can set the camera to slowly pan while you capture time-lapse video. Some of them even have auto-tracking features where they can automatically keep a moving subject in frame.
3-axis gimbals are the most popular type because they offer the smoothest video. But 2-axis and 1-axis camera gimbals are also available as more cheaper alternatives. So you'll have to think about what features you want, what you'll be shooting, and what's in your budget.
Some of the other things you should keep in mind are:
Gimbal weight: If it's a handheld gimbal, try to choose one that won't tire out your arms during a shoot.

Maximum payload: A nice DSLR and lens combo can be pretty heavy, so make sure you choose a camera stabilizer with motors that can handle your rig.

Balancing features: If you plan on removing and reattaching your camera often, choose a gimbal with either a quick-release platform or other features that make it easy to get your camera properly balanced on the gimbal.
Below, we've curated a list of the best gimbals for a variety of cameras including GoPros, smartphones, and DSLRs.
GoPro Gimbals
GoPros are popular action cameras due to their durability, compact size, and waterproof cases. So the gimbal you use with your GoPro shouldn't get in the way of those features. The best camera stabilizer for your GoPro should be portable enough to go to the same places, and durable enough to handle the same abuse. That way nothing will stop you from capturing great action videos for your portfolio or your first Youtube video.
Versatile GoPro Gimbal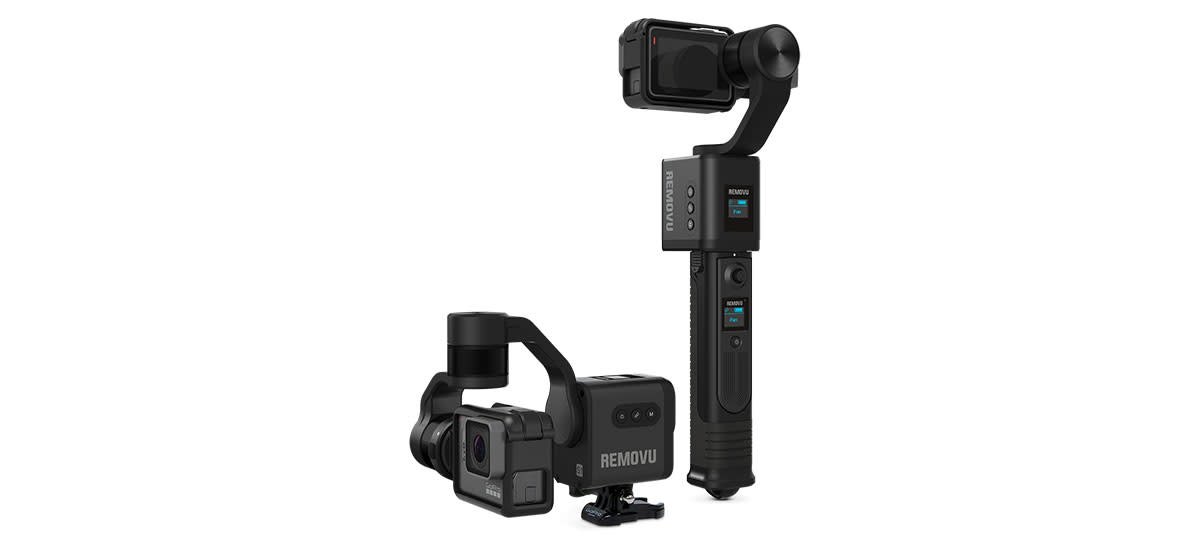 The Removu S1 is a stabilizing gimbal designed for GoPro cameras; it offers the benefit that it can be used as either a handheld or wearable gimbal. It has a detachable hand grip with a wireless remote so you can control the gimbal from up to 10 meters away. The Removu S1 is also rainproof so you can shoot in the rain or snow, stress-free.
Another benefit it offers over most GoPro gimbals is that it has displays on the body and the remote control that show the current stabilization mode and battery life. This camera stabilizer has also been praised for its build quality. It is currently on sale from the Removu website for $199.99.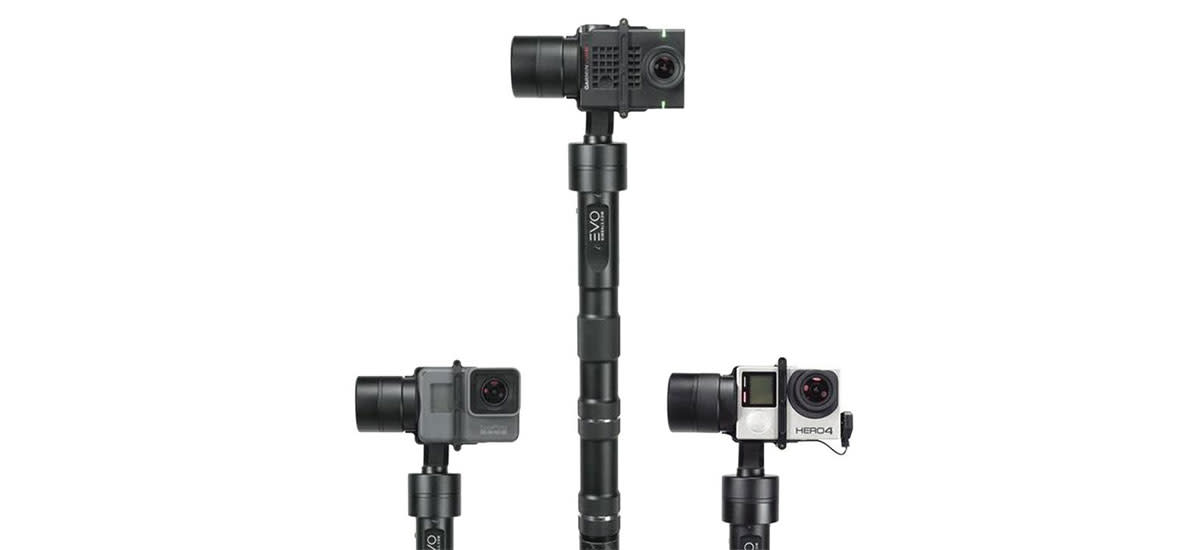 GoPro Handheld Gimbal
The GP-PRO is a handheld 3-axis gimbal for GoPro and other action cameras. The GoPro gimbal mount has a versatile design so it can be used with any GoPro model.
It boasts a compact and lightweight design, and high-quality construction from aircraft grade aluminum. It also features ultra-fast reaction speeds (achieving an effective combined refresh rate of 4kHz) to provide the smoothest shots possible.
The handle has simple controls with a joystick that lets you pan, tilt, or roll the camera. When you push in the joystick like a button, it switches between the three different stabilization modes: Full Follow, which means the camera follows your pan and tilt movements; Pan Follow, which means the camera follows your panning movements but eliminates roll and tilt; and Lock, which keeps the camera in the same orientation, no matter what movements you make with the handle.
The gimbal's handle is also threaded, which enables you to mount it on any tripod or extension pole. The GP-PRO's battery offers up to five hours of run time. This camera stabilizer is available from the EVO Gimbals website for $199.
Wearable GoPro Gimbal
The FeiyuTech WG2 gimbal for GoPro cameras features a waterproof design, and can be used underwater for up to 10 minutes. It even uses special technology to help stabilize the camera when dealing with currents underwater. These features make it the best GoPro gimbal for shooting watersports like swimming, wakeboarding, and kayaking, or any situation where the gimbal is going to get splashed or submerged. However, it is not designed to be used in salt water or at depths below one meter.
Though it is designed as a wearable camera stabilizer, it is also available with a tripod, and it offers support for time-lapse videos. It can also be controlled remotely via a smartphone using a special app.
The gimbal features freedom of movement with full 360-degree panning and pitching, and 2.5 hours of battery life. It is currently available for $199.
Budget GoPro Gimbal Stabilizer
The X-Steady Electro Cube is a handheld single-axis brushless gimbal that's ideal for GoPros and other action cameras. It doesn't provide the same smoothness as a 3-axis gimbal, but by controlling the camera's roll axis, it can keep the horizon perfectly level and help reduce camera shake. Since it is a quarter of the price of the other GoPro gimbals on this list, it is a great option for the videographer on a budget.
It's also able to offer exceptional battery life, as you can run it for up to eight hours until it will need recharging. In addition to GoPro cameras, this camera stabilizer can also be used with smartphones and compact cameras. It is available for $49.99 from the XSories website.
Smartphone Gimbals
If you thought the videos you shoot with your smartphone aren't good enough for your portfolio, think again! There is a wide range of smartphone stabilizers available. Many of them can connect to your phone to enable camera adjustments and other features that will help you create some captivating videos.
Best Gimbal for iPhone
The Osmo Mobile 2 is a handheld gimbal stabilizer designed for smartphones, and it has a number of features that take advantage of the capabilities of modern phones. It can connect with your phone via Bluetooth to let you control your phone's camera settings right from the gimbal's handle. That means you can control things like zoom, ISO, shutter speed, and white balance.
This iPhone camera stabilizer also has a panorama feature that can move the camera automatically to capture multiple images and seamlessly stitch them together. In addition, this smartphone gimbal has an Active Track feature. That means it can use your phone's camera to track a moving subject and keep the camera pointed at it automatically.
In terms of battery life, this iPhone gimbal can handle up to 4.5 hours of continuous use. It is currently on sale for $109 from DJI's website.
DSLR Gimbal
So you've got a great DSLR camera and the best lenses for the job. Now you're going to want a gimbal that will make the most of that high-quality rig. Camera stabilizers designed for DSLRs need beefier motors to handle all the weight, so, as you might expect, they're a lot pricier than those designed for smartphones or GoPros. But the higher price tag also comes with higher-quality construction and more advanced features.
Best Gimbal for DSLR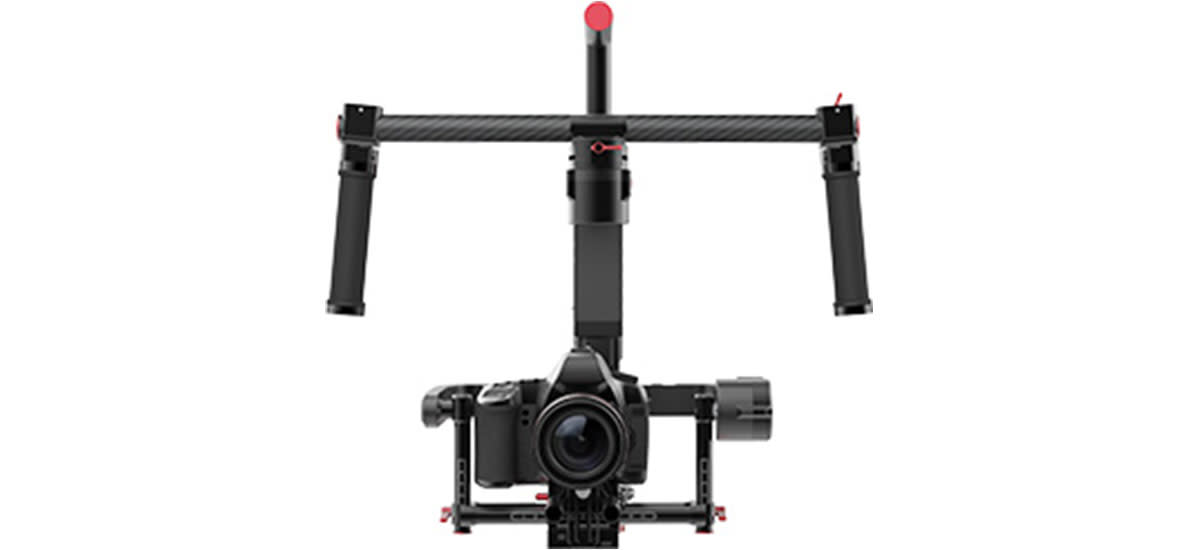 If you want a top-quality gimbal for your DSLR, the MOZA Lite 2 may fit the bill. This 3-axis gimbal was designed with cinematography and filmmaking professionals in mind. To that end, it offers a range of features and capabilities. It has exceptional-quality motors that provide high torque with low vibration, plus it has a battery runtime of up to eight hours.
The camera stabilizer can be used in three configurations that make it easy to handle in any situation. The three configurations are: Underslung Mode, for holding the camera stabilizer at chest level; Upright Mode, for shooting at or above eye level; and Briefcase Mode, which is ideal for getting the camera into narrow spaces or shooting from leg level.
The gimbal can be connected to compatible cameras via USB, allowing it to control the focus. It comes with a wireless thumb controller with an OLED display for adjusting the setting on the gimbal and camera.
For more details on this high-performance gimbal and some sample footage, check out this review.
The MOZA Lite 2 usually sells for $1,099, but is currently available online for $699.
DSLR Gimbal with Focus Motor
The Crane 2 (not to be confused with its similarly-named predecessor, the Crane V2) is a 3-axis handheld gimbal designed for DSLRs and mirrorless cameras. It can be used with a wide variety of camera and lens setups as it can handle a maximum payload of seven pounds.
The Crane 2 has a range of features. One of the most impressive is that it has a follow focus control system included. That means this gimbal comes with a motor that can precisely adjust the focus on compatible cameras. It also features a quick release plate so the camera can be quickly moved back and forth between the camera stabilizer and a tripod, without the need to rebalance the gimbal each time.
The Crane 2 can also be controlled remotely via smartphones and it offers multiple stabilizing modes to suit different applications. When compared to earlier Crane models, this gimbal has a faster response time, smoother movement, and less motor noise. It also offers longer battery life with a maximum runtime of 18 hours.
Check out this Crane 2 review for more information. This gimbal is on sale at Zhiyun's website for $649, but you can currently find it on Amazon for $499.
Most Popular Camera Stabilizer
The Ronin-S is currently the most popular gimbal on the market, and for good reason. It has a number of innovative design features that offer great flexibility. For instance, it has a single-handed design and it can be used in either an Upright or Underslung mode, and you can switch between the two modes seamlessly at the touch of a button.
Another helpful feature is this gimbal keeps the camera above the roll axis by using an angled roll motor, so you're camera's display never gets obstructed from your view as you move it around. In addition, this design leaves more space to handle bulky DSLR and lens setups.
Lastly, this camera stabilizer features a focus wheel that can control the focus on compatible camera system via cable. Alternatively, it is available with an external focus motor that can handle any camera setup.
It offers battery life of up to 12 hours and has a tested payload capacity of 7.9 pounds. It is currently available through the DJI store for $699.
Most Anticipated DSLR Gimbal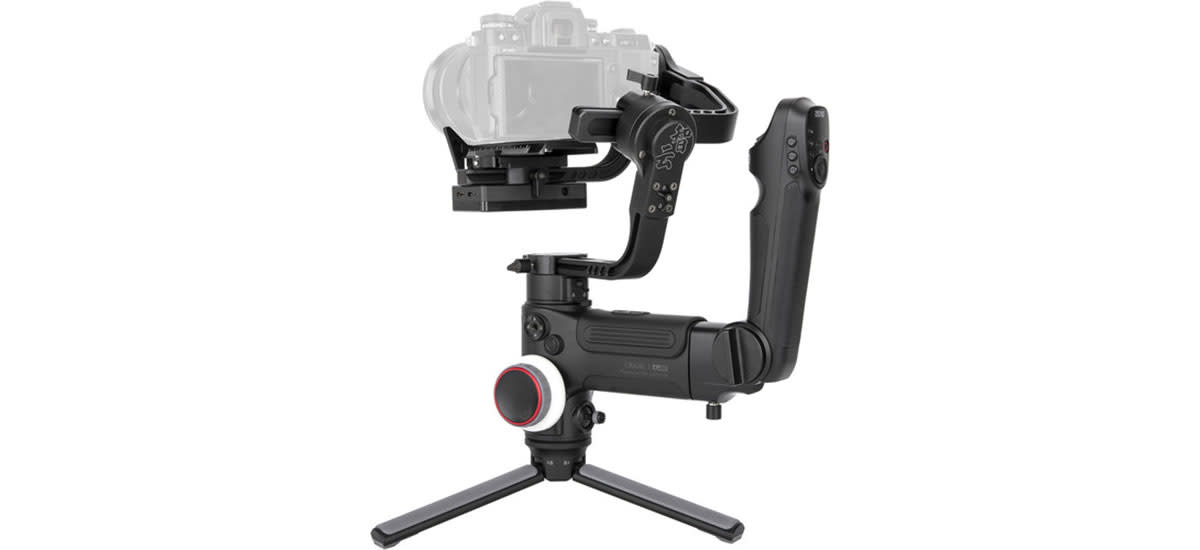 Last year, Zhiyun announced its new flagship gimbals would be dubbed with the suffix "LAB", and that these gimbals would represent the most cutting-edge innovations. The Crane 3 LAB attracted a lot of attention following its announcement due to some impressive specs. For one, it can handle camera setups weighing up to 10 pounds. In addition, it supports wireless transmission of 1080p video.
It also has some cool features when it comes to controlling the camera stabilizer with a smartphone. It's called the ViaTouch Control System and it turns your phone into a monitor while enabling you to make various gimbal movements and change camera settings, all from the same screen. In addition, you can use your phone as a motion sensor control so that by simply moving your phone, you can control the gimbal in real time.
The Crane 3 LAB has just recently become available, though quantities are limited at this point, so many websites are only offering pre-orders. But it is currently listed as in stock at Amazon and is available for $899.
Mechanical DSLR Stabilizer
If you are looking for a more affordable option, a mechanical handheld camera stabilizer may be the way to go. Besides the lower price tag, some professionals still prefer mechanical camera stabilizers because they can offer less technical difficulties, more durable construction, and no need for batteries.
The Flycam HD-3000 is a handheld mechanical camera stabilizer that's ideal for DSLRs. It is affordable and offers high-quality construction. It also has a maximum payload of 8 pounds, so it can be used with a wide range of cameras and lenses.
The camera stabilizer's central post is telescopic and can be extended up to 60cm to for shooting at a higher angle, or collapsed to 40cm when you want the stabilizer to be more compact. The Flycam HD-3000 is currently available on the Proaim website for $120.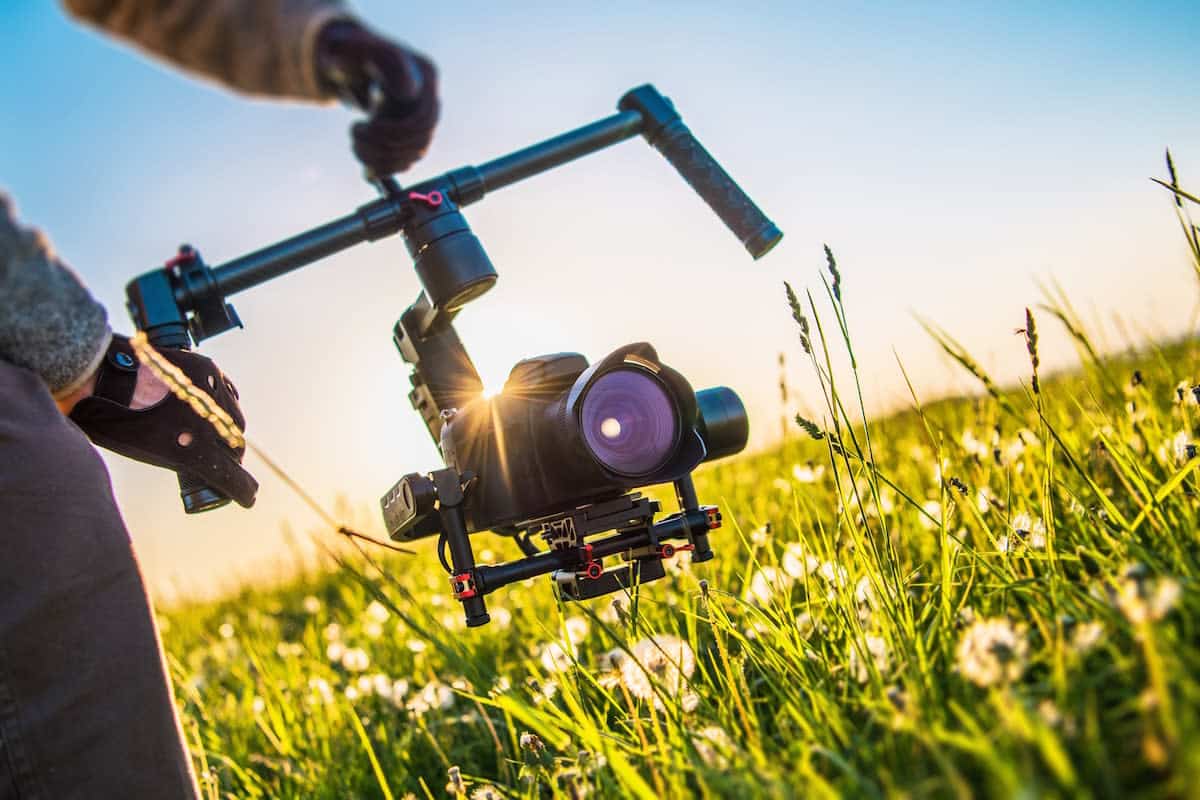 Time to Start Shooting!
Once you find the right gimbal for you, get out there and start shooting. Just don't forget to show off your awesome videos on your online portfolio website. The professional-looking movement you can achieve with a camera stabilizer will grab the attention of anyone who visits your site, from new fans to potential employers.
If you don't yet have an online portfolio, it's time to get on that. Setting one up may be easier than you think—as long as you choose the right website builder.
Try to choose one that offers a free trial so you can test it out for yourself. Also, you should look for an online portfolio that offers simple video embedding and customizable templates. This will make it much easier to create an attractive site that showcases your work in the way you want.
Finally, if you choose a website builder with a blogging platform built right in, it will make it that much easier to start a blog that draws more visitors and potential clients to your site.
Looking for a video portfolio as immersive as your work? Create a portfolio website that takes you from storyboard to delivery. Start your free trial with Format today!
The only thing left to do now is come up with some ideas on what to shoot, and create some stunning videos to show off. Good luck!
Looking for more camera gear guides?
Level Up With These Landscape Photography Accessories
Should You Invest in a Camera or Lenses?
Must-Have Camera and Lens Accessories for Wedding Photography