Those towering mountains! Those glistening lakes! Those rolling desert dunes! Ah, landscape photography: it's beautiful, epic, and downright inspiring. We've all been there, overwhelmed by a landscape more beautiful than anything we've ever seen before and wanting to capture even 1/10th of its beauty so we can share it with the world.
So, you've gotten yourself the perfect camera for landscape photography and the hottest landscape photography accessories. But what about the best landscape lens?
We've put together a list of the best landscape lenses just for you! Working with the right landscape photography lenses will ensure that every landscape you add to your online photography portfolio looks amazing. And you might even score more Insta fans: landscape photography is a great way to get more Instagram followers.
Let's get started!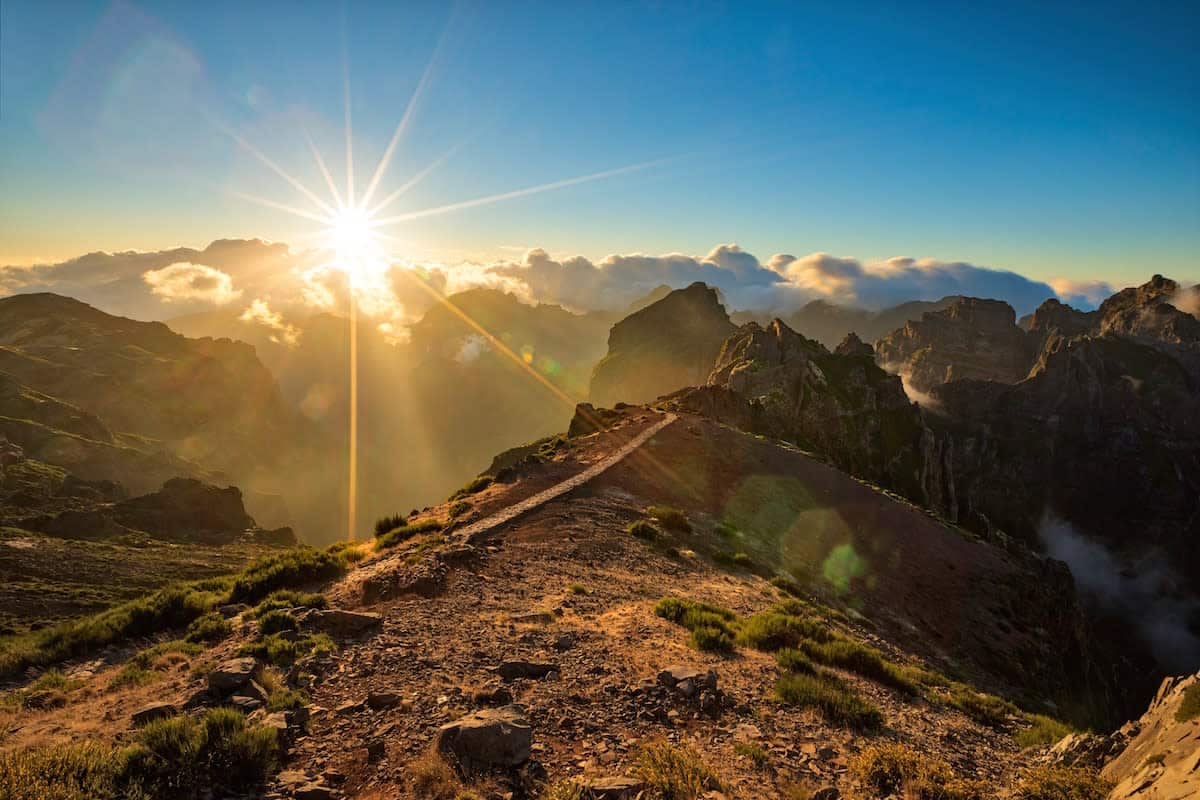 Landscape Photography Lenses 101
What makes the perfect landscape photograph? Is it beautiful clouds that dance and skip across rolling hills, or winding rivers that carve themselves through enchanted forests? Or maybe it's crystal-clear lakes reflecting some majestic mountains? Doing justice to these natural beauties often comes down to the landscape lens that you use. Before we get into the best lenses for landscape photography, let's go through the different styles of landscape lenses available.
Standard Lens
A standard lens has a range from 18-85mm (they come come as part of your kit). These basic lenses are a great way to explore landscape photography as a beginner.
Telephoto Lens
Telephoto lenses are key for nailing long-distance shots that involve specific objects, like a rock formation or a lodge on the side of a mountain, while still maintaining crisp detail.
Ultra-Wide Lens and Wide-Angle Lens
A wide-angle lens is one of the best lenses for landscape photography because you'll never have to be strategic with your cropping.
Prime Lens
Typically used in portrait photography, primes lenses work just as beautifully as landscape lenses, and are especially adept at capturing urban landscapes (especially urban ones!).
Now, let's focus in on the best landscape lenses—and figure out which one will work best for you in building that gorgeous landscape photography portfolio.
Best Nikon Lenses for Landscape Photography
Price: $180
The "nifty fifty" 50mm f/1.8 is well-known as a portrait lens, but you'd be surprised at how beautiful and unique it will make your landscape photography look. It's light and small, meaning you can take it anywhere, and it's extremely sharp, so even at f/5.6, you'll get fantastic results. It is, by far, one of the most versatile Nikon landscape lenses out there.
With this focal length, you can get creative with your landscapes. You can capture, for example, some minute detail of a tree (its trunk, branches, or leaves) along with a slightly blurry sunset background, all in the same photograph. The nice bokeh and milky, dream-like colours can melt together like a painting: now that's a great shot! Thanks to the focal length, the lens also forces you to move around and play with your style and angles. This requires technique and thought, which will improve your overall composition. (Check out this stunning story of a photographer who was born blind describe his love for the 50mm lens.)
Price: $1,900
Though it's expensive, big, and unable to accommodate filters, it's by far one of the best Nikon lenses for landscape photography out there in terms of sharpness and quality. With remarkable edge-to-edge performance, a fantastic color game, brilliant contrast, and a Nano Crystal Coat that brilliantly reduces ghosting and flare, this ultra-wide lens will do wonders for your landscape photography. Its dust- and moisture-resistant body is built like a tank, which enables you to use it in almost any condition. If you've been doing landscape photography for a while, this is the Nikon landscape lens you want.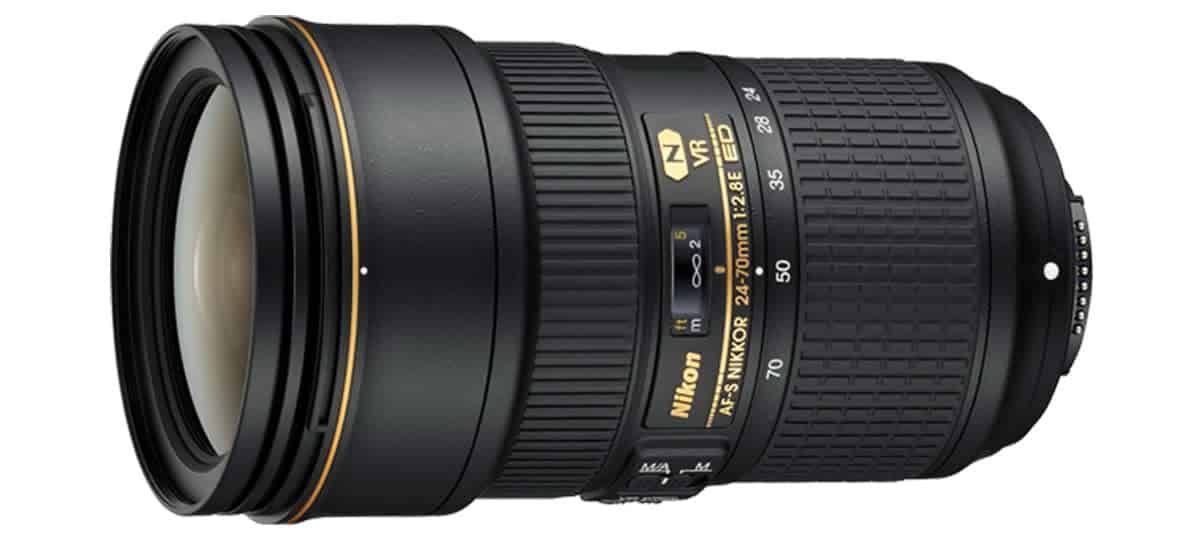 Price: $1,800
Even though we don't recommend this on DX cameras (especially because of the price), we think it would be a mistake not to have one for your full frame! With such beautiful imagery and sturdy, built-to-last construction—plus extremely wonderful AF in low-light situations—the Nikon 24-70mm is an all-around brilliant lens and by far one of the best Nikon landscape lenses.
Though it's extremely heavy (weighing in at around 900 grams), its versatility is tops. It features 15 lens elements in 11 groups, including three extra-low dispersion glass elements that ensure a fantastic reduction of chromatic aberration while increasing overall sharpness. This means you get more of the image to work with in post. Though you can manipulate a photograph quite a lot in post, learning to compose a stunning photograph takes patience and time. Check out some of National Geographic's best landscape photos of 2018 for some inspiration.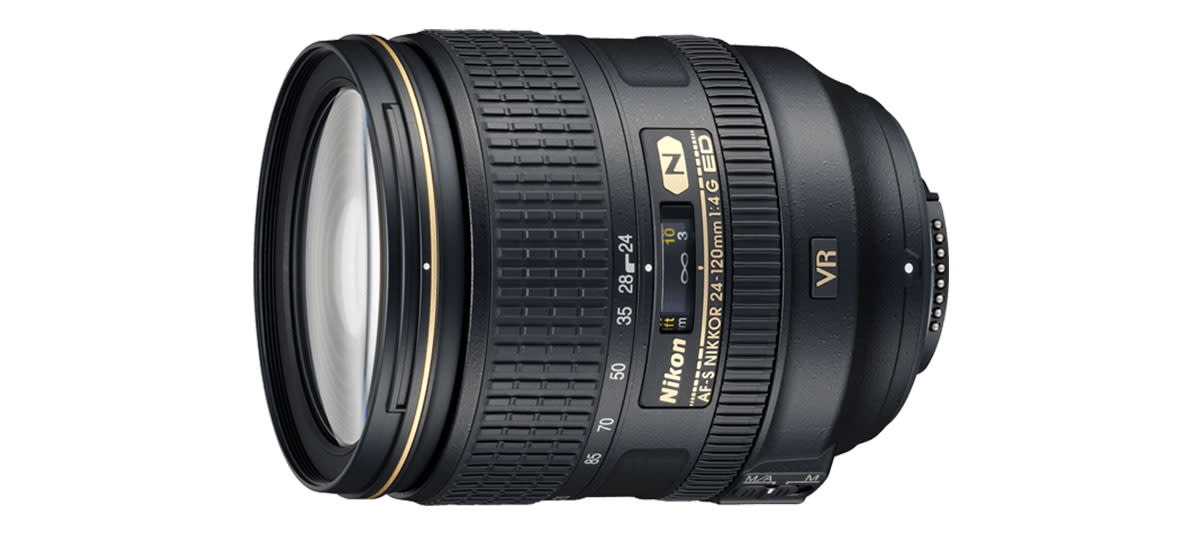 Price: $1,100
With a phenomenal zoom that maintains an aperture of f/4 all the way through and fantastic vibration reduction technology, the Nikon 24-120 is a lens to be reckoned with. The focal length of 24mm gives you the wide-angle perspective that is essential for shooting in tight spaces, but with a twist of the wrist, you can zoom up to 120mm, which gives you the opportunity to not only view the trail ahead of you, but to capture things at a distance. With this kind of versatility, you can shoot close-ups of flowers as well as a bird perched far up in a tree without having to switch lenses. This Nikon landscape lens gives you the versatility and freedom that you've always wanted.
Best Canon Lenses for Landscape Photography
Price: $2,000
From an ultra-wide 16mm focal length to a classic length of 35mm, the Canon EF 16-35mm f/2.8, is what landscape photographers dream of. Shooting with this Canon landscape lens is great for landscape photography because you can capture much of the foreground as well as the background while maintaining a beautifully sharp, crisp focus.
Let's take a moment to think about the perspectives you can work with. Let's say you're shooting the texture of a tree's bark. If you're shooting upward from the tree trunk, through its leaves towards the sky, you can rest assured that at 16mm everything will be sharp and in focus. The Canon 16-35mm is also weather-sealed and sturdy in all weather conditions, making it truly one of the best Canon lenses for landscape photography.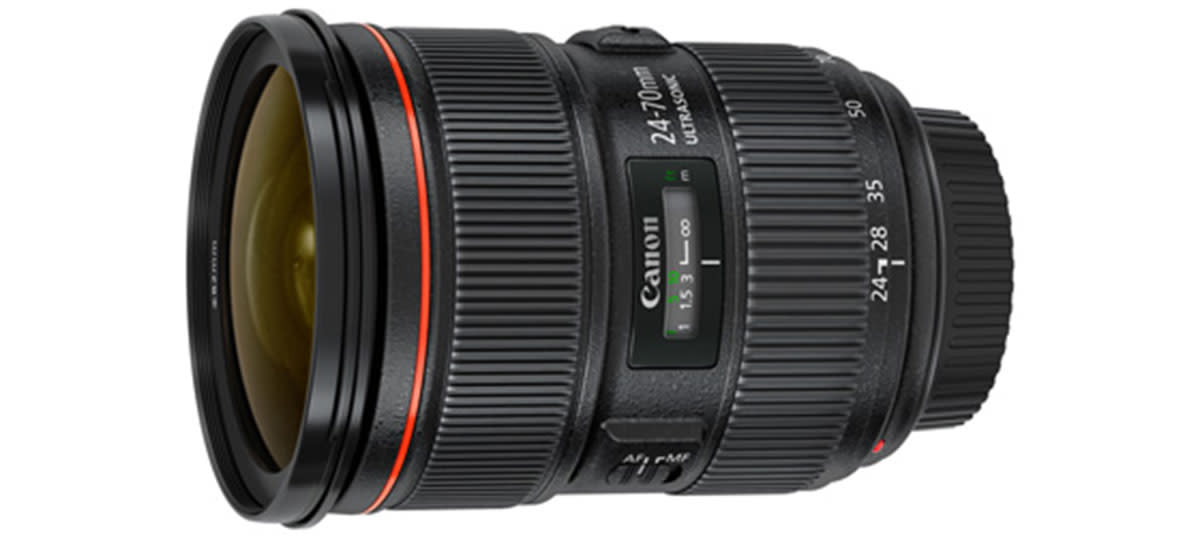 Price: $1,700
It's one of Canon's flagship lenses and by far one of the best Canon lenses for landscape photography. When it comes to landscapes, the focal length the 24-70 f/2.8 provides is extremely important—and versatile. It covers key landscape photography focal lengths while its AF maintains a stunningly fast and accurate image. The body is solid and includes fantastic weather sealing, which gives you an advantage over the elements.
The aperture is made of nine curved diaphragm blades (the older model had eight straight blades), which gives you an incredible boost to your bokeh game. Although it's lighter than its predecessor, this landscape lens is still a bit heavy and lacks an image stabilization component, but one can easily fix this with a tripod.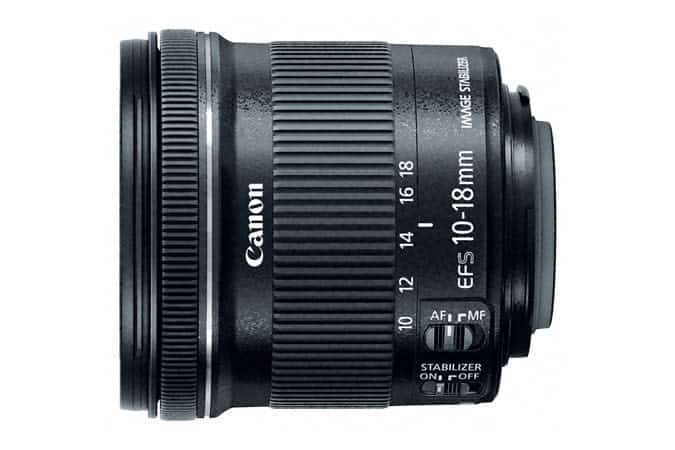 Price: $269
We love this ultra-wide-angle zoom lens. It has fantastic image stabilization, built-in super spectra coating (reducing lens flare and chromatic aberration), and Canon's stepper motor technology, which gives it a quieter and smoother focusing system. And it's affordable! It's one of the smallest, lightest, and least expensive lenses in the Canon landscape lens lineup.
This makes it perfect for the amatuer landscape photographer that wants to explore new perspectives. The ultra-wide 10-18mm gives the photographer an opportunity to move in very close to their subject, enabling you to create dramatic, jaw-dropping perspectives. The Canon EF-S 10-18mm f/4.5-5.6 IS STM is a great starting landscape lens for an aspiring professional. Take a look at some of the top landscape photographers of 2018 and remember: they all had to start somewhere too!
Price: $2,000
Yep, you read that correctly: 100-400mm! This spendy beast of a landscape lens boasts a phenomenal focal range. Not only is it lightweight and sturdy, it also produces excellent image quality at almost any focal range. This lens enables you to pick out the subtle, fine details of a landscape from a distance, and, in many cases, its brilliant and revolutionary image stabilization allows you to capture fantastic images without a tripod. The 100-400mm f4.5-5.6 is one of the best Canon lenses for landscape photography, but it's hefty price tag makes it more of a fit for professionals.
Want to try and improve your landscape photography game and go pro? Try out some of the best landscape photography apps to make all your landscape shots as eye-catching as possible.
Best Sony Lenses for Landscape Photography
[Sony 10-18mm f/4 G OSS (APS-C)] (https://www.sony.com/electronics/camera-lenses/sel1018)
Price: $850
The Sony 10-18mm f/4 G OSS (APS-C) lens is the widest zoom lens available for APS-C Sony Cameras. When it comes to capturing landscapes or even general travel photography, you'll be mesmerized by what you see through the lens. It also comes with great stabilization in case you left your tripod behind. The images you get with this lens are going to be extremely detailed and sharp. You'll be worried less about the quality of the image and have more time to focus on building your craft and style. For inspiration, take a look at these photographers discussing [their favorite locations] (/magazine/features/photography/creative-location). What are your most special places to shoot?
[Sony 24-70mm f/4 OSS] (https://www.sony.com/electronics/camera-lenses/sel2470gm)
Price: $900
The Sony 24-70mm f/4 OSS is the definition of versatile, making it one of the best Sony lenses for landscape photography. It's an all-around lens that often ends up staying on your camera while others languish in your camera bag. Thanks to its focal range and image stabilization, you can shoot hand-held in a variety of different landscape situations. The lens may not be the best-performing Sony landscape lens out there, but at this budget-friendly price, it's a must-have. Although Nikon and Canon are finally in the mirrorless camera game, many photographers are still jumping ship and joining the Sony family, swearing by their cameras. Sony's had a strong foothold in the [mirrorless market] (/magazine/resources/photography/mirrorless-camera-professional-photography-pros-and-cons) for sometime now, and the cameras and lenses seem to just get better and better!
Price: $1,350
Like most lenses with this focal range, the Sony 70-200m f4/ G OSS is a wonderful landscape lens. With its super-quick auto focus, supreme image quality, decently compact size, and lightweight body, the 70-200mm lens is by far one of the most important and best Sony lenses for landscape photography.
Price: $800
As a photographer, the 50mm and the 35mm are very important lenses to have in your bag, regardless of brand. The Sony 35mm F2.8 is a smart buy for landscape photography: think ultra-sharp image production and eye-watering speed. The beauty of this lens is that it's extremely small and light, allowing you to conquer landscapes without having to carry all the extra weight. If it's a nice bright afternoon, you probably won't even need your tripod.
Best Sigma Lenses for Landscape Photography
Price: $1,200
The 12mm focal length gives exciting wide-angle perspectives, creating landscape photography that pops. With an extremely wide-angle lens, you can shoot from very tight spaces, providing new perspectives—and these fresh perspectives make this one of the best landscape lenses on the market. Though this may not be the type of lens you want to use for all your landscape photography, but it will definitely come in handy as an accompaniment to your regular zoom lens. You're gonna want to experiment with this landscape lens!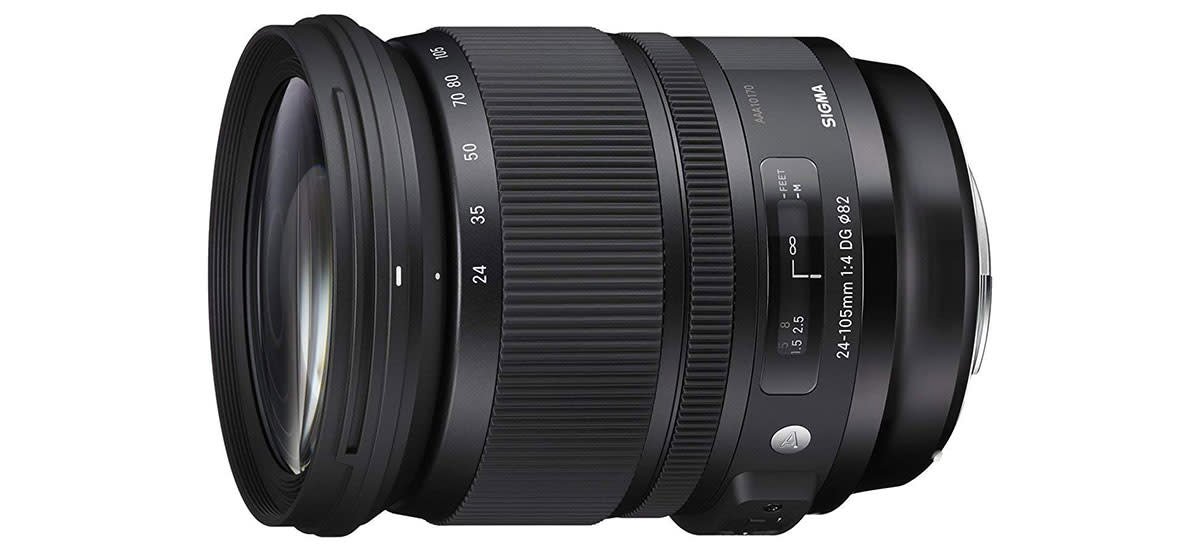 Price: $900
This landscape lens is known to many as Sigma's general-purpose lens. It's a workhorse that provides strong, sharp imagery at any focal length. With excellent optical stabilisation, image quality, and an eyebrow-raising price, this lens is ideal for landscape photography. It also serves as the perfect lens for beginners looking to improve their technical skills in various photography styles and try out different types of photography.
You can switch from shooting a river to shooting the riverbanks to shooting a close-up of the running water without having to fumble around searching for another lens. If you're in the market for a new camera, a good idea is to buy the body by itself (ignore the kit lens) and invest in the Sigma 24-105mm f/4, which may be one of the best landscape lens a photographer at any level can have in their arsenal.
Price: $1,250
With the 14-24mm f/2.8, Sigma has created a unique and interesting landscape lens to match Nikon's super-wide 14-24mm f/2.8—which, over the past decade, has had no direct competitors. The Sigma version of Nikon's legendary lens comes with the same extremely high quality, but for $650 less. The Sigma 14-24mm f/2.8 enable a landscape photographer to create an image with a beautiful, sharp foreground and an in-focus background. This lens is perfect for photographing cityscapes or nighttime landscape photography, giving your images jaw-dropping perspective and clarity. This landscape lens is available for Canon and Nikon, so whether you're a beginner or a professional, you can get a pro-grade lens for a reasonable price.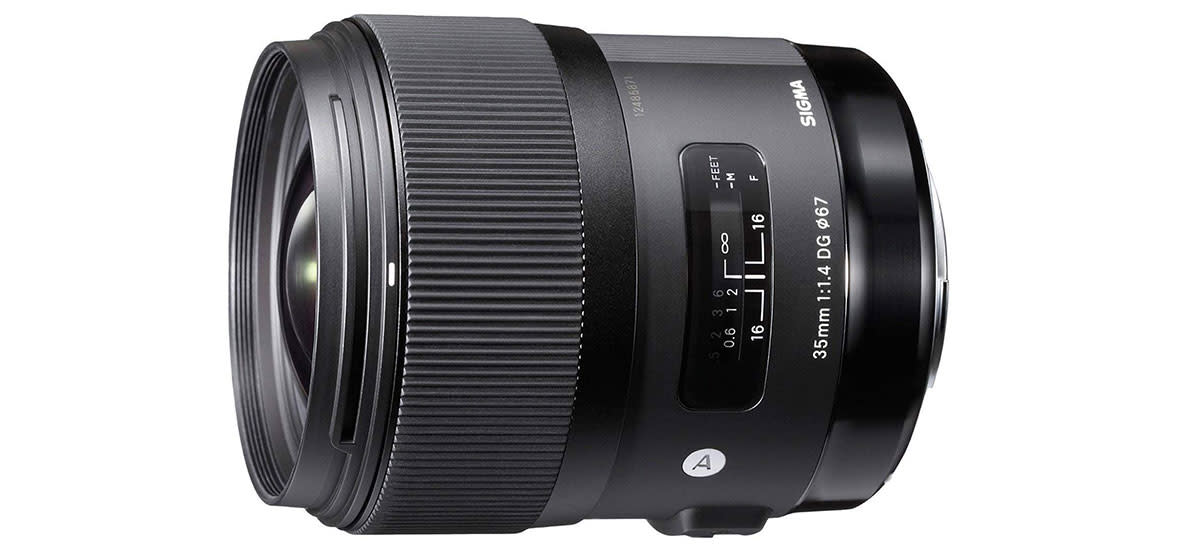 Price: $900
The Sigma 35mm f/1.4 is one of the best landscape lenses, with amazing sharpness and traditional focal length. Not only is the lens compatible with Nikon, Sony, and Canon, but it's cheaper than the lenses offered by those brands. The 35mm focal length is a bold storytelling tool that seems to bring life to landscapes, especially in photo essays where weaving a narrative is important. The only downside to the lens is that it's quite heavy and far bigger than most 35mm lenses.
A Few More Landscape Lens Favorites
Different camera brands speak to different photographers. Nikon, Canon, Sony and Sigma may be what the majority of photographers use, but other manufactures have built some wicked lenses. Let's take a look at some!
Fujifilm XF 100-400mm f/4.5-5.6 R LM OIS WR
Price: $1,900
This fantastic Fuji lens boasts Fujifilm's longest focal length and it's currently the only super-telephoto zoom that Fujifilm currently offers. Among the heaviest (though lighter than its Nikon and Canon counterparts) and most expensive of the Fujifilm lineup, it's by far one of the best Fuji has to offer in terms of a landscape lens. It's focal range is perfect for photographing distant subjects, and its superb optical image stabilization (five stops of image stabilization) gives you the freedom to shoot handheld in low-light situations.
This lens pairs best with the Fujifilm X-T2. With the X-T2, you get an unbelievable continuous shooting speed and phenomenal autofocus alongside the equally fast, sturdy lens. This makes the lens optimal for shooting sports and wildlife from a distance as well.
Price: $999
With the Lumix G 35-100mm f/2.8, Panasonic has created a competitive lens with a range most consumers are dying to buy, thanks to its ability to capture everything from landscapes and beautiful sharp portraits to fashion and wildlife photography. With an aperture of 2.8, your images are bright and sharp, and, if you focus on a subject during a sunset, the light, playful bokeh will create creamy colours that melt in the background, making for a stunning image. This makes it highly versatile and by far one of the best landscape lenses in Panasonic's lineup.
[Olympus 12-100mm f/4 Pro M.Zuiko Digital ED] (https://www.getolympus.com/us/en/m-zuiko-ed-12-100mm-f4-0-is-pro.html)
Price: $1,200
Olympus has been releasing some pretty highly-praised and highly-rated lenses, especially when it comes to their Zuiko Pro lenses (winning multiple Camera of the Year awards since 2013). The 12-100mm f/4 Pro is extremely sharp, even when it's shot wide-open, at all focal lengths. Its incredible versatility, build, and five stops of image stabilization make it a landscape lens dropped from the heavens. Its weight and size are great for traveling and hiking, allowing you to make more ground without getting tired.
[Pentax 18-135mm f/3.5-5.6 ED AL DC SMC DA WR] (https://us.ricoh-imaging.com/index.php/lenses/k-mount-lenses/standard-lenses/smc-pentax-da-18-135mm-f3-5-5-6-ed-al-if-dc-wr)
Price: $399
Yup, the name and model number are a mouthful, but the lens delivers. The high zoom ratio gives Pentax users a versatile range to capture all types of photography. In terms of landscapes, think about the lens as a one stop shop—from wide-angle shots of a forest floor and flowers to scenic waterfalls and out-of-this-world sunsets photographs, it does it all. Like all the best landscape lenses out there, the Pentax 18-135mm is sturdy and weather-resistant, preventing water and moisture from sneaking inside, so don't be afraid to get deep into a misty or rainy scene to get some cinematic shots!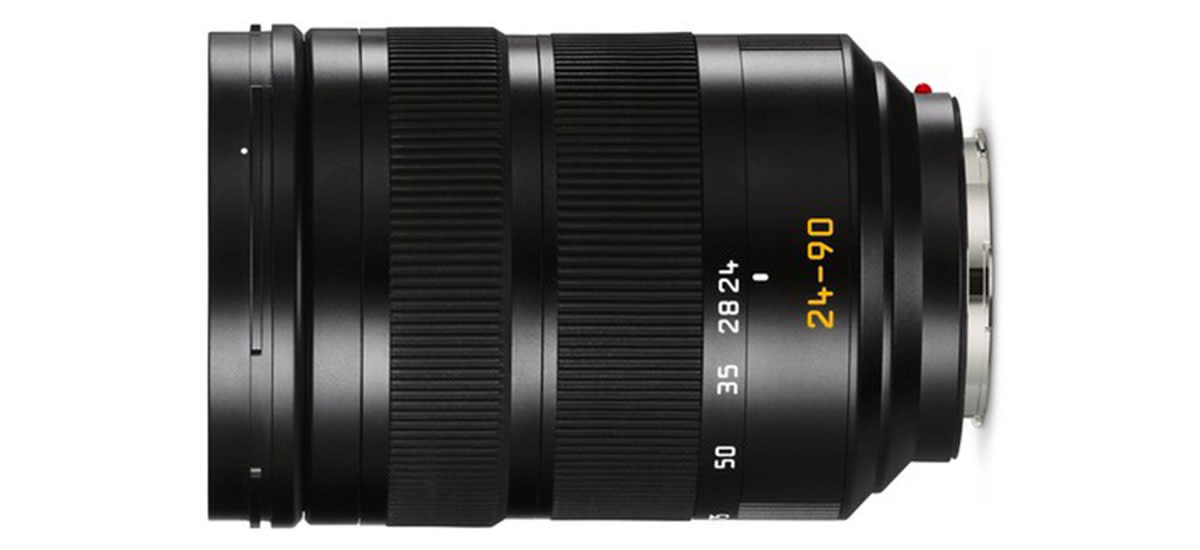 Leica SL 24-90mm f/2.8-4 ASPH
Price: $5,000
This brings us to the most expensive lens on our list, the Leica SL 24-90mm f/2.8-4 ASPH. The gear and technology boasted by Leica is top-quality but will cost a pretty penny (the cheapest Leica you can currently purchase, the Leica X1, is sitting at around $2,000). That brings us to the SL 24-90mm f/2.8. Though it's the only standard-range zoom that Leica has in its portfolio, it's probably the only landscape lens you'd ever need as a Leica shooter. It's great in most lighting conditions and provides a fantastic depth of field. Its smudge-resistant Aquadura Hydrophobic Coating on the front and rear elements makes it extremely durable and protects it from rain, moisture, and dust.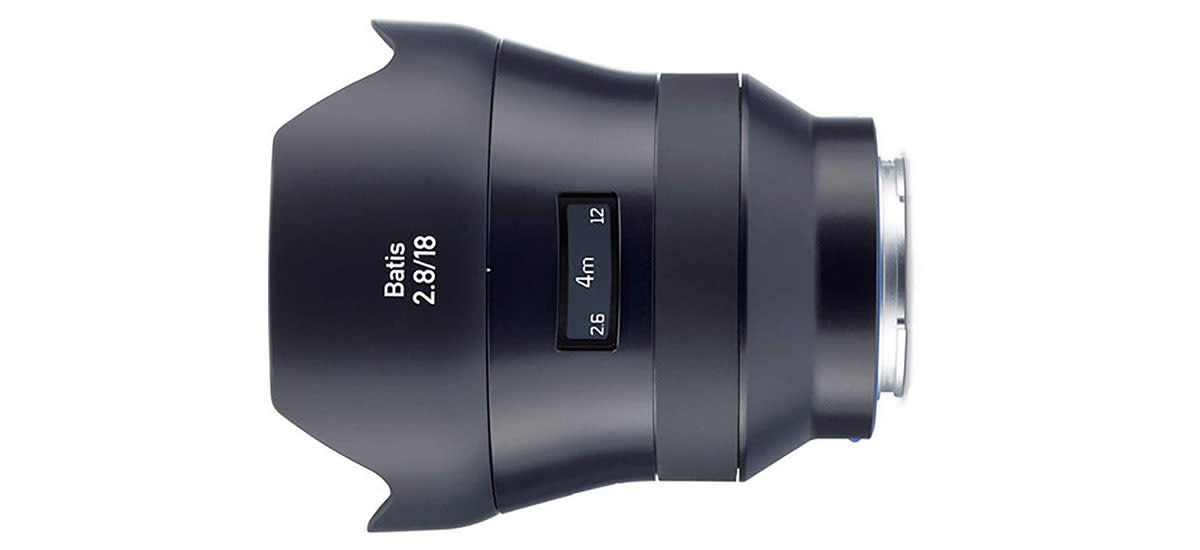 [Zeiss Batis 18mm f/2.8] (https://www.zeiss.com/camera-lenses/us/photography/products/batis-lenses/batis-2818.html)
Price: $1,300
Zeiss is a German optical systems manufacturer that's been around since the mid-1800s and is the daddy of all modern optics, so you better believe it creates some of the best landscape lenses around. The Zeiss Batis 18mm f/2.8 is an e-mount lens that's available for Sony mirrorless cameras and is well known in the photography community as the best ultra wide-angle lens out there for astrophotography, helping photographers create stunning, otherworldly images. As a landscape lens, it produces sharp, high-contrast images with deep colour saturation. It's light and built with all the care and love possible, making it one of the best looking and crafted lenses you can mount onto a Sony.
Because of its weight and image quality, it's ideal for hiking and camping, letting you shoot phenomenal images from sunup to sundown. So wherever your travels take you, the Zeiss Batis 18mm f/2.8 is your perfect travel buddy. Interested in taking some great photos at night? Here are [five tips for good night photography] (/magazine/resources/photography/good-night-photography-tips).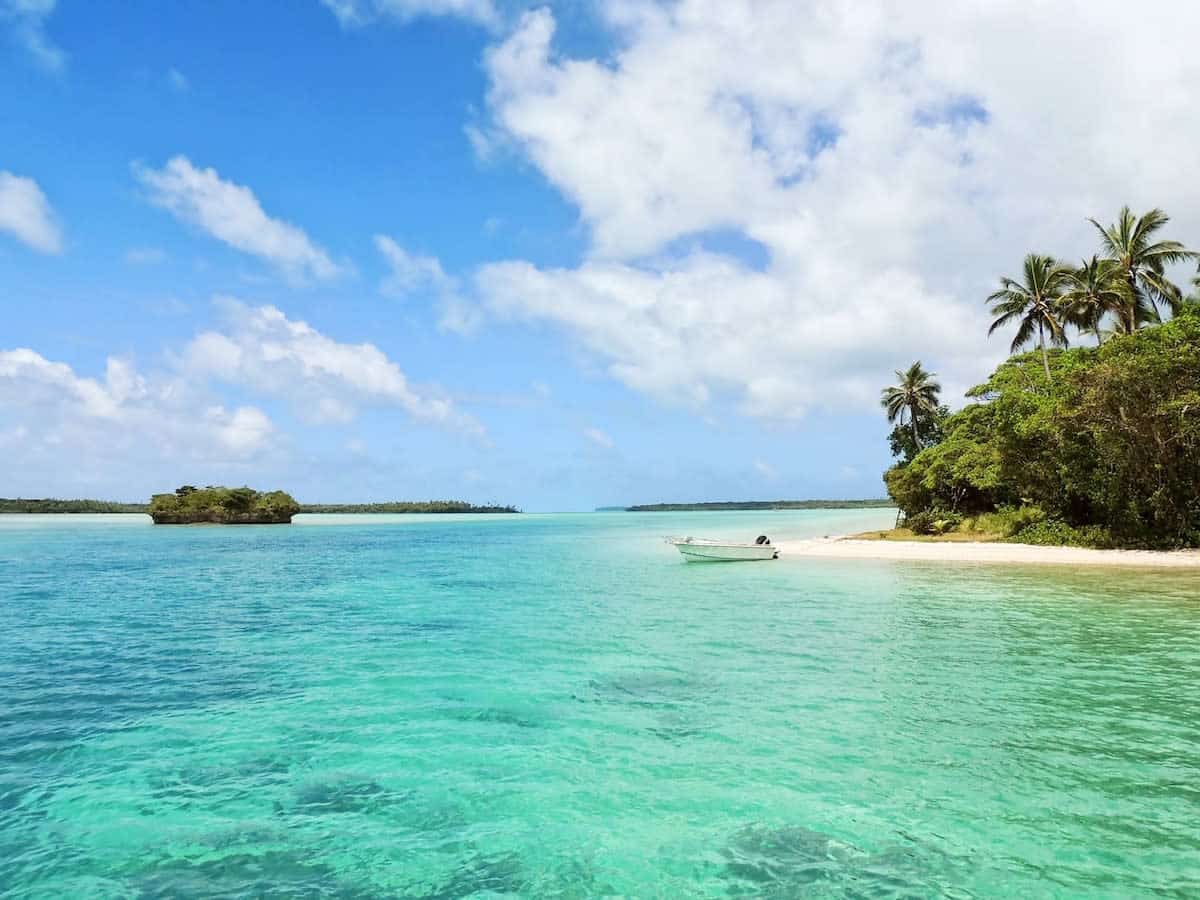 Still got the landscape lens shopping fever? Here are some more options to check out!
[Tamron SP 45mm f/1.8 DI VC USD] (http://www.tamron-usa.com/product/lenses/f013.html)
[Tamron SP 18-200mm f/3.5-6.3 Di II VC] (http://www.tamron-usa.com/product/lenses/b011.html)
[Tonika 14-20mm f/2 Pro DX] (https://tokinausa.com/product/at-x-af-14-20mm-f2-0-pro-dx/)
[Olympus Zuiko 25mm f/1.2] (https://www.getolympus.com/us/en/lenses/pen-omd/m-zuiko-ed-25mm-f1-2-pro.html)
[Panasonic Lumix G 25mm f/1.4] (https://shop.panasonic.com/cameras-and-camcorders/lumix-camera-lenses/H-X025.html)
Don't Forget to Create Your Landscape Portfolio!
Once you have some wonderful landscape photos under your belt, don't hide them on your hard-drive! It's time to add them to your online portfolio website. Don't have one yet? Check out our guide on how to create a stunning landscape photography portfolio.
Choose a website builder that offers killer templates to match your brand identity and a free trial, so you can ensure that it fits your needs.
Make sure to pick one that has an online store built in; this will allow you to sell your amazing landscape photography, right from your site! (Want some more ideas on how to make money on your landscape shots? Check out our guide to [selling your landscape photography online] (/magazine/resources/photography/sell-landscape-photos-online).
Now get back out there and chase that sunset!
Want more landscape photography tips?
Michael Wolf's 5 Tips for Shooting Urban Landscapes
[Lessons from a Photographic Road Trip Across New Zealand] (/magazine/features/photography/lachlan-stumer-new-zealand-road-trip)
[20 Travel Photography Portfolios From Around the World] (/magazine/resources/photography/best-travel-photography-portfolios)