A music portfolio, sometimes called an " electronic press kit," showcases your educational background in music, work experience, performances, and potential. As an artist, the magic may happen on stage and in the studio, but effectively capturing that musical magic for the world to explore is one of the most important parts of marketing yourself as a musician.
Before signing a big record deal, accomplished professionals, music students, and others from across the music business often create an online music portfolio.
If you need a push to get started, you've landed on the right side. We'll guide you through creating a music portfolio website from start to finish without hiring a web designer or needing to learn a lick of code, so you can spend more time focusing on your craft.
Why You Need A Music Portfolio Website
Marketing is an integral part of creating a successful career in music. You can be the most talented vocalist, producer, or instrumentalist, but what does it matter if people don't know you exist?
Whether you're just starting as a stage performer, a music student, or an emerging recording artist, a well-thought-out online portfolio website is one thing that will set you apart from others who are on a similar career path within the ultra-competitive music industry.
Putting together a professional portfolio website can be just the thing to transform your frame of mind from a hobbyist musician to a professional. Investing in the time and money to establish a website proves to yourself and others that you're taking your career in music seriously.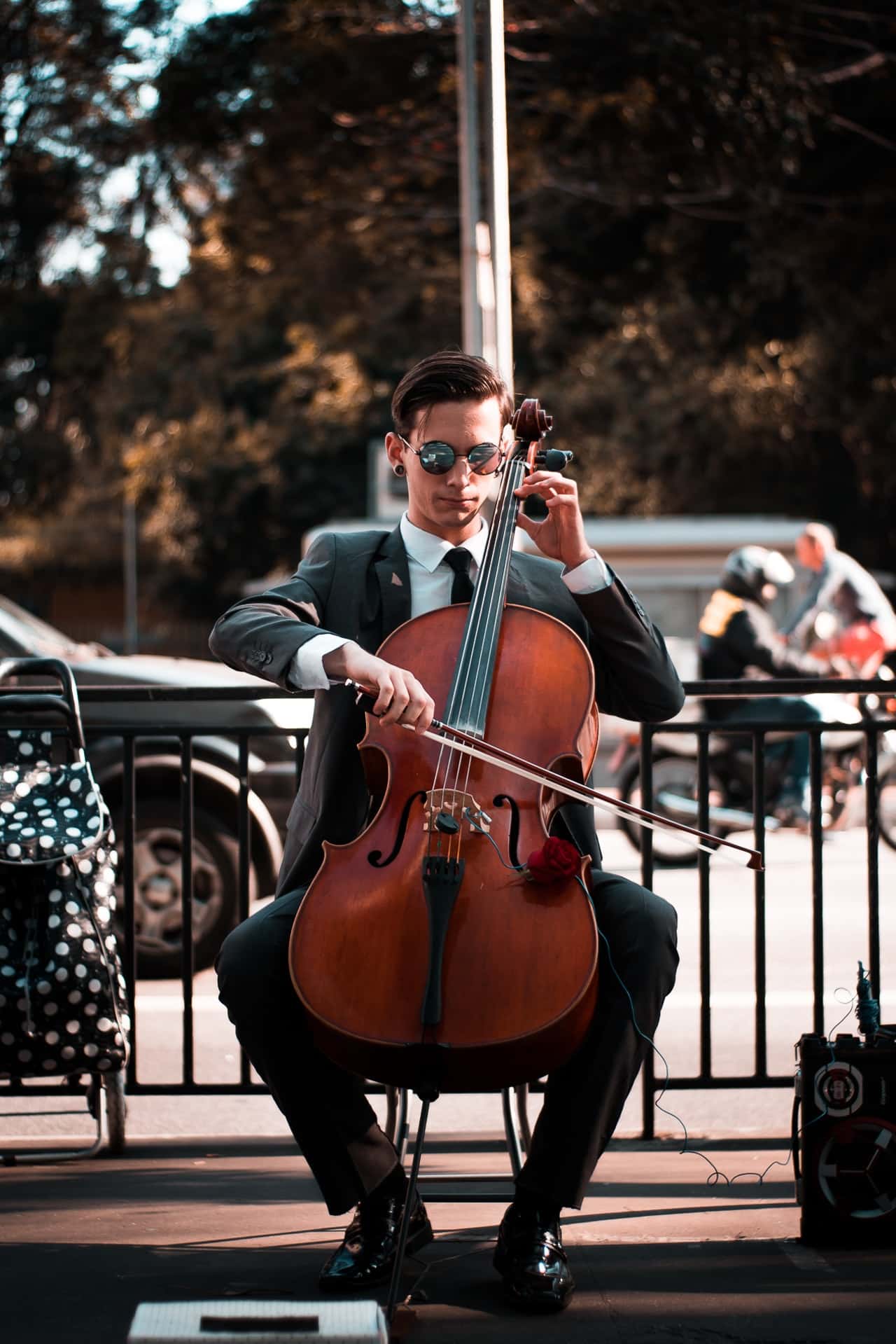 What to Include in Your Online Music Portfolio
The items that make it into your online music portfolio will depend on who you are trying to target.
Before creating your portfolio, it's important to ask yourself who you are creating the portfolio for: a record label, a potential employer, or possibly a music program? Your audience will determine what items are displayed on your site and may affect which template you choose.
Tips For Making Student Music Portfolios
Most musical arts college programs will request a portfolio as part of the admission process.
Each college will have their own portfolio requirements, so creating a checklist of admissions requirements to cross-reference once you've completed the portfolio is crucial.
Here are some tips to help you get started with your music college portfolio :
Get a professional headshot photo. You don't have to pay an arm and a leg to have a professional headshot. Ask a friend with a good eye to take a presentable headshot with their high-end smartphone for your website. Poorly lit and highly edited selfies should be avoided.

Craft a thoughtful artist bio. Keep it short, yet captivating. Write about your inspirations, background in music, and where you aspire to take your career.

Start planning your portfolio early to avoid rushed work. Time block to work on your portfolio weeks or even months before the deadline.
Once admitted, it's important to continually update and add to your portfolio best to reflect your current style and most recent recordings. Updating your work will also allow you to track your progress as a musician.
As a student, you can often feel like the learning process is slow, and a portfolio will assist you in seeing how far you've come in your achievements.
Templates For Students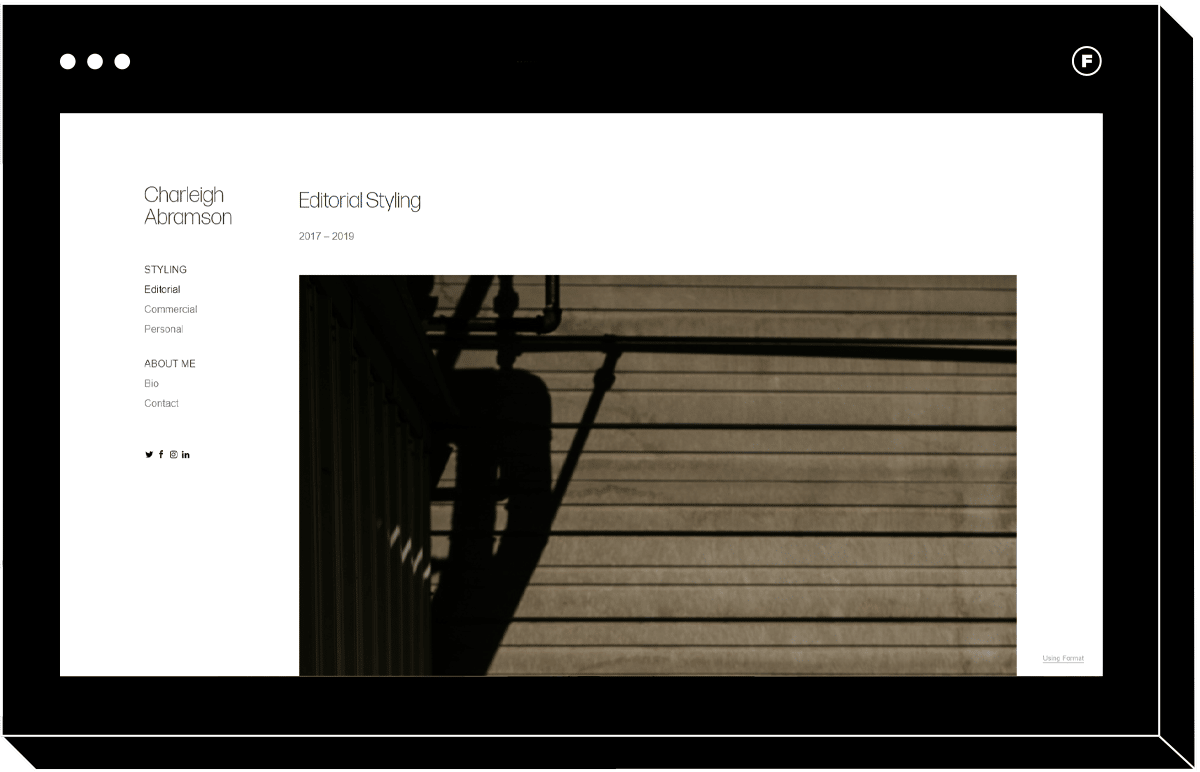 Format Theme: Mode
The template you choose will be dependent on how you want to present your music interests.
Since college administrators are looking through potentially hundreds of portfolios, a student music portfolio template should be simple, straightforward, and easy to navigate.
A simple and sleek vertical scroll template allows students to host all the requirements of a portfolio while offering easy-to-use and customizable navigation. Ensure social media is only integrated if your social media accounts reflect the content of your professional portfolio. Otherwise, consider leaving them out altogether and only including contact information such as a phone number or email address.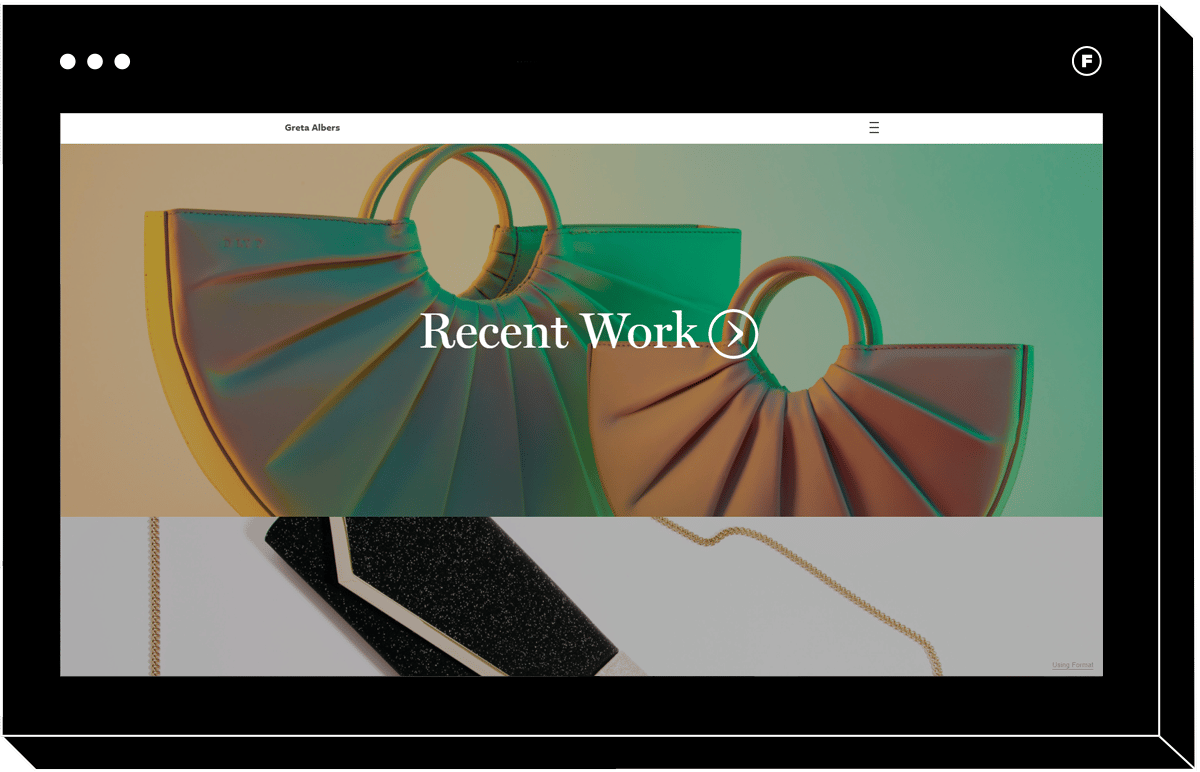 Format Theme: Albers
If you wish to make an instant visual statement with your portfolio, maximize the use of fullscreen templates and wow your visitors with images that spread across their screen.
Categorize your work right on the homepage to make your best projects easily accessible. A subtle menu allows for further categorization. Be sure to update your portfolio frequently to track your progress throughout your time in school.
Up and Coming Musician and Music Professionals Portfolios
You've played shows, recorded a demo, or you may even have quite a few tracks you've worked on solo or with a band.
Up and coming musical talent looking to showcase their work can reach a whole new audience by leveraging their digital portfolios. What's included in your portfolio will depend on the style of music you make and the type of musician you want to establish yourself as.
If you're in a band you will want to include:
The name of the band

A biography with background of the band members

Photos and video of any live performances

A group photo shot by a professional photographer

A list of upcoming tour dates

Merchandise shop

The band social media links
Having a page dedicated to the tracklist of your best songs is also a feature that will familiarize potential fans with the genre of your music.
To keep people engaged on the site longer, ensure tracks do not support autoplay.
Format the playlist to allow visitors to choose which songs they listen to first. Also, consider putting your best tracks near the top of the list to make sure your best work is reflected.
Solo artists will want to include similar elements to a band website, but instead replace a group photo with a headshot and replace the band name with the name they go by as an artist.
Tracks or a demo of solo work should be included and carefully curated to best reflect the genre of music.
Templates for Up and Coming Musicians
Whether you're trying to attract the attention of a potential employer with your work or looking to showcase your songs, the presentation and style of your portfolio could be the difference between landing a gig or heading back to the studio to put in more work.
Unlike building a student portfolio, you may want to develop your page to be a little more eye-catching to draw people in. Now that you're starting to take a career in music more seriously, establishing a recognizable visual brand is key. It's worth investing in a professional photographer for a cohesive website.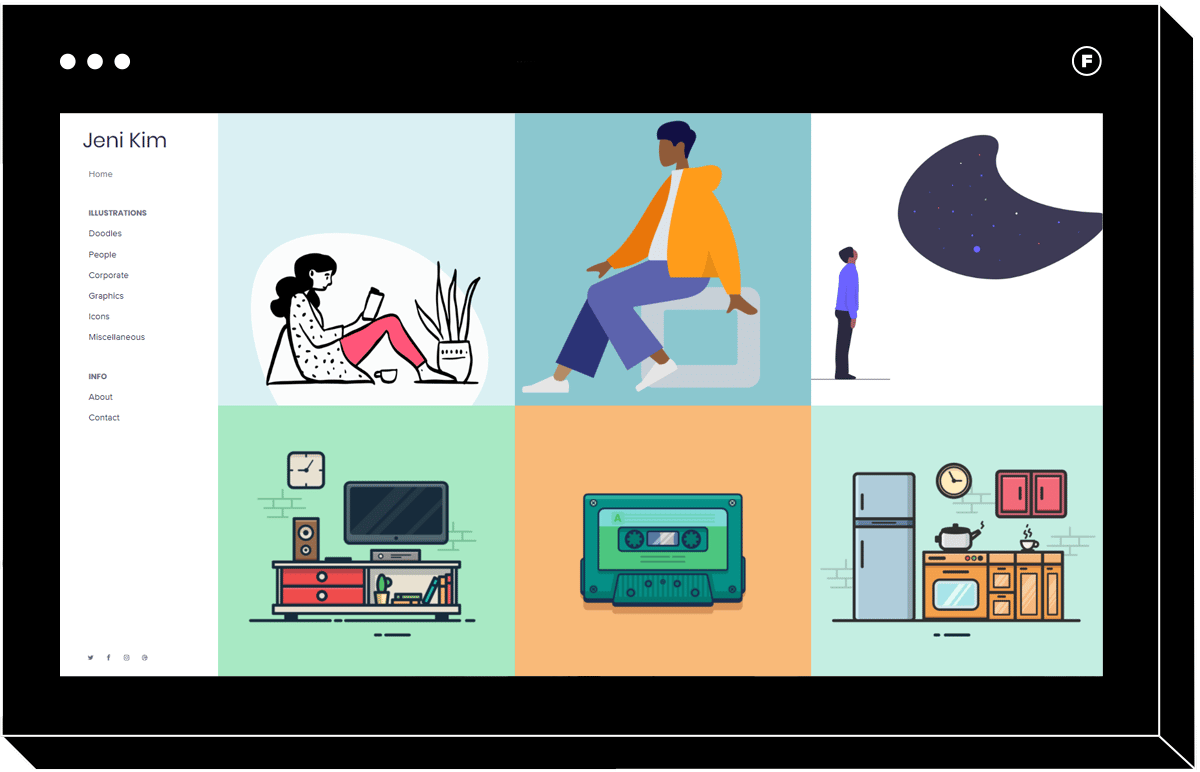 Format Theme: Detail
Image-heavy homepages like those with a tiled layout will allow you to display your work and display your talent creatively and engagingly.
The tiled style of this portfolio template offers a visual way for visitors to navigate your portfolio.
The photo-heavy homepage radiates creativity, and the vertical scroll is easy to browse on both desktop and mobile platforms. Highlight your songs, press kit, cover letter, or other work such as live performances right on your home page via high-quality images.
The layout also gives visitors the option to navigate the site via a menu bar on the left-hand side. Using photos, illustrations, or images with similar color patterns in the home page layout will allow for an enjoyable browsing experience for all visitors, enticing them to stay on the page longer.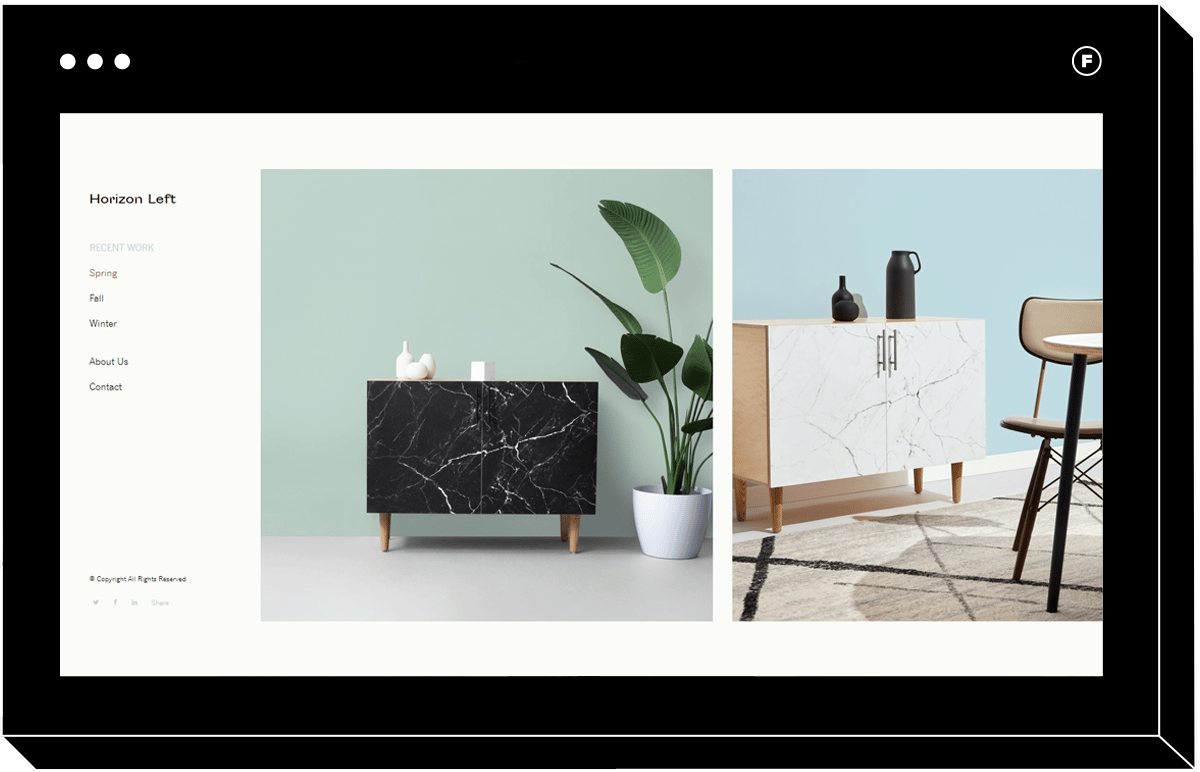 Format Theme: Horizon Left
Horizontal scroll templates also offer the same image-first and visual design as tiled templates, and the style has been used heavily within the music industry.
The popular horizontal left template displays your work in a striking and impressionable way that puts your best work front and center. The menu bar offers simple navigation and does not take away from the most important elements of her portfolio.
Tips For Professional Musician Portfolios
Don't shy away from boasting about your achievements.
Positive album reviews, a press kit, press clippings, tour dates, as well as photos and videos are all assets that you can include in your music portfolio as a music industry professional.
Previewing recordings and exclusive demo tracks for fans will increase the number of people who visit your page as they seek new songs or exclusive content.
Creating a music portfolio is not just for those who are starting.
Whether you're in a band, a solo artist, or work behind the scenes as a producer, a website portfolio will allow others to easily find your business and access the latest information on your music and work as a musician.
Once you've established yourself as a musician or music industry professional in a competitive business, you will still need a site for others to track your flourishing career.
Templates for Professional Musicians
Once you've gathered all the content you want to include in your music portfolio, you will need to decide on which template will display your work in a way that best reflects your brand.
Format website templates include several layouts used by professional musicians to keep fans up to date on some of their latest work, and sell merchandise and tickets directly on the site. A vertical scroll style template will allow you to neatly fit in all the elements you need to portray yourself as an accomplished and professional musician.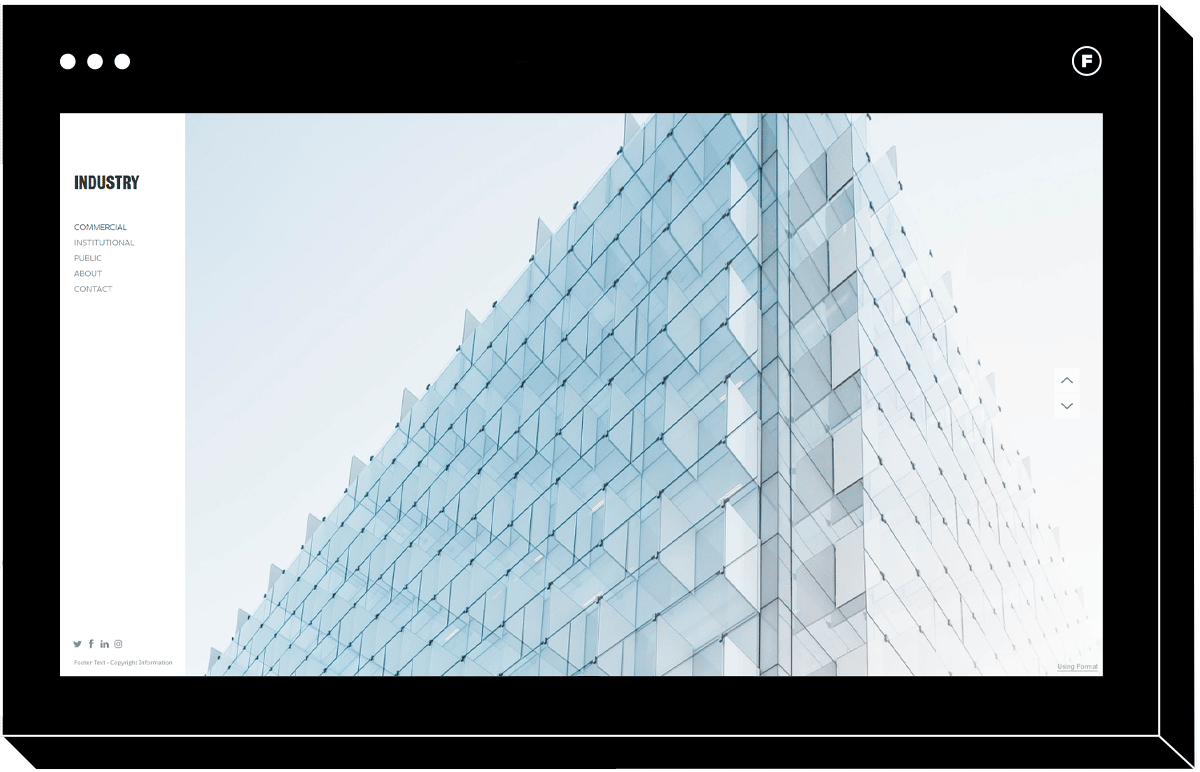 Format Template: Industry
You can create a well-rounded music portfolio with the template by including a biography, a list of tour dates, videos of live performances, photos, as well as social media integration.
Visitors are greeted by a gallery of vertical scroll photos, which sets a mood for Shanice's brand as a musician. Offering music lessons in addition to her work as a professional musician, Shanice has a useful contact form that allows potential students to contact her for her services. The addition of a press kit, demos, or recordings could enhance Shanice's portfolio even further.
How To Make A Music Portfolio (AKA Your Musical Resume) With Format
A musician portfolio website displays the range of your talent, can help you book events, sell merchandise, and connect with your fans. The good news is that learning how to create a music portfolio is easier than ever when you're using a website builder designed for creative professionals like Format.
Format has over 70+ beautifully designed templates for creative professionals of all backgrounds. These website themes are easy to navigate, have a drag and drop interface, and allows complete customization, so no two websites are ever the same.
Format's intelligent website themes give you the freedom to establish your brand identity as a musician without having to understand the technicalities of coding, social media integration, or search engine optimization to make your website a powerful marketing tool.
Once you've decided to embark on the journey to creating an online music portfolio, you're likely left wondering what it takes to put together a portfolio that will get record labels and audiences clicking for your contact information.
This guide will walk you through how to make an online music portfolio and include important decisions such as what to include in your music portfolio, choosing the right type of template, and things to avoid when displaying your work.
Get Started On Your Music Portfolio Website
Hopefully these tips and showcased templates have given you some inspiration on how to make a musician portfolio. Once you've outlined the steps, chosen your website templates, and created a cohesive branded identity for you and your brand, it's publishing your website can be done in as little as an afternoon.
You can try any of the Format templates free, with no credit card required for 14-days. If you're looking to take your music career to the next level, you'll need to show up with A-game for marketing too, and your website is the best way to get started.
More articles to help you build your online portfolio:
Update Your Portfolio: 6 Tips to Spring Clean Your Career & Portfolio
10 Music Photographers You Should Know About