The wedding industry is currently undergoing a major boom. After two long years of canceled and rescheduled events due to the COVID-19 pandemic, more couples than ever are feeling the itch to (finally) walk down the aisle.
For photographers, this means more sales and income, but it also means a bigger workload packed into the same amount of time.
Don't forget, photographing a wedding post-COVID is the same amount of work, but there are still only 365 days of the year. The loss of income experienced during COVID combined with the current demand for wedding photographers is leading photographers to feel burnt out, overworked, and in some cases, less capable of performing their job to their high standards.
We want to avoid this.
To do so, getting clear about how the wedding industry has changed, what couples expect from their photographer, and how you can optimize your photographer workflow with specialized tools can all help with increasing your sales without burn-out, as well as improving your clients' experiences with your wedding photography business.
If you're a wedding photographer, you know how challenging things have been and how much income was lost due to rescheduled weddings and other COVID-related issues. Now is the time to take action and make up for that lost revenue while implementing processes to stay on top of the workload. And if you're a photographer that specializes in another type of photography and maybe you've considered shooting weddings in the past, but thought there are too many barriers to get into it, now is the time to make some changes to your business, try out a new photography type, and capitalize on the ingress of wedding work that is currently happening.
How has the wedding industry changed post-COVID?
With a 15% to 30% increase in the number of couples tying the knot in 2022, it doesn't shock us that photographers are scrambling to keep up. Because of this, being on top of the industry and understanding couples' wants is more important than ever.
Not only do you need to understand the style of wedding you'll be shooting, but you also need to understand that working with couples will be different in a post-COVID world. Whether it be couples who feel discouraged because of multiple canceled events, couples who have gone outside their budget, or couples who have expanded their families during the pandemic, the wedding industry has changed significantly.
Here are some of the major changes that wedding photographers should be aware of:
1. A new preference for intimate weddings (micro weddings)
With some couples waiting more than two years to say "I do", you'll find that many are opting for smaller, more intimate weddings. Think of these micro-weddings as the happy medium between an elopement and a more traditional wedding. Everything is a little less extravagant than your typical wedding, but there is still a ceremony and some type of reception to photograph.
In fact, with micro-weddings, the biggest change is going to be the guest list, meaning as the photographer, you still need to photograph all the typical things you normally would, but you might not have a huge bridal party or guest-packed reception at the end of the night.
Knowing that micro-weddings are more manageable for a single photographer you may opt to forgo hiring a second photographer or an assistant for the wedding day. That being said, shooting a wedding is only half the job. If you want to maximize how many weddings you can take on, consider outsourcing your post-production work.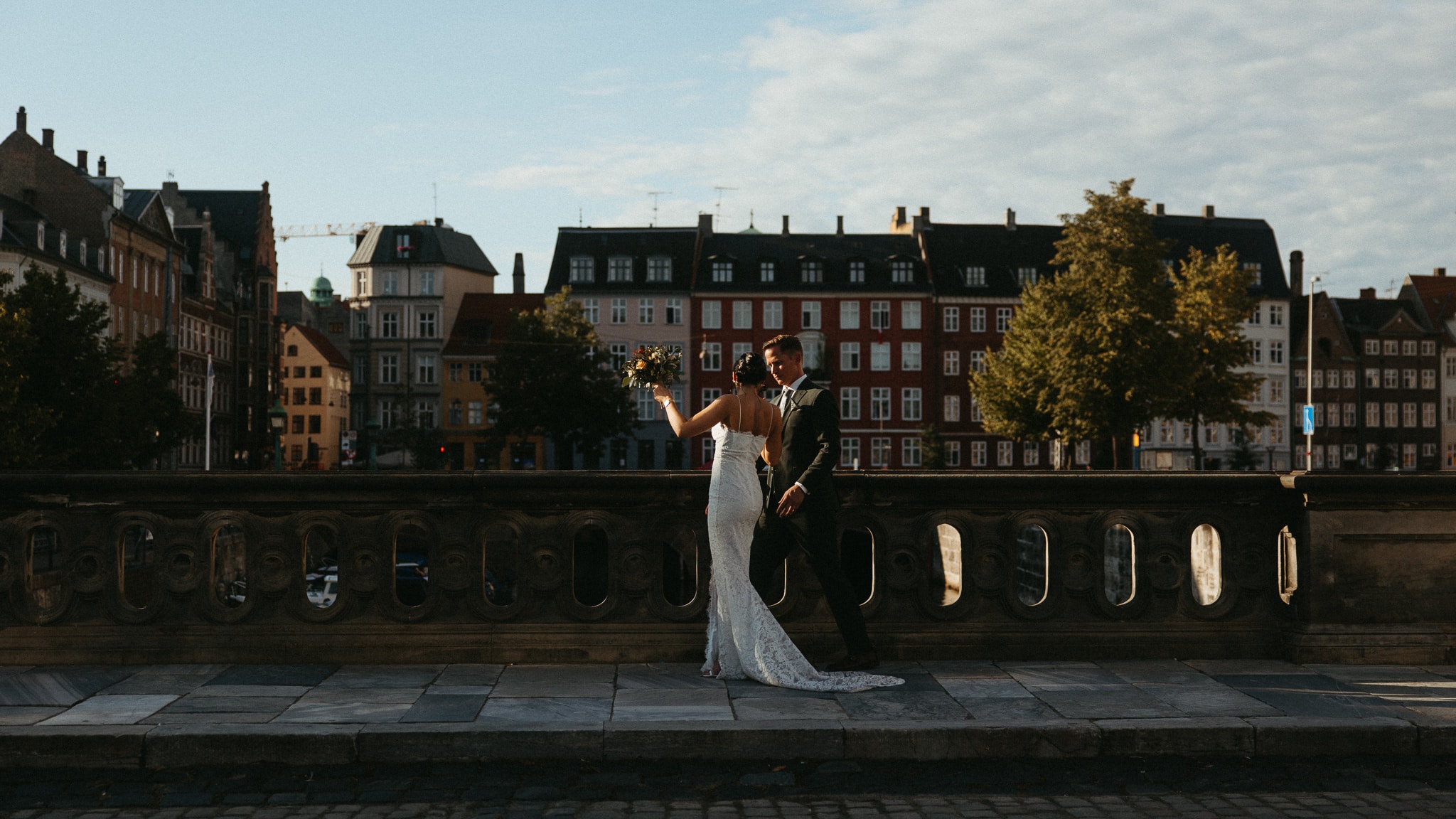 Photo Credit: Michael Bennati
2. Courthouse weddings and elopements have risen
Similar to micro-wedding, some couples are opting out of a traditional wedding entirely, and instead are going the route of a courthouse wedding or elopement.
With this trend in mind, some photographers are choosing to specifically tailor their services to this style of wedding.
Couples still want pictures of their special day, but without a wedding party or big reception, there is significantly less for you to photograph, giving you freedom to book more weddings. Some couples are also opting for adventure-style elopements that include a wild or exotic location, and you as the photographer are along for the ride to document the adventure of the day.
Keep in mind that this style of photography can require some travel if the couple chooses to elope in a city/country other than their hometown. In addition, because there is less work for you, you also will likely charge less. Deciding if this works for you will be dependent on your financial goals, and how much you want to work.
Photo credit: Inez J Photo
3. Going all out with bigger parties
Micro-weddings and elopements are certainly a trend, but on the opposite end of the spectrum, there's also a trend where couples are going all out with their celebration now that they are able to have the wedding of their dreams.
With these clients, it's important to remember that they have likely had to cancel their wedding multiple times. If they are still planning a large, extravagant wedding, their expectations for photos are going to be high.
While you, of course, should always aim to deliver the highest quality work possible, with these types of clients, it's more important than ever to provide a seamless client experience before, during, and after the wedding day.
Also, don't forget, with these larger weddings, you should plan accordingly (i.e. hire a second photographer or an assistant, consider offering drone footage and video, shoot with two cameras, etc.)
4. Higher prices across the board
With the increase in demand in the wedding industry, we've also seen a significant increase in the average wedding cost. Whether it be the venue, food, flowers, or attire, many couples are feeling the spike in prices.
As a photographer, this can mean one of two things:
You can increase your prices to go along with the rest of the hike in the wedding industry. With the cost of living going up, this might be helpful for you on a personal level. It also might help you with booking fewer weddings, while still making a profit. Increasing prices can also help you cover the costs of outsourcing, leaving you with time to book more weddings.
Alternatively, if your expenses haven't gone up dramatically since COVID, you might find you don't need to increase prices dramatically. This will appeal to couples who have either gone over their budget in other areas or who are having a micro-wedding with a smaller budget.
Bottom line: you need to decide what kind of client you want to serve, how much you want to work, and whether or not you are comfortable outsourcing work.
5. Babies have entered the picture
Just because couples were forced to delay their weddings does not mean every couple was willing to delay starting a family. For some, babies have entered the family during the pandemic and will now be a part of the upcoming wedding.
In this case, you might not be photographing the typical bridal parties you were accustomed to pre-COVID, and you might instead be photographing a family with young children. If this is the case, different poses and styles will likely need to be utilized in some of your shoots. To prepare for this, you may want to get some experience with family photography so you can maintain your usual savvy efficiency during group posing, no matter what the children and babies throw your way.
6. Missing loved ones
Speaking of families changing during the pandemic, while some families experienced the growth of their family, some also experienced loss.
Whether it be an immediate family member or friend, as a photographer, it is good to be aware of any major losses the couple has undergone during the time when their wedding was postponed.
This is where really taking the time to know your couple prior to the big day can help you with capturing special moments that the couple will cherish for a lifetime. Don't underestimate this when it comes to the couple's satisfaction with your photos.
7. Weekday weddings
Because of this wedding boom, we're seeing more and more weddings scheduled on weekdays. Remember, there are only so many weekends in a given year, and with a larger than average number of people tying the knot, couples are having to book weekdays if they want to celebrate at their preferred venue.
For photographers, this is important information to be aware of because it will directly impact your working hours.
For most wedding photographers, weekends have always been prime time for weddings, but in 2022, we suggest clearing your calendar, or at the very least, being open to working on a weekday if that is when your client plans on having their wedding.
How can you streamline your business to take on more clients?
Now that you know what to expect, you need to know how to handle this increase in demand so you can deliver the same level of quality to your clients.
Photo credit: Inez J Photo
Here are some tips we recommend implementing to help you deal with the wedding boom:
1. Hire assistants or second shooters
We touched on this briefly, but hiring a second photographer can be extremely helpful during a busy wedding season. This is particularly true if you're shooting a large wedding.
Don't forget, you're only one person. If your clients want a lot of candid photos taken throughout the evening, you can only be in so many places at once, meaning you are inevitably going to miss important moments that could have made for great photos. Having a second shooter alongside you means that you can focus on the images you need to capture while they can make sure to capture alternate angles, and candid moments, or you can split up to capture different things that are happening at the same time.
Having an assistant to help you out throughout the day can also be a life saver. They can help when you need to quickly swap lenses, carry gear, set up lighting, help keep things moving smoothly during family photos and so much more. While an assistant won't necessarily free up your time in terms of how many weddings you're able to book since you'll need to be present regardless, having an assistant can make the day itself much less stressful and chaotic.
2. Outsource work
If you're not struggling with feeling busy during the actual day of the wedding, but you're struggling to keep up with the backend of the business, this is a great opportunity to hire some help so you can focus on what matters the most.
For some, this might mean outsourcing editing. There are a lot of services available to photographers where a dedicated retoucher will edit your entire wedding gallery so you can spend more time with your clients and booking new work.
For others who don't want to give up creative control, it might mean hiring an assistant who can take care of things like scheduling, accounting, and social media management.
Consider how much your time is worth, and how much it would cost you to have someone else do that work. Often, the balance tips in favor of outsourcing the work.
3. Market accordingly
With so much demand for photographers, you might find that you have more freedom to be picky about what kinds of weddings you want to photograph.
For instance, do you thrive on shooting small, intimate weddings? Perhaps specifically marketing your services to these styles of weddings would be beneficial. You could even specifically market to elopements and courthouse weddings if you're interested in these more intimate styles.
This is where having a wedding photography website can be beneficial. Not only does it allow you to display your wedding photography portfolio so clients can see the type of work you've shot in the past, but it also gives you the chance to share a bit about yourself, your prices, your offerings, and your availability.
Keeping your website up to date and specifically designed to target a certain kind of clientele will likely make for a much more pleasant working experience.
Tools you can use for a better client experience
As a business owner, you might be tempted to have control and do everything on your own, but if you want to provide the best service possible to your clients, this likely won't be possible.
Photo credit: Adam Lloyd Wilson
While you don't necessarily need to hire anyone, you should be open to utilizing tools and technology that can help with your wedding photographer workflow.
Here are some of our favorite tools and features that we recommend implementing:
1. Online scheduling tools
Because there is such a strong demand for photographers right now, you want to make it easier than ever for potential clients to book your services.
If clients are obligated to contact you directly and you happen to miss their call, you could lose the opportunity to book them. In addition, if a competitor has online booking that makes scheduling as easy as a click of a button, there's a good chance the client will end up going with the competitor rather than you.
Online booking also makes things easier for you. It keeps things organized, it ensures you don't double book, and having weddings, consultations, and other sessions added to your calendar automatically means you don't have to worry that you're going to accidentally forget to schedule someone in.
Using an online scheduling tool that also collects deposits or full payment for your services simplifies your photographer workflow and provides a more seamless experience for your client. It's a win-win.
2. Efficient uploading tools
Gone are the days when you would deliver images through a CD or USB drive.
Not only is this not practical because of file sizes and the sheer number of photos that are often taken during a typical wedding, but it also is outdated and no longer the most professional form of image delivery.
A portfolio website that integrates bulk desktop uploading and options for utilizing your existing workflows with a LR plugin is another great way to streamline. Tools like these allow you to bulk upload your images directly to your secure client galleries or portfolio, simplifying your process and allowing you to easily deliver images in a customized and professional manner. Additional gallery proofing features that allow clients to highlight their favorites and share feedback make giving a great client experience easier than ever.
Online client proofing.
Galleries that allow selection of client favorites and commenting are great for lots of reasons, one of which is that your clients are able to provide feedback on the images at their convenience. Perhaps the client loves a picture but there is something in the background of the image that is distracting. When the client has this commenting ability, they can quickly inform you of this and you can provide edits accordingly. This tends to be much faster and more convenient than sitting down and going through each individual photo together.
In addition, favorites allow the clients to gather all their top images into one place, which is convenient when deciding on which images they want to print to share with family or to put into a wedding album as a keepsake.
Another time-saving tool is one that allows clients to sort through images by faces, and quickly locate ones of a particular person they may be looking for (i.e. trying to find images of themselves with grandma from the big day). This is particularly convenient for large weddings where there might be hundreds of pictures to go through.
3. Convenient ordering with integrated professional print lab
More than likely, your clients are going to have pictures they want to get printed. This is especially true of newborn sessions, family photography, weddings, and senior photos.
In the past, this might have meant coordinating with the client to figure out which images they wanted to get printed, what sizes, and whether or not they wanted frames. For some, it might have even meant simply referring the client to a quality place where they could get prints made. As a photographer, this wouldn't have been your job.
These days, though, in order to make the client experience more seamless and stress-free, it is common for photographers to offer printing services in the most convenient manner possible. Choosing a portfolio and client website which has built-in e-commerce abilities and professional printing partners for top tier quality and order fulfillment will save you time while making your clients happy.
As the client, benefits of online galleries with selling are:
Going through photo galleries at their own pace in the comfort of their home.
Sorting images based on favorites.
Providing feedback with comments on individual images.
Previewing and buying their favorite images in a customized shopping experience, including digital downloads, standard and framed prints, canvases, and any item you as the photographer want to offer.
Family and friends around the world can log on and get the instant gratification of seeing their images.
Quickly and easily see all the images and their prices in one convenient location, so they're able to order prints immediately while the excitement is at its highest.
As the photographer, benefits of online galleries with selling are:
Creating your own custom price list with integrated options including standard and framed prints, canvases, metal prints, digital downloads, as well as any items you as the photographer want to self-fulfill.
Setting your own prices
Creating photo packages with combinations of your offered items (which can lead to more sales/profit.)
Providing a convenient method for delivering "free" digital downloads that may have been included in your service package.
A stress-free way to present images for client convenience.
Automatic payment collection for all integrated items during client checkout, including automated payouts of your profits.
Bottom line: If you want to improve your photographer workflow and provide clients with the most professional service possible, using a gallery with online selling can significantly help.
Are you ready to improve your wedding photography business during the wedding boom?
These last two years have been challenging for wedding photographers.
With weddings in short supply, many wedding photographers were forced to think outside the box and adapt their business models.
Today, though, wedding photographers are having the opposite experience. There is no shortage of demand, and that means getting organized, intentional, and informed about all that is going on in the wedding industry.
Stay up to date and don't forget to implement some of these convenient tools and features into your business model.
Do this and you're one step ahead of the game.
Header image Photo credit: AKINTAYOTIMI