Every professional videographer starts with an online portfolio. Even famous photographers had to make a name for themselves and work their way up to larger clients. In order to get a shot at exciting projects, you need to be armed with an impactful and memorable video portfolio that showcases your skills and experience. This article will help you compile the right contents for your video portfolio to help you stand out in the industry.
What Is a Video Portfolio?
A video portfolio is a showcase of the body of work a videographer uses when looking to secure freelance jobs. The body of work lives in an online portfolio under the videographer's professional brand.
How To Decide What To Include In My Video Portfolio Website?
It's important to be selective when deciding what to include in your portfolio. This is because the type of work you associate with your brand sets the stage for adjacent projects based on your experience. When considering what work to include, there are two important things to consider:
1. Your Audience
Whose attention are you looking to attract with your portfolio? Most videographers specialize in a specific type of content, such as documentary, commercial, corporate, drone, or event videography. As a result, you should tailor the content you include in your online portfolio and how you talk about yourself to suit the needs of the audience you are looking to target.
2. Your Niche
Is there a specialized area of videography you want to work in? As mentioned above, there are many genres within this creative field. The type of work you include should build a case for your expertise in a specific area. For example, if you are interested in event photography, this work should be the primary focus of your online portfolio.
Answering who your target audience is, and what niche you want to specialize in will help you select the material to include in your portfolio. A cohesive portfolio that focuses on a few types of videography can help build credibility and encourage potential clients to reach out.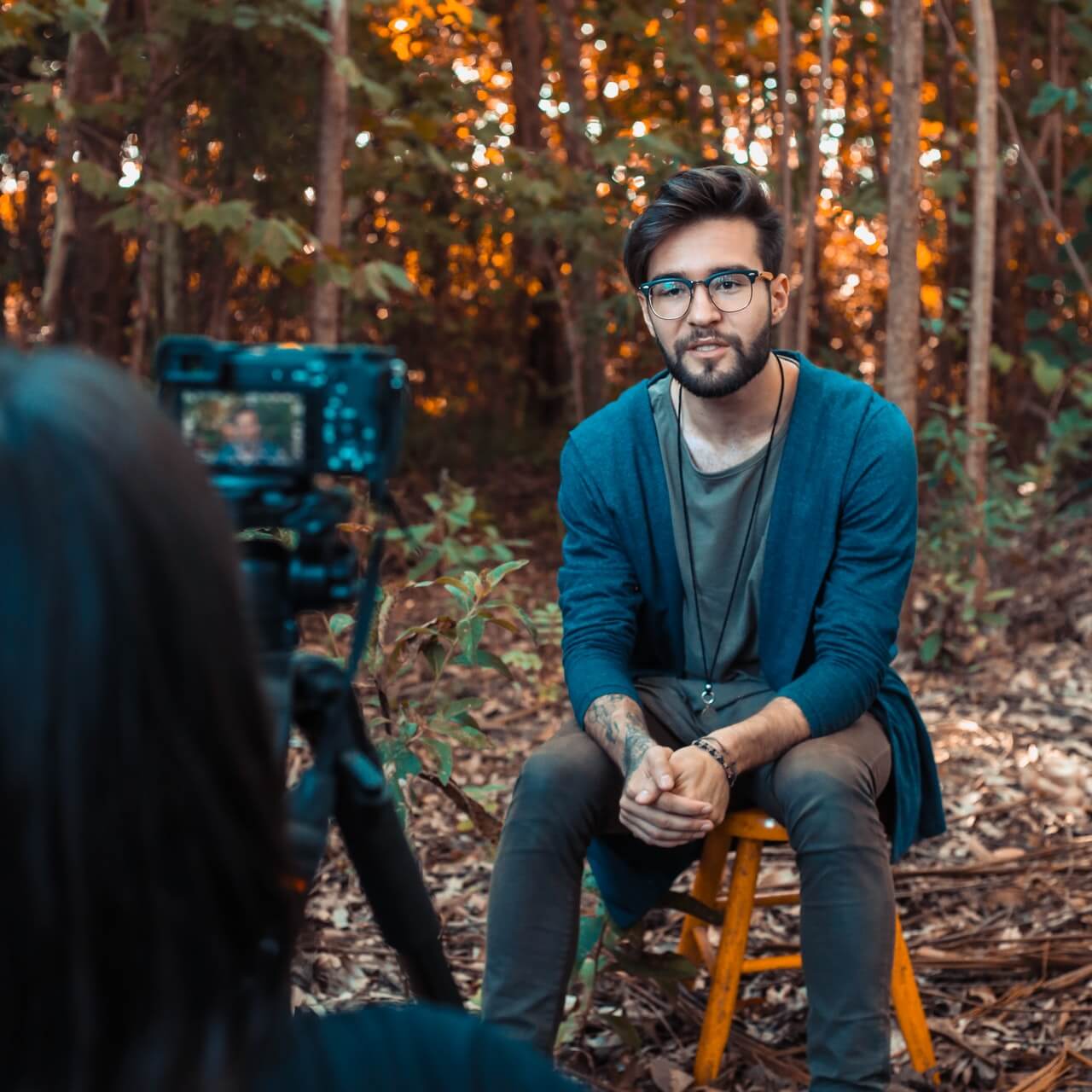 How Many Pieces of Work Should I Include In My Portfolio?
Generally, there is no hard and fast rule for how much work to include in your portfolio. A body of work that does its job of displaying your skillset persuasively enough to get potential clients and production managers to reach out is a perfect size.
However, a guideline for the length of a video sizzle reel, which is a complication of snippets from your best work, is anywhere from 30-120 seconds. If you're also including a gallery of work, 7-10 additional pieces are sufficient in many cases. No matter how much work you choose to include, the final body of work should accurately represent your style and the type of work you want to do in the future. For example, if you want to shoot primarily commercial work, ensure that the majority of pieces in your portfolio reflect this inclination.
Starting out, you may find that your current body of work may make it difficult to include 10 pieces of work and a 2-minute sizzle reel in your portfolio. It's okay to start small and add quality pieces as projects come in. In addition, there are ways you can be proactive about attracting clients to help you populate your portfolio.
How Can I Attract More Clients for My Videography Business?
If you're just starting out, building a body of work to attract clients may seem intimidating. Great portfolios aren't built overnight. Give yourself 6-12 months in which to aggressively build your portfolio. Here are some ways that may make building your portfolio easier:
Include spec personal work – One way to add more body to your online portfolio is to include video passion projects. These can cover any subject or can be related to the type of client work you hope to attract. In addition, you can include spec work as part of your portfolio. Spec work means work not meant to be aired that you create to attract a specific type of client.
Temporarily reduce your fee – Many videographers suggest doing work for a reduced fee or free of charge when you're still building your credibility in the profession. While clients may be hesitant to trust your skills when you have less experience, lowering rates can incentivize them to take the plunge. In addition, this approach has the added bonus of helping manage expectations while you are still learning.
Even if you take on work for free, you should get into the habit of signing a contract with your clients every time you enter into a professional relationship.
Shadow an expert – Videographers with years of experience in the industry have in-depth knowledge about nuances of the creative process beneficial to those starting out. Research videographers in your area and when you find one whose work style is complementary to yours, offer to help them in the studio or with post-editing and include the projects you're involved with in your portfolio.
While including a range of work in your portfolio is important, don't get discouraged if you aren't able to display the exact type of work or the quality of work you want to do right away. It can be easy to compare your portfolio to those of more established videographers, but it's important to remember that professionals with more years of experience in the industry did the work over that period to grow their skills and client base in order to get there.
What Are Some Ways To Organize a Video Portfolio?
There are two ways to approach presenting your work in a video portfolio. The first one is to lead with a video sizzle reel, also known as a demo reel, which is a compilation of your best work. The second one is to showcase snippets of different projects in a series of galleries.
As someone just starting out, you may want to consider selecting a portfolio template that accommodates multiple galleries to separate the different types of work you want to display. Alternatively, you can separate different streams of work across multiple video portfolios if your audiences are drastically different. For example, a drone videographer may want to target a different client base than a documentarian, in which case it makes sense to create two different brand identities and house each business stream in a separate portfolio.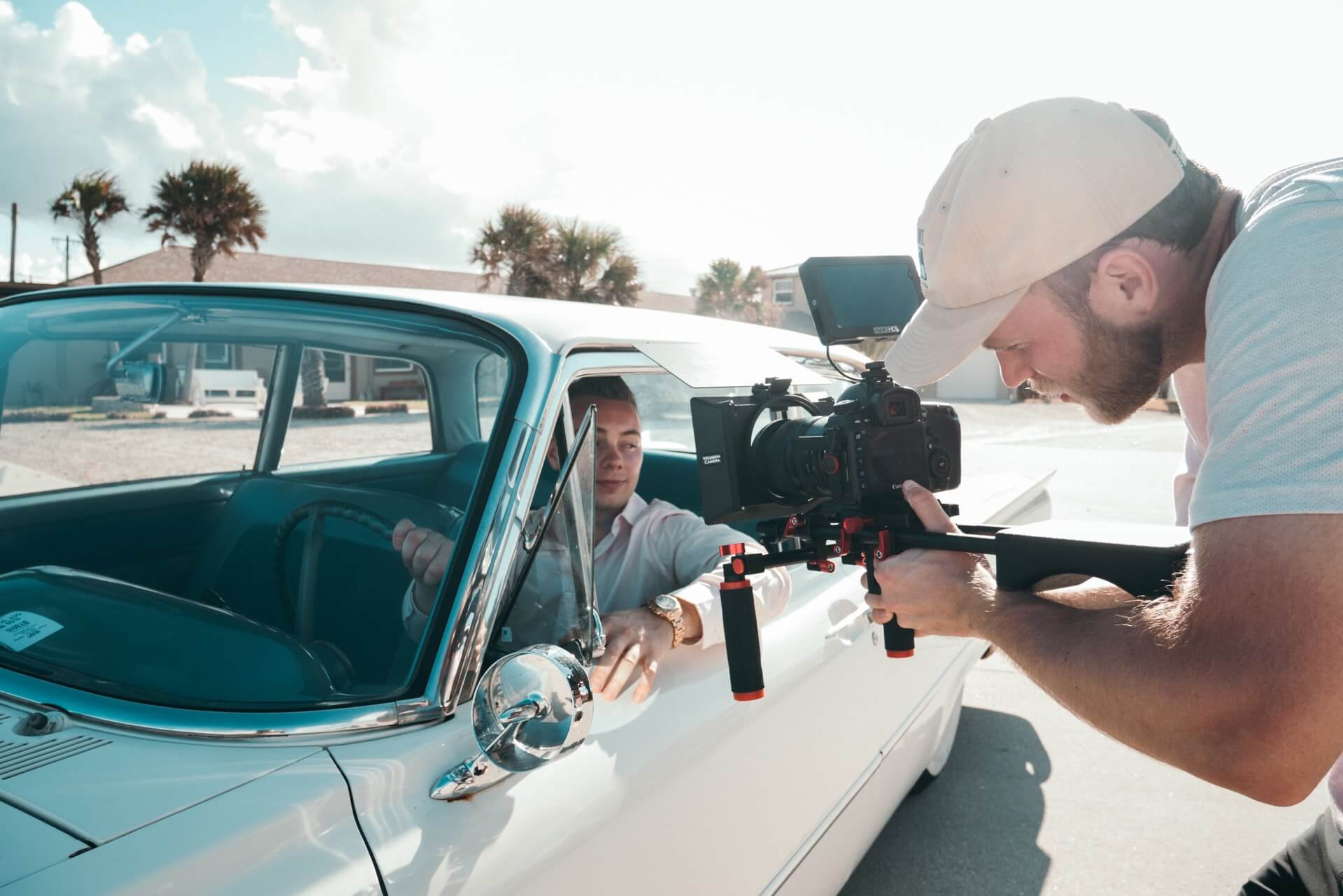 What Should I Include in My Video Portfolio?
No matter what type of videography you specialize in, most video portfolios have four primary elements:
1. Your Best Work
The average amount of time spent on a website is 2 minutes 17 seconds1. This is why many creative professionals make sure that a "sizzle reel" greets their portfolio visitors as soon as they land on their website. The short amount of time an average visitor spends on a website is also why the work you want your visitors to remember you by should be placed higher up in your layout instead of placing it "below the fold" or making it hard to find.
2. Variety of Pieces
In addition to a demo reel that includes snippets of your best work, it's smart to include larger excerpts on your portfolio that allow potential clients to get a deeper look into the scope of the projects you have been involved with. Including a broad range of work means clients can also keep you in mind for future projects down the road.
3. Behind the Scenes
Including behind-the-scenes captures of your projects can give clients a glimpse of your work style, and can even lead to contracts of hiring behind-the-scenes videography projects. This type of film is especially popular with up-and-coming social media influencers.
4. Your Personal Brand
A complete portfolio includes a brand identity that encompasses the creative professional's brand. While a logo is table stakes for a professional brand identity, additional elements like fonts and secondary palettes also come into play. To attract higher-caliber clients, take time to develop your personal portfolio logo that will be part of your layout.
5. Prominent Call to Actions
At the end of the day, your video portfolio's purpose is to act as your calling card. As a result, it's important to include a contact section in your portfolio that prompts clients to reach out to you to discuss their specific project needs.
If you keep these elements in mind when compiling your online video portfolio, you will be in a good position to compete with other videographers with a professional presence.
What Type of Video Portfolio Template Should I Use?
Selecting an intuitive website builder that allows you to customize your layout is one of the most important decisions you can make when getting started with a videography portfolio. Format offers dozens of responsive online portfolio templates that allow embedding YouTube and Vimeo videos straight to your site, and you're never tied to your template.
As your business grows, you can take advantage of Format's Pro add-ons, which allow you to set up a store for merch, optimize your site for better search engine performance, and integrate your social media accounts into your website.
Getting Started In Videography
Breaking out into videography can seem daunting, but armed with a strong portfolio, you can feel ready to take the first step with confidence. While online video portfolios can range from abstract to highly functional, stepping into this field with an established personal brand, audience, and niche in mind can help you narrow down the type of work best suited to your portfolio.
Check out these additional articles to take your videography to the next level:
11 Best Video LUTs for Videographers and Photographers
Take Your Video To The Next Level With These 10 Great Gimbals