Aspiring tattoo artists can make a strong impression on potential employers and other artists with a great online portfolio. To become a tattoo artist you will need to have strong drawing and people skills, able to connect with a client's vision and execute it successfully. The tattoo industry is competitive, particularly with the rise of social media and so many emerging tattoo artists showing off their work online. Stand out from the pack with an impressive tattoo portfolio that highlights your best artwork and helps you land a coveted apprenticeship at a tattoo shop.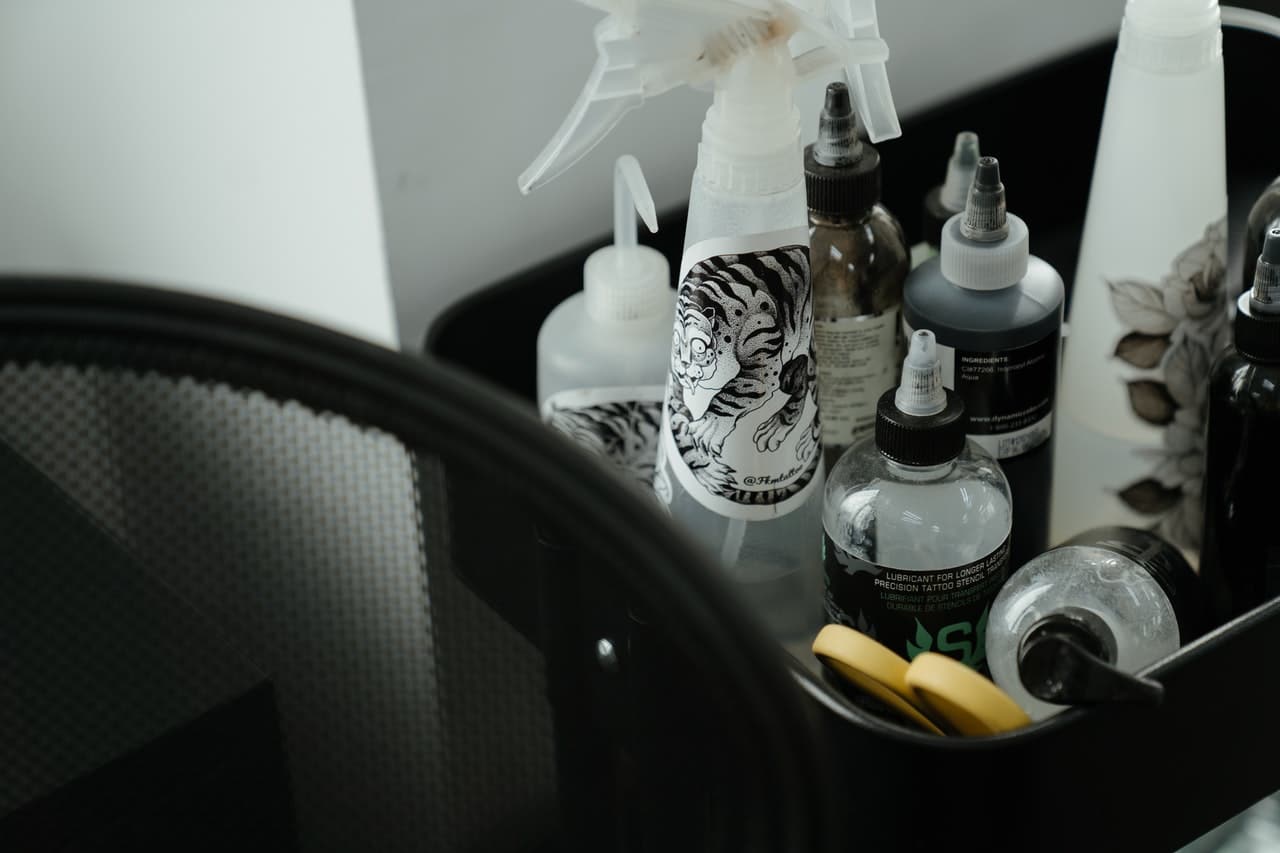 Why Have an Online Portfolio for a Tattoo Apprenticeship?
Emerging tattoo artists who are still growing their careers will need to work their way up and gain experience with a tattoo apprenticeship. In fact, it's difficult to become a successful tattoo artist without first being an apprentice at a shop, learning the tools of the trade from more experienced artists, and perfecting your skills. It can also be a great way to find a mentor who can help guide your tattooing career, and give you artistic guidance as well as advice on the ins and outs of the tattoo business.
Reputable tattoo shops are going to want you to show them a tattoo portfolio that highlights your potential to grow and learn as an artist. Landing an apprenticeship at a good shop means you will need to compete with many other emerging artists, often from all over the world, who are looking to develop their skills and take their career to the next level with the support of a mentor. Stay ready with an impressive tattoo apprentice website that you can send over to shops as opportunities open up, bringing you one step closer to landing an apprenticeship.
Characteristics of a Strong Tattoo Apprentice Portfolio
Creating a strong tattoo art portfolio as a tattoo artist takes a bit of thought and intention. You want to stand out and come across as professional, talented, and ready for any tattoo apprenticeships that come your way. Here are a few key details to include in your tattoo portfolio to make it great:
Highlight Your Creativity and Unique Concept Ideas
When a tattoo shop considers your fit as an apprentice, they will be looking at the quality of your artwork and your ability to come up with creative ideas that will impress clients. Make sure you include work that demonstrates you can use your imagination to come up with unique designs, such as intricate line work or a fun use of color. You should be able to take a concept or idea from a client and elevate it so it has style, creativity, and a point of view.
A potential mentor is looking at your tattoo art portfolio to get a good sense of your perspective as an artist, and determine if they can help you grow or perfect your work. Don't be afraid to include drawings that highlight your willingness to take a concept and play with it, putting your unique spin on popular tattoos or familiar images. Bland, boring pieces with little personality will not help you land an apprenticeship; a creative tattoo style and approach almost certainly will.
Showcase Your Drawing Technique
A great creative idea might help you catch the attention of a tattoo shop, but having excellent drawing technique could help you land an apprenticeship. Make sure you choose work that demonstrates you can draw a variety of different figures, forms, and perspectives correctly. Your portfolio should illustrate you are able to take on a client request and execute it with the proper technique, combining your creativity with your technical drawing skills.
As an emerging tattoo artist trying to become an apprentice, you do not need to have a perfect drawing technique by any means. But your portfolio should show that you have a basic understanding of technique and can do it fairly well. This will let a potential mentor know that you have more to learn, but there are foundational drawing skills present already in your work.
Include a Variety of Different Tattoo Styles
Demonstrate your range and knowledge as a tattoo artist by including examples of some of the most common tattoo styles, including intricate lettering, realistic portraiture, and tribal designs. These types of tattoos are requested often by clients, so make sure you can show you are able to do them fairly well in your portfolio. If you feel you are stronger in a particular style, such as portraiture or lettering, include your best artwork in this vein. This will demonstrate you can tackle a variety of different styles and put your unique spin on them.
Feature 50-100 of Your Best Tattoo Designs
Though you may be tempted to include a work in progress, try to only showcase polished, completed tattoo art that you feel is your best to date. A well-rounded tattoo portfolio will include a minimum of 50 color and/or black ink designs to demonstrate your skill set. Having 50-100 complete and colored pieces will indicate that you have put in the time and effort needed to perfect your skills and that you are ready to expand on your existing talent with a tattoo apprenticeship. Consider showcasing the work in progress of these completed tattoo art. This way, you will be able to showcase your entire process from brainstorm to execution.
Include artwork in your best mediums, ideally ink work and watercolors, as those are the closest to actual tattoo art. The more high quality, complete examples you have to show, the more likely a mentor will be willing to take you on and help you grow as a tattoo artist.
Maintain an Online Website and a Hard Copy Portfolio
Many emerging tattoo artists will have an online version of their portfolio for easy access, as well as a hard copy that they can show to shops in person. Your online and hard copy portfolio should both be high quality, with clear, easy to see images of your work. Keep the hard copy of your portfolio in a hardcover case, often found in art supply shops, so you can display your artwork properly in person during an interview for a tattoo apprenticeship.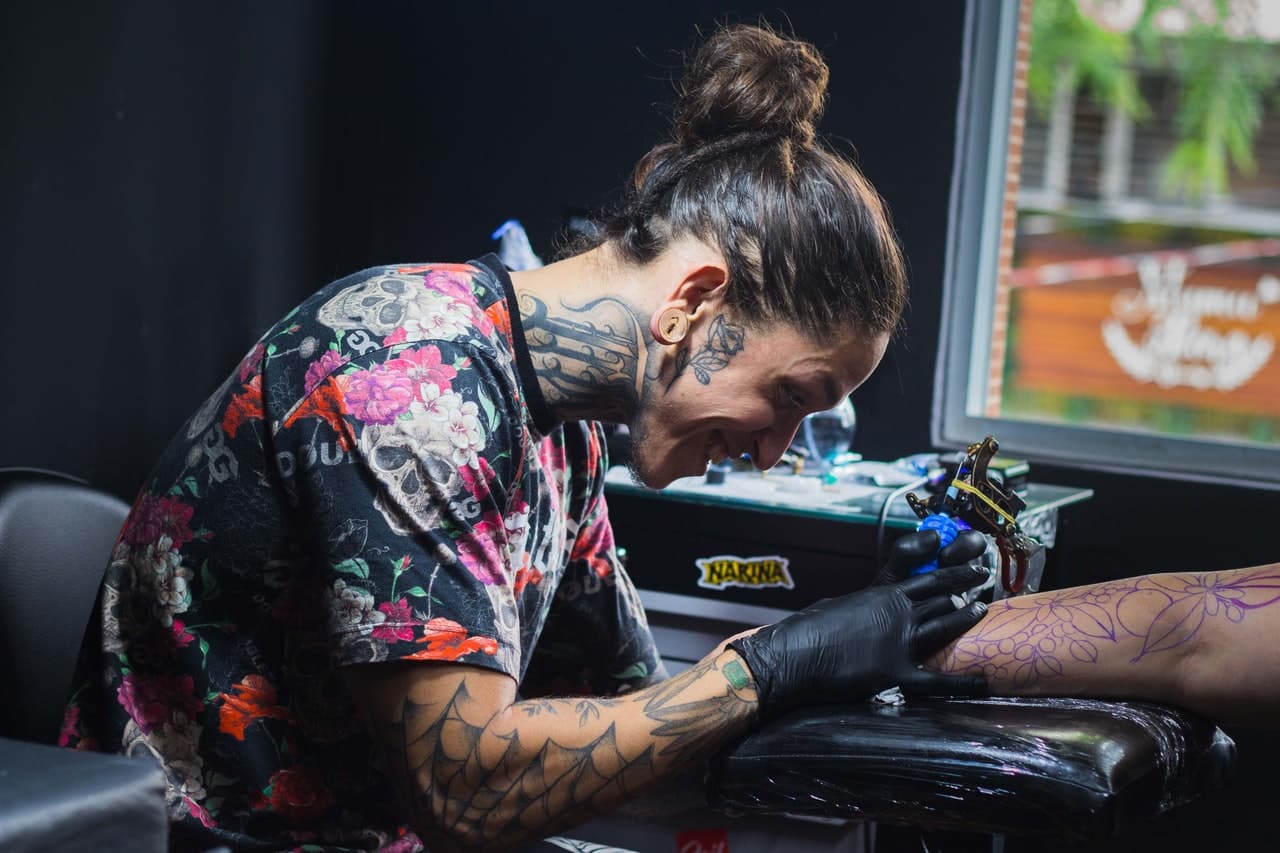 Tips for Organizing Your Tattoo Portfolio for Success
Now that you know what goes into a great portfolio, here are a few tips to keeping it looking organized and professional, so you can land the tattoo apprenticeship of your dreams:
Create a Tattoo Gallery Page
The main focus of your portfolio should be a gallery of your best tattoo art so visitors can get a good sense of your style and perspective. The gallery page should include large, clear images of your work that are all formatted to be the same size and image quality. Depending on which web builder you use to create your portfolio, you should be able to access a variety of different gallery image layouts, such as a grid or a full image layout, to showcase your best tattoos.
To create the gallery page, you can scan images from your sketchbook or take well-lit photos of your work. If you have the skills or means, use photo-editing software to ensure the images are free of dust, marks, or surface level imperfections that could distract from your art.
Categorize Your Tattoos by Type
If you have examples of a few different tattoo styles or types, separate them into separate tabs or galleries so they are easy to browse through. For example, maybe you have 20-30 examples of color tattoos you'd like to showcase, so you put them in a section labeled "Colour." Or perhaps you have 20-30 beautifully done black ink tattoos you've designed, which you place in a section labeled "Black Ink Work."
Categorizing each piece together based on type or style can make your portfolio more approachable, and give visitors a good sense of your varied skill set. It will also demonstrate you can present yourself in a professional manner and have the work ethic needed to grow as an apprentice.
Include an About Page
Add a bit of personality to your tattoo portfolio with an About page that includes a professional-looking headshot and a short bio. In your bio, you can include information like any art education or art training you may have, such as a degree in fine arts or illustration. You can also include where you are currently based geographically and note why you are interested in tattooing, as well as a short description of your artistic approach. To tailor your bio for an apprenticeship, you may also list your professional goals and note how you'd like to grow your career as a tattoo artist.
Create a Contact Page
Many tattoo artists will also include a Contact Page on their website, either as part of their About Page or as its own separate section. Having a Contact Page will make it easy for visitors to get in touch with you about your work, and network with artists in the tattoo industry. It could also encourage a tattoo shop to reach out to you about an apprenticeship after viewing your art online. Be sure to include information like your email address on the Contact Page, as well as your social media handles so visitors can get in touch with you easily.
Link Your Social Media to Your Portfolio
Many tattoo parlors will look at your professional website as well as your social media accounts when they consider you for an apprenticeship. If you have Instagram or Facebook, make sure it is linked to your website, particularly if you update these sites often with your latest and greatest tattoo pieces. Instagram can be a great way to complement your professional content with your most recent creations, illustrating your continued growth as an artist.
Most web builders allow you to link your social media to your website as part of their website template, a simple step that can make a strong first impression on a shop considering you for an apprenticeship.
Ready to Create an Impressive Tattoo Portfolio?
Landing an apprenticeship can be a bit of a hustle; give yourself an edge with a professional tattoo portfolio that will wow prospective employers. There are no easy tricks to help you become a tattoo artist, but a great looking professional website can certainly help. To achieve a beautiful, polished look, make sure you are using a reliable website builder to create a great looking online portfolio easily.
Format allows users to build and customize their site in just one day, with so many beautiful website templates to choose from. You can even edit your site on-the-go with the iOS app so you can add new tattoos to your portfolio as needed, and access special features like a photo proofing corner, a blog, and an online store. Get started and create your tattoo art portfolio to land your next tattoo apprenticeship.
More resources to help boost your career:
10 Ways Artists Can Get Motivated—And Stay Motivated