Tethered photography is the process of shooting with your camera connected to your computer, so that photos are uploaded instantly to the computer. Being able to instantly see your shots on a big screen can go a long way towards helping you get that perfect shot, showing you fine details you can easily miss when you're just checking out images on your camera's LCD screen.
Ever started to edit an editorial photo and realized that there's a weird reflection in the subject's sunglasses you didn't notice during the shoot? Or checked out a detail shot up close and realized that the logo on your client's product is just slightly out of focus? Shooting tethered can help you avoid annoying mishaps like these.
When you shoot tethered, you can be 100% sure that details are in focus and lighting is perfect. It helps you notice any small flaws in shots and correct them on the go, instead of spending time trying to fix mistakes in post processing or, even worse, having to reshoot images for particularly detail-oriented clients.
If you haven't tried tethered shooting before, this quick guide is your intro to the basics.
Why Shoot Tethered?
Perfect Your Studio Shots
For photographers doing product, fashion, or food photography in a studio, a tethered workstation isn't hard to set up and can be a huge help in making sure your shots look exactly the way you want them. Being able to view large size images on a computer screen while you shoot offers big advantages when setting up still lifes or flat lays with lots of texture and detail.
Make Teamwork More Efficient
Having images appear on a second screen can be hugely helpful when there's a team working with you at a shoot. For fashion photographers, for example, this means that the stylist and creative director can be monitoring photos through tethered capture and jumping in to make styling adjustments as needed.
If you're shooting with a client present, tethered capture can be enormously helpful in ensuring you're getting the results they want. Tethered shooting can even allow you to remotely share images with collaborators or clients who aren't at the shoot, making it a helpful tool for people often working with clients in other locations.
Streamline Your Editing Workflow
Tethering software, such as Capture One, can allow you to immediately apply edits to your photos as you shoot them. This is an exciting advantage especially if you're shooting RAW. When creating a specific aesthetic on a shoot through special lighting, for example, the ability to instantly apply edits via Capture One can help you make sure you're achieving that effect you want, and quickly make any adjustments needed to your camera settings or the shoot set up.
Use Tethered Capture as Your Assistant
While tethered photography is definitely a benefit on shoots with a team, it can also be helpful when you don't have a team with you to make those styling and lighting adjustments. When you're shooting without an assistant, it can be harder to be mindful of those small details that can make or break a photo. Tethered capture allows you to closely monitor image details so you can quickly make adjustments when needed. Tethering software can also allow you to control shots via your smartphone, making it easy to step away from the camera briefly to make adjustments without holding up the shoot.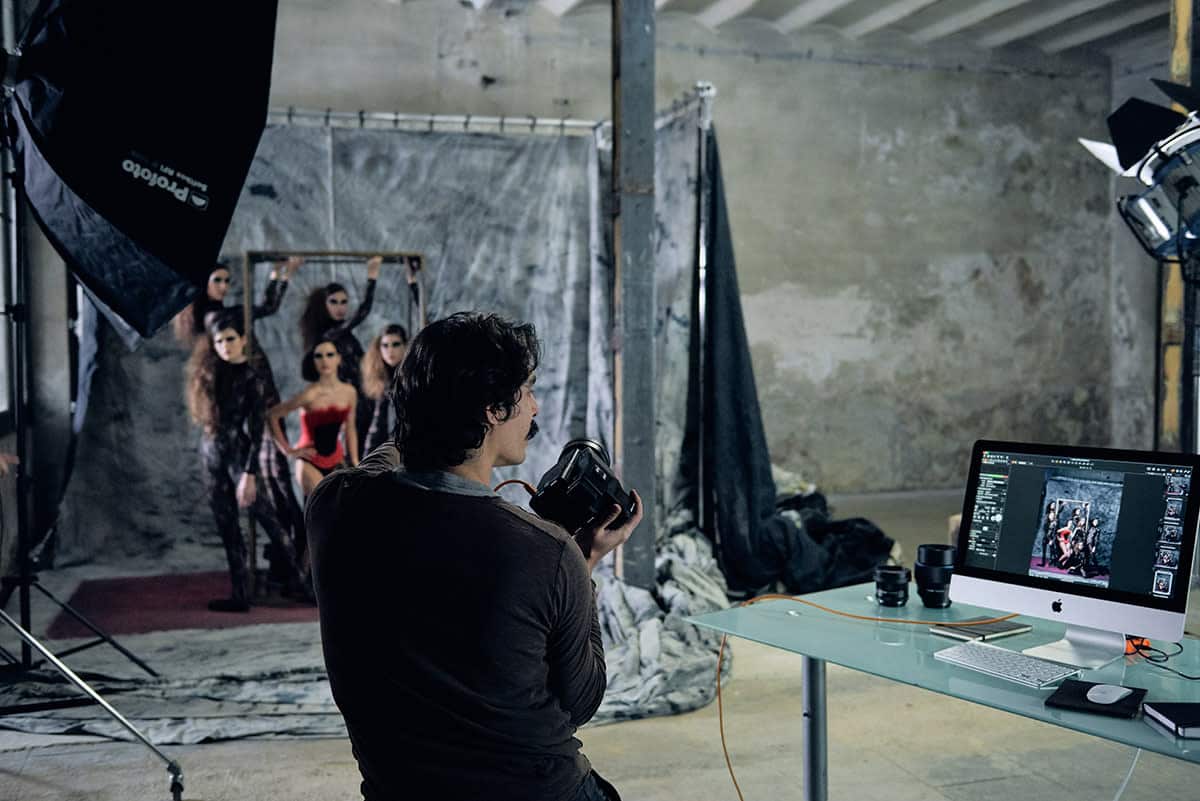 Equipment for Tethered Photography
Your DSLR
Most recent cameras do support instant image transfer, but before you can get started you should confirm that tethering will work on your DSLR of choice. Check the manual to be sure. Your manual should also let you know what kind of image files you can transfer with tethering.
Computer
If you're shooting in a studio, you may decide to use a large-size monitor to view your shots in as much detail as possible. If shooting on location, you'll need to bring your laptop.
Tether table
If you're shooting in a studio, you can set your computer up on any available table. If shooting outside, it's a good idea to invest in a tether table so you're not stuck leaving your laptop on the ground or trying to balance it on some rocks or a park bench. A tether table can be attached to a tripod or a light stand, allowing you to easily move your laptop around at a shoot and ensuring that it stays safely supported. If shooting outdoors is a focus for you, a screen shade for your laptop may also be a useful addition to your setup.
USB Cable
If you don't still have the USB that came with your camera, you may need to purchase a new one. Check to see what kind of USB cable works with your DSLR and your computer. Most cameras use USB 2 or USB 3. You may decide to purchase a longer USB cable than the standard short one included with your camera, as it'll allow for more flexibility as you shoot.
Tethering Software
There are a variety of options available for tethering software. Capture One, created by Phase One, is a good option for editing software that offers fast and flexible tethered image capture and an efficient workflow. It allows you to simply connect your camera and get going right away; even if you want to switch cameras or if you have to unplug during the shoot, it's easy to just plug your cord back in and start shooting again.
The editing capabilities of Capture One are extensive, and especially useful for those who often shoot in RAW. Their editing software is specifically optimized for RAW files, with custom profiles created for all supported cameras to ensure the best results. With custom color profiles for more than 500 cameras, it's likely that your camera of choice is supported, and this is a handy functionality for anyone who's looking to carefully preserve or fine-tune color in their images. Similar to Lightroom, Capture One offers a variety of premade presets you can use in your edits, or you can choose to create your own. When tethering, you can choose if you want to instantly apply edits or simply instantly view your shots and make edits later.
In summary, tethered photography is a great option to explore on any shoot where speed and detail are crucial. While it does require some investment in purchasing software and a few additional accessories, the payoff can be major—especially since tethered capture can save a lot of valuable time both at a shoot and when it comes to post processing. No matter what kind of photography you do, attention to detail can be what makes the difference between a shot that's just okay and one that's truly memorable. Tethered capture can help you achieve that perfectly composed shot with less time spent both on editing and behind the camera.
Interested in trying out tethered shooting? Capture One is offering Format Magazine readers an exclusive chance to try out Capture One Pro free for three months.
More photography tips and tricks:
Everything You Need to Know for a Successful Fashion Shoot
The Ultimate Guide to Building A Photography Website
The 11 Best Free Online Photo Editors