The six-time NBA All-Star champion will introduce you to the art world's brightest and boldest talent.
If you follow Amar'e Stoudemire on Instagram, you know that the six-time NBA All-Star champion is a passionate art collector and advocate for emerging artists. He's made it his mission to bridge the gap between basketball and art.
"As athletes we should look more to art," he told Artsy in a recent interview. "We buy these amazing homes—let's decorate them with some brilliant art."
The art world has taken notice and this year, he was named as one of Artnet's young collectors to watch. He also recently curated a Sotheby's action for their Contemporary Curated program.
From Devin Troy Strother's mixed media collages to Rob Pruitt's cartoon pandas, Stoudemire's collection is bright and bold. This isn't above-your-couch decoration but rather in-your-face artwork that demands attention.
Some of the names in his collection are instantly recognizable (Basquiat, Warhol), but others are not quite household names, yet. Here's a guide to Stoudemire's favorite emerging artists. Aspiring art collectors, take note.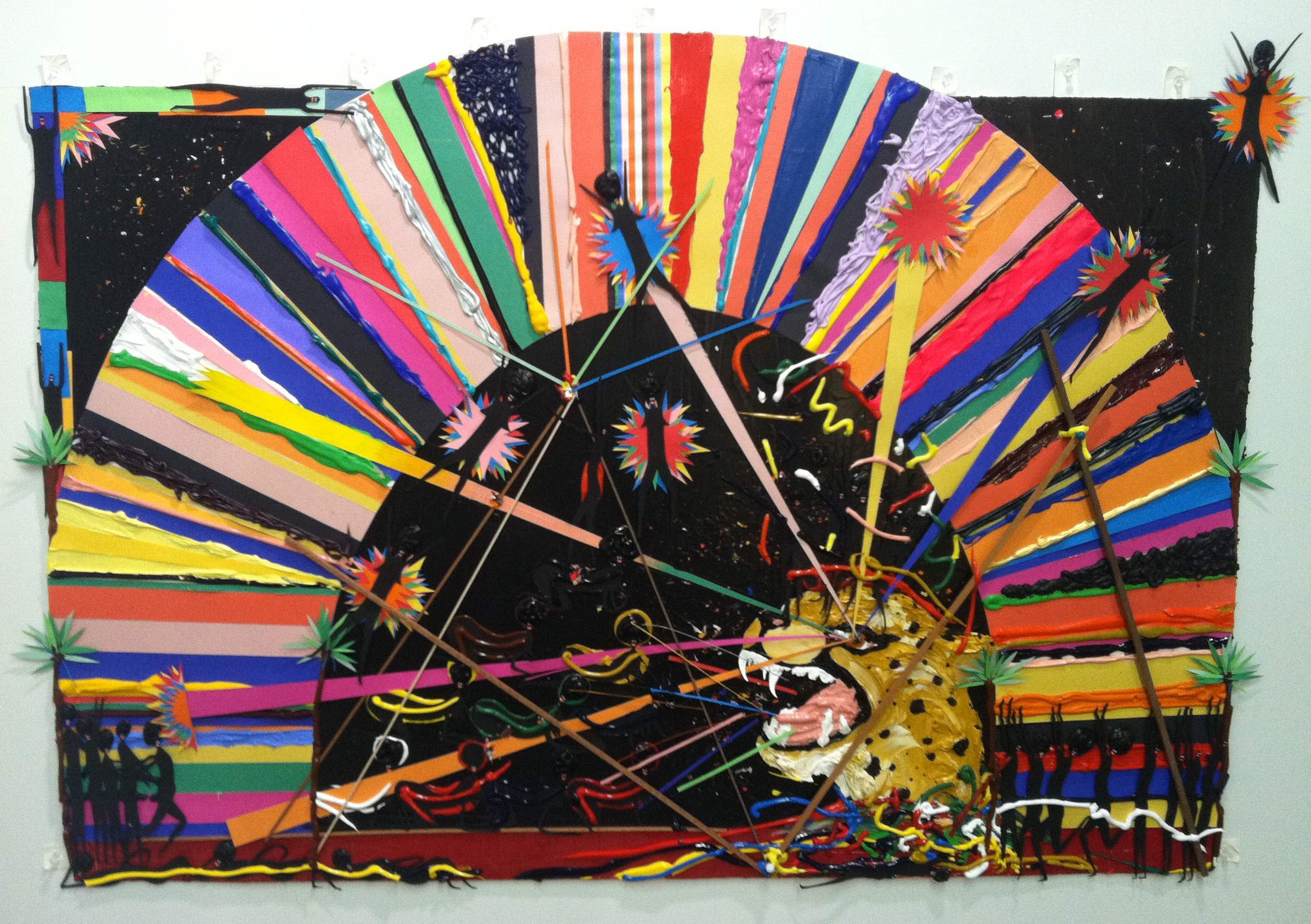 Who Are These Niggas Under My Rainbow. Mixed-Media (2012)
With exhibition titles like "Gurrrrl You Know I'm Just Talking About That Composition, Gurrrrl what'chu You Know About That Post Contemporary" (Bendixen Contemporary Art, Copenhagen) and "Don't Be Actin' A Fool in the Club/Stuntin' Like My Daddy" (Richard Heller Gallery, Santa Monica), Devin Troy Strother isn't shy. His mixed-media work using painting, installation and sculpture to address themes relevant to black youth. It's full of humor while being startlingly poignant.
Last year, his Space Jam-theme solo show at Marlborough Gallery in New York caught the eye of many celebrity buyers, including Stoudemire. Strother described it as a moment when the art gallery became like a basketball court or rap recording studio.
"Sometimes, young African Americans go the stereotypical route of becoming a rapper, an athlete, or some type entertainer," his artist statement reads. His art is a way to further that conversation about "getting out of the hood" and becoming part of the monolith.
Knee Deep, Acrylic, flashe and acryla-gouache on canvas (2011)
After meeting the New York-based McKimens at Art Basel, Stoudemire told Esquire that "he's one of those emerging artists that's going to be big."
They've since met up for studio visits that resulted in this portrait sketch of Stoudemire on McKimens's Instagram. McKimens is also part of Stoudemire's "In the Paint" experiential art series where he connects live artist events with communities.
As for the work itself, the drawings and paintings are like an unholy marriage between Edward Hopper and R. Crumb: equal parts grotesque and tranquil, Midwestern and cerebral, with eye-popping acrylic colours and a terrifying attention to detail. His gallery Loyal writes, "McKimens is completely unperturbed by the messier side of things and in fact revels in the drips and oozes that are the traces of life."
Untitled, metal ribbons (2016)
A recent collaborator with Stoudemire, Tatiana Blanco is a sculptor that lives in Miami. She weaves metal ribbons into forms that to communicate inter-connectivity. There's a physical energy to the work that aligns with Stoudemire's zest for life.
Her work with Stoudemire includes a live painting that was sold with proceeds going towards his charity foundation.
The Watch, installation view (2013)
Stoudemire purchased one of Brantley's superhero-themed works as soon as he saw it because his kids are big superhero fans. He's cited his three kids as inspiration for his collection. "When they get older they can look back and say, my dad had this art in 2015," he's told Page Six.
Brantley, an up-and-coming Chicago artist has a street art background and his influences range from the likes of Keith Haring and Basquiat to Japanese anime. Matthew Pritzker and Jay-Z are also known fans of Brantley's colourful, imaginative characters.
Panda Grand Finale II, Enamel and glitter on linen (2012)
Pruitt initially gained art world infamy with controversial works like his Cocaine Buffet (1998), which was exactly what it sounds like: a 16-foot mirror with a line of real cocaine on it offered up to gallery visitors.
Pruitt envisioned his panda series as an effort to paint himself in a more positive light, saying: "I was thinking everyone loves pandas, so if I align myself with them, everyone will love me."
Although his other work tends towards the post-conceptual, Pruitt's panda paintings wouldn't look out of place next to pop art mainstays like Warhol's Monroe prints.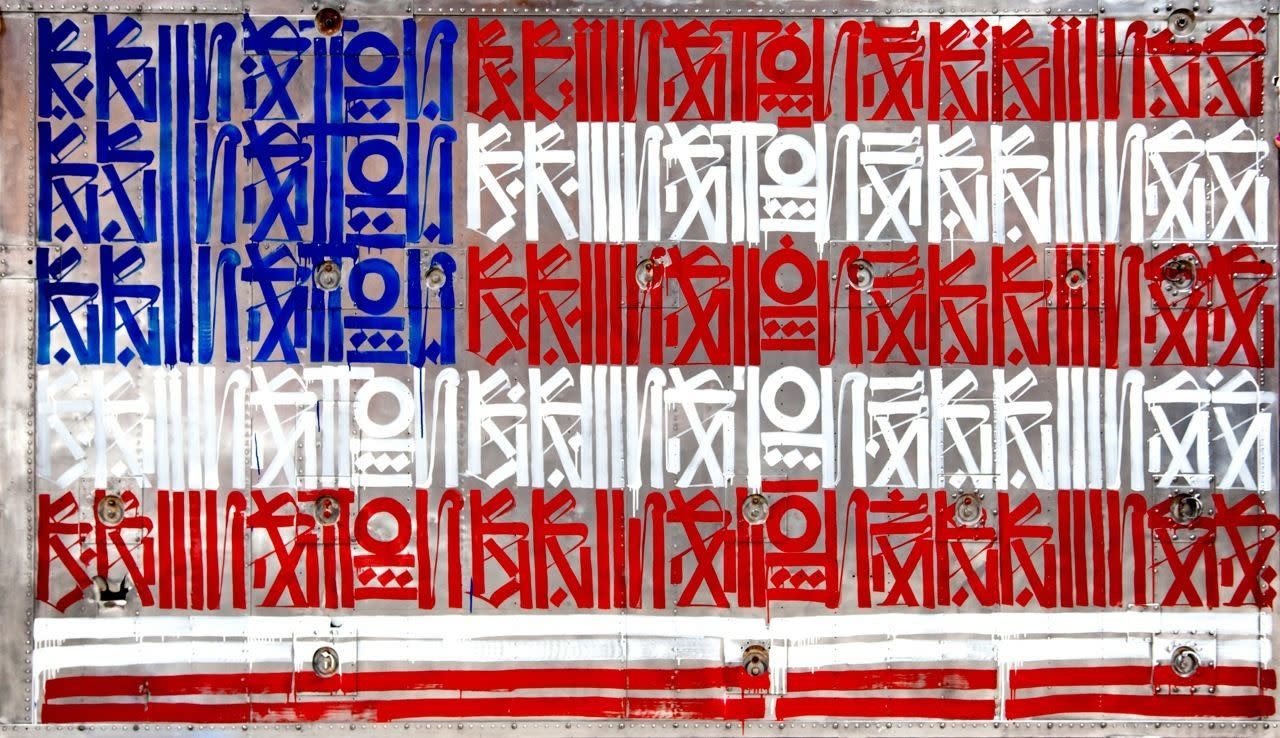 America, acrylic (2014)
Retna kicked off his art career in the '90s on the LA street art scene, but lately he's done work for clients as high-profile as Louis Vuitton, Nike, and Justin Bieber (he designed the cover of 2015's Purpose). Much of Retna's work features a unique script inspired by Native American and Egyptian symbols.
He's worked with Stoudemire to host workshops for underprivileged youth, giving the kids a chance to play basketball or work on their art skills.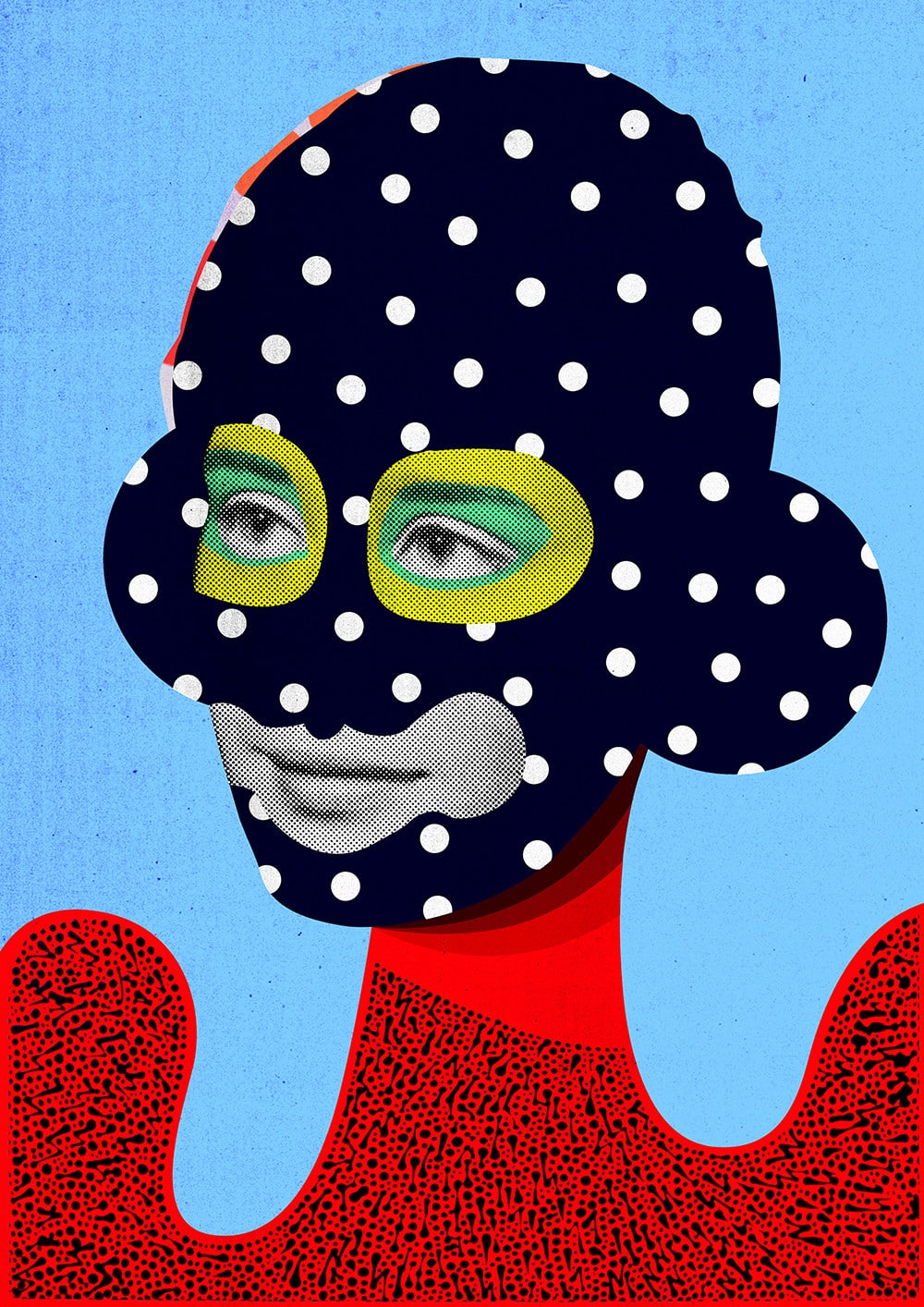 Holepunch/Kitty, acrylic on canvas (2015)
Stoudemire recently gave Paul Insect a shout-out on Instagram for his pop-up show at London's Allouche Gallery. It's no surprise that this work caught his eye—it's visceral, figurative and has street art roots.
Known for his work as Banksy's long-term assistant, Insect's 2007 solo show was purchased in its entirety by Damien Hirst before it opened. Hirst said, "I can't pretend I'm not in love with Paul Insect a little bit."
Hiding Figure, Fiberglass, paint, joint compound, mannequin, fabric and shoe (2012)
The cheeky element of surprise cuts through the restrained seriousness of Daniel Arsham's architectural work. He builds walls with objects embedding in them and sketches stairways that lead to nowhere.
Arsham's other creative pursuits include stage design for a dance company, recreating a keyboard for Pharrell Williams, a nine-part science fiction film series called Future Relic and creating products with his architecture