A well-made writer website is an important tool for networking online as a freelance writer or editor. Twitter can be useful for making connections and finding gigs or potential clients, but a professional online portfolio is necessary when pitching new article ideas or applying for jobs.
Your online portfolio website can be simple, such as a biography and list of published clips. Or, you can add more depth with a CV, personal projects, and a blog post or two to showcase your writing.
Our Pick of the Best Writing Portfolio Examples
A well-designed writing portfolio is essential for showcasing your work as a writer. Format has compiled a list of some of the best writer websites to help inspire you.
These writers cover a range of genres, from journalism to fiction to fashion, and their online writing portfolios reflect the quality of their work. Format's website builder and these writing portfolio examples provide a winning combination for success in your writing career.
Our collection of online writing portfolios can provide inspiration and help you think about what to include in your own portfolio.
Find more website design ideas at our round-up of the best online portfolios built using Format.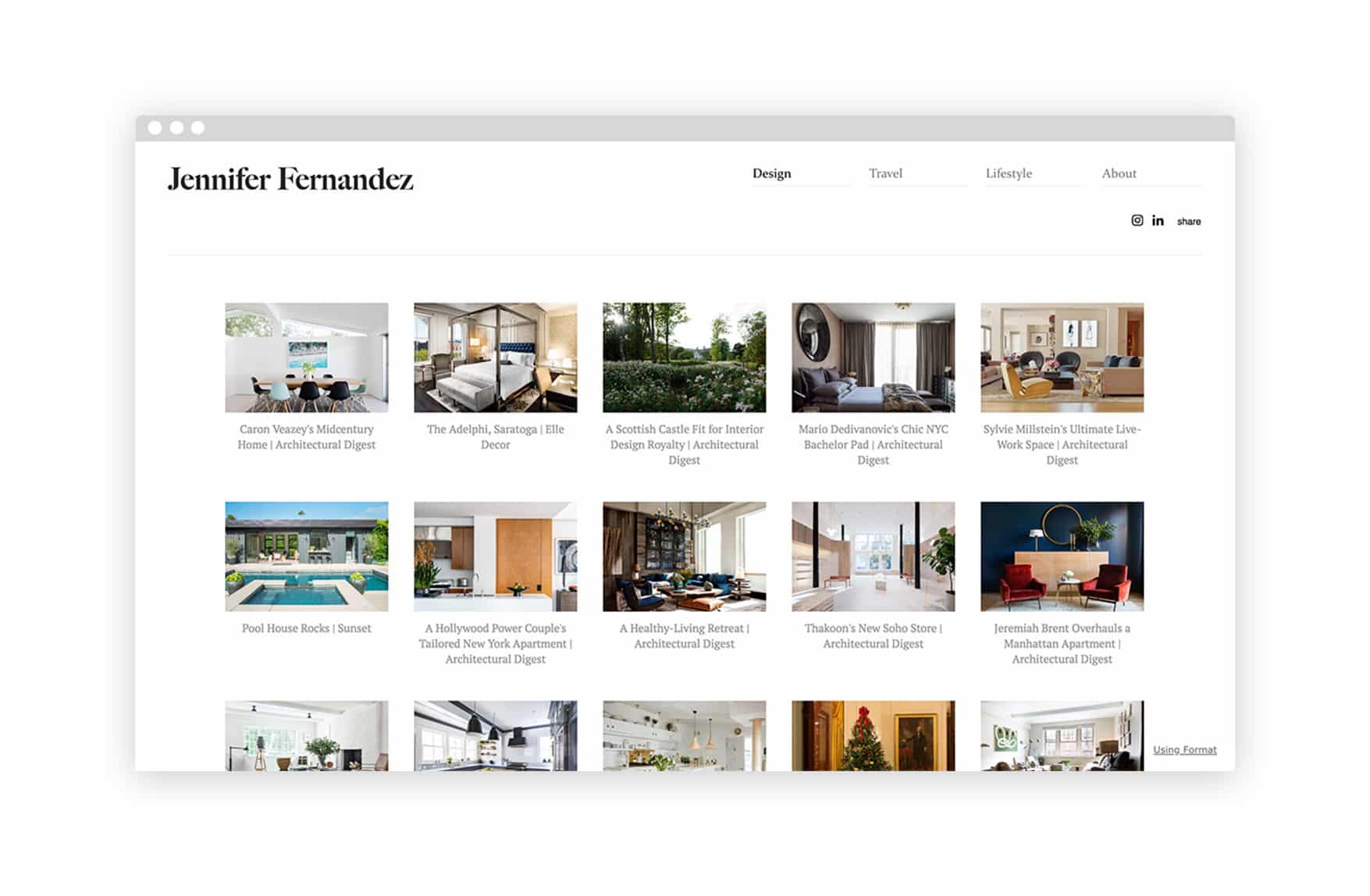 Jennifer Fernandez
Brooklyn-based writer Jennifer Fernandez uses a grid-based theme to showcase a range of links to writing samples, including a thumbnail image and title for each one. Fernandez has been on staff at Travel + Leisure, Architectural Digest, and Martha Stewart Weddings, and has worked for business clients including Zappos and Brooklinen. She organizes her writing website into categories of Design, Travel, and Lifestyle content to make browsing easy and to showcase the type of writing she has experience in.
www.jennifermfernandez.com
Format Theme: Hue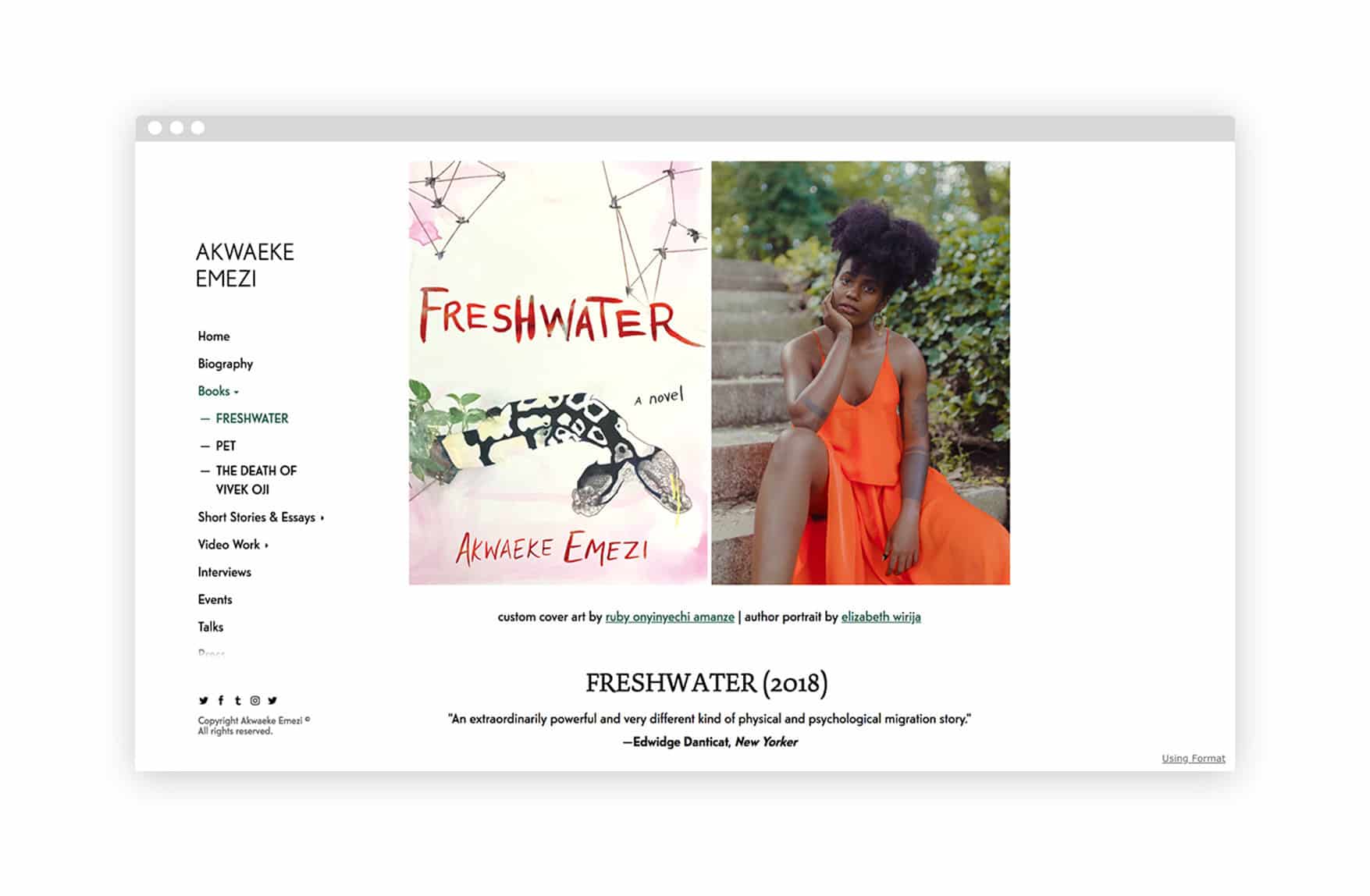 Akwaeke Emezi
Award-winning Igbo and Tamil writer and artist Akwaeke Emezi keeps things simple on their writing portfolio with a text-focused design and lots of information about their work. Their debut autobiographical novel FRESHWATER was critically acclaimed by publications like The New Yorker and NPR, and they also have two new books forthcoming from Knopf and Riverhead Books. Their website is a simple way to put the main focus on their work.
www.akwaeke.com
Format Theme: Offset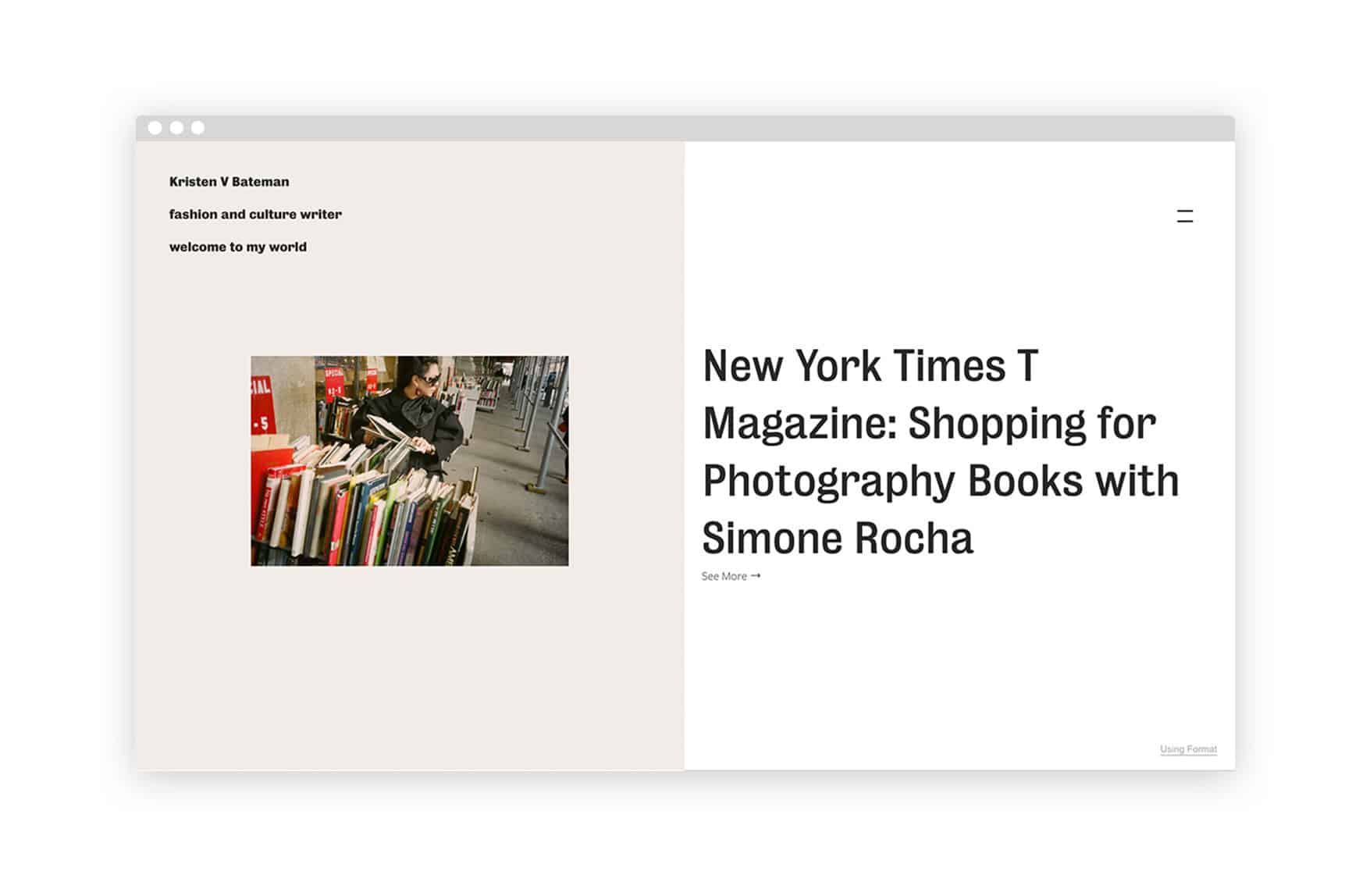 Kristen V. Bateman
Fashion and culture writer and editor Kristen V. Bateman keeps her online portfolio visually interesting with a theme that introduces each of her published clips via an image and title. Bateman's extensive portfolio can be browsed by publications (which include Vogue, New York Magazine, Harper's Bazaar, and many more), as well as by category.
www.kristenbateman.com
Format Theme: Coral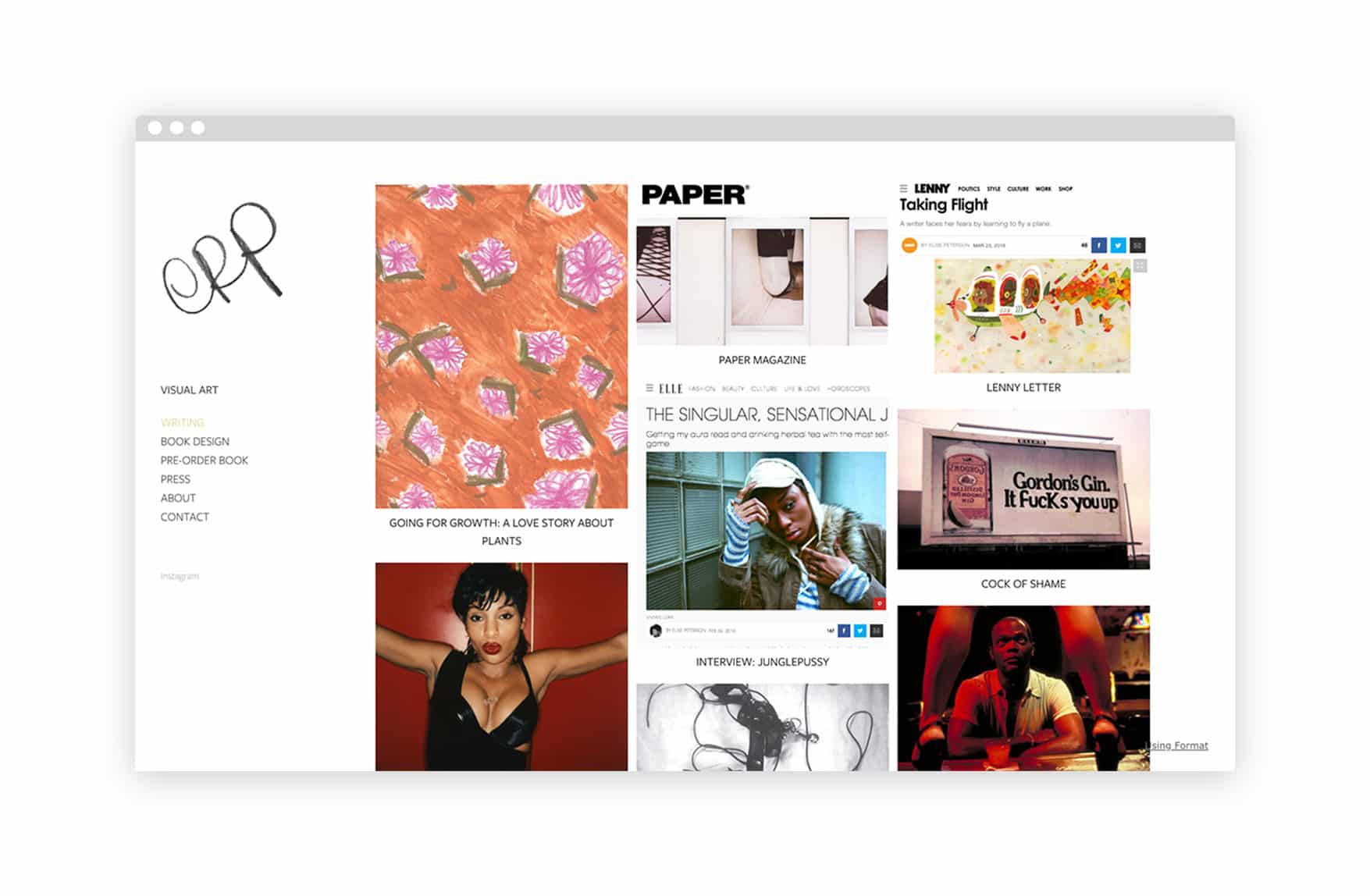 Elise R. Peterson
The work of New York artist and writer Elise R. Peterson has appeared in Paper Magazine, Lenny Letter, and Elle, among other publications. Her recent book with Feminist Press, How Mamas Love Their Babies, explores an inclusive idea of motherhood along with co-author Juniper Fitzgerald. Including a link to pre-order her book right on her sidebar menu ensures that visitors to Peterson's site will be up to date on her latest work.
www.eliserpeterson.com
Format Theme: Ora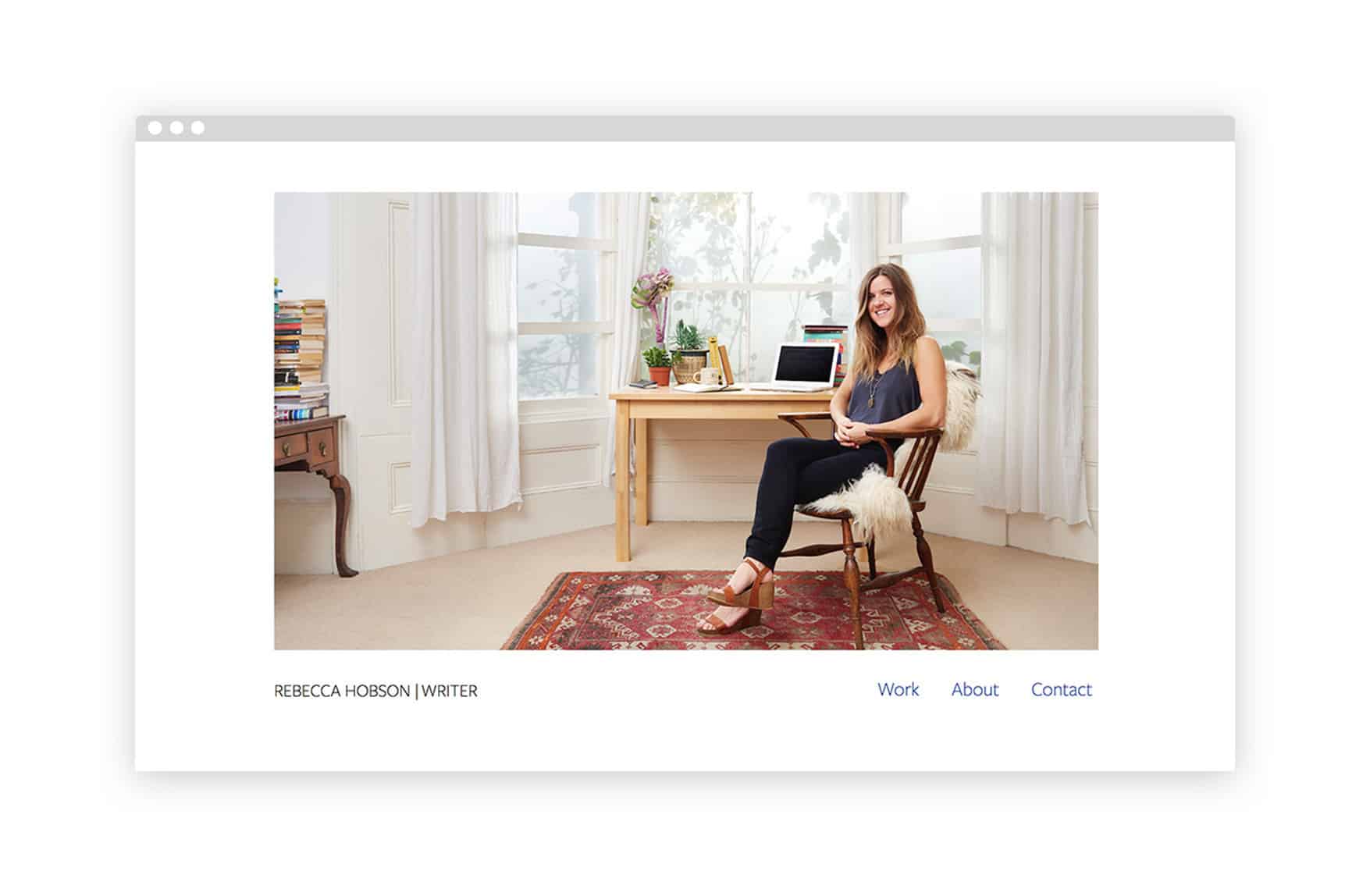 Rebecca Hobson
Freelance journalist and writer Rebecca Hobson introduces her online portfolio with a professional photograph of herself and links to different sections of her writing website. Based in Bristol, Hobson has also lived and worked in India. She has written for publications including the BBC, Vice, and The Times. Organizing her writing portfolio into different sections such as Content Marketing and Current Affairs, her freelance writing portfolio allows viewers to explore all the different facets of her work.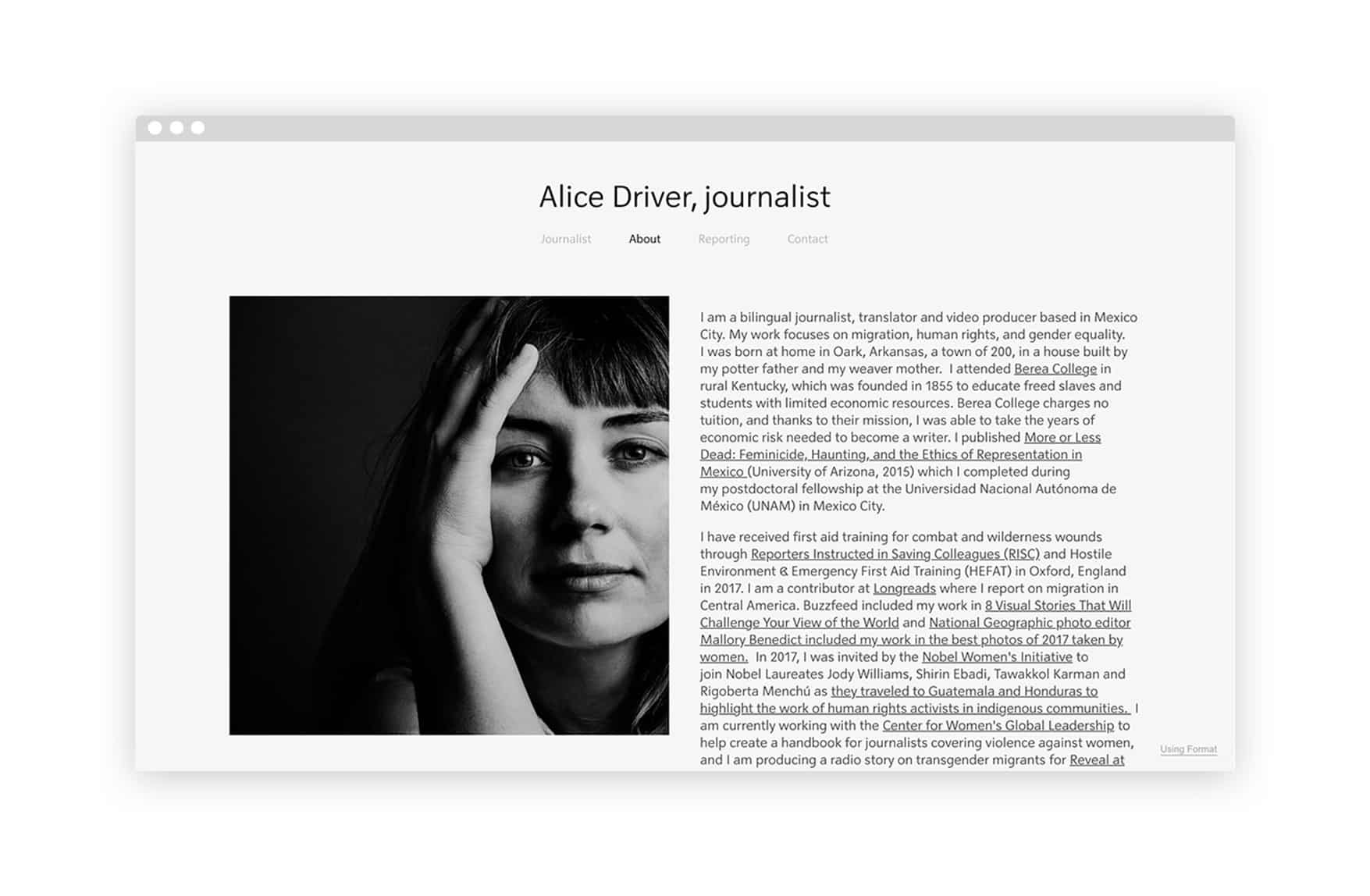 Alice Driver
Award-winning and widely-published journalist Alice Driver includes a detailed yet concise biography introducing who she is and what she does, a great way of allowing visitors to her site to quickly understand the focus of her work. An additional page of recent clips, organized with titles and thumbnail images, makes further reading of her published projects instantly accessible. Based in Mexico City, Driver's work focuses on migration, human rights, and gender equality.
www.alicedriver.com
Format Theme: Mica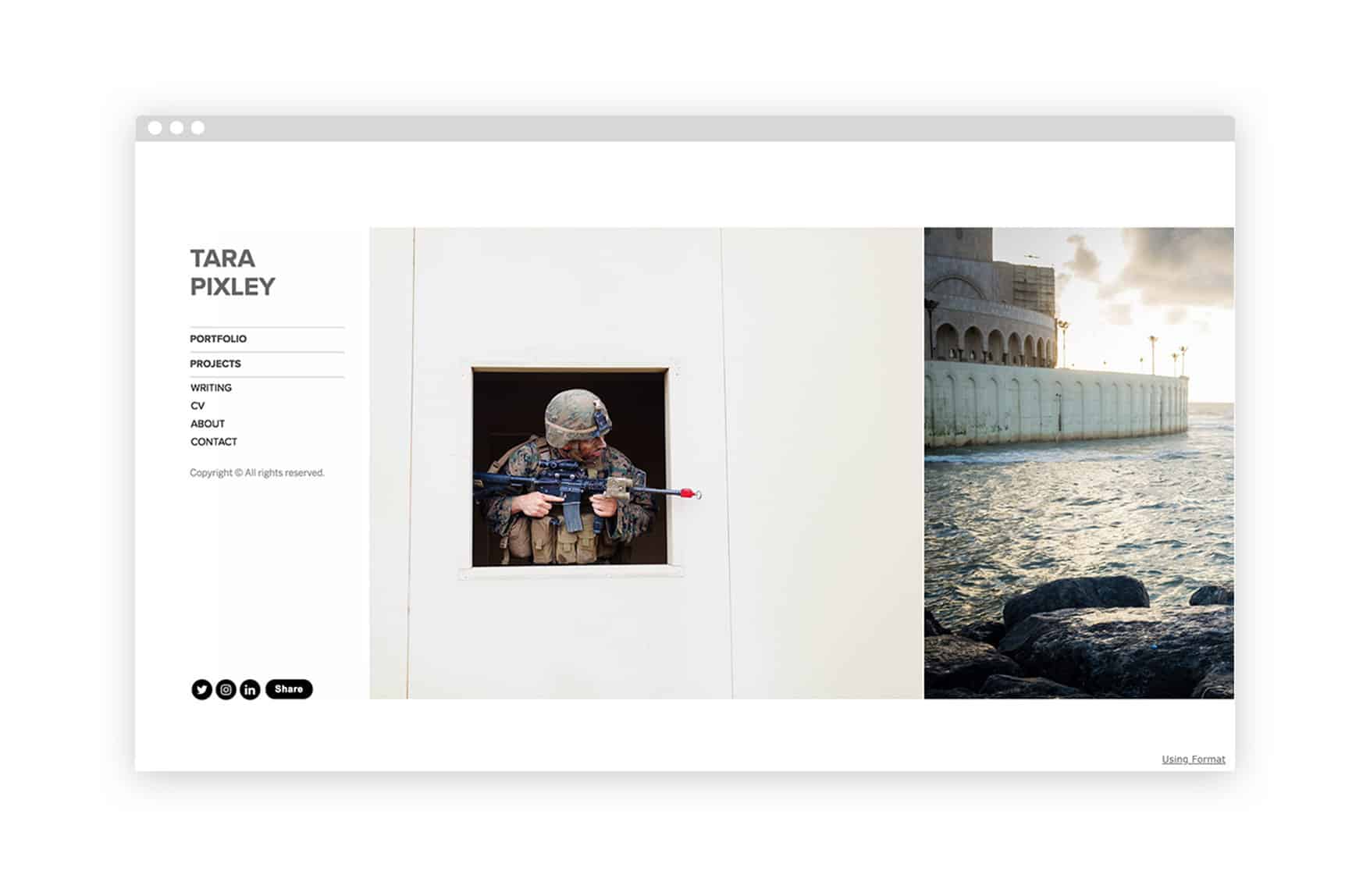 Tara Pixley
Los-Angeles based photojournalist and scholar Tara Pixley was a recent Visiting Fellow at Harvard's Nieman Foundation, and has published her photography and writing on media in a range of publications such as Newsweek, New York Times, and ProPublica. Pixley's online portfolio features a selection of her photojournalism as well as a section showcasing some of her published writing.
www.tarapixley.com
Format Theme: Horizon Left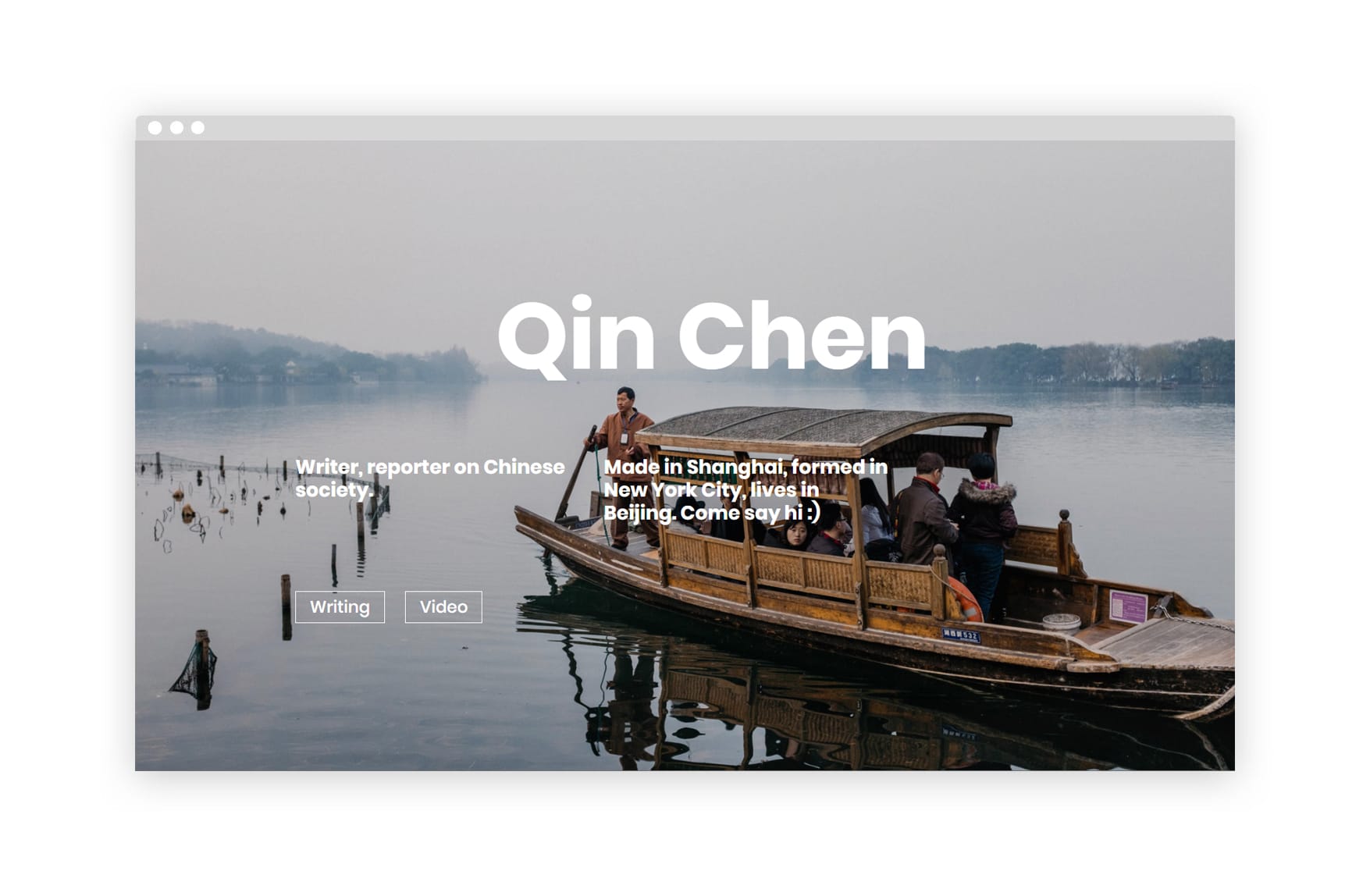 Qin Chen
A Chinese writer and reporter based in Beijing, Qin Chen writes about Chinese society for English-speaking readers. With experiences as a senior video producer for The New Yorker and a documentary producer at CNBC, Qin's online portfolio showcases her published writing and videography.
www.qinvisual.com
Format Theme: Order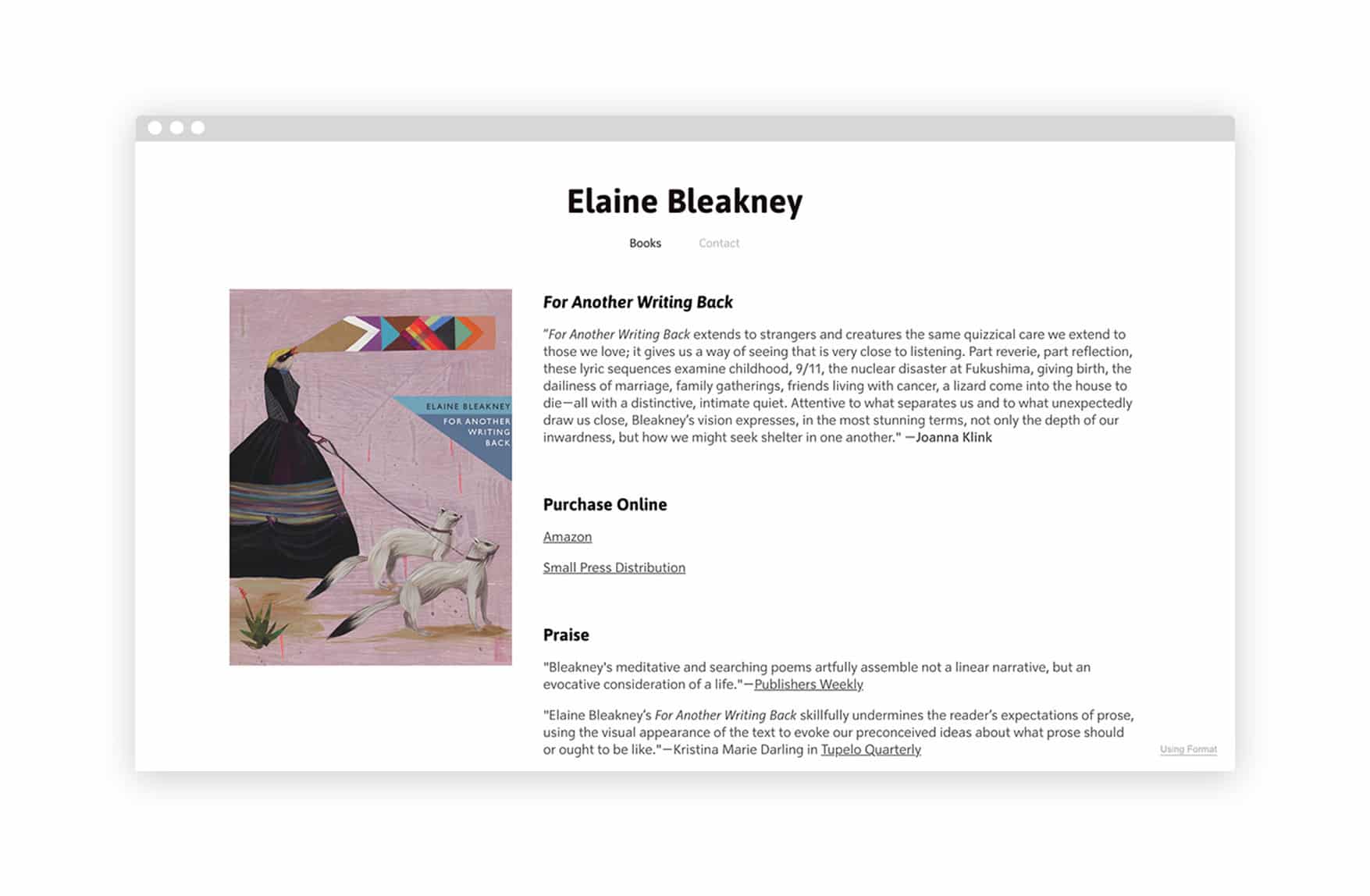 Elaine Bleakney
Writer Elaine Bleakney introduces her works on her website with images of the book covers and recommendations from peers and critics. Her simple layout keeps the focus on her work, easily allowing visitors to follow links to her published work or consider purchasing one of her publications.
www.elainebleakney.com
Format Theme: Mica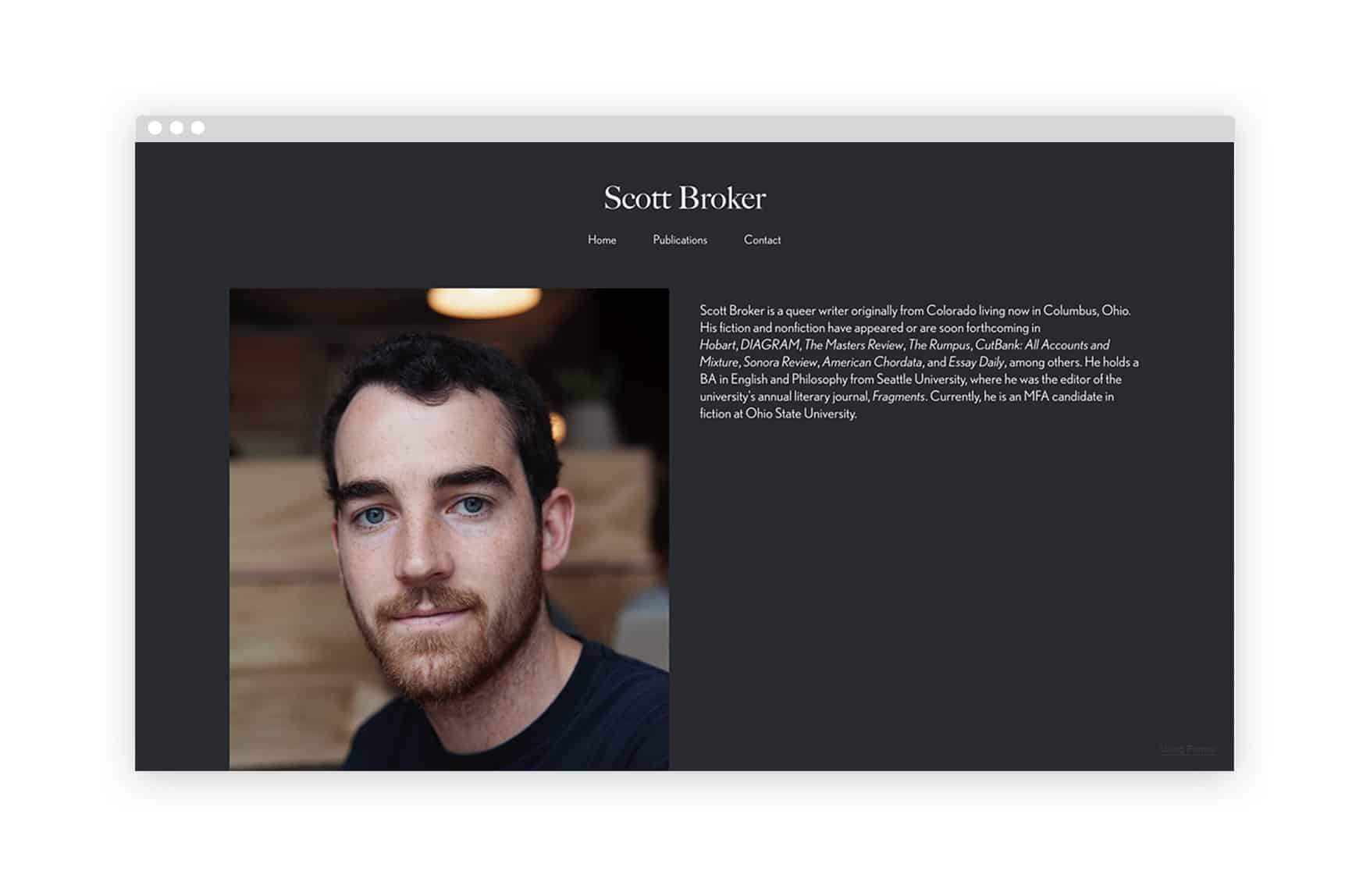 Scott Broker
Scott Broker's writing website features a headshot and brief biography right on the homepage, instantly giving visitors a feel for who he is. Based in Ohio, Broker is currently an MFA candidate at Ohio State University, and has been nominated for the Pushcart Prize. His writing portfolio includes a selection of publications with a brief description of each one.
www.scottjbroker.com
Format Theme: Mica
Tips for Building Your Own Killer Writer Portfolio Website
After reviewing the writer portfolio examples for inspiration, you can build your own portfolio. To effectively showcase your work as a writer, you must also have an eye for design.
Brainstorm Creative Portfolio Titles
A writer's portfolio isn't complete without a creative and catchy title. Writing portfolio titles can be difficult to come up with, but they are an important first step in creating a great portfolio site. The title is the first thing a prospective client reads, so you must grab their attention if you want them to continue.
A well-conceived creative portfolio title should be big, bold, and targeted to your audience. Consider the tone you are setting and how it relates to the message you want to convey with your work. Consider including your name in the title so the reader will remember who you are. Also, consider how the title will look before selecting a font for your writing portfolio site.
Portfolio Essentials:
A portfolio typically includes examples of your work, an about me section, and contact information for clients. Using the right writing portfolio format to showcase your work is a great way to attract engaged clients. The best writer portfolio sites, such as Format, offer a range of templates and a drag and drop builder to help you create a professional portfolio.
Creative Writing Portfolios
To create a strong writer portfolio, choose a website builder with customizable features and an easy editing process. Format offers a feature-rich portfolio site builder specifically designed for creative writers. Their range of templates and examples can also help provide inspiration. This allows writers to focus on creating content for their clients, rather than web design.
Creative Writing Portfolio Examples
We've compiled some of the most striking creative writing portfolio examples on the web, so you can get your creative juices flowing. Our recommendations above highlight Rebecca Hobson and Elise R. Peterson as creative portfolio writing samples that hit the right level of charm, sophistication, and individuality. Like what you see? Use Format's website-building platform to set up a beautiful creative writing portfolio that exhibits the best of your work, just how you wanted it to look.
Freelance Writer Websites
The best writer websites express the writers' flexibility and competency across a broad range of writing contexts. Bringing together examples of work produced for various sectors and requirements is crucial to conveying your writing abilities. However, It is also important to consider your personal skills and tailor your portfolio to highlight your strengths and industry-specific experience. Our pick of great writer website examples, such as Elaine Bleakney and Akwaeke Emezi, find the right balance of personal writing skills and subject-focus.
Journalism Portfolio
An online journalism portfolio should showcase your career highlights and best work as a journalist. Format's template builder can help you effectively present your skills and experience to news agencies. This is crucial for advancing your career in journalism, whether you specialize in print, broadcast, or online journalism. A high-quality portfolio website is key to standing out and attracting new opportunities.
Journalism Portfolio Examples
Looking for examples of some of the best journalist websites to spark your creative mind? We've identified Tara Pixley, a Los-Angeles-based photojournalist, and scholar, as a case in point of a journalist site that uses photography as a method to engage clients with her journalistic competencies.
Similarly, award-winning journalist, Alice Driver, uses her online journalism portfolio to help clients understand more about her career and her areas of focus as a journalist. Both of these journalists, among many others, rely on Format as the best website for journalism portfolios.
An appealing online portfolio for journalists should feature your best and most recent work, as well as a list of the news agencies you have written for. If you haven't got any published articles yet in your repertoire, that's no problem at all. You can write several articles right on your new site. Just ensure that they are formatted like a real news article and have no grammar or spelling mistakes.
How to Make a Writing Portfolio for College
A well-formatted writer portfolio can give you that added boost for your college applications and help you stand out from the rest of the competition. Moving your existing portfolio online can make it easy for college admission departments to see the depth and breadth of your work. The best way to do this is to use a dedicated writers portfolio website such as Format, which is built to help writers network put their talents on full display. We have writers portfolios examples and intuitive templates to help you get started.
How to Share Your Online Writing Portfolio and Gain Traction
Once you have built your writer portfolio website and feel happy with the aesthetic, it is time to get the word out. The best websites online writing portfolio examples are also highly integrated with social media and are SEO-friendly. Format benefits from all of the latest SEO tools as well as social sharing features. This ensures that your personal brand stays at the top of the search results, making it easy for potential clients to find you.
Which Writing Portfolio Website Should I Use?
Format offers a comprehensive and user-friendly website builder for content writers. The platform's customizable templates and digital marketing tools make it easy to create a professional online portfolio.
This allows writers to showcase their work and communicate with clients, while also focusing on writing and advancing their careers. Format is voted among the best portfolio sites for writers, and our customer support team is available to assist with any questions or issues.
Consider using Format to create your online writing portfolio and elevate your writing career.
Want to see more inspiring websites?
10 Animation Portfolios that Get Creative with Website Design
10 Artists Taking Ceramics to the Next Level
5 Websites Built Using Format's New Spruce Theme