The best online portfolios for jewelry ensure that every individual design has space to shine. No matter if you're a small business focused on establishing your online brand or a fine artist expanding your creative portfolio, your jewelry website should give viewers a feel for what your wearable art looks like in person.
We've curated this list of 10 incredible artists whose well-designed websites are just as impressive as the jewelry they create. From rising student talents to established pros, covering ceramics to gemstones, these jewelry artists and designers are a cut above the rest.
Find even more portfolio design inspiration with our exhaustive round-up of the best websites created using Format.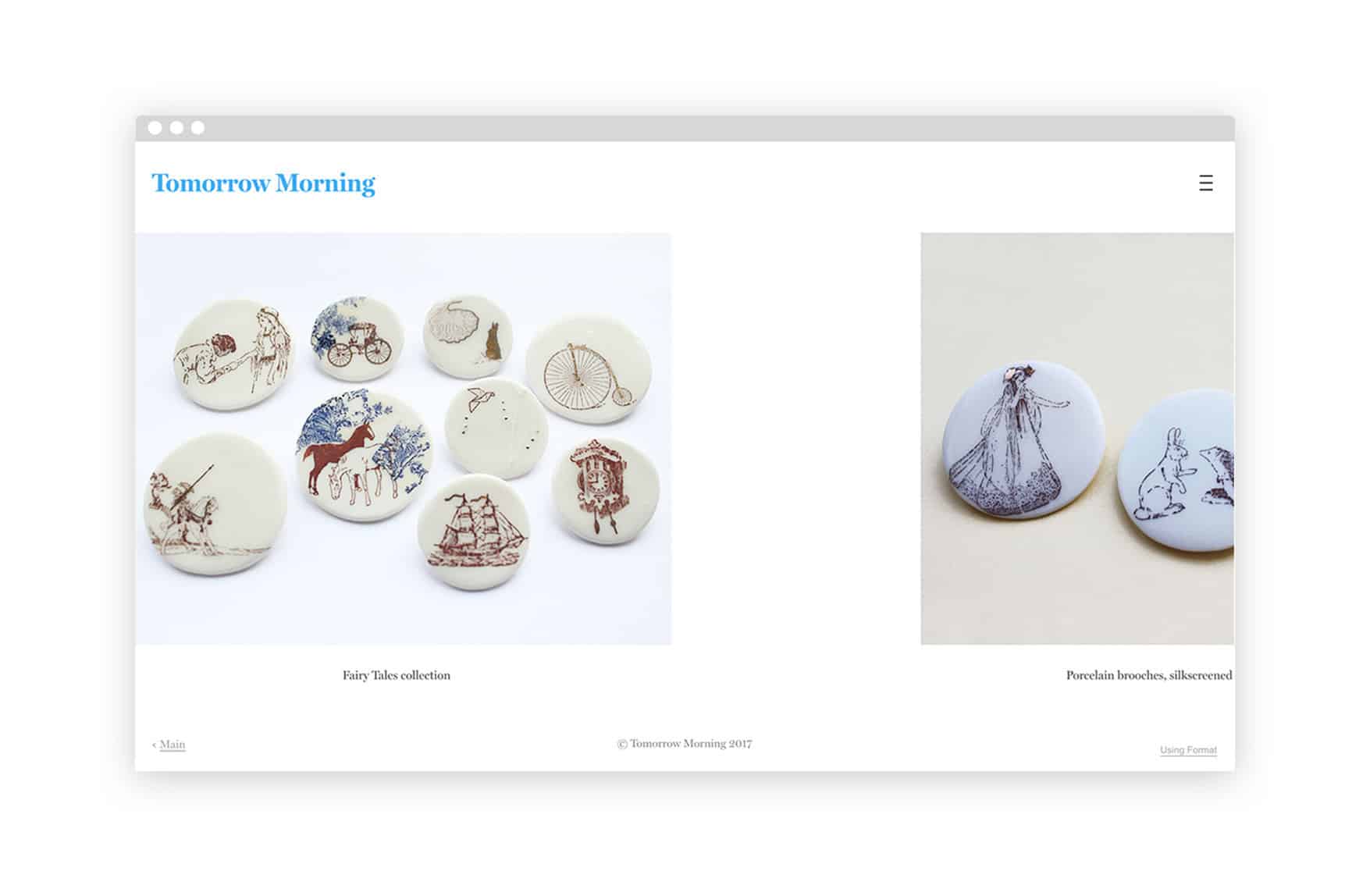 Tomorrow Morning
This Berlin-based artist creates unique ceramic jewelry, using a variety of materials such as porcelain, terracotta, gold, and silver. Their pieces often draw inspiration from natural forms and fantasy, like brooches that look straight out of a fairy tale. Format's Beacon website theme features lots of white space which allows for a combination of images and background text.
www.tomorrowmorning.ca
Format Theme: Beacon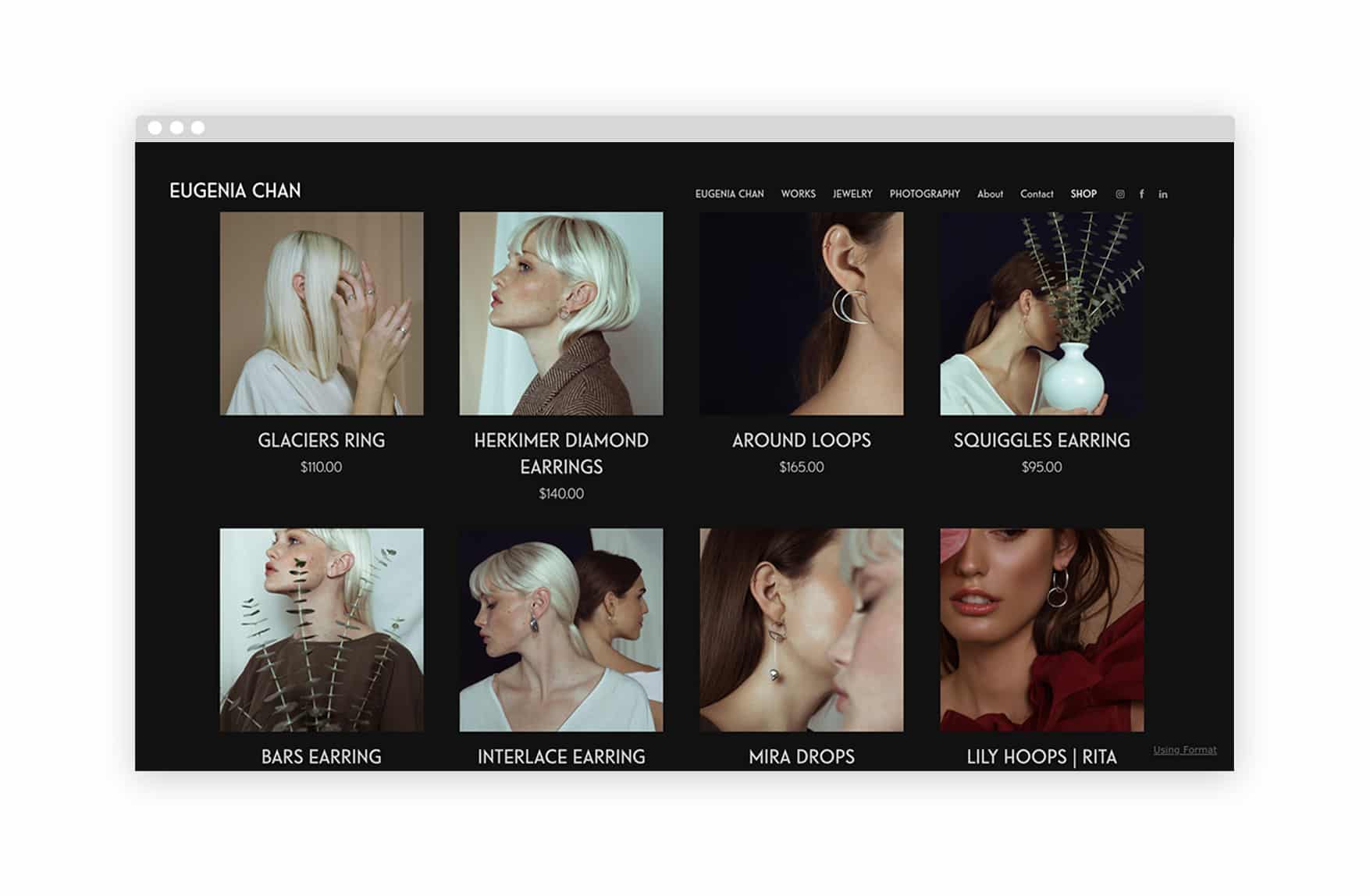 Eugenia Chan
Currently pursuing a degree at OCAD University in Toronto, Eugenia Chan's jewelry is classic and refined. Her jewelry website makes use of a bold black background, allowing her delicate designs to shine in a clean grid layout.
www.eugeniachan.format.com
Format Theme: Slate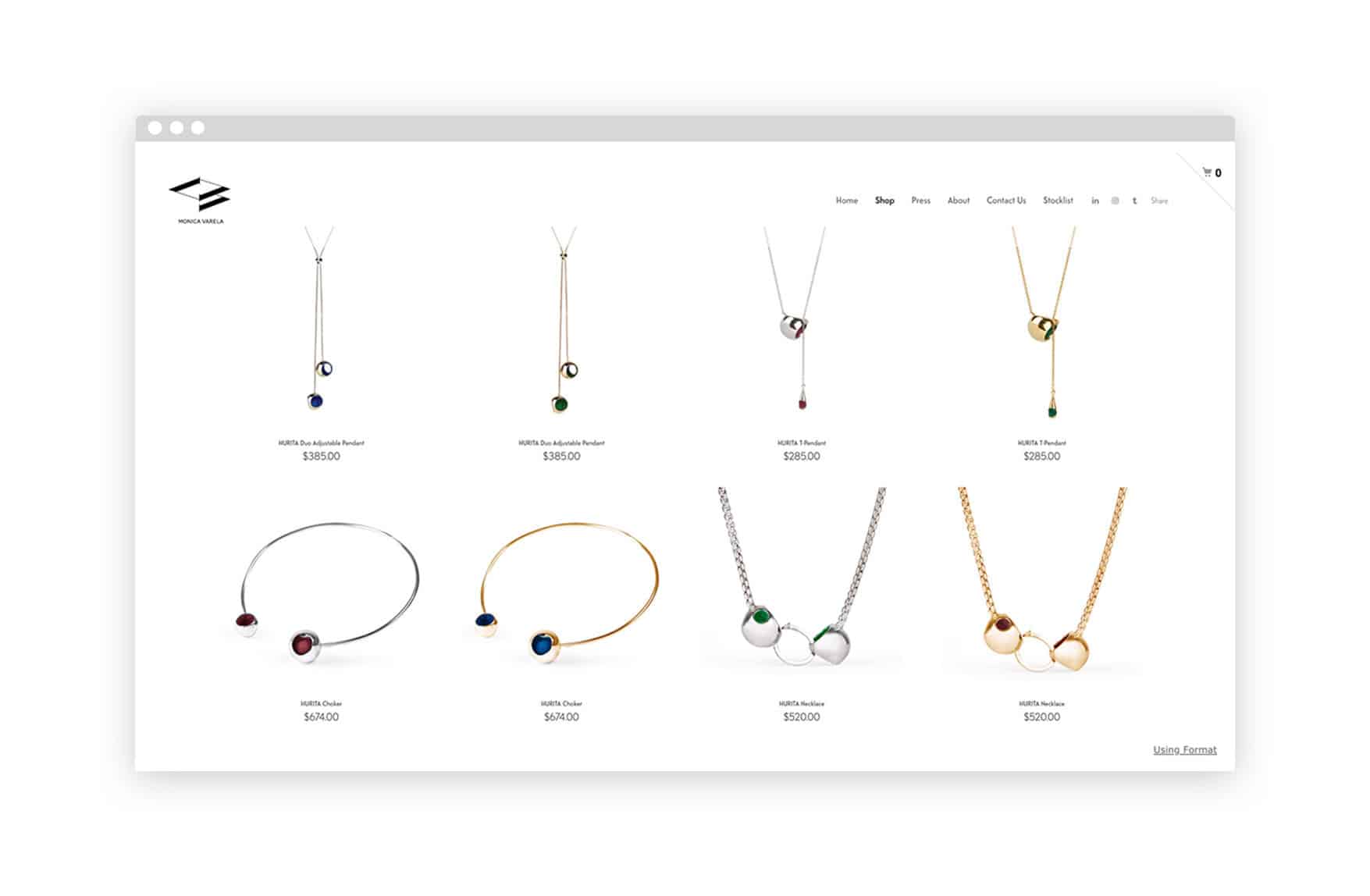 Monica Varela
Designer Monica Varela's jewelry has a contemporary feel and comes from international origins. Educated in Milan, Varela is now based in New York City, and collaborates with artisans in the Dominican Republic to produce her colorful jewelry. Her jewelry website keeps things simple, with the focus on a refined online store and a personal backstory shared on her About page.
www.monicavarela.com
Format Theme: Slate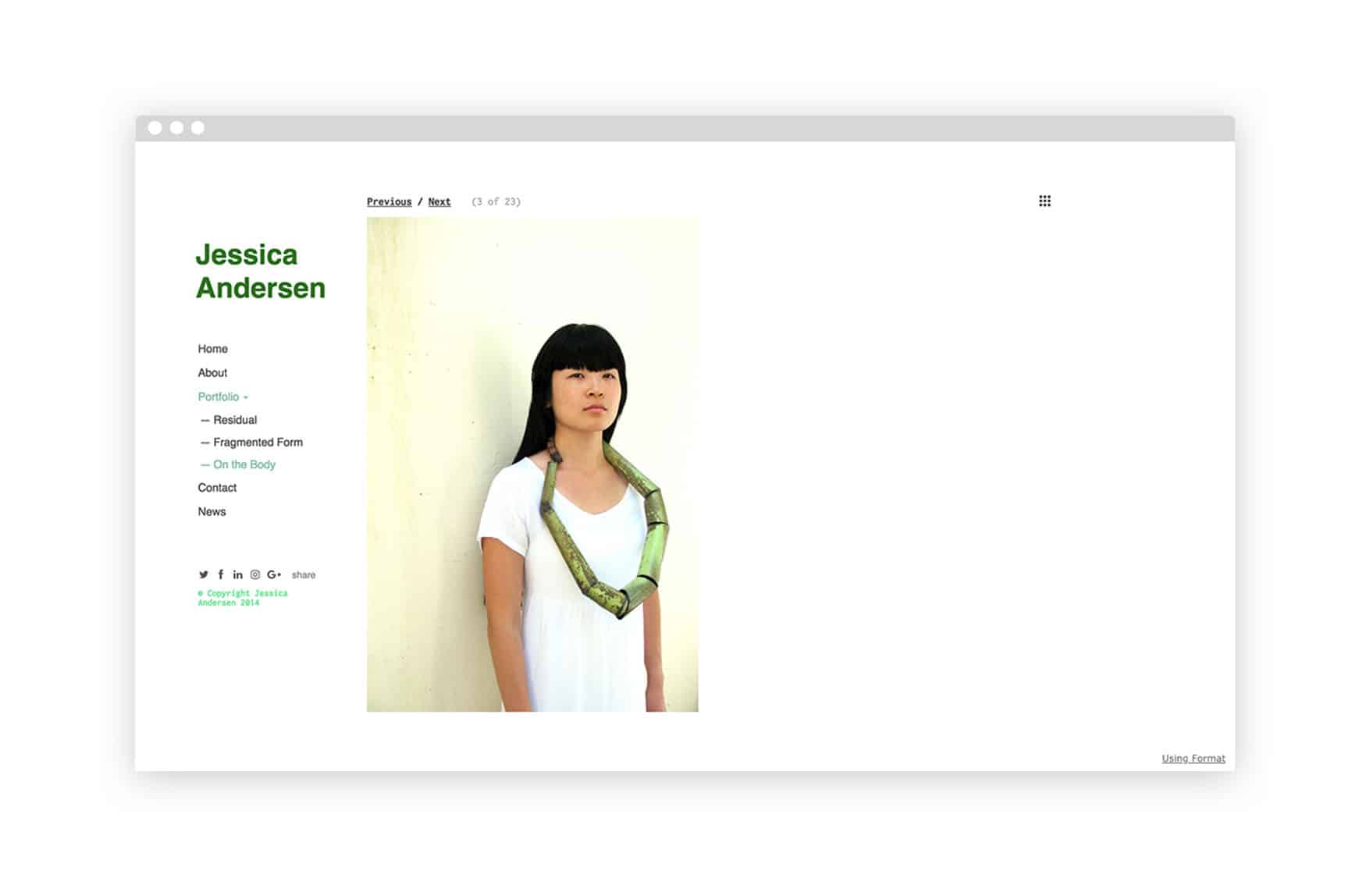 Jessica Anderson
Based in Madison, Wisconsin, Jessica Anderson is an artist with a background in metalwork and jewelry creation. Her wearable artwork examines ideas of waste and value, making use of unexpected materials to construct oversized necklaces and brooches.
http://www.jessicanandersen.com
Format Theme: Offset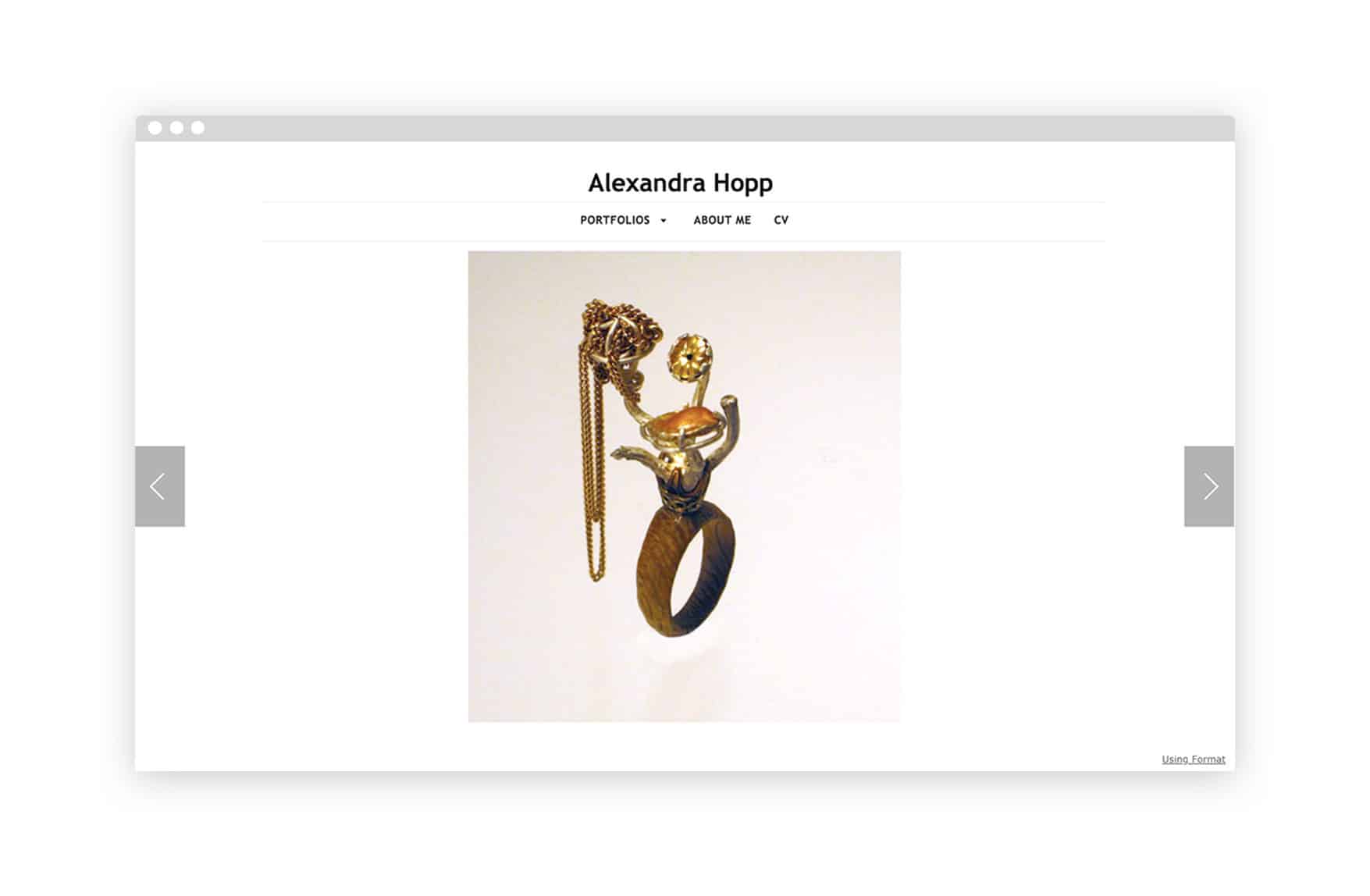 Alexandra Hopp
Professionally trained as a goldsmith, artist Alexandra Hopp brings her technical background to her current art practice. Hopp most recently created a series of jewelry which explores identity and Obsessive Compulsive Disorder. Her jewelry portfolio showcases each piece separately with a short caption, allowing for in-depth viewing.
www.alexandrahopp.com
Format Theme: Foray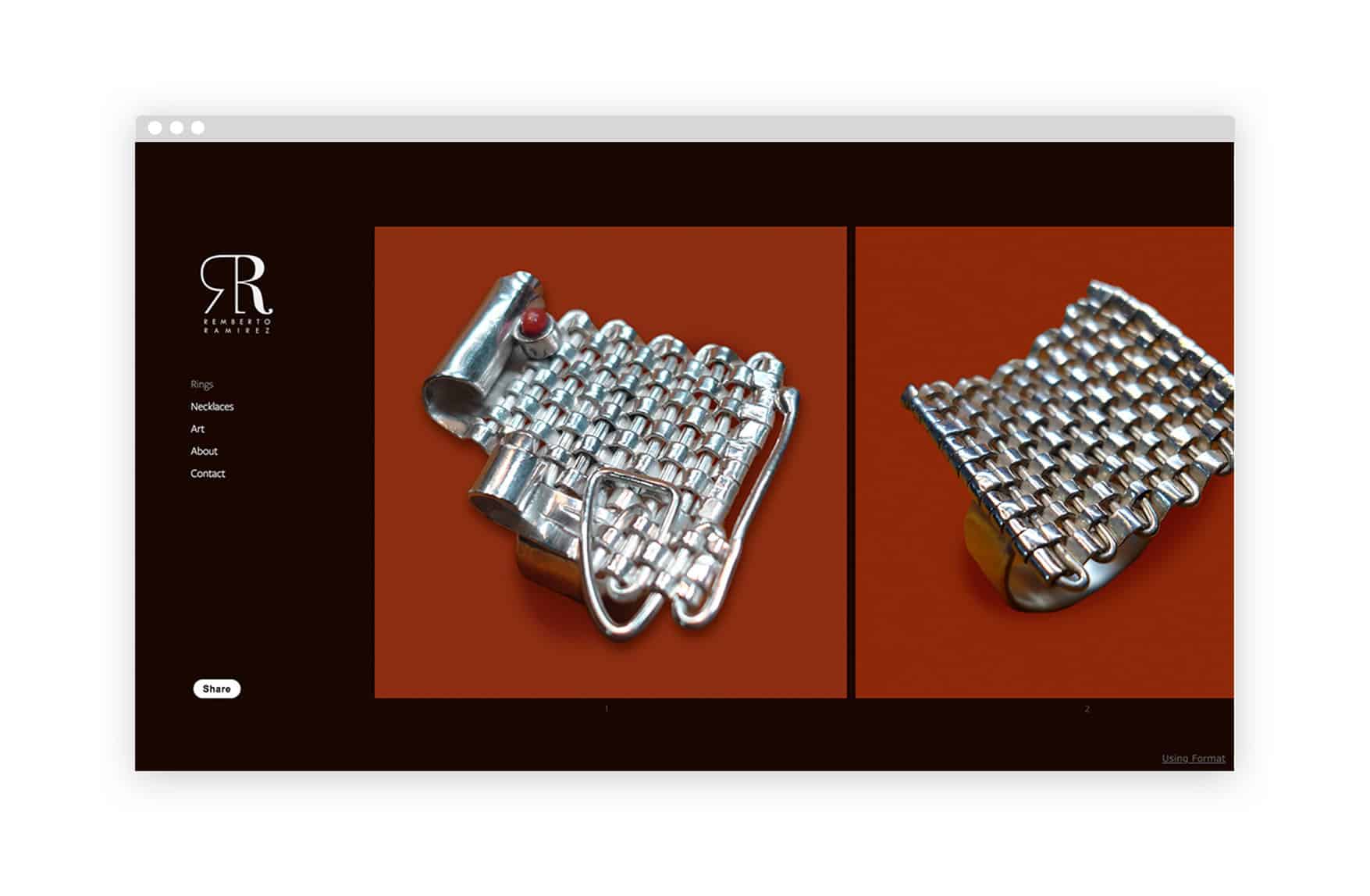 Remberto Ramírez Oramas
Working with silver and precious gemstones, Cuban artist Remberto Ramírez Oramas creates timeless-looking jewelry. His jewelry portfolio uses a rich red background to help his work stand out, while an About page featuring an image of the artist at work lends a personal touch to his website.
www.remberamirez.com
Format Theme: Horizon Left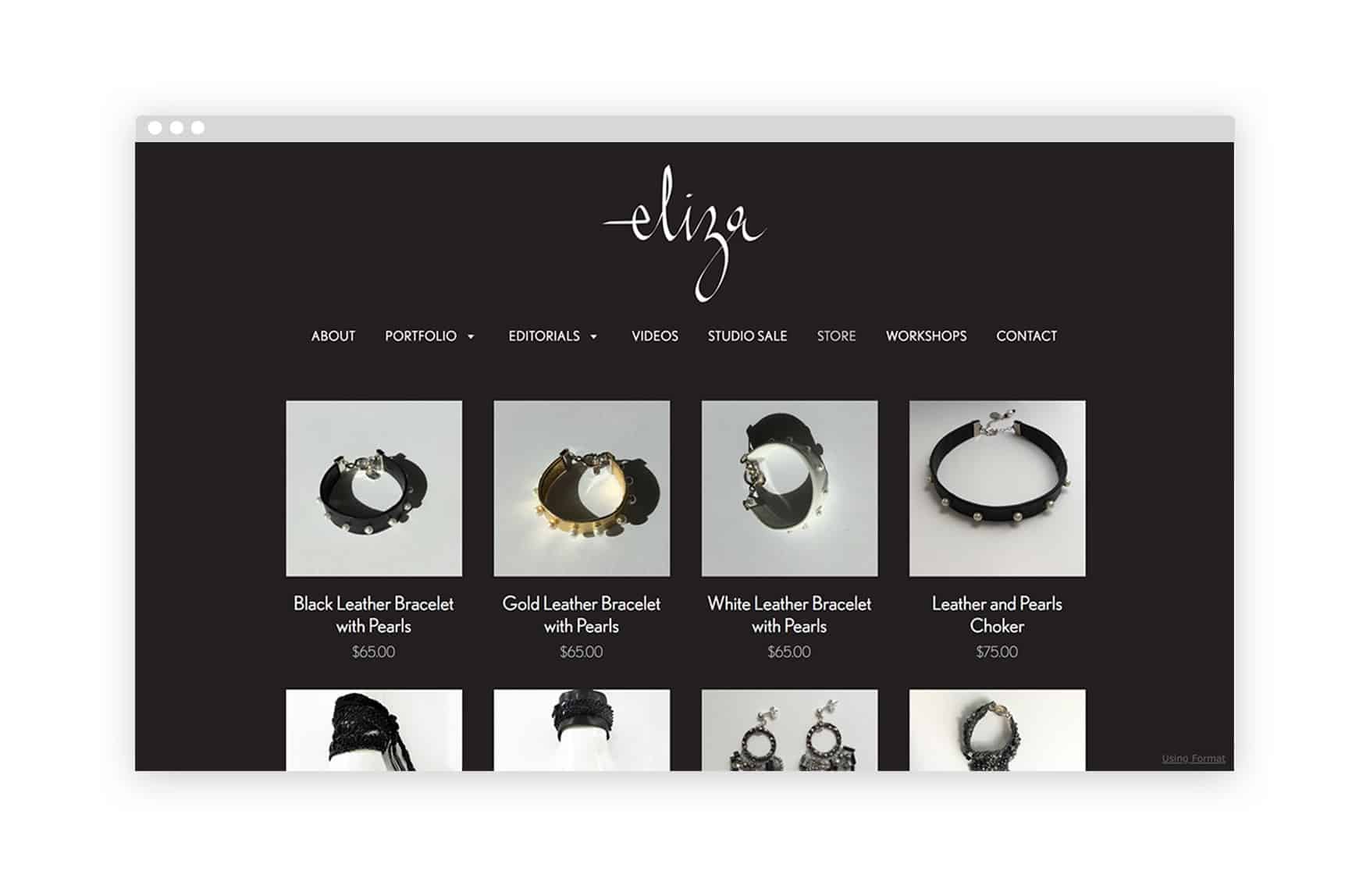 Eliza Kuzurno
Polish-Canadian designer Eliza Kuzurno draws inspiration from her heritage to create a range of jewelry in which every piece is unique. Beads and feathers often appear in her detailed, textural work, which has been featured in Toronto Fashion Week as well as in editorial shoots. Kuzurno's custom logo helps her jewelry website stand out.
www.elizakozurno.com
Format Theme: Foray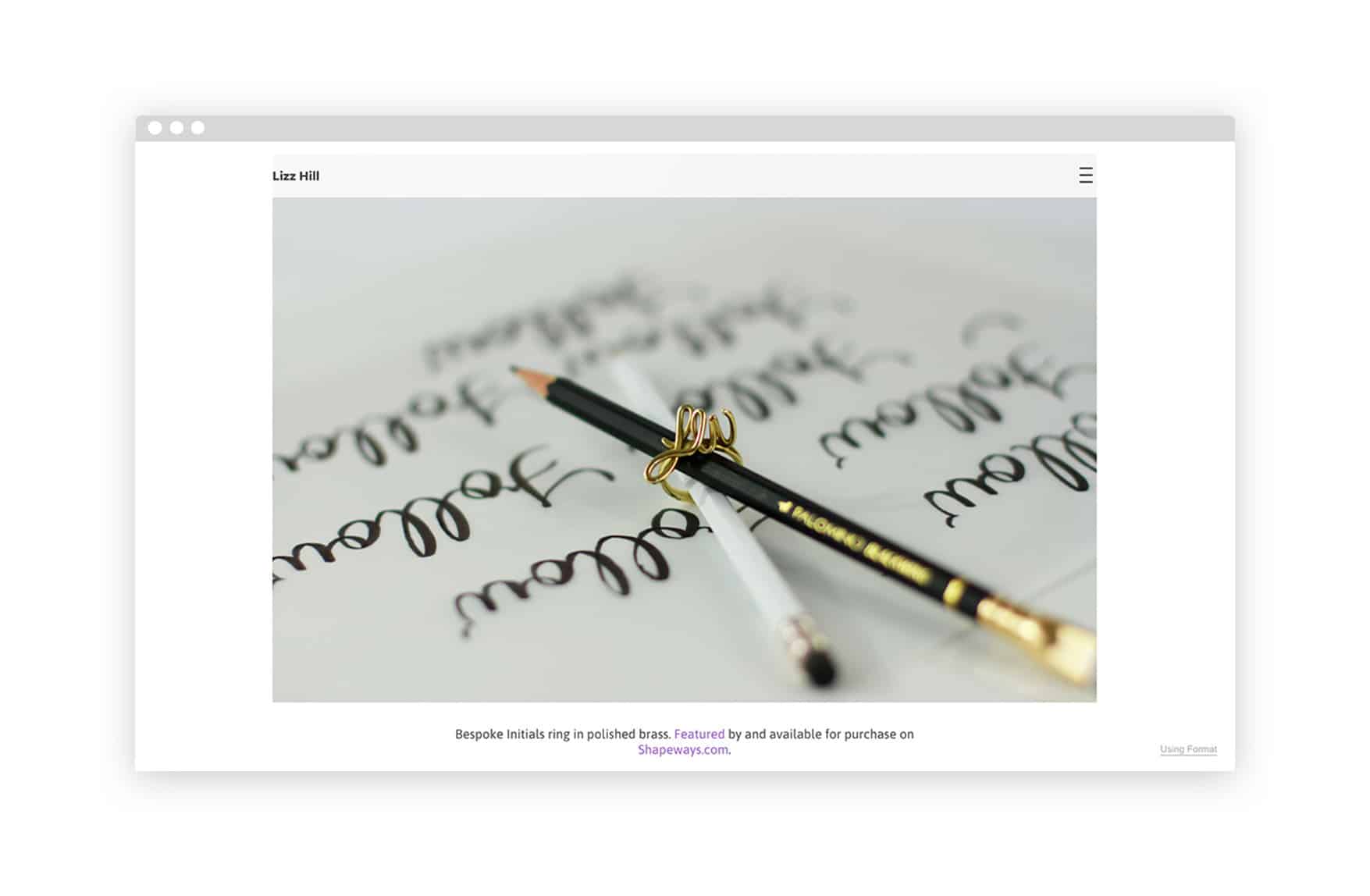 Lizz Hill
Currently a director at Tapestry, Inc, Lizz Hill oversees technical design and 3D prototyping for hardware and jewelry for brands like Coach, Kate Spade, and Stuart Weitzman. Her design portfolio also features a selection of her own creative 3D-printed work. Hill includes recent events, videos, and detailed information in her work on her online portfolio, ensuring that visitors get the full picture of what she's working on.
www.lizzhill.tech
Format Theme: Albers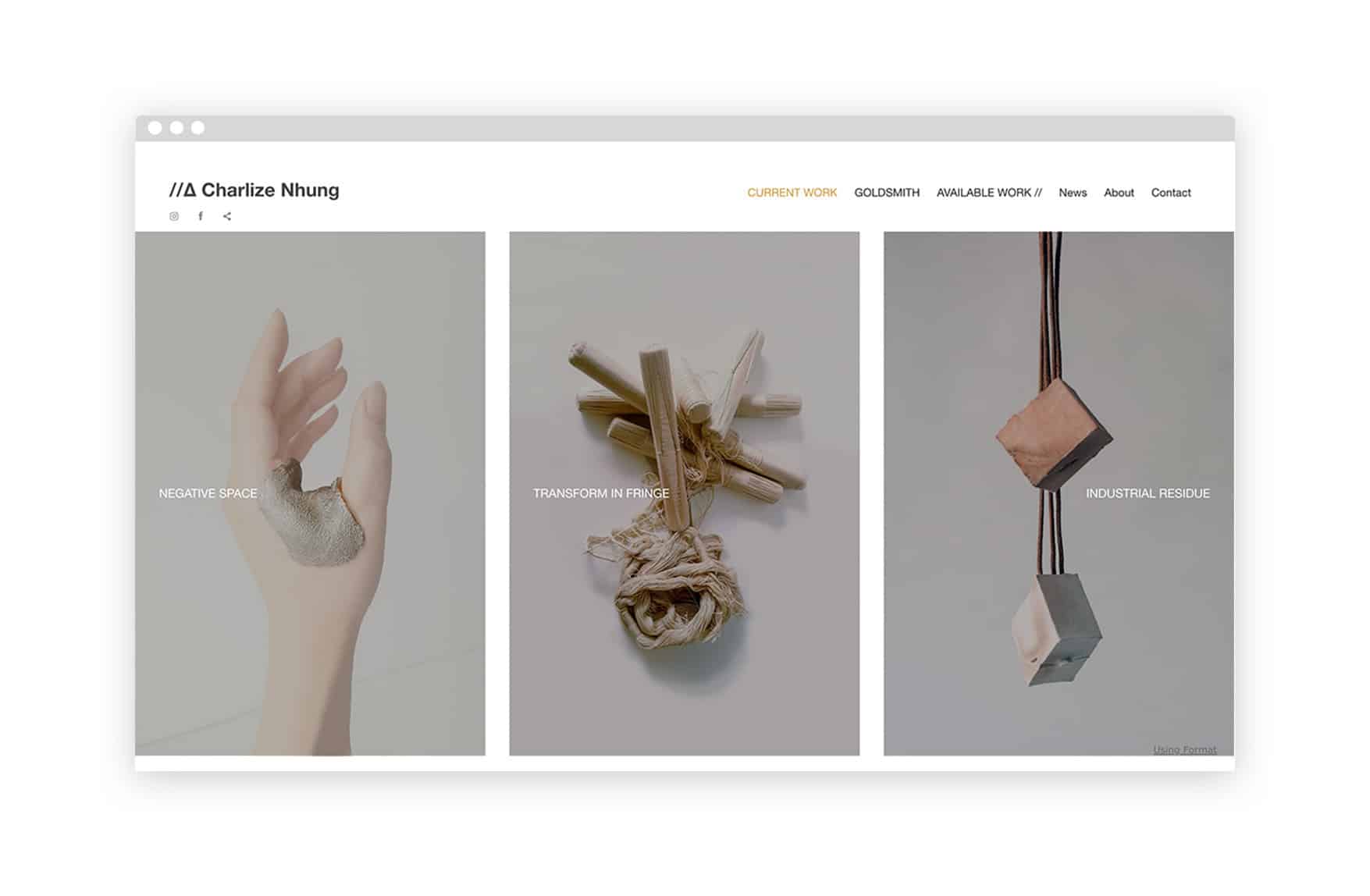 Charlize Nhung Nguyễn
Artist Charlize Nhung Nguyễn brings a background in architecture and goldsmithing to creating wearable art objects. She uses Format's Post theme to showcase an overview of her work, with large images seen next to detailed captions describing the ideas behind each series of designs.
www.charlizenhung.com
Format Theme: Post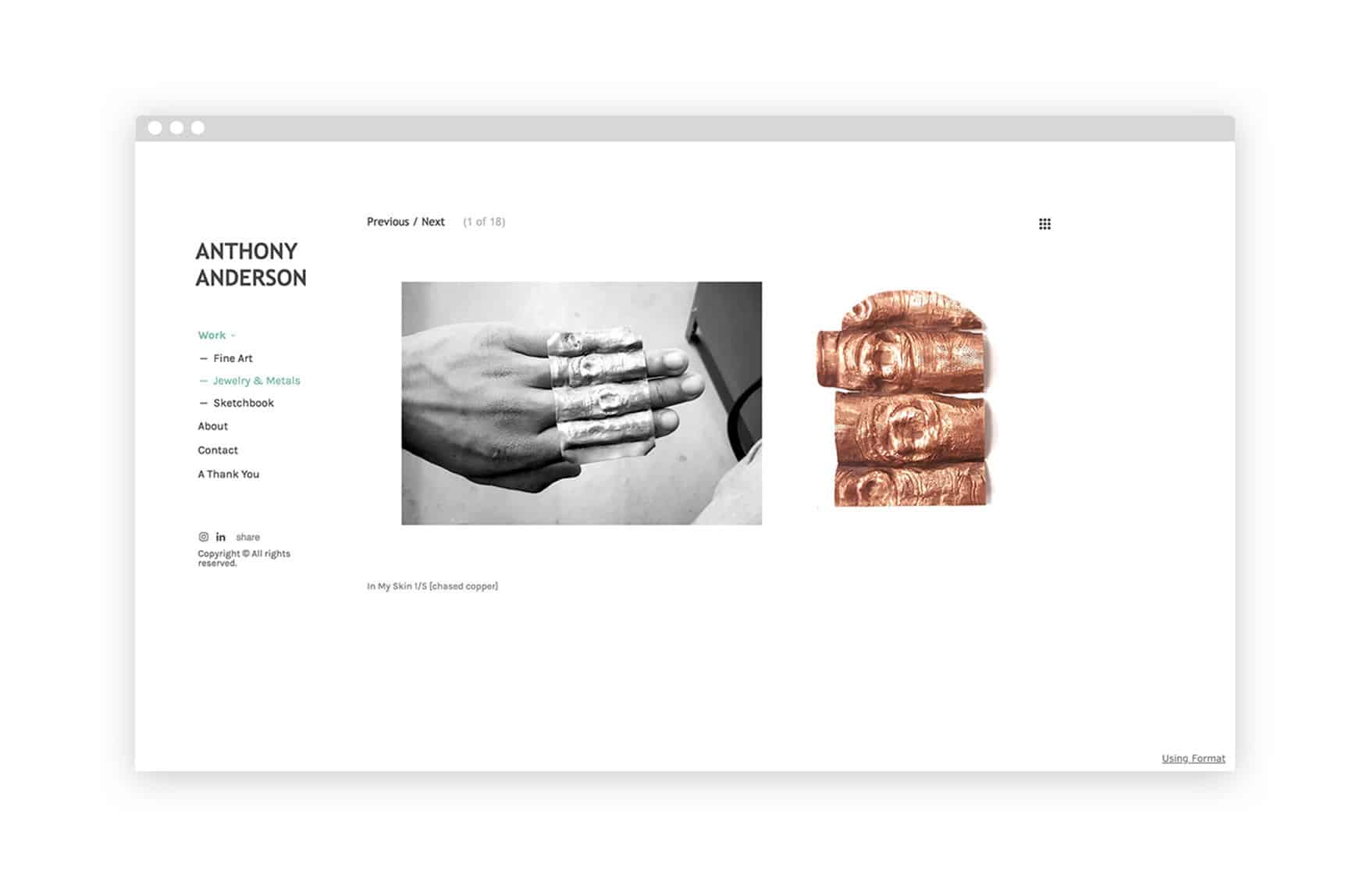 Anthony Anderson
Currently studying jewelry and metalsmithing at RISD, Anthony Anderson's art practice also involves painting. He cites nature as a major inspiration, evident in the organic lines and shapes of his unique jewelry creations. Anderson divides his online portfolio into categories based on media.
[Format Theme: Offset](/l/your_new_portfolio#offset)
Find more inspiration with these on-point creator websites:
10 Writers with Portfolios that Stand Out
20 Fashion Stylists to Get Inspired By
20 Makeup Artists You Should Know About