The New York Art Book Fair is one of the liveliest events held at MoMA PS1 in Long Island City. Run by local bookstore and publisher Printed Matter, and sponsored by a robust list of organizations, the yearly fair brings artists, photographers, and designers together to celebrate art books of all kinds. On display are zines, artist monographs, and artist portfolios. You can also snag some artist-made small edition items like t-shirts, jewelry and ceramics.
Taking place September 23 to 25 this year, the NY Art Book Fair is always a dizzying labyrinth of colorful fold-out table booths, each covered with stacks of artist and designer multiples to sift through. In my hunt for my favorite artist books, I can confidently say this list is far from definitive.
The fair is famously friendly, popular, and intense. It can be overwhelming to wade through the sea of books and art book nerds, but there's a reason most creatives in New York make a point not to miss it. The booths are run by a wide range of different suppliers, featuring small edition and high-end book publishers, galleries, and self publishing artists.
Most thrilling, the NY Art Book Fair attracts people in the industry from around the world. The fair is more than a commercial space to display and buy covetable art books; it is a space for conversation across disciplines and regions. Below you'll find some of Format Magazine's favorite books found while navigating the fair this past weekend.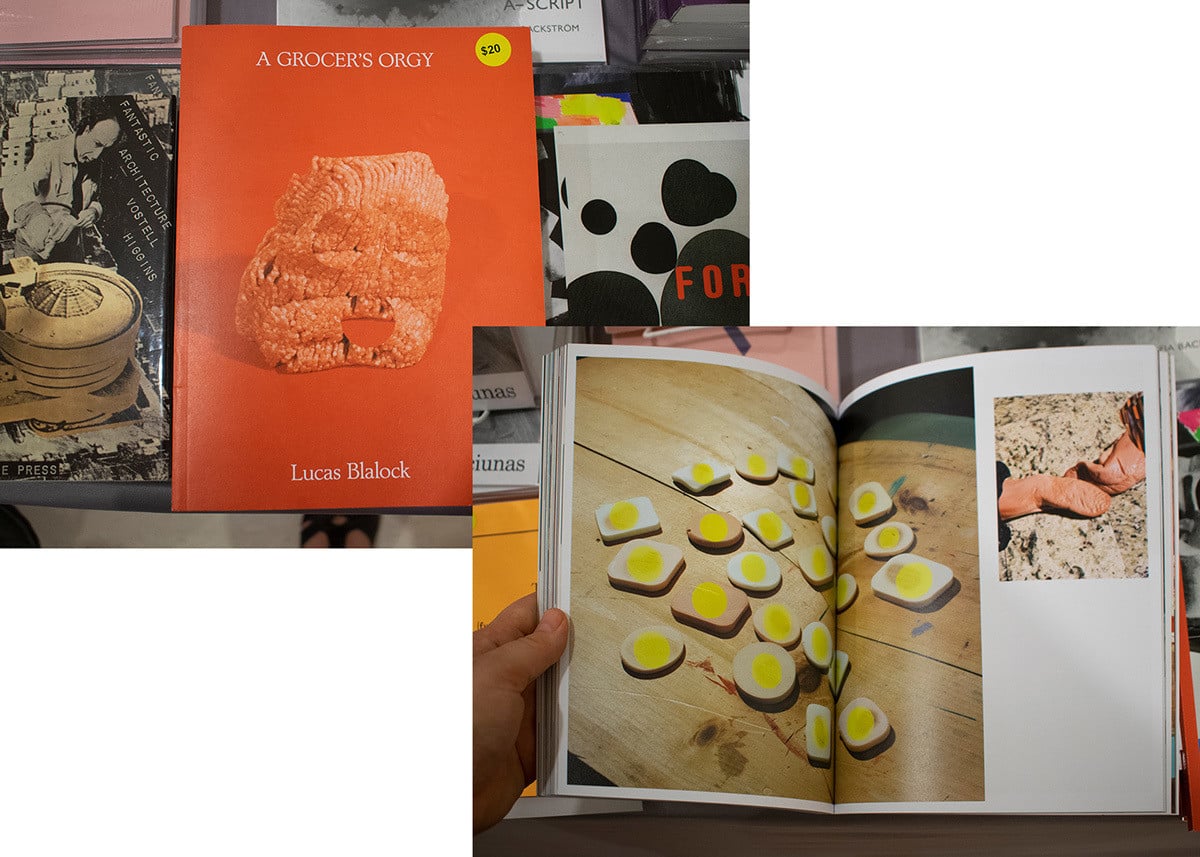 Lucas Blalock, A Grocer's Orgy
Booth: Primary Information, New York
At their booth, Primary Information generously described the development of A Grocer's Orgy, an artist monograph by Lucas Blalock. Blalock is a Brooklyn-based photographer who challenges the development of photo manipulation in his punchy photo collage works, manipulating photographic spacial logic in explicit ways. Blalock's technical deployment is full of humor and clever technique. He aggravates the picture plane by using photoshop in unconventional ways. The tools that were meant to hide alterations in Blalock's work become the main event.
His images intermingle flat shapes with images of quotidian objects, food and interiors. He bisects and manipulates parts of images leaving them disorganized and misaligned. This causes slippages in the trompe l'oeil quality of the image. Like a collage that shows the cut marks, his work doesn't trick you. Instead, it confronts you in its distortion and unreality.
For this monograph of past works, Primary Information worked with the artist to confuse what the very idea of an individual work and an artist monograph. Within the book design, Blalock creates visual interventions and distortions of his own works. He overlaps pieces on top of one another, makes new works from the layout of the book, and organizes them into nonsensical, non-chronological order.
Bill Burns, Songs of Birds Wearing Safety Gear
Publisher: Plugin Editions ICP, Winnipeg, Canada
Bill Burns is a Canadian artist who was born into a book-selling family. This personal history is not surprising considering his affection for book works, and multiples. The conceptual artist has produced artistic happenings such as Goat Milking at The Royal Ontario Museum in Toronto; he also runs the Dogs and Boats and Airplanes Choir, a children choir that only makes the sounds of dogs, boats, and airplanes.
Burns' book Song Birds Wearing Safety Gear folds out into a page filled with oblique musical notations. The book includes a folded blueprint with rubber stamp instructions for its unfolding as well. It's an activating object, meant to direct the viewer into performance or artistic happening, similar to the way Burns' other works are conducted. Song Birds Wearing Safety Gear is a great example of how a book is not just a inanimate object, but can be a catalyst for instruction and movement.
Daniel Gordon, Intermissions
Booth: Three Star Books, Paris France
Brooklyn-based photographer Daniel Gordon was dynamically displayed at this year's fair. His work was presented through the Three Star Books booth in a room on the second floor of PS1. Near the booth, an approximately twenty-foot shelf was covered with paper sculptures of fruits, vases, and plants. Each one of these sculptures was made by photographing an object. Gordon then prints out saturated images of each object to finally re-build them again as three-dimensional paper sculptures of their own forms. The sculptures feel provisional, and are deliciously scrappy, showing the edges of the paper that comprise their making.
In tandem with this delightful installation, the Three Star Books booth presented a portfolio box of Gordon's works, titled Intermissions. Each photograph in the series was a re-photographed image of one of these sculptures in situ. The photographs were frequently organized into tight compositions and bold colours. Gordon has devised a sort of meta-process: by photographing an object, making an object, and making a photograph again, he highlights a tenuous relationship between original, secondary, and its simulation. By pairing the sculptures with the portfolio box, the artist emphasized the uncanny relationship between an object and its replication.
Christopher Branson, Things For You To Draw
Self-Published, Chicago
I found Christopher Branson in the zine area of the fair. His work immediately caught my eye because of the book entitled 'Things for you to Draw'. The beautifully designed book lists prompts to base drawings on. I was attracted to the book initially because of its pleasing layout, color, and typography choice. However, I also frequently run drawing marathons, events where artists are led through a series of prompts to make immediate drawings at a fast pace. So when I saw the book, I thought, "I need that."
The reason drawing marathons work so well is that they force an artist to be creative under pressure, leading to unexpected inspiration. Talking to Branson revealed that he practices a similar methodology; his entire 12-book series on display at the fair was a project in which he forced himself to make a book every month for a year. He did this to see what unexpected or creative things would happen while trying to match his productivity goals. The take away: when we challenge ourselves to exceed our expectations we often can meet them, and produce more interesting results.
Branson makes these books in his spare time while working as an art director and illustrator in New York. I bought the book to use in my next marathon.
Alicia Nauta and Eunice Luk, Flowers From A Distance
Self-Published, Toronto/Japan
I've been a big fan of both Alicia Nauta's and Eunice Luk's for a long time. The two artists frequently collaborate on projects and work alongside each other. Both of these artists have distinct practices that deserve to be investigated individually, but here I wanted to highlight their long-standing ability to work together. They work in silk screen, book arts, apparel, artist cassettes, and ceramics. It's rare to see artists with a long standing collaborative chemistry like Luk and Nauta.
The two artists used to both work in Toronto, but for the last three years Luk has lived in Tokyo. I thought it would be nice to honor the rarity of their artistic friendship by featuring a book that they made together called Flowers From A Distance. I may be reading into the title too closely, but this book feels like a correspondence between long distance friends. In the book, Nauta and Luk respond to each other's images through photographs, collage prints, and drawings to create a freeform narrative. I love these poetic juxtapositions, and the choice to print entirely in cyan is a calming touch.
Alexis Beauclair, About #5
Publisher: Gloria Glitzer, Berlin
Gloria Glitzer is exclusively an artist book and zine publisher. On their website they share this powerful quote from Sol Lewitt: "They are works themselves, not reproductions of works. Books are the best medium of works. Books are the best medium for many artists working today." From what I saw at this booth, the publisher uses this quote as a mandate for how they approach artist publications.
My favorite item from Gloria Glitzer's impressive booth was their About book series. For each of these books, they ask the participating artist to treat the four pages as four walls of a gallery. Each artist has a distinct approach to this prompt.
As a feature book, I choose Alexis Beauclair's About #5. In her edition, she decided to use the freedom of the two-dimensional book space to propose impossible architectonic installations for the imaginary gallery space. The space of a book is a flexible and imaginative one that doesn't need to adhere to the reality of physics. I appreciate how this work took a playful note on thinking about the virtual space of a book.
Jutta Koether, There It Is
Publisher: Printed Matter, New York
The book There It Is by Jutta Koether was printed by Printed Matter in 2009, coincidentally for the Art Book Fair. It may not be new, but this book still stood out as a highlight.
The images and texts relate to the Koether's performances and paintings. She's a feminist powerhouse who often looks to art history to source ideas for her large scale paintings and installations. There It Is features a series of mimeographs held loose leaf between red covers, which are printed in vibrant scarlet and a deeper crimson tone to reflect the artist's signature limited red palette in her paintings. Printed in a small exclusive edition of 150, this book is an ideal collectors item for fans of Koether's looking for a lighter purchase than buying an original artwork.
The first page of the book opens to a dynamic image of two figures holding the banner "Sovereign Women in Painting." Like Delacroix's Liberty Leading the People, it's an image that feels like a call to action. I loved gently leafing through these illustrative and powerful images. It's a precious book I would covet, but the female painter in me also wants to take all the images and paste them on the front doors of the MoMA.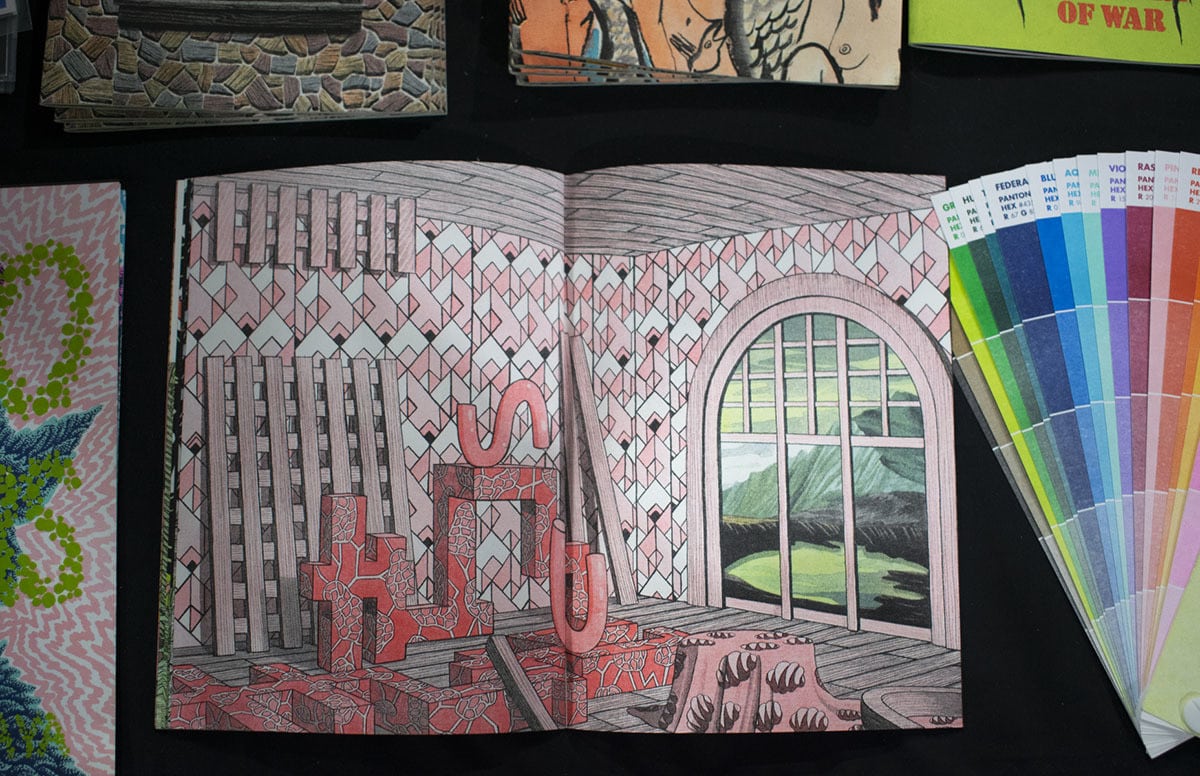 Luke Painter, Bauble Bauble
Publisher: Colour Code Printing, Toronto
Colour Code Printing recently published a new book by Toronto-based artist Luke Painter. The publisher specializes in risographs and other printing methods of artist publications. This book, Bauble Bauble, is a four-color risograph. Painter, who works in ink on paper, is a skilled and prolific drawer. This book captures his prowess as a draftsman while highlighting his penchant for and calculated handling of color. Chroma seems to be especially important in these new works. They feature glowing transparencies, deep moody blacks, and contrasted areas of saturated monochromatic spaces.
The works in Bauble Bauble explore the tension between the indoors and outdoors. The surfaces in the interior space are covered in a plethora of mismatched patterns, drawn from misaligned timelines. In some images, the indoors and outdoors seem to blur. In others, plant life seems to take on personified attitudes and forms. The lack of human presence seems distinct in these delineations of unpopulated internal spaces. In these illustrations it feels like the closest thing we have to the living are the plants left over from a time when we once had gardeners. The melancholy feeling is palpable, haunting, and at the same time attractive. It's a strange and enjoyable adventure to wander through these spaces.
Hsien Jung Chen, Food Pose
Booth: Sonnosbooks, Taiwan
On the upper level of the fair, just before heading out, I spotted a beautiful accordion book by Hsien Jung Chen. On one side of the book was a series of photographs of small, pastel-colored, glazed ceramics on a black ground. On the other were, to my surprise, sculptures of different foods on a kitchen countertop; the ceramics were modeled after these provisional kitchen sculptures.
I love the size of the book being about the scale of the food sculptures and presumably the sculptures as well. The book is called Food Pose, which is apt because it feels like the foods are performing little acts for you, saying "Look what I can do!" with every weird shape and stack, like a gymnast contorting their body. This playful book was a nice last surprise.
More on artist books:
The Art Books You Actually Need to Read
Spotlight On: Grayson James
10 Photo Books That Bring Portfolios to Life