Creating a travel photography portfolio presents a unique challenge because travel photographers tend to have large portfolios with many photos from different locations. How can you make sure that your best images stand out, but still demonstrate your versatility and get a chance to share all the different places you've documented?
We rounded up 16 outstanding travel photography portfolios that hit a sweet spot between too many photo galleries and too few—they include just enough images to keep viewers wanting to see more. Simple menu navigation and basic layouts tend to be the preferred choice of travel photographers, who know that their eye-catching photo work is more than enough to give personality to their online portfolio.
Documenting landscapes, street scenes, and people everywhere from Iceland to Japan, these travel photographers all have photo galleries that will make you start searching for airfare deals. Some are established pros, while others are emerging photographers who prove you don't have to be a professional to show off your travel photography—all you need are some vacation snaps.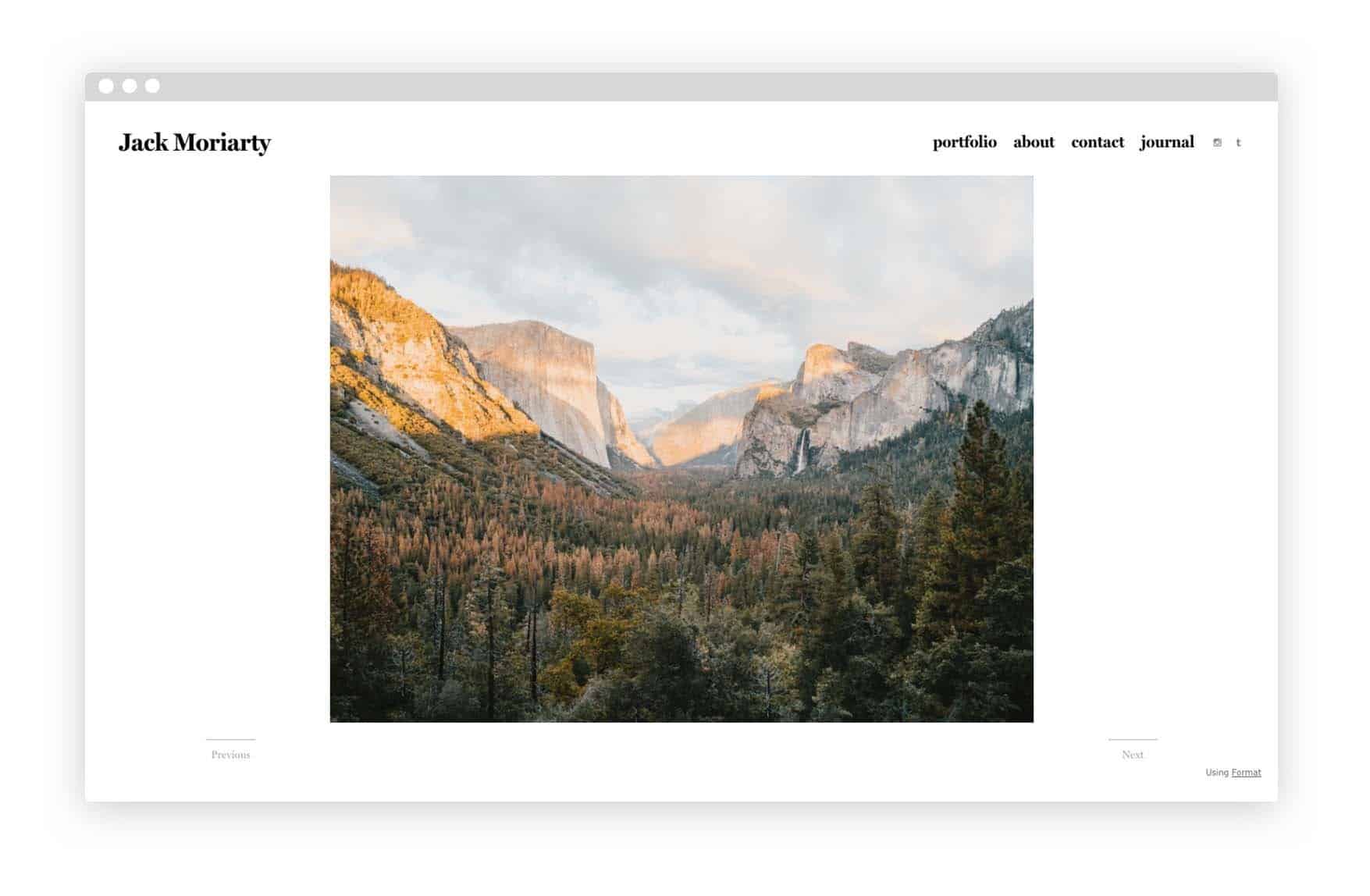 Based in California, photographer Jack Moriarty has an eye for shooting forest landscapes. His photography is full of natural light and lots of leaves. Moriarty keeps his portfolio simple by showcasing just one gallery of his best images. A classic serif font gives his website a polished look.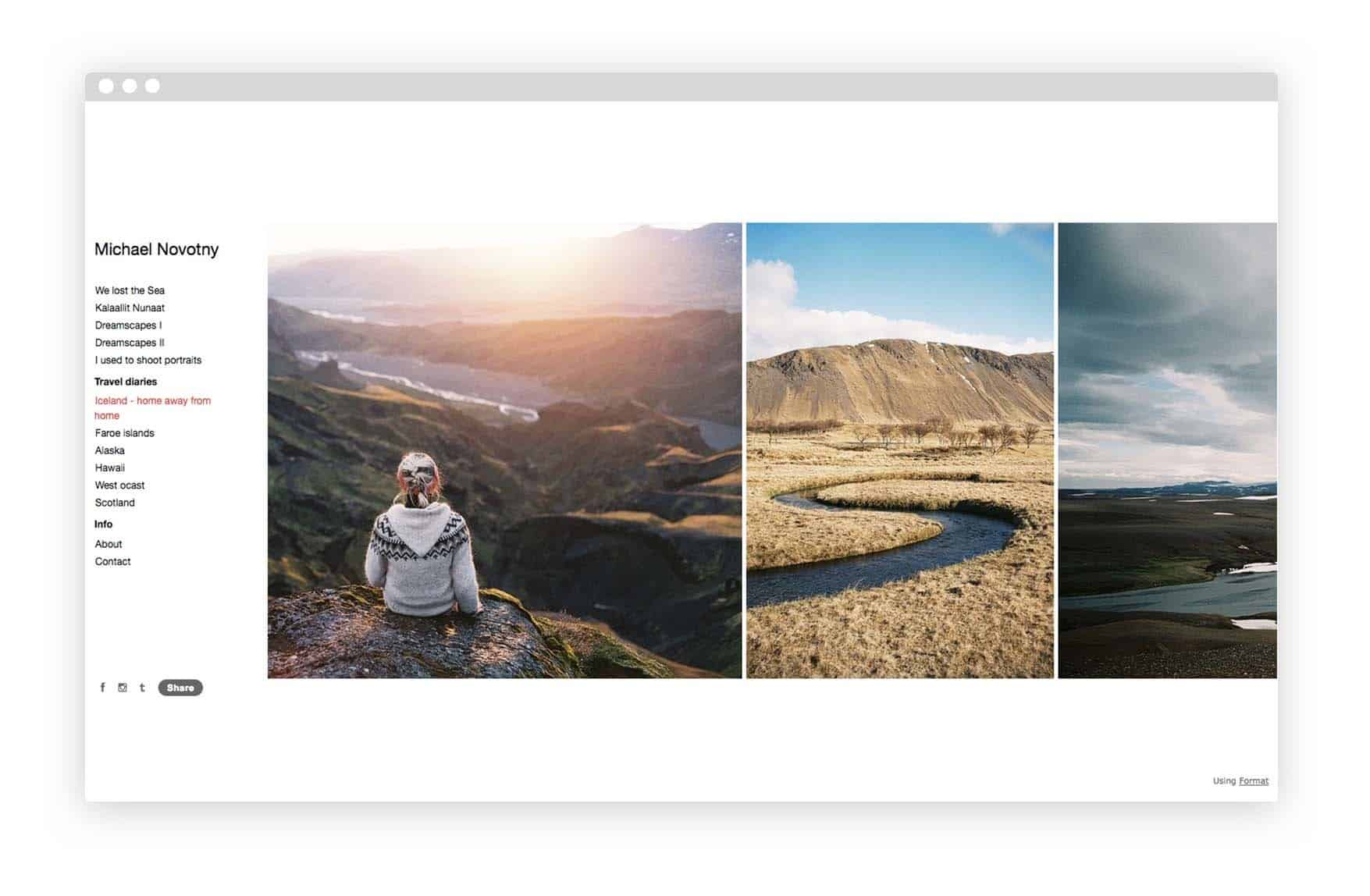 Czech photographer Michael Novotny has spent the past few years living what he calls a "half-nomadic life," visiting over 40 countries. Shooting only analog photos, Novotny captures evocative images of landscapes from Alaska to Hawaii.
Germany-based photographer Viktoria Braun excels at capturing lush, grainy landscapes, especially coastal scenes and mountain ranges. Whether she's shooting in Iceland or Italy, her travel photography makes you feel like you're right there admiring the scenery with her. Braun uses enigmatic titles ("Haze," "North") to add mood to her photo galleries.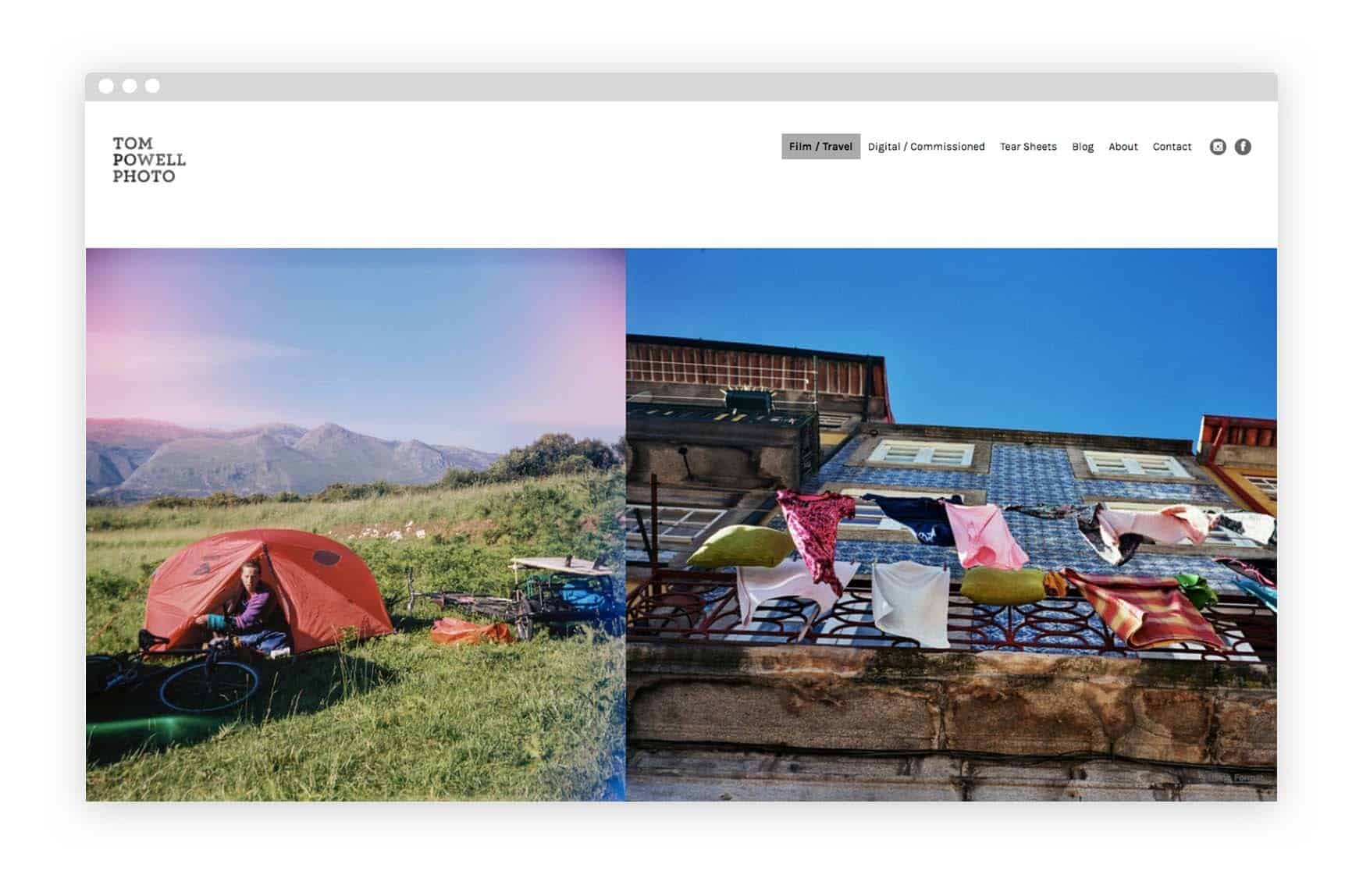 5. Tom Powell
English photographer Tom Powell has lived all over the world, and is currently based in New Zealand. Powell's colorful film photographs will make you feel like you're on the road with him, as he documents the small moments of travelling life: cooking, setting up tents, meeting new friends, biking along an open road. Powell's images fill up the entire screen, giving his online portfolio an immersive feeling.
Based on Australia's East Coast, Jason Charles Hill has shot travel photography for a wide range of tourism campaigns (from Dubai to Vancouver to Kenya) as well as for airlines like Air Asia and Jetstar Australia. His lush landscape photos take over the screen with his minimal theme.
With high profile clients like Facebook, Instagram, and Apple, it's safe to say that Ruairidh McGlynn knows his stuff when it comes to travel photography. The Scottish photographer excels especially at capturing empty, desolate landscapes, like deserts and mountain ranges. He includes very little text on his profile, letting the images speak for themselves.
Based in Paris, travel photographer Thibault Charpentier uses a neat grid theme to arrange his different trips into galleries. Shots of historic sites, favorite restaurants, and photogenic desserts abound, from Japan to Italy to Brazil.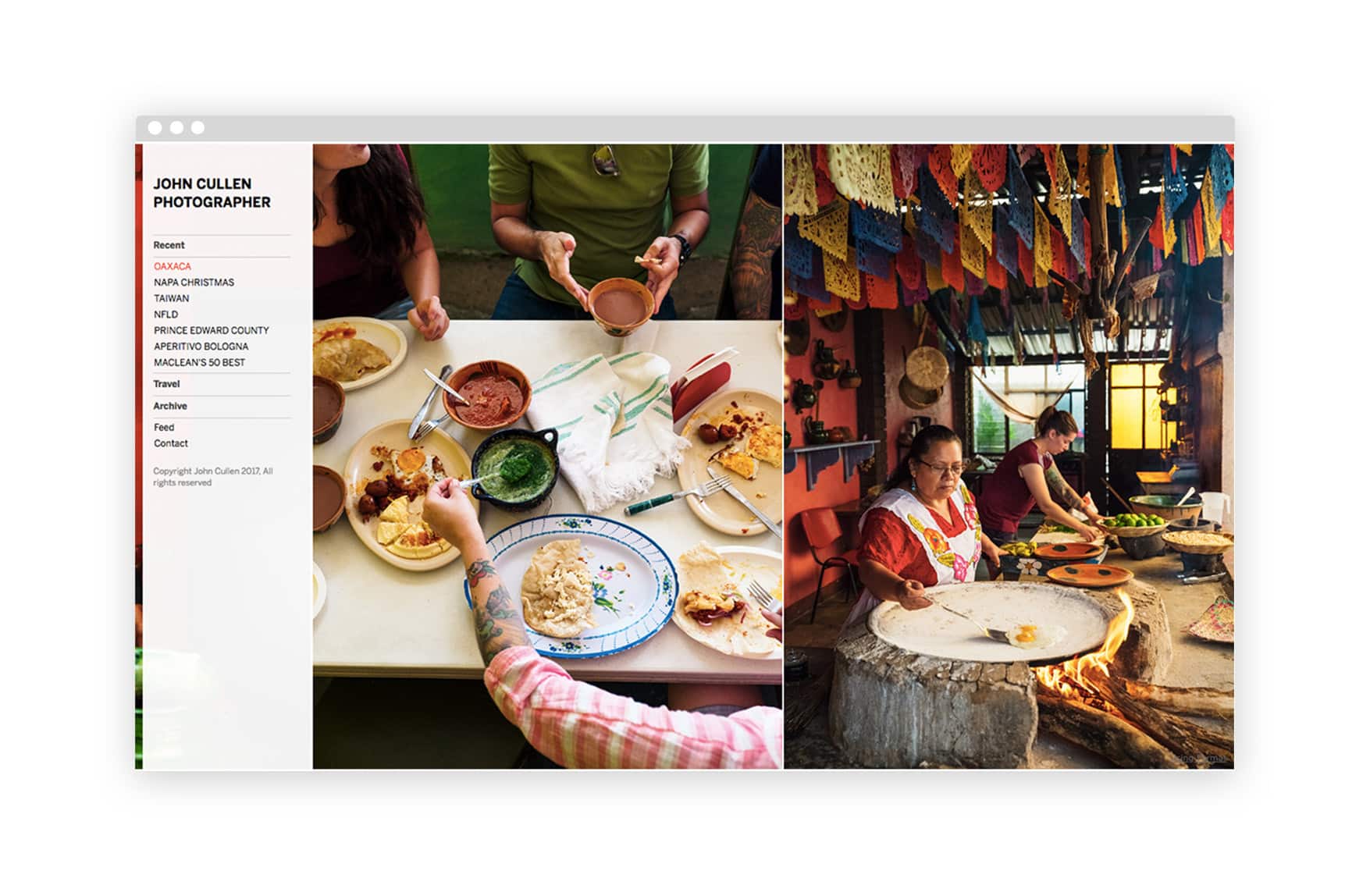 Toronto-based photographer John Cullen specializes in traveling to document food and culture. Often shooting for Air Canada's En Route magazine, Cullen has captured meals and scenery from Oaxaca to Taiwan. His simple side-scrolling photography website allows his images to take up the entire screen.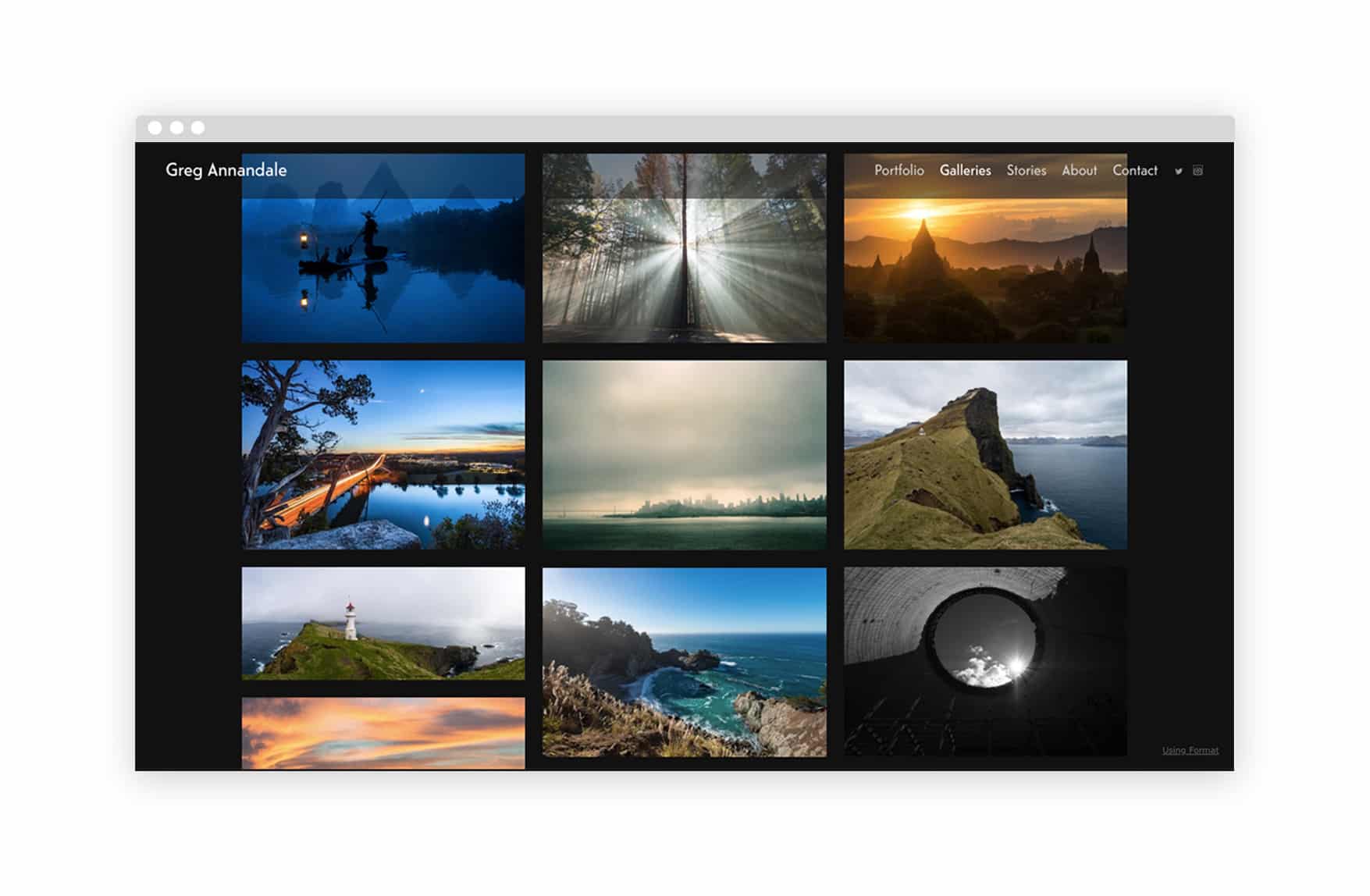 In addition to his day job as a software engineer at Raspberry Pi, Greg Annandale is a seasoned adventure and travel photographer. Bristol-based Annandale has traveled widely, from Egypt to the Arctic, shooting picturesque photos along the way. A crisp black background helps the photos on his travel portfolio pop.
Mahnoor Malik is an internationally-published photographer based between Washington, DC and Montreal. She's been featured by VSCO and The Wall Street Journal. Malik's travel photography is sharply focused and color saturated.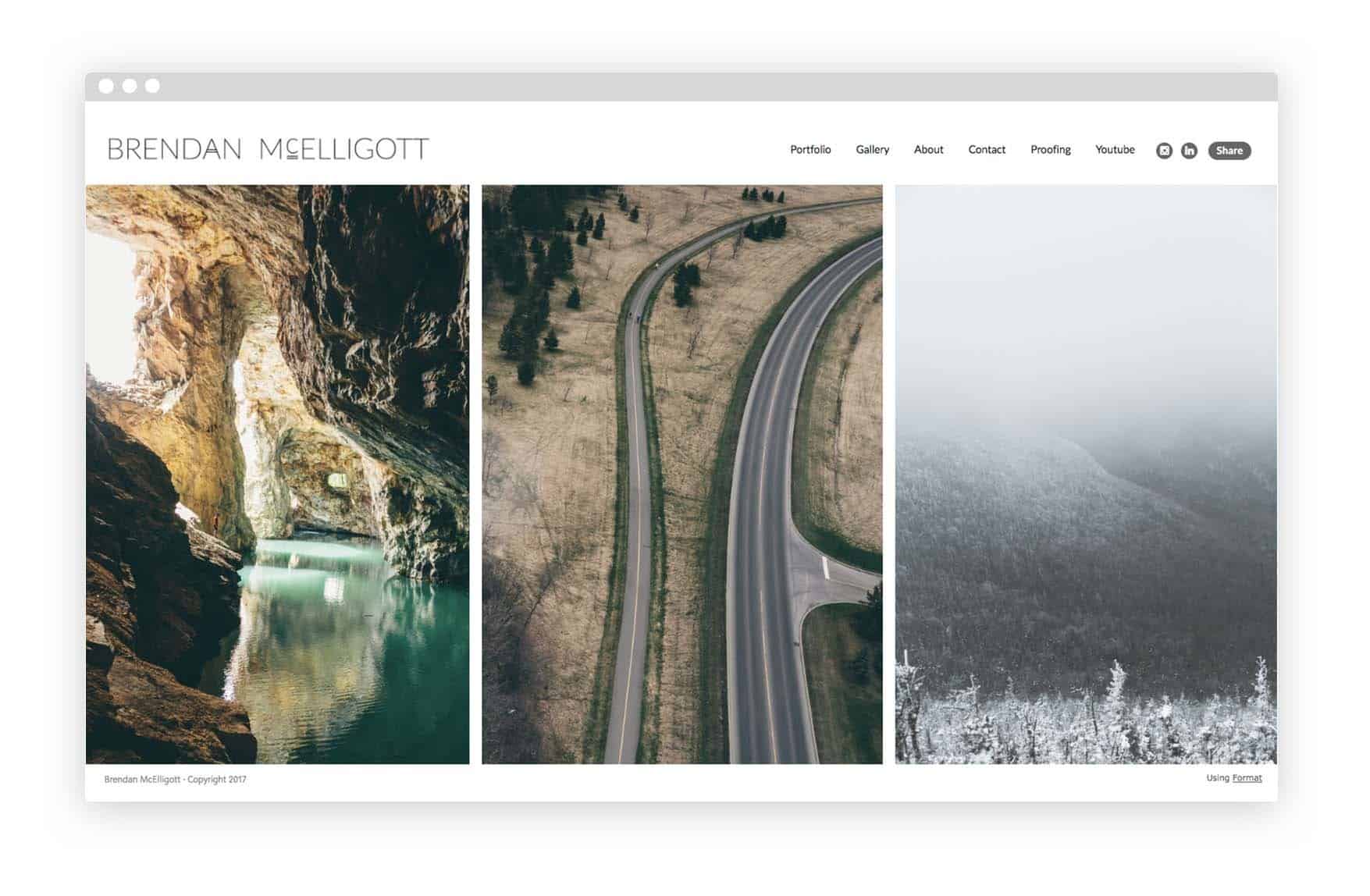 Ottawa-based photographer Brendan McElligott specializes in wintry landscapes and aerial views. McElligott neatly balances his brand work and travel photography on his portfolio, while keeping his galleries on the shorter side to make sure that his best work shines. McElligott uses a distinctive custom logo to add personality to his website.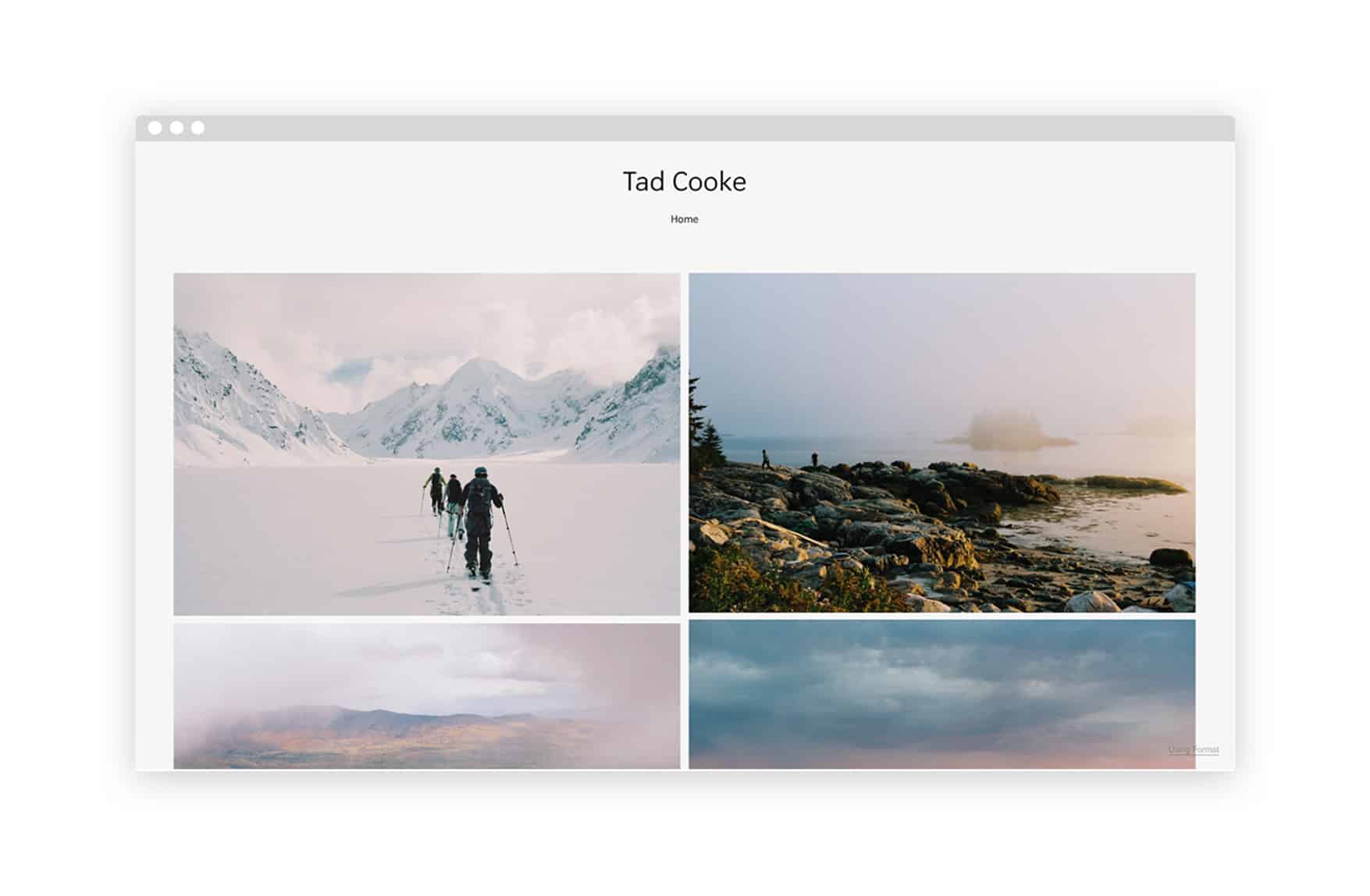 Based in Vermont, photographer Tad Cooke has a knack for capturing snowy scenes, usually shot on 35mm film. His photos of ski trips in Alaska are especially captivating. Cooke uses a vertically scrolling theme to organize his portfolio.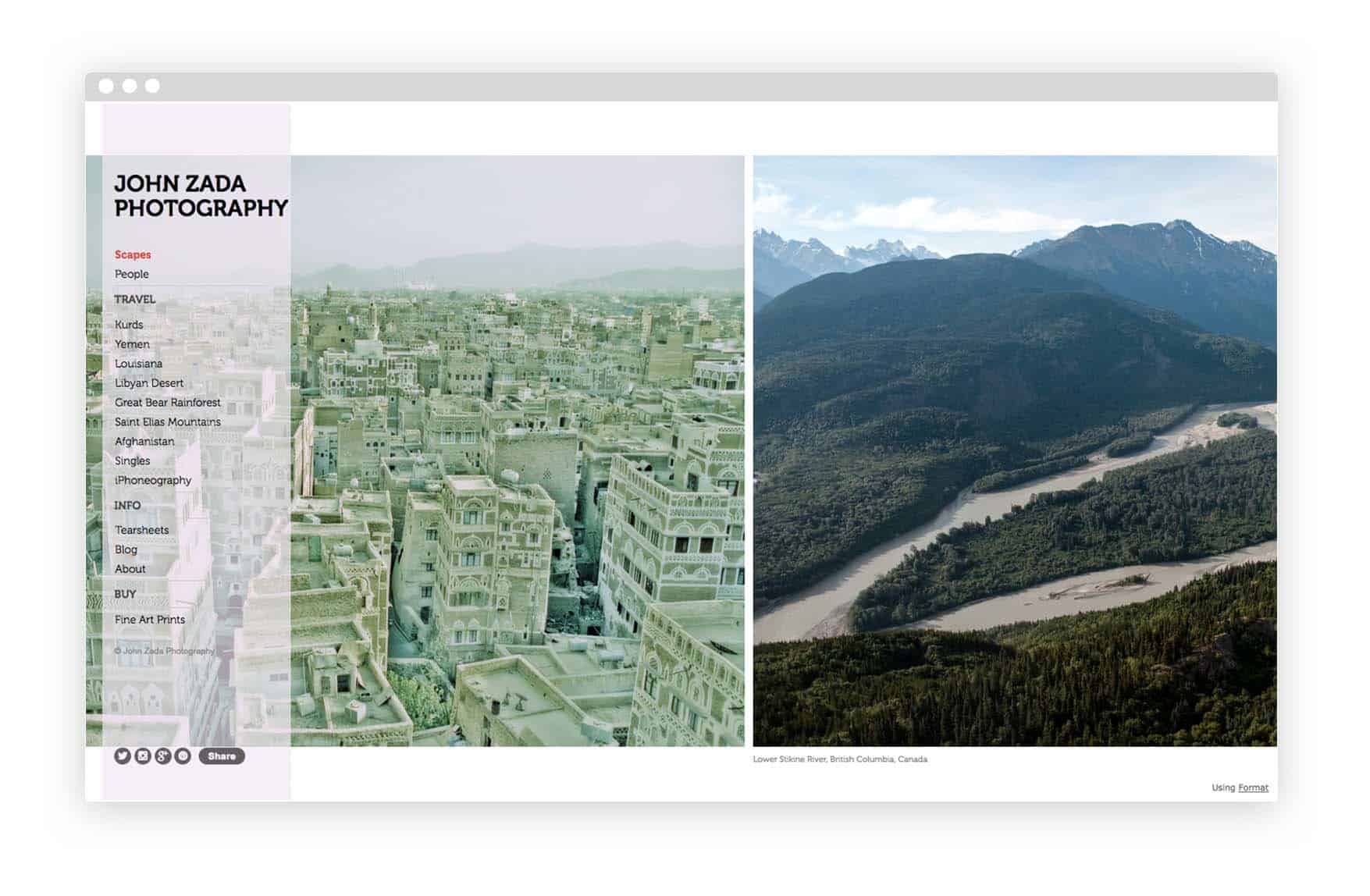 Toronto-based photographer and writer John Zada has travelled widely as a photojournalist, covering the refugee crisis on the Syrian border and exploring remote parts of Jordan and the Yukon. He has worked for CBC News as well as al-Jazeera English.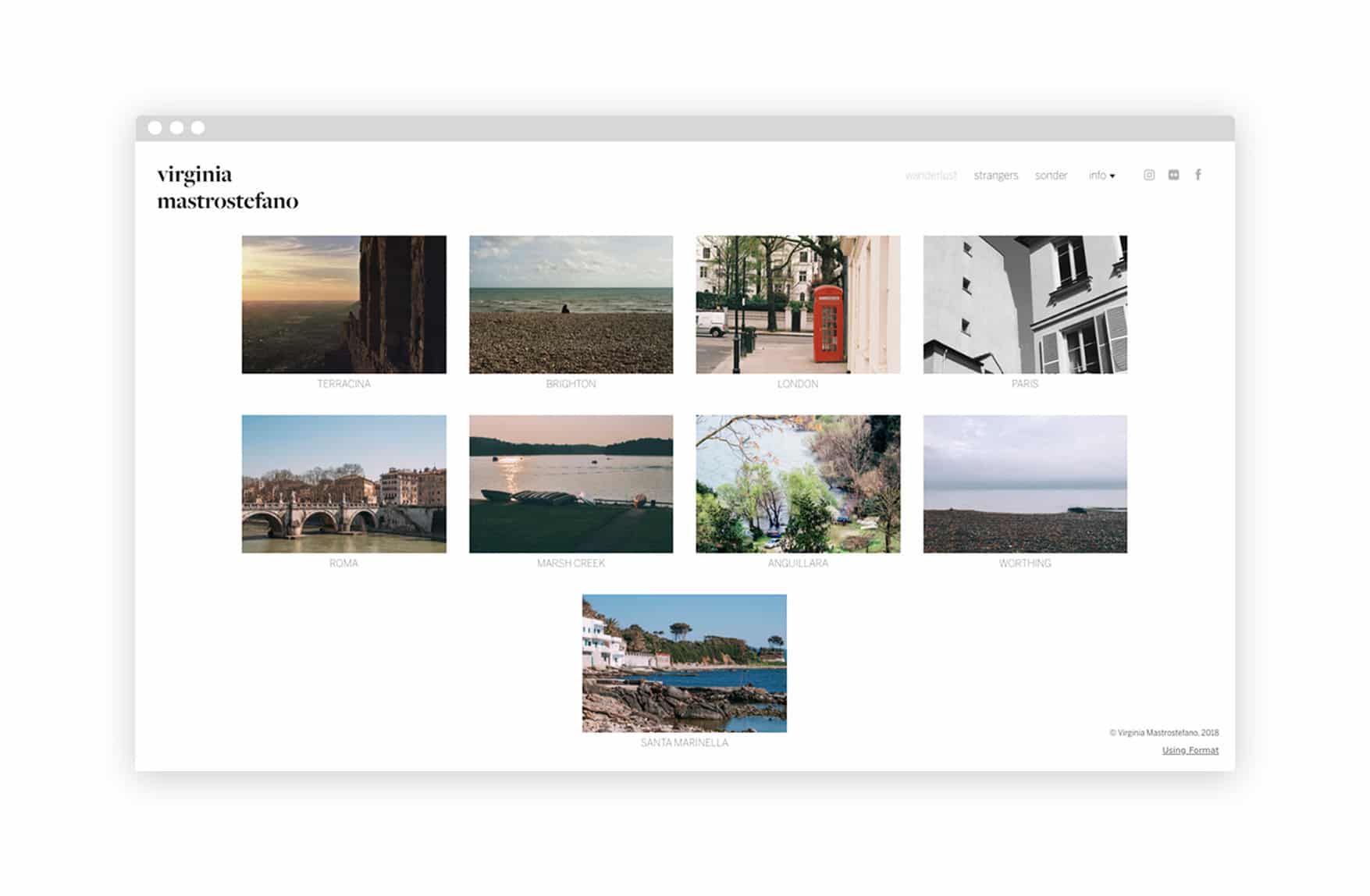 Originally from Rome, Italy, photographer Virginia Mastrostefano is now based in Brighton, UK. Grainy analog photography, most often of street scenes or peaceful landscapes, fills her online portfolio. Locations range from France to Italy to her home base on the British coast.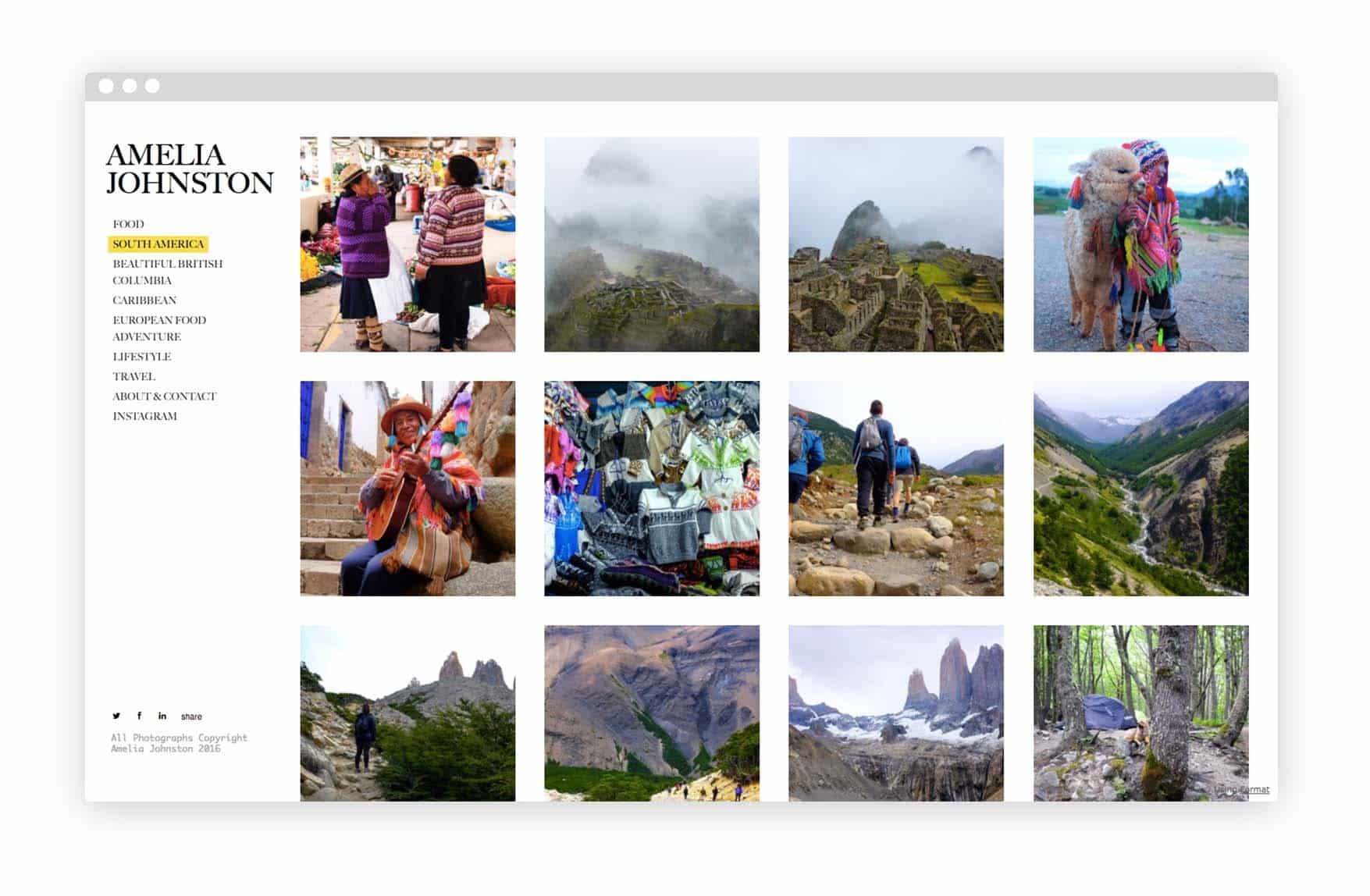 Based in British Columbia, Canadian photographer Amelia Johnston organizes her richly colorful travel photography into galleries based on location, from South America to the the Caribbean, and then includes some more general food and lifestyle galleries to give a basic overview of her work. A grid theme lets viewers get a broad look at Johnston's travel photography.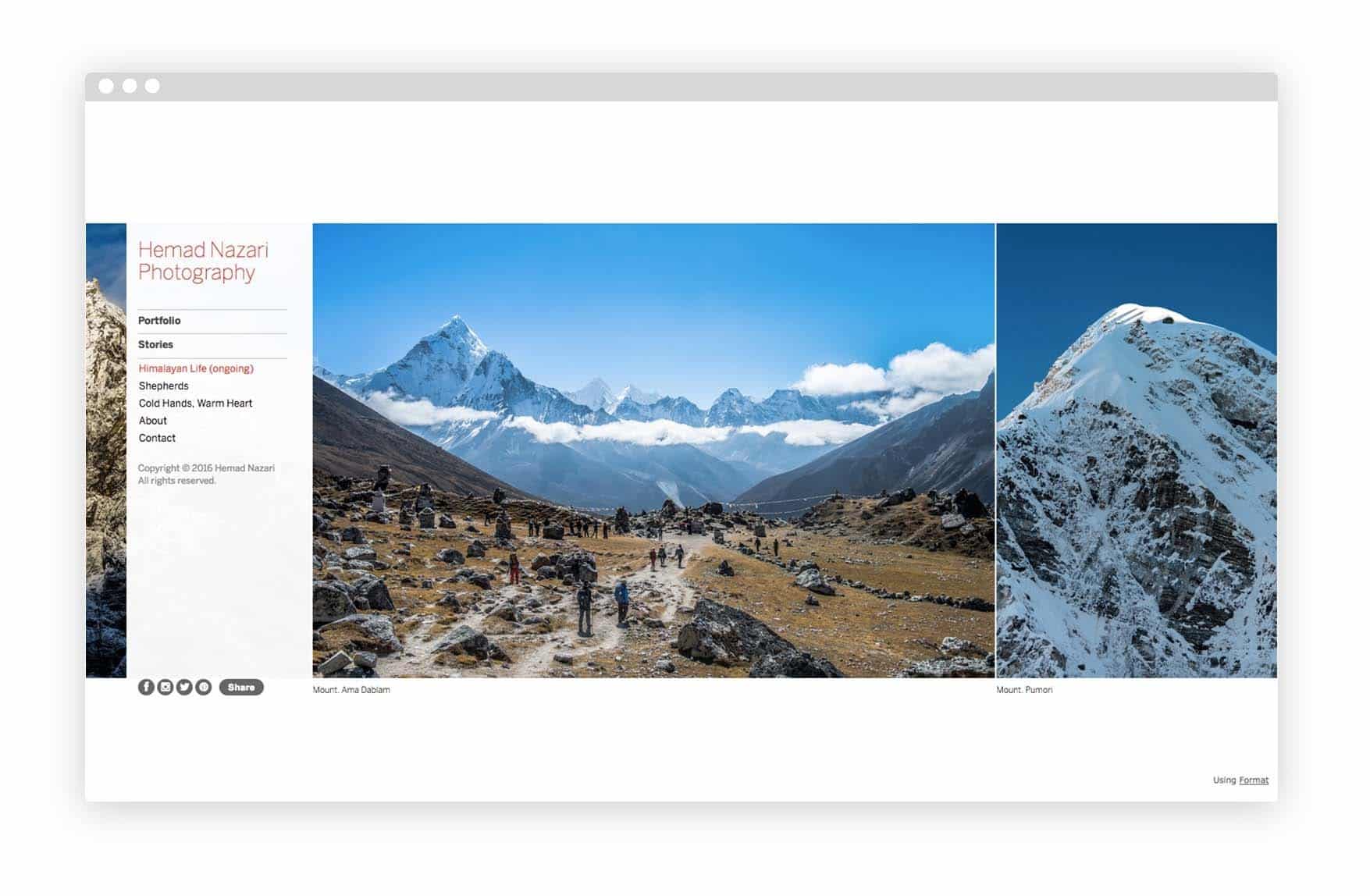 Iranian photographer Hemad Nazari is currently based in Vietnam. Nazari captures people and places in stunning color and black and white alike, with an ongoing series "Himalayan Life" documenting the mountainous region's communities and landscapes.
Cover image by Michael Novotny. This article was originally published April 6, 2017, and has been updated.