Perfectly capturing the essence of what is supposed to be the most magical day of a couple's life is a skill unique to wedding photographers. The work of a wedding photographer lives well beyond the wedding event and photographs end up being viewed by hundreds or thousands of friends and family members. While photographers are only one part of the wedding business, they are responsible for capturing memories that will live beyond the big day. Wedding photographs become special memories passed down through generations, shared with family near and far, and are displayed in homes, in photo albums, and on social media for years to come. As a photographer, some of these photographs will also become part of your wedding portfolio website and presented to potential clients as they plan for their special day.
As a photographer, you will want to blend in on the wedding day, but beyond the wedding, you want to ensure your photos stand out amongst your competition in the wedding photography business. Wedding photography website templates are specifically made for the unique needs of wedding photographers and their portfolios, with templates differing from more traditional online photography templates. Below you will find recommendations for some of the best wedding photography templates specifically designed to portray the miracle of marriage. Whether you prefer to shoot landscape or portrait, have a diverse style, or have a small or large portfolio, there is a website template out there to suit your unique portfolio needs.
All portfolio templates allow you to create a website that's optimized for mobile, built for SEO performance, has built-in booking systems, different website navigation designs, and fully customizable without having to code (although custom code integration and custom HTML are an option if that's your thing). Photographers using the themes for their online portfolio can use a simple page builder with over 65 website custom page elements and do not need to double as a web designer for their wedding photography portfolio to be displayed to its full potential. Whether you're just starting out, or a seasoned wedding photography professional, these website themes will allow your wedding photography portfolio to stand out in a competitive market.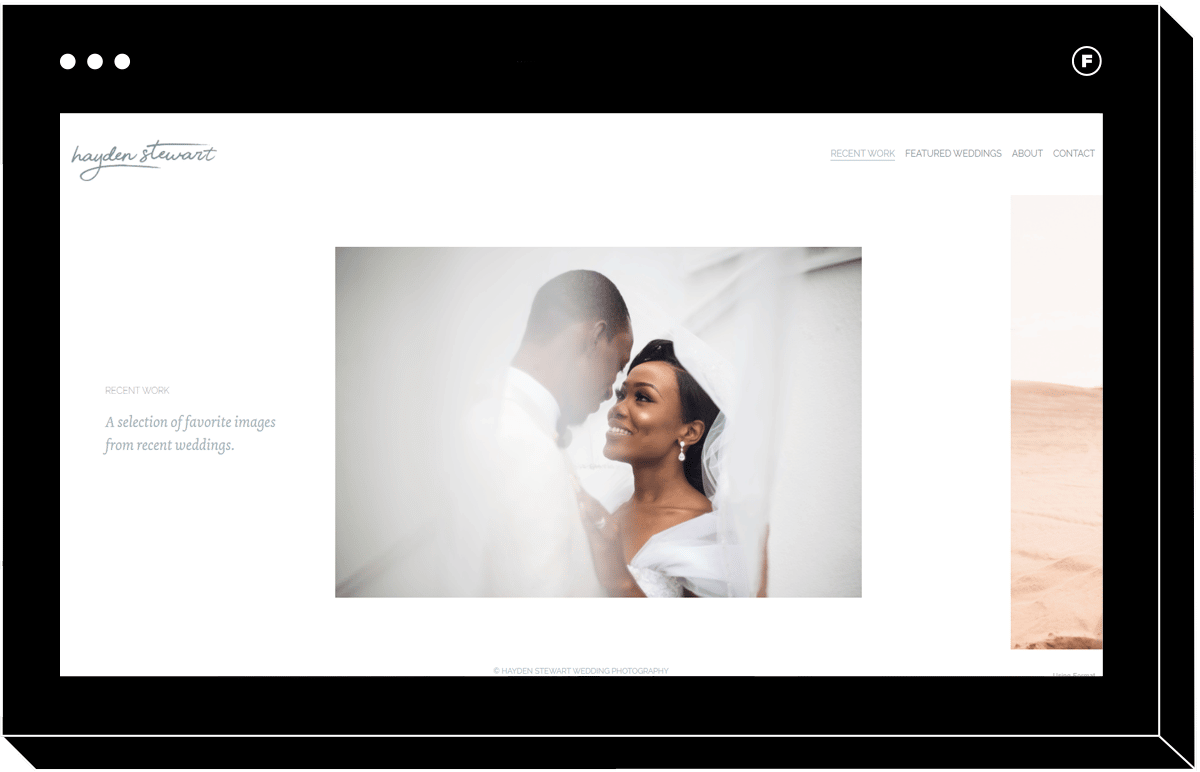 The feeling of flipping through a new glossy magazine full of high-resolution images of beautiful weddings is a staple of planning for a wedding and is a feeling that the Converge theme aims to emulate. Converge gives your wedding photography portfolio the magazine treatment and is viewed as one of the most effective website template designs to display elegant wedding photography.
Designed to quickly catch the eye of potential clients, the editorial-like design that the website creates allows clients to view photos in a single row while scrolling horizontally through the slideshow. The horizontal scroll feature on the homepage layout puts your work front and center, letting clients quickly familiarize themselves with your unique brand of modern photography. Slideshows such as these featured in the template are also proven to keep visitors engaged with your content and leaves them wanting more. Dynamic spacing within the template puts your portfolio into focus and allows visitors to spend plenty of time on all images. The gallery layout is good for all image orientations but especially makes portraits shine. The high-quality image rendering feature that's present in all wedding photography templates, has added impact in the Converge template and allows your wedding photography website to shine.
The childhood-like excitement sparked by Carousel is something that can only be recreated by a life event like a wedding. The easy to customize Carousel theme works to capture that childish excitement and gives visitors the ability to browse multiple galleries on a single page to get a closer look at your wedding photography portfolio. The horizontal scroll homepage layout provides potential clients with an opportunity to easily observe some of your best wedding photos before they decide to dive deeper into your portfolio. Each of the galleries can be categorized, allowing visitors to scroll through each image side-to-side in one click and explore the full scope of your services.
Using Carousel, you can use the gallery feature to categorize photos by wedding event, however, this could also be used to build galleries based on photography theme or image type. An easy to use and pre-built design that's customizable through the page builder, Carousel lets you compose a portfolio that attracts clients for years to come.
Bright, cheery, and full of life, the Illuminate theme lights up the screen and brings life to your photography. A wedding photography website built for superior functionality, the Illuminate wedding photography theme lets you put your work front and center. You could effectively display multiple galleries on the homepage, providing clients with the option of different wedding galleries to choose from. Once a photo gallery is selected, visitors gain a closer look at each wedding and the photography theme used to capture the event. Horizontal scrolling templates give users the option to quickly look through photos while also having the ability to click on each individual image to gain a closer perspective. The discreet menu navigation allows your galleries to be at the forefront and lets your photography sets shine. The builder provides options for parallax scrolling – a design feature that has been proven effective and on-trend in displaying wedding photography. Brighten up the day of those browsing for a wedding photographer with the easy to use Illuminate theme.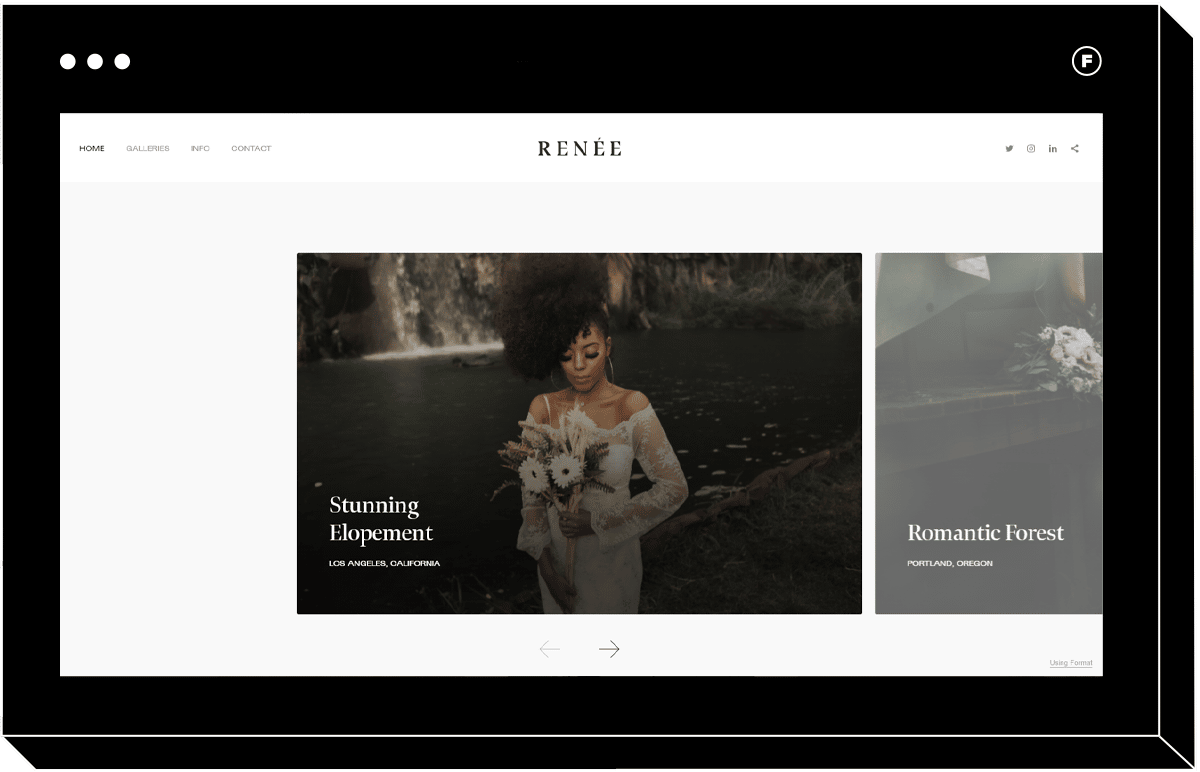 Sleek and fashion-forward, the Reflection theme features a menu with a centered logo, minimalist dropdown menus for easy navigation, and horizontal scrolling galleries. Reflection theme allows you to preview all pages through both the homepage and through a dropdown style menu, giving visitors multiple options for ways they can explore the website. The horizontal scroll provides potential clients with the ability to view multiple galleries as soon as they enter the site. Sleek and fashion-forward, this website theme's horizontal scrolling is perfect for showcasing your best photography work in one click. With a single row that slides side to side, this layout makes your work shine, especially when displayed on a retina ready device.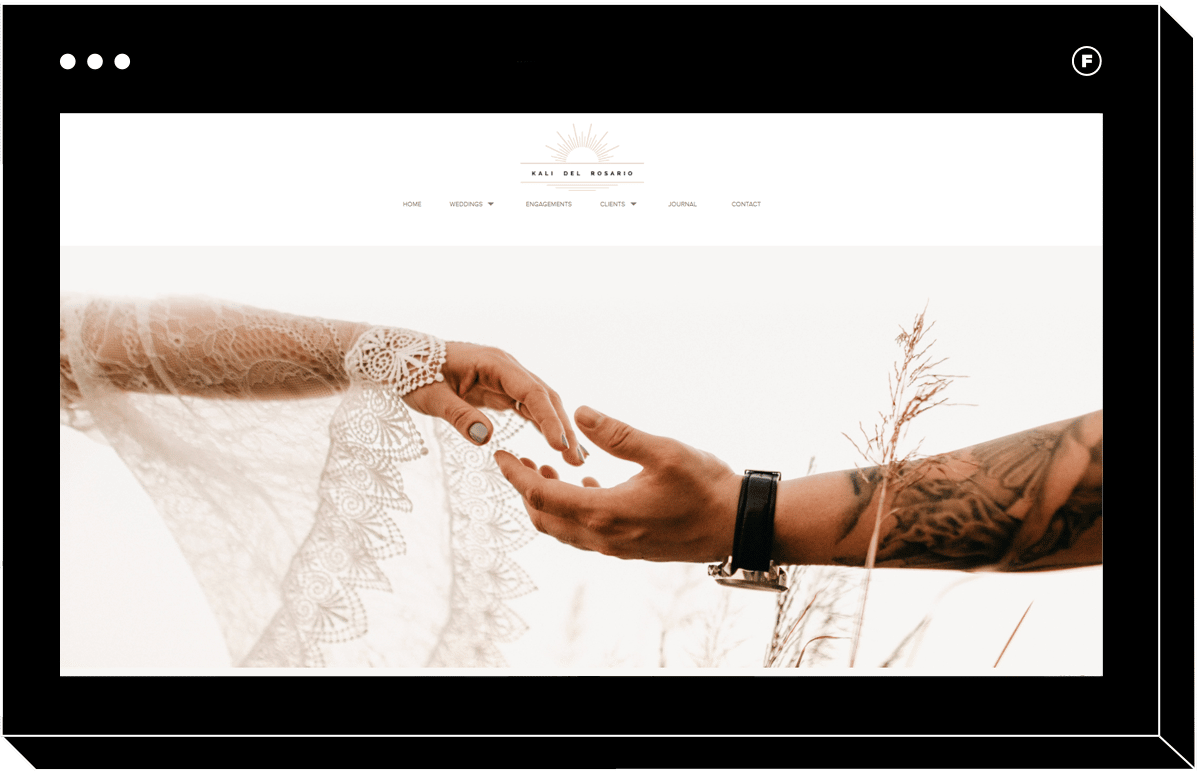 The serene and peaceful feeling of life at dusk is one of the small pleasures in life. Taking in a beautiful sunset or listening amongst the peaceful quiet of a calm lake is the feeling invoked by the Dusk theme. A template used by seasoned wedding photographers, or those looking to portray a feeling of experience and trust, Dusk is one of the more customizable themes in terms of both design and layout. Horizontal scroll galleries and full-bleed images stunningly allow photographers to display the best work from their portfolio, including both portrait and horizontal images. Photographers can implement a sleek centered logo and stylish dropdown menu which adds to the brand of her photography. Greeted by an edge-to-edge statement image, the portfolio can quickly capture the attention of brides to be. Once viewing the galleries, the Dusk theme allows visitors to get lost in the magic of each photo, prompting them to run to their wedding planner and book you to shoot their big day.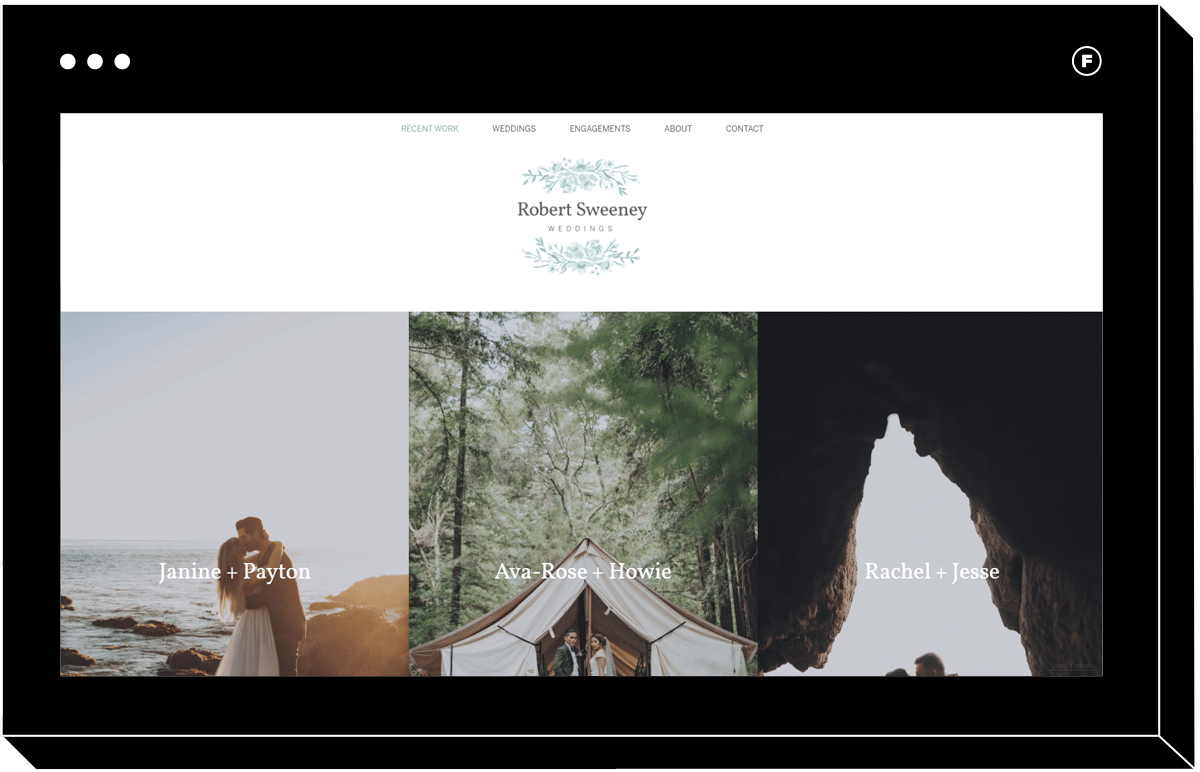 A wedding day is supposed to be a lot of things – romantic, emotional, loving, and most importantly to a lot of couples, a wedding day must be fun. The Triptych theme evokes a sense of fun professionalism with an eye-catching vertical tiled layout. Triptych can create a wedding photography website that will have couples wanting to rush to the altar. The website takes full advantage of the theme's fun layout to display the works of an array of wedding photographers. The excitement of a wedding day is evoked by the theme which features a balance of visual intrigue with a simple design. The layout offers collections pages with multiple image sizes, balanced with full-size image galleries as a way for photographers to categorize and display their best work. The vertical scroll feature of each gallery is ideal for mobile devices and provides clients with a way to get a quick and closer look at your range of services. As your portfolio grows, simply drag and drop photos into each gallery, or remove images that no longer reflect your best work.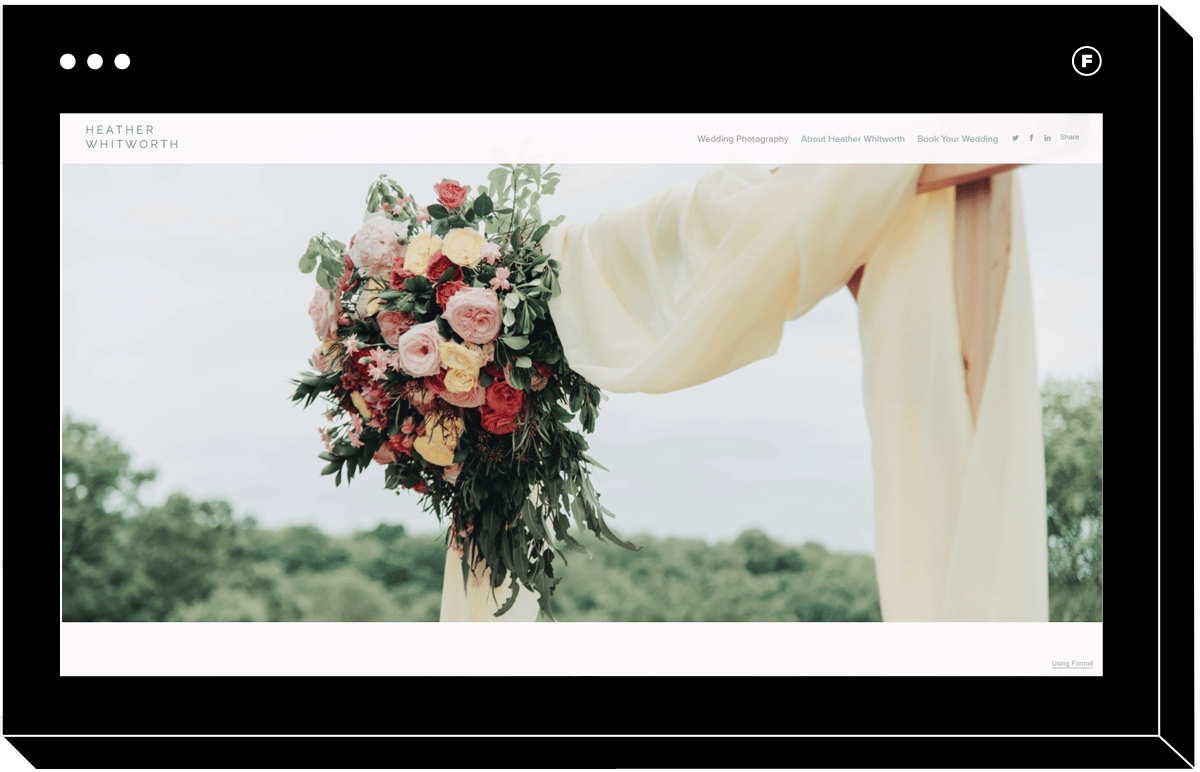 You don't need to be a web designer to have a wedding photography website that looks like it was designed by one. The Cover theme will set you apart in the wedding photography business and make you the envy of other photography sites. Cover puts your marriage photography into motion with a seamless parallax scroll and smooth page transitions. Full-width photos in both gallery and listing pages make the color in photographs pop as the vibrancy of each wedding comes to life. Menus in Cover are customizable and allow for both a sticky or fixed navigation based on your design preference. The option for a masonry or grid layout, captions, and removable header are added features that can enhance the design of your website. Your photography work can be elegantly displayed using the Cover theme and takes full advantage of all the customizable features. Through individual galleries, clients are able to scroll through photos via both horizontal scroll and see all images in a tiled gallery layout. This puts some creativity into the hands of the user, giving them multiple options for how they wish to view photos.
As the theme name suggests, Daylight helps make your photography shine as bright as a summer day. Eye-catching header photos in the style of a horizontal photo slider instantly make an impact and allow photographers to highlight some of their most modern and dynamic wedding photography. One-click scrolling encourages focus on individual photos, while animated page transitions make your website engaging. Suited to any photo orientation, Daylight works best with both large and small galleries that you want visitors to see in detail, while also providing the option to quickly scroll through a portfolio of photos. Samson flawlessly implemented a frame header image and sticky menu, allowing for easy and straight forward navigation.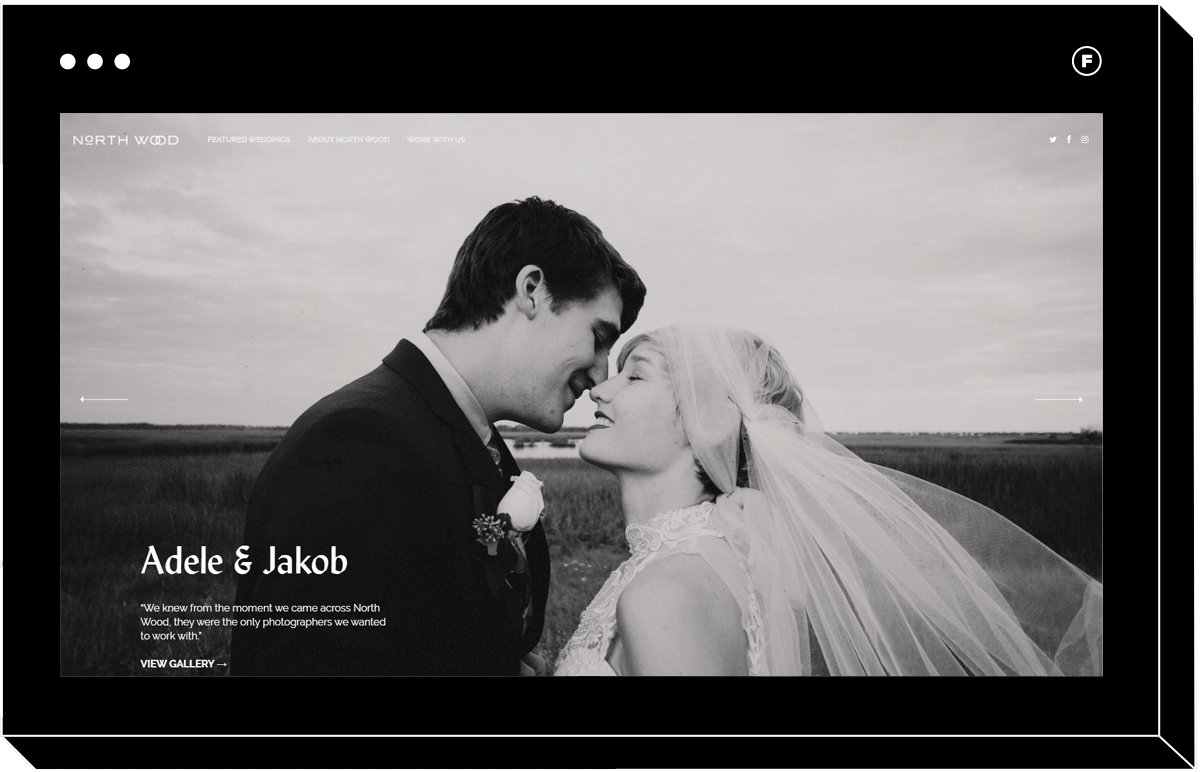 A timeless design built to make an immediate impact on website visitors, the Fullframe theme is a pre-built template disguised as a completely custom wedding photography portfolio website. As the name suggests, one gallery image fills the screen at a time, giving life to the smallest of details. Visitors are greeted by an eye-catching edge-to-edge fullscreen slideshow that highlights your best photography right away. Horizontal scrolling right on the homepage adds an inspiring and adventurous feel to your brand. The crop of each image is determined by the size of the screen you're displaying photos on, making landscape orientation photos with a flexible crop ideal for the theme. The stylish but unobtrusive menu integrated into the theme gives a closer look at your services. Fullframe is one of the themes that is a must-use template for displaying high-resolution images in landscape orientation.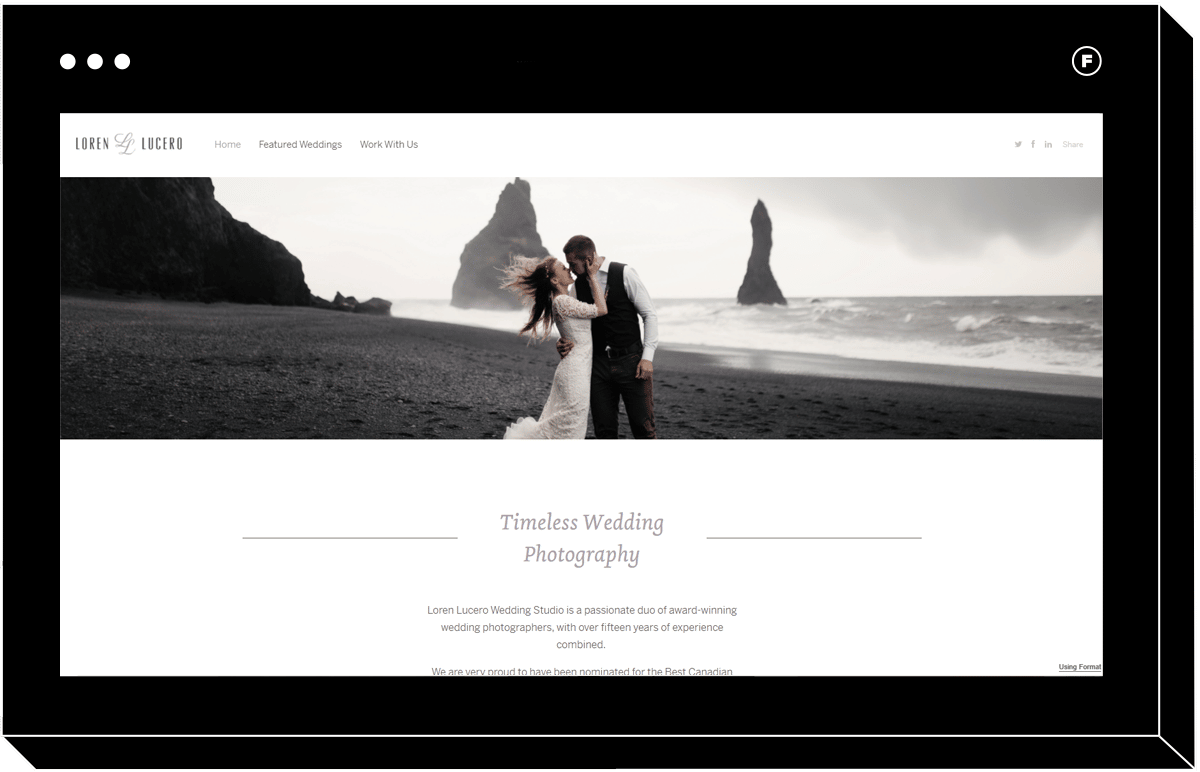 The word Halogen is derived from Greek, with the "gen" portion of the word meaning "to create." The Halogen theme creates the magic of getting lost in a moment in this standout portfolio template. Greeted with a full-screen slide show or feature image, the layout gives your wedding photography the spotlight it deserves. A simple menu with user-friendly navigation allows visitors to navigate your portfolio with ease. Diving deeper into each photo set, users will be delighted with a two-way horizontal scroll that focuses the magic of each photo while also previewing thumbnails of the remainder of the gallery. Halogen will have couples seeking your contact info for a wedding booking.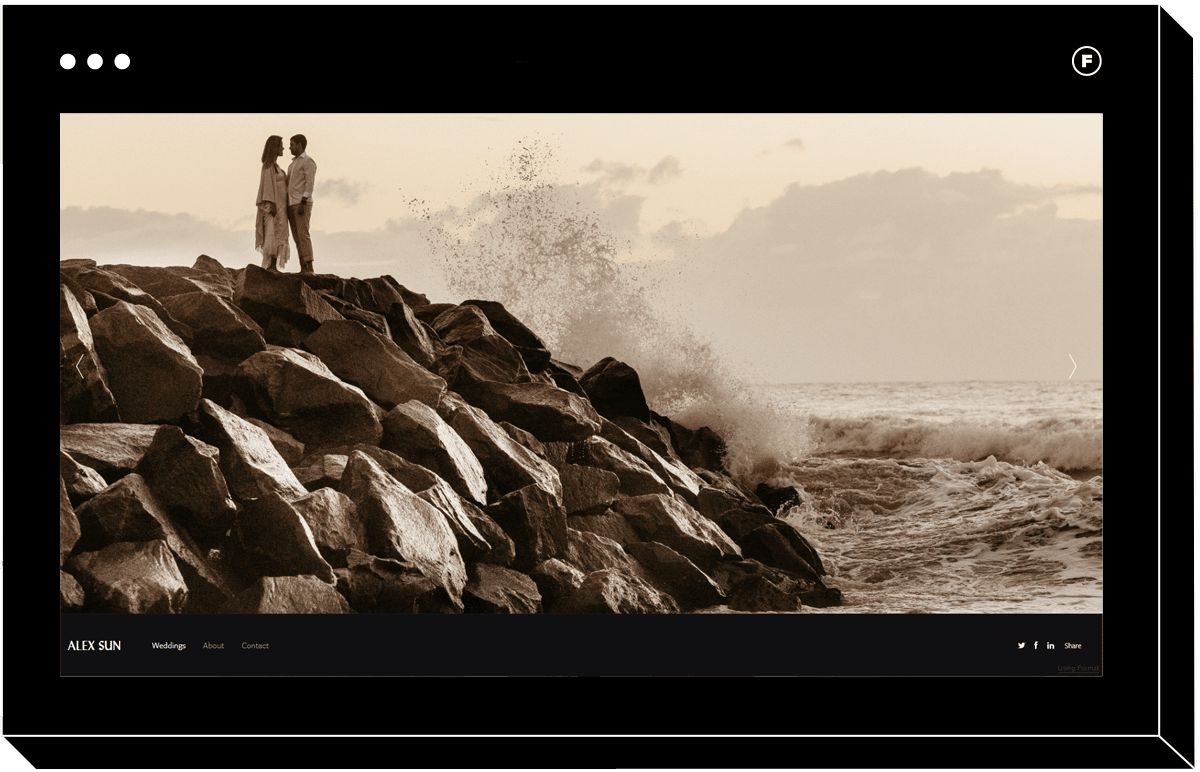 There's nothing that shines brighter than the sun, other than your photography displayed using the Sun theme. The Sun website template provides the tools to tell a tale. By using the customizable features of the theme through the page builder, you can opt to let the full-screen photo slideshow take center stage and move the menu to the bottom of the homepage. Gallery layouts grant the ability for clients to scroll through galleries horizontally while viewing both thumbnails and a large high-resolution photo at the same time. This feature puts the full scope of your photography abilities on display while highlighting the colorful details of each individual photograph. They may have to re-name the Sun after you're done with building your portfolio with this template because nothing will shine quite as bright.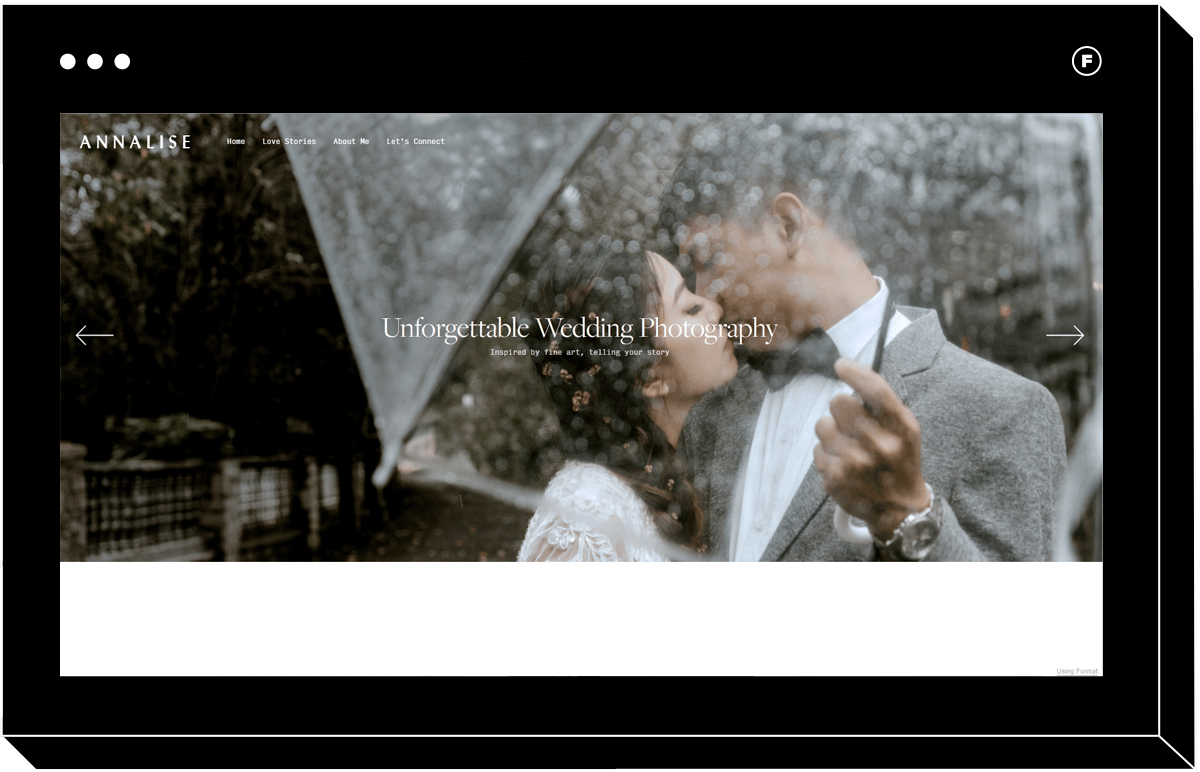 The perfect wedding is all about ambience. Love, romance, and just the perfect amount of fun make for memories that will last the couple a lifetime. To be able to portray the feeling of undying love through photos is something that every wedding photographer wishes to depict when displaying their work. Ambience is a wedding photography theme that truly set you apart and just radiates elegance, with every small detail being customizable. Photographers can utilize the full-screen slideshows to display details of their best work. Galleries offer easy one-click navigation, while menus are discreet but easy to locate. Ideal for landscape photos, Ambience is also able to display portrait photography.
Want more information and inspiration on wedding photography and wedding photography website portfolios?
20 Wedding Photographers with Exceptional Portfolios
18 Wedding Photography Ideas to Spice Up Your Shot List