Wedding photography can be as stressful as it is fulfilling. The pressure is on wedding photographers to capture every last moment and detail of the big day as it happens, so it pays to stay as prepared and organized as possible. To make absolutely sure you don't miss a moment, we've put together this wedding photography checklist for photographers. We'll go over everything that goes into a successful wedding shoot, including a sample shot list of must-have wedding photos.
There are as many ways to do weddings—and wedding shoots—as there are couples, so this wedding photography checklist might still be needed to added to, edited, or tweaked to reflect the needs of the folks you're working with.
Maybe the couple wants to incorporate lots of specific cultural or religious traditions—or they've decided to do away with half of the typical wedding tropes altogether. Maybe your couple doesn't want any of the traditional detail shots—or they've been making decorations for weeks, and they want you to capture every last one.
It's important to consult with the couple about their schedule and wish list and change your plans accordingly, but this wedding photo checklist will provide a thorough overview of all the major tasks you need to complete leading up to a wedding shoot, as well as preparing you for what to expect on the big day.
Before You Get Shooting
If you haven't already, make sure to get an online portfolio set up so you can show off standout shots to potential wedding photography clients. Having a great wedding photography online portfolio is one of the best ways to promote your wedding photography business and show off what you can do, as well as providing prospective customers with useful details like a wedding photography price list.
Fortunately, you can make a beautiful portfolio in a snap with an easy-to-use website builder. Choose one with attractive, customizable templates that work great on both desktop and mobile. A portfolio with built-in client proofing can be particularly useful to wedding photographers.
Want a little bit of inspo to get started? Check out our roundup of 20 incredible wedding photography portfolios.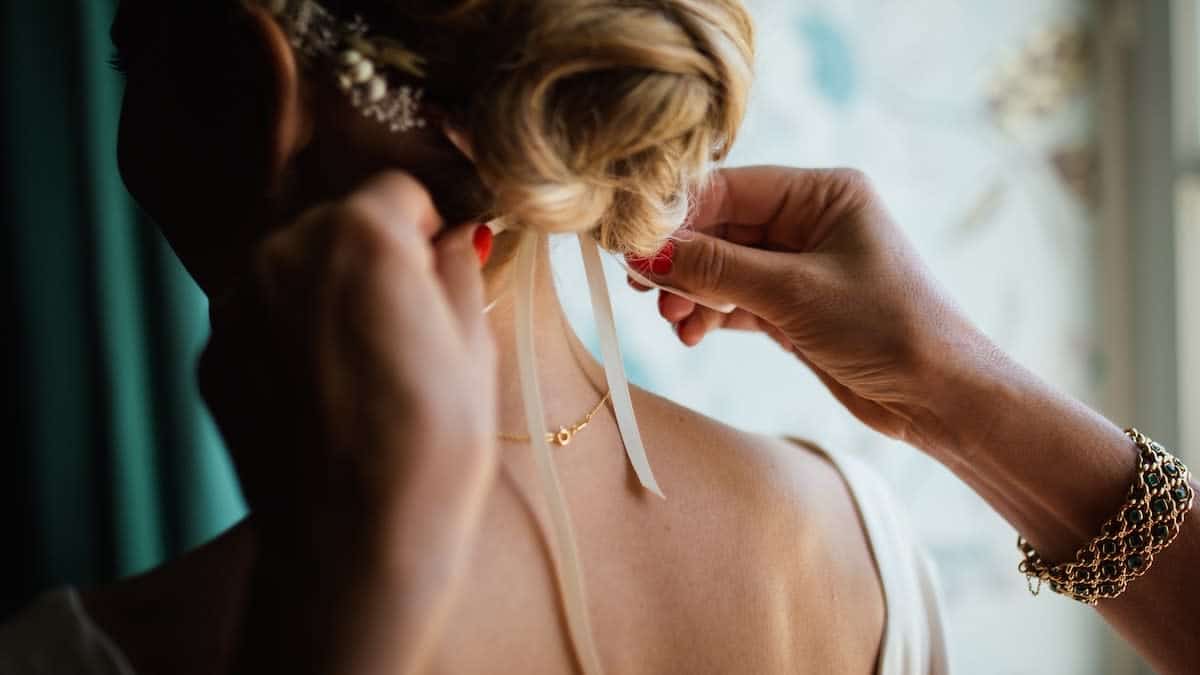 Pre-Wedding Photography Checklist
For wedding photographers, the work starts long before the big day happens. Here's what you need to do before a wedding shoot to make sure everything's in order:
Meet the couple
First up on your wedding photography checklist: the introductory consultation. This is where you not only get a feel for the couple and their personalities, but iron out any wedding-related specifics that you might not already be expecting. This information will help you nail all the logistics around the big day, as well as helping you get enough details to put together a wedding photography contract (more on that later).
Here are a few details you'll want to iron out during the consultation process:
What's the overall vibe or aesthetic of their wedding? How will the photography reflect that? Are they looking for more stylized or more photojournalistic wedding photography? Do they have ideas for specific shots or poses? Visual cues go a long way here:ask the couple to come prepared with a wedding photo ideas list. Send them a link to wedding photography portfolio ahead of time to look at, and if the couple has inspiration images of their own, ask them to forward those to you.
How many photos will they expect from your shoot? Do they want you to deliver edited or unedited images?
What traditions are the couple following?
What moments or details do they feel are especially crucial for you to capture?
How many guests are invited to the wedding? This will help you figure out how to use your downtime, and who to target in potential candid shots.
Will the couple be doing a first look, or are they meeting up for the first time at the altar?
Do they want to go to a second location (other than the venue) to do formal photos together? If so, where?
Who do they want photographed—and who do they want gracefully shuffled out of certain shots? Be sure to ask the couple to put together a list of all the people they want to be photographed (and in what groups) so you can add them to your wedding shot list.
Will they have a day-of wedding coordinator on hand to help round up guests for photos? If not, it's a good idea to ask the couple to assign a friend or family member to do some guest-wrangling.
All of this information will help you sort out the next big step in the process:
Get your contract ironed out
Though it's too often left as an afterthought for photographers, putting together a proper contract is an important step on a wedding day photography checklist.
In addition to laying out obvious details like the date of the wedding as well as your pricing and payment terms, a good contract will also make sure that expectations on both the photographer side and client side are laid out and ensure that you're both protected in case of any dispute. Though it's yet another step on an already-rammed wedding photography checklist, photographer Brianna Lane suggests taking the time to meet up in person and go over the contract with a fine-tooth comb—it will go a long way toward avoiding a miscommunication down the road.
A comprehensive wedding photography contract should detail deliverables (i.e. what you'll be providing to the client at the end of the contract and when). You should also outline your expenses related to the shoot, including things like travel, gear rentals, and the cost of a second shooter, should you choose to use one (see below).
Finally, a contract should include your terms in the event of a cancellation or rescheduling, privacy and copyright terms (which is particularly important if you'd potentially like to add these shots to your photography portfolio), and any other expectations you or your client may want to set in stone prior to the wedding.
For a more detailed rundown on putting together a contract, check out our ultimate wedding photography contract guide. And if you find the paperwork side of your business, like putting together contracts, a little overwhelming in general, you might want to consider looking into CRM software for photographers—many of them can automatically generate pre-templated contracts for you.
Take engagement photos (maybe)
Not every couple has their heart set on an engagement shoot—but being able to photograph the couple before the big day can serve as a useful, lower-pressure dry run for wedding photographers, allowing everyone to get acclimated to one another and to the shooting process.
The couple can learn how to pose comfortably with one another, and you can figure out what poses work best for them while getting more general practice at directing couples to pose (which, like anything, is a skill that takes a little fine-tuning).
Additionally, if you decide to bundle your engagement and wedding photos together as a package, it can be a nice value-add for the couple while securing more business for you. Make sure that these terms are reflected when putting your contract together (see above).
With the big day nearing, it's time to make sure you know where you're going to be and when:
Figure out a day-of timeline
Scheduling is key when it comes to weddings—and that's particularly true for wedding photographers, who invariably end up with a long, long wedding photo list to get through in one day. Because of that, it's important to get the timeline ironed out ahead of time. You don't need to have every last moment set in stone months out from the big day; ideally, you'll have a firm day-of schedule planned out a week in advance.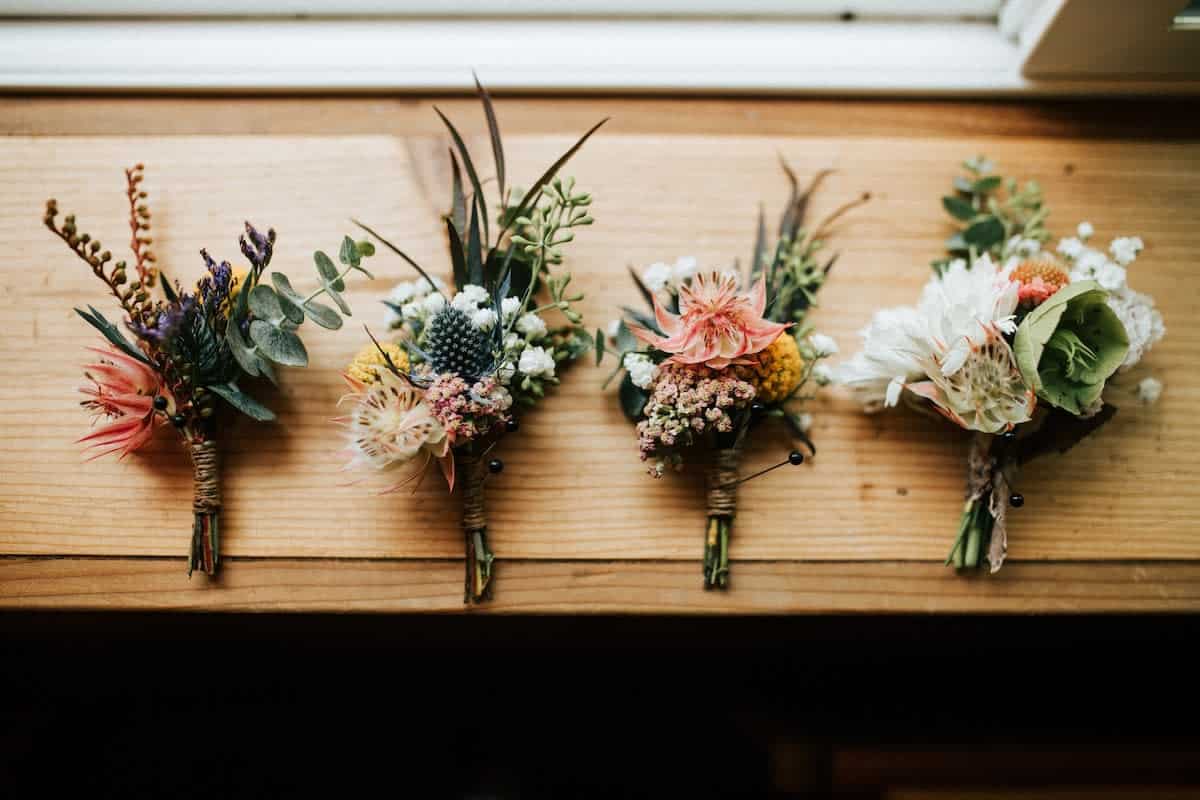 Here are a few important things to know in advance so you can properly plan your wedding photography timeline checklist for the day of:
First, and perhaps most important: when are the ceremony and reception? What's on the schedule for each of those? Knowing what's happening when, and in what order, will help you make sure that you're in the right spot at the right time, ready to capture each moment on the wedding day photo checklist as it happens.
If the couple wants getting-ready photos: when and where will the couple be getting dressed up for the wedding?
Will the couple will be doing formal posed shots before or after the wedding? Posed shots are traditionally taken between the ceremony and the reception, but you could also do them immediately following the first look, before the ceremony. (If the couple wants to take photos together at a certain time of day, like at sundown or at nighttime, that's another thing you'll want to work into the schedule.) Either way, you should plan for couple photos to take anywhere from 40 minutes to two hours, including accounting for travel time.
Will posed shots with family and with the wedding party happen at the same time as the ones with just the couple?
Is the couple planning to leave at a certain time, and will they be making a dramatic (i.e photographable) exit?
Sort out your gear
A couple of weeks out from the wedding, it's worth taking a moment to think about about what specialized equipment you might need for the job, if any. Though weddings don't necessarily require a ton of high-end gear, a basic kit might include a zoom lens that works well in low light, prime lenses, and a flash.
A second camera body can help you in moments where speed is of the essence and you don't have time to swap out your lenses (it can also serve as a backup in case your primary camera fails). Additionally, you might also want to invest in mobile chargers or extra batteries to carry you through a 12-hour day of shooting.
To get an idea of where the gaps in your arsenal might be, check out our lists of the best cameras for wedding photography, lenses for wedding photography, and camera accessories for wedding photography.
Be sure to add any gear you intend on bringing to our sample wedding photography equipment checklist (see below) so you can go over it before the big day.
Find a second shooter
This won't be a necessary point on every wedding photography checklist, but it's one that's absolutely worth considering. After all, no matter how good a wedding photographer you are, you can't be everywhere at once, and with countless precious moments all happening one after the other, it's not a bad idea to bring in some backup. If the couple's budget allows for it, bringing in another photographer you trust as a second shooter can help you optimize your coverage and take a little bit of the pressure off you.
Picking someone with solid photography chops and decent gear is obviously job number one, but you should also select someone who you feel is trustworthy, and who can keep a cool head under pressure. Someone in your network may be an up-and-coming photographer looking for a little extra cash or experience, or you can even look for a possible shooter on Second In Seconds, a handy searchable database put together precisely for this purpose. If you're looking for more guidance, SLRLounge has a great guide on how to find—and vet—a second shooter.
Day-Before Wedding Photography Checklist
You're almost there! Here's our wedding photography checklist for the day before a shoot:
Double-check with the couple regarding times and places one last time.
Double-check your gear bag and make sure everything is present (see our wedding photographer gear checklist below).
Plan your outfit and make sure it's ironed or steamed and ready to go for the next day. Wear something wedding-appropriate that's still practical to stand, crouch, kneel and bend in. Comfortable shoes are key!
Wedding Photography Equipment Checklist
Take the time to make sure all your gear is packed and ready:
Batteries (make sure they're charged!)
Body
Lenses
Flash (and extra batteries)
Battery charger
Camera strap or holster
Tripod
Extra memory cards
Water bottle, Advil, and sunscreen!
Wedding Photography Shot List
This wedding photography shot list template is meant to be comprehensive but is by no means exhaustive. If you've got an idea for a creative, unusual photo, the couple is game, and you're able to sneak it in to a hectic schedule, go for it! Check out this list of creative wedding shots for a little extra inspiration.
Note: Not all weddings have one bride and one groom, many couples will have mixed-gender wedding parties, and not all couples stick to all the traditions on this list. Every wedding day photography checklist will look a little different—so feel free to tailor this one to your needs!
With all of that out of the way, here's our essential wedding photo shot list:
Pre-wedding prep and detail shots
The wedding dress, hanging up by itself
The veil
The bride's wedding shoes
The bride getting ready: getting her hair and makeup done, being helped into her dress.
The bridal party getting ready, including hair and makeup.
Other candid shots of the bride and bridal party
Close-up of the bride holding the bouquet
The groom's wedding shoes +The groom getting ready: lacing up shoes, putting on cufflinks, adjusting tie, putting on the boutonniere
The groom's entourage getting ready
Other candid shots of the groom and groomsmen hanging out
The rings
The vehicle the couple is taking to the venue/reception, especially if they've decorated it or or rented a special vehicle
Jewelry
Neckties and pocket squares
Any other special items or accessories the couple is wearing, especially if they have sentimental value
The bouquet (by itself)
Boutonnieres
Wedding invitations
Wedding programs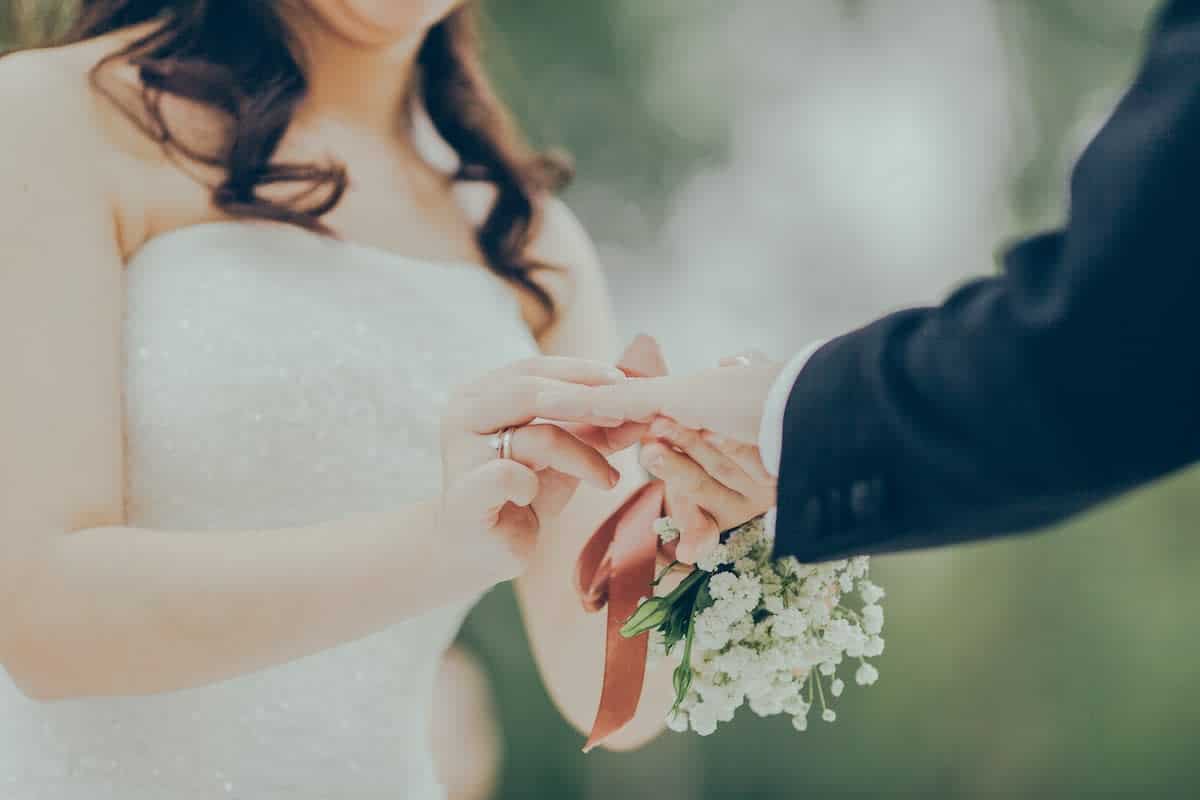 The wedding ceremony
Shots of the empty venue before the ceremony
The bride or groom exiting the car
The receiving line
Parents entering the venue
Grandparents entering the venue
Each member of the wedding party entering
The groom standing at the altar
The bride walking up the aisle
The groom as the bride enters (be ready!)
The bride being given away
A wide-angle shot of the crowd
Reaction shots of wedding guests
Speakers, readers, and musicians
The signing of the register
The lighting of the candles
The ring exchange
The kiss!
The wedding party exiting
The couple in the wedding vehicle leaving
Couple and friends/family portraits
Finally, we've come to the portrait portion of our essential wedding day photo list. As noted above, you can split these up and do them before or after the wedding, depending on scheduling and whether or not the couple will be seeing one another pre-ceremony.
This can be a hectic part of the day; as suggested above, try to recruit the day-of coordinator or other friend of the couple to round folks up as you tick down the wedding family photo list.
The couple together (inside the venue and at a second location, if applicable—be sure to leave more time for the second location). Be sure to incorporate both formal posed photos and candid moments, with a variety of full-length and close up shots.
Bride alone
Groom alone
Bride with each bridesmaid (particularly the maid of honor)
Bride with all bridesmaids
Groom with each groomsman (particularly the best man)
Groom with all groomsmen
Couple with all bridesmaids
Couple with all groomsmen
Couple with entire wedding party
Bride with bride's parents (together)
Bride with bride's mom
Bride with bride's dad
Groom with groom's parents (together)
Groom with groom's mom
Groom with groom's dad +Couple with bride's parents
Couple with groom's parents
Bride with each set of grandparents
Groom with each set of grandparents
Couple with each set of grandparents
Couple with both sets of parents
Couple with the officiant
Couple with the ring bearer/flower girl
Bride/groom/couple with any other requested relatives
Bride/groom/couple with any specific groups of friends: work/school friends, teammates, etc.
The wedding reception
The couple entering the venue
The couple's first dance
Any parent-child dances (father-daughter, mother-son)
The centerpieces and/or floral arrangements
The table settings
The cake (pre- and post-cutting)
The couple cutting the cake
The bouquet toss and/or garter toss
Toasts and speeches (especially from parents and close relatives)
Candid shots of guests (including the couple making the rounds during dinner)
Everybody hitting the dance floor!
The bride and groom exiting, particularly if there's some kind of splashy exit planned (confetti, etc.)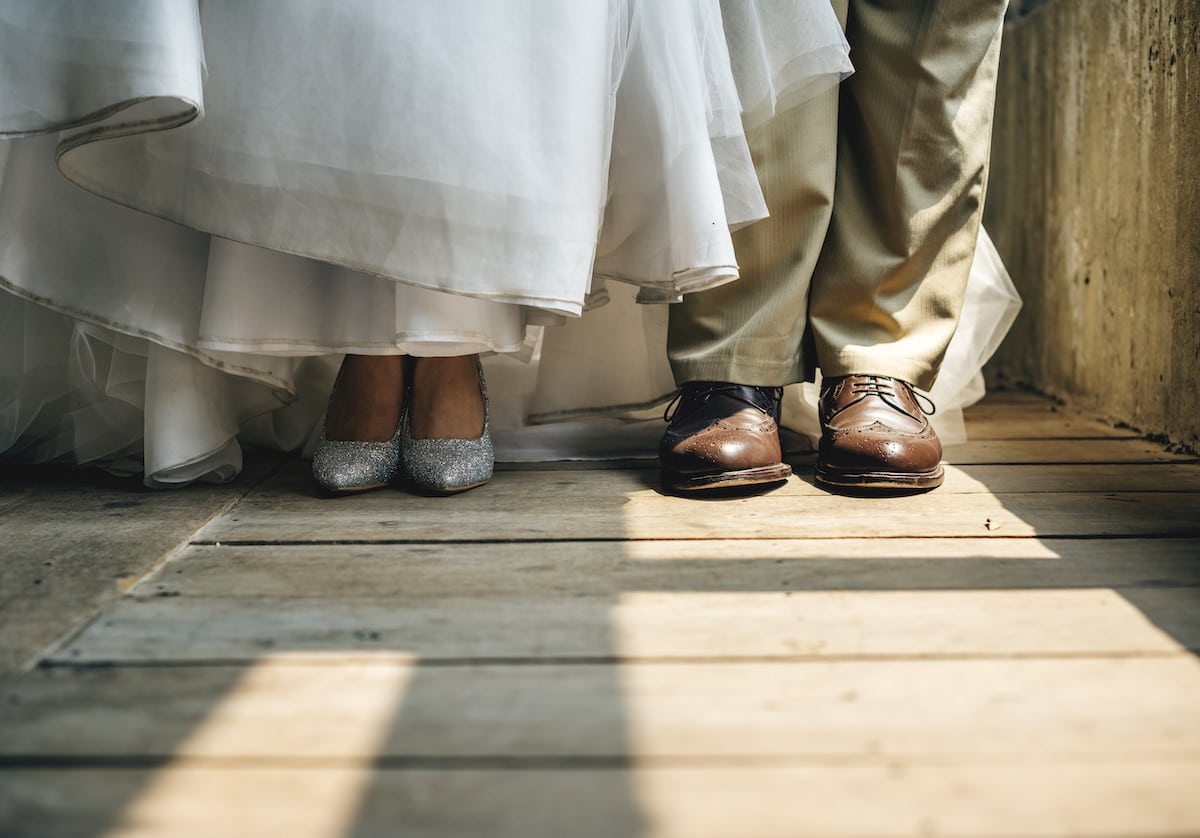 After The Wedding
First off: Get a good night's sleep. Then it's time to start wrapping up the final details of the shoot:
Make sure your images are backed up—no one wants to have to break it to a newly-married couple that their wedding photos have been sucked into a black hole.
Fire up Photoshop or Lightroom (or other photo editing software of choice) and start editing. If you're looking to save time in the editing process, scoping out some Photoshop actions or Lightroom presets can help.
Deliver the images to your clients—having a portfolio with built-in image proofing can help with this.
Send an invoice for the remaining balance or follow up, if you haven't already.
Ask the couple for an online review and/or a word-of-mouth plug to their friends—it can go a long way in terms of promotion.
Add some of your favorite final images to social media and to your online portfolio website (if the couple gives their approval, of course!)
Finally: Give yourself a pat on the back for a job well done. Congratulations on successfully making it to the end of our wedding photography checklist!
Want to know more about building a photography business?
How To Start A Successful Photography Business
How To Market Your Photography Business For Free
Newborn Photography: A Beginner's Guide