Great family portraits never go out of style. The hairstyles or fashions from your old family photos may be dated, or one of your family photoshoots may have produced some hilariously awkward results, but the idea of taking family portraits has remained a beloved pastime since the dawn of photography. People always want to preserve memories of their loved ones—it's one reason that family portrait photographers are rarely short on clients! That's why family photography is an amazing addition to your online photography portfolio; you'll never run out of business.
Whether you are trying to start a portrait photography business or just want to make some extra cash with your photography skills, here are some tips and ideas for creating some truly charming family portraits!
Fun Family Photo Ideas
Need some family photoshoot ideas to help you get away from the standard setup? These will allow you to capture some fun and unique family photography that will stand out on your online photography portfolio.
Include the family pet (or pets!): Many people consider their pets to be part of the family, and pet portraits are a growing trend, so why not include the furry friends in the family photo? Let the animal roam and interact with the family while you shoot: it could lead to some great candid moments.

Play ball: If there's a soccer player in the family, have them kick the ball around. If the family is into baseball, have them play a game of catch.

Recreate the past: It can be fun to revisit an old family photo and try to recreate it. It makes for some funny moments when grown children recreate a pose from when they were toddlers.
Open up the toy chest: Let the children bring a favorite toy and play with it while the family is gathered around.

Throw a dance party: Put on some music and have the family show off their best dance moves.

Work with shadows: Shoot the family's shadows to capture an interesting silhouette of the group.
Family Portrait Clothing Ideas
Here are some ideas on how to use clothing to make your family portraits more attractive and interesting.
Wear complementary outfits: If a family wears outfits that match exactly, it can end up looking like they're dressed in uniforms—and kind-of weird. But choosing outfits that complement each other—just stick to the same color scheme—has a very charming look. For tips on choosing complementary colors, check out this color theory guide.

Wear opposite outfits: You can also go the opposite route and have family members wear outfits that are very different. Whether that's different colors, styles, or formal vs. casual clothing, this contrasting look can create a more vivid family portrait. Keep in mind that clothing in solid colors works well since it's not as distracting as loud patterns, large logos, or t-shirt slogans.

Play dress-up: Have kids dress as up a favorite character, get the family to recreate a scene from a favorite movie, or have some family members swap clothes to hilarious effect.
Family Picture Poses
These tips will help everyone strike the right pose for a cute family portrait.
Make the baby the center of attention: If the family has a newborn, try putting the baby near the center and having the rest of the family focus their attention on the baby. For more on shooting little ones, take a peek at out our newborn photography guide.

Make 'em smooch: Have the parents share a kiss while the kids make a fun pose such as peeking around a corner, covering their eyes, or making grossed-out faces.

Focus on sibling bonds: Capture children taking care of their younger siblings. A child doing something as simple as tying a sibling's shoe can create a powerful image that highlights their bond.

Cuddle up: The more physical contact there is between family members, the more the closeness of their relationship will come across in family photos. So don't be afraid to urge family members to get a little bit closer, hold hands, or gather up for a group hug.

Make the shoot action-packed: One great way to avoid stuffiness in your family portraits is to take lots of action shots. Get the family to run, jump, play, whatever. As long as you capture them in the middle of an action, it will make your portraits much more interesting than a standard pose.

Frame it up: Have the family frame themselves by holding a picture frame, Modern Family-style.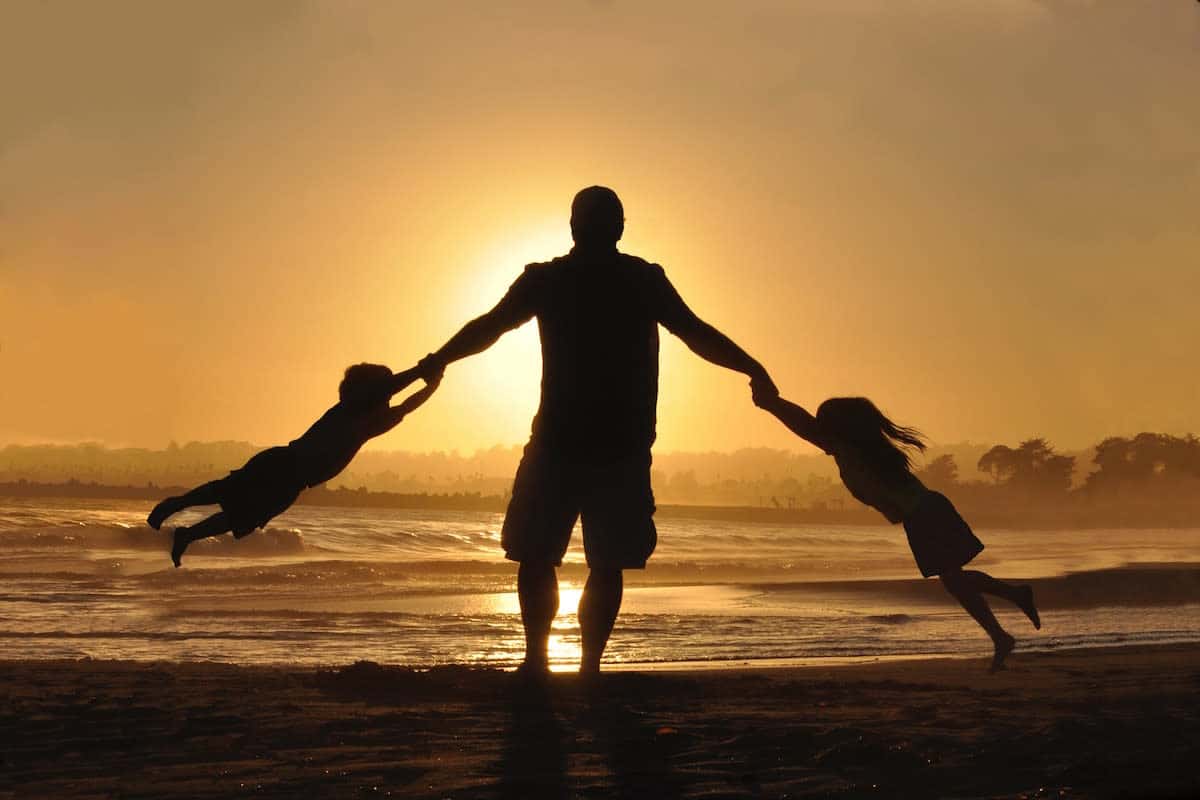 Outdoor Family Photo Ideas
Taking it outdoors is always a good option for family photos. The great outdoors can offer beautiful natural lighting and gorgeous background landscapes. It will also give you a chance to show off your outdoor shooting skills on your portrait photography portfolio. Try these outdoor family photoshoot tips.
Use the golden hour: As with most types of outdoor photography, shooting during the golden hour can make your photos more powerful by bathing the family in warm light, creating long shadows, and making everything seem to glow. Try shooting the family with the sun at their backs to get a halo of light around them (just make sure to follow the usual rules for shooting backlit images).

Choose the right location: While it may be tempting to choose an outdoor family photo location based on the landscape alone, you should, ideally, choose a spot that has some significance to the family because it will make the photo more meaningful. For example, go to a favorite park or even the family's own backyard. As an added bonus, it will help keep young children and pets comfortable by shooting in a location they're familiar with.

Let it rain: Get the family suited up in their rain gear and umbrellas and shoot in the rain for some cute family pictures. Having everyone in their raincoats—with a wet, reflective look to everything—can make for a striking image. Let the kids play in a puddle for some added fun!
Large Family Photo Ideas
Photographing large families can involve some challenges, such as how to position everyone in the shot, but it also offers some more opportunities for creative family photos.
Group couples: If your portrait is going to include extended family, try grouping couples and immediate family members together. It will give you more freedom in how to position people, as opposed to dealing with a single large group. In addition, it puts the focus on the close relationships that make up the family.

Take the stairs: Try shooting the family on a set of stairs. It will make it a lot easier to get everyone in the picture by arranging them in levels without the need for sitting or kneeling. It also makes for a nice background if you can shoot on the steps of a family home.

Step back: Avoid trying to direct everyone's exact pose in a large family photo. Depending on how big the family is and how many young children are involved, you might find it's impossible to direct everyone. Taking a step back and letting people get creative with their poses will make for a better and more genuine family portrait.
Represent the Season
Another way to make your family photos more interesting is by finding ways to incorporate the season. By using different props, clothing, and activities, you can create family picture themes that suit the time of year. And if you do a great job, it can encourage clients to come back to get portraits for every season!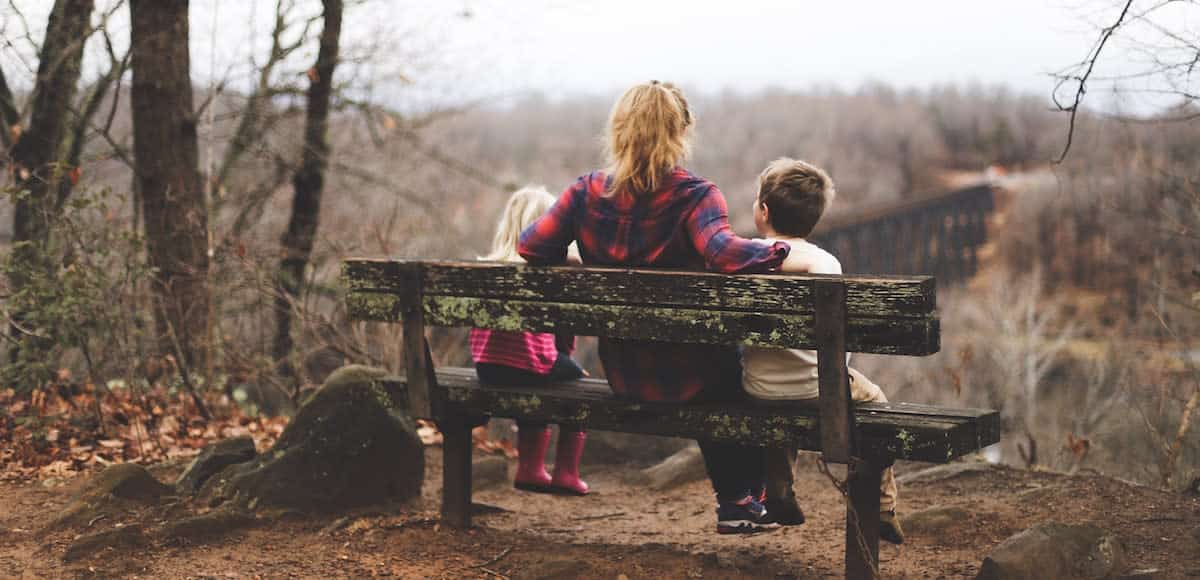 Fall Family Photo Ideas
Use some fall props: Include things like pumpkins, rakes, leaves, fall centerpieces, and heritage blankets with autumn colors.

Find classic autumnal spot: Choose a location with lots of bright-leaved trees or another autumn-related landscape like a pumpkin patch, cornfield, orchard, or barn.

Play with leaves: Have the kids jump in a leaf pile or throw some leaves into the air.
Winter Family Photo Ideas
Use Christmas props: Include items like presents, mugs of hot chocolate, or a Christmas tree.

Break out the winter gear: have the family wear their ugliest Christmas sweaters, fake antlers, ski suits, or other festive clothing and accessories.

Play in the snow: Get the family to have some fun in the snow, from a playful snowball fight or pulling the kids on a sled to building a snowman or making snow angels.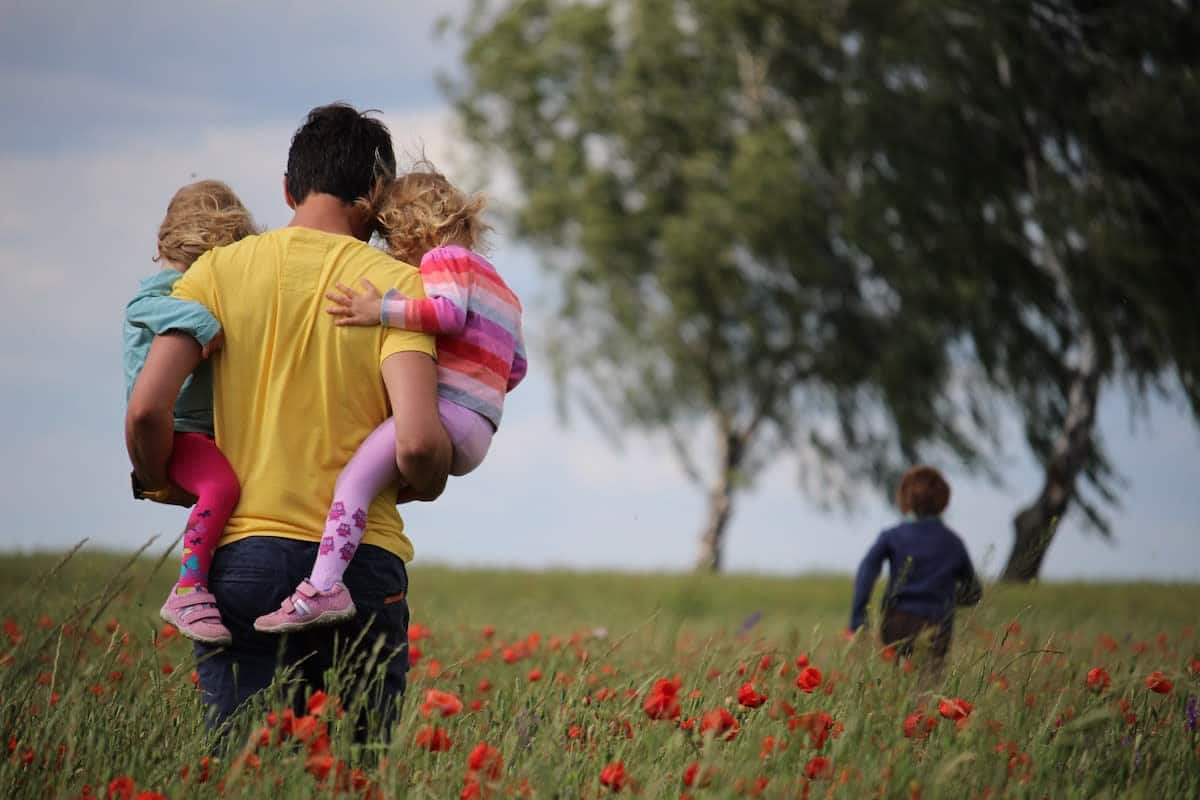 Spring Family Photo Ideas
Play with dandelions: Let the kids pick some dandelions and blow the seeds into the wind.

Use flower power: Incorporate blossoms by shooting in a field or garden, or bring some floral accessories like flower crowns.

Create an Easter family picture theme: Include things like Easter eggs, baskets, stuffed bunnies, or bunny ears.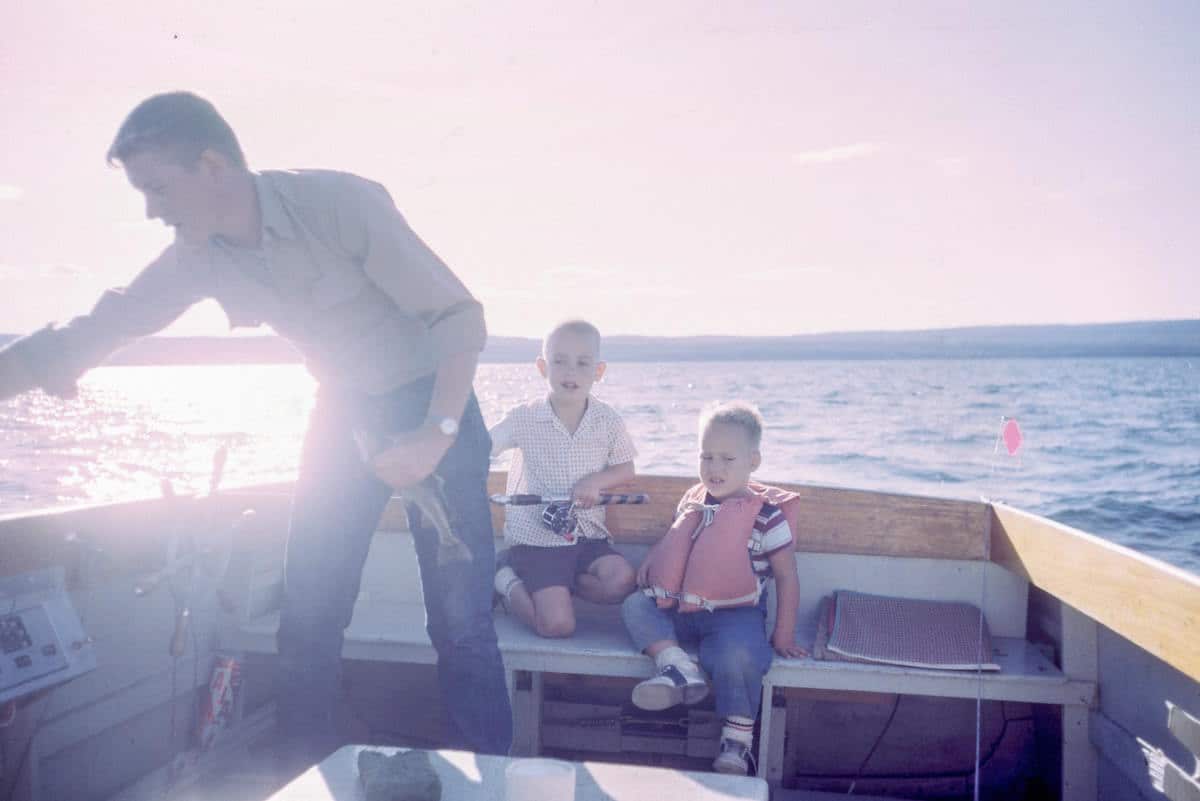 Summer Family Photo Ideas
Go for a picnic: Bring a basket, blanket, beverages, and other props to create a pastoral scene.

Head to the beach: Nothing says summer like some beach shots, and it offers some great photo opps like building a sandcastle together or walking along the shore.

Get wet: Shoot the family while they frolic in the shallows, ride in a boat, or as they jump into some water.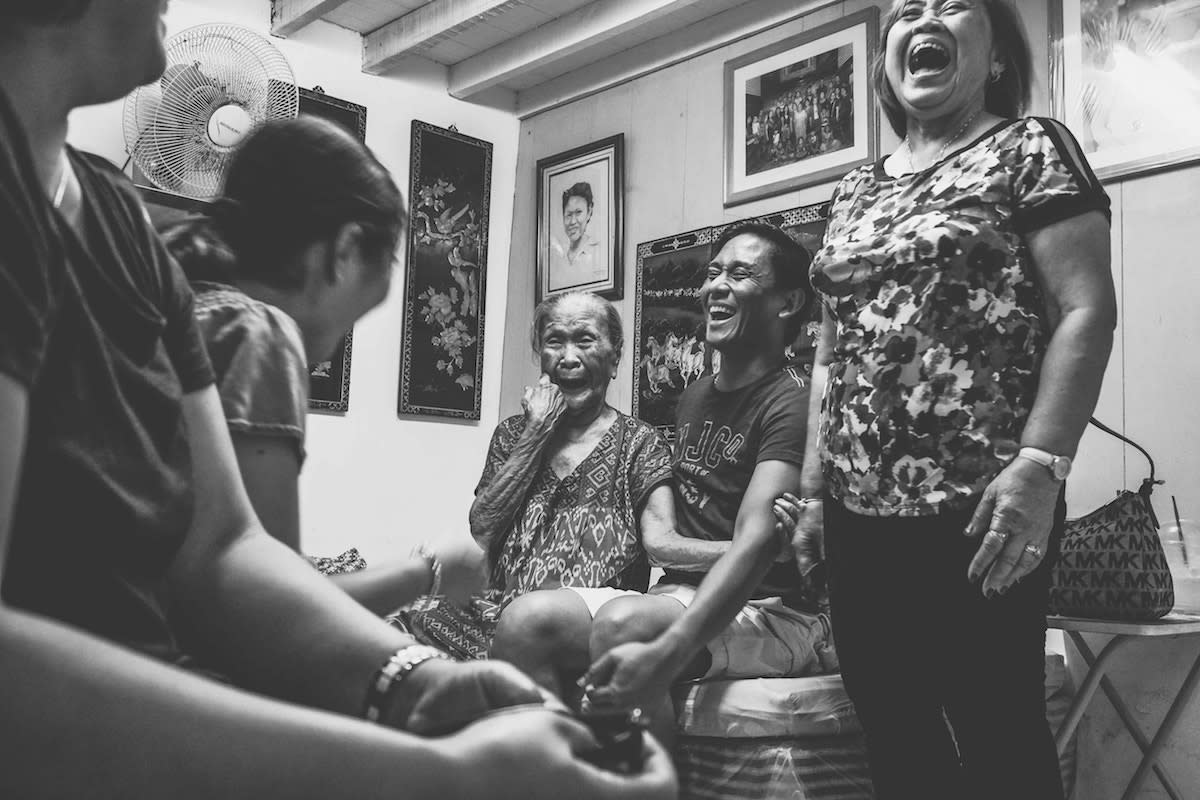 Tips for Capturing Candid Family Photos
No matter what creative family picture ideas you have in mind, they'll turn out much better if you can capture candid moments as opposed to staging every shot. Since you're not working with professional models, candid shots will look much more natural. You can usually tell when a photo captures a genuine moment, and it makes it much more engaging.
And candid is in right now. Potential clients that see these shots in your portfolio will know you can manage a family photoshoot while letting those special moments happen. To get candid family photos, you'll have to find ways to put the family at ease and let them act naturally. If you can get good at that, you're sure to get plenty of repeat clients and referrals.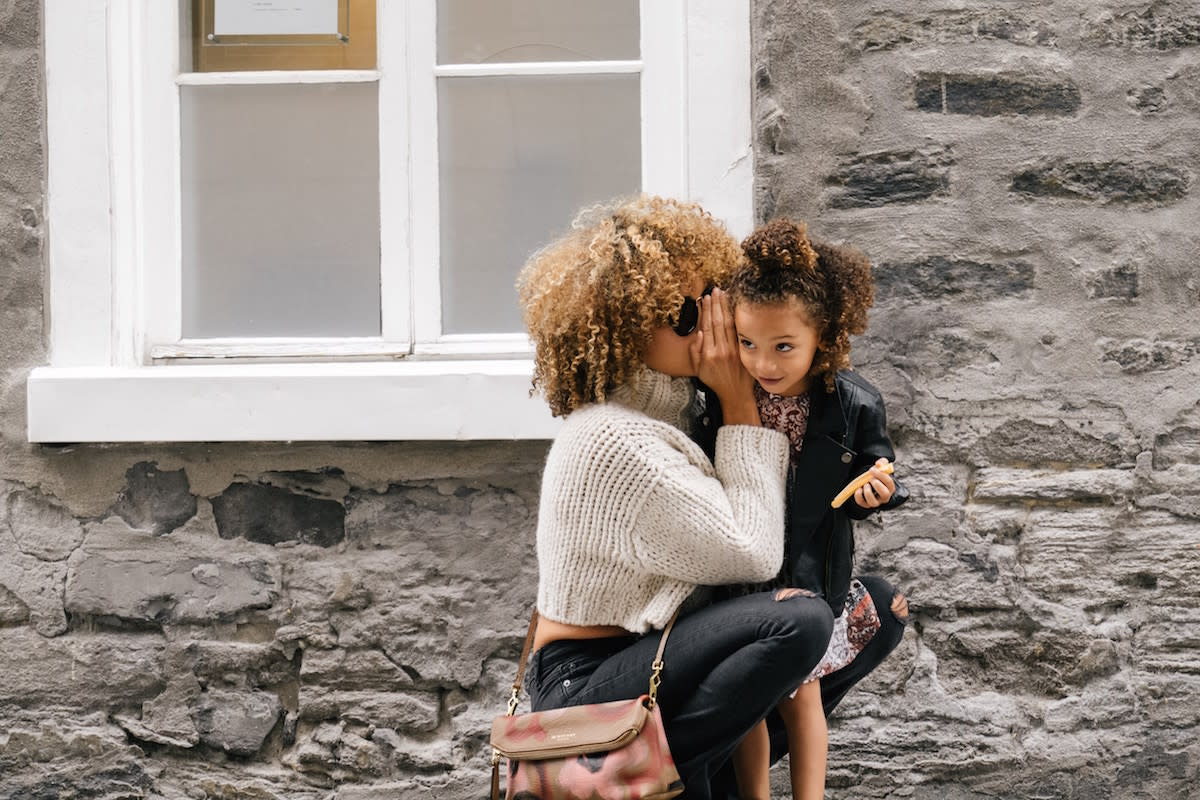 Work these techniques:
Keep them busy: One of the best ways to capture candid family photos is to shoot the family while doing one of their favorite activities, whether it's fishing or putting on a backyard theatre production. It will help by giving the family something to do. Instead of worrying about what they look like, they can focus on the activity and be more natural.

Make them comfortable: Shoot at the family's home or one of their favorite places. It will help put them at ease and offer many photo opportunities, such as getting the family to show off the things they like to do together.

Embrace the unexpected: If a toddler isn't cooperating, a pet is acting up, or something else unexpected happens in the middle of the photoshoot, just don't stop shooting! You may capture a genuinely funny moment as everyone reacts to what's happening.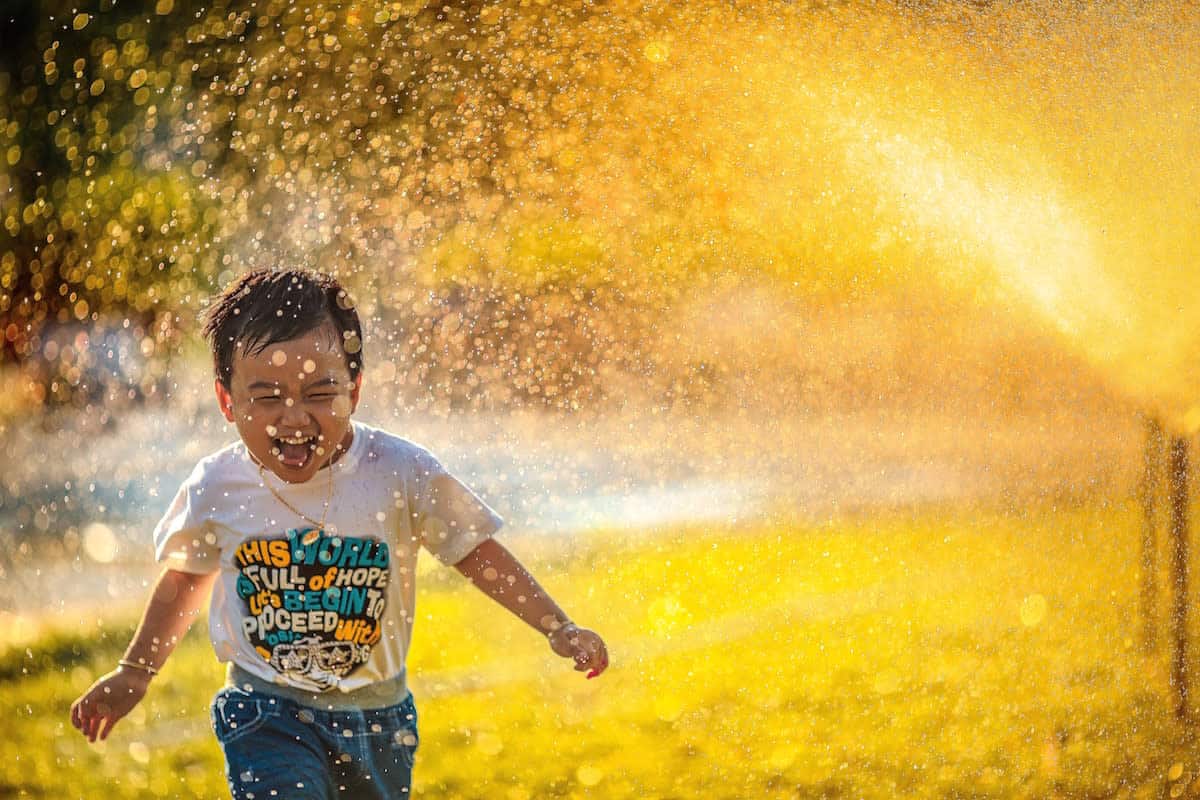 Equipment for Family Photography
If you want to make your family portraits the best they can be, it's important to use the right equipment. That includes choosing the right camera and lenses, as well as having the must-have accessories for portrait photography on hand.
Some of the accessories you should consider picking up include:
Tripods

Photography backdrops

Camera flashes

Lighting

Light reflectors
But when you're ready to invest in some new equipment, check out our guides on the best cameras and best lenses for portrait photography. You'll see there is a range of options to suit every budget.
Get Out There and Attract Some Family Portrait Clients
Now that you have some wonderful family picture ideas, you're going to need some families to shoot. To attract more clients, it's key that you start using your online portfolio website to show off the family portraits you've taken so far.
If you don't have one yet, check out our guide on how to build a portrait photography portfolio. The trick is to choose a website builder that's simple to use, and offers fresh, modern, customizeable templates that show off all your amazing family photoshoots as beautifully as possible.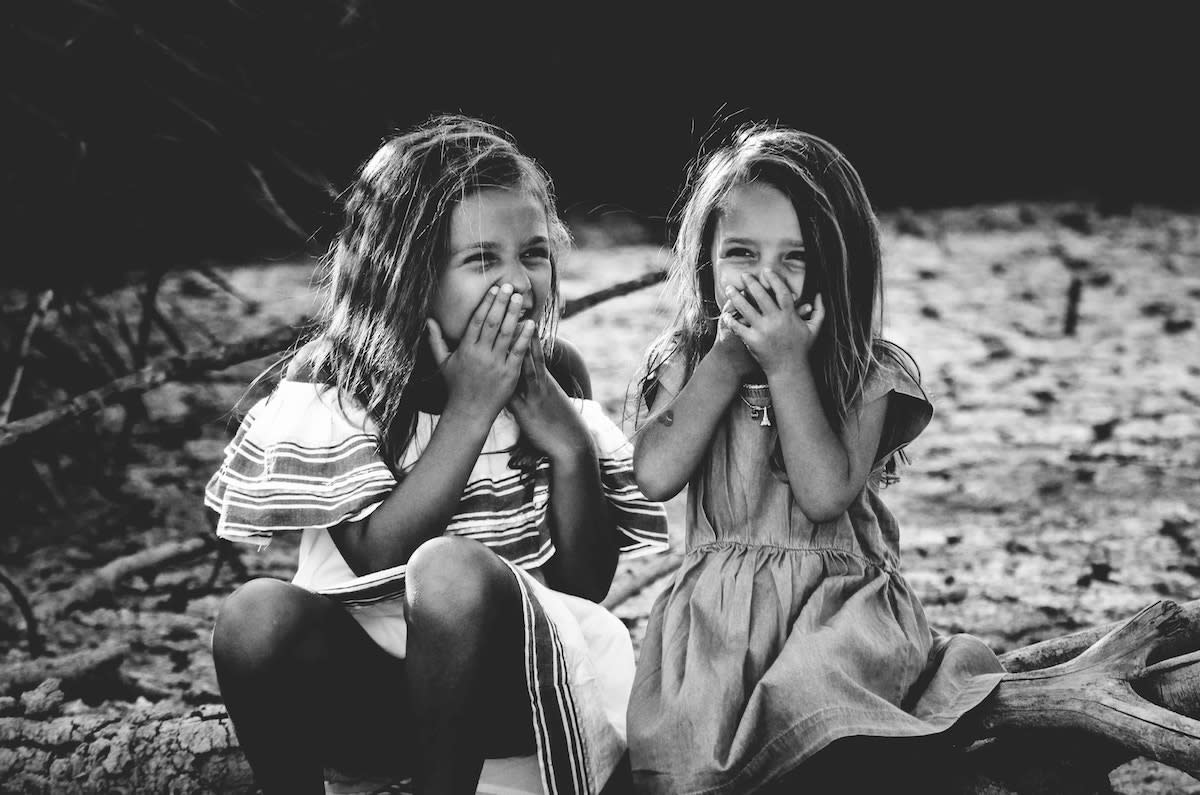 Another feature to keep an eye out for? A built-in client proofing tool, which will save you a ton of time emailing huge files back and forth and makes the proofing process with your family clients a breeze.
Ready to build a photography portfolio website that captures clients' attention? We've got photographers covered. Start your free trial with Format today!
Once you have your portrait website up, you can use it to find more family photography clients. (Check out this guide for everything you need to promote and market your portrait photography business!)
Now get shooting—good luck!
Want more portrait photography tips?
Complete Guide to Family Photography
9 Insights for Better Portrait Photography
20 Cool Self-Portrait Ideas
20 Mesmerizing Portrait Photography Websites