Having a strong online portfolio is crucial for any graphic designer.
Programs like Adobe Illustrator and Photoshop have made it easier than ever to showcase your work and stand out in a crowded market.
Creating a portfolio takes time and effort, but it's an essential step in building a successful career in graphic design.
These tips will help you create, maintain, and improve your online portfolio and help you succeed in your creative journey.
Building a Graphic Design Portfolio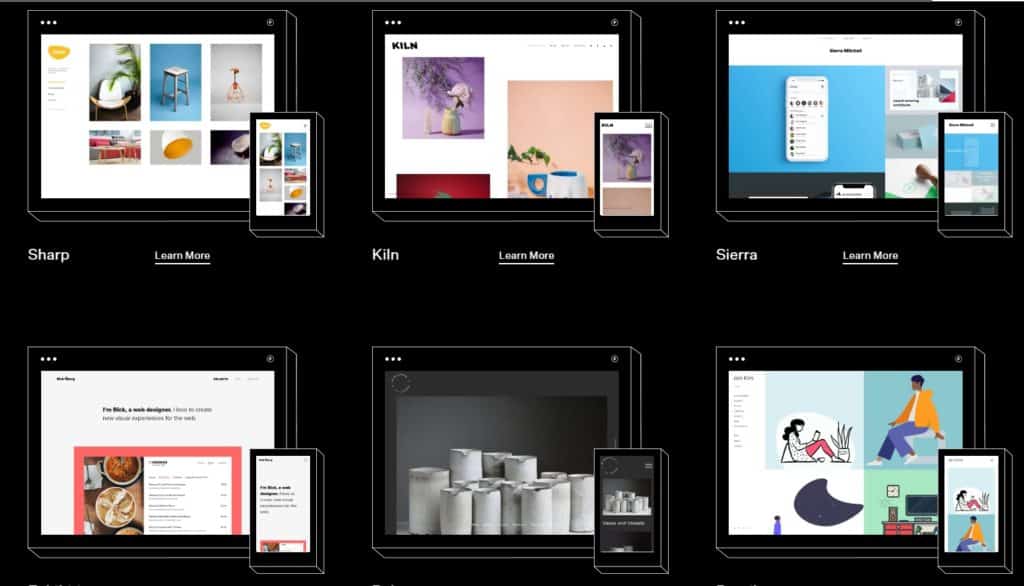 Gone are the days of carrying around a large binder full of perfectly printed design work categorized by style. Graphic design work is now standardly hosted on a portfolio website and can now be made easily accessible to potential clients all over the world via the quick click of a button.
Format is committed to helping aspiring graphic designers in building a graphic design portfolio through pre-made, easy-to-use website templates that are specifically made for the needs of graphic designers and their portfolios. All Format templates come with built-in promotional tools, can be customized without coding, are optimized for mobile, have high-quality image rendering, and many more features that make the process easy and straightforward.
Choosing a template should be done with your target audience in mind, as well as your goals for creating a portfolio website. When it comes to choosing a template, students should look for one that accommodates all required documents, while professionals should opt for one that is clean and allows their work to speak for itself. Remember that you can always change an element of your portfolio website if you don't like it.
Once you've chosen your portfolio template, it's time to customize it to reflect your personal style:1
Customize your menu
Add a biography
Add contact information
Pick a color scheme
Start uploading your work.
What Should I Include in a Graphic Design Portfolio?
What you include in your graphic design portfolio website will depend on what stage you're at in your career as a graphic designer. Whether you're just starting off or you're an established professional looking to gain new clients, here are some tips for what to include in your portfolio at each stage in your career.
Graphic Design Portfolio Tips For Students
What to Include in a Graphic Design Student Portfolio
If you're compiling your college graphic design portfolio, or you are already enrolled in a program at university, putting together a portfolio will be a critical starting point in launching your design career.
If you're using the portfolio to apply to a university program, make sure that you review all requirements prior to compiling a portfolio. Some programs will specifically ask for certain types of work or case studies, while others will allow you to put together a portfolio that showcases all types of design. Commonly requested items are animation, logo designs, packaging, and product design.
Whether you're currently enrolled in a graphic design program or not, pick a few pieces of campaigns you're most proud of to launch your portfolio. If you're already enrolled in a college or university program, pick a few of your most well-received projects or designs you're most proud of to showcase in your portfolio.
As you go through school, be sure to update your portfolio with your most recent work to ensure your graphic design portfolio reflects your most recent and current style as an emerging designer.
Be sure to curate your best work when putting together a graphic design portfolio
Although you may not have a large pool of work to choose from, take the time to sort through all your projects to pick out your best work to showcase on your graphic design portfolio website. This can include work done for fun, for family, or for school.
If you find you don't have enough work to compile a complete portfolio, take the time to pursue freelance graphic work for fun or for a client. Designing items for friends and family or designing mocks-ups of a favorite product or brand can help build your student graphic design portfolio. If you're stuck on what to design, take a look at these graphic design projects to cure your creative block. As you go through school and start to accumulate a larger body of work, you can take the time to select your most recent or best pieces for your portfolio website.
Don't forget to personalize your graphic design portfolio.
Make sure to include your name on the home page, as well as a section that allows people to get to know you as both a designer and a person. You can choose to talk about where your main interests are in terms of design, what type of career you hope to pursue, and include contact information like e-mail address and phone number.
In addition, if you are looking to pursue a career as a product designer or logo designer, make sure that the work in your portfolio reflects this area of interest.
Graphic Design Portfolio Example for Students
If you're in need of design portfolio ideas, we've got you covered with this example from graphic design student Sierra Bisbould.
For her portfolio, she has used the Order Theme to create a sleek and simple student-style graphic design portfolio.1
The expanded left-side menu allows for clear navigation through the entirety of her portfolio, while also allowing her to display different collections of work.
Sierra has also made sure to include a biography with her contact information to let potential clients know a little more about her and her interests as an up-and-coming designer. Sierra has also integrated links to her social media pages which will allow people to take a deeper dive into who she is as a designer.
All in all, Sierra has provided us with an excellent example of what a portfolio should look like for a student.
Graphic Design Portfolio Tips For An Entry or Mid-Level Designer
You've finished school and now the purpose of your portfolio has shifted—you're aiming to land clients and paid jobs as a professional graphic design professional. This new stage in your journey in graphic design will be reflected in your portfolio and the items you showcase in that portfolio may look a little different from the ones you curated while in school. You're now in the field competing with the best graphic designers out there and your portfolio will need to reflect your desire to compete with the top-level graphic designers from around the world.
Showcase Diversity and Your Best Work In Your Graphic Design Portfolio
You're out of school and looking to land a job as either a full-time or freelance graphic designer, which means your website is going to look a little different than the student graphic design portfolio websites that you might be accustomed to.
While you certainly can include work from school projects, you will want to pick your absolute best designs to establish yourself as a trusted professional graphic designer. Pick pieces that showcase your unique brand of design as a way to set you apart from others in a competitive field. And while everyone has their strengths as a graphic designer, your graphic design portfolio should include a diverse range of pieces to show that you can do all different types of graphic design. A studio or an art director is more likely to hire a designer who can do many different types of graphic design.
Preparing Your Graphic Design Portfolio for Interviews
You've landed an interview for your dream graphic design job and now it's time to make sure your graphic design portfolio reflects their desired requirements.
Take a look at the job description and then review your design portfolio to see if their brand matches your personal style. Highlight pieces that will be your primary area of focus, but don't be afraid to still show your range of skills by including pieces from all areas of graphic design. Whether you're applying to be a creative director or looking at a more entry-level role, your portfolio for graphic design needs to showcase that you're the best fit for the position.
Freelance Web Design Portfolios That Attract Clients
Different clients want different types of design, so as a freelancer, it's critically important to showcase your diverse range of design abilities. Freelance web design portfolios should not only include a variety of different types of design but different styles within the different design categories.
What Are Some Examples of Graphic Design Portfolio Websites for Inspiration?
Format templates allow graphic designers to create stand-out and fully customizable portfolio websites that let them showcase the full scope of their talent as a designer. From students to full-time professionals, these designers used Format website portfolio templates and have some of the best graphic design portfolio examples to browse through for inspiration. These portfolio website templates are fully customizable, and mobile-friendly, come with social media integration, and much more.
Use these best graphic design portfolios as inspiration to get your one set up and running. And, if you're looking for more inspiration, we've got you covered with 44 additional amazing graphic design portfolio examples.
Chicago-based designer Nico Gibson used the elegant and refined design of the Stockholm template to display his graphic design work. Utilizing white space to its fullest, Nico took a simplistic and minimalist approach compared to more traditional graphic design portfolios. With projects displayed in collections of high-quality images, the horizontal scroll format makes the portfolio website easy to navigate. Nico has also made sure to describe the context and story behind each collection and his design work to ensure potential clients or employers understand the full scope of his thinking as a professional graphic designer.
Format Template: Stockholm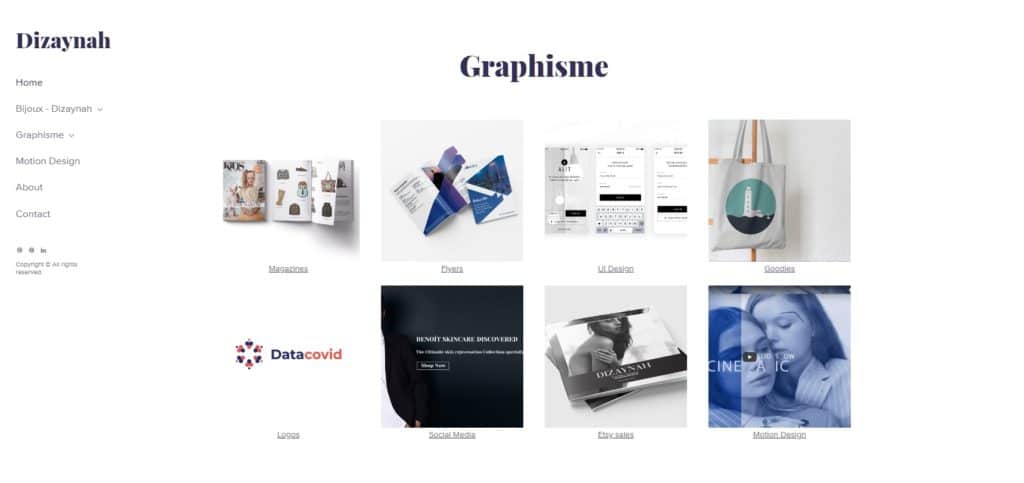 With three years of experience as a graphic designer, Dizaynah brings us a graphic design portfolio site that all entry-level designers will want to emulate. Youthful, fun, and image-forward, Dizaynah has created a design portfolio that makes good use of white space while still maintaining an appealing visual design.
Dizaynah, who also goes by Jeanne Le Bras, specializes in magazine and catalog design and has opted to display her eye for great design by using a tiled layout. Visitors can click an image right from the home page and horizontally scroll through each featured magazine design. The straightforward and simple menu also allows potential clients to view Dizaynah's full range of graphic design capabilities including logo design and motion design.
Format Template: Amazon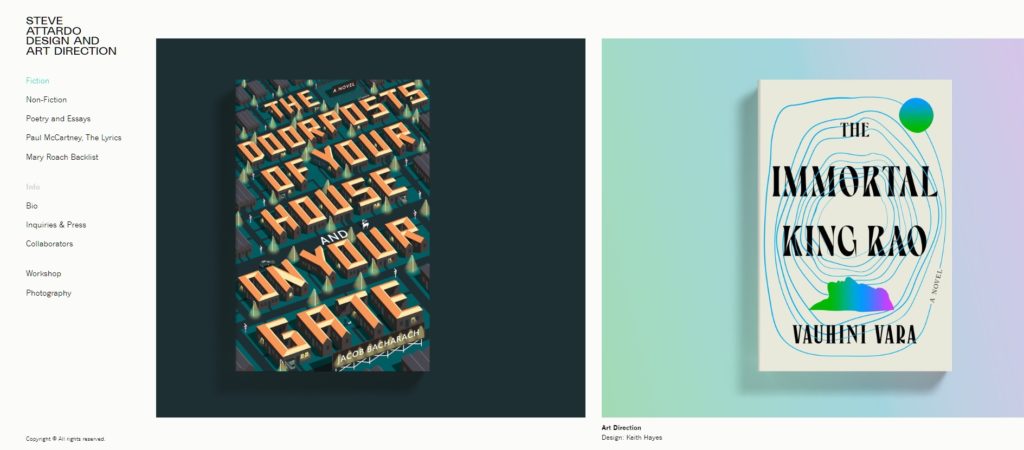 A high-profile and respected New York-based graphic designer with experience in art direction, Steve Attardo has a graphic designer portfolio website that could even make the most senior designer envious.
The Slate template Steve has chosen exposes the potential of how truly customizable Format templates can be. A parallax scroll and smooth page transitions allow for images to get the full attention they deserve in your graphic portfolio. The grid layout allows people to view your best designs right on the home page of your website. Steve has also chosen a template that has a sticky menu—a great feature for a design portfolio that wants to emphasize exploration.
Format Template: Slate
What Are Some Best Practices For Graphic Design Portfolio Websites?
Web design—like graphic design—goes through trends in what's considered best practice. Some graphic designers' portfolio websites will be more basic and focus on simplicity, while others will have brilliant colors that instantly grab your attention. Whatever your design portfolio style, here are a few items to consider before you start to build your portfolio website.
Branding Is Key for a Graphic Design Portfolio
Have a consistent look on your graphic designer web portfolio that reflects your style. If your work has a more modern feel, design your portfolio to reflect your brand. If you want to convey a fun or quirky style, try integrating colors that represent who you are and the work you create. Your branding should be obvious from the moment visitors enter the home page of your website. You want to ensure that your website communicates what kind of designer you are.
Can I Use Canva for Branding Purposes?
As a professional graphic designer (or aspiring professional graphic designer), you should have access to programs like Photoshop; however, if you're a student who is trying to save money, or you're just looking to save some time, one of the best graphic design portfolio tips we can give is to look into Canva.
Canva is an online graphic design platform that has both free and paid features. It provides excellent branding templates that, when combined with the professional templates of Format, will allow you to create a graphic design website that is beautifully branded with a professional feel.
Intuitive Navigation Is Essential for a Graphic Design Portfolio
Make sure navigation is clearly labeled and easy to find for all visitors. Too many words in a menu heading can be confusing so keep your design portfolio navigation straightforward. For example, if you have a page directing visitors to samples of interface design, simply label the menu heading "interface design." While you can have many labels on your navigation as you see fit, graphic design portfolios should have a menu bar that's sleek and straightforward. If visitors are having a difficult time finding something it may cause them to exit your portfolio website and quickly make their way to the next designer in line.
Here are some items to consider for navigation on graphic design websites:
Does the number of menu headings make the website look cluttered or navigation confusing?

Dropdown menu—do you need one or does it interfere with the navigation of the page?

Does the look of the menu match the rest of the website?

Is the menu easy to find?
Consider Galleries When Creating Your Graphic Design Portfolio
Consider the type of work you've chosen to display in your graphic design portfolio before selecting the format for how you plan to present your portfolio of work. You may prefer horizontal scroll to vertical, or full-bleed images as opposed to parallax scroll. Will people be consuming your portfolio on mobile devices or on a desktop? Take a look at examples of graphic design portfolios to see what type of gallery would be best suited to make your designer portfolio look its best.
Don't Forget To Add Your Contact Information to Your Graphic Design Portfolio
Whether a graphic designer's portfolio includes a full bio or just basic contact information is really up to the individual. A full biography can personalize your portfolio and lets potential clients know where your interests lie and what your work style and preferences are. Including this information in a graphic design portfolio is not mandatory, but it is recommended. At the very least, it is important to include your name, e-mail address, address, and phone number.
Do Graphic Designers Get Paid Well?
Like any design field, your salary often depends on your level of experience and where or how you commission your graphic design work. The average salary for a graphic designer is $50,465 with the range dependent upon years of experience or how many clients you are able to take on.
Intermediate designers who hold an extensive portfolio of work often make a salary of over $85,000. Negotiating a salary and rates is an important part of the graphic design field and your portfolio can be used for leverage in your negotiations.
How To Build a Design Portfolio: Do you Feel Ready?
At this point with all of these graphic design portfolio tips, you should feel fairly confident about creating a design portfolio. We've gone over everything from what is a design portfolio to the specifics of how to build a design portfolio.
Armed with these tips and our easy-to-use, professionally designed templates, it's never been easier to create a graphic design portfolio.
Try Format free, build a beautiful website that showcases your work, and watch your career take off in a whole new way.