Can you believe Valentine's Day is just around the corner? There is no better time to think of love-inspired photography ideas than right now. We've got it covered with a ton of different Valentine's Day photo ideas from cozy photoshoots at home, fun ones outdoors, or a love-infused shoot at the studio. You may decide to keep your Valentine's Day shoot simple or add in some fun photos with kids, a beautiful baby, or a pet. Ultimately, the goal of the Valentine's Day photoshoot is to showcase the couple's love.
Valentine's Day photos are a great addition to add to your online portfolio and a way to continue to build your client base. Make it a day photoshoot or under a starry sky. We've compiled some of our best Valentine's Day photo ideas just for you!
Before you get behind the camera, here are a few tips to think about while getting ready for your Valentine's Day photoshoot.
The Prep Work
Know Their Story
To start, find out the couple's story. Learning about the couple can help understand their love for one another and spark some creativity in coming up with ideas. The goal is to construct photos that will best showcase their connection. Ask the couple about their children or any Valentine's tradition they may already have. Building a relationship with the couple will help them feel comfortable in front of the camera and better express their emotion through the photos. Knowing the couple will help you successfully portray their love for each other through the Valentine's Day shoot.
Photograph Any Age
Try not to limit yourself to young couples. Showcasing people of all ages can help build your portfolio and improve your photography skills. Beautiful Valentine's Day photo ideas work for everyone from children, young love, to couples who have been together for 50 years.
Find Out What They Love
What do they love? Is the couple outdoorsy, artsy, musical, or sporty? Finding out about the couple's hobbies and interests can help develop creative ideas that will fit best your Valentine's Day photo ideas for that particular couple. Keep in mind each couple is going to be different. If the couple has children or a baby think of ways to include them in the photos. The goal is to make it a Valentine's Day the couple will not forget.
Start Your Valentine Shoot
Once you have built a relationship with your couple and have come up with some Valentine's Day photography ideas, it is time to get started. Read on to find some inspiration from the Valentine's Day photo ideas below.
11 Valentine's Day Photoshoot Ideas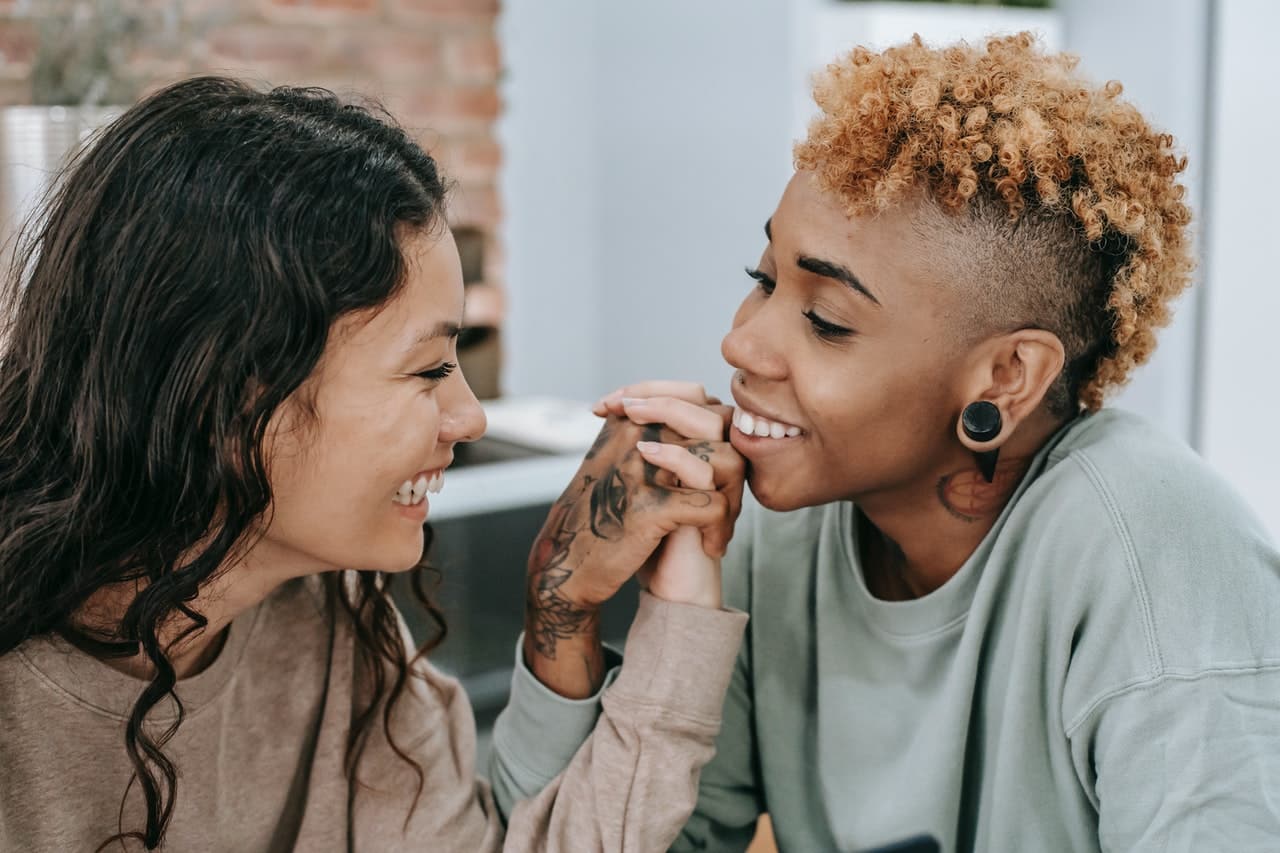 Photograph Candid Love

Find a way to take a photo that catches the couple's, candid love. One way to create a candid moment is to meet up with one of them beforehand and take photos of the couple's reunion. This way you can snap a photo of the initial reaction they have for their loved one. You can also ask the couple to exchange a gift and photograph their authentic reaction. Tell the couple to keep it simple, like a hand-written note saying, "Will you be my Valentine?" or a picture drawn by one of their children. It's all about capturing candid moments.

Love Locks Photos

Bring the couple outside to take photos with a love lock on a bridge or a fence. Have the couple write their initials on the lock beforehand with a date that is important to them. Maybe it is their anniversary or Valentine's Day itself. Make it official by snapping a photo of them locking their love lock and sealing it with a kiss. Nothing says 'will you be my Valentine' like a public fixture to symbolize their love.

Cute Valentine's Day Signs

A creative way to add some fun to your Valentine's Day shoot is by using custom signs. Valentine signs and hearts can make your photo shoot either funny or romantic. The signs can be as simple as, "be my Valentine" or "my forever Valentine." Have the Valentine messages hanging as a backdrop or ask the couple to hold the signs.

Heart-Shaped Anything

Adding heart-shaped anything to your Valentine's Day photoshoot will add the element of love to your photos. Use flowers, rose petals, the couple's hand or a blanket to create a heart shape. Creating a heart is a simple yet effective showcase of love. If the day photoshoot is done outside, try drawing a heart in the sand or snow. Are you photographing a baby or children? Add them inside the heart for a very cute Valentine's photo.

The Perfect Valentine Outfit

Ask the couple to wear pink or red clothes for their Valentine's photos. Couples can be creative, whether it is wearing a pink shirt, hat, or scarf! Dressing the part in Valentine-coloured clothes can add a subtle but cute touch to the photos. Get in the Valentine's Day spirit by having anyone apart of the photoshoot dressed in a Valentine theme. Pink outfits aren't just for the couple, deck everyone out from children to pets! Even you!

Grab A Glitter Photo Prop

Find Valentine hearts and make a prop out of them! Make props with an "X" and an "O" or a cupid baby picture. The couple can use any type of glitter props with messages to each other in their photos. Use the props outside, inside, or to spice up your studio! The sky's the limit when it comes to what props to use.

Natural Indoor Photos

Make it an indoor photoshoot and take your photos inside the couple's home or cozy apartment. Bringing your camera into the couple's space is something that can create an intimate feel. The intimacy can be perfect for your Valentine's photos. This natural type of shoot can also bring down barriers and help the couple feel more comfortable through the photoshoot.

Re-Create Memories

Re-creating special moments like a couple's first date can be a great Valentine's Day photo idea. You don't have to limit the re-creation of a first date, maybe re-live the couple's first Valentine together. Or their engagement or wedding. You can even re-create one of their old photos! Create a retro vibe by using children to bring back a past memory or re-create a past moment.

Valentine Photos at Sunset

Get in the Valentine spirit with an outdoor photoshoot! Golden hour is the perfect time to take romantic photos. The lighting is perfect for warm photos and silhouettes. The outdoor shoot also creates ample opportunities for stunning backdrops. Nothing says epic-beauty Valentine's Day shoot quite like a sunset kiss.

Hand-Written Valentine's Notes

Photography ideas don't have to always be elaborate. Writing hand-written notes can be a great way to express deep romance. Ask the couple to write a nice Valentine message to one another and hold them up to the camera. The couple doesn't always have to be in the photos. Try asking children or a pet to help by holding up their Valentine's messages to one another.

Valentine for Singles too!

Be your own Valentine! Just because we're talking Valentine's Day, doesn't mean there isn't something for singles too. Singles should get in the spirit with fun photoshoot ideas with groups of friends or with their children, baby or pet. All of these Valentine's Day photo ideas can be used to create beautiful photos regardless of whether you are in a relationship. Spread Valentine's cheer!
Enjoy Your Valentine's Day Photos
Valentine's Day photography is all about the perfect expression of love. So now it is time to get out there. The goal is to create Valentine memories that children and loved ones will cherish forever! Get creative, have fun, and enjoy your Valentine's Day photoshoot! And don't forget to update that online portfolio once it's all said and done. Happy photography!
Looking for more photoshoot ideas? Try these:
Photoshoot Ideas: 28 Different Shots To Master
47 Unique Maternity Photoshoot Ideas