If you're a portrait photographer looking to bolster your online portfolio with cool—and super-marketable—new work, you might want to consider adding some maternity pictures. Maternity photoshoots are an awesome way to make extra money as a photographer. That's because maternity photos are, of course, in demand all year round!
Adding maternity photoshoots to your online photography portfolio can bring more potential clients to your page, and, the great part is, if they like your style, there is no reason not to hire you for other types of portrait shoots as well! To get your creative juices flowing, we have put together this list of 47 awesome maternity photoshoot ideas that you can produce for your clients.
Pregnancy Reveal Photoshoot Ideas
Have a client who wants to share their good news with the world? Here's some pregnancy reveal ideas they'll love.
A picture of the mother or couple holding a beautiful sign with the due date is a simple, classic way to share the exciting announcement.

There are lots of other cute signs you can incorporate in your maternity photo session to help your client announce their pregnancy. One fun idea is to look for a "bump ahead" street sign and either shoot on location or look for a way to bring one to your location.

Speaking of bumps, another great maternity photoshoot idea is to let the bump do all the talking by shooting a close-up of mama's belly.

A classic pregnancy reveal idea is to incorporate something like baby shoes in your maternity pics. Consider using maternity photo props like this, especially if the mother's bump isn't showing yet.
Want to show off your Photoshop skills? Talk to your client about fun pregnancy announcement ideas, like a spoof movie poster that features the photos from your maternity shoot. Make baby's due date the release date! Choose a portfolio site with built-in client proofing so that you can have them review the poster before delivering it.

For couples expecting an adopted child, a globe doubling as a belly can be cute pregnancy photography idea to share their awesome news with friends and family.

You might also want to consider incorporating something from the country or region that an adopted child is coming from. This can open up endless creative possibilities!

If you and your clients are feeling really brave, an awesome way to get a truly candid moment on camera is to reveal the news to a family member or friend on set. You're bound to capture some very real smiles.

In our Instagram-obsessed times, a maternity photography idea that will help you stand out is to include some cool flat lay photographs. This could be a shoot of a pretty custom sign with some meaningful objects around it, or just some visually attractive elements like flowers or Instax shots. Offering Insta-ready content will be a much-appreciated bonus for any expecting mom-to-be. Include these in your online portfolio website, too, so that clients can see they're getting more than the usual package.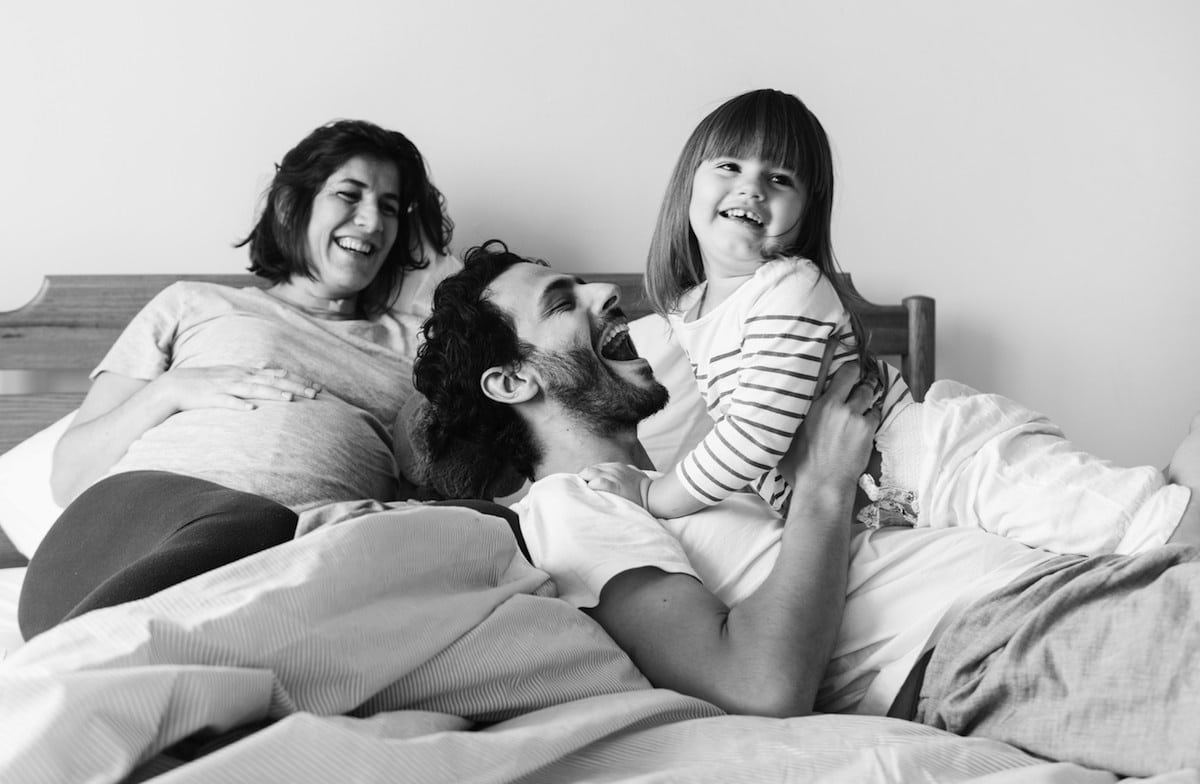 Family Maternity Photoshoot Ideas
This is a great place to start if you have a whole family who wants to get in on the maternity photoshoot fun!
Including siblings will give you endless options for creating unique family maternity photos. Kids are usually fascinated by the knowledge that mom's growing belly contains a little sibling. Capture the excitement by having them hug or kiss her belly.

Lots of parents to be like to incorporate custom t-shirts in their maternity photo sessions. Earn bonus points with your client by giving them some cute or humorous suggestions that the family members can wear.

For very small children, a beautiful pregnancy photoshoot idea is to have mom hold them so that they are sitting on her belly. This really shows off just how strong moms are!

We all know that pets are just as important as the rest of the family. If your clients have pets, celebrate them by including them in your shoot. For a humorous take, put a big brother sign around the family dog's neck. For a more classic approach, a beautiful golden-hour maternity portrait with the pooch included will do the trick. (If you do well at this shoot, they just might hire you to do that pet portrait they've been planning!)
You don't have to limit yourself to the nuclear family: include grandparents and other family members as well. Multi-generational maternity shoots can make beautiful keepsakes, and you just might land some new portrait photography clients while you're at it.

Families come in many configurations, and professional pregnancy photos are an awesome opportunity to celebrate the many kinds of non-traditional and blended families that we come from. Encourage your client to showcase that. Maybe they are expecting via surrogate. Why not include their surrogate in some photos?

A family maternity picture idea that will help you capture truly natural, joyful moments is to have your subjects engage in something they love to do all together. Is there a game or sport they like to do? Do they love camping? Shoot them while they're doing that activity together, and you'll be sure to capture some heartwarming and genuine moments.

More subjects in your shoot means more ways to get creative with depth of field. Use a portrait lens with beautiful bokeh and play around with having the expecting mom or an announcement sign in the foreground, and everyone else in the background.

Cute maternity pictures can become even sweeter when paired with an "after" photo. This is a great maternity shoot idea to gain repeat business. Shoot mom in the same pose but holding her newborn, and create a stunning side-by-side image for her. Include these in your online portfolio for a great way to boost your new client bookings.

Here's a foolproof tip for capturing candid moments when shooting couples or family members: have one person whisper a secret in the other's ear. This end result might be a tender moment between the couple or a silly one one between family moments, but either way, you'll capture something fresh, and help your subjects loosen up.
Want more family photo shoot ideas? Take a peek at our family photo shoot guide.
Pregnancy Photoshoot Pose Ideas
Don't let your parents-to-be freeze up! Here are a few pregnancy photoshoot poses to get them started.
The particularly joyous event of a baby on the way often makes humor an excellent approach for pregnancy photo shoots. Whether it's a photo of the couple looking apprehensive for an announcement of twins, or mom blowing a balloon with a "ready to pop" sign, maternity pictures are one of the best places to rock a bit of humor and cheekiness.

The changing pregnant body is a thing of beauty. Capture a stunning silhouette of mom's belly by having her pose in profile. Try hiding a light source behind her to play up the shape of the belly.

Another pregnancy picture idea is to use shadows in your images. If you're shooting outdoors, schedule your session for a time of day when you can get nice, crisp shadows. Bring your best portrait photography camera and pose your subject to emphasize the bump.
Not all clients will want a more silly pregnancy photoshoot. Celebrate the occasion of new life by taking cues from fashion photography when posing your subject, and create beautiful, magazine-worthy pregnancy photos that are sure to make your portfolio stand out.

A cool maternity pic idea is to have the mom-to be pose behind something, like a wall or a tree, with her belly peeking out.

If you are shooting quite late in the mother's pregnancy, you can even try a maternity photography pose that allows you to shoot from above, emphasizing her big belly and creating a close-up, intimate effect.

When shooting a couple together, consider how posing them will change the tone of the shoot. For example, having them pose back to back might make for a more fun, lighthearted pregnancy picture, while having them face and embrace will make for something more tender.
Cute Maternity Shoot Props
A well-stocked prop trunk is one of the most important portrait photography accessories. Make sure you have some of these ones on hand.
Incorporate the family's hobbies in your maternity photography. Are they baseball fans? How about adding a tiny jersey as a prop?

A tried-and-true favorite maternity photo shoot prop is an ultrasound image. These are always a beautiful choice because they are so personal. After all, it is the first photo ever taken of their little one.

Books are an awesome prop, because they can range from funny (think What to Expect When You're Expecting), to personal, like mom's favourite book from childhood.

Blooms are a beautiful symbol of new life, and you can work with your clients to incorporate flowers that have special meaning to them.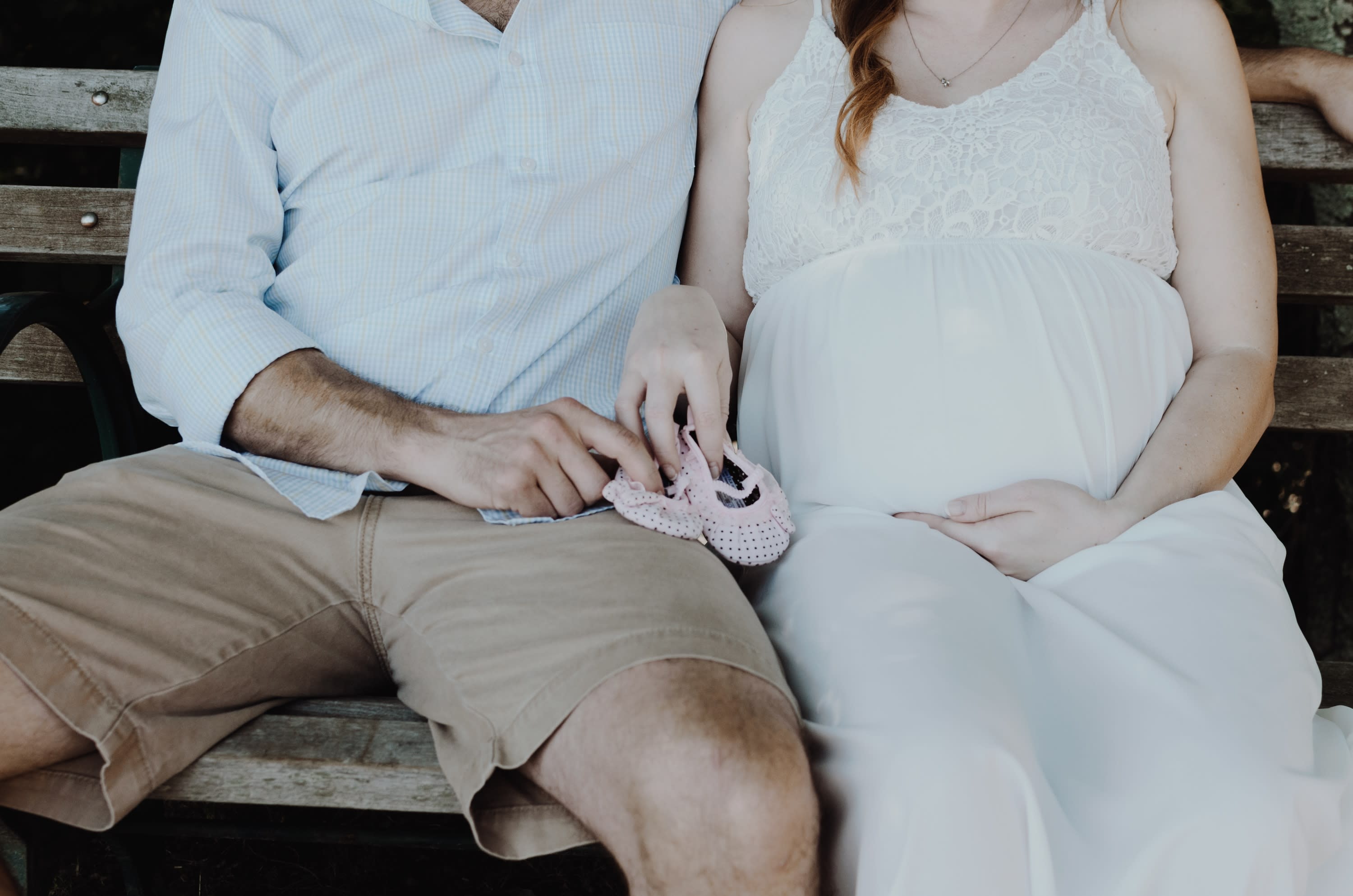 Are the parents announcing or is the baby due around a special holiday? Use seasonal maternity photoshoot props, like hatching eggs for Easter.

Using a pregnancy testing kit as a prop can make for some very funny maternity pictures.

If the expecting mother wants to go for an ethereal look, try to shoot her in a long, flowy garment. This is a beautiful way to emphasize a pregnant belly.

Try using paint as a prop! If there are kids in the family, have them paint on the belly. You can also have a pro paint something cool for very unique maternity photos.

Balloons are a great prop because they can be used to so many different effects. Depending on how you style them, balloons can help you achieve a cute effect (mom can hold it in front of her belly) or something more glamorous (fill the studio with balloons!).

Bring out your inner food photographer and use some of the snacks that your subject craves in pregnancy as a prop. Your client will be sure to smile at these images in years to come.

While we're on the subject of food photography, everyone knows that for those who enjoy a drink from time to time, the nine-month alcohol freeze is no fun. Play with this idea for a tongue-in-cheek pregnancy shoot—you could show mama sadly pouring out a bottle of champers, for example.

You know those charts that tell you what size your baby size at any given week? Use those objects as props! For example, have mom hold a lemon to her belly if that is the size of her baby that week.
Maternity Photoshoot Location Ideas
Want to stage your pregnancy photos somewhere unforgettable? Here's some options for your maternity shoot.
A bathtub can make for a really beautiful maternity photoshoot location. Make it a milk bath to opacify the water, and use flowers in and around the tub for a stunning effect.

Water is associated with femininity, and some mothers specifically choose water births. Choose a location with water, such as a lake, to play up these associations.

Each season has something to offer! If you are shooting in the fall, look for a location with lots of colorful foliage to take advantage of the time of year.

For a winter maternity photoshoot, can you find a snowy location? If there is no snow in your area in the winter, look for something else that suggests the beauty of the season in your particular region of the world.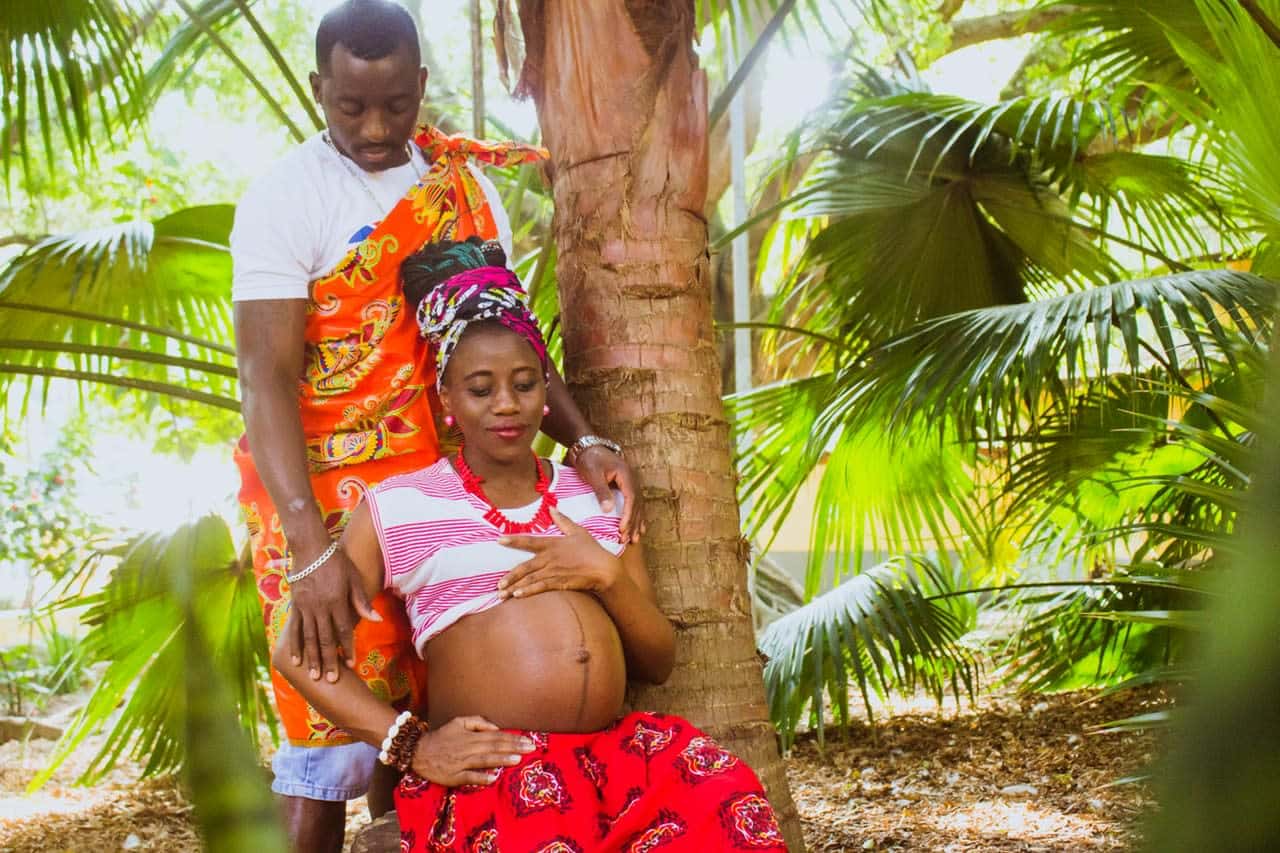 No need to bring flowers in the studio in spring. Go to them by finding a beautiful, flower-filled location like a meadow or even a greenhouse.

If you're lucky enough to be shooting on a warm summer's day, have your subject wade around in the sea for an unforgettable, goddess-like maternity photo shoot.

Sometimes, simple is best. The home of the parents-to-be can be the perfect location for an intimate and personal photoshoot.

Another personalized approach to choosing a location is to go somewhere that is meaningful to the couple, such as the place where they first met.

Maybe the baby's nursery is underway. If that's the case, that can be a very sweet location as well.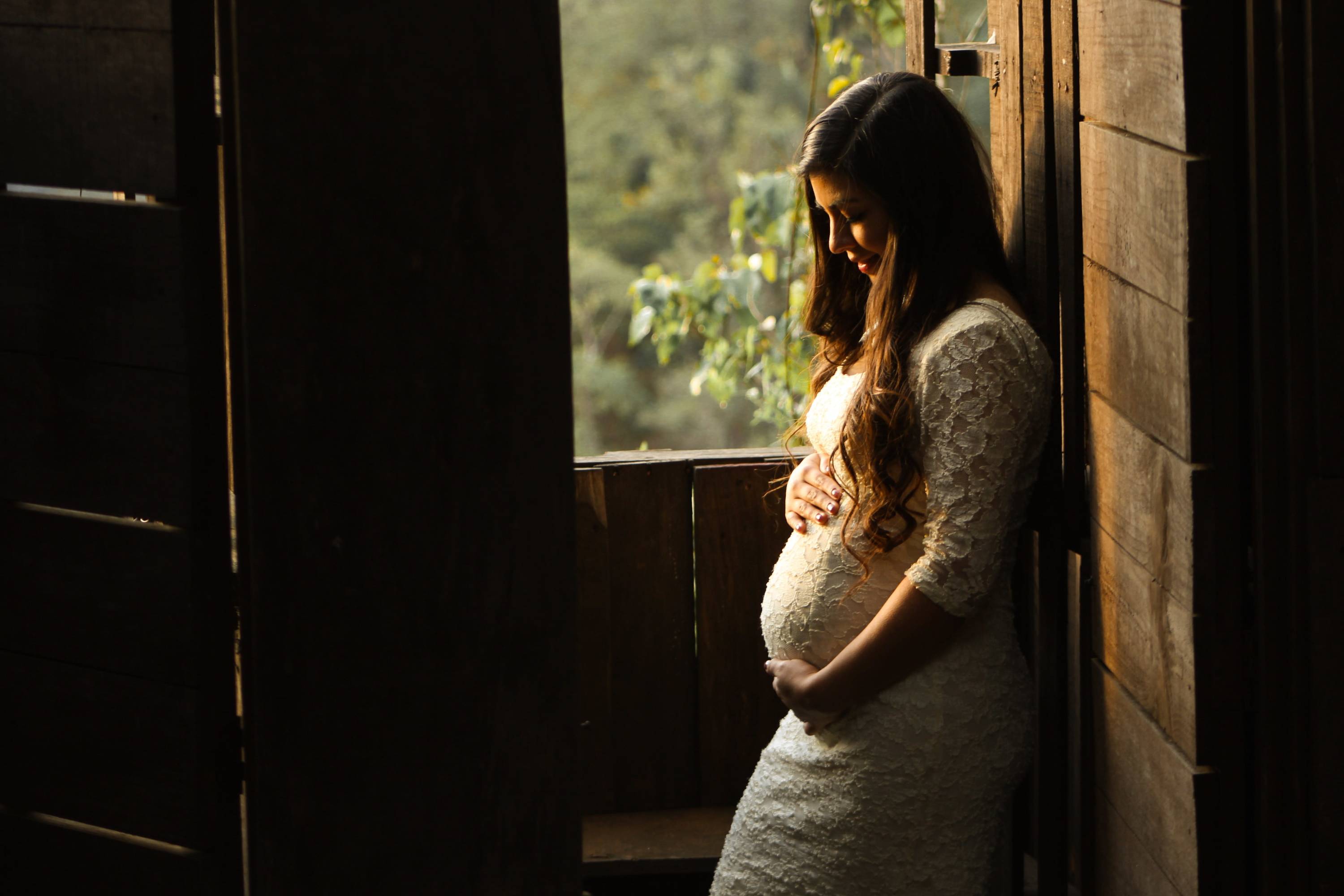 Make Sure to Add Your Maternity Photoshoots to Your Online Portfolio
Now that you have some amazing maternity shoot images, make sure you add them to your online photography portfolio! Don't have one yet? It's worth it to set one up, so that maternity shoot clients have an easy way to see your work and get in touch. If you need some inspiration, cruise through some of the best portrait photography portfolios in your industry to see how your fellow pros are featuring their work. You can use a website builder to create one in just a few minutes.
Set some goals for what kind of clients you want to attract with your own portfolio, and curate the website template to match your brand identity. Make sure to create a strong homepage that encourages them to click through to your maternity pictures, and include some maternity photography prices on a pricing page as well so that prospective clients have an idea of what working with you might cost them. For more details on how to craft your perfect online portfolio, check out our guide to how to build a portrait photography portfolio. (It is, after all, the cornerstone of how you can promote and market your portrait photography business!)
Ready to build a portrait photography portfolio website that captures clients' attention? From image-focused themes to a built-in proofing tool, we've got photographers covered. Start your free trial with Format today!
Here's to the birth of a new market for you—good luck with all your maternity shoots; you'll be great!
Looking for more ways to up your portrait photography game?
20 Cool Self-Portrait Ideas
9 Insights For Better Portrait Photography
Nigel Barker Gives Portrait Photography Advice