Our new Format Magazine series Select sees photographer Aundre Larrow meeting with photographers he admires for a behind the scenes look at their creative process. For the first edition, Aundre caught up with José "Tutes" Tutivén in New York to talk about the inspiration behind a recent portrait shoot.
I dart up the subway stairs at Bryant Park, make two rights, and before me is my subject, José Tutivén, taking in the scene. A woman meticulously ripping a small loaf of bread to shreds, droves of people heading into the library, and the never-ending sound of 5th Avenue washing out the bluetooth boombox on blast during a street performance.
I watch José for a moment and wonder what he is seeing at this moment that I'm not. We sit, catch up, and I remember why he was the perfect first subject for this series. His energy reminds me of a home-cooked meal after a long trip; automatically filling any space with warmth and sense of familiarity.
I'm not as focused on making something new so much as I am focused on the moment that I am in and translating it.
What are you seeing right now, if you were to take my portrait or just to capture the moments around us?
Right now I see grass on top of dead leaves, on top of chairs, next to tables filled with people. I see laptops, I smell cigarettes, I hear kids running. Every element, including the inanimate objects, are vital pieces for an image. The more I have, the better I can create.
Think about it; there are so many elements here. Lines, you've got people, backdrops, grass. Instead of going to a studio, I kinda like to see the subject in its element. Being around all that honesty gives me a clarity on how I feel, then bringing a subject into the environment, I get to capture how they feel. It's when true creativity starts to evolve.
What are the key components of a great image?
It's really just one for me: the emotion. Whether I'm scrolling through Instagram, or if I am making selects, I always focus on how an image strikes me. How it's difficult to look away, how it places me back in the moment it was taken, you know?
I'm not as focused on making something new so much as I am focused on the moment that I am in and translating it. When I start reviewing my images for selects, I leave Lightroom in thumbnail mode and scan for work that I feel drawn to. I don't like going next, next, next on fullscreen, it gets redundant and exhausting. I like letting my gut decide. It's almost like when you read a book with your finger until you find the quote that will stick and find yourself rereading it over and over.
**[Tiffani Amber](https://www.instagram.com/tmbrwar/), Westchester Square**
**Portra 160**
**Aperture: 2.8, 4. ISO: 160**
**2:00 to 3:00 pm**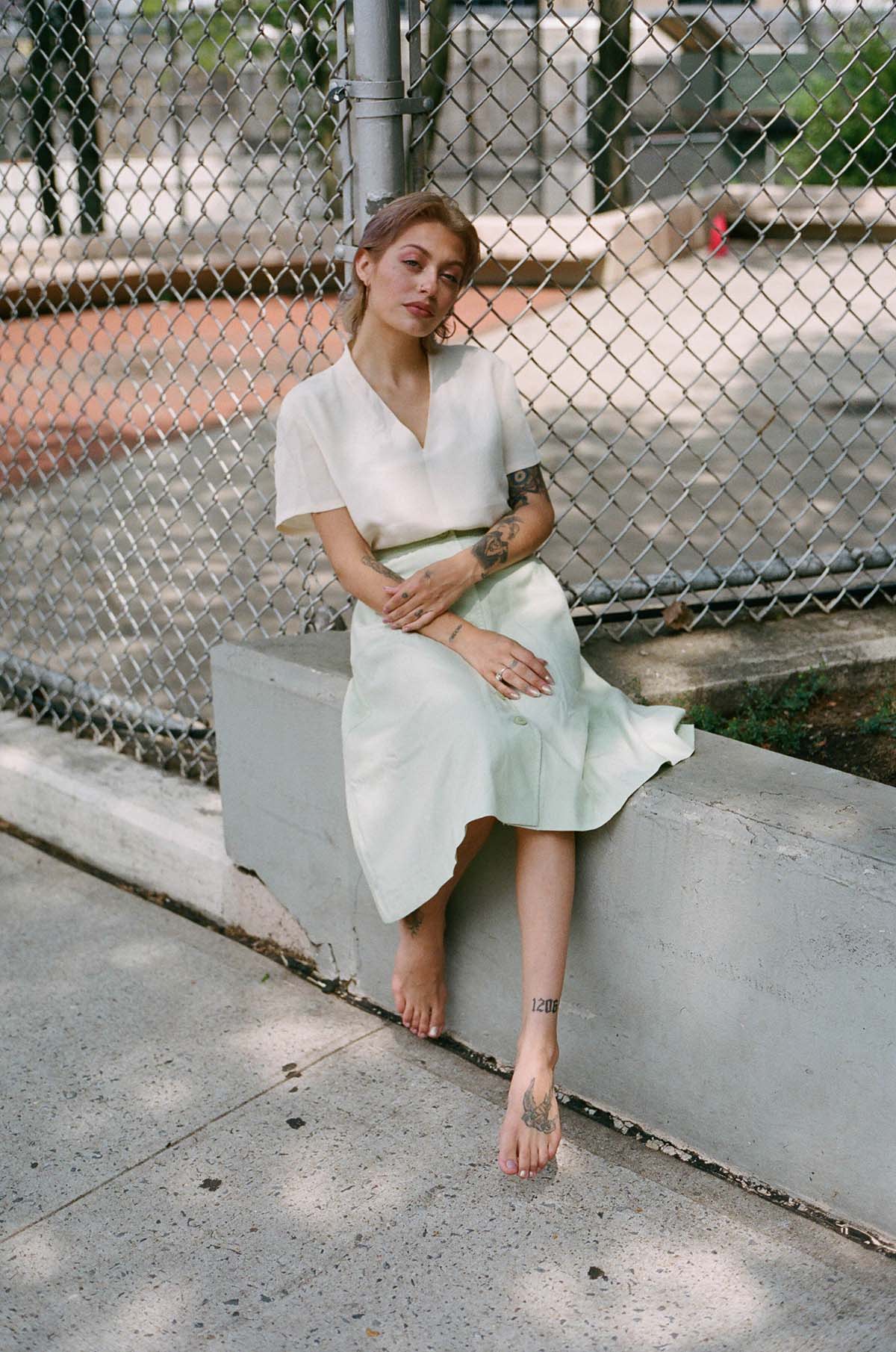 I'm obsessed with texture. Growing up in Ecuador, I always would play soccer in the street without shoes. To this day I still love the feeling of being barefoot. Grass, sand, concrete, whatever, I love feeling of texture on my feet. So I asked her to go barefoot.
When we got there, I saw these rails up here. These lines. I wanted to frame her inside of them. I am always searching for a way to place you in the environment and use it as guardrails to guide whoever is looking at it. Environment can be anything. Trash, water, storefronts, even people.
If I can get away with it, I'll use a lower angle. It allows me to use incorporate more in the image, giving more details, more layers of information.
As an artist you have to use the tools available to you. You and another photographer aren't going to have the same tools. When I say tools I don't mean cameras, I mean what was the environment like, the light, the subject? In this shoot, a train could have come and ruined it, but it didn't. But I can't tell you I could ever get this exact shot again, you know? This photo translated my vision of that moment in the perfect light.
**[Mars Rose](https://www.instagram.com/realdowntomarsgrl)**, **Whitestone Queens**
**Portra 160**
**Aperture: 4-5.6, shutter speed, ISO: 160**
**Time of day: 11am- 12pm**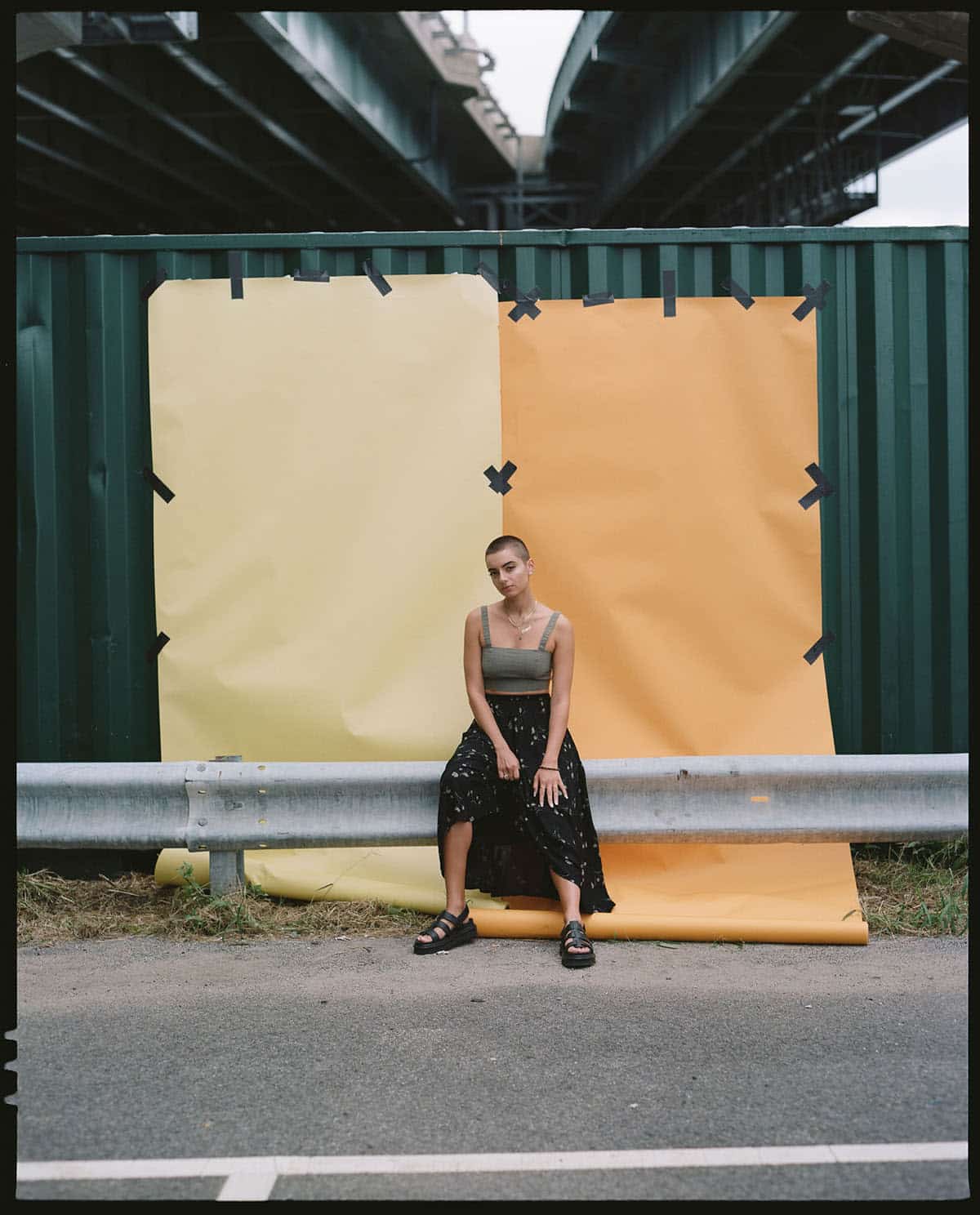 I found this spot a few years back. When I looked at the colors I told myself, okay I see grey, I see green, I see blue, what colors would pop in this environment? Originally I wanted to go pretty extreme with the backdrop colors (baby blue and coral) but when I looked at the scene longer I noticed the yellow on the signs and decided to go with that. I went and bought these that same day.
With those elements already there I wanted to make the portrait dynamic but not clashing. Luckily, she was wearing black and this very hunter green top. Without the backdrop her top would have been fallen flat into the crate.
For this the settings were really simple. It was an overcast day and that kept the colors of the backdrops more true to themselves. I originally planned on shooting with a single backdrop but I had been doing that for so long I got bored of it. So I decided to try two colors.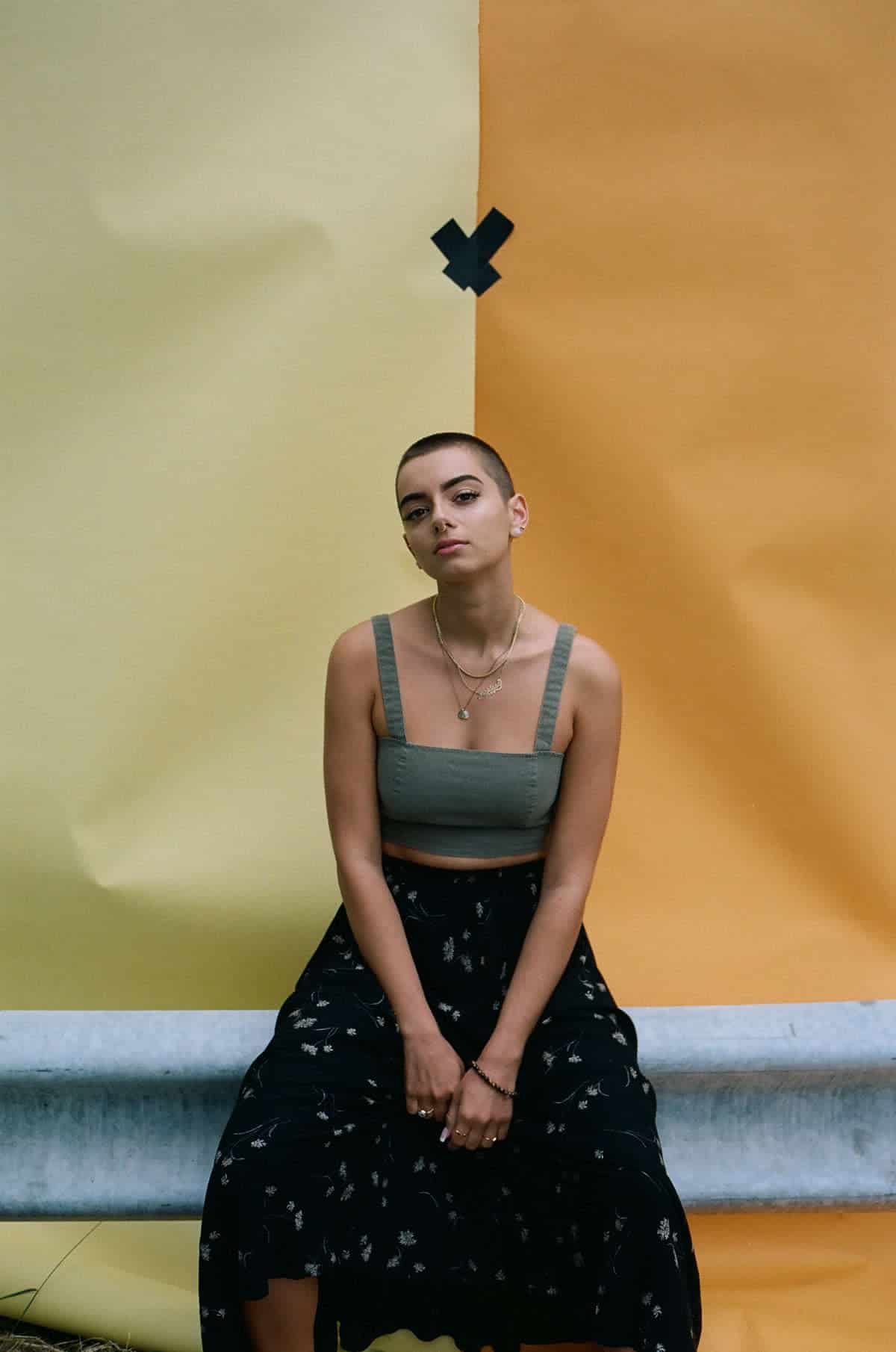 I cut them with the idea in mind for her to rip it as I shot her. I wanted her to rip it and I was going to capture that, but as we put the second sheet up, I knew I had something and just froze her right there. On top of that, the black tape is a lovely detail. I selected these because it was both a tribute to the process and a reflection of the moment.
Any advice for other photographers?
The chaos affects me in a good way. I'm married to the messy, the raw. Don't run from the elements around you when you are creating. Allow yourself to take from others, but also the latitude to know that if you go into a shoot trying to replicate someone else's work, you'll never be satiated. Just feel the moment and let that run its course.
Portraits of Tutes by the author. Aundre Larrow is a Brooklyn-based portrait photographer. You can find him on Instagram and Twitter.
More on photography:
Photographer Laura Zalenga Wants You to See Old Age Differently
Why I Skipped Art School and Taught Myself Photography
Photojournalist Emily Garthwaite Sees Photography as Therapy