For photographers and artists of all stripes, it's always a good time to take in fresh inspiration for your practice. And what better source of inspiration than a roundup of photography portfolios from talented top female photographers shooting weddings, travel, portraits, food, and everything in between?
Women in photography are often overlooked in favor of better-known male counterparts, but there's no denying that female photographers bring a unique perspective to the field. Each photographer has an individual way of seeing the world, and lady photographers bring an outlook all their own. No matter what your style or photography niche is, you're bound to find a female photographer in this list to be drawn in by.
The photographers in this list are organized by their industry, but don't just skip down to your preferred photography niche! There is a lot of multidisciplinary talent here, and you might just find inspiration for your next editorial gig from an unexpected source, like a travel photographer. Read on, and take in the creativity of some of the best women photographers in the biz.
Female Wedding Photographer Inspiration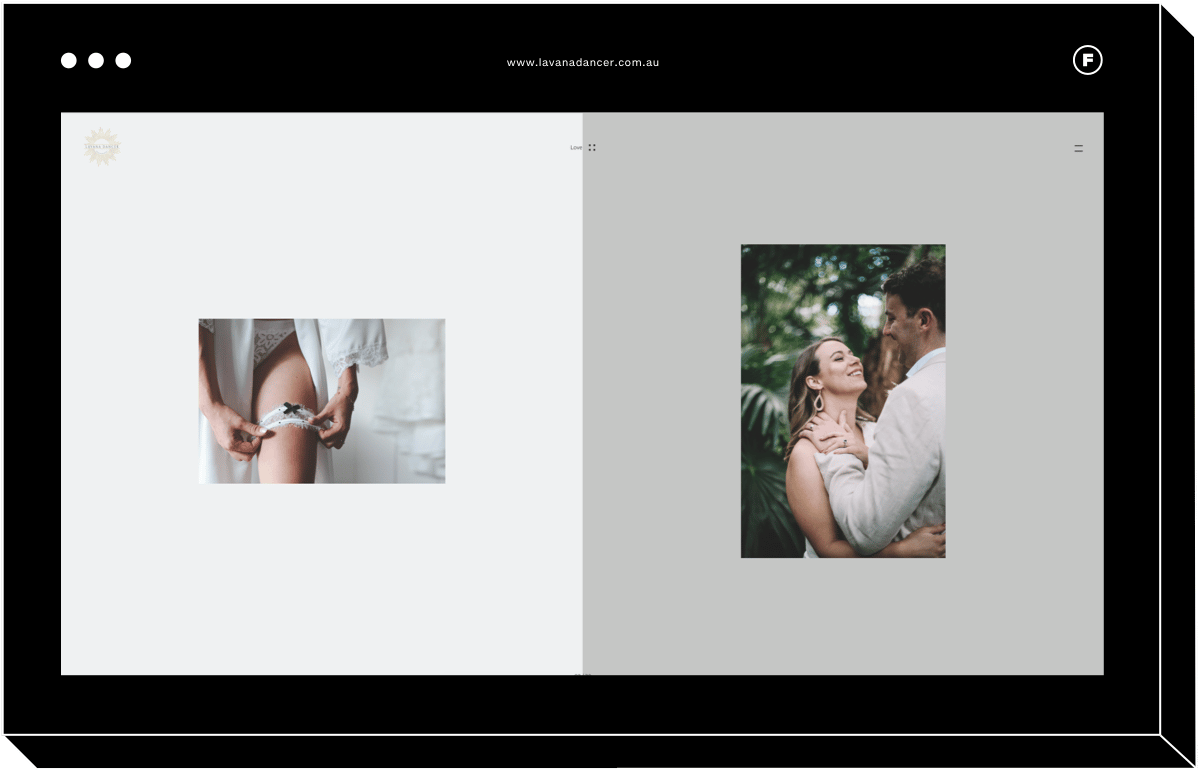 Australian adventure wedding photographer Lavana Dancer splits her time between Sydney and Fiji. She often works with couples who want an element of adventure in their wedding experience, taking them to beautiful natural environments for unforgettable photoshoots. Both her wedding photography and adventure photography have a dreamy, almost nostalgic quality that makes you know the day magical.
Website Template: Coral
Elizabeth "Lizzy" Ervin is a wedding photographer based in Charleston, SC. If you're after honest and natural southern charm from women in photography, you'll love scrolling through Lizzy's portfolio. The moments she captures are joyful, uncontrived, and authentic. Although she makes a point of reflecting her clients' style for each wedding shoot (as well as for editorial clients, which you'll find on her site), there is a cohesive look that ties her images together. This is a good thing to keep in mind when building your own portfolio if you're a wedding photographer: clients like knowing what kind of look you'll produce for them on their special day, even if the specific shots desired will vary from client to client.
Website Template: Kiln
Top Female Fashion Photographers and Editorial Photographers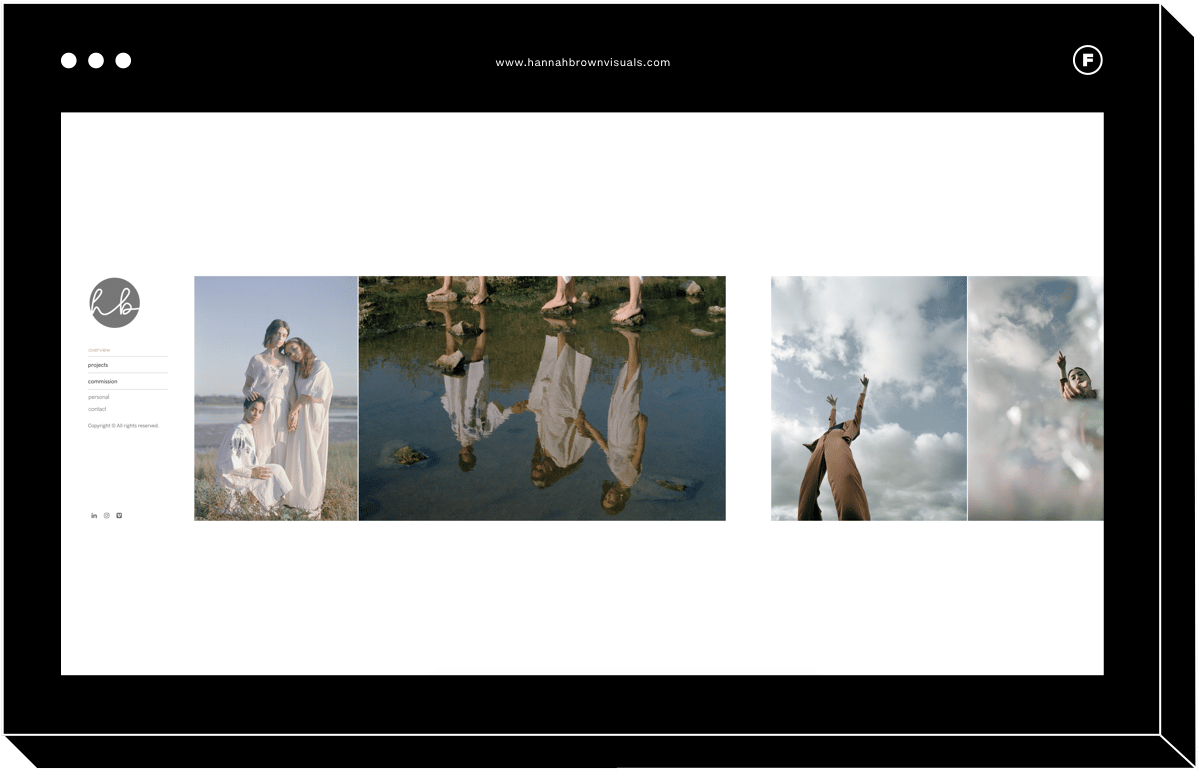 There is a moodiness and melancholy to Hannah Brown's editorial photography that makes it hard to forget. Working out of Suffolk and London in the UK, her projects are often visual explorations of an idea through creating images that would fit in any fashion magazine.
Her project 'Mourning Sun', for example, explores "loss in a conceptual and visual manner from the perspective of a character who is grieving". The resulting series from this female photographer tells a story about the sorrowful state of grieving but also has a gorgeous, subdued palette and fashion editorial style of art direction.
Website Template: Horizon Left
4. Myriam Tisbo
Myriam Tisbo is a young female photographer from the south of Italy currently working out of Milan. The already-illustrious list of publications that have published her work includes L'Officiel, Elle, Contributor, Schon, Cosmopolitan, and Lula. There's a youthful energy that is captured throughout the images in her portfolio, and a forward-looking quality that almost makes you feel as though you're looking at a fashion editorial from a few years into the future. It's clear that Myriam has a creative vision all her own, and she's created a fashion portfolio that feels entirely contemporary without relying on trendy visual tropes and cliches.
Website Template: Horizon Left
Danielle Rueda is a fashion, lifestyle, and editorial photographer working in San Francisco. She aims to capture candid moments of truth and beauty in her photography, and her work has an intimate quality that makes you feel as if you're right on set, or accompanying her models backstage.
Website Template: Kiln
Unforgettable Female Landscape Photographers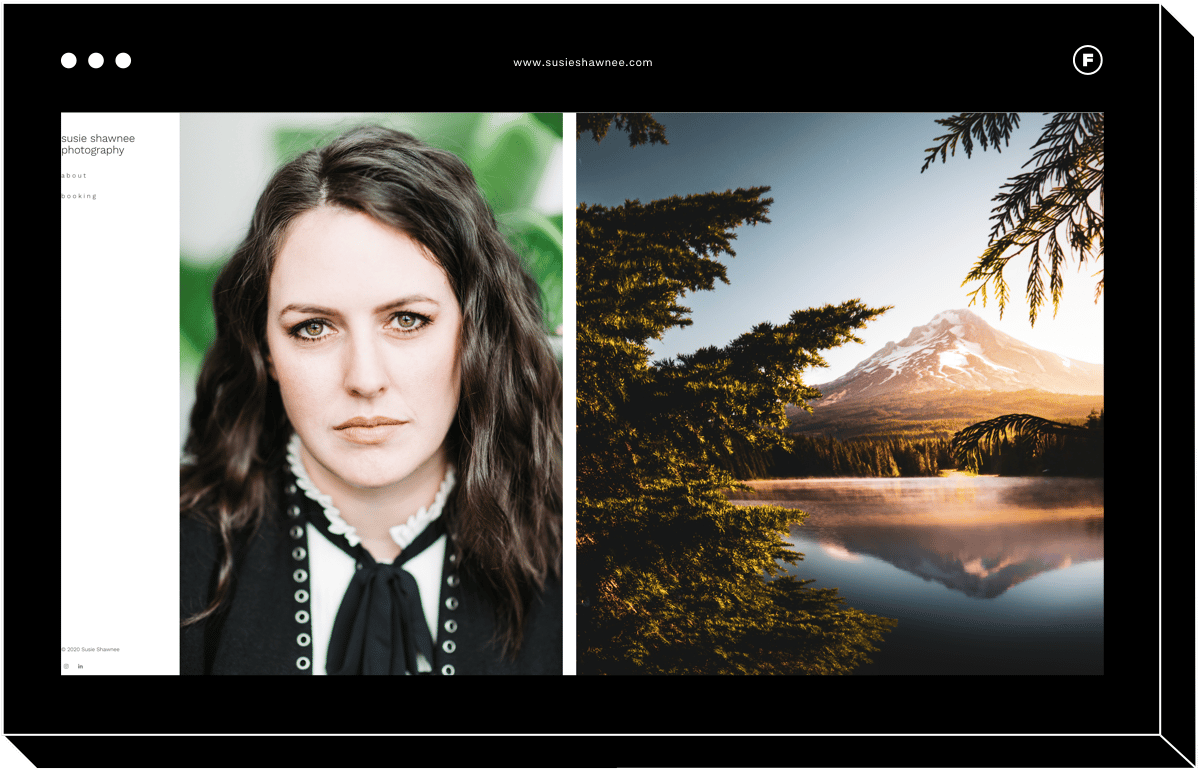 Susie Shawnee captures both portraits and landscapes from her home base in Oregon. She is blessed by spectacular surroundings, but her landscape photography brings out the absolute best in the beautiful Pacific Northwest. Navigating the portfolio of this woman in photography is a masterclass in understanding light. Note how no matter what time of day or what weather conditions she is shooting in, she uses the conditions to her advantage to create the best image possible.
Website Template: Horizon Left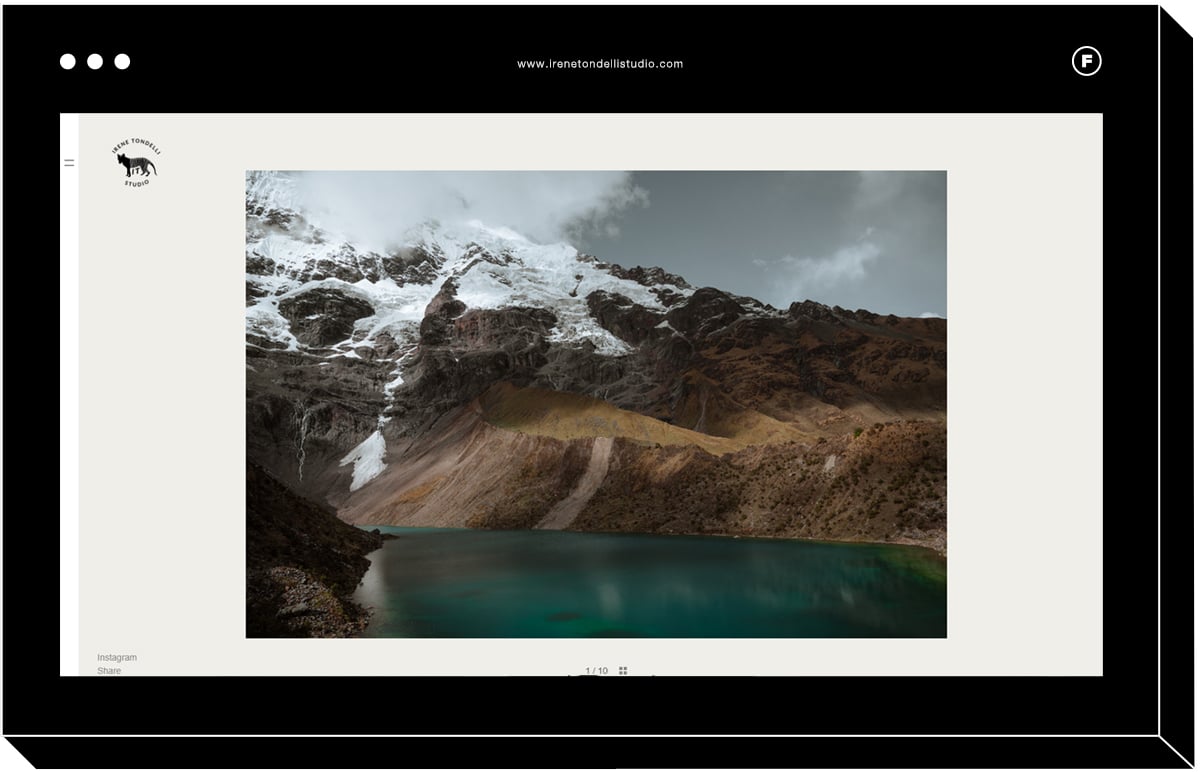 Italian photographer and photography educator Irene Tondelli takes you into the most stunning nordic landscapes with her photography. She aims to "capture the relationship between men and nature, landscape and memory". Her landscape photographs in places like Iceland and northern Sweden capture both pristine lands that look as though they could be prehistoric and the places where humans have left their mark in some way on the land. In both cases, her landscapes and truly transfixing.
Website Template: Fabric
Top Female Portrait Photographers
Essex-based Sophie Huntley's portraits typically feature women as subjects and often treat the outdoor setting as a subject as well. Her juxtaposition of the female form with natural surroundings is definitely worth checking out!
Website Template: Offset
This female photographer's work covers both street portraiture and urban landscapes, and is focused on "documenting the culture of our present time." Her portraits in particular are honest and endearing and provide glimpses into the lives of her fascinating subjects. She has also published a book, "Everything Belongs," documenting the homelessness crisis across the USA. Originally from Ithaca, NY, Amelia is now based in LA.
Website Template: Peak
Roselinn Storhaug of Costa Rica-based Creative Photography does many types of photoshoots, but her family portrait portfolio stands out for its relaxed and happy subjects. Family portraiture can be tricky because you often have many people you're trying to capture looking their best once. It's no easy feat, but Roselinn does a fantastic job of it.
Website Template: Horizon
11. Halle Hirota
Halle's portraits have a dreamy, saturated quality that's all her own. Based in Toronto and contributing to many indie zines and publications, she's definitely a woman photographer to watch.
Website Template: Peak
Great Female Art Photographers
Lithuanian-born, London-based Evelina produces fine art photography that explores themes of "memory, failure, and performance." She is interested in how body language can convey these themes. Her fine art photography is evocative and moving, and worth checking out for other great female photographers working in this field.
Website Template: Obsidian
Alexandra's art photography has been published in major publications such as Vanity Fair, FT Magazine, Shanghai Daily, and Le Point, and exhibited in galleries both in the UK where she resides and internationally. One fascinating element of her work focuses on the house in which she grew up, which has been occupied for twelve generations. Her work explores the possibility of a photograph to capture the true spirit of a place, "reconsider the role of affect in the archive."
Website Template: Horizon Left
Rosanna's portfolio is the perfect place to go for some serious creative inspiration. One of the best female photographers working in her style, makes heavy use of collage elements, bringing a modern, pop aesthetic to her work. She also combines photography with mixed media, creating a truly unique look that is unmistakably her own. She is based in London, UK.
Website Template: Panorama
Top Female Travel Photographers
Hilary's travel photography, particularly her images of Cuban life, is honest and deeply authentic. Her images are not the kind that you capture after a week or two visiting a place. Her photographs of Cuba span 1999-2017 and capture that country's unique challenges, rich culture, and more recently, its enterprising spirit. Her book Hopes & Dreams from Cuba is the result of nearly two decades of photographing Cuban life.
Website Template: Horizon
Berlin and Lisbon based Patricia Imbarus shoots both fashion and travel photography. This female photographer's work has been featured in Condé Nast Traveler, Diesel, Elle, La Redoute, Zara Kids, Musette, Fucking Young, MATTER, Gritt & Borris, GNANA Studio, May & Hugo, Ana Segurado, Atelier Lekki, Catarina Malva, and Chotronette. Her travel photography is sunny, rich, and enticing, inviting you to see the world through her optimistic lens.
Website Template: Horizon
UK-based Mattéa's travel photography focuses on South and Southeast Asia. Her portfolio has a nice balance of street photography, portraiture, landscape photography, and architectural photography. This mix makes for excellent storytelling since the viewer feels that they've been let in on several different slices of life from the places she visits.
Website Template: Horizon Left
If you want to sit back for a while and take in some truly spectacular images of dream interiors and impressive architecture, you could do a lot worse than scrolling through Anna Stathaki's photography portfolio. This woman photographer has worked for architects, interior designers, curators, and publications both in the UK where she is based and abroad. You can find her work across many major design publications and blogs Her images make you wish you could step into the scene and call it home!
Website Template: Amazon
19. Chloé Le Reste
Parisian architectural photographer Chloé Le Reste has a great eye for clean, minimalist elements of architecture. Her portfolio features a collection of striking, cohesive chrome architectural elements against blue skies, forming a very memorable collection. Her work also encompasses construction, design, housing, office, retail, and product photography, all masterfully executed to convey her subject in the best way possible. Like many of the best female photographers out there, she has developed a style that is distinctly her own.
Website Template: Horizon
Best Female Street, Documentary and Photojournalism Photographers
Jasmine Jones of A Field of Stone is a photographer and filmmaker based in Hartford, CT. In her work, she "focuses on daily life, overlooked moments and ignored communities." She aims to use her art to allow those who should be seen and heard but have fewer chances to do so to tell their stories. Highlighting the importance of more black women photographers in the industry, her portfolio encompasses street photography, documentation of protests and activism, and portraiture. Any photographer can take notes from Jasmine's use of composition in her street and documentary photography.
Website Template: Horizon Left
Emily Garthwaite is an award-winning, famous female photographer focusing on humanitarian and environmental issues. She has been included on Forbes' 30 under 30 list, and spends her time between Iraq and the UK. Her portfolio includes images from Iraq, India, the USA, Romania, Sumatra, Ethiopia, Borneo, and the Calais Jungle. Each collection is worth checking out, but the documentation of Ziyara, the world's largest annual pilgrimage which takes place in Iraq and is attended by 25 million Shi'a Muslims, is a must-see for any aspiring travel photographer.
Website Template: Horizon
Lagos, Nigeria based Grace Ekpu is a documentary photographer and Senior Journalist with the BBC. She uses her talents as a woman in photography and visual storyteller "to tell the African story from the African perspective." Her street photographs of a sun-drenched and vibrant Lagos invite viewers to take a glance into the day to day lives of its inhabitants, while her segments for the BBC invite viewers to learn more and better understand a world they may know little of.
Website Template: Horizon
Top Female Food Photographers
Spanish food photographer and stylist Lenka Selinger has a super distinct style that is all her own. While the food has a rustic, authentic quality, her images ooze luxury. She has a unique way of manipulating light that brings out the mouth-watering colors of each ingredient. The best part? Lanka also keeps a food photography blog, with tips that any food women photographers shooting food (or still life and product, for that matter) will find indispensable.
Website Template: Peak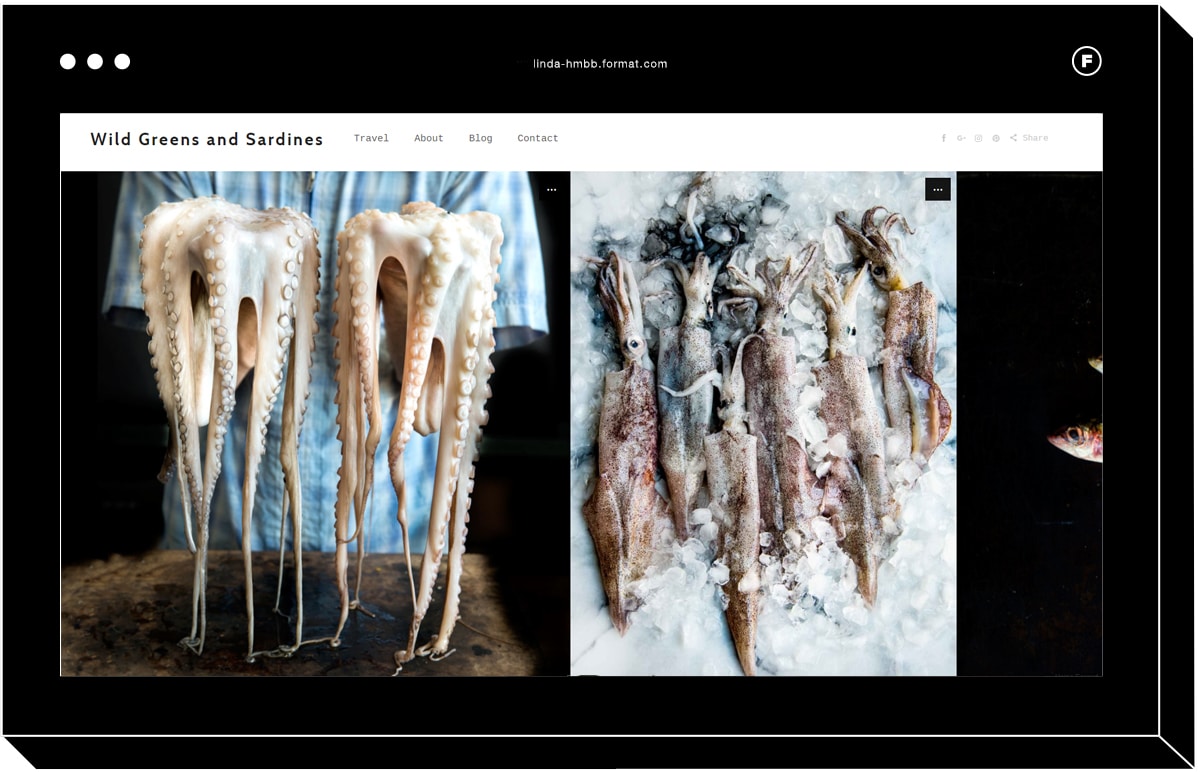 Linda of Wild Greens and Sardines has an interesting combination of food photography and travel photography in her portfolio. That means her delectable food images are often accompanied by images of the places the ingredients come from, or the ingredients themselves before being cooked. This brings out the healthy, whole ingredient quality of the dishes she makes and styles. It's no wonder her work has been featured across so many food publications.
Website Template: Panorama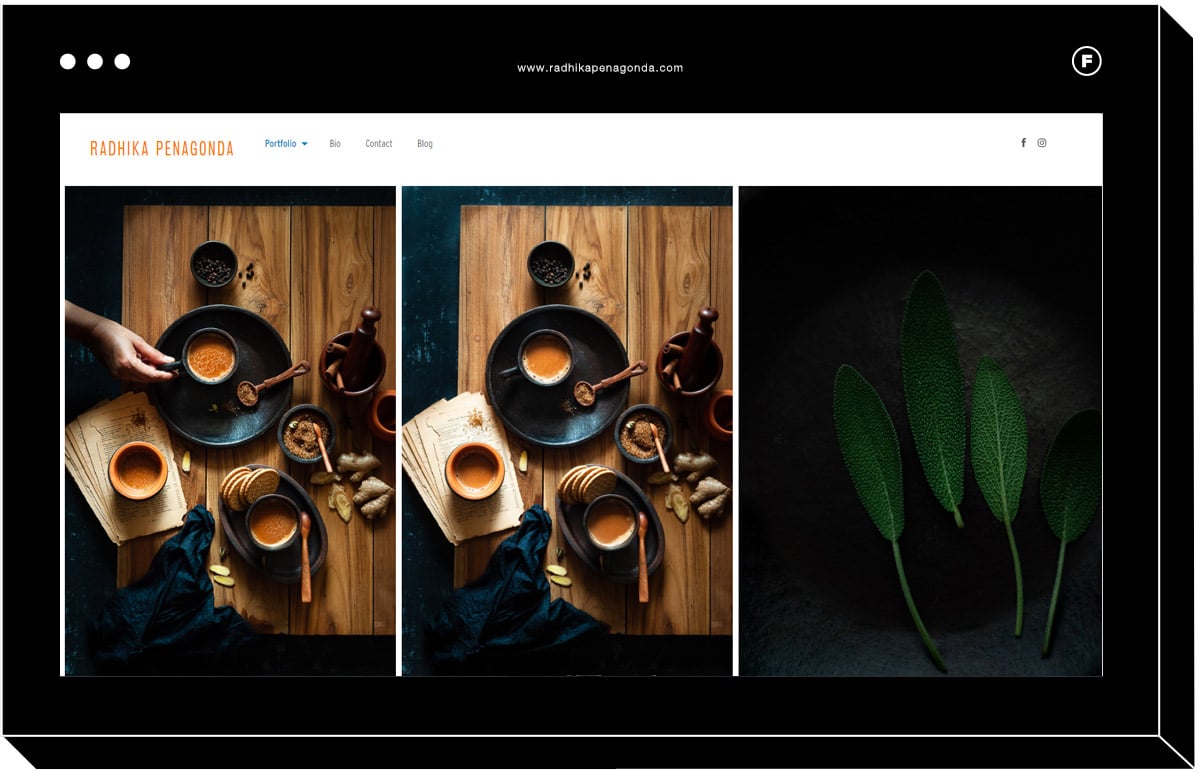 Bengaluru, India based food photographer and stylist Radhika Penagoda will have you swearing you can smell and taste the ingredients in her pictures through the screen. Working with natural light, this female photographer aims to capture "the beauty of ingredients, making everyday food look brilliant, weaving visual and mouth-watering food stories." Her portfolio is divided into dark and light food photography images. This is a great way to present your work because clients will likely already have an idea of whether they want dark, sensual images or light and colorful images. You can make it easy for them by showing that you can deliver both.
Website Template: Panorama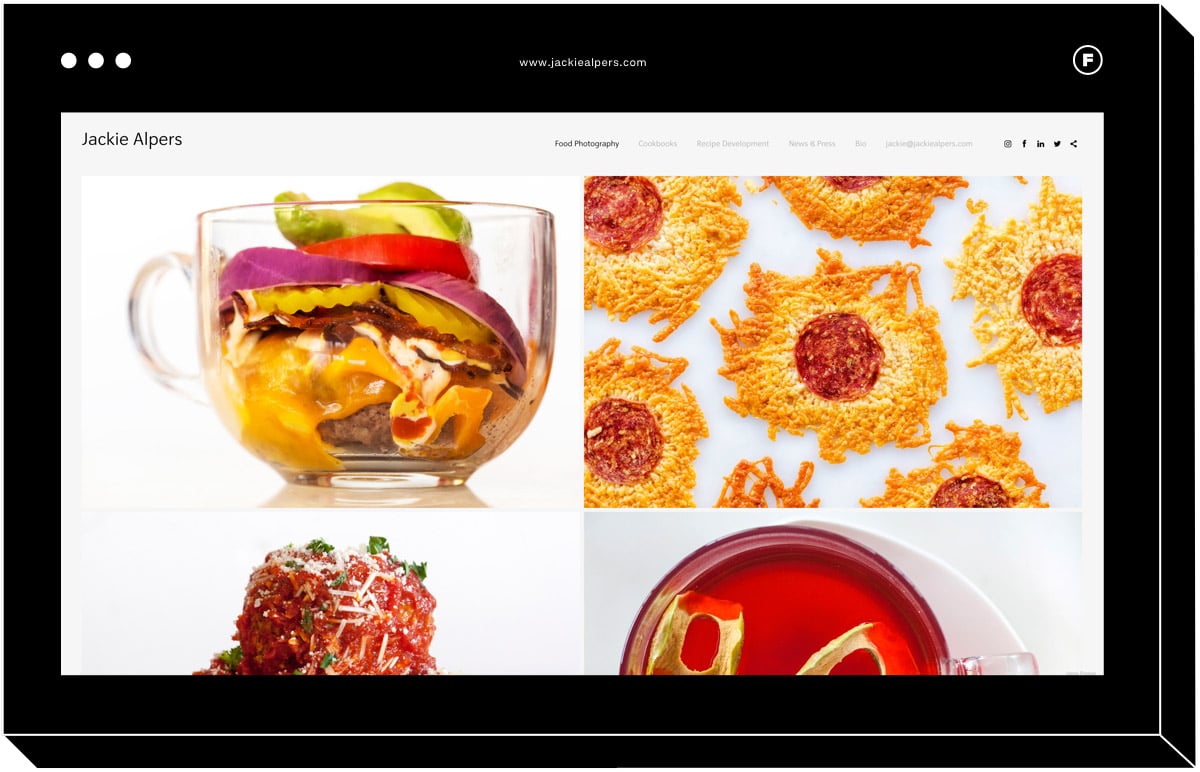 Jackie Alpers is a professional food photographer and stylist, and writer of several successful cookbooks. She also has a monthly column for Food Network and has had her recipes and photographs published in a wide range of publications. As a midwesterner living in Arizona, many of her recipes focus on Sonoran cuisine. The thing that stands out first when you look at Jackie's photos is her amazing attention to texture. You really just want to bite into this female photographer's delicious creations!
Website Template: Mica
Colombian commercial and documentary photographer Lucia Hernandez is unique in her field because so much of this woman photographer's documentary work is focused on food. Her project We Belong showcases the empowerment of women in the coffee industry. She aims to share the "deepest thoughts, dreams, concerns, successes and problems of female coffee producers," and takes us on a journey to see where our coffee comes from. Lucia has a documentary-style approach to food photography that stands out in her industry.
Website Template: Peak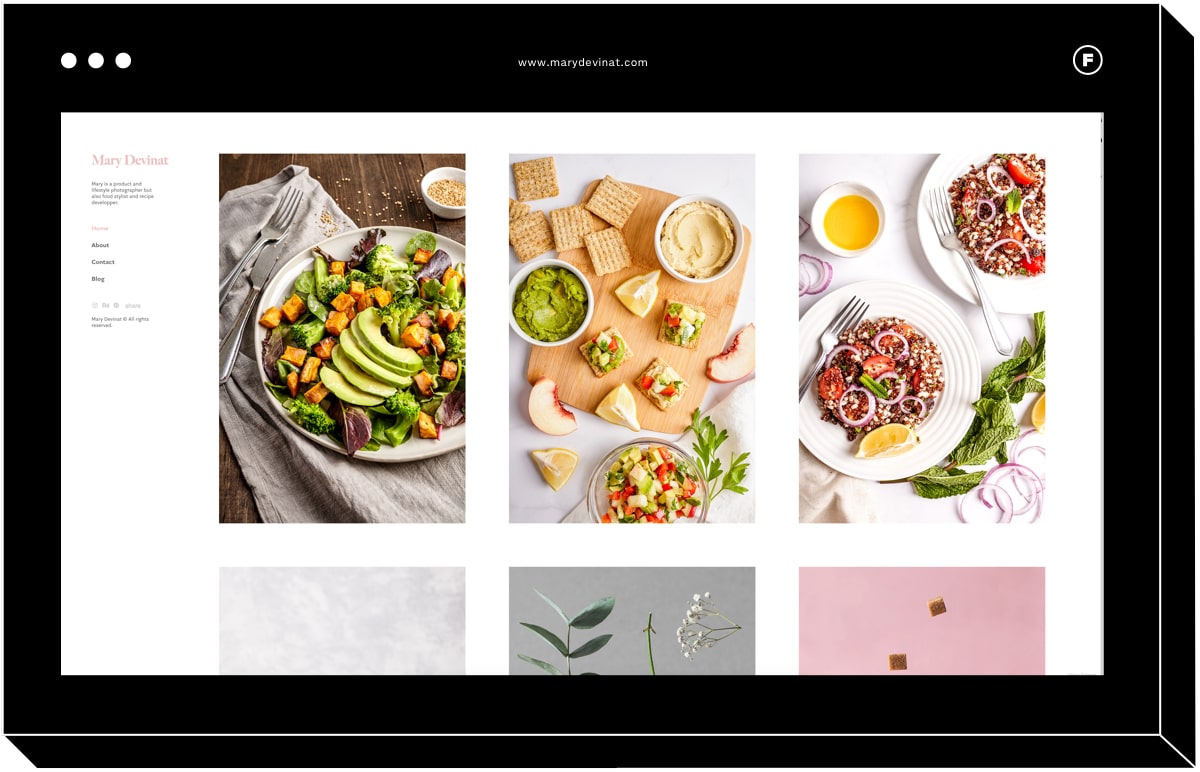 Mary Devinat's Portfolio
A Parisian in small-town Pennsylvania, Mary is a food photographer, stylist, and recipe developer who has worked in the restaurant industry in France and is now building a new career in the US. Her food photography portfolio definitely still has a touch of French charm! Check out this female photographer's images for inspiration on how to make everything from healthy, colorful salads to indulgent desserts jump off the screen.
Website Template: Peak
Top Female Still Life and Product Photographers
If you're looking for some luxury product photography inspiration from the best female photographers, look no further than the portfolio of Royal College of Art London grad Eva Roovers. Her portfolio combines product photography for a wide range of well-known fashion brands, as well as fine art photography, all with a distinct graphic and geometric look. Her work is playful and refined, and her use of prop styling and color make for memorable product photos that bring out the best for the brands she works with. You might think she achieves some of her effects in post, but she mainly works with mirrors and colored lighting to create her signature look.
Website Template: Sierra
Alice Angelini is an Italian still life photographer working in Amsterdam. Much of her work is shot on film and has a sparse, nostalgic quality. If you want to be inspired by subtle color palettes, texture, and attention to finer details, Alice's portfolio is the place to go.
Website Template: Obsidian
Of course, this roundup isn't exhaustive. There are amazing female boudoir photographers, female sports photographers, and women photographers working in a wide range of other fields. Still, we know after checking out all these inspiring portfolios you're probably ready to spruce up your own online portfolio website!
If you don't have one yet, the good news is that you can have one up and running in minutes with a portfolio website builder. Look for one with a wide range of themes, since choosing a theme you love will get you far in creating the portfolio website of your dreams. Time to dust off those photos and get your portfolio up and running!
Looking for even more portfolio inspiration? Check these out:
20 Wedding Photographers with Exceptional Portfolios
20 Fine Art Photographers Redefining the Medium