When video content is a focus of your creative work, showcasing this in a portfolio effectively can present some unique challenges like formatting and potentially slowing down your website. You want to ensure your videos on your website are shown with enough context for viewers to quickly understand the kind of work you do, whether it's directing, producing, or cinematography.
Choosing the right platform to house your video gallery examples is a critical consideration. The website platform should work as hard as you do to ensure the playback is high-quality, seamless, and doesn't slow down the user experience on the site.
We've highlighted websites in this article featuring professional creators who use Format as their website builder that incorporates video layouts to showcase their work. Not all these websites are videographers, but you'll see how adding video content to their portfolio enriches how you experience the full depth of their work.
We're hoping these examples spark some ideas for how to get started on your portfolio site and encourage you to consider a video gallery website.
Why Combine Photo And Video On Websites
If you need convincing that adding video to your site is a great idea, just look at how platforms like TikTok, Instagram, and Youtube have adapted to users' growing interest in video content.
Even if video isn't the main focus of your creative practice, adding videos to your online portfolio can help it stand out. Video websites always draw attention and create dynamic visitor experiences.
Fashion designers can use video to show off runway shows or music videos they've styled. Videos on your website can help viewers appreciate your sculpture or ceramics more dynamically.
Get inspired by how these six creators use photos and videos on their websites and find even more examples of standout online portfolios built using Format.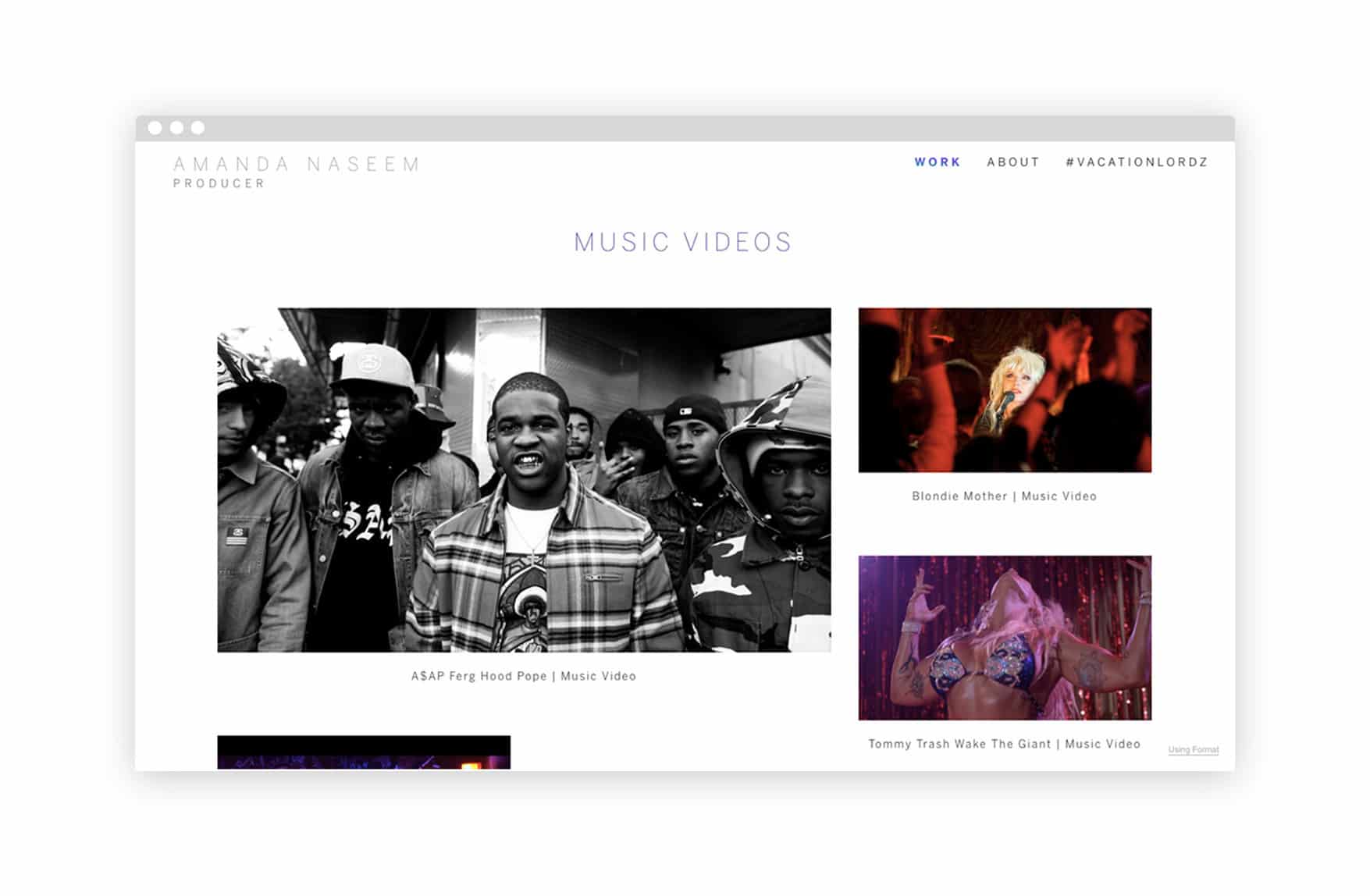 Amanda Naseem
A supervising producer at Vice Media, independent film producer Amanda Naseem is also the creative behind the acclaimed web series, The Outs.
Naseem showcases her videos on her website using still images as links, which lead the visitor to gallery pages that include Vimeo embeds, making for smooth site navigation and a seamless viewing experience.
www.amandanaseem.com
Format Theme: Sierra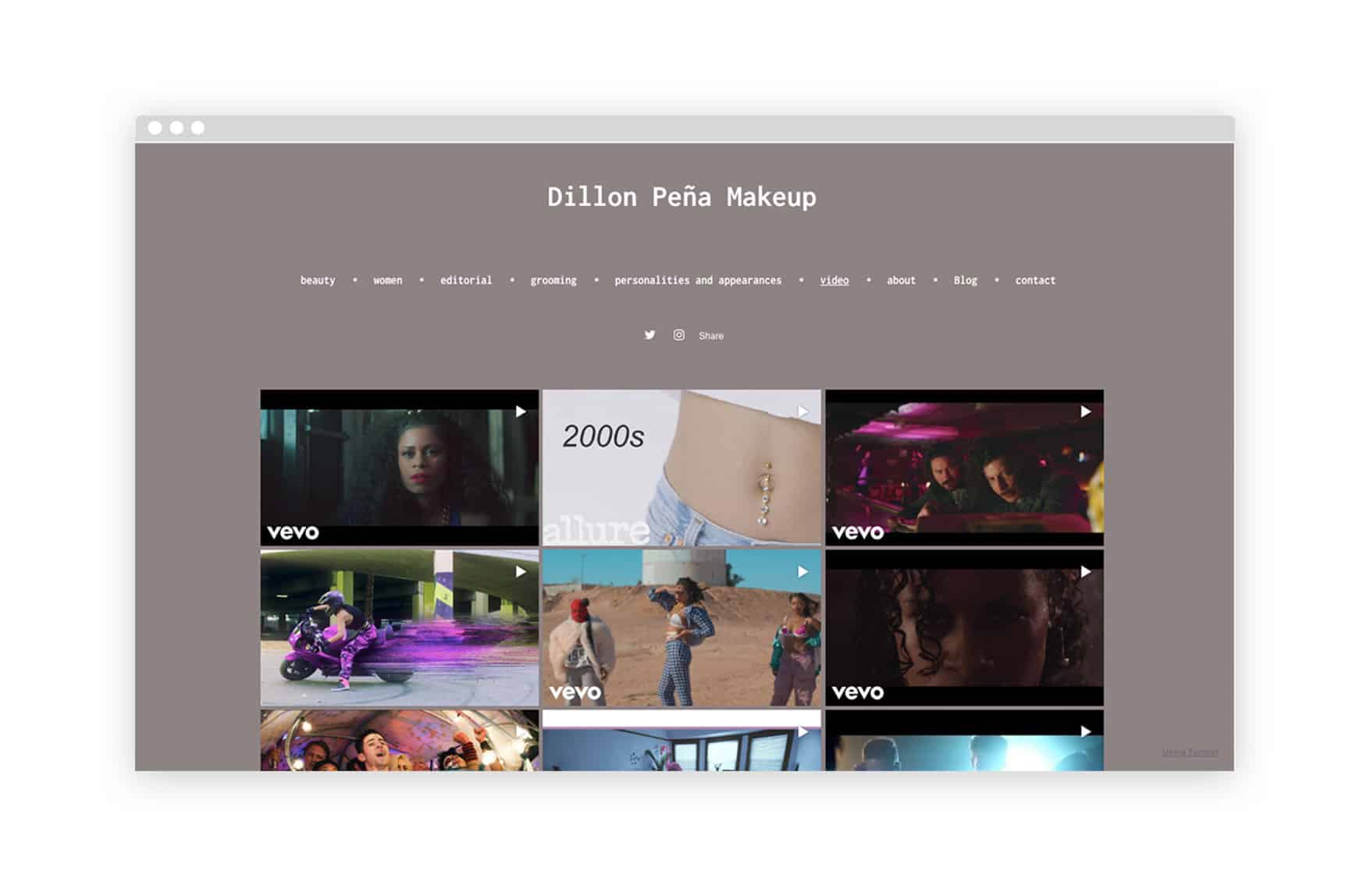 Dillon Peña
Make-up artist Dillon Peña's career kicked off when he landed a gig working with the celebrity makeup artist and luxury makeup brand creator Bobbi Brown in New York.
Peña's video gallery highlights his make-up artistry in a selection of music videos, including clients like Nick Jonas and Aluna George. The clean white background lends an editorial, classic feel to his online portfolio that expresses Peña's high fashion style.
www.dillonpena.com
Format Theme: Amazon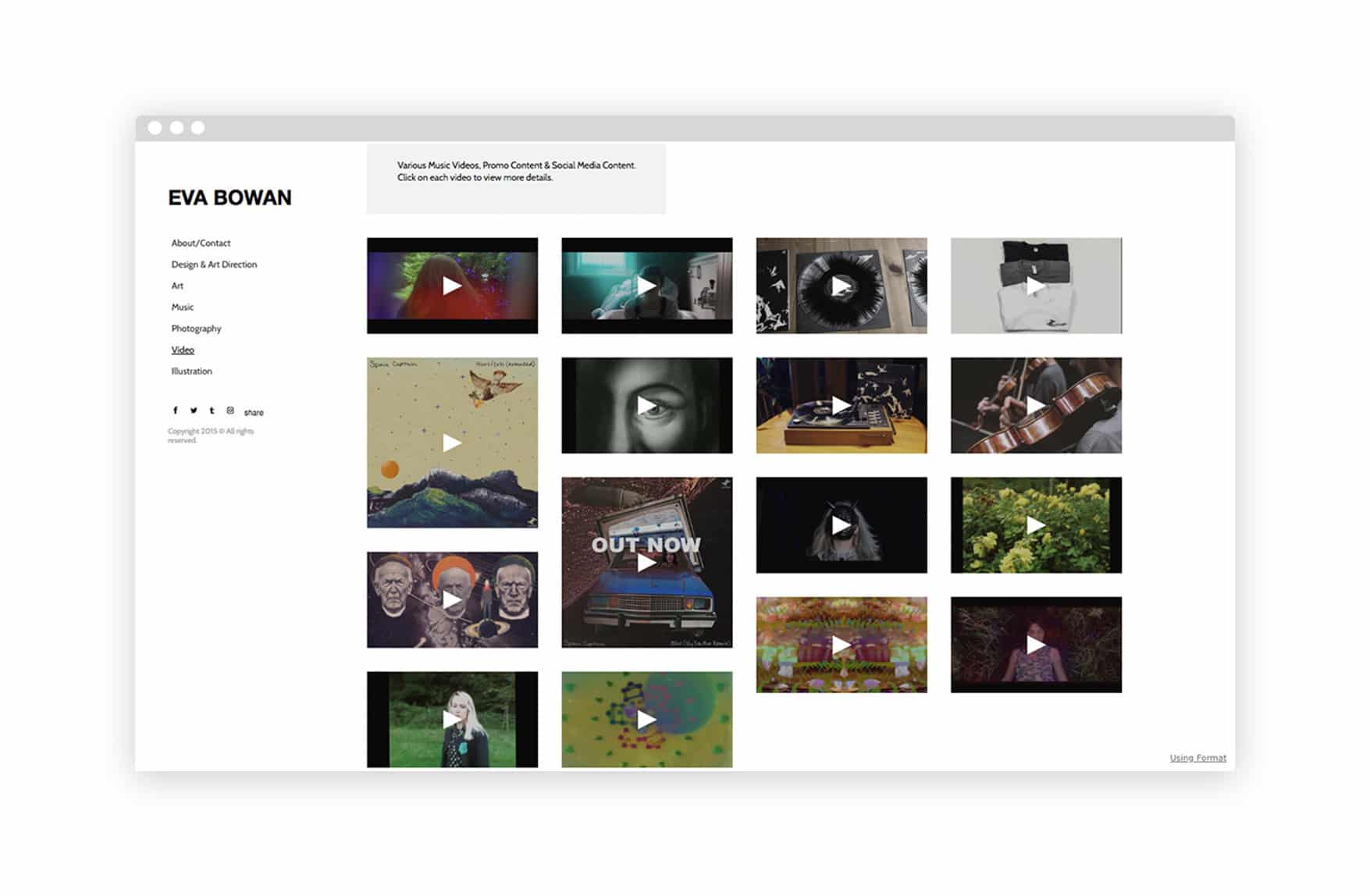 Eva Bowan
Multidisciplinary artist Eva Bowan creates work that spans graphic design, photography, music, and video.
The UK-based creator uses Format's Peak theme to display her video gallery in a grid layout that offers a thumbnail preview of each video for easy browsing.
The grid layout is popular for portfolios because it allows you better to understand the creator's work in a cohesive collection, and it's visually appealing.
www.evabowan.com/
Format Theme: Peak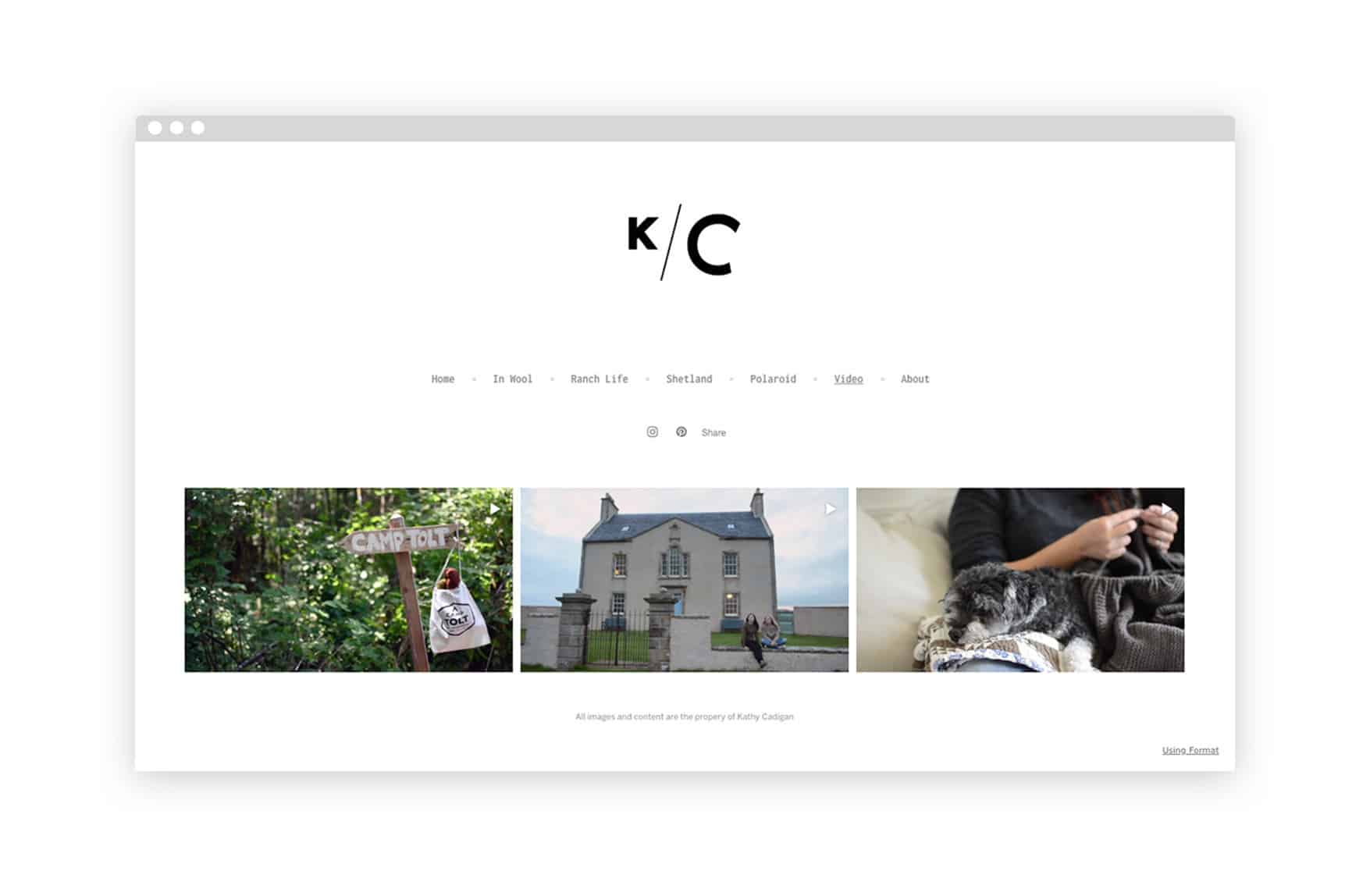 Kathy Cadigan
A video gallery fits in perfectly on Seattle-based photographer Kathy Cadigan's website.
Cadigan displays her video work using a masonry-style grid layout as her photo galleries, making for a cohesive and dynamic online portfolio.
www.kathycadigan.com
Format Theme: Amazon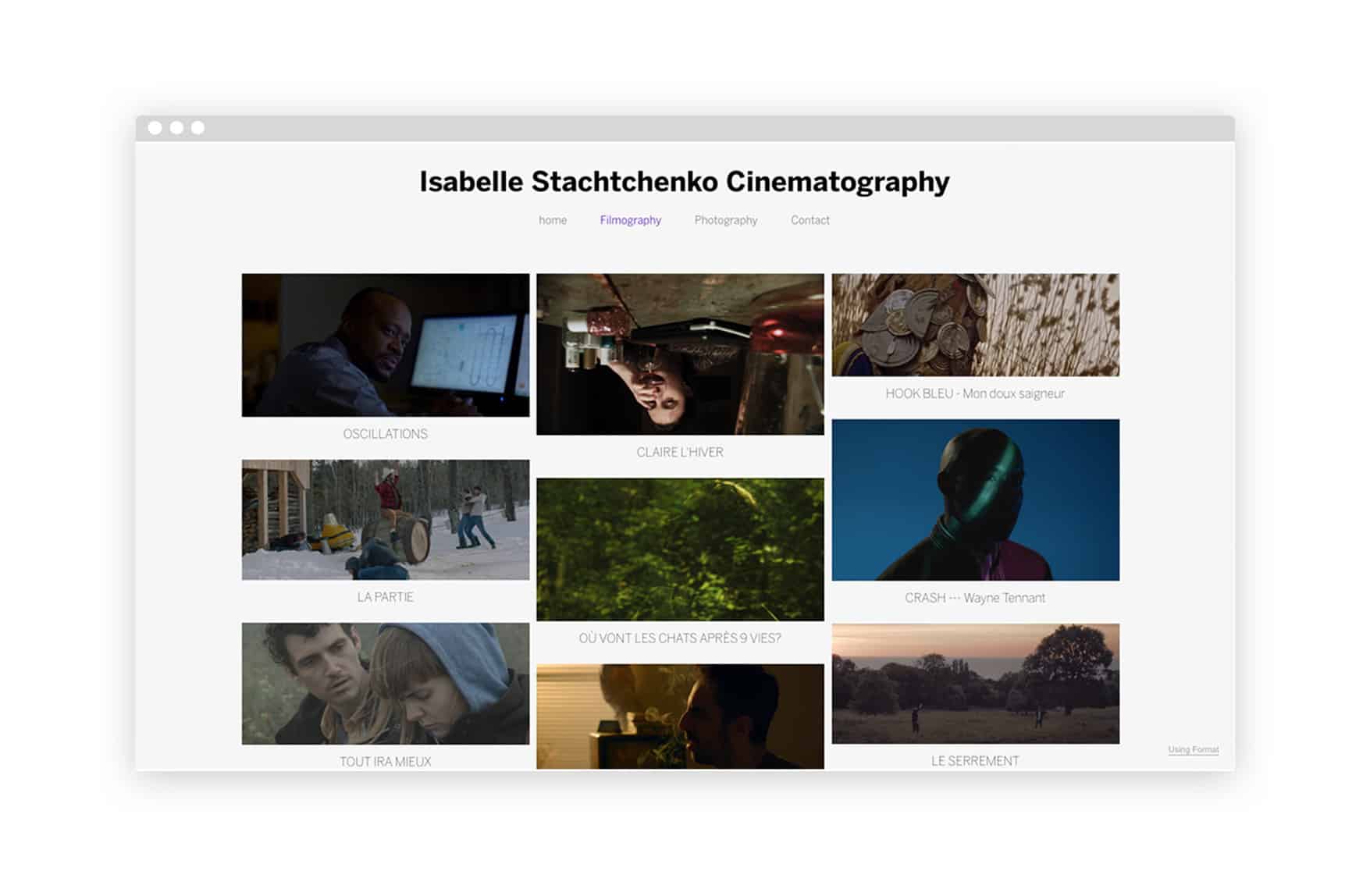 Isabelle Stachtchenko
Based in Quebec, Canada, Isabelle Stachtchenko uses a mix of still images and Vimeo embeds to showcase her cinematography portfolio.
Stachtchenko uses Format's Mica theme to display a grid of still images from selected projects, with each taking the viewer to a gallery of more stills and video clips of the work.
www.isabellestachtchenko.com
Format Theme: Mica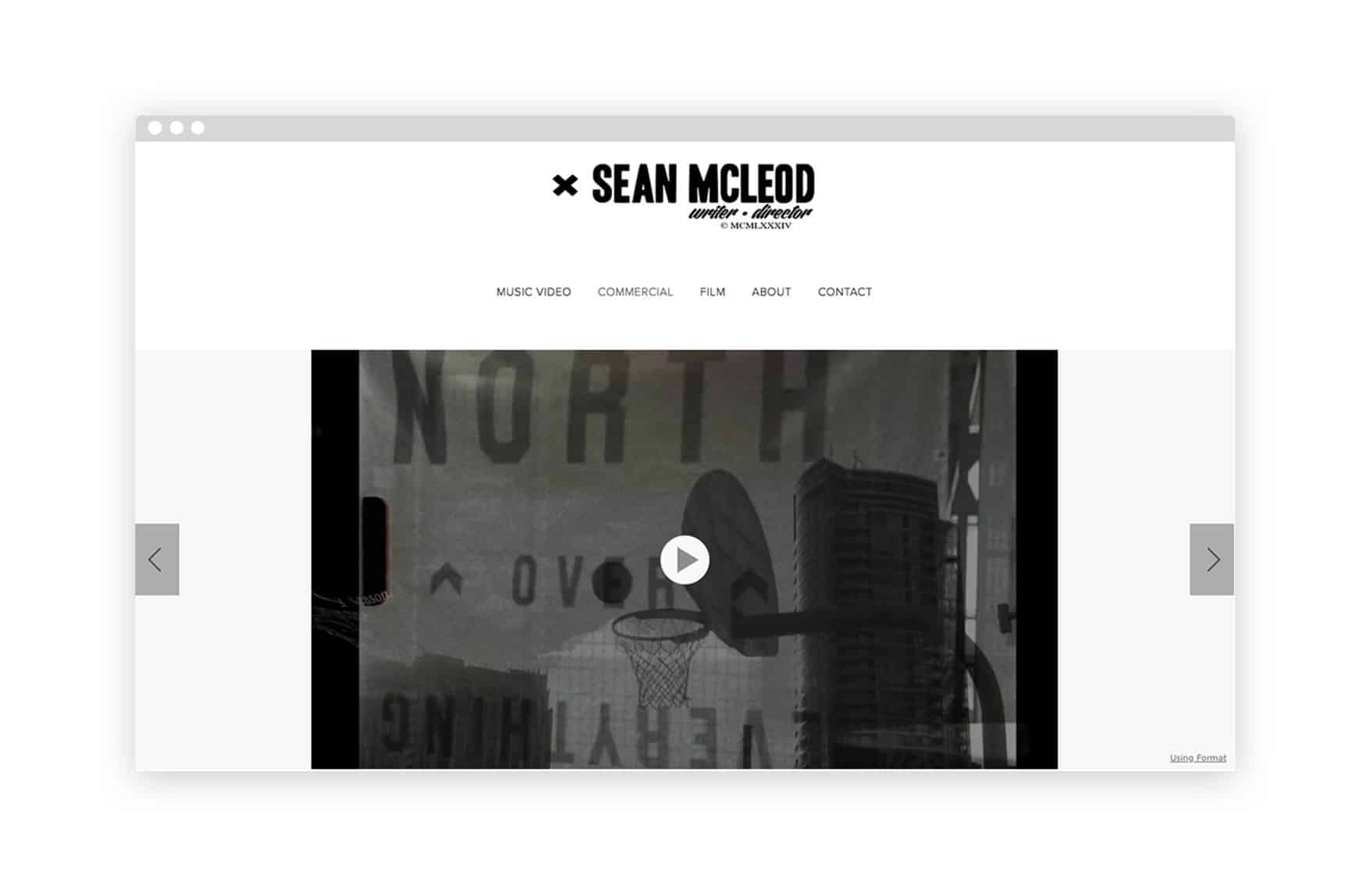 Sean McLeod
Writer and director Sean McLeod specializes in music videos. The Canadian creator uses Format's Foray theme to display a video gallery as a full screen on his website, with a large, stylized menu adding personality to his portfolio.
www.sean-mcleod.com
Format Theme: Foray
Get Started With Your Portfolio Website With Videos
You don't need to be a cinematographer to showcase video content on your website. No matter what creative industry you're in, adding a video or two can help to enhance your website experience, let your audience into your process for ingenuity, and share your personality.
From these highlighted examples, you can see that there are many different ways you can build a website with videos easily by directly embedding Vimeo links into your gallery without worrying about slowing the speed of your website.
When you build your site with Format, you can rest assured that high-speed servers around the world back your portfolio to offer your visitors a seamless experience. Try building your creative portfolio site free today for 14 days—no credit card entry required.
More website design inspiration:
5 Photographers with Unforgettable Website Splash Pages
17 Fashion Stylists to Get Inspired By
10 Music Photographers You Should Know About