If you enjoy working with people and inspiring other artistic minds, getting an art teacher job could be a perfect addition to your art career. Becoming an art teacher allows you to showcase your expertise, add another income stream (always nice), connect with potential collectors or exhibitors, and build your reputation as an artist. Teaching art can even make you a better artist!
Want to learn how to become an art teacher? This guide will walk you through everything you need to learn to get started in teaching art to kids and how to teach an art class for adults. We'll cover what kinds of art teacher jobs are out there, the art teacher salary, and how to turn your art class idea into an art lesson plan.
We'll also cover how to build an online art portfolio to help you land art teacher jobs and finding students for your art classes. Let's dive in!
What Kinds of Art Teacher Jobs are Available?
There are lots of different art teacher jobs you can try. Here are a few avenues to explore:
Work for an Organization
Some of the institutions that hire art teachers include:
Libraries
Art galleries
Community and rec centres
Local colleges or continuing education schools
Once you know what and where you're interested in teaching, you'll have to figure a class structure that works for you. Maybe you love watching students develop their skills over a series of weekly hour-long classes, or maybe you prefer to go deep with teaching art workshops. It can be hard to know how you'll love to work before you try, so experiment and see what works for you.
Run Your Own Art Classes and Workshops
If you have a studio with enough space, you can easily teach art in your own space. You can also rent rooms fairly affordably in libraries and community centres.
Running your own art workshops can be a great way to get started. You also get to keep all the student fees (but keep in mind that you'll be responsible for all of the supplies, admin, and marketing).
Teach Art Classes Online
Another option for teaching art is to go completely digital. You can host live art classes online, using a conferencing app, or you can create digital art workshops that your students can follow at their own pace.
Whether you host your online classes yourself or join an online teaching platform is up to you, and the pros and cons mirror those you'll find when hosting art workshops live and in person. DIY it and you get all the control, as well as all of the incoming course fees, but a teaching platform might help you find a broader audience or lend you more credibility as you get started.
Become an Art Tutor
Don't discount the power of one-on-one instruction. Whether it's students who want to advance quickly or professional artists looking to advance in their career, one-on-one art tutoring and mentorship can be invaluable. You can even go beyond techniques and art practices, using your expertise as a working artist to also consult on art marketing and how to get your art in an art gallery. For this, you can charge a premium.
Tutoring and mentoring developing artists are also the perfect add-ons to offer your art class students who want to keep learning after their workshop ends.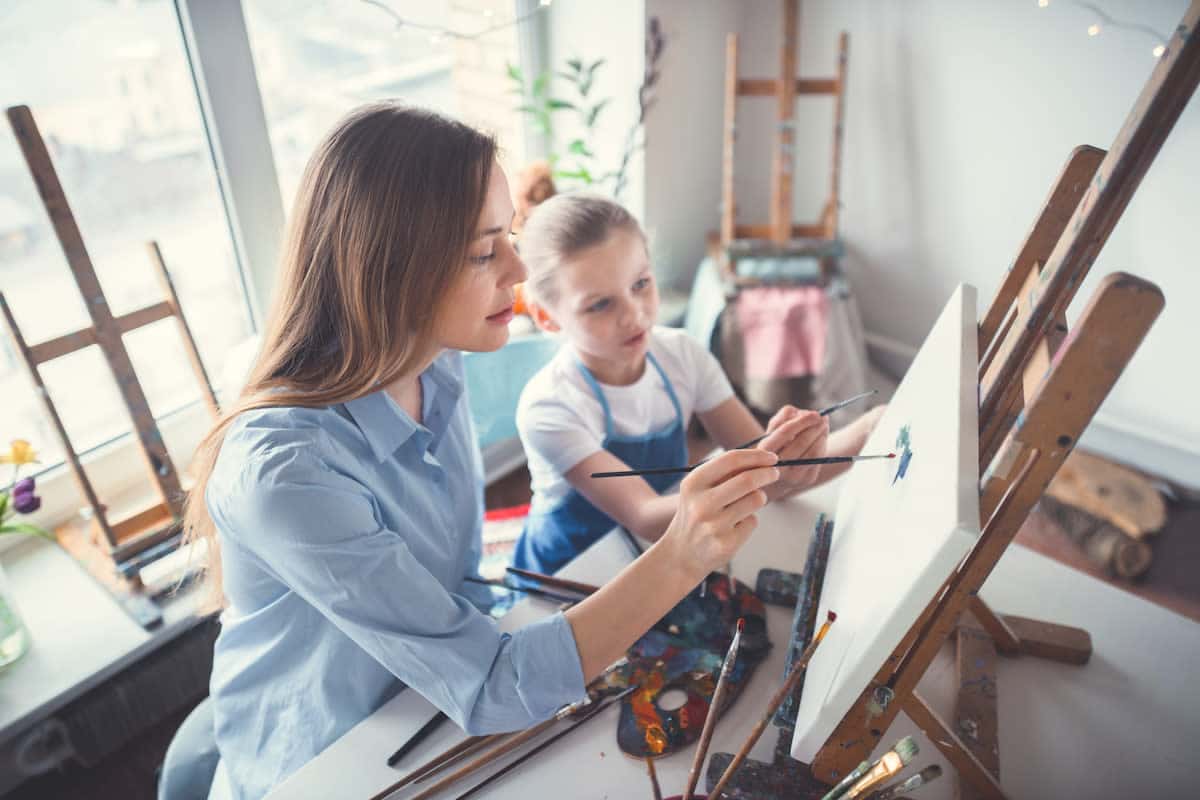 Should I Try Teaching Art to Children or Adults? Or Both?
Consider which audience you'll actually enjoy working with most. If you like kids, teaching art to children can be a fun way to make money. Kids bring a spark and kind of energy to art that no adult can even try to match. But if you find yourself impatient with the little ones, the hours will likely drag.
A lot of people think that it's easier to teach kids than to teach adults, but the opposite can be true. When you get a group of grownups in a room, outside of work, paying their own money to be learning something, you know they want to be there. If you want your students to have a certain level of maturity and focus, teaching art classes to adults is definitely the way to go.
The one thing to keep in mind with teaching art classes to students of all ages, but especially with children: your students are so vulnerable when trying new things and sharing their creativity with you. Be conscious of the words you use and how you shape your feedback as you move through the room.
What Kind of Art Teacher Salary Can I Expect?
The rates you'll come across for art teachers vary as widely as the types of job you'll find out there. That said, it's important for you to know your own value, and what you need to be making for a job to be worth taking. Rates for many art teaching jobs—especially those you'll find hosting one-off workshops for outside organizations—will be up for negotiation. It's standard for teaching artists to set their own rates, so know what you want to be making and be prepared to share that number. Check out the Teaching Artist Payrate Calculator from the Teaching Artists Guild for help getting started.
Some things to keep in mind when setting your art teacher salary:
Make sure your fee structure is consistent; one-on-one mentorship and tutoring should cost your students more than the price for a workshop
Take all of the work that happens outside of the classroom into account when setting your hourly rate: your art teacher salary also needs to cover your lesson planning, prep time, and marketing efforts.
The amount you can charge for your first workshop will be very different from what you can charge for your hundredth workshop. Your art teacher salary should increase with your growing skill and experience teaching art over the years.
How Do I Create an Art Lesson Plan?
The key to teaching art successfully is a good art lesson plan, and the key to a good art lesson plan is a goal.
Always know what your final goal is for each art class idea or workshop, whether it's drawing a portrait or making your first mixed-media artwork.
From there it's easy to break your lesson into steps by asking "what do my students need to know to accomplish this goal?" The biggest mistake new art teachers make is trying to fit too much into a workshop or class. Make sure to blend practicality and play in every lesson, no matter what age group you're working with: students only give repeat business if they enjoy themselves.
This is an easy four-part framework for creating an art lesson plan:
The Introduction
Keep this brief: introduce yourself and give an introduction to the subject, including an overview of the materials and explanation of what you'll be doing during the class.
The Practical Lesson
Here is where you go over the techniques, tools, and anything else they need to know to be able to try it themselves.
The Exploration
Now your students get to play and explore the techniques. Be available for questions and clarify anything that comes up, either one-on-one or sharing with the whole group.
The Conclusion
This is an opportunity for more questions, and some recommendations for next steps your students can take if they want to explore further. It's also a great time to plug any other classes or exhibits you have coming up.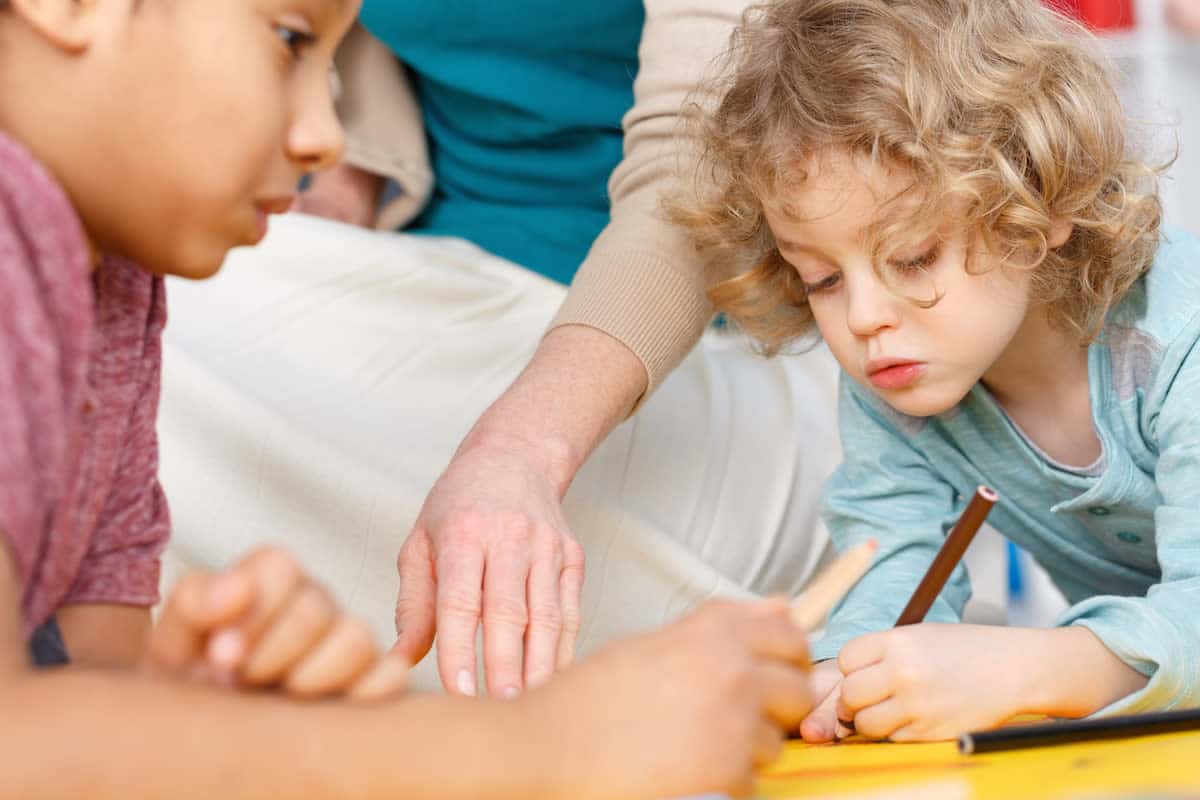 How Do I Find Students for My Art Classes?
The easiest and most impactful way to do this is with a killer online portfolio website and social media presence!
Don't have a site yet? A good website-builder will let you build a beautiful online portfolio in minutes. Make sure pick an online portfolio site a site-builder that offers gorgeous templates and professional-looking fonts.
This will allow you to show off your course offerings, student testimonials, student work, and some of your own work. And don't forget to feature your art teacher credentials and experience on your About Me page.
If you're looking for somewhere to sell your art classes, go with an online portfolio with an online store built in so you can sell your courses right from your site. You'll have lots of art students clamoring for your workshops in no time—happy teaching!
Ready to build an art teacher portfolio website that captures potential students' attention? We've got you covered. Start your free trial with Format today!
Want to explore other art career options?
How To Become a Food Stylist
How to Become an Interior Designer
How to Sell Your Crafts Online