For artists working today, a memorable art portfolio website is a must. Not only does it function as a business card, but it's also your digital showroom, allowing you to bring potential clients and fans into your world and showcase your work in a way that will result in more sales and commissions.
That's why the difference between a poorly designed portfolio website and an effective one can be very impactful on your career as an artist. It's worth taking the time to make sure you choose the website template that's right for you and setting it up to include everything your users want to be able to find.
How Can I Create My Own Artist Website?
When it comes to building your website, the best way to go about it is to choose an easy to use portfolio website builder. A good one will also come with all of the features you'll want to include in your website, with a fully responsive design that works across any device.
Wondering which Format artist website templates are up to the task of creating the best website for your business? Try one of these: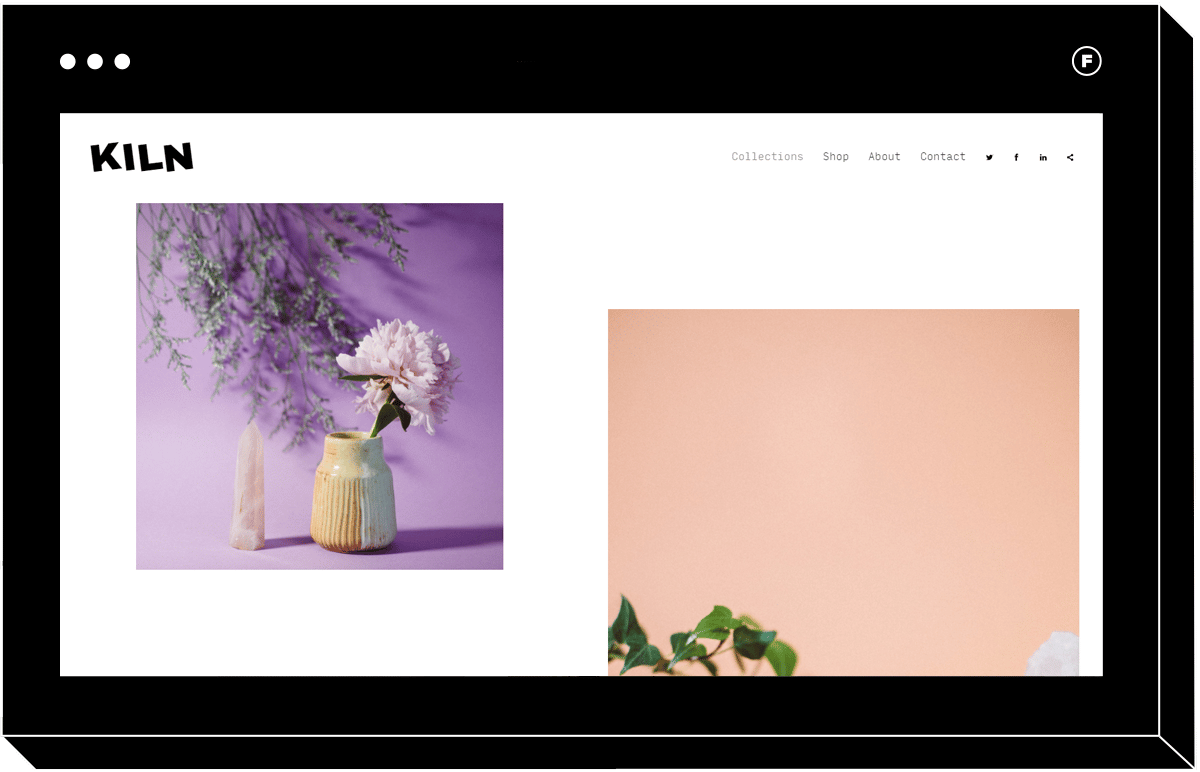 Artists looking for a quirky and playful website template to build their site will love the design of the Kiln theme. It features a customizable landing page that allows you to adjust the gallery spacing and number of columns for a range of layout options to best showcase your art. It also has a cute scroll indicator that will appeal to people who want to inject some youthful, fun animation effects into their web design.
The clear, easy to navigate header menu makes it easy for visitors to click through your various gallery collections and pages. It was inspired by the imaginative designs of ceramicists, but would also be perfectly suited to any artist who wants their visitors to feel happy and light-hearted when they see their work.
This theme has a unique tile layout that is fully responsive and draws ample frame and background colors from the images you upload. This means that the template immerses visitors in the world of your art, by making the theme itself adapt to the artwork that you upload.
Visitors can click home page images that take them to the art gallery that the image corresponds to, making this a great theme for those who want to organize their many works into tidy categories.
Sticklers for simple navigation will also love the menu this theme comes with. You can adjust the number of columns in the dropdown horizontal menu, so even if you create lots of pages on your site, the menu will display neatly at the top of the page rather than looking long and messy. It also makes use of a trendy fat footer section design, where you can prominently display your social media links.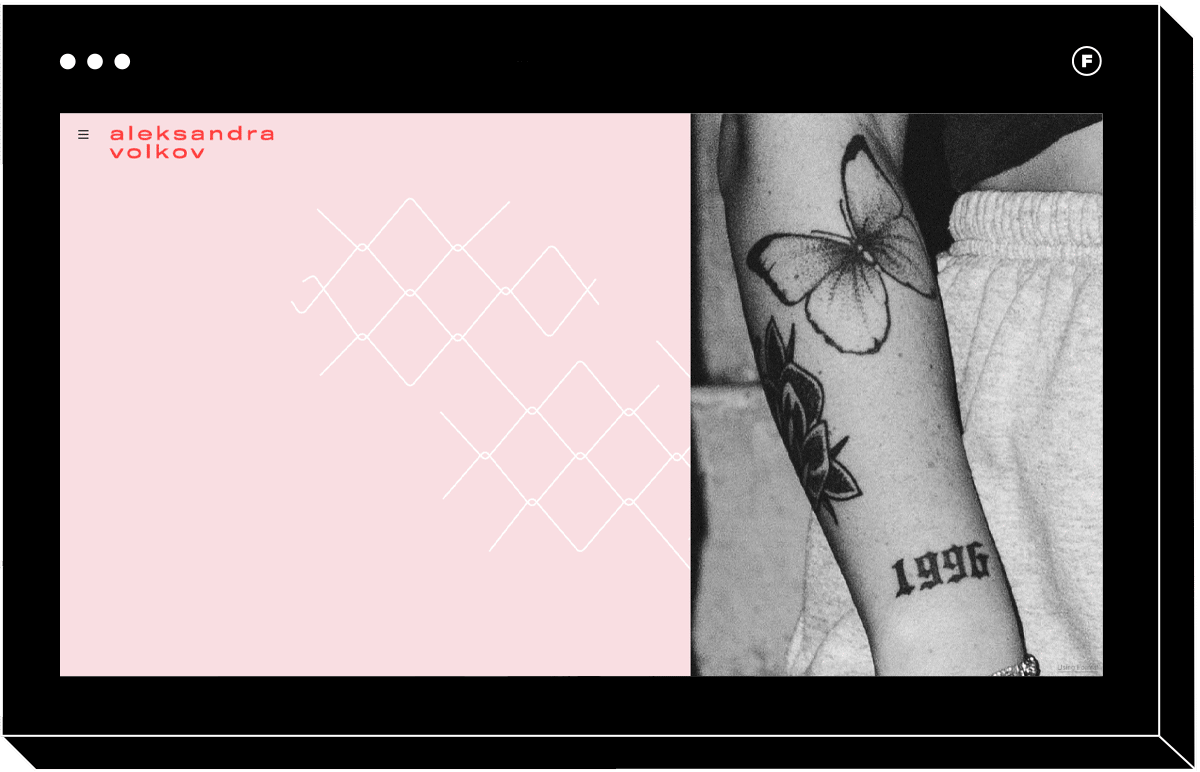 Are you looking for a hip, bold website template that will set you apart from more generic designs? If so, you'll definitely want to check out the Flash theme. This template makes use of a staggered layout that edgy artists and designers of all kinds will love. It also allows for varying image sizes, which creates a sort of collage-inspired, DIY aesthetic that feels refreshing in a sea of more grid-based design.
This theme comes with the additional features you can expect from all Format themes, including built-in e-commerce functionality so you can rack up those sales and make additional income from your website.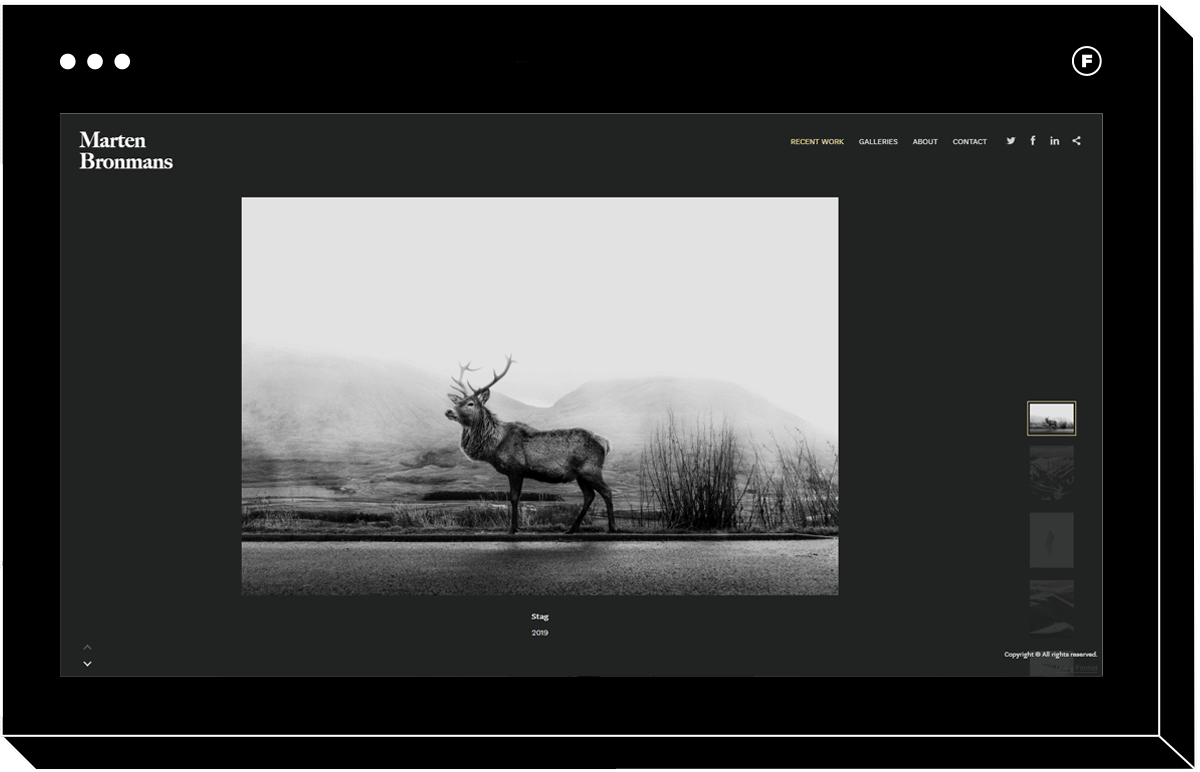 This website template stands out with its elegant, timeless design. The home page features a single, uncropped image at a time, so users don't get distracted by a bunch of photos from different categories. Instead, this theme ensures one artwork at a time gets the visitor's full attention.
The subdued, classic template would be perfect for a sculptor, ink illustrator, or any other artists who want their portfolio to evoke the feeling of stepping into a high-end gallery space.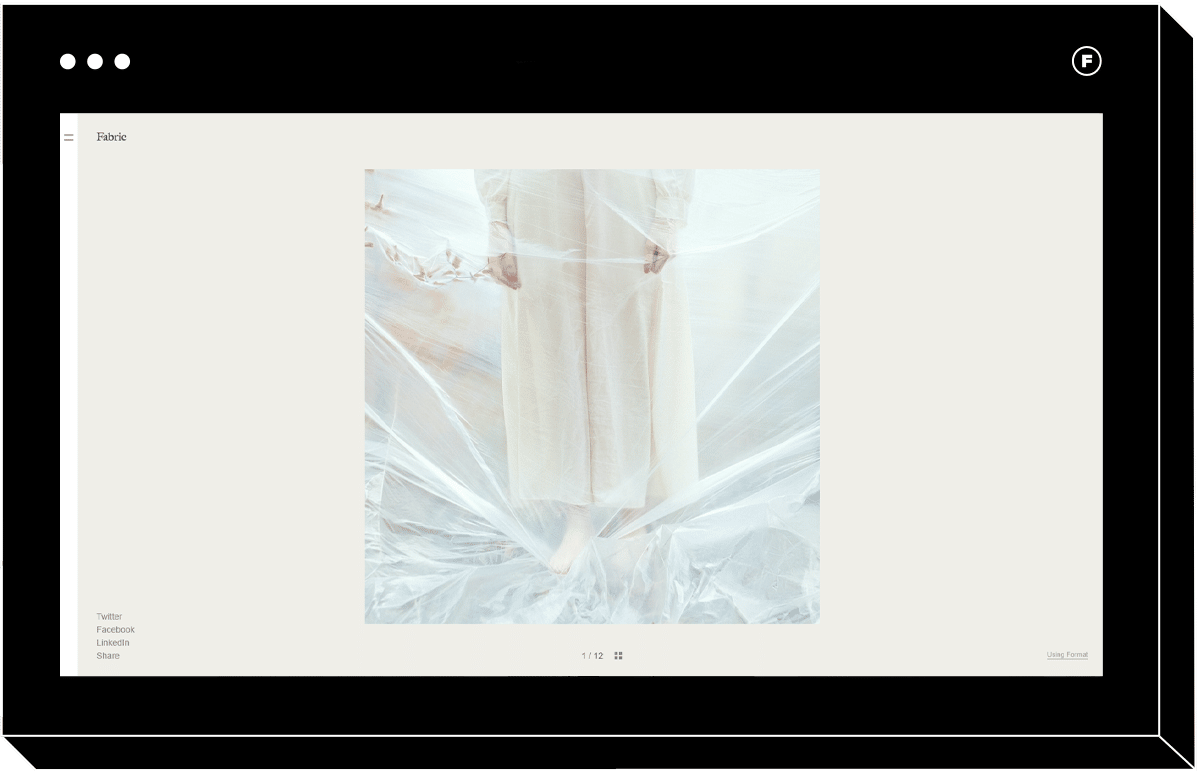 This website template features a totally unique home page navigation style, with each image layering on top of the last as you click through the photos. The background adjusts to each new image, which makes it feel like you had a designer build this theme just for you.
Like the name suggests, Fabric evokes layering different elements the way a fashion designer might. It would be a perfect choice for a fashion designer or textile artist, but there's no reason designers and artists working in other fields won't love it too.
The way images stack on top of one another evokes the nostalgic analog feeling of flipping through a stack of photos, making this an excellent theme choice for those who want their website design to evoke a bit of nostalgia.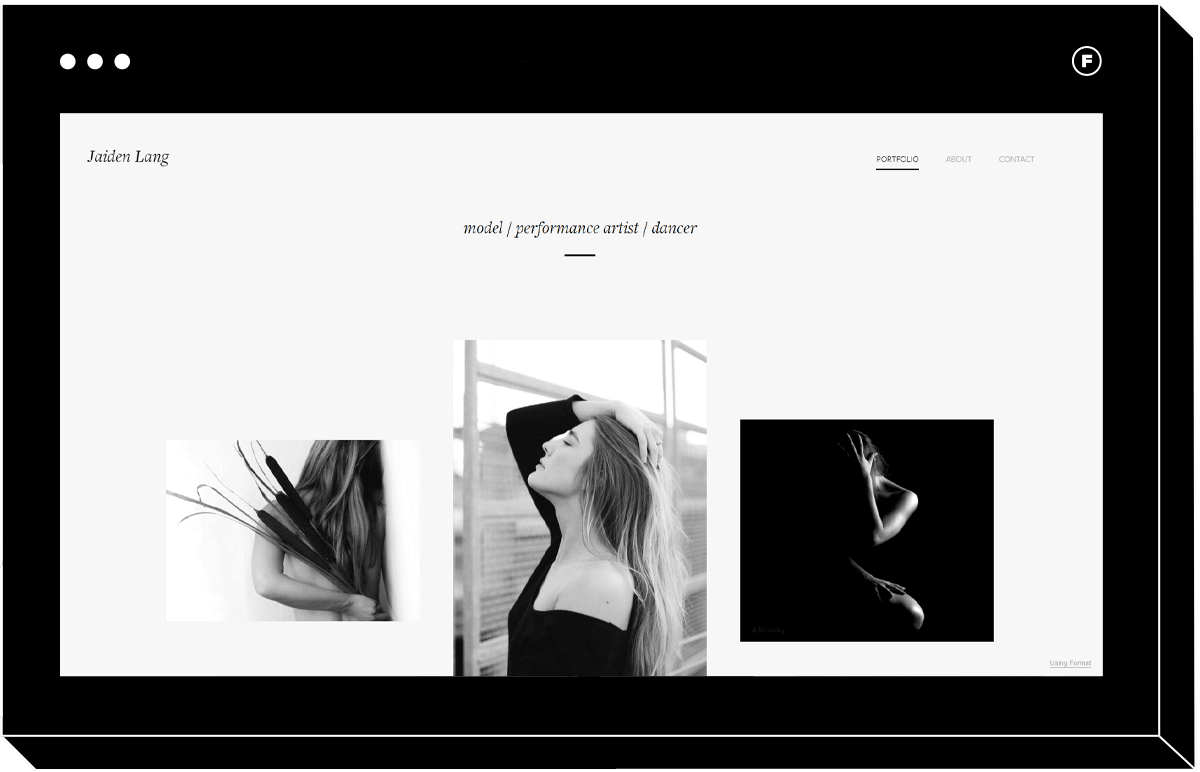 If you're looking for a template that feels elegant and contemporary and is purpose-built to let you tell a story through the site design, look no further than Collage. This artist website template features two column collage inspired galleries with floating text throughout, allowing you to intersperse descriptions of your work with the art itself.
This understated portfolio theme is perfectly suited to the fine artist or fine jewelry designer. Users will have no trouble navigating, thanks to the pinned top menu that lets them easily access each portfolio section.
Check out this artist website template if you're looking for a single page theme design that lets visitors blow up your images to full screen with a single click. Perfect for showing off your work in detail, it also has a beautiful shop page design so you can make sales of your art directly from your artist site.
If big, beautiful product shots are a priority, this theme will bring your vision to life.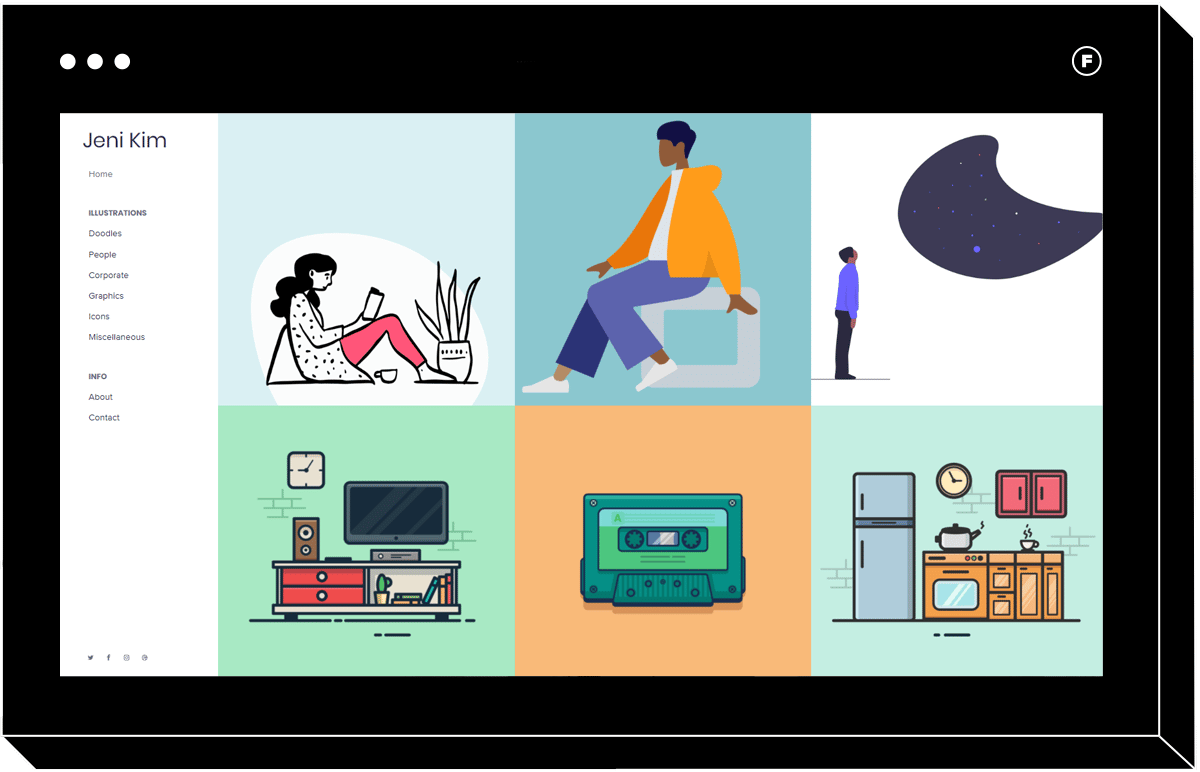 Crisp, simple and user-friendly, designers who want to show their potential clients a large volume of work without cluttering the site with an overwhelming layout will enjoy the Detail theme. The left-hand navigation lets you make sure that every gallery is clearly accessible, since categories aren't hiding in dropdown menus the way they do in some other templates.
The square frames in the galleries keep your work neat and tidy, but each image can easily be expanded to its full proportions when clicked on. It's a perfect unpretentious and neat artist website template, with a lovely fully responsive design.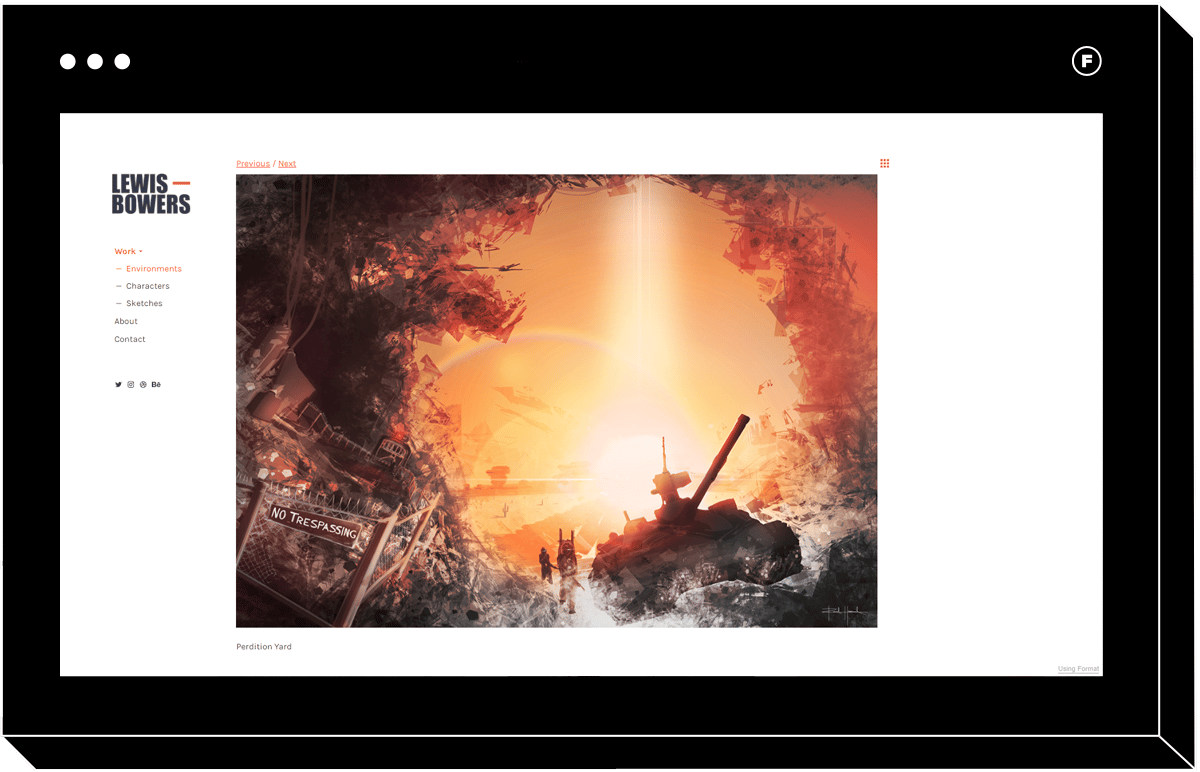 A great choice for the digital artist, this website template allows users to toggle between masonry thumbnails or full-size image scrolling, so they can take in your art the way they prefer.
The classic design keeps all eyes on your work with this digital artist website template. Views can toggle between masonry thumbnails for an overview, or scroll through one image at a time to see every detail.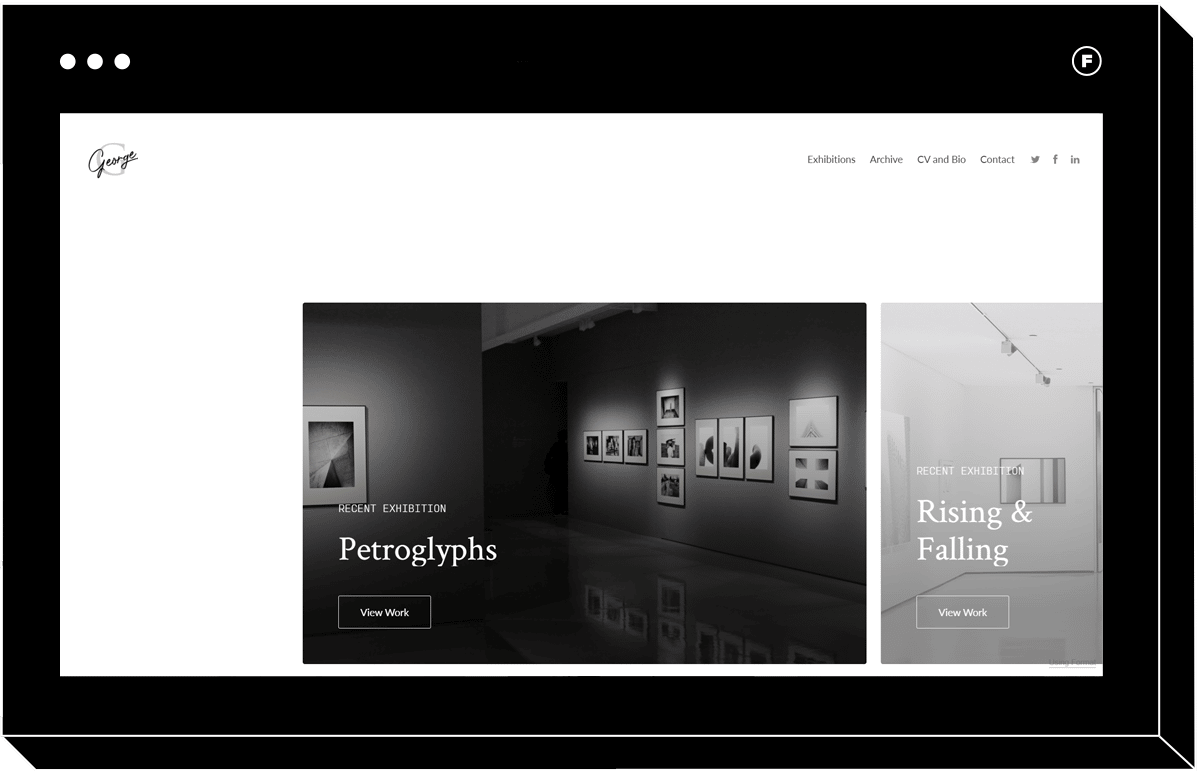 This theme is a great choice for those wanting to organize their images into collections evoking the curated selections made by art galleries. It features clean and minimalistic slideshows on the home page that can be clicked to access the respective collection.
If you want to communicate to potential clients and collectors that you mean business, this theme is a great choice fitting for any serious fine artist.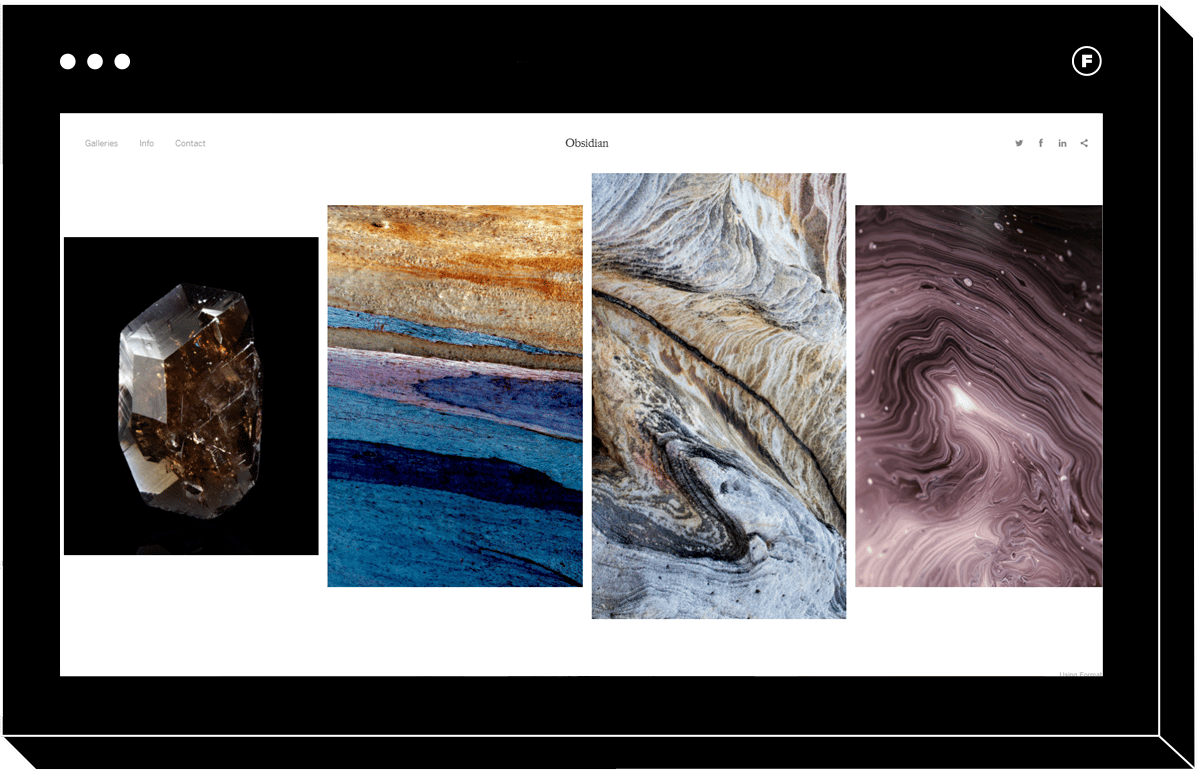 Some website templates are best suited to collections of thematically or visually similar images, while other themes or ideal for more eclectic portfolios. Obsidian is the latter, with a gorgeous horizontal scrolling navigation design. This artist template makes it easy to incorporate both images and text, allowing you to expand on your design process or share other info your fans might want to know.
A gorgeous grid-based template that makes use of white space as a design element, Pattern is a great choice for everyone from sketch artists to jewelry designers who want their pieces to take center stage.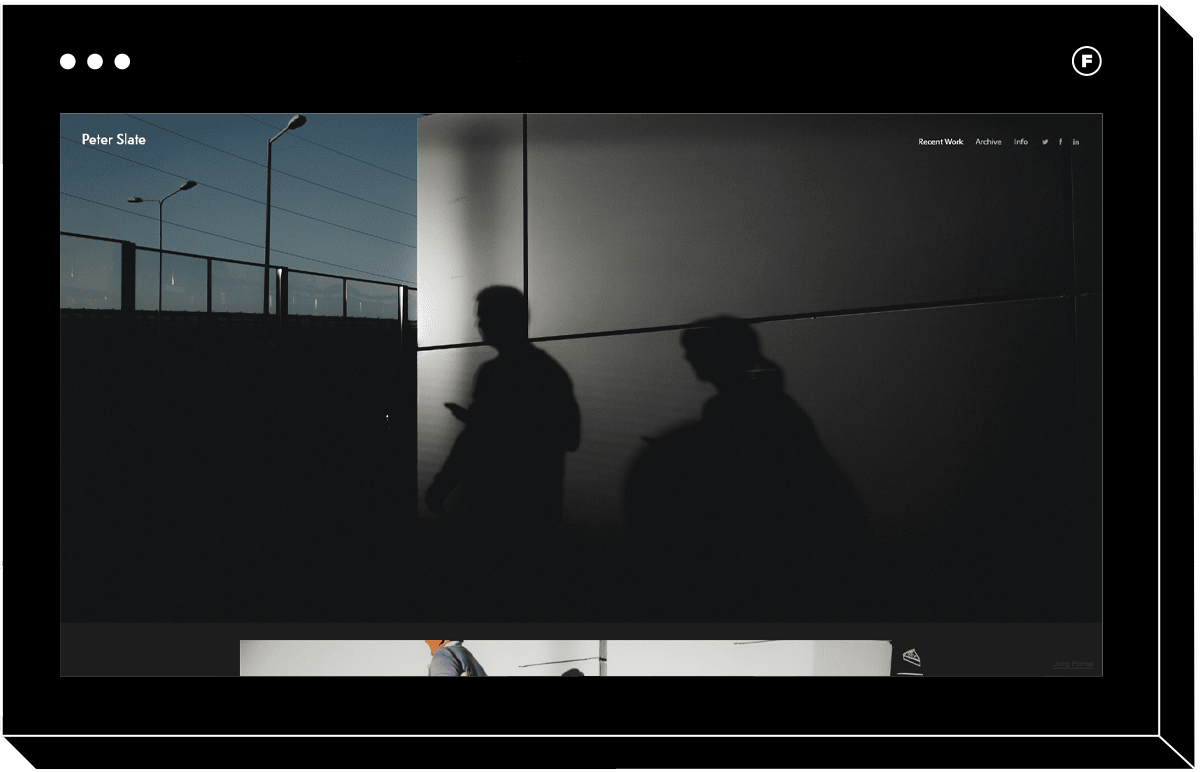 Unique among the website templates in this list, this theme features a contemporary parallax scroll effect for gorgeous transitions between full-width images. You can customize the theme with various layout and navigation styles, caption options, and a header that can be removed if you wish.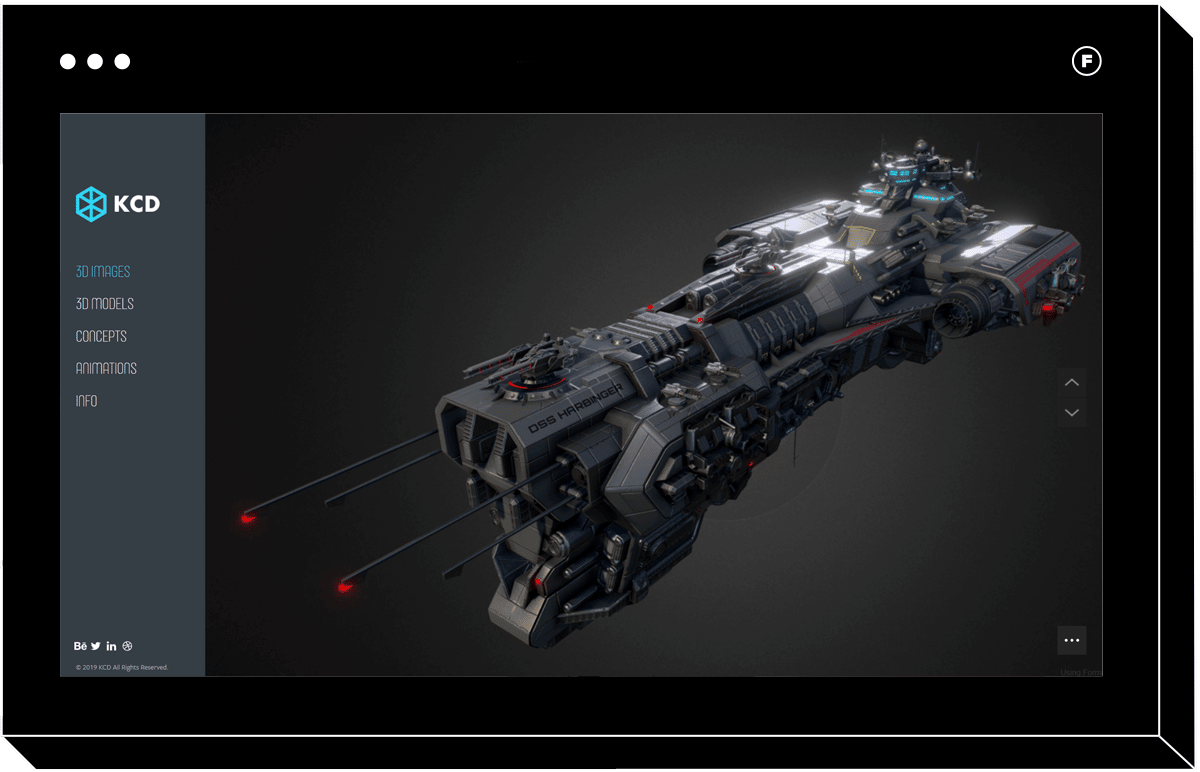 This fully responsive theme stands out for the way it keeps the focus on your work without sacrificing user experience and ease of navigation. Whatever type of art you do, if you want to showcase large portrait-oriented images, Wavelength is a stunning choice.
With so many fully responsive website templates to choose from, you're bound to find the perfect one for your site. Since these are all Format themes, you can be sure that the template you choose is packed with super useful functionality such as e-commerce, social media integration, client proofing galleries, and more.
Bring your artist website vision to life in minutes!
Why Should I Have a Portfolio Site?
If you're not convinced of the importance of a portfolio website, consider how much harder it would be for buyers, galleries, customers, and fans to access your work if it weren't beautifully displayed online. The internet has become our most important visual medium, and with most of us spending many hours online every day, to skip out on having an artist website is to skip out on opportunities and income.
Some artists might ask themselves, isn't having an Instagram portfolio enough? While having a social media portfolio is certainly a good idea, especially as an initial place to be discovered, it's not enough for it to be your whole online presence.
A major limitation is the image quality and image size, both of which are restricted by the app and by the fact that it's typically used on a mobile device. An Instagram bio is also too short to share enough meaningful information with fans and clients.
Finally, everyone and their grandmother have an Instagram account nowadays. That makes it a creative marketing tool for artists, but it also means it doesn't communicate the same level of professionalism that you can get from portfolio websites.
As an artist, it's important to elevate your work in order to justify your prices, and Instagram isn't up to the challenge on its own. You can fit much more information, communicate your brand, and showcase a professional art gallery on a proper website.
What Should I Include in My Artist Website?
If a portfolio website can fit more content than an Instagram profile, what type of content should you include? While there are lots of different successful artist websites out there, there are a few elements that you'll typically find in all the many of the best online portfolios. These include:
An About Page
Don't underestimate the power of a great about page. Visitors click on them to find out who is making the art they're about to check out, and a compelling about me page can make someone more inclined to support the artist. It also helps to contextualize your art, which users will appreciate.
It can also be a place to share some of your professional experience and awards or accolades, if you have them and wish to share them.
A Gallery or Multiple Galleries for Different Categories
This part is pretty obvious: your artist portfolio website should include a photo gallery! There are tons of ways to display your images, and you can choose a template with a portfolio layout that works for you. Take some time to curate your best or most representative work, so that visitors don't get overwhelmed or miss your best projects because there is too much to click through.
Branded Web Elements
Your website is an extension of your business, so it's an opportunity to use your branded design elements to make it your own. This includes things like color schemes, logos and fonts. The best website builders allow for their templates to be modified with a theme customizer that allows you to easily make these changes.
Online Store
While not every artist website needs to have an e-commerce section, it can be a great way to make some extra money with sales of things like prints, postcards, art objects, or anything else related to your business. What you include in your online store will vary depending on the type of art you made. For example, a sculptor whose main revenue comes from sales of pieces to galleries may sell things like prints of images of their work, while a ceramicist might sell the actual products that are displayed in their portfolios.
A Blog
A blog is another optional section you might want to look for when choosing a website template. Blog layouts and content can vary widely, but creating a blog is a great way to drive more traffic to your website and get more eyes on your work.
A blog also offers you a way to connect more with your audience by sharing behind the scenes content or anything else they may be interested in hearing from you.
A Custom Domain
Choosing a page builder that makes it easy to use a custom domain is another way to boost your page rankings and give your artist website a professional boost.
Not done looking at portfolio templates? Check these out:
15 Best Website Template For Any Profession
Top 10 Website Template For Photographers