As a photographer, you're often short on time and resources, prone to go for a free option rather than shell out the big bucks for the nice to haves. With this approach in mind, you might be tempted to use your Instagram as a portfolio, especially if you're new to the game and trying to get your career off the ground.
And for good reason—Instagram is more popular than ever, with over 1 billion active users and counting, and has fast become the go-to app for eye-catching visual content. With it's easy to use interface, large user base, and free access, it's a solid option when it comes to showcasing your work and connecting with potential clients as well as fellow photographers.
But is Instagram the best way to go when it comes to creating an online photography portfolio that is professional, clean, and easy to update? Let's take a closer look at how you can create an Instagram portfolio, the pros and cons of using one, and how you can leverage an Instagram portfolio to generate business as a photographer. We'll also discuss how a professional photography portfolio through a web builder might be a better fit for your needs, and help you take your career to the next level.
The Pros and Cons of an Instagram Portfolio
Even though using Instagram as a portfolio may seem like a no-brainer, let's have a closer look at the advantages and disadvantages of using the platform to showcase your photography work.
Access a Large User Base
One of the major selling points of using Instagram as a portfolio is that you will get free access to a large number of active users, who log into the platform every day and check out their feed regularly. That's a lot of potential eyeballs on your work, and a lot of potential clients, especially when 75% of Instagram users take action after seeing posts on the platform. In fact, many photographers receive direct messages from potential clients who stumble on their work on Instagram and are impressed enough to get in touch.
With such a large reach, it's hard to deny that Instagram is an important way to connect with clients and generate sales, especially if you're in the image-making business. However, with so many users and so much content, it can be a struggle to stand out among the pack and get your work noticed. After all, if every emerging photographer is on Instagram, how can you get users to stop scrolling and pay attention to your work.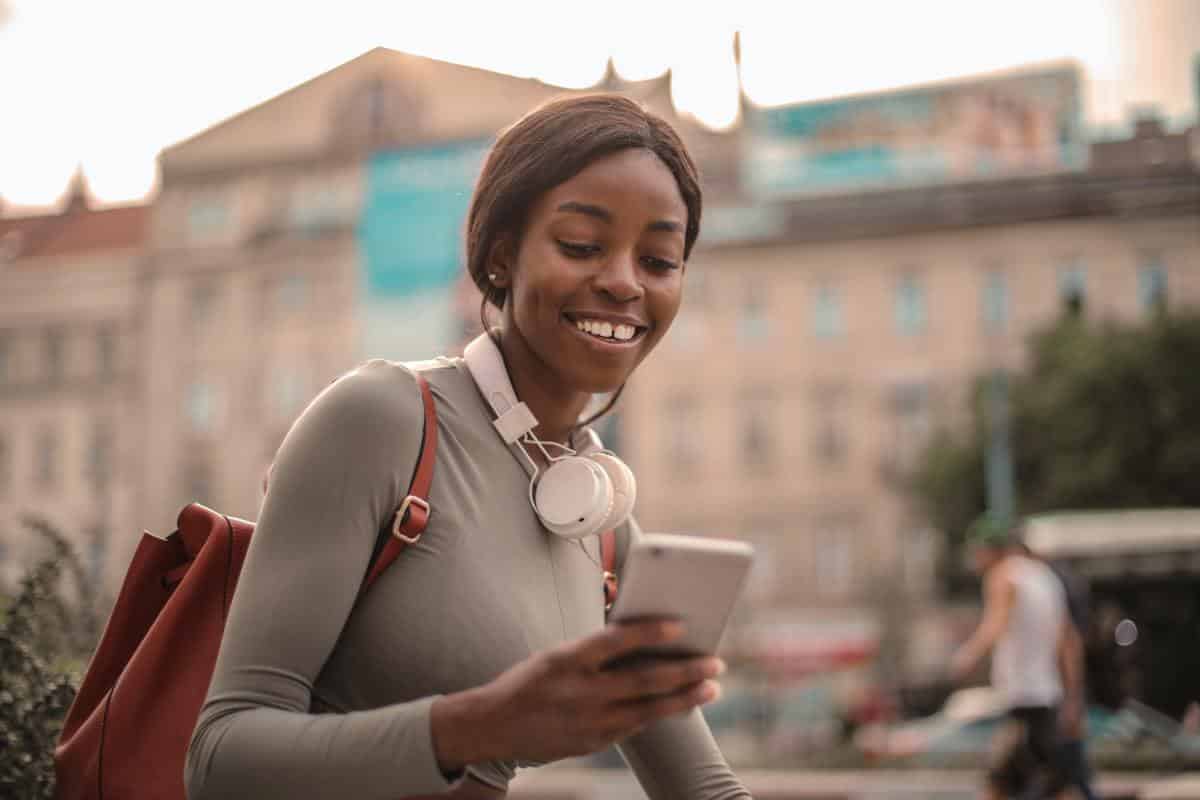 Update Your Instagram Portfolio on the Fly
Another big selling point is the usability of Instagram. The social media app is designed to make uploading and editing images easy, especially when you're on the go and only have access to your smartphone. Emerging photographers often work fast and produce a lot of new content regularly. Using Instagram as your portfolio could be a great way for you to collect and curate new images easily so you can highlight them online.
However, a con to this pro is that you are limited to editing images on your phone using the filters and settings on Instagram, which could really restrict how you present your work. You may also find it tricky to upload professional-grade images onto the app since Instagram is not designed to process large image files.
Maintain an Online Photography Portfolio for Free
If you're looking to save some coin while you establish yourself as a photographer, a free Instagram portfolio might be your best option. In fact, many new photographers will use the platform to show off their work and build a following by tapping into the basic features of Instagram. It can also be a great way to illustrate your growth as a photographer and develop your personal style in the public eye.
Though free and simple might sound ideal, keep in mind that you may miss out on the added features of a professional photography portfolio. Many website builders will have features like custom themes, a built-in blog, and client proofing that you simply can't access on Instagram.
Setting Up Your Instagram Portfolio
Ready for some tips to make the best Instagram portfolio possible to promote your work? Let's dive into best practices that will take your Instagram to new heights.
Use Your Instagram Bio as Your Cover Letter
The first thing a visitor will see on your Instagram profile is your bio, so make the copy count. Try to include text that sums up your goals, passions, and interests as a photographer, while effectively conveying your personal brand. Make sure you include a few key details:
Name: Display your name clearly in your bio so clients know who you are and can look you up on other platforms.

Location: Highlight where you are based, or where you are currently located. Having your location in your Instagram bio will help potential clients get a sense of whether you're the right fit for a gig, especially if they're looking for a local option.

Focus/specialty: Note that you are a photographer or an image maker, and highlight any specialty or niche work you do, such as "food photography" or "portrait photography."

Link in Bio: Include a link to another page with your work or link to a project you are excited about. If you posted about a project in your Instagram Stories, make sure you link to it here too. If you do have an online portfolio website on your website, you would link to it here as well.

Bio: A great Instagram bio will tell visitors who you are and what you do. Keep your bio short and concise, and stay true to your brand.

Emojis: Many photographers will use emojis to make their bio visually appealing and clear, such as a world emoji for location or a camera emoji for focus or specialty. Don't go overboard with emojis, as you want your bio to appear professional and clean.
Curate Your Instagram Feed like a Portfolio
Think about how your feed will appear to visitors on your profile and what style or look you want to convey on your feed. Curate your images to create a profile that feels purposeful and thoughtful, just like a professional portfolio. Before you throw images up on your Instagram, ask yourself, "What type of work would my dream client want to see? How can I show my work in a professional, clean way? Does my Instagram feed look consistent?"
To create a professional portfolio look, you may want to use the same border or cropping for your images, try for a uniform color palette, or you may opt for a specific filter or lighting approach. Whatever style or look you go for, make sure your aesthetic is consistent. This will show visitors that you are presenting your work in a thoughtful way, and turn your private Instagram feed into a professional portfolio.
You can also create social media graphics for your Instagram to add a fun, professional-looking visual element to your feed.
Vary the Content on Your Instagram Portfolio
When it comes to posting your work to an Instagram portfolio, consistency and variety are key. Diversify the content on your Instagram portfolio with a few different posts, such as:
Your best and most recent work, such as a photography campaign or a recent shoot

Milestones or major announcements that relate to your career

A day in the life of a photographer

Behind the scenes images from a shoot

Inspirational images that you like or admire

Tips and tricks of the trade based on your experiences as a photographer
Rotate through these different posts regularly to keep your Instagram active and interesting for visitors. For example, you might do BTS Tuesdays or post tips and tricks on Saturdays to keep your content constant and consistent.
Update Your Instagram Portfolio At least Once a Week
A big draw of Instagram is that you can cultivate a following and regular engagement with visitors from all over the world. To do this effectively, you will need to stay engaged on Instagram and keep your Instagram portfolio fresh. Updating your Instagram portfolio once a week will ensure you are staying connected with the online community and regularly showcasing your work to potential clients.
That said, it can be overwhelming to post that often every week, especially if you're trying to highlight your best work and go for quality over quantity. Use a social media scheduling tool to schedule your posts in advance so your Instagram portfolio is updated regularly at optimal times during the week. Don't be afraid to post old content to your feed, as long as it fits with your current aesthetic and will add to your portfolio.
You can also use Instagram Insights to get a better idea of the online traffic on your Instagram account as well as a deeper understanding of your posts' performance. This way, you can plan your posts accordingly and optimize your Instagram portfolio to cater to users and potential clients.
Use Instagram Stories to Complement Your Instagram Portfolio
Complement your Instagram portfolio content by adding to your Instagram Stories, which lets you create content that lives on Instagram for 24 hours. Instagram Stories are a fun way to stay connected and current with your followers, and with the online community. Use these Instagram features to supplement the more curated approach of your Instagram portfolio so your personality and perspective shine through.
Post a fun behind the scenes image or short video to your Instagram Stories to let your Instagram followers know what you're up to, and that you're busy working. Highlight a recent project or a work in progress on Instagram stories to keep your followers in the loop and link to the project in your bio to drive traffic to your Instagram portfolio. You can also save an Instagram Story in your Instagram Highlights so visitors can access this content on your page. Take advantage of Instagram Highlights to categorize your Instagram Stories into different topics. This way, your viewers can easily tap into the category they're most interested in viewing.
Connect with the Photography Community Online
Once you've launched your Instagram portfolio, use it as a tool to network and connect with your peers online. Use photography hashtags in your posts to link your work with other photographers and creatives online. Follow other photographers whose work you admire or who have a similar style as yours, and comment on posts by photographers, brands, or creatives you'd like to work with.
If you connect with a potential client on another platform, such as LinkedIn or Facebook, make sure you follow them on Instagram to stay in touch and share your Instagram portfolio.
Check Out Other Instagram Portfolios for Inspiration
Still a bit stuck on how to approach your Instagram portfolio? Do a search of portfolios by photographers you admire or aspire to be as Instagram portfolio examples. Check out the best Instagram photographers and look at how they curate their Instagram feed. Don't be afraid to borrow from their approach and make it your own.
Notice how other photographers use Instagram Stories as well to add to their online presence and expand on their Instagram portfolio. Oftentimes, you can get a lot of valuable insight from studying the approach of others, especially if they are at the level that you'd like to be in your career.
Is a Professional Online Portfolio the Better Option?
Though you may be convinced that an Instagram portfolio might be the best fit for you, consider whether you might come across as more professional and polished if you go for an online portfolio through a web builder. Amid the stream of content on Instagram, it can be challenging to make your content stand out, even if it is curated beautifully. And having an online portfolio separate from your Instagram means clients can find you just by searching your name and clicking through to a great looking portfolio that is not linked to Instagram.
Many photographers connect with clients on Instagram and maintain a professional-looking Instagram page. But they often also maintain an online photography portfolio through a web builder that presents their work in a clean, professional way. Having a great looking Instagram feed can complement your actual online portfolio and encourage potential clients to dig more deeply into your work to see if you might be a fit for them. Backing up your beautifully curated Instagram with an incredible looking online portfolio will help to convince clients you're the real deal.
Creating a real online portfolio will help you succeed in the industry and advance your photography career. Don't have an online portfolio yet? Use a website builder to build one in 10 easy steps and take your brand to the next level.
Pick one that has gorgeous templates to choose from, and offers features like a built-in blog and online store, plus client proofing. Make sure you link your stunning new online portfolio to your Instagram so you can showcase your work to a broad audience and let visitors know you're a true professional.
Hopefully, this article has given you some food for thought around whether an Instagram portfolio is right for you, or if you're ready to build a professional online photography portfolio that will take your career to the next level.
Looking for more Instagram resources?
How to Become an Instagram Influencer
How to Get 20,000 Instagram Followers