Take a peek at a recent edition of your favorite art or fashion mag—you're likely to notice loads of white space with few design elements and simple text. Picking up on this aesthetic trend, fashion photographer portfolios tend to use simple design approaches to showcase their work.
Online portfolio examples for fashion photography inspiration
We rounded up some of the best emerging fashion photographers using Format for their online portfolio. From Los Angeles to Melbourne, these photographers play with quirky poses and alternative post-production techniques to display their fashion portfolio photography in ways worthy of being published by style magazines.
Here are 23 emerging fashion photographers you should keep your eyes on.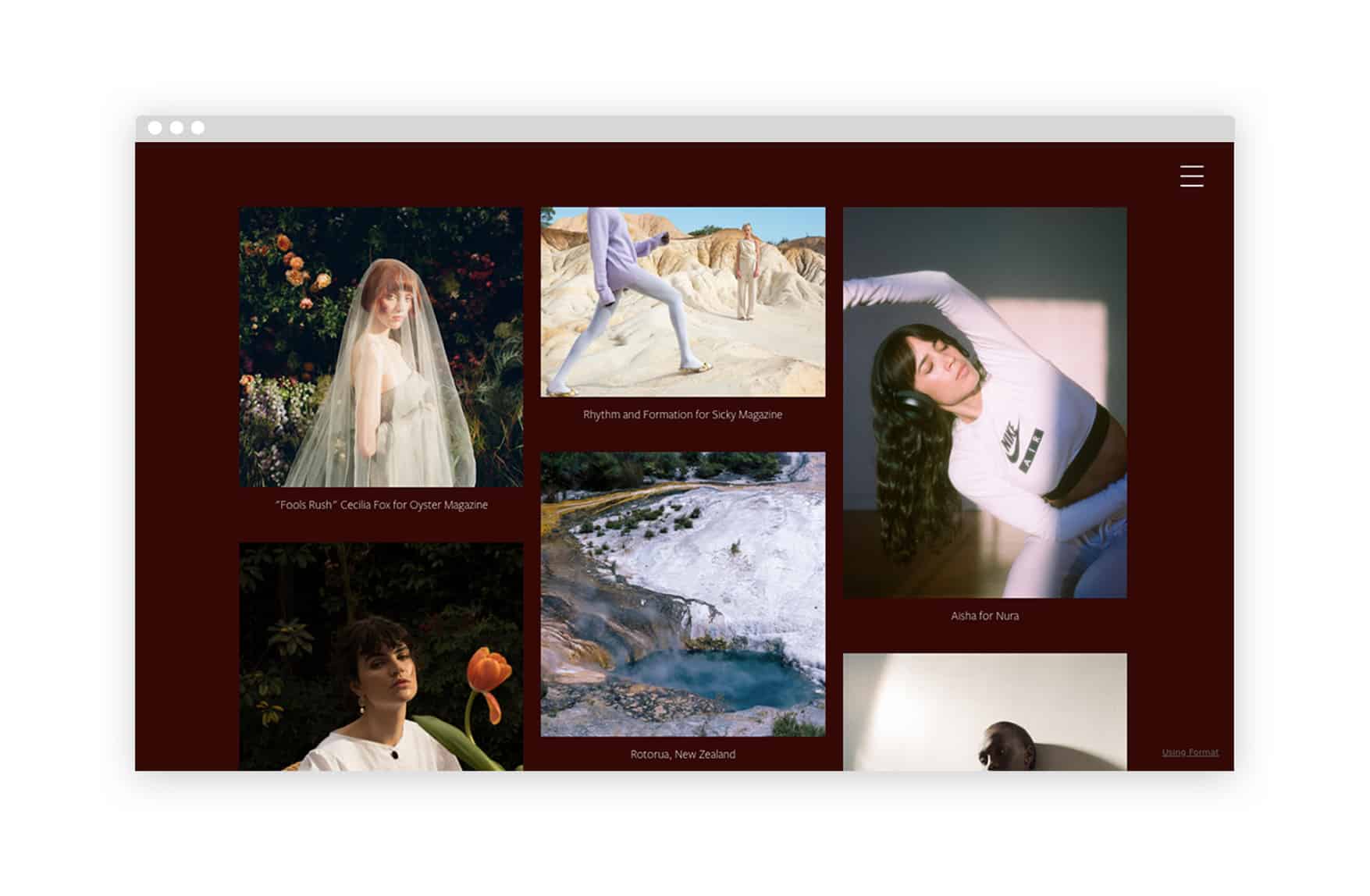 Melbourne-based photographer, Tasha Tylee, produces work that is gorgeous, surreal, and often avant-garde. Her fashion photography portfolio uses a bold burgundy background to offset the colors of her work.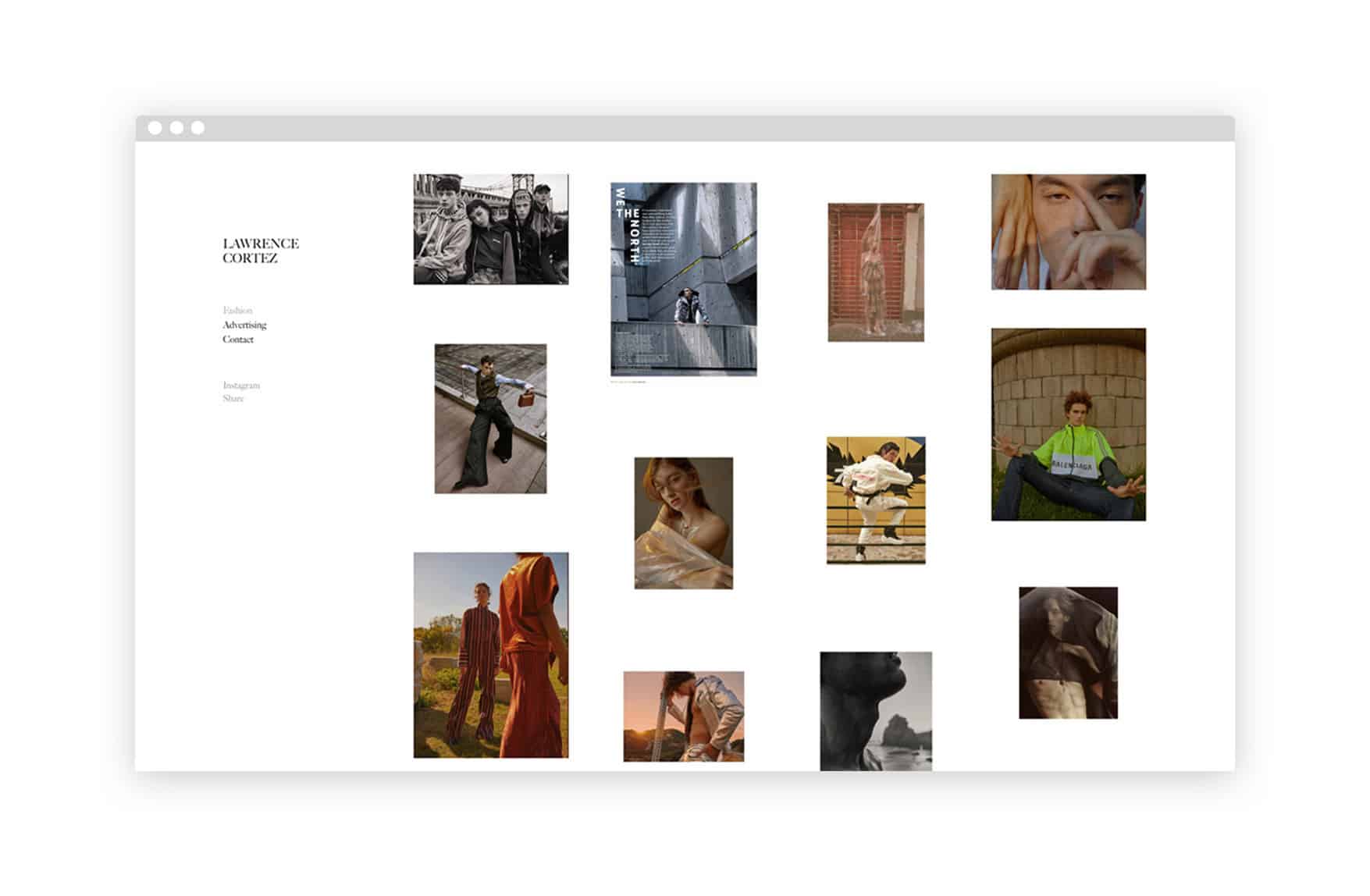 Toronto-based fashion photographer Lawrence Cortez uses a grid layout to offer a pleasing overview of selected projects on his online portfolio homepage. Hovering over each image brings up the title of the project, and viewers can click through to see more from each shoot.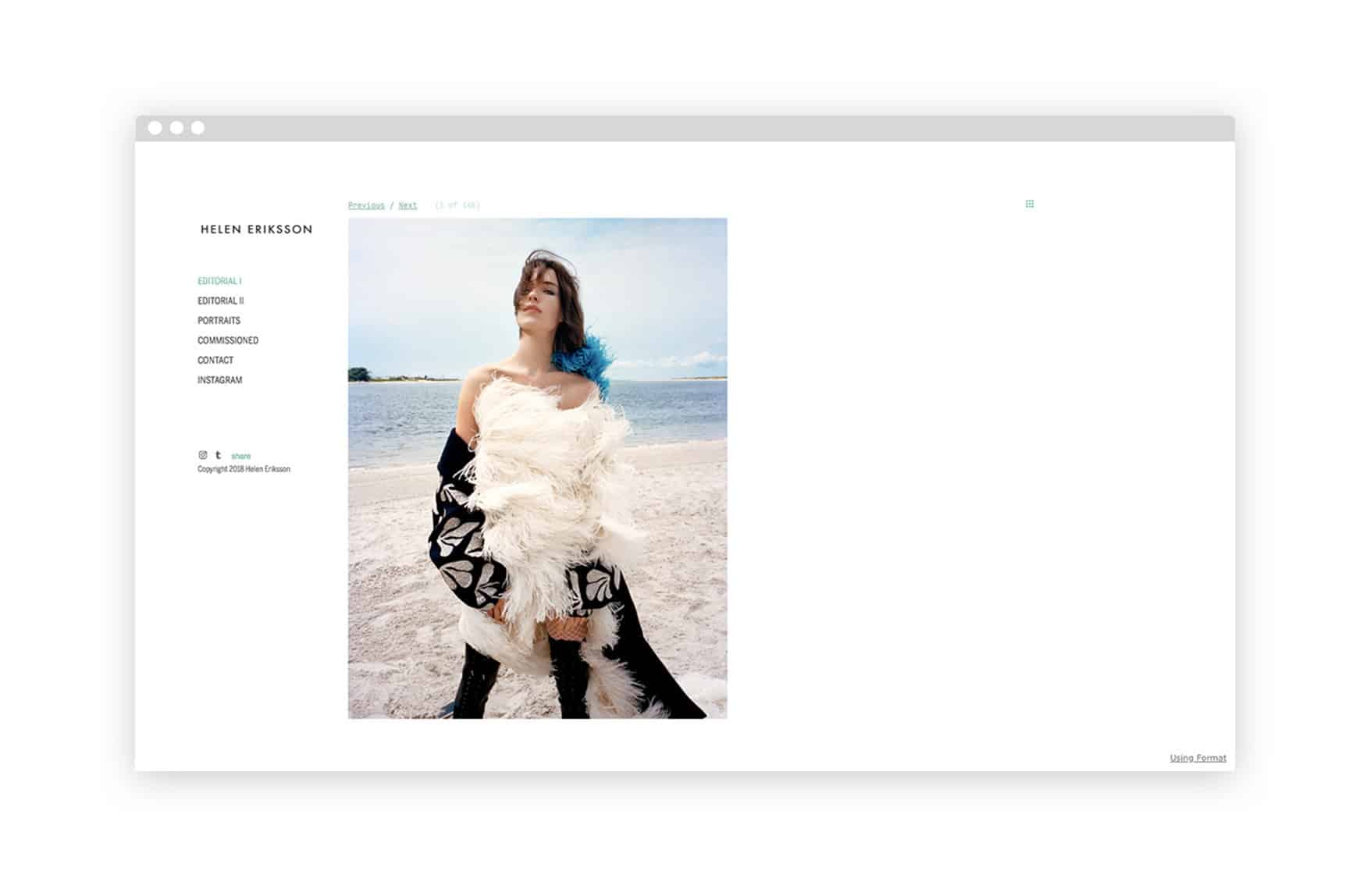 Swedish photographer Helen Eriksson, based in New York, keeps her portfolio elegant with lots of white space. Her work, which has a contemporary, high fashion feel, has appeared in Nylon, Refinery29, and Oyster.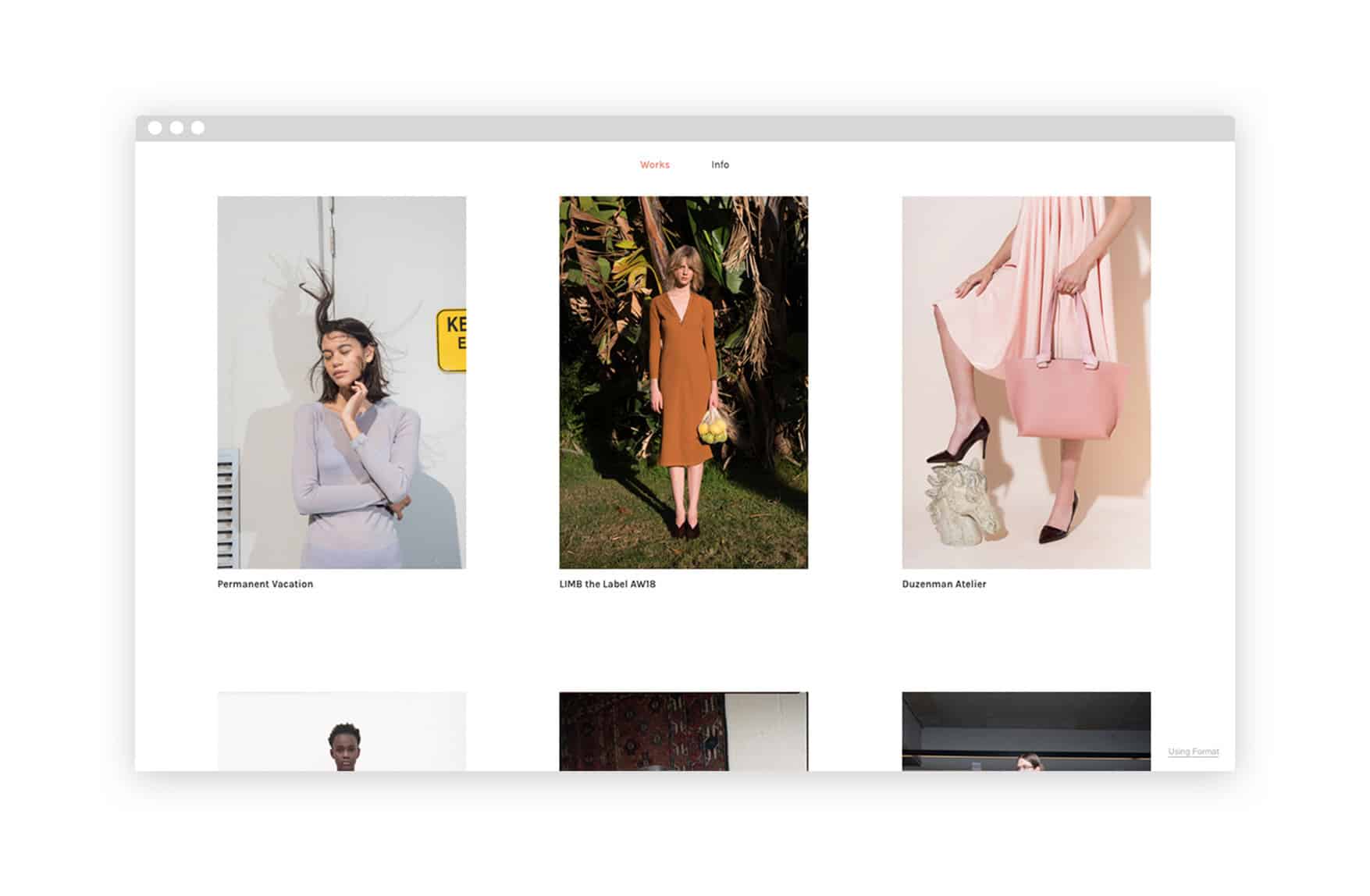 This Melbourne-based photographer, who counts i-D, Ignant, and Oyster among her publishing credits, creates images with a lush, regal feel that seem somehow transported from another era. In addition to fashion photography, she also does conceptual photo shots.
Her fashion photography portfolio categories each aspect of her work in organized sections, so visitors can easily find the exact type of photography they're looking for.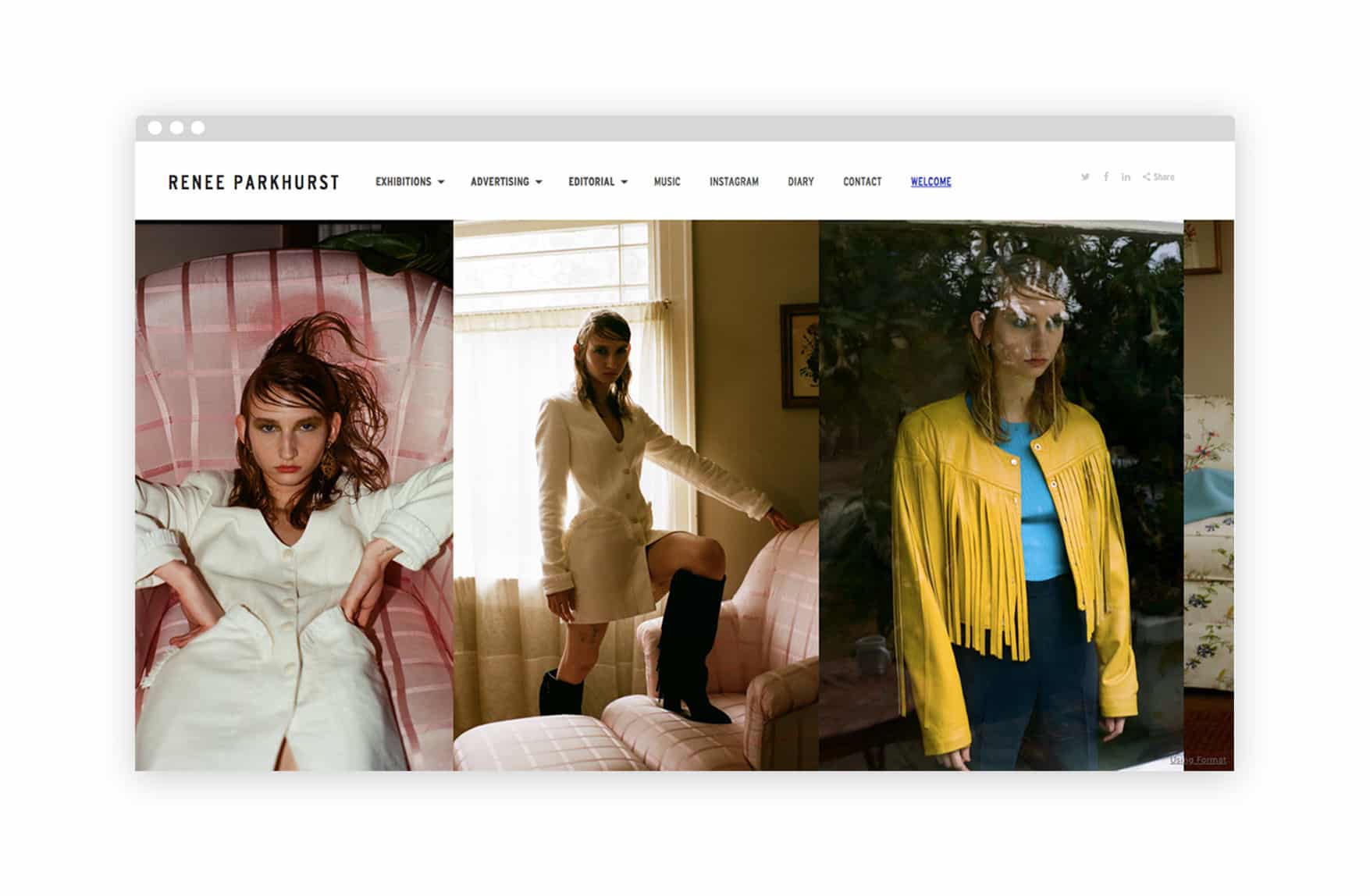 Based between LA and Europe, Renee Parkhurst is a seasoned fashion photographer, having worked with brands like Nasty Gal, American Apparel, and Levi's. Her fashion photography portfolio is based on a website layout with full-size images to show off the details of her work.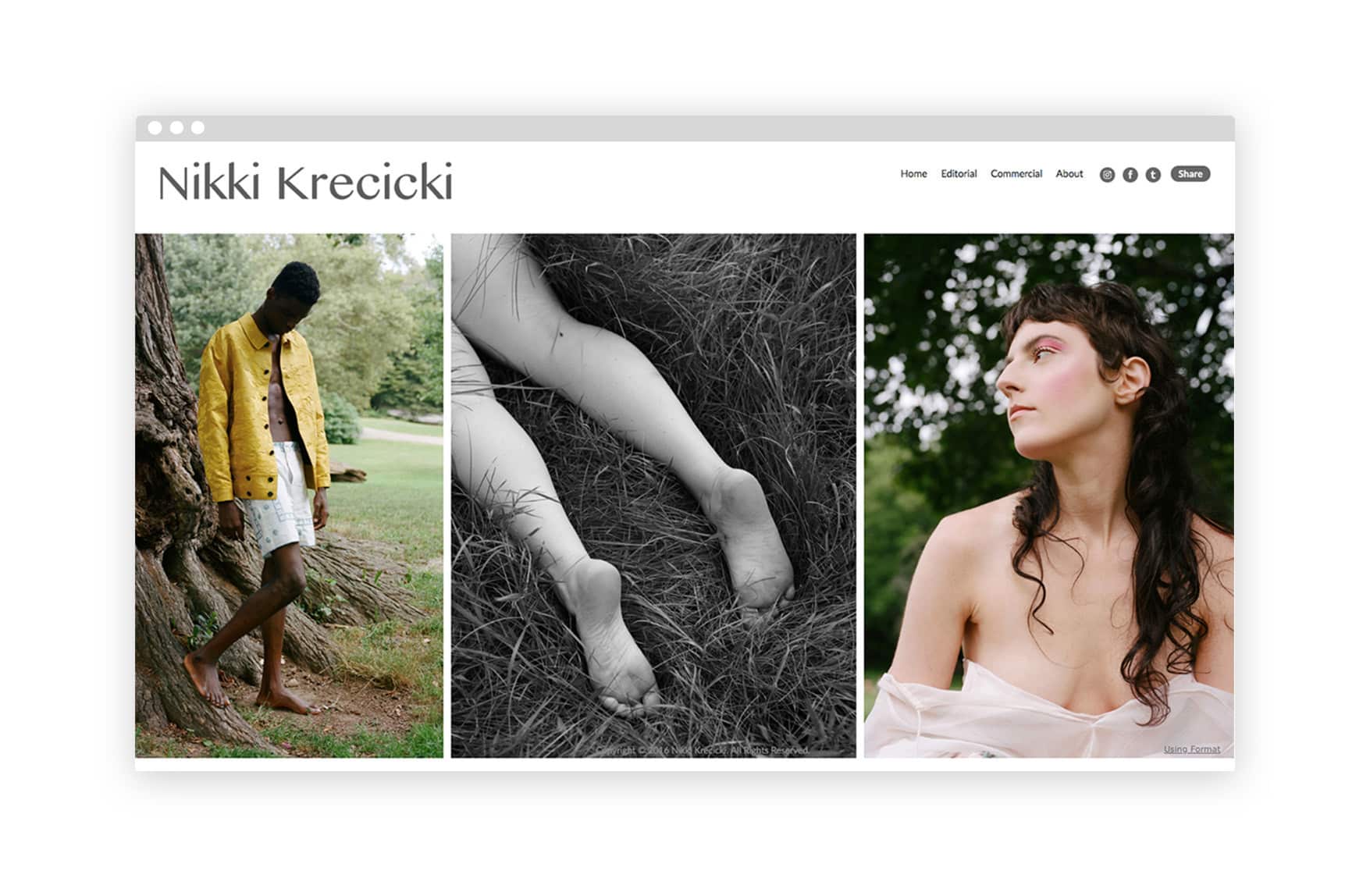 Nikki Krecicki's fashion photography portfolio is dreamy and unreal, juxtaposed next to shots of beaches and overgrown backyards. In her bio, she says she "began making pictures while living in a humid subtropical climate in North Carolina." Now based in Brooklyn, it's easy to see how living in the South influenced Krecicki's work, which feels meditative in a refreshingly non-New York way.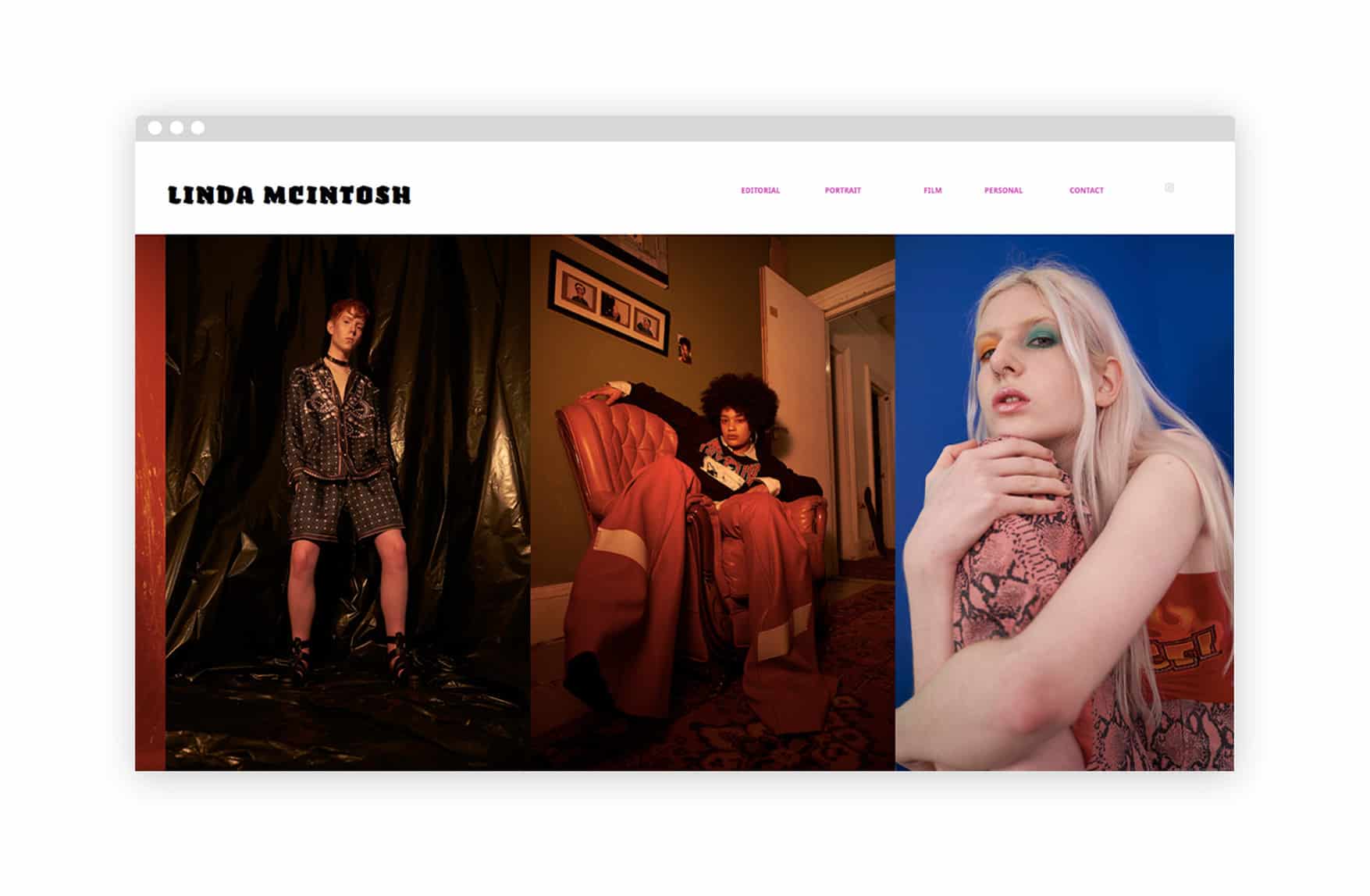 Based in Glasgow, Scotland, Linda McIntosh is a stylist as well as a fashion photographer. Her shoots, for magazines like Cake, Sicky, and Sukeban, are daring and often amazingly weird. Her fashion photography portfolio features photos that fill up the entire screen, giving the viewer an immersive, non distracting feel.
Based in New York, photographer Monet Lucki moves between shooting high fashion (Vogue, fashion week backstage) and intimate, personal work that includes portraits and scenery. Lucki's portfolio allows for simple navigation between her varied work, which she keeps pared down, with just three categories of images and a separate page for press mentions.
A multilingual talent with a background in art history, Swiss photographer Christine Kreiselmaier has an enviable portfolio that includes shoots for Vogue, Elle, Tatler, and much more. A large logo and clean header menu add a professional feel to her website. Her theme uses the parallax effect for infinite scrolling, which eliminates the need for pagination.
UK photographer Constance Victoria Phillips's super clean and classic aesthetic has lead to her snagging shoots with brands like Nike and Urban Outfitters. Her portfolio displays a wide variety of work in a neat grid, an ideal way to show off the portraits that are her specialty.
This Copenhagen-based fashion photographer keeps her portfolio minimal, with a homepage that shows off a selection of work highlights and a sidebar gallery sharing specific categories of work. Staugaard has worked with Elle Denmark, Pansy Magazine, and Boys By Girls, and displays easy-to-read captions below each photo so clients can get a feel for her varied style.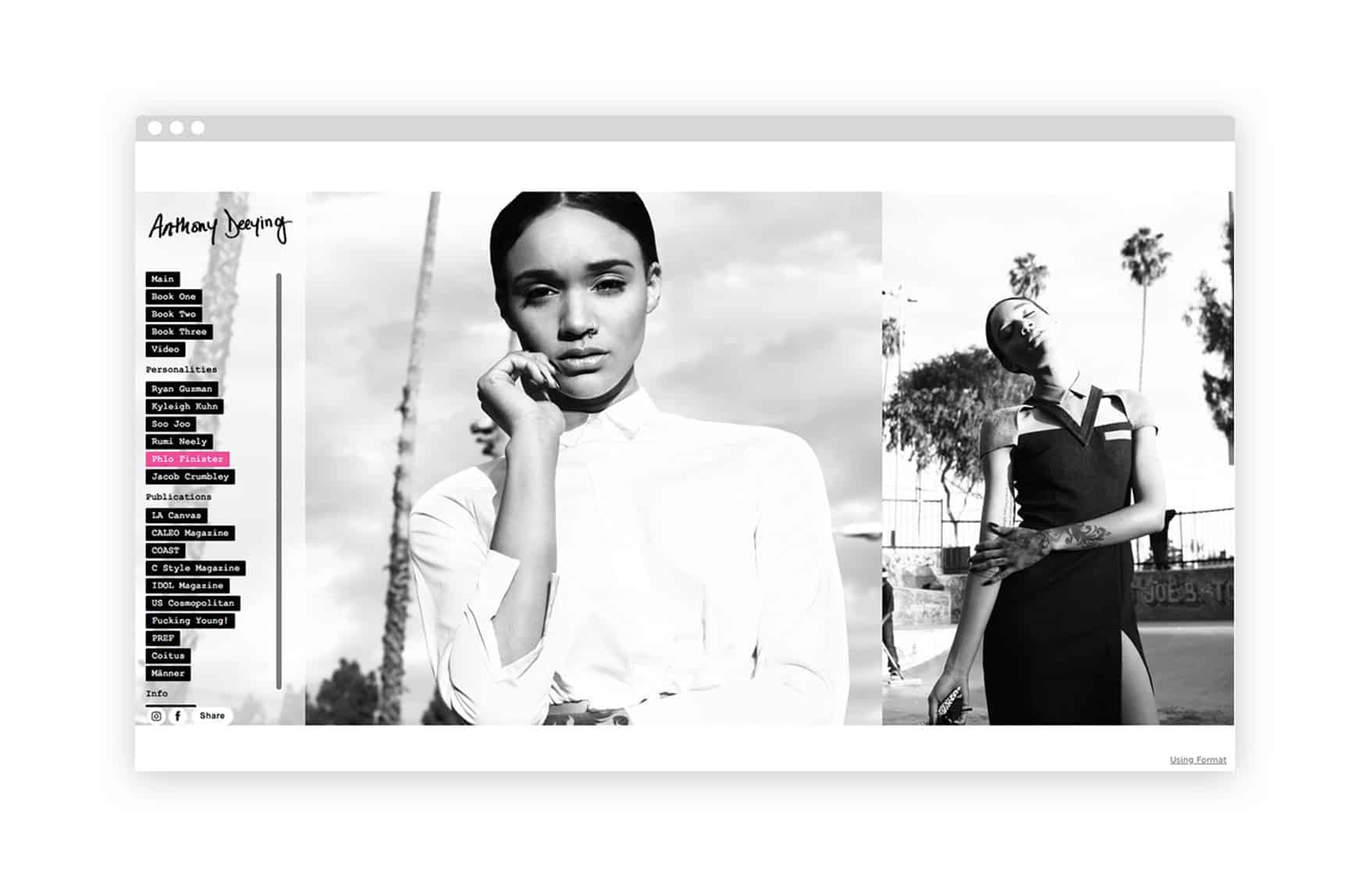 Anthony Deeying holds your attention right away with a landing page that features a looping gif of his best images. The New York photographer's black and pink sidebar menu is a unique touch that adds some personality to an otherwise simple portfolio. The choice to let photos fill up the entire screen also helps give Deeying's portfolio a strong impact.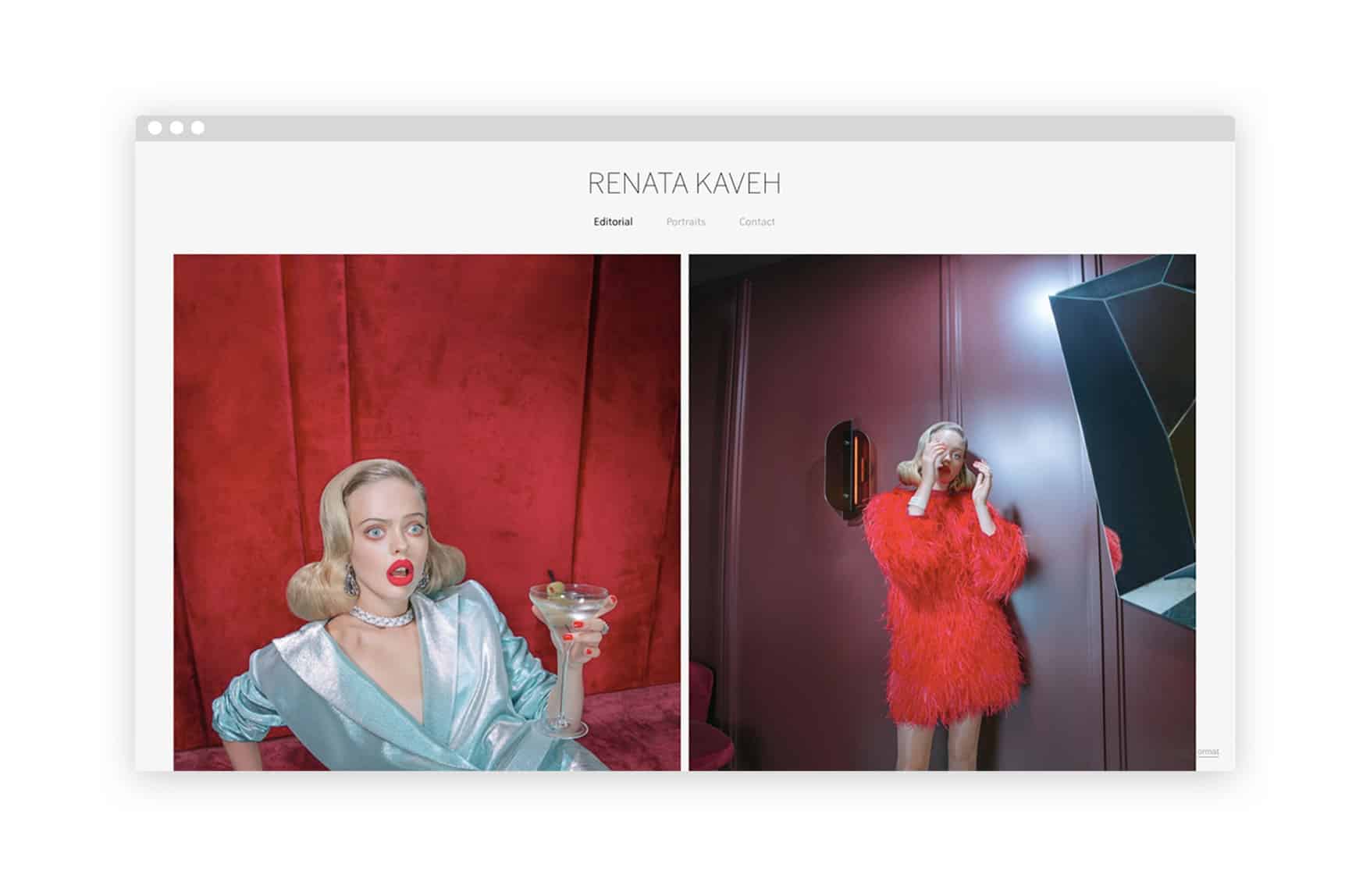 Toronto fashion photographer Renata Kaveh's portfolio is as bold and impactful as her work. A color-coordinated editorial gallery acts as her homepage, highlighting her best shoots in one easy-to-view page.
This London-based photographer uses Format's Horizon Left theme to organize her work, which can be viewed in the form of a highlight reel or via a menu organized by publication and story. Her shoots are intimate and sweet, with bright, retro colors and natural settings taking center stage.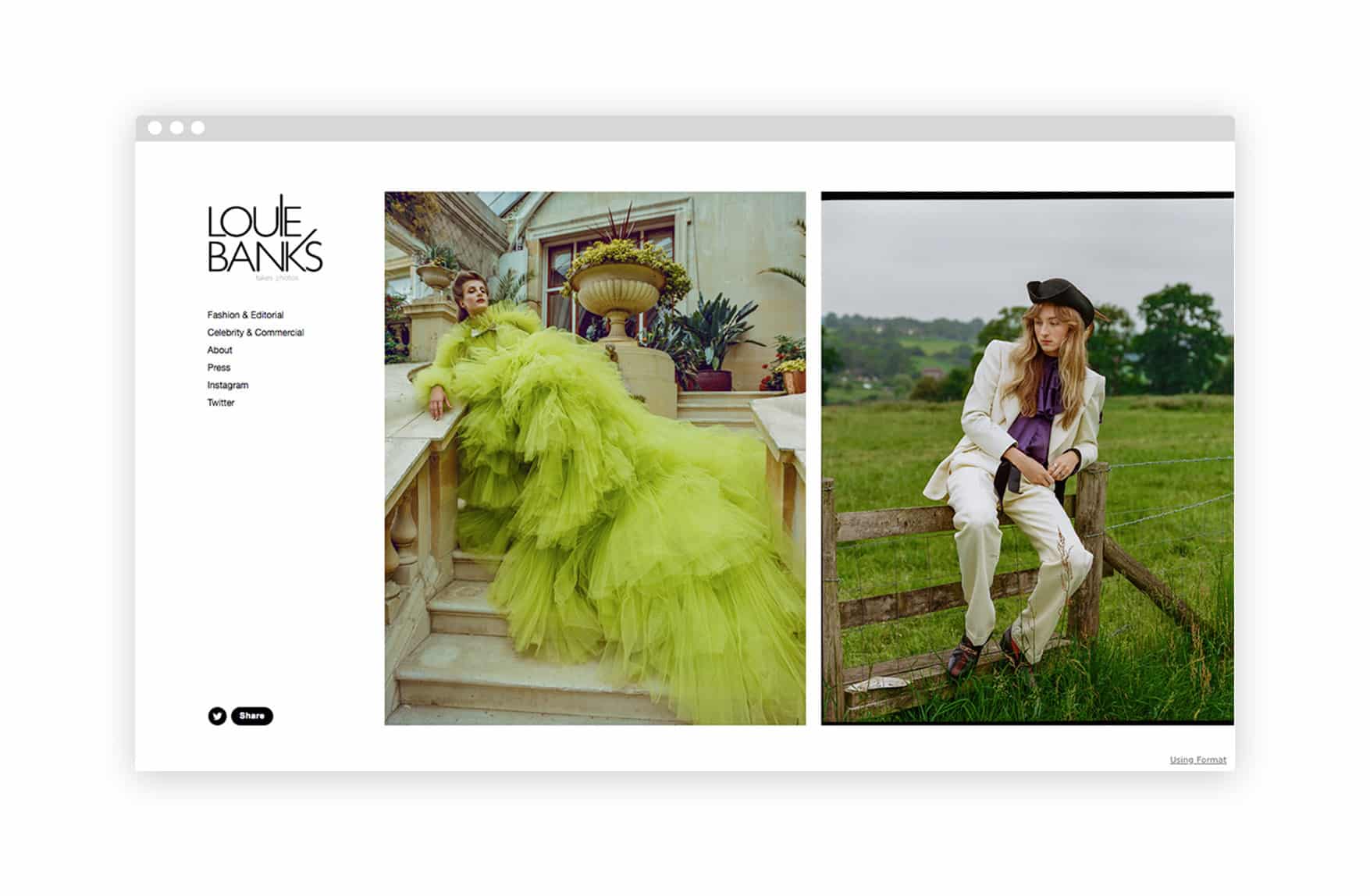 Photographer Louie Banks displays his work on a homepage with a selection of shoots for magazines including i-D, Sleek, and Tatler. He's also shot celebs like Lindsay Lohan, Amber Rose, and Ellie Goulding. This combination of high-profile brands and celebrities interspersed within the home page demonstrates Banks' credibility and experience as a fashion photographer.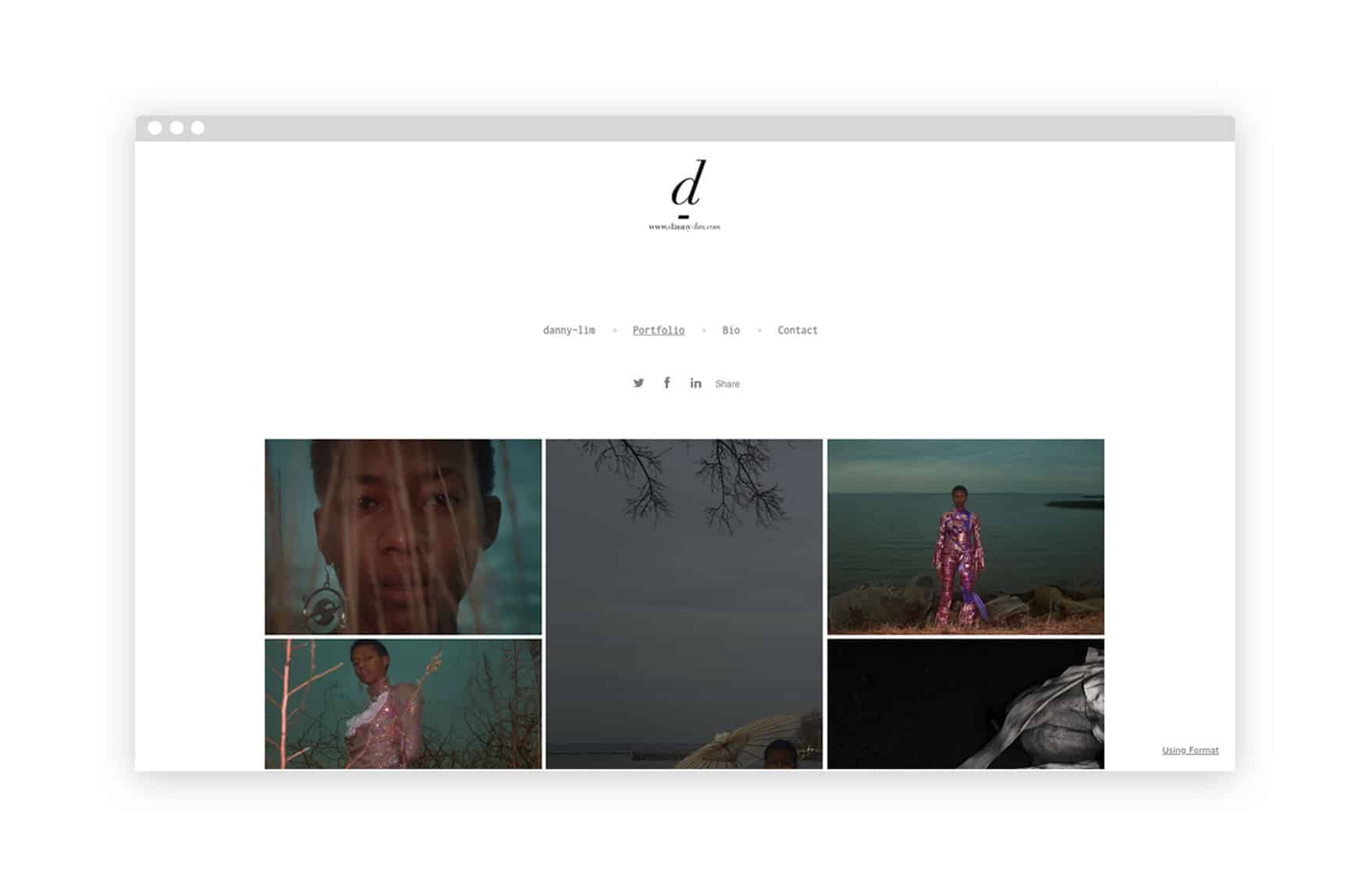 Malaysian photographer Danny Lim's landing page immediately draws you in to his work with a close up portrait. The globetrotting photographer has worked with publications like Elle and Nylon, and his images are fresh and creative. Past his stunning landing page, Lim keeps things organized with a neat grid layout.
Based between Paris and London, photographer Wendy Huynh's images are creative, funny, and striking. Her portfolio is diverse: she's shot for high-end streetwear brand sans nom as well as a Central Saint Martins x Gucci project, and she also shows off an imaginative selection of personal projects and travel photography. Organizing different work under separate dropdown menus keeps Huynh's portfolio professional.
Recent fashion photography grad Katt Webster, currently based in London, creates a classic portfolio with a pale pink background and a horizontally scrolling layout. Webster uses just one page to showcase her work, offering visitors a brief introduction to her boldly colorful work.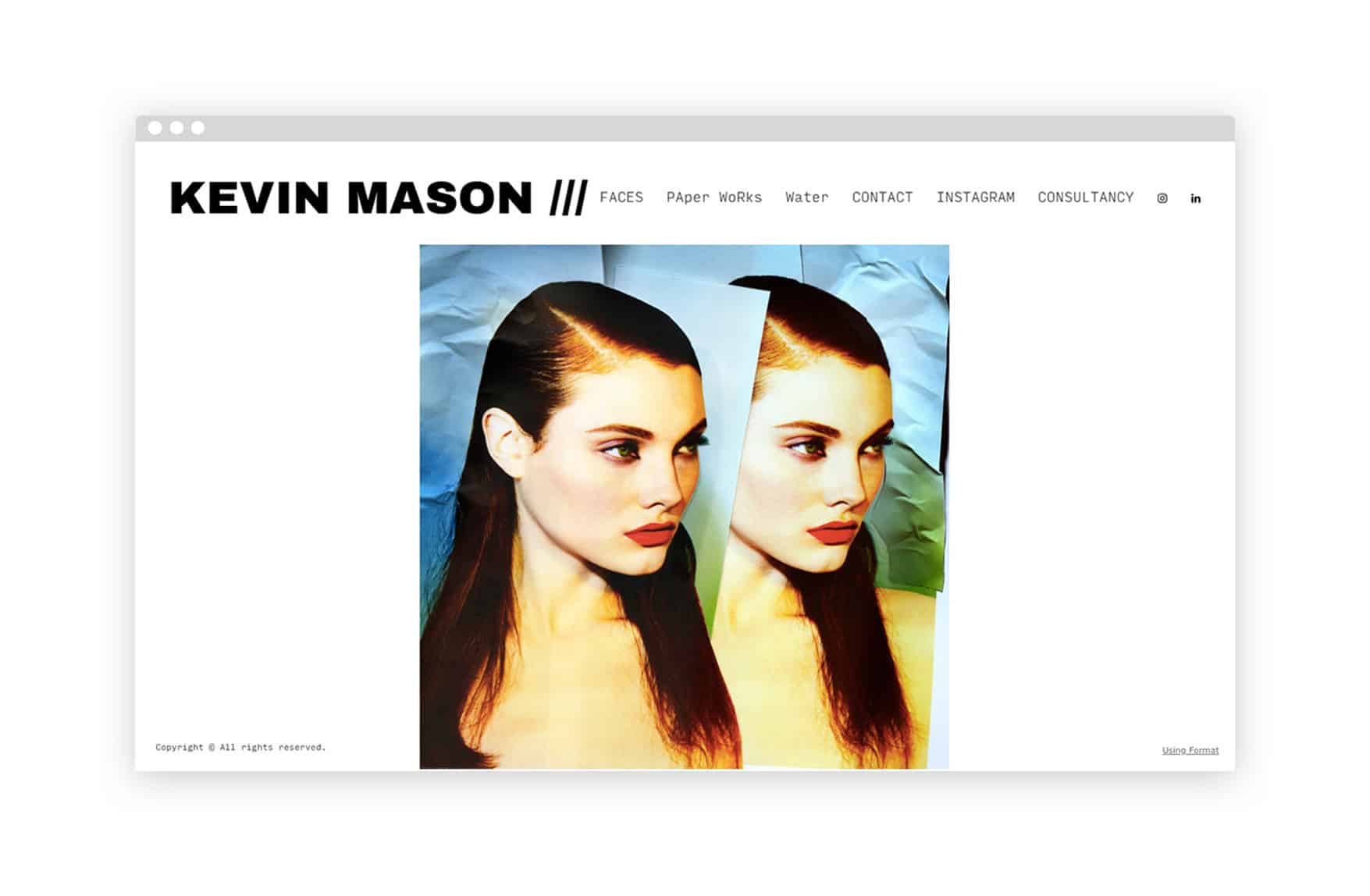 London photographer Kevin Mason's work is authentic and sometimes messy. He doesn't believe in retouching. "I believe in a fresh and realistic portrayal of youth," Mason shares in his bio. This attitude comes across in the playful vibe of his work, which is displayed with a navigation screen that allows visitors to scroll through a selection of images.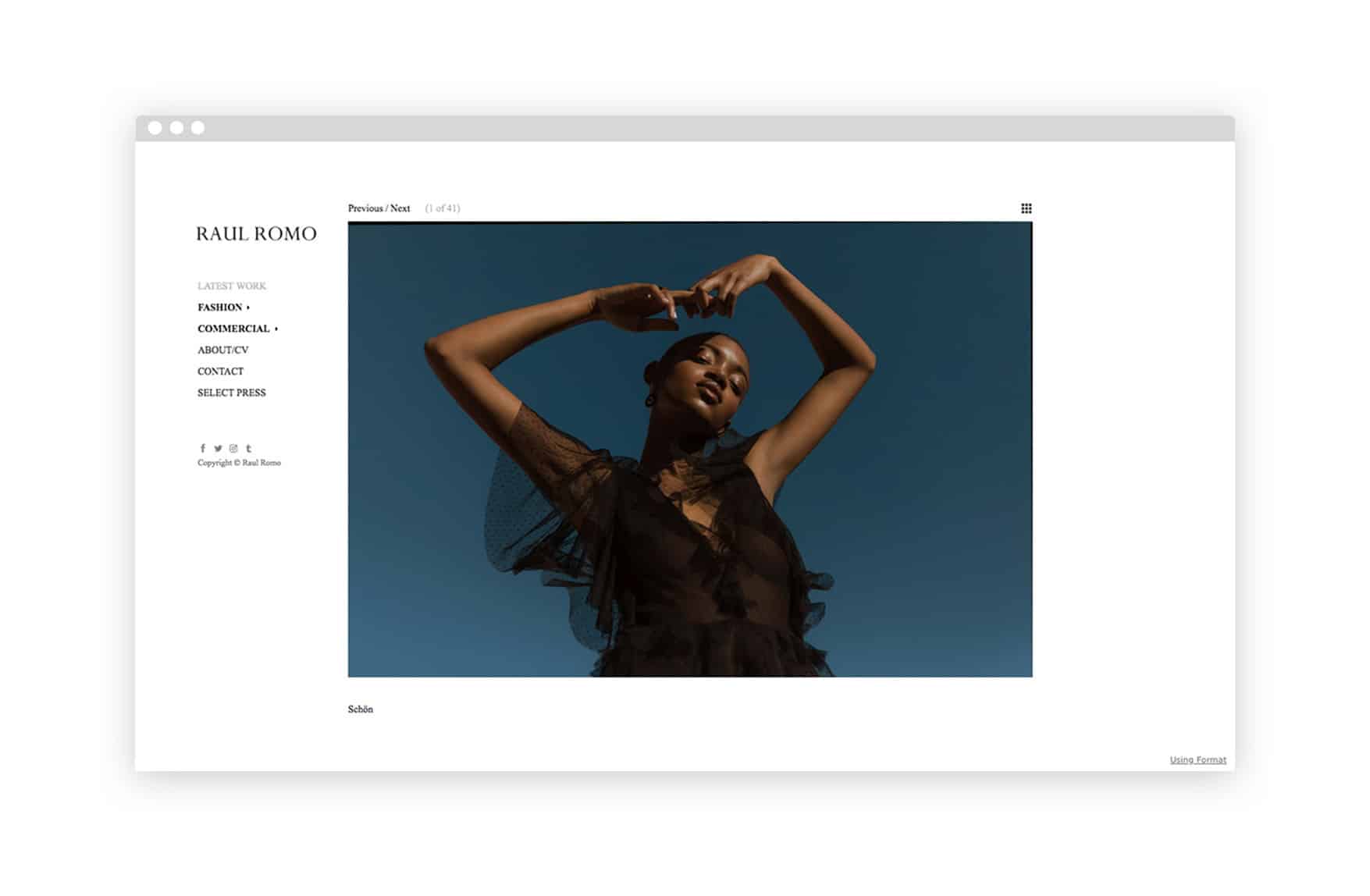 This prolific LA-based photographer has shot for a wide variety of publications, from Nylon Singapore to Complex to Cosmopolitan. He uses a sidebar menu to organize his work into categories of Fashion, Commercial, and personal shoots.
French photographer David Ferrua, who is based in Paris, has shot for Vogue, Allure, and GQ, working with a range of high profile brands such as Estée Lauder, Neiman Marcus, and Chanel. He showcases a selection of tear sheets on his homepage to give his fashion portfolio an editorial feel.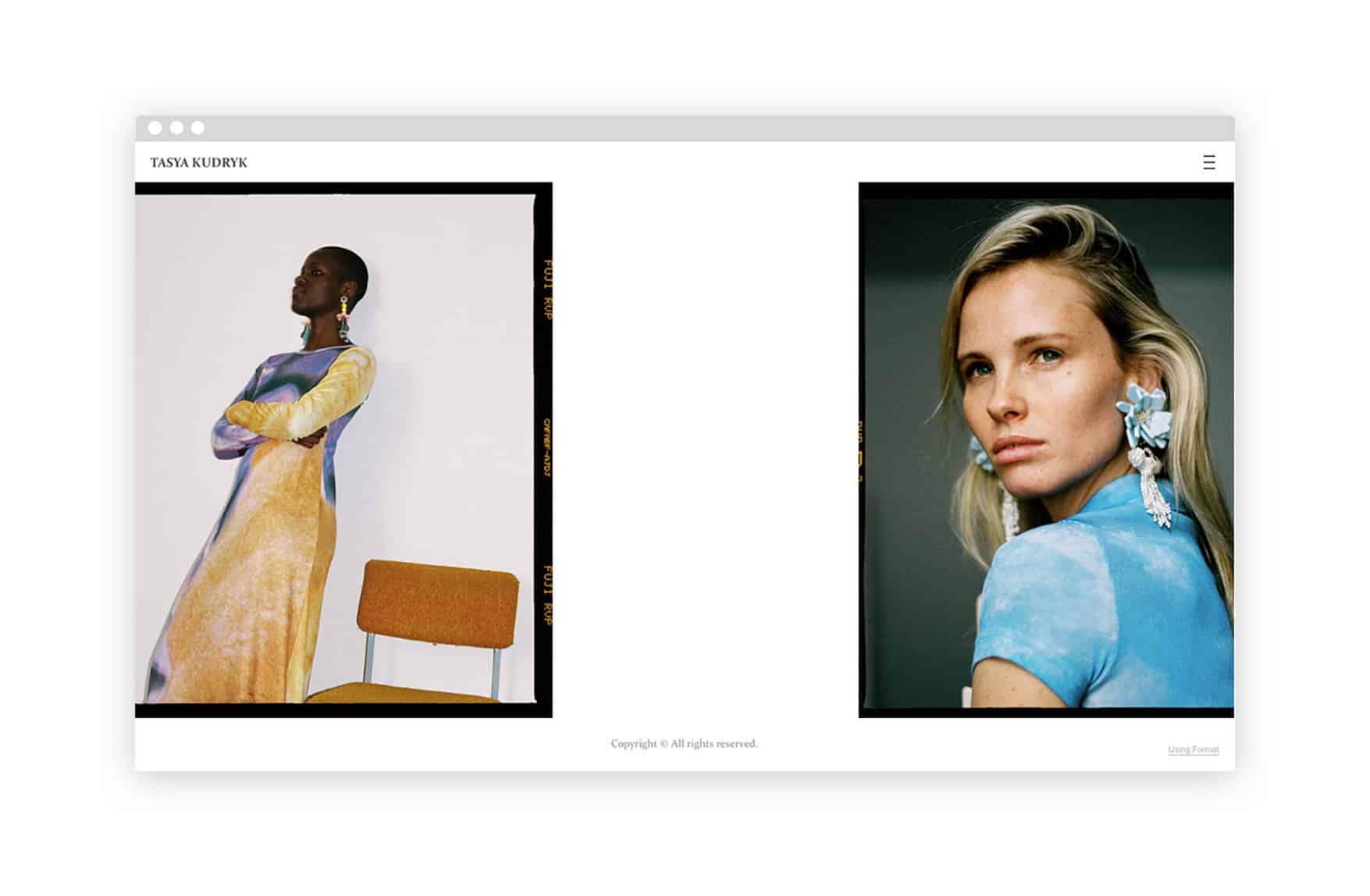 Ukranian photographer Tasya Kudryk works in Kiev, Berlin, and Warsaw. In addition to editing a magazine, Thisispaper, Kudryk has shot for Kiev label Kofta, among other streetwear brands, as well as Vogue.com and Harper's Bazaar. She uses the elegant, white space-heavy Beacon theme to showcase her fashion photography.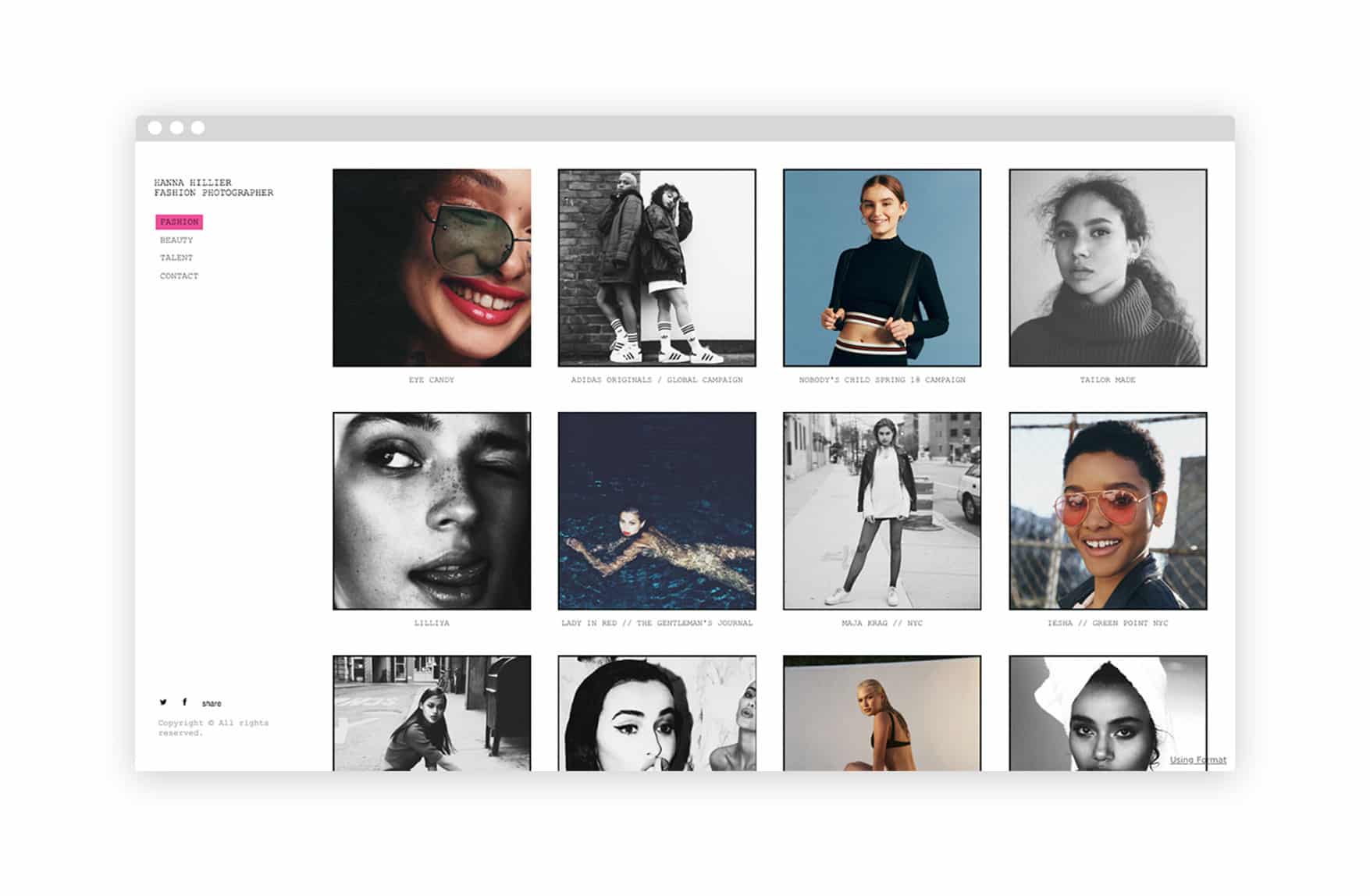 Fashion photographer Hanna Hillier, based between London, LA, and New York, has worked with clients like Adidas, Nike, and Nars. She divides her portfolio between beauty, fashion, and talent work for ease of navigation, and adds personality to her website with bold pink text.
The Benefits of a good Fashion photography portfolio
A well-designed and intuitive online portfolio will display your fashion portfolio photography in its best light. This is essential for conveying your skills, flexibility, and experience as a photographer.
However, a fashion photographer portfolio also needs to be straightforward and easy to navigate for online visitors. This will allow prospective clients to find and explore your work and get in contact with you. The fashion photography portfolios below are great examples of ways to incorporate individual style with simplistic design.
Get started with your fashion photography portfolio
Now that you have got the creative juices flowing from our curated list of portfolio examples, it's time to create your own fashion photographer portfolio. Format's online portfolio designer allows you to dive straight into designing your dream portfolio. With a drag and drop builder and a range of templates specific to fashion portfolio photography, the sky's the limit to what you can create.
Once you have established your online presence, you can start shooting fashion portfolio photography. Our guide to setting up a shoot provides all of the tips you need to take perfect shots and wow your clients. All of these shots can then be placed in your online portfolio and shared with your prospective customers.
Build your own fashion photography portfolio with Format.
More portfolio design inspiration:
20 Fashion Stylists to Get Inspired By
20 Mesmerizing Portrait Photography Websites
The Most Innovative Photographers Working in Black & White
*Cover image by Louie Banks for i-D.