There is a wide range of video editing software out there. The options range from professional-grade programs that are capable of creating practically any effect you can imagine to simpler video editing apps designed for very specific applications and ease-of-use. There's even free video editing software options.
The latest and greatest programs can cost a pretty penny, but there are also a lot of great tools available for free. To help you choose the right video editing tools, here is a rundown of some of the best options (including some free video editing software!), and an explanation of each of their strengths and weaknesses.
Choosing the right video editing software is very important. Being able to efficiently and effectively edit your videos is an essential step in any sort of video production.
Once you have the right tools to suit your needs, it will simplify the process of crafting your video projects to perfection. The results will help you improve your online video portfolio—and a great portfolio means more clients. Let's get started! First up, we have the top-of-the-line options when it comes to video editing software. These programs are regarded as the go-to editing tools by industry professionals. As a result, they have a wide range of capabilities and it can take some time to learn all the ins and outs.
Video Editing Software for Windows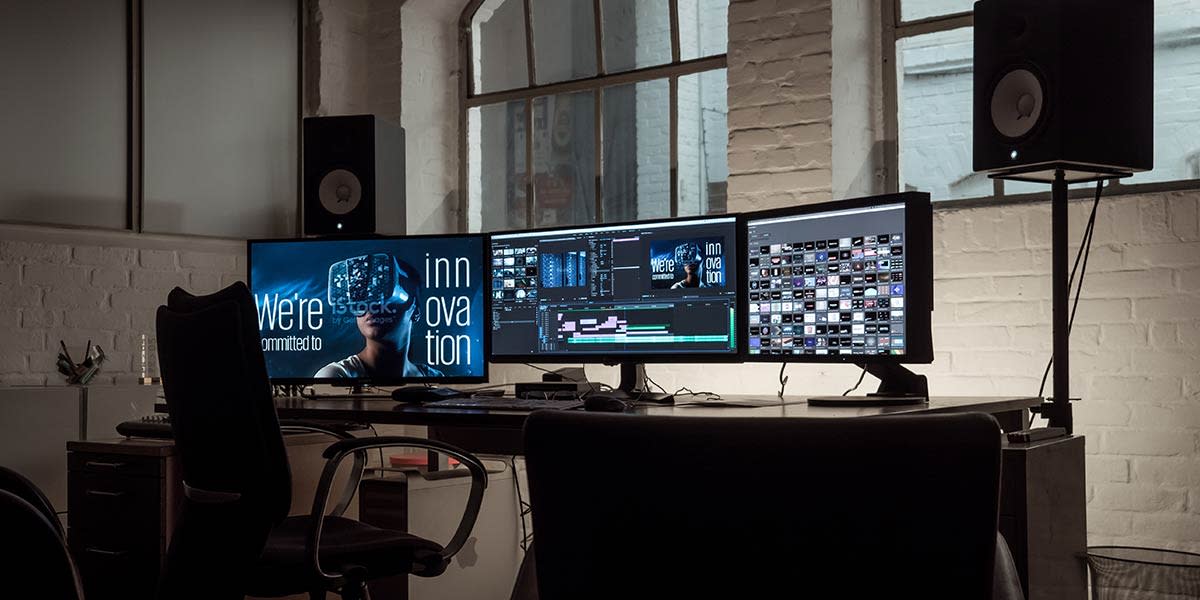 Platforms: Windows and Mac
Cost: $20.99 per month for the standard subscription
This video editing software is the number-one choice across a variety of industries, including video production for TV, film, and the web.
One reason for that is its flexibility. Premiere Pro is capable of manipulating everything about the way your video looks, from making fine adjustments to adding any kind of special effect. It's also capable of importing video from a wide variety of file types, tapes, cameras, and even VR files.
All of the capabilities can make the program intimidating for inexperienced video editors. Its flexibility means every tool and menu has an extensive list of options. As a result, even doing simple tasks can be confusing for newcomers.
However, if you're able to overcome the learning curve, you'll be blown away by what this video software is capable of. And once you understand how to navigate all the options, it also has a lot of smart tools to help simplify video editing.
One example is the option to set a music track to auto-ducking mode, which means the music will automatically lower when dialogue or other sound effects are played, so there's no need to manually adjust it at every point in the video.
The program is also always being updated with new features that expand its functionality even further. So if it's been a while since you've checked out what Premiere Pro has to offer, you should take a look at what's changed. They've recently added a lot of features to add support for VR video editing.
In addition, one of the newly added features is called Lumetri Color tools, which simplifies selective color grading. It allows users to easily and accurately fine-tune the color grading in their videos. That's helpful because tweaking the coloring is an essential step in the post-production of any video, and it's something that even the professionals sometimes get wrong.
Video Editing Software for Mac
Final Cut Pro has long been recognized as the best video editing software for Mac. When compared to Premiere Pro, this program can offer many of the same capabilities with a slightly more user-friendly interface.
The most impressive features it offers include multi-cam editing tools. If you're editing video from a shoot with multiple cameras, you can sync up the video from all your separate angles, even if they have different frame rates or file formats. It has an Angle Viewer tool that lets you see a split screen of all your different angles at once (up to a maximum of 16 angles).
Other notable features include the support for 3D 360-degree video editing and effects, and the tools for collaboration. Using the Frame.io extension, multiple video editors can work on the same file simultaneously, editing clips and adding comments and annotations in real time.
While this video editing program has been designed to make things intuitive, it still offers an array of advanced editing tools and options. For that reason, it may be overkill for some users. But if Mac is your platform of choice and you are looking for a complete video editing solution, Final Cut Pro should be near the top of your list.
Best Free Video Editing Software
While the best video editors tend to come with a hefty price tag, there is also a wide variety of free editing software with professional-grade capabilities. So before you take the plunge and purchase one of the programs listed above, it's worthwhile to see if one of the free programs available meets all of your needs.
Also, while the industry standard software tends to be difficult to get the hang of, the free options below are a bit easier to learn.
Platforms: Windows, Mac, Linux
Cost: Free version available, or $24.99 per month for Pro version
Lightworks is widely known as the best free video editor. Similar to the video editing software listed above, Lightworks is a professional-grade program. The Lightworks website boasts that it has been used in the creation of many big-budget films including Heat, Hugo, Pulp Fiction, The King's Speech, LA Confidential, The Wolf of Wall Street, and Road to Perdition.
Where Lightworks differs from the industry's standard video editing software is that there is a free version of Lightworks that you can use indefinitely. And best of all, the free version offers almost all of the same features as the Pro version. The one major difference is restrictions on the output file formats, as it will only let you export a web-compatible file at 720p. However, that restriction shouldn't turn you off of trying out one of the best video editors.
It has more capabilities than most users will need, so it may take you some time to learn how to navigate all the options it offers. For instance, it has multicam editing tools, project sharing support, and a complete range of effects options. But it is also known for having a well-designed interface, and there are a ton of helpful tutorial videos online that will get you up and running in no time.
The free version makes this video editor the ideal choice for aspiring filmmakers who want to take their editing skills to the next level. It can provide an introduction to the most advanced editing tools and techniques without costing you a dime. If you decide later that you want to be able to output your videos at higher resolutions, you can upgrade whenever you're ready. That means you can take your time learning the program's intricacies without worrying about your free trial running out.
Platform: Windows
Cost: Free version available, $19.99 for Pro version
VSDC Free Video Editor is a feature-packed video editing program that is free to use. It offers a range of capabilities you'd expect from expensive programs. Some examples include support for 360-degree video, green screen effects, and a wide range of customizable special effects.
When compared to Lightworks, it doesn't offer all the same advanced capabilities, but it does allow you to export your videos in a large range of file formats, including 120fps. This video editing software is known for being relatively easy to learn. It has a variety of features that make common tasks easier to perform, such as image stabilization, voiceover support, and a built-in screen capture tool for recording videos from your desktop (ideal for creating tutorial videos and software reviews).
Platforms: Windows, Mac, Linux
Cost: Free version available, $299 for Studio version
Da Vinci Resolve is an advanced piece of video editing software with a complete range of features. One of the most impressive is its facial recognition and tracking capabilities. This feature enables users to do things like easily add face enhancements such as adjusting skin tones, or eye and lip color.
It has all the standard tools you'd expect, like professional-grade color correction and audio mastering. It also features an intuitive interface that makes it simple to slice and trim your video clips, add 2D or 3D titles, and choose from a range of special effects.
Though the program is free to download, it is also available as part of DaVinci Resolve Studio, which includes multi-user collaboration features, 3D tools, and more special effects. The complete DaVinci Resolve Studio version costs $299.
iMovie is the classic, simple video editing software that comes preloaded on Apple computers. If you're looking for an easy way to create a video by adding clips, music, effects, and titles, iMovie has you covered.
Where this program excels is ease-of-use. Every tool and option is presented in a user-friendly way, so even if you've never edited a video before, you won't get lost. It's the perfect choice for someone who's just trying to set up a Youtube channel and post their first Youtube video.
Beyond that, its capabilities are a little limited. But it does offer a way for users to start experimenting with adding various effects to their videos. For instance, there are some creative video filters and options to add special effects like split screens, picture-in-picture, and green-screen effects.
Once you learn how you can use these effects in iMovie to improve your videos, you should think about moving on to more professional video editing software, as it can offer much more flexibility to get creative with your effects.
Free Online Video Editors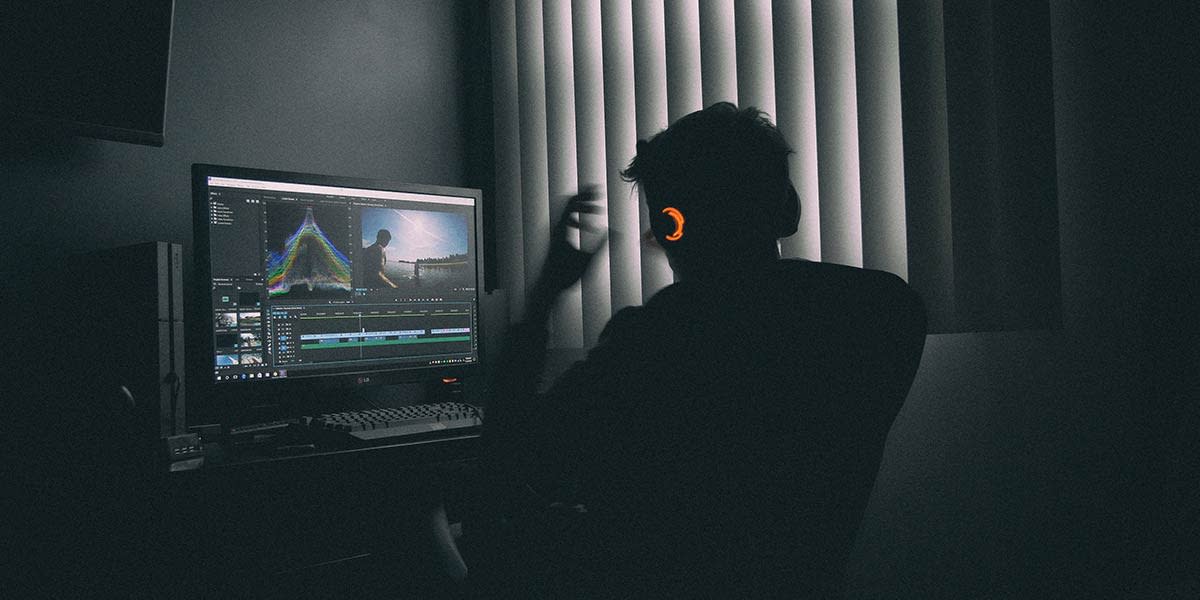 If the video editing software listed above is still a little overkill for your needs, there are a range of free online video editors that keep everything simple. These browser-based tools are ideal if you're looking for a quick way to put together a video and don't want to buy or download a large program in order to do it.
They're also useful for those times when you're away from home or don't have access to your desktop. And they're great for editing short videos for social media. (Want more social media tool intel? Check out our guide to fun social media graphics apps!) Keep in mind that those social media posts can help attract people to your online portfolio website and lead to you finding more work. So, your social media videos should not be taken lightly. Some filmmakers have started doing projects made up of 60-second episodes for Instagram. TIFF also has an Instagram short film competition.
So you should put some real thought and effort into the videos you post to social media! If you're looking for some inspiration, check out this list of YouTube video ideas for creators. Luckily, editing your social media videos isn't complicated if you use one of these free online video editors.
Platform: Browser-based
Cost: Free This free online video editor doesn't look like much from the landing page, but don't let that fool you. It has a range of features that make it surprisingly flexible.
The website design isn't very attractive and the layout is a little weird. So all you'll see when you first visit is the section for adding content. It has some plain-looking buttons that will let you do things like upload video clips, add music, or add text.
But, if you scroll down, you'll see the editing window, project timeline, and some of the tools this editor offers. You can drag and drop video, images, or music onto the timeline. It includes a variety of options for filters, transitions, text overlays, and fade options for both video and audio.
It also makes it very simple to add royalty-free music and images. You click one button, and it opens a searchable database. Once you see something you like, you click the "add" button next to it and it gets added to your project timeline. No fuss, no muss!
While it does have some idiosyncrasies that could take some getting used to—for one, it displays the separate tracks vertically instead of horizontally—it also makes it simple to figure everything out by including clear descriptions of the all tools and features at the bottom of the page. Once you spend a little time with it, you'll see why it's regarded as one of the best free online video editors.
Platform: Browser-based
Cost: Free Adobe Spark is a free online video editor that excels at simplicity. First, it offers a range of video templates to help you shape your video. Templates include things like "Promote an Idea," "Show and Tell," and "A Hero's Journey".
The templates will help you get started on your video by creating a timeline of suggested shots. For example, the "Show and Tell" template has shots labeled "about me," "what it is," "why," "show it," "why I'm sharing it," and "call to action." As you click on each suggested shot to begin adding content, the editor provides a prompt to help guide you. For instance, the "about me" shot prompts users to "introduce yourself—make it personal to connect with your audience, or reinforce your credibility."
These kinds of prompts can help keep you on track if you are struggling to decide what to include in your videos.
Another way Adobe Spark makes things easy is with its super-intuitive design. Even if you've never looked at a video editing program in the past, you shouldn't have much trouble figuring this one out. One example is how you change the length of a clip. Whenever you have a clip selected on your timeline, the preview window includes a clearly visible number at the bottom right that shows how many seconds long it is. The number has a lowercase "s" behind it so there's no second guessing whether you're dealing with seconds, minutes, or frames. When you click on the time, a slider pops up so you can easily adjust it.
This kind of simplicity extends to every part of the editor. Since it doesn't have a ton of advanced features, it has a very clean, minimalist design.
The simple tools it does offer include the ability to create titles, add music, and apply color themes. It also makes it easy to create square videos specifically for Instagram. Making it faster and easier to share your videos on Instagram is a great feature, since regularly posting new content is a key part of making a real impact on Instagram.
Video Editing Mobile Apps
For those times when you want to edit a video on the go, you're going to need a video editing app for your phone. Whether you're trying to create the next big viral video or just experiment with making a cinemagraph, these apps are the answer.
Platform: iOS
Cost: Free Splice is a handy video editor for iPhones and iPads. It offers all the basic tools you'll need like adding titles, transitions, trimming, cropping, effects, speed controls, and more. It also offers a large library of free music and sound effects.
In addition, this app makes it fast and easy to overlay multiple audio tracks, adjust the volume of each, and add narration.
It features a simple interface that is easy to use. It will let you edit a video and have it ready to post to your website or social media feed in no time. As a result, this app is ideal for when you are on the go and need to edit a simple video quickly.
Platform: iOS and Android
Cost: Free This video editing app offers the benefit of being able to sync with other Adobe programs like Premiere Pro or Lightroom. But it also stands on its own as a useful mobile video editor.
Create a simple video with the trimming, transitions, speed control, and color correction tools. When it comes to adding music, you can upload your own or choose from the included library.
One unique feature of this app is that it has two modes: Freeform and Automatic. In Freeform, you can use the tools listed above to create a video to your liking. But automatic mode makes things as simple as possible by automatically choosing the transitions and trimming your clip for you.
Show Off Your Videos
Now that you know about some of the best video editing software available, you should pick one that seems like a good fit for you and put it to use! Once you start producing some great videos, it's time to show them off.
While posting your videos to social media is a great way to gain some attention and start attracting more clients, if you want a more professional way to show off your videos, you should have your own online video portfolio.
This is especially important if you're thinking about starting your own film production business. Having your own website is essential: it looks more professional, it gives you the chance to present your work in exactly the way you want, and it can help you find new opportunities.
Don't worry! Even if you've never built a website before, it's easy to get a portfolio website up and running—as long as you choose the right platform.
Here are some features to look for when picking a website builder. Look for a site that makes it easy to embed videos and won't automatically downgrade the quality. Another key feature is dynamic templates that will let you quickly create an attractive—and customizable—website.
If you are looking for some video portfolio inspiration, check out these cool videographer websites for help.
Ready to book more video clients? Create a stunning portfolio to showcase your work and get new gigs. Start your free trial with Format today, no credit card required.
Now, it's time to put your plans in motion—good luck with all your videos!
Want more video intel?
Take Your Video To The Next Level With These 10 Great Gimbals
Filmmaker Dean Fleischer-Camp's New Fraud Is Amazing
Game of Thrones Cinematographer Explains His Visual Influences