Build your professional portfolio website in minutes. Start your free 14-day trial today, no credit card required.
Digital photographers have been arguing that analog is over pretty much since digital cameras were invented, but there's a passionate crowd who insist that film photography is only getting more popular. When it comes down to it, there's just something compelling about the grainy depth of analog images. Plus, the spontaneous feel of shooting film is hard to imitate when you know you can store hundreds of RAW files on your memory card.
Developing film can be pricey, but analog gear often comes cheap—you can easily pick up a decent SLR from brands like Pentax or Minolta for under $100 on eBay. And with companies like Impossible Project and Lomography reviving instant film photography, there are more and more options out there for shooting analog.
Does this sound like a style of photography that might interest you? Have you taken a look through analog photography portfolios to get a feel for how this style comes across to those who might be looking to book you? If not, we've got a treat for you.
Get Inspired With These Film Photographers
From Tel Aviv to Toronto to Kansas City, we've got a mix of both famous film photographers and those who are just starting to build their careers, so that hopefully you'll be able to find a portfolio that resonates with you and your artistic style. Check out these film photography portfolios for yourself, and we've got a feeling you'll no longer question whether or not film photography is alive and well.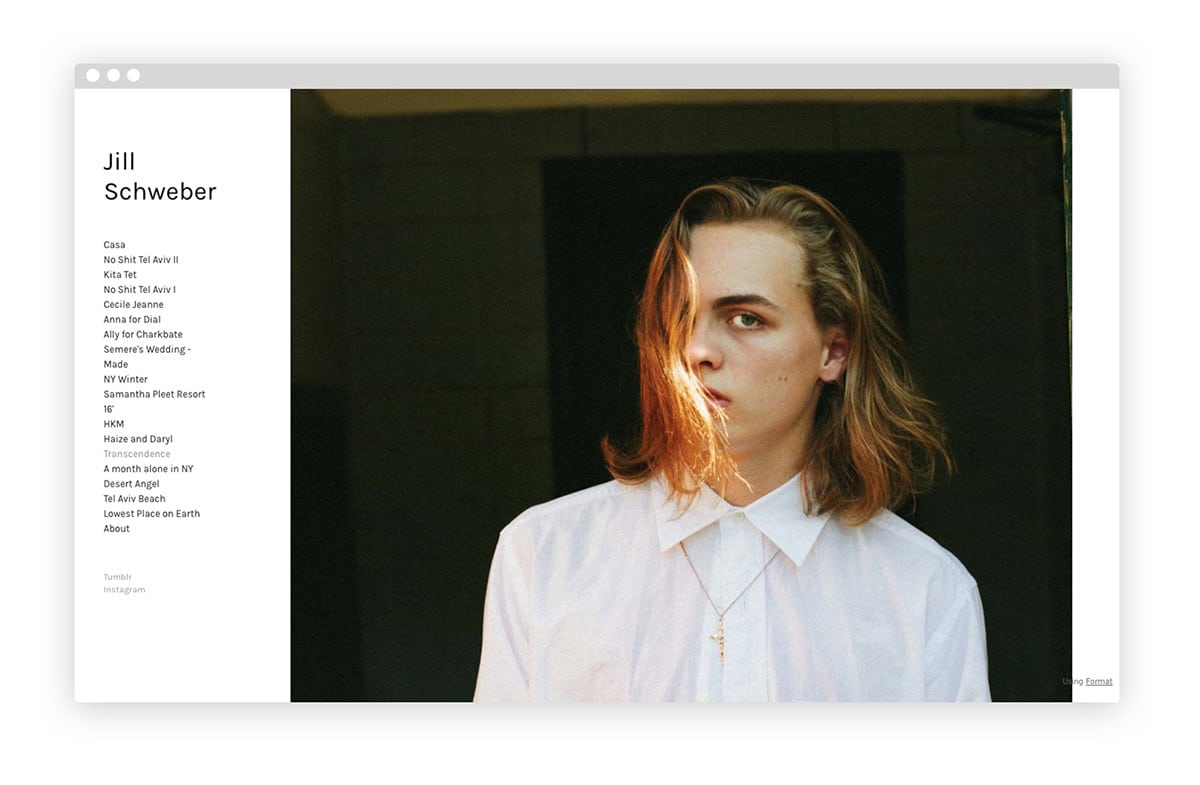 Currently based in Tel Aviv, by way of Vancouver, Canada, Jill Schweber provides us with one of those analog photography portfolios that is full of personality and movement. She's worked with Editorial Magazine, Nakid, Contributor Magazine, and Junk. Schweber uses a vertical scroll to display her images in a way that fills up the whole page.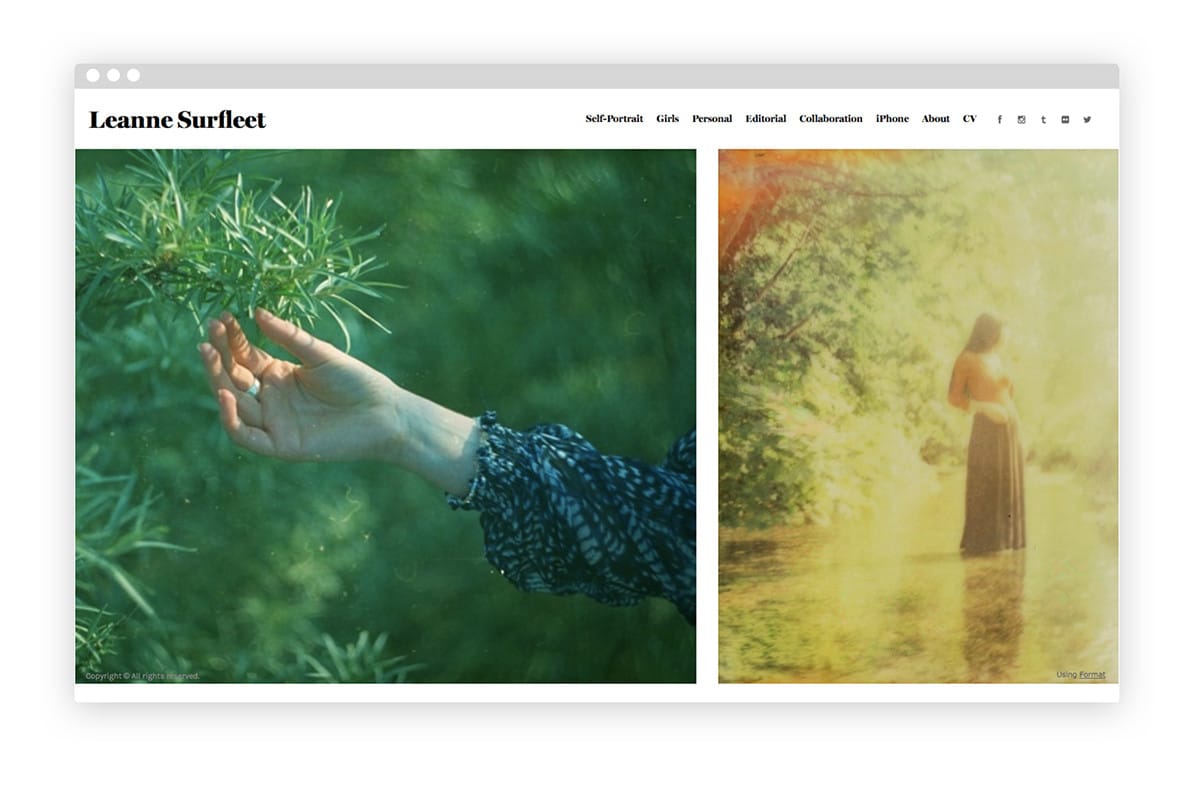 UK photographer Leanne Surfleet specializes in dreamy, surreal film photography. She's worked with Lomography, shooting on their instant film camera, as well as with indie film company Impossible Project. Surfleet uses a classic serif font for her horizontally scrolling portfolio, which showcases a large volume of work using dropdown menus for easy navigation.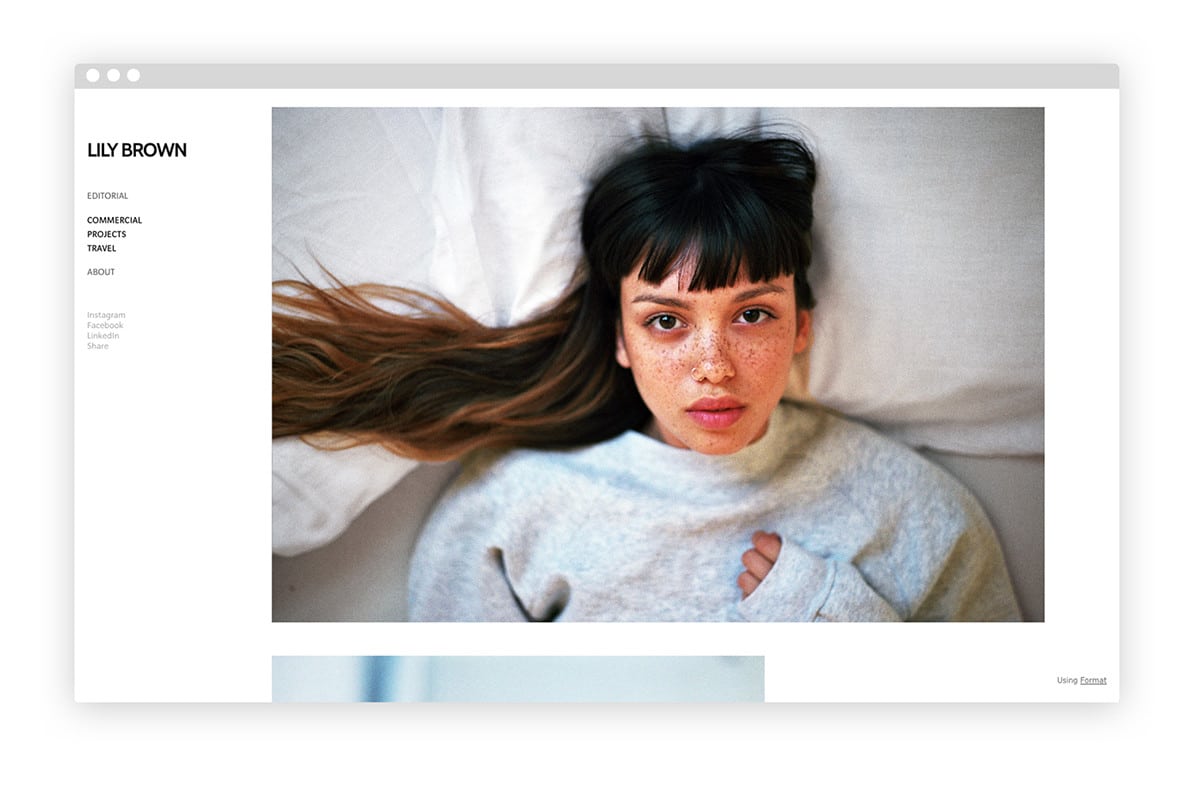 This Brighton, UK-based photographer shoots both analog and digital fashion photos, and is also the co-founder of skate and streetwear platform By The Level. Brown has worked with an impressive roster of clients, including Nike, New Balance, and Converse. She organizes her work by separating it into commercial and editorial projects.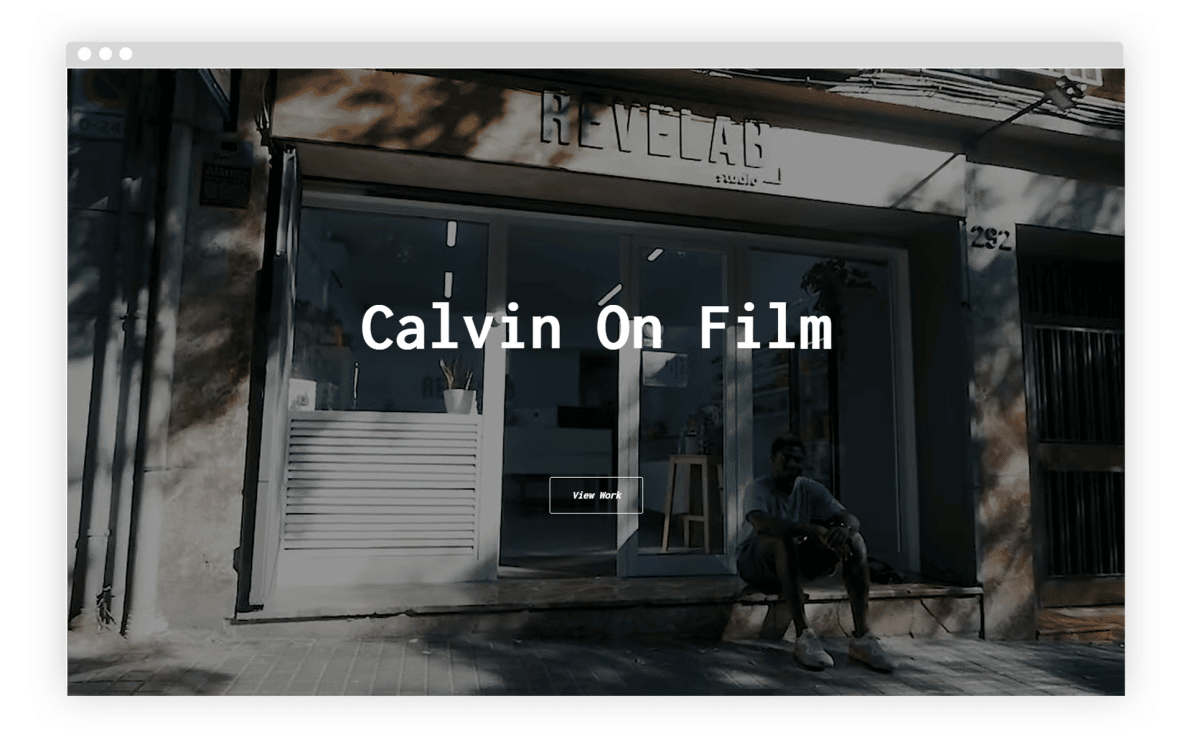 calvin is a Barcelon-based film photographer. Film photography began as a way to have souvenirs from Calvin's travel. It has now become a passion for Calvin and he tries to capture things he finds beautiful, whether people or places.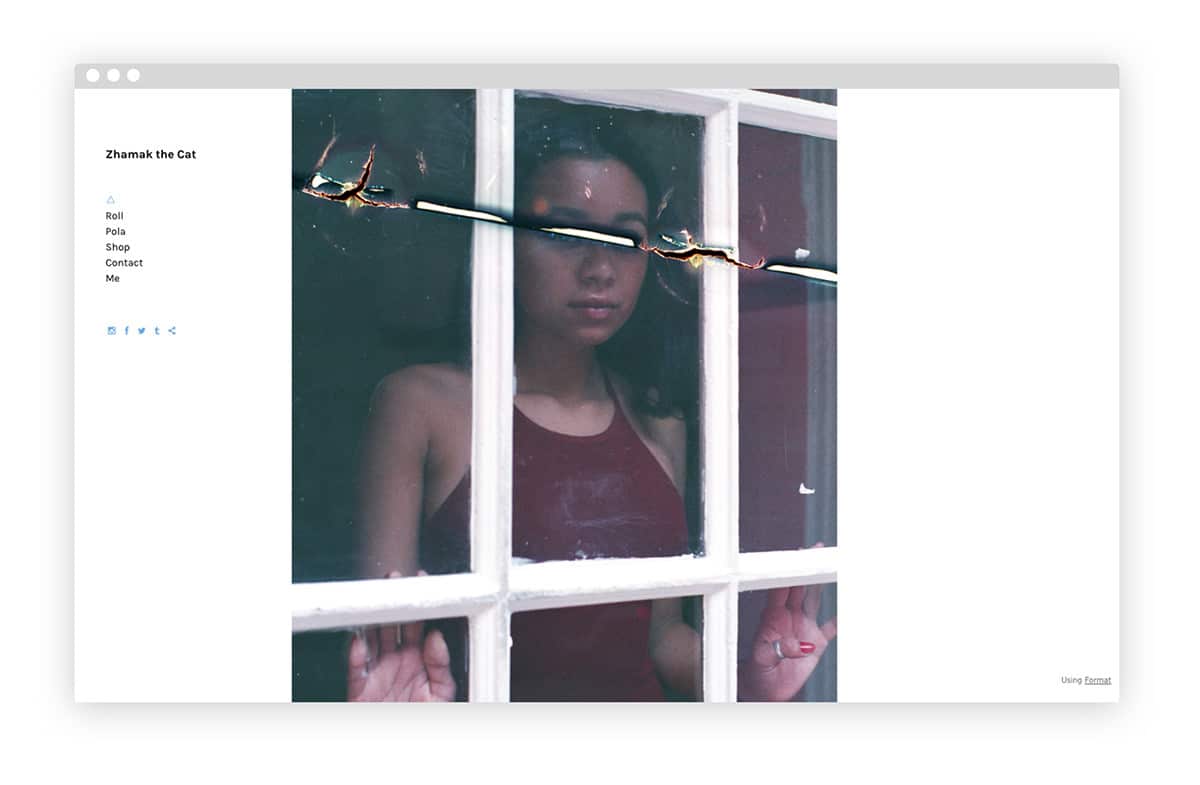 Most recently, this Toronto photographer has shot for Galore, as well as behind-the-scenes work for Roy Woods. She's a pro at capturing the vibe of a party or a set via 35mm film. Fullad shows off a relatively simple approach to analog photography portfolios, using a horizontally scrolling theme to show off a small selection of work.
Check out Fullad's photos in our feature on tattoo artist Jess Chen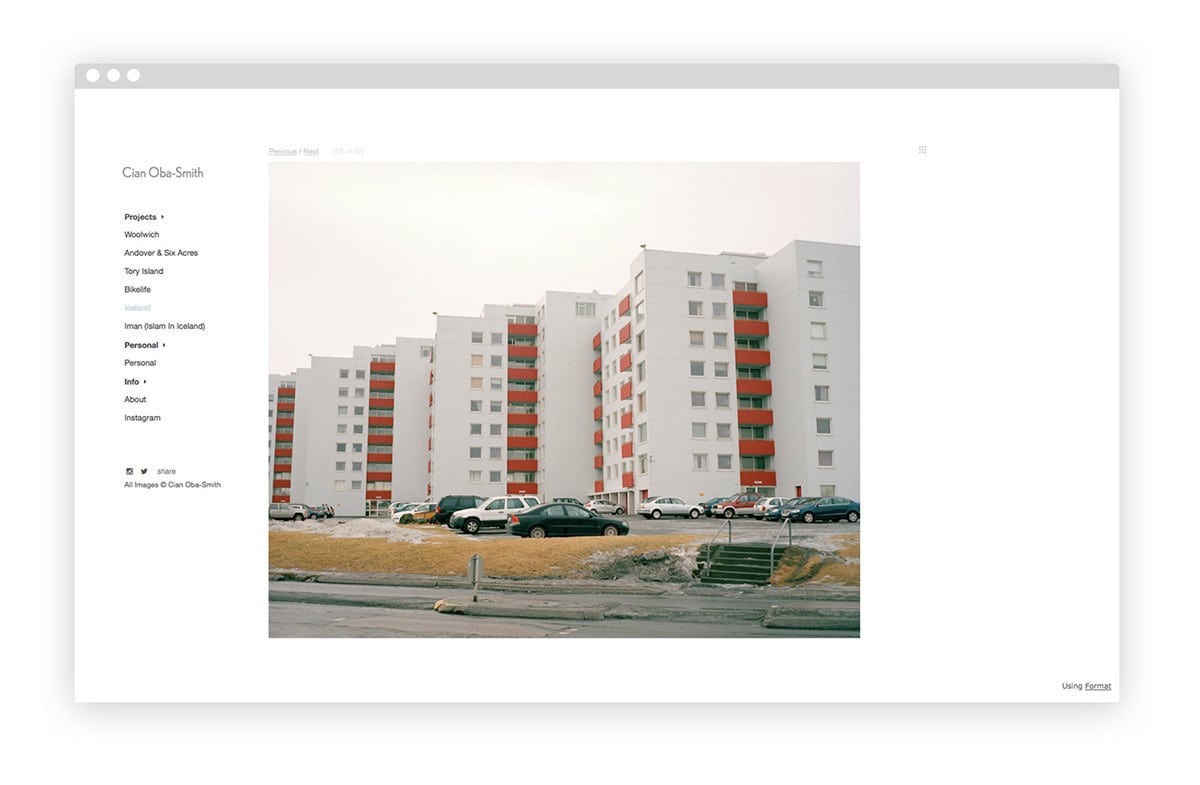 Based in London, Cian Oba-Smith shoots only on film, documenting dirt bikers in English suburbia, the Islamic community in Iceland, and a tiny island off the Irish coast. These are just a few of Oba-Smith's unique film projects. The analog photographer has also been featured in a slew of publications, from The Guardian to Dazed & Confused.
Located in Toronto, photographer Katie Sadie often shoots on 120mm film. Her analog photos are crisp and carefully composed. Sadie especially excels at capturing street scenes, documenting unique personalities and locations on a recent road trip across the United States. She draws attention to her latest work by placing it at the top of her portfolio menu, and making a new series her default homepage.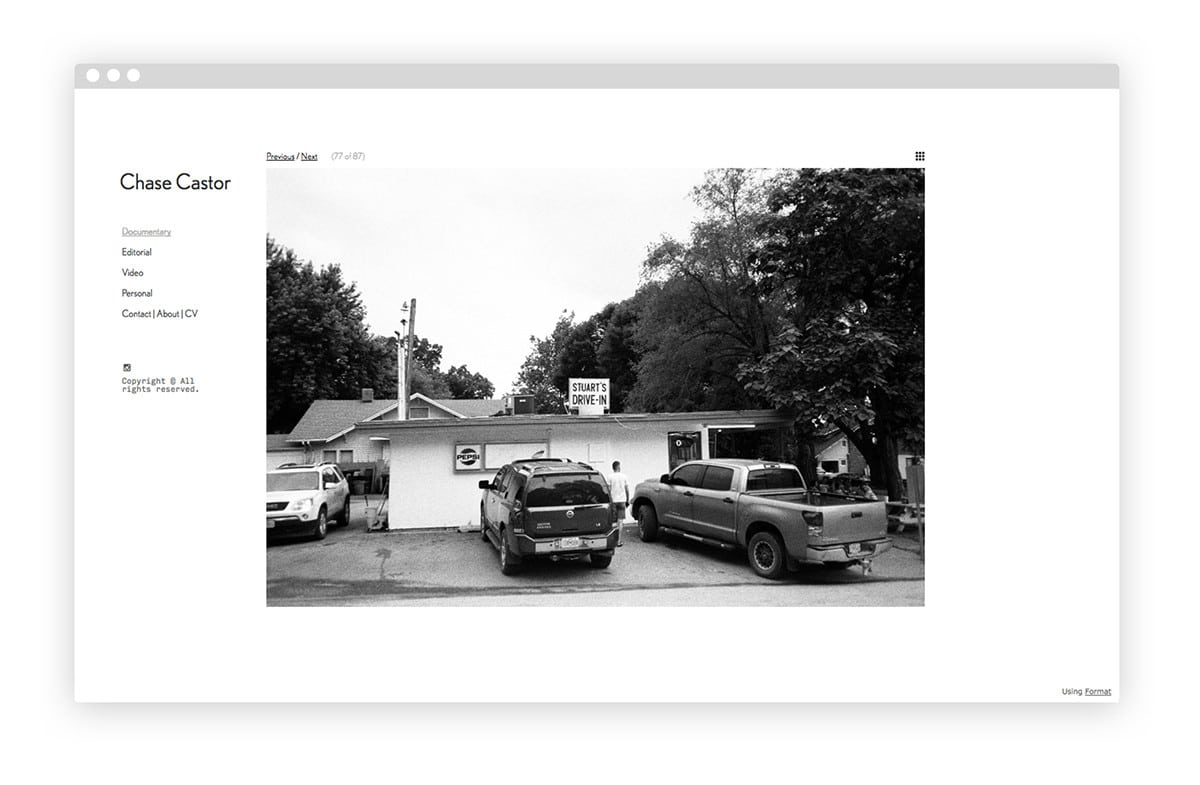 Chase Castor is a Kansas City-based photographer and filmmaker. He specializes in documentary photography, capturing the environments around him with a careful eye, as well as documenting political events, like the recent Fight for 15 minimum wage protest in Kansas City. Castor uses a blog page to share updates about his work while keeping the rest of his portfolio uncluttered.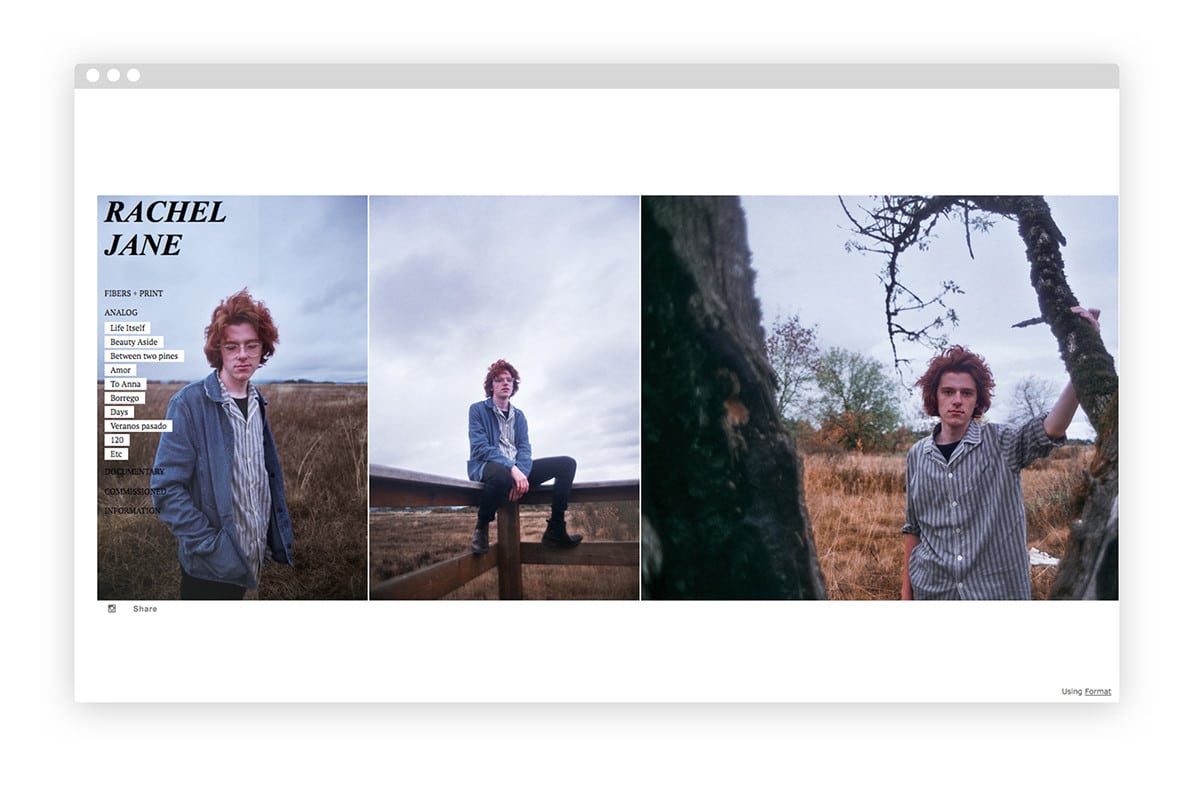 Based in Oregon, Rachel Jane Lemme is both a photographer and a fiber artist. Her analog photography is intimate and richly colored, with a similar vibe to her fiber artworks, which tend towards organic shapes and are often photographed in natural settings. She divides her portfolio up between her artwork and her photos using a simple sidebar menu.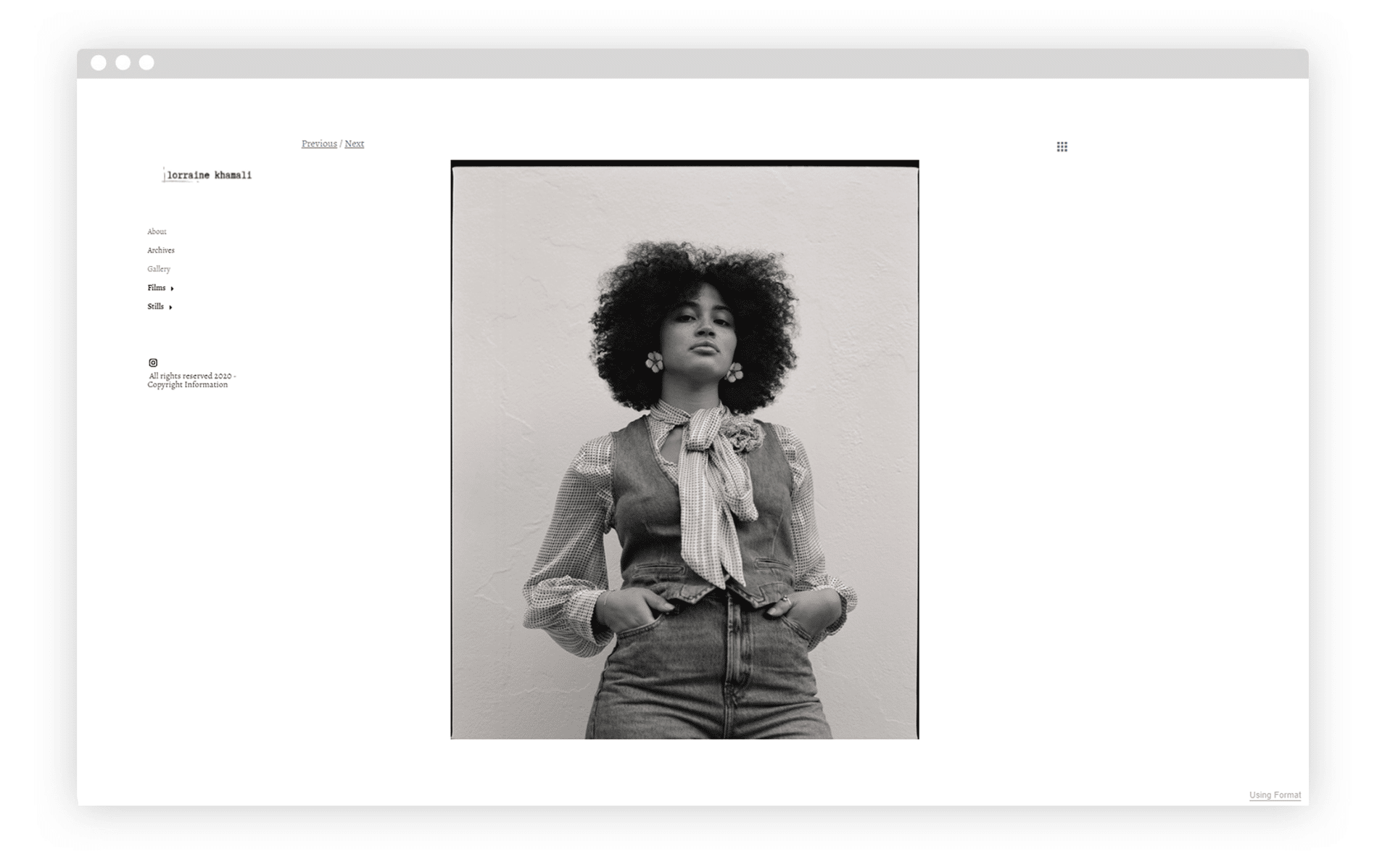 Originally from Kenya, Lorraine Khamali is a London based photographer and filmmaker. Khamali's work involves capturing and documenting intimate portraits showcasing beauty of the ordinary, culture and telling stories inspired by her life experiences and interests in art, literature, music and film whilsts combining fashion and documentary to create her narratives.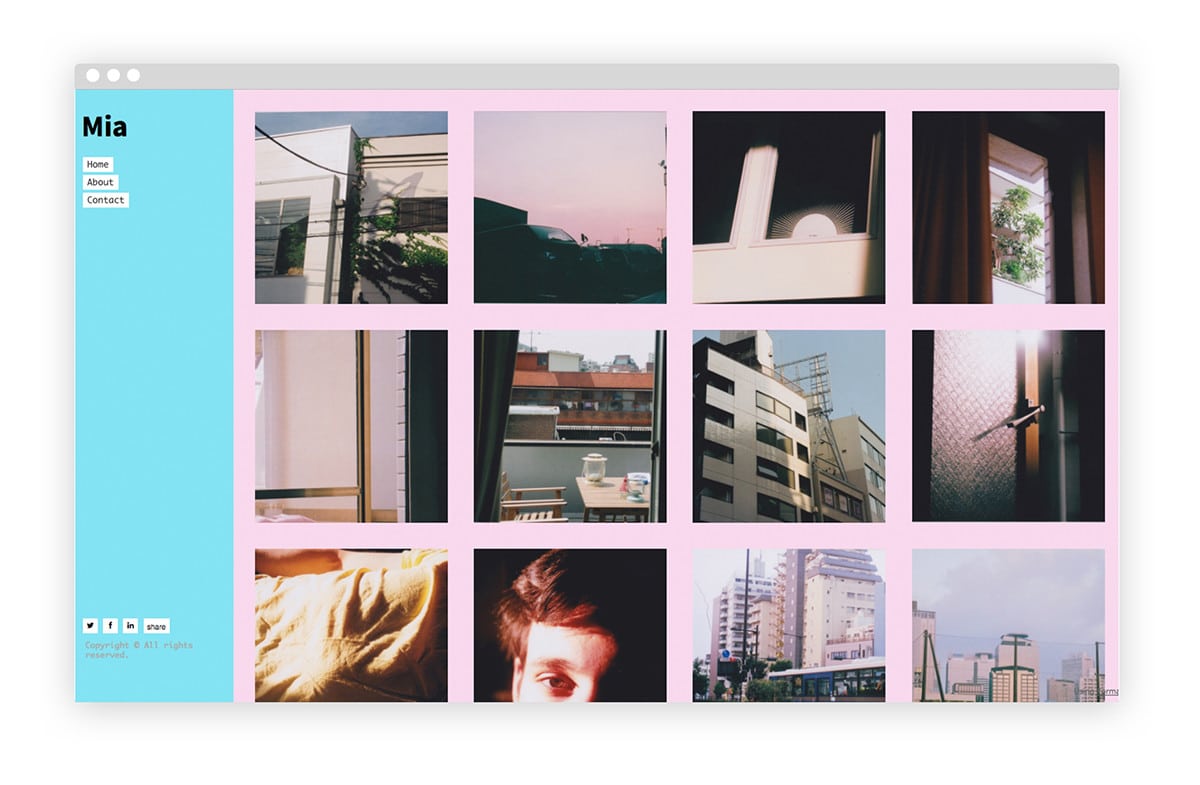 This London-based creative works with mixed media and edits Aether Magazine, in addition to taking gorgeous analog photographs in cities like Stockholm and Tokyo. Mia Sakai organizes her dreamy photography in a neat grid, and uses a sweet pink-and-blue pastel background to make her work stand out and add a poppy aesthetic to her portfolio.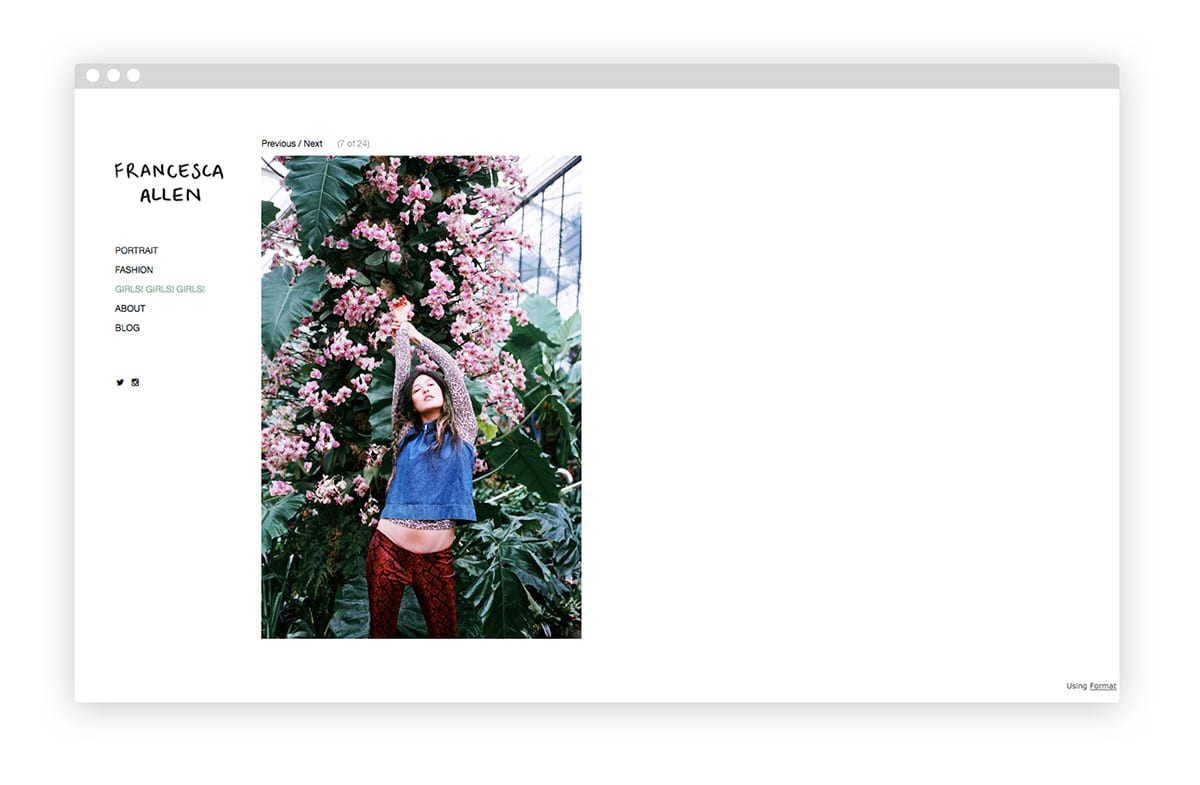 Based in London, photographer Francesca Allen has been nominated for awards by Magnum and Saatchi, and exhibited at galleries including the Serpentine and Southbank Centre. Her analog photos are full of personality and color, and she uses a click-through gallery theme to let each one shine.
Let's Take a Look at Film Portrait Photographers
While most of the photographers listed below show more than just portrait photography in their analog photography portfolios, we wanted to separate out these 5 photographers specifically so that if you are interested in film portrait photography, you can browse through these photographers' work and get inspired.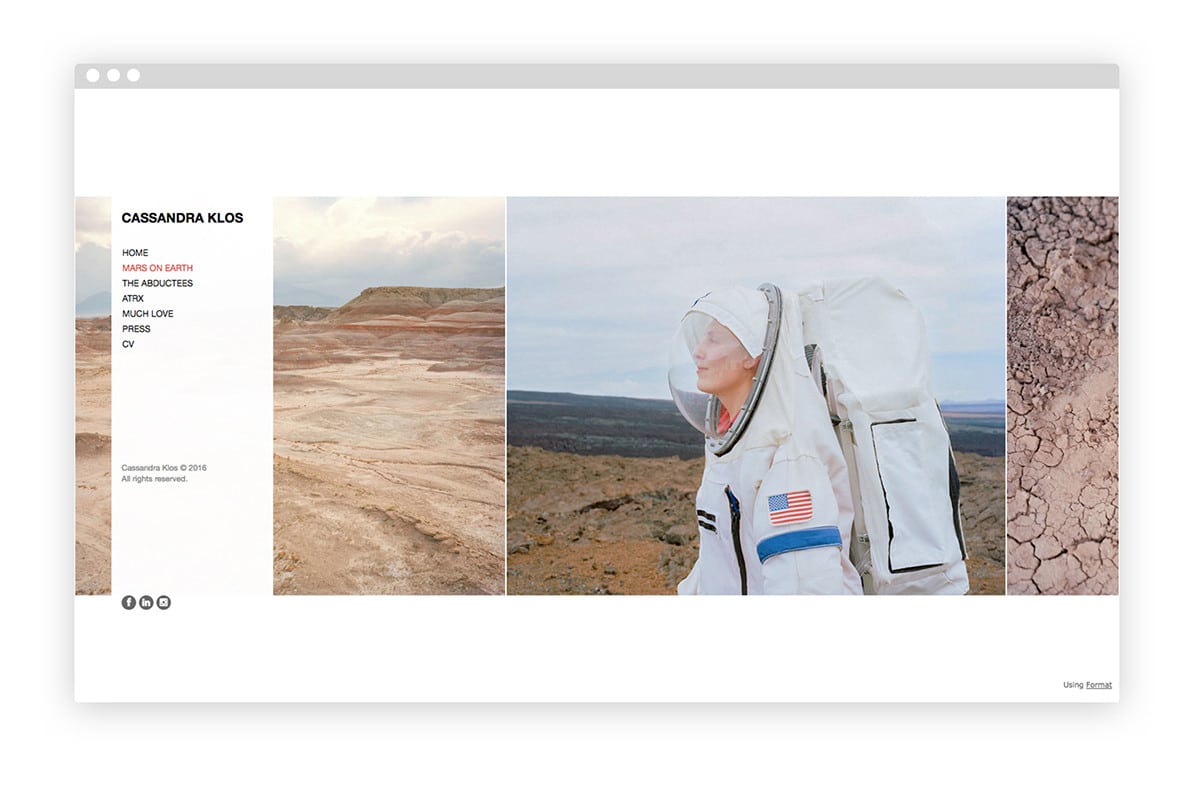 This Boston-based photographer uses 4×5 film to capture mesmerizing portraits of Mars, right here on Earth. Cassandra Klos has photographed Mars simulations in Hawaii and Utah, documenting the people who devote their time to living the way astronauts on Mars would in order to further space travel research. Recently, her work was published in Time Magazine. Klos uses a simple horizontally scrolling theme to showcase her work.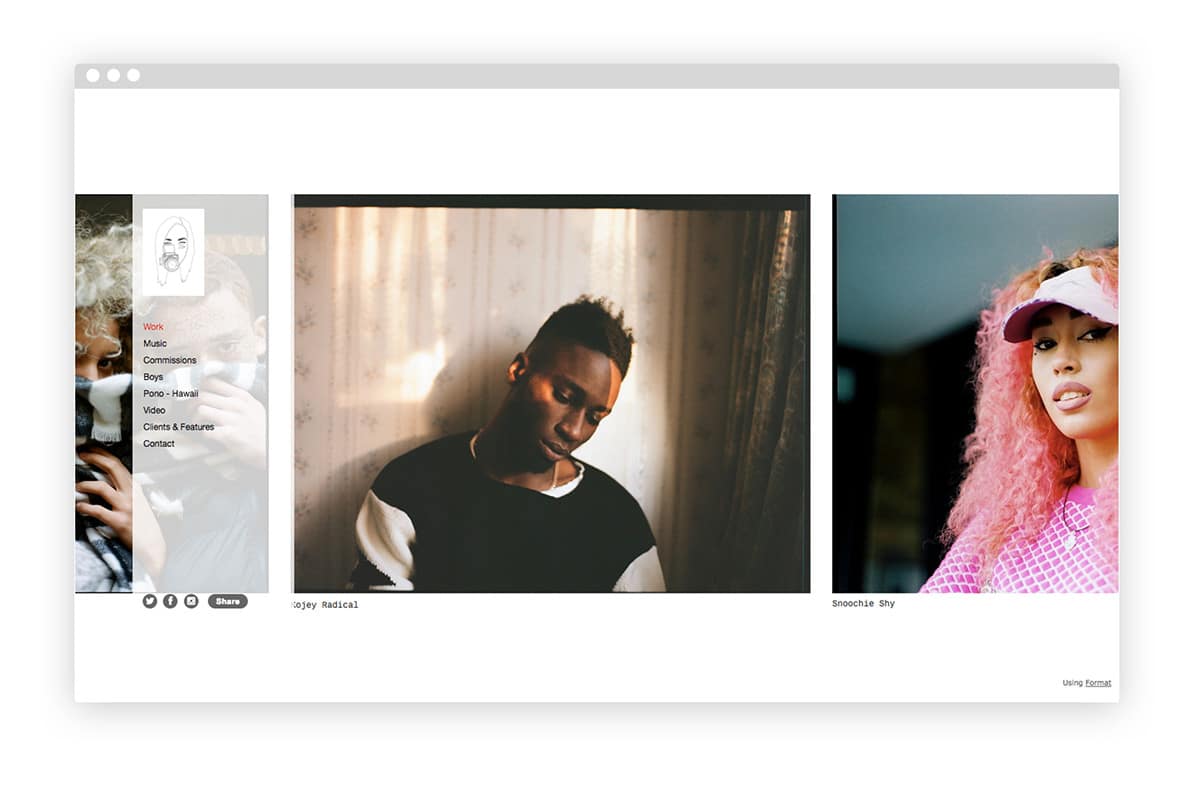 Selected for the Portrait of Britain Award in 2016, this British photographer is definitely an expert when it comes to portrait shots. Matheson often shoots on 120mm film, and her images are always crisp and neatly composed, capturing her subjects in moments that let their personalities stand out. She keeps the selection of work on her portfolio brief, making sure that her best images are the focus.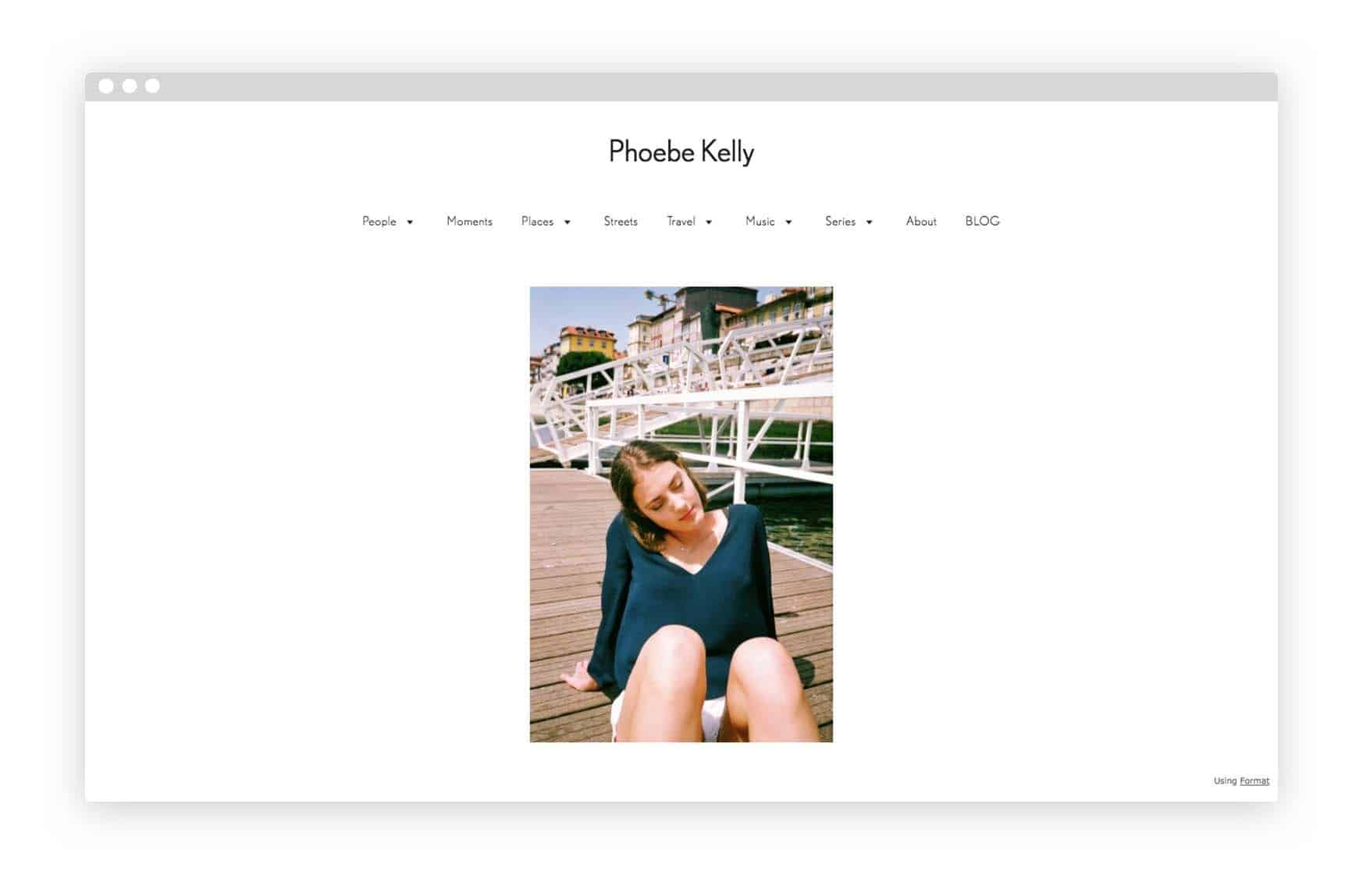 3. Phoebe Kelly
Currently a student in Brisbane, Phoebe Kelly excels at capturing meditative moments with analog photography. Her portraits of friends are evocative and personal, and her photos of her travels around the world offer small glimpses into her life. If you're looking for analog photography portfolios that keep things easy-to-navigate, Kelly organizes her photography neatly with a variety of different collections making for the perfect example of easy browsing.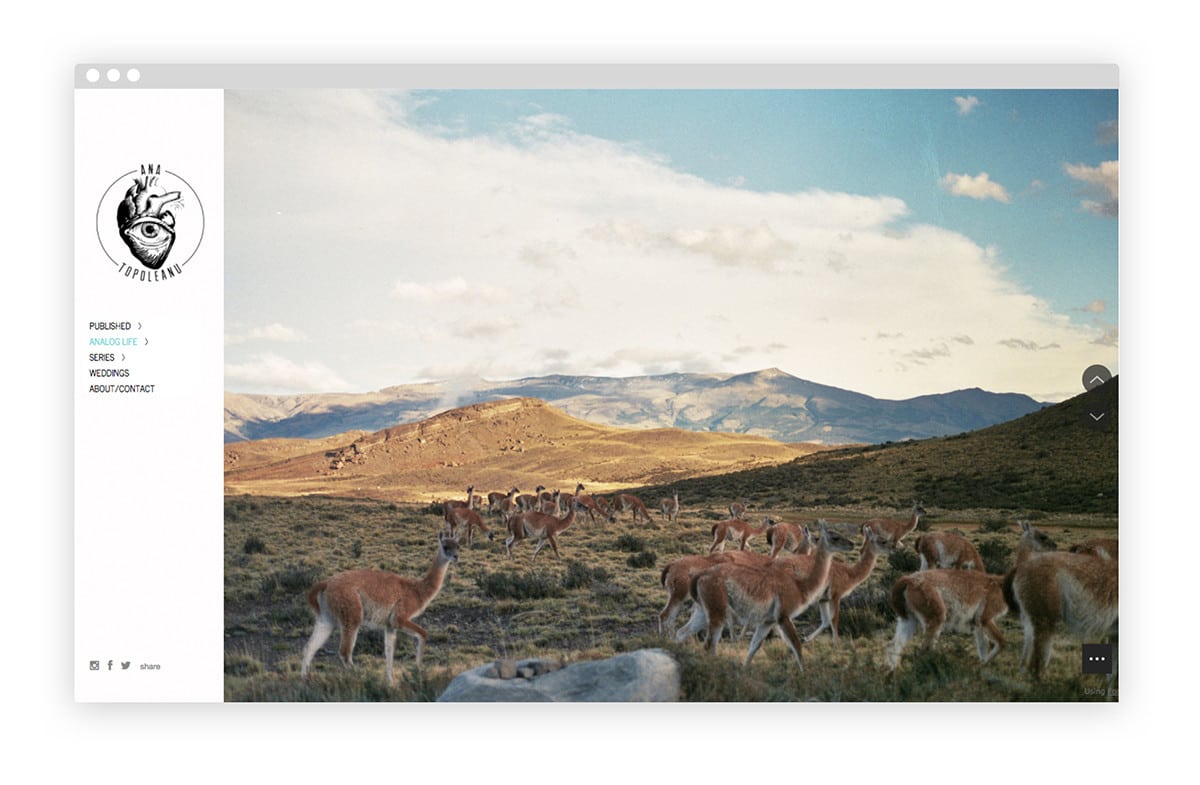 Ana Topoleanu excels at capturing stunning landscapes and portraits alike. Whether it's a shot of a crowded Barcelona beach or quiet Chilean mountains, her analog photography is always a visual treat. Topoleanu is originally from Romania, but has lived in many countries and is now based in Mexico. Her use of full-page images on her portfolio website really helps the film grain and the small details in her 35mm photos stand out.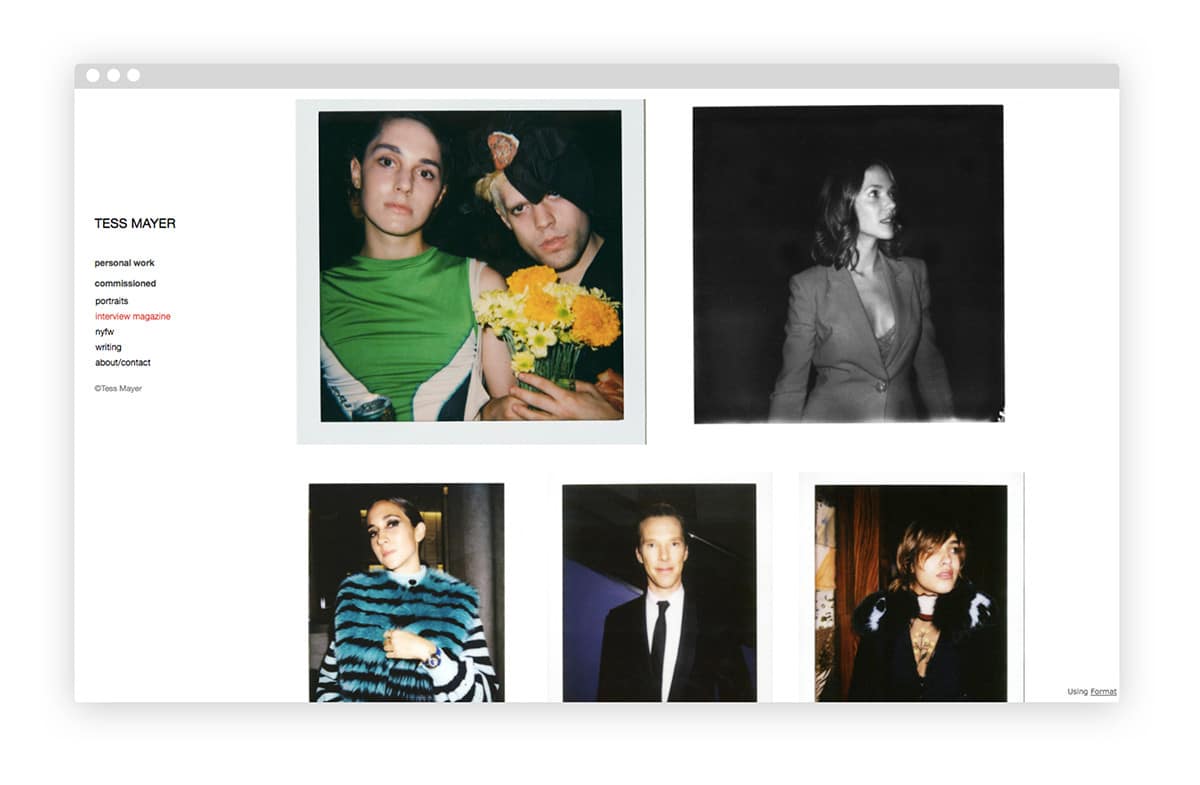 Based in New York City, photographer Tess Mayer works at Interview Magazine. Her photo work ranges from documentary to portraiture. An ongoing series following her younger sister growing up is definitely a work to watch. Mayer neatly divides her personal work into a separate category from her commissioned photography.
Analog Photography Portfolios Have Never Been Easier To Create
Are you feeling inspired to build your own portfolio of analog photos? We hope taking a look through this extensive list of talented photographers shows you just how possible building a professional, clean, easy-to-navigate site is.
With Format, it's really as simple as picking the theme you love, and customizing it from there.
We'll even let you try out Format free for 14 days to make sure it's the right platform to showcase your photography career.
Nothing to lose and a thriving photography business to gain. Try Format today to showcase your analog photography portfolio.
Cover image by Jill Schweber.
Want to see more of our favorite portfolios? Check out the best online portfolios by Format's best…
Fashion photographers
Portrait photographers
Wedding photographers
Illustrators
Designers
Artists using animated GIFs